Hiper Type R Mark-II 880 Watt Power Supply
Mike looks at a Type R series PSU from Hiper today which carries with it all the bells and whistles, and then some.
Published Tue, Sep 23 2008 11:00 PM CDT
|
Updated Fri, Sep 18 2020 10:50 PM CDT
Rating:

89%
Manufacturer: Hiper
Introduction
Founded in 2001 in the UK, Hiper, or High Performance Group as it is also known, offers a product line that includes enclosures, cooling, power and HTPC. Using a business model that includes listening to the needs of their customers, Hiper aims at making products that are not only top notch, but also affordable.
Today's piece will cover one of their performance oriented power supplies. The Type R series is geared for the enthusiast and has some features that Hiper feels will make it a sure bet. With so many choices now available, this will be a tall order, but we will delve into this relative newcomer and see if they can deliver.
So relax for a bit as we dig into the Hiper Type R Mark-II PSU. We'll look at both features and performance to help you decide if it has what it takes to be worthy of your upgrading dollars.
In The Box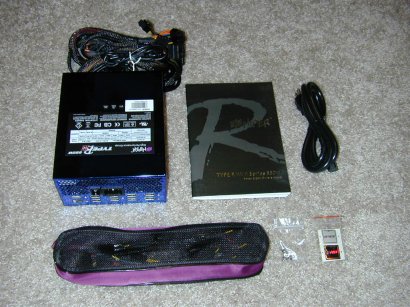 The first thing you notice when you start\playing with this power supply is the hard plastic tackle box that it comes in. This isn't some plain old cardboard box, but a usable box that you can put your extra goodies in before heading out for that next LAN party. Granted, this doesn't make the PSU perform any better, but little extras can make a difference in the event you get a lot of different products that do a similar job in handling your needed power requirements.
As to what is in the box, well, you get the power supply, a power cord, a small manual, mounting screws and a nylon bag containing some extra goodies that we will discuss in a bit.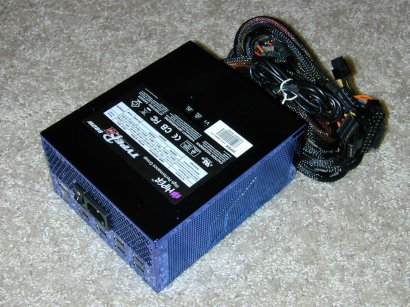 The unit itself has a different color scheme than normal, but isn't overpowering in its appearance. It has a blue finish that has a glossy coating but is perforated over much of the surface area to provide better ventilation. This gives you the blue coloring without taking over inside your windowed enclosure. But while the Hiper PSU looks good, can it offer power for the budding enthusiast?
This 880 watt model is equipped with four 12v power rails. Since it falls into the ATX 2.2 standard, the Type R II has a heavy 12v rail and this is where a majority of your power will be coming from. Two of the 12v rails are rated at 18A and the other two are rated at 30A. This particular model has a maximum load rating of 64A on the entire 12v rail subsystem, or 768 watts. The 5v rail is rated at 30A as is the 3.3v rail, or a 180 watt draw on these two rails combined. While heavy in the 12v realm, there is still ample power to handle some of your older rigs that are still in need of a hefty 5v rail. This model has a peak load rating of 1040 watts, so can easily handle the rated load on a constant basis.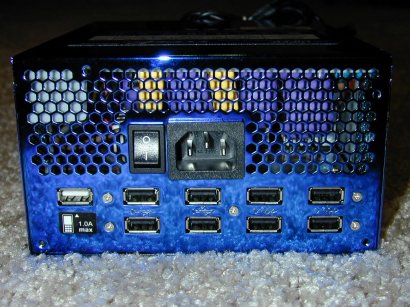 With newer power supplies, we are getting used to seeing nothing more than a power port, a toggle switch for the main switch, and some ventilation to help the fan keep your PSU at a reasonable operating temperature. Well, the folks at Hiper decided to take a little different path, namely by adding an 8-port USB hub. This can not only be a worthy upgrade, but can save you a few bucks since those in need of some extra connectivity won't have to go buy a USB hub. On top of this, there is also a USB powered recharging port (the white one pictured on the left) that can be utilized to keep your favorite PDA, iPod, cell phone, or whatever recharged. It is powered full time so can be used even of your system is off.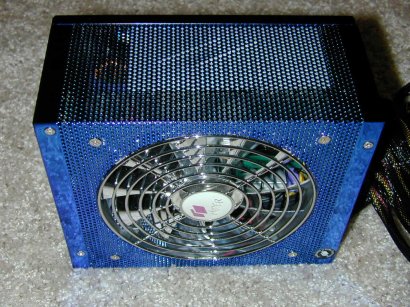 With all of the holes in the outer shell, it isn't surprising to see active cooling on place, especially since this product is being aimed at the enthusiast/gaming segment. The fan used is a 135mm beast that is controlled automatically by means of an internal thermistor. The fan does include LED lighting and surprise, surprise, the color of the lighting is blue.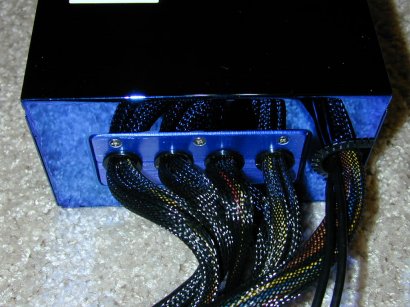 This model is not modular in design, but has a little different approach to the cabling harness than is normal. Primary power and USB cables come from the normal position along the side, but the other cables are fed through four ports on the back plane. All openings that allow cabling to exit the housing are properly grommeted to protect the cabling and all harnesses are mesh coated to make your cable management chores a bit easier. This mesh sleeve also keeps the wires compacted to ensure proper airflow through your enclosure.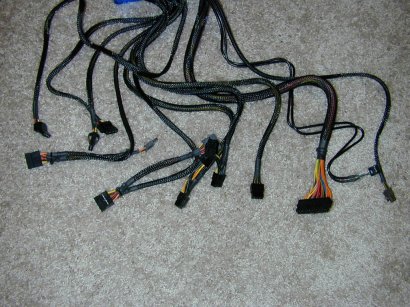 Since we're talking about the cabling, here is a look at what you will get with this power supply. Primary power is supplied through a 24-pin coupler and includes both an 8-pin and 4-pin supplemental couplings. For peripherals you get 4 SATA, 2 PCI-E6, 2 PCI-E8 and 3 Molex connectors. While this may seem a little slim on the connectivity front, keep in mind that many systems don't need that many cables anymore.
But for those who DO need that extra help for peripherals, don't forget that little nylon bag we mentioned earlier. Let's take a quick look now and see what we get in the goodie bag.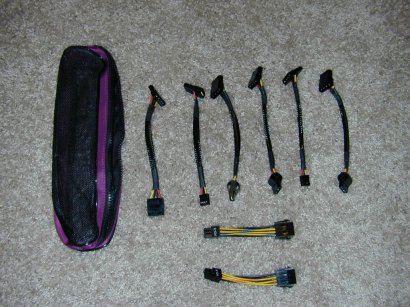 Stashed inside the nylon bag is a series of cables that Hiper refers to as "ExTender". The cincept is to allow you to use one ExTender for items close together, like your twin optical drives, then attach a single Molex to it. You get 4 Molex ExTender cables and 2 FDD ExTender cables. Also included are a pair of adapters that take your PCI-E8 ports and convert them back down to PCI-E6. This allows for the use of dual graphics adapters that are powered either by 4 PCI-E connectors or 2 PCI-E6 and 2 PCI-E8 ports. Once you add in the ExTender cables, the Hiper Type R II offers a huge amount of flexibility while giving a light basic layout.
Testing
When it comes to testing a power supply, there are two courses to travel. One takes you down a path using a device to stress out the PSU and provide data regarding the power levels across all three rails. The second, and the one I make use of, utilizes an actual test system to give a more real-world account of what the power supply is capable of. While both methods have their merits, I prefer to use an actual computer to more closely resemble the manner of use that you, the potential customer, will put the product through.
That said, let's take a quick look at the test system. I have continued to beef up the system to put a more realistic strain on the power supply.
MSI X48C Platinum motherboard (Supplied by
MSI
)
Intel Core 2 Duo E6600 processor
2x 1024MB Corsair XMS2-8500-C5 memory (Supplied by
Corsair
)
2x Sapphire HD 2900XT graphics boards in Crossfire configuration (Supplied by
Sapphire
)
Western Digital 250GB SATA hard drive
2x Western Digital 160GB SATA hard drives
Western Digital 80GB hard drive
Sony 52x CD-ROM optical drive
Samsung 16x DVD-R optical drive
1x 200mm fan
2x 120mm fans
While this isn't a Quad-GPU setup, we are certainly in the realm of having a system that is going to put a significant power drain on any power supply. Each of the HD 2900XT boards is capable of pulling close to 250 watts of power. Testing will consist of checking the power levels across all three rails at idle and again while the system is under stress. This should give us a good look at the capabilities of the power supply being tested.
Results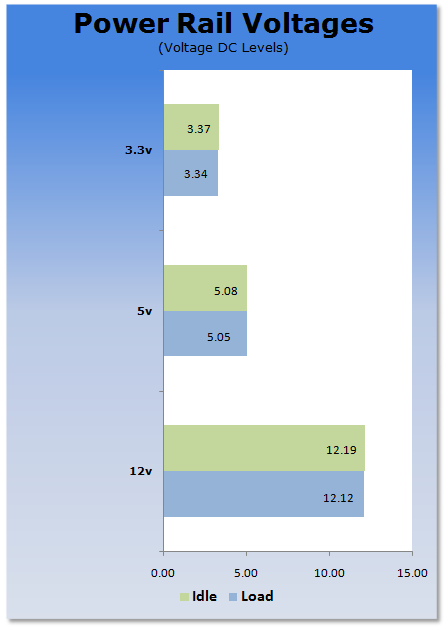 During our test phase, we put a lot of stress on the graphics subsystem. After all, this is where a vast majority of our power draw is coming from, and this holds true for most enthusiasts. While we always expect a drop in this rail, the Hiper unit did so only minimally. All voltage rails also held very steady under both system idle and load conditions. There were no fluctuations in any of the rails so you can expect a very solid stream to all of your components.
Final Thoughts
Once everything is said and done, the Hiper Type R II 880 performs very well under pressure. Even with a couple of power hungry video boards sucking power for all their worth, this model did a very good job of not only providing enough power, but also doing so with next to no fluctuations in the power levels. This in itself bodes well for a recommendation, but with this product there is also more to consider.
While few power supplies can produce a WOW factor, this Hiper unit does a fair job of providing just this by including a full time powered device recharging port as well as an 8-port USB hub. This is something that you just don't see in your run of the mill PSU. Add to this the active cooling that was very quiet and you have the beginnings of a very worthy contender.
Features are what you would expect in a quality power supply and include +85% Efficiency, Active PFC and ROHS compliance. It also includes a three year warranty. Another consideration is that it is actually manufactured by the label that is pasted to the device, Hiper. Many company's products are produced by one of a few manufacturers, but the Hiper units are made by Hiper. While they do make OEM units where power levels are not their top priority, this model is made to perform well, and it accomplished the task with ease and style.
As far as price is concerned, you can expect to shell out in the realm of $170US. This price point puts it toward the lower half of the spectrum and you will be hard pressed to find a USB port or recharging port on any of the other choices.
PRICING: You can find products similar to this one for sale below.
United States: Find other tech and computer products like this over at Amazon.com
United Kingdom: Find other tech and computer products like this over at Amazon.co.uk
Australia: Find other tech and computer products like this over at Amazon.com.au
Canada: Find other tech and computer products like this over at Amazon.ca
Deutschland: Finde andere Technik- und Computerprodukte wie dieses auf Amazon.de
We openly invite the companies who provide us with review samples / who are mentioned or discussed to express their opinion. If any company representative wishes to respond, we will publish the response here. Please contact us if you wish to respond.
Related Tags