Team Group Xtreem DDR3-1866 2GB Memory Kit
DDR3 manages to clock where no memory has clocked before. Today Team Group sends its best and brightest DDR3 kit to us.
Published Tue, Sep 16 2008 11:00 PM CDT
|
Updated Fri, Sep 18 2020 10:50 PM CDT
Introduction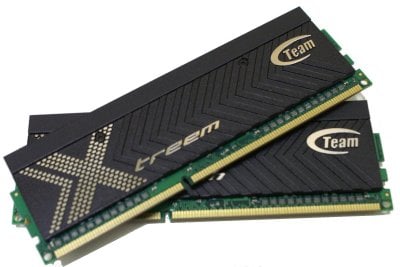 Team Group is one of the newest members to the TweakTown test labs. We haven't had a huge amount cross our paths from them, but what has come through has shown some impressive results, proving you don't have to be the likes of Corsair or OCZ to produce good memory.
While DDR2 isn't dead yet, DDR3 has now been given the full go ahead. Intel will no longer support DDR2 on its upcoming Core i7 platform, rather going with Tri-Channel DDR3 only. And AMDs move to DDR3 is evident with the AM3+ CPUs already on the road map. DDR2 has had its time in the sun and it's time to finally pass on the baton.
Team Group has brought all its guns to bear on the DDR3 market with the Xtreem 1866 Kit, aimed for overclockers with an 1866MHz operating frequency. Will it manage to live up to expectations? Let's have a look and see.
The Package and Modules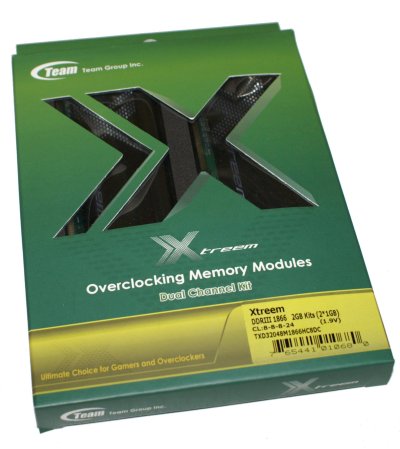 Team Groups memory comes packaged in a traditional cardboard box just big enough to house the two memory modules, since it's a Dual Channel kit. On the front at the lower right hand corner, Team Group puts a sticker with the kits specs including voltage rating, speed and latencies.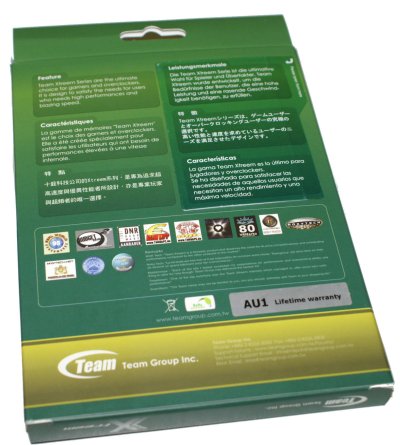 Since there is no real way to look at the modules from the front, we had a look at the back. To our disappointment there was no pictures of the modules, only marketing info in six languages along with award logos from previous reviews of Team Group around the world wide media.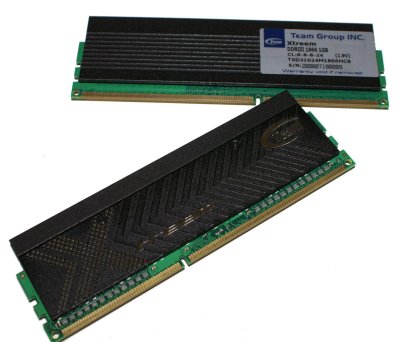 The only way to look at the modules themselves is to unpack them; unless you get a good computer store that will let you look at them, these reviews are the only way to get a good gander of them prior to purchase. Team Group uses a large alloy heatspreader on both sides of the modules to help remove any heat generated at the high speeds they are designed to run at.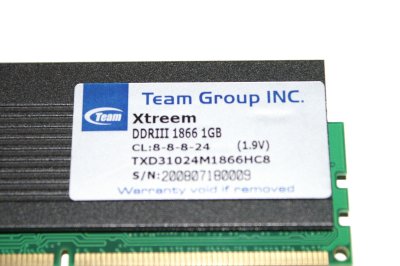 On one side of each of the modules, Team Group places a sticker to give details on the memory modules specs. The kit comes equipped with two sticks, each 1GB in density. The modules are designed to run at 1866MHz using 8-8-8-24 timings with a voltage spec of 1.9v.
Overclocking
Overclocking the Modules
Now we come to overclocking. Unfortunately we didn't manage to get the full 1866MHz out of the modules, but we didn't have as much time as we would have liked to get it working.
We did manage to get 1851MHz out of it using 1.9v, but when we tried to boot any higher we would get into Windows Vista and then be confronted with lockups. It's possible we needed to adjust some FSB and Northbridge voltages in order to get the modules to this high a speed.
Important Editor Note: Our maximum overclocking result is the best result we managed in our limited time of testing the motherboard. Due to time constraints we weren't able to tweak the motherboard to the absolute maximum and find the highest possible FSB, as this could take days to find properly. We do however spend at least a few hours overclocking every motherboard to try and find the highest possible overclock in that time frame. You may or may not be able to overclock higher if you spend more time tweaking, or as new BIOS updates are released. "Burn-in" time might also come into play if you believe in that.
Test System Setup and Everest
Test System
Processor
: Intel Core 2 Duo E8500
Motherboard
: GIGABYTE X48T-DQ6 (Supplied by
GIGABYTE
)
Hard Disk
: 500GB Western Digital SE16 (Supplied by
Western Digital
)
Graphics Card
: GIGABYTE 9800GX2 (Supplied by
GIGABYTE
)
Cooling
: GIGABYTE 3D Galaxy II (Supplied by
GIGABYTE
)
Operating System
: Microsoft Windows Vista SP1
Drivers
: Intel INF 9.0.0.1008, Forceware 175.16
Today we once again managed to pull out of the test pile our OCZ Titanium XMP 1600MHz memory modules for comparison on the GIGABYTE X48T DQ6 motherboard, our reference X48 chipset board here. We did tests at 1333MHz, 1600MHz and Max OC which was 1750MHz for OCZ and 1850MHz for the Team Group Memory.
EVEREST Ultimate EditionVersion and / or Patch Used:
2006
Developer Homepage:
http://www.lavalys.com
Product Homepage:
http://www.lavalys.com
Buy It Here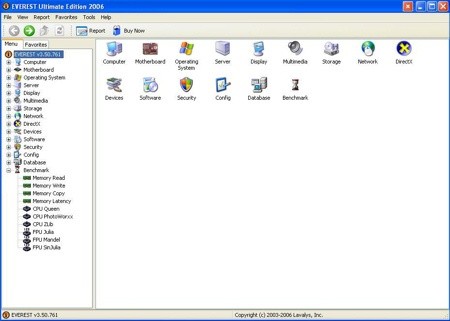 EVEREST Ultimate Edition is an industry leading system diagnostics and benchmarking solution for enthusiasts PC users, based on the award-winning EVEREST Technology. During system optimizations and tweaking it provides essential system and overclock information, advanced hardware monitoring and diagnostics capabilities to check the effects of the applied settings. CPU, FPU and memory benchmarks are available to measure the actual system performance and compare it to previous states or other systems.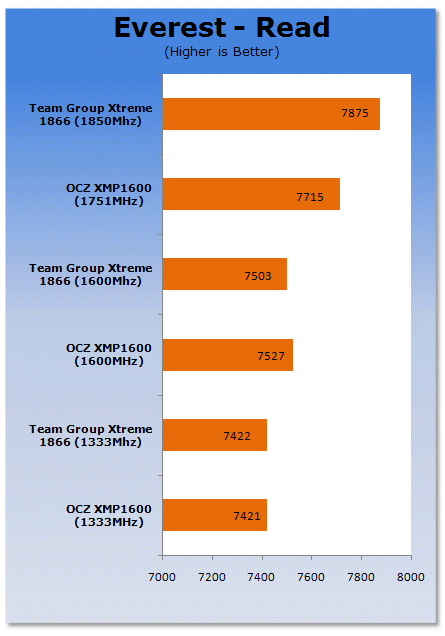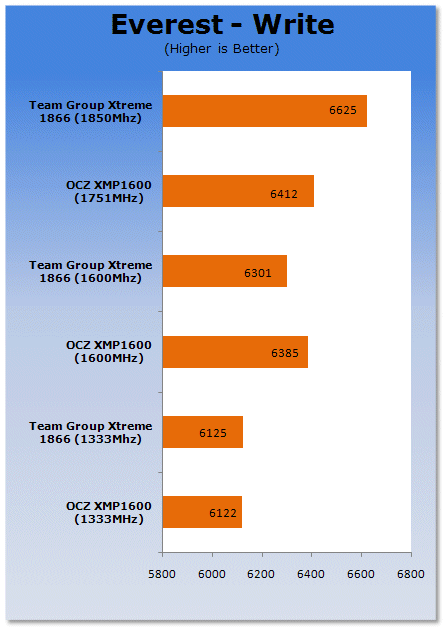 Our first stop is Everest memory performance. At 1333MHz both kits perform identically and at 1600MHz the OCZ manages a slight lead due to lower latencies. When we get to Max OC we see that Teams extra bus helps win out.
Benchmarks - Sciencemark 2.0
ScienceMark 2.0
ScienceMark 2.0 is a mathematical program designed to stress the memory subsystems of both desktop/workstation and server environments to determine the read/write latency as well as the overall memory bandwidth available between the CPU and the memory controller.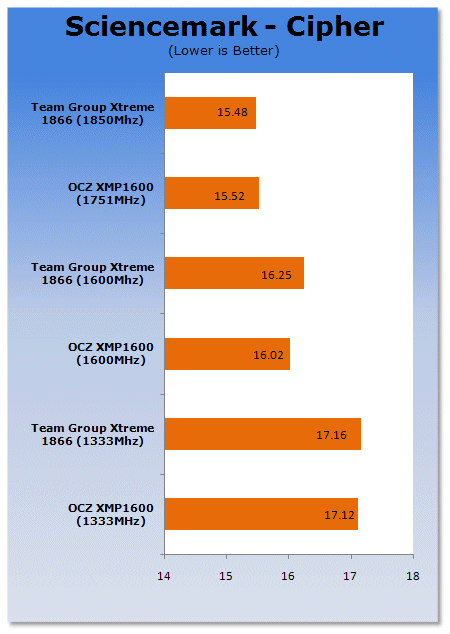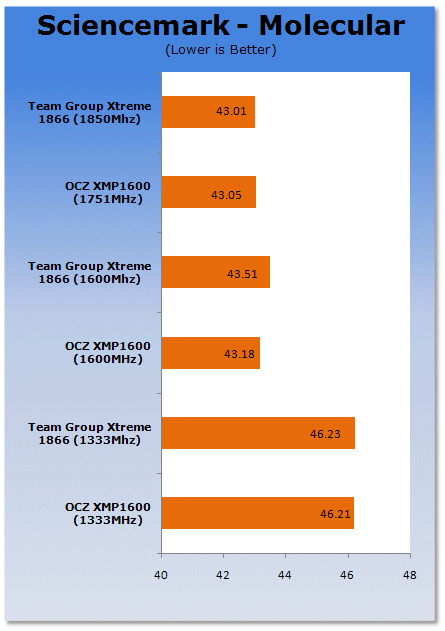 Latency and access times win it here; at 1333MHz both kits run the same latencies. At 1600MHz the XMP nature of OCZs memory helps it lower its latencies to win out, but at Max OC both modules are running just about the same. We see, though, the extra clock speeds of the Team Group help it take a slight lead.
Benchmarks - Crysis
CrysisVersion and / or Patch Used:
1.1
Timedemo or Level Used:
Custom Timedemo
Developer Homepage:
http://www.crytek.com/
Product Homepage:
http://www.ea.com/crysis/
Buy It Here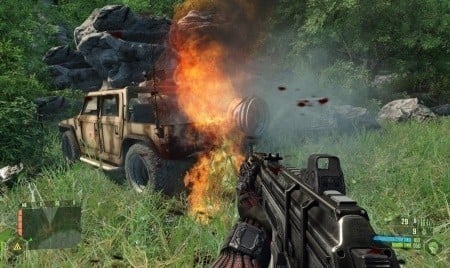 From the makers of Far Cry, Crysis offers FPS fans the best-looking, most highly-evolving gameplay, requiring the player to use adaptive tactics and total customization of weapons and armor to survive in dynamic, hostile environments including Zero-G.
Real time editing, bump mapping, dynamic lights, network system, integrated physics system, shaders, shadows and a dynamic music system are just some of the state of-the-art features the CryENGINE 2 offers. The CryENGINE 2 comes complete with all of its internal tools and also includes the CryENGINE 2 Sandbox world editing system.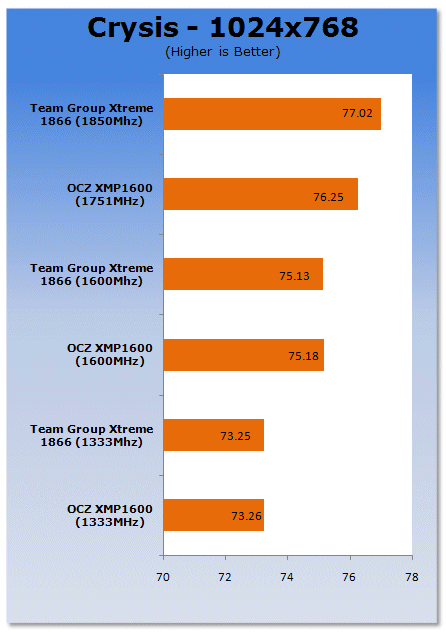 Our last benchmark is real world gaming. At both 1333MHz and 1600MHz we don't see much difference; only with the overclock we get Team in front.
Final Thoughts
While DDR2 still holds its own in the market place, Intel has already signed DDR2 to the back benches. The only boards that will come from Intel with DDR2 are current and past generation chipsets. None of the new Core i7 series will have any DDR2 support since the memory controller is being moved onto the CPU itself. And with AMDs plans for the AM3+ series soon to poke its head out of the sand, DDR2 is finally coming to a close. This brings on the era of DDR3.
Unfortunately DDR3 still costs more per MB than DDR2, this is due to the higher yields that are needed and the extra technology that has to go into DDR3 to make it work. But when it does, its clock speeds are well beyond anything that DDR2 could ever hope to achieve and we are seeing that now.
Team Groups DDR3-1866 kit, while not reaching the desired speed today, this was mostly due to not having a huge amount of time to tinker with the settings. However, with more tweaking it's sure to manage more. And while only making 1850MHz of its 1866MHz, it's still one of the fastest kits on the market today.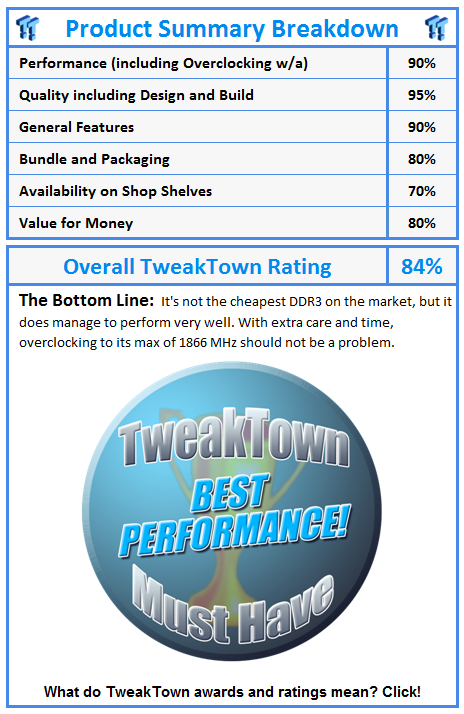 PRICING: You can find products similar to this one for sale below.
United States: Find other tech and computer products like this over at Amazon.com
United Kingdom: Find other tech and computer products like this over at Amazon.co.uk
Australia: Find other tech and computer products like this over at Amazon.com.au
Canada: Find other tech and computer products like this over at Amazon.ca
Deutschland: Finde andere Technik- und Computerprodukte wie dieses auf Amazon.de
We openly invite the companies who provide us with review samples / who are mentioned or discussed to express their opinion. If any company representative wishes to respond, we will publish the response here. Please contact us if you wish to respond.
Related Tags