Chaintech APOGEE GT DDR2-1150 4GB Memory Kit
Once a motherboard manufacturer, Chaintech has now moved to new products including system memory.
Published Tue, Sep 9 2008 11:00 PM CDT
|
Updated Fri, Sep 18 2020 10:50 PM CDT
Introduction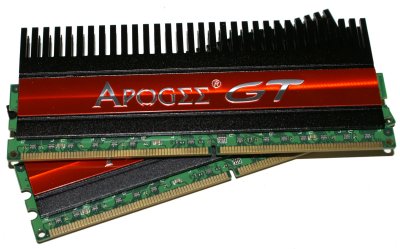 When we started working with Chaintech here at TweakTown, we were about 1-2 years into the life we now know as the hardware review industry. Chaintech jumped onboard as one of the hardware suppliers back then and their portfolio consisted only of motherboards. Not long into the relationship Chaintech started building graphics cards based on the Geforce 4 GPU and things started to expand from there.
Today Chaintech no longer has motherboards on its list; this sector died out a number of years ago. The only thing remaining on their portfolio from the good old days is their graphics cards, which now include the GeForce 9 series. Chaintech decided to branch out into a more cut throat field, that being memory. Chaintech now produces a range of memory under its APOGEE name, the same name that was used for its top of the line motherboards. How times change.
Today we have on offer the Chaintech APOGEE DDR2-1150 memory kit; let's see how it performs compared to our current test bed memory.
The Package and Modules
The Package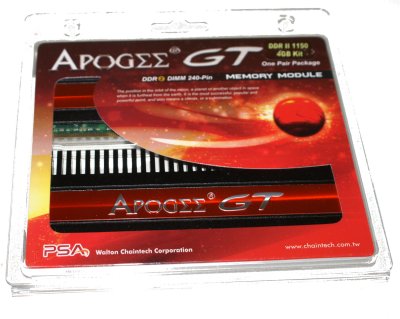 First off, we have a look at the package that the modules come shipped in. Chaintech has gone for a red and black colour scheme for the casing, which is a split-apart blister pack held together with staples, making it easy to remove the modules from the kit without slicing your hands open. Chaintech allows the modules to be shown through the front, negating the need for any pictures on the back.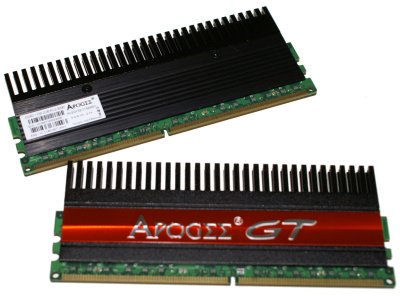 Removing the modules from the blister, we get the sense that Chaintech follows another memory manufacturer in their style and design. Looking at the modules on the desk, we get the feeling inspiration was from Corsairs DHX series of modules. The large heatspreader with fins at the top looks almost identical to our recient Dominator memory that was tested. Only the heatsink colour is different and whether or not the same PCB cooling is used or not remains to be seen, as we couldn't remove the heatsink. However, the design certainly looks the goods.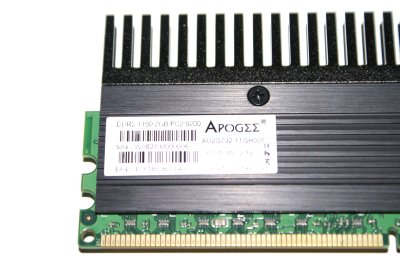 On one side of each of the modules is the production sticker that gives details on the memory specs. The kit we were supplied with was a DDR2 dual channel kit with 2x2GB (4GB total) memory that is rated for 1150MHz with a timing profile of 5-5-5-15, using 2.1v to achieve this.
Overclocking
Overclocking the Modules
When overclocking the modules we managed to just get them past 1150MHz, but only by 4MHz. A grand total of 1154MHz was achieved; we did this with the specified 2.1v. We tried with 2.2 and 2.3v on the memory, however nothing above 1154MHz was stable. We give Chaintech a hats off to getting it to the rated speed, with just an inch of extra room to spare.
Important Editor Note: Our maximum overclocking result is the best result we managed in our limited time of testing the motherboard. Due to time constraints we weren't able to tweak the motherboard to the absolute maximum and find the highest possible FSB, as this could take days to find properly. We do however spend at least a few hours overclocking every motherboard to try and find the highest possible overclock in that time frame. You may or may not be able to overclock higher if you spend more time tweaking, or as new BIOS updates are released. "Burn-in" time might also come into play if you believe in that.
Test System Setup and Everest
Test System
Processor
: Intel Core 2 Duo E8500
Motherboard
: GIGABYTE X38-DQ6 (Supplied by
GIGABYTE
)
Hard Disk
: 500GB Western Digital SE16 (Supplied by
Western Digital
)
Graphics Card
: GIGABYTE 9800GX2 (Supplied by
GIGABYTE
)
Cooling
: GIGABYTE 3D Galaxy II (Supplied by
GIGABYTE
)
Operating System
: Microsoft Windows Vista SP1
Drivers
: Intel INF 9.0.0.1008, Forceware 175.16
Today we will be testing the X-Tune memory we recently reviewed from Aeneon along with our trusty Geil memory against the Chaintech APOGEE DDR2 modules. Our stock clock tests are done at DDR2-800 speeds, as this is the highest JEDEC speed recognised for both Intel and AMD. While Phenom does support DDR2-1066MHz memory, this isn't recognised for Intel, so 800MHz will do.
Our overclocking tests were done with the modules running a 1:2 memory ratio to try and keep the FSB and CPU out of being a limiting factor.
EVEREST Ultimate EditionVersion and / or Patch Used:
2006
Developer Homepage:
http://www.lavalys.com
Product Homepage:
http://www.lavalys.com
Buy It Here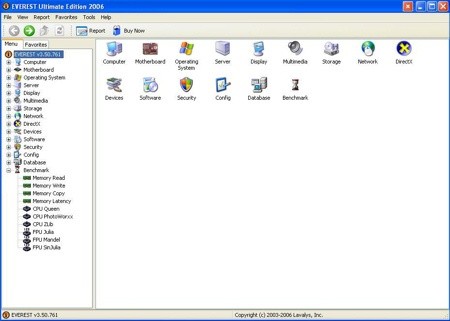 EVEREST Ultimate Edition is an industry leading system diagnostics and benchmarking solution for enthusiasts PC users, based on the award-winning EVEREST Technology. During system optimizations and tweaking it provides essential system and overclock information, advanced hardware monitoring and diagnostics capabilities to check the effects of the applied settings. CPU, FPU and memory benchmarks are available to measure the actual system performance and compare it to previous states or other systems.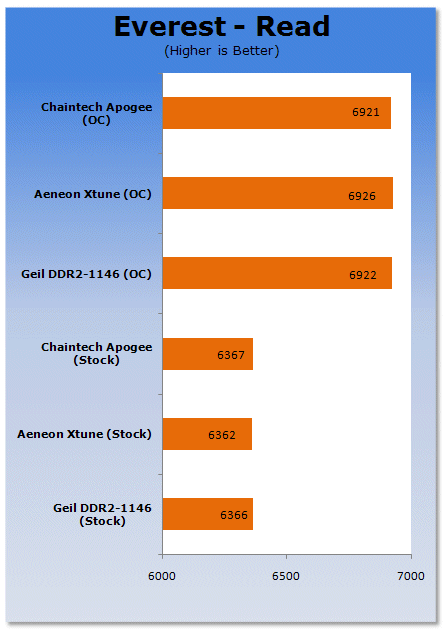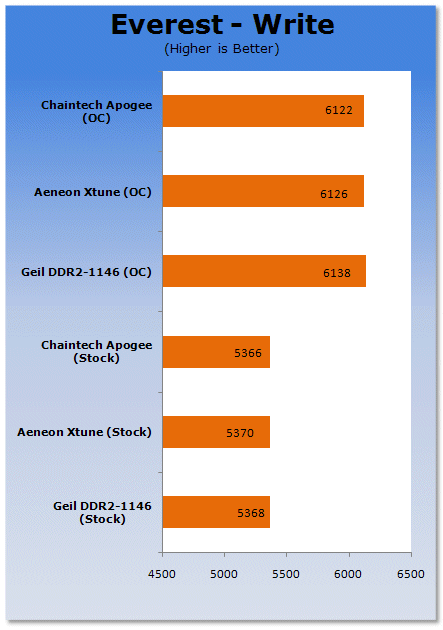 First on the list is Everest. It shows no discernable winner here between the three different kits. All have good performance for DDR2, especially when overclocked.
Benchmarks - Sciencemark 2.0
ScienceMark 2.0
ScienceMark 2.0 is a mathematical program designed to stress the memory subsystems of both desktop/workstation and server environments to determine the read/write latency as well as the overall memory bandwidth available between the CPU and the memory controller.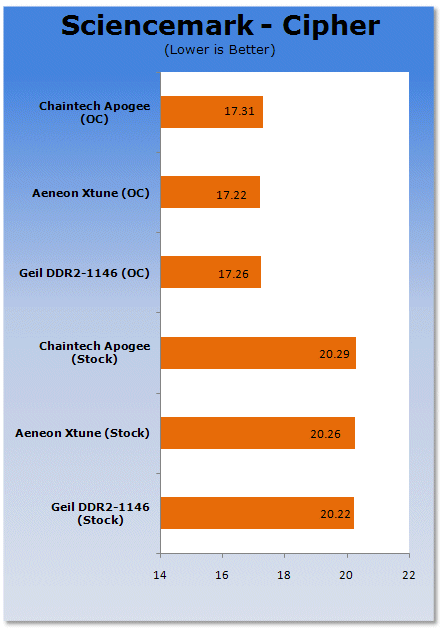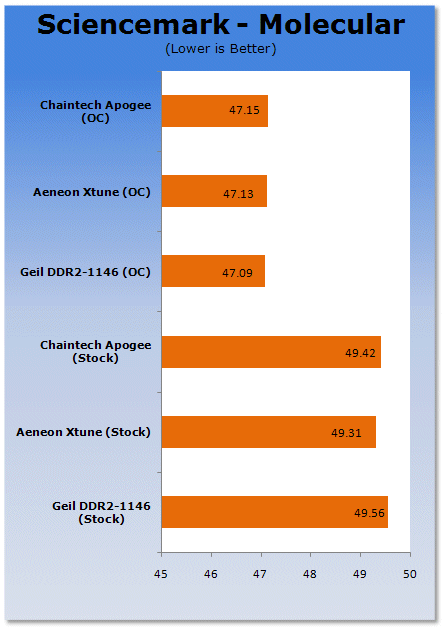 Latency and access times are the key here. All three kits run the same 5-5-5 timings so there are no winners here. None of the kits dropped down any further in the timings at overclocked settings, so it's very close yet again.
Benchmarks - Crysis
CrysisVersion and / or Patch Used:
1.1
Timedemo or Level Used:
Custom Timedemo
Developer Homepage:
http://www.crytek.com/
Product Homepage:
http://www.ea.com/crysis/
Buy It Here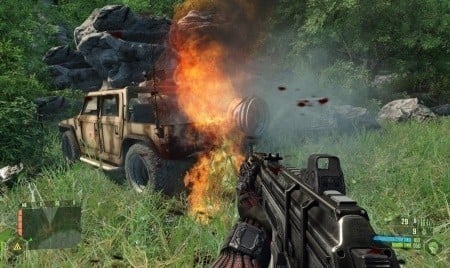 From the makers of Far Cry, Crysis offers FPS fans the best-looking, most highly-evolving gameplay, requiring the player to use adaptive tactics and total customization of weapons and armor to survive in dynamic, hostile environments including Zero-G.
Real time editing, bump mapping, dynamic lights, network system, integrated physics system, shaders, shadows and a dynamic music system are just some of the state of-the-art features the CryENGINE 2 offers. The CryENGINE 2 comes complete with all of its internal tools and also includes the CryENGINE 2 Sandbox world editing system.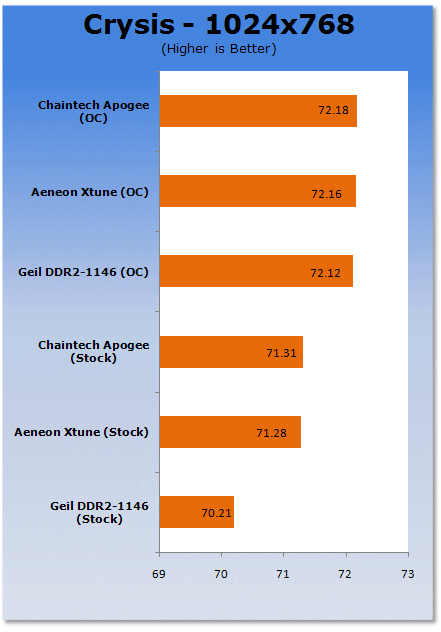 Pressing into real world gaming; all three kits perform the same here too, so there's no real difference between them.
Final Thoughts
DDR2 still hasn't died off, and even Intel is still a supporter of it. DDR3 may be the future, but the present still belongs to DDR2. AMD is still dependant on it for its AM2 and AM2+ processors as well. Intel P45 chipsets still have a DDR2 memory controller integrated and with the price of DDR2 vs. DDR3, it's still wiser to go for DDR2.
Chaintech APOGEE memory isn't anything spectacular compared to other brands, however it's not far behind the big names like Geil and Aeneon. So when it comes to choosing what you're going to buy, Chaintech is something we would recommend to anyone looking for high performance DDR2 memory. The only downside is that here in Australia it may be quite difficult to locate, though you won't find too much of a problem getting it in the states.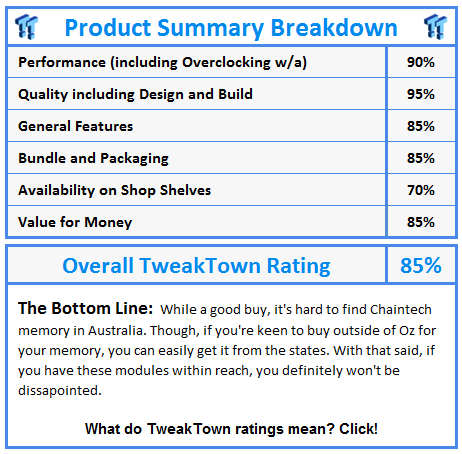 PRICING: You can find products similar to this one for sale below.
United States: Find other tech and computer products like this over at Amazon.com
United Kingdom: Find other tech and computer products like this over at Amazon.co.uk
Australia: Find other tech and computer products like this over at Amazon.com.au
Canada: Find other tech and computer products like this over at Amazon.ca
Deutschland: Finde andere Technik- und Computerprodukte wie dieses auf Amazon.de
We openly invite the companies who provide us with review samples / who are mentioned or discussed to express their opinion. If any company representative wishes to respond, we will publish the response here. Please contact us if you wish to respond.
Related Tags