TRENDnet TEW-624UB 300Mbps Wireless N USB 2.0 Adapter
Cam spends some time checking out the TRENDnet 300Mbps Wireless N USB 2.0 adapter, trying to work out if it is any good.
Published Tue, Sep 2 2008 11:00 PM CDT
|
Updated Fri, Sep 18 2020 10:50 PM CDT
Introduction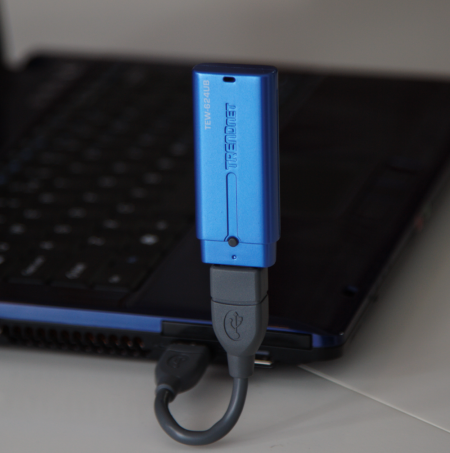 Over the past few weeks we have looked at a couple of products from TRENDnet, including the
200Mbps Powerline AV Fast Ethernet Adapter Kit
as well as the
300Mbps Dual Band Wireless N Gigabit Router
.
Both are pretty good products and overall we were left thinking quite good things about TRENDnet and what they had sent us to review. Today we have another review of a TRENDnet product and this time it is the TEW-624UB (version B1.0R to be exact) 300Mbps Wireless N USB 2.0 adapter. It is designed to add wireless capability to your Windows 2000, XP or Vista desktop PC or notebook or as an upgrade over a slower wireless connection such as 802.11b.
It claims very big things on its box packaging such as 12x the speed and 4x the coverage of a standard Wireless G network as well as allowing you to connect wirelessly with
supercharged speed, range and reliability
. Naturally, they threw the 300Mbps speed figure around quite a bit, but of course with all Wireless N networking equipment, we don't expect to come anywhere close to this speed in our tests here today. But you never know, maybe we'll get a surprise one day - that's a big maybe, though.
After we show you the affordable USB 2.0 adapter and what comes inside the package, we'll compare it to a new Hypersonic notebook with a built-in Intel adapter set to run in Wireless G mode for comparison.
Which will take the prize for fastest speed? Is it any good? Can it really offer a 300Mbit connection for just over $50 USD retail? Read on and find out in just a bit! The answer may not be as simple as you think.
The Package
Once we move the TEW-624UB adapter out of the way, we get a look at the rest of the package.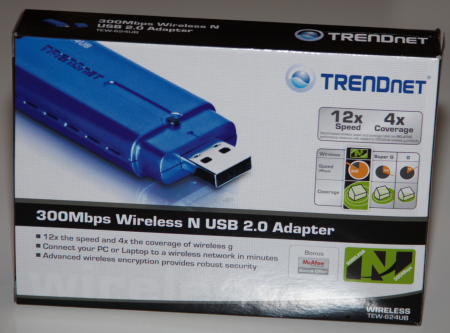 Considering that
you can pick up
this product for just over $50 USD including shipping and taxes, we are already impressed with the adapter alone, but let's see what else TRENDnet has managed to pack in.
First up is the utility and driver CD-ROM, which includes not just that, but also a free complimentary copy of McAfee security suite as a bonus, though we didn't end up using it - I am happy with the free software I use such as AVG Free, Spybot Search and Destroy and CCleaner. The CD-ROM also includes a copy of the Quick Installation Guide and User Manual.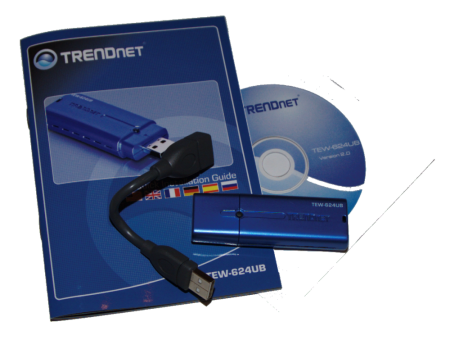 Moving on, there is a basic Quick Installation Guide in a range of different languages - it tells you how to install the software and get the wireless connection up and running. TRENDnet also includes a handy twistable USB 2.0 cable which you can plug the adapter into for possibly better range, since it points the adapter up vertically rather than horizontally, when plugged directly into a USB port.
That covers everything inside the package - there is not a lot here to talk about. But having said that, it is more than enough to get you up and running and we can't fault it.
The Adapter
The latest version adapter to be sold from TRENDnet is version B1.1R, but the sample we were sent is B1.0R as it was sent to us over a month ago. We aren't sure what the differences between the two are, but it is just something to keep in mind.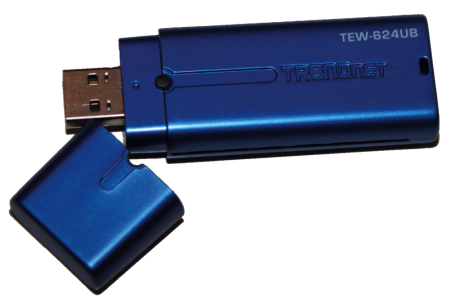 The important wireless chips and so forth are enclosed by blue plastic casing in a design weighing only 20 grams (or 0.7 oz) - in other words, it weighs next door to nothing or probably the same as a cigarette lighter - easy enough to put in your pocket. While the lightness factor is great, durability could be a bit of a concern. Let's just say, it is not the type of device I would feel comfortable dropping on solid ground from any great distance.
There is a single activity LED that flashes orange to indicate network activity. It looks like a button at first and even second glance, but we can safely confirm that it is not. There are air vents on both sides of the adapter, which help cool things down and it does a pretty good job as the adapter really only gets warm and not what we'd consider hot.
As far as dimensions go, it comes in at 80mm long x 27mm wide x 12mm high (or 3.1 x 1 x 0.5 inches). It isn't a small adapter, being about double the width of a standard USB flash drive and only a little longer - size shouldn't cause many concerns, though. It comes with a cap to protect the USB connector that snaps on firmly and at the other end of the adapter are two holes where you could attach a lanyard.
The adapter works in USB 2.0 and 1.1 and it includes wireless support for IEEE 802.11b, 802.11g and 802.11n (draft 2.0), although there doesn't be appear to be a way to select which mode you want to use in the driver or included application. The adapter also includes MIMO technology with two built-in internal antennas that provide up to 300Mbps connection speeds and all the way down to 1Mbps with dynamic switching between data rate modes.
As far as security goes, it includes the ability to use 64 and 128-bit WEP, WPA, WPA2, WPA-PSK and WPA2-PSK as well as Ad-Hoc (Peer to Peer - b/g only) and infrastructure (AP - Client) modes. It will work in 32-bit versions of Windows 2000, XP and Vista, but not 64-bit.
Setup and Installation
We installed the TRENDnet 300Mbps Wireless N USB 2.0 adapter on a Hypersonic notebook running a 32-bit version of Windows Vista - the driver also includes support for Windows 2000 and XP, but only 32-bit versions. Under Vista 32-bit at least, there is no need to install any drivers. After plugging in the device to the notebook, Vista automatically detected the device correctly right away and we were able to connect to our wireless networking without needing to reboot. The whole process of installing the device and drivers and connecting to a wireless network took around two minutes.
We tried plugging the adapter into a machine running a 64-bit version of Windows Vista and unlike the 32-bit version of Vista, it asked for a driver to proceed with the install, but we didn't have it and we haven't had any word from TRENDnet on when or if there will be a 64-bit driver available. Bad mark right there chalked up on the white board.
As long as your wireless router is working in either 802.11b/g/n or any mixed modes of those wireless standards, this adapter will work just fine. During testing we set our D-Link Extreme N router to work in 802.11n mode only and we didn't experience any issues and the rated connection speed at close (1 - 5m) range was 270Mbps at best. The TEW-624UB adapter detected that we had WPA2 (AES) security enabled on the D-Link DIR-655 wireless router and had no issues working with security enabled.
All in all, setup and installation was a piece of cake and took only a few minutes to get fully operational - just as long as you are using a 32-bit Windows operating system or you will run into a hurdle or two.
Now, let's move onto the included software and take a closer look.
Included Software Utility
As with the other TRENDnet products we've looked at recently, it's evident the company prides itself on including software with all its products.
TRENDnet's 300Mbps Wireless N USB 2.0 adapter comes with an included software utility on the CD-ROM which allows you to connect to wireless networks, save previously connected networks as profiles for later use as well as monitor networks. Nothing overly fancy, but a nice addition.
Here are some screenshots of the utility: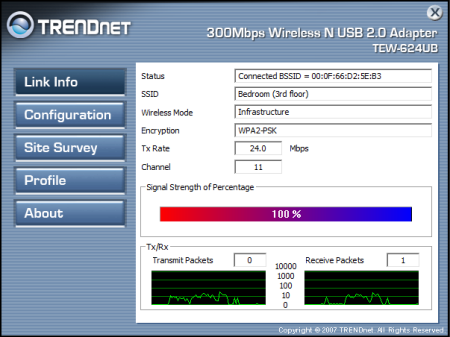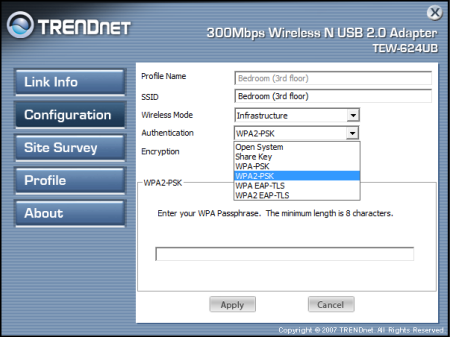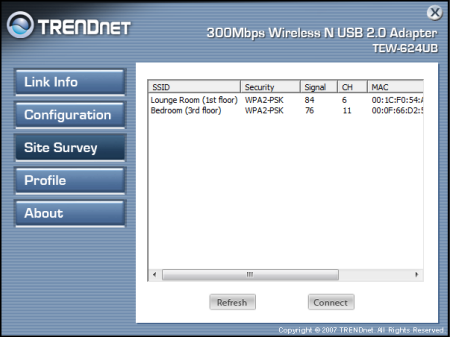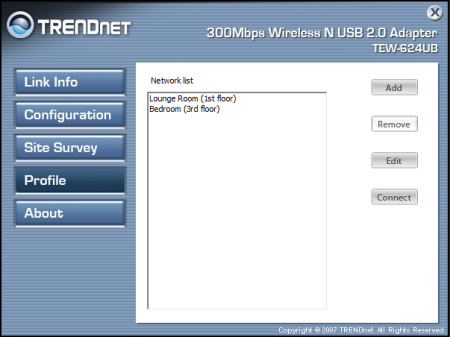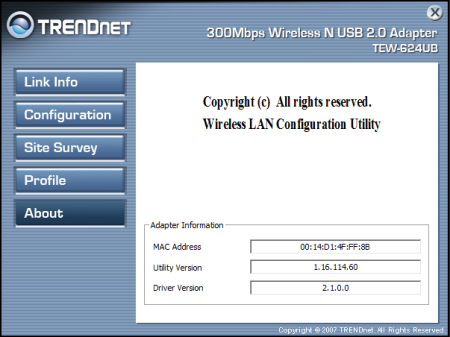 Now it's time to move onto the testing results!
Testing
We used PerformanceTest 6.1 by PassMark which you can find out more information about
here
. It has a handy Advanced Networking section which is perfect for our testing.
We decided to compare the TRENDnet 300Mbps Wireless N USB 2.0 adapter against the built-in Intel adapter on a new, high-end Hypersonic notebook kindly provided to us by our friends over at OCZ.
When testing the Intel chipset on the Hypersonic notebook, we set our D-Link DIR-655 wireless router to 802.11g and 802.11n mixed mode, and when testing the TRENDnet adapter, we set the router to 802.11n mode only. The Hypersonic notebook was set to work only in 802.11g mode as to provide a comparison against the USB 2.0 802.11n adapter. All tests were completed with WPA2 Personal (with the AES cipher as is proven to provide better performance) enabled on each setup.
We set the Advanced Networking section of PerformanceTest 6.1 to send and receive data for up to 120 seconds to gauge an average transmission speed. Previously we left it at the default of 60 seconds, but have since doubled the time to gain a more accurate result in our opinion. We now also test send and receive speeds which roughly emulate client and server environments.
We did not use the included USB cable in the TRENDnet package - the adapter was instead plugged directly into the Hypersonic notebook.
- Connection Speed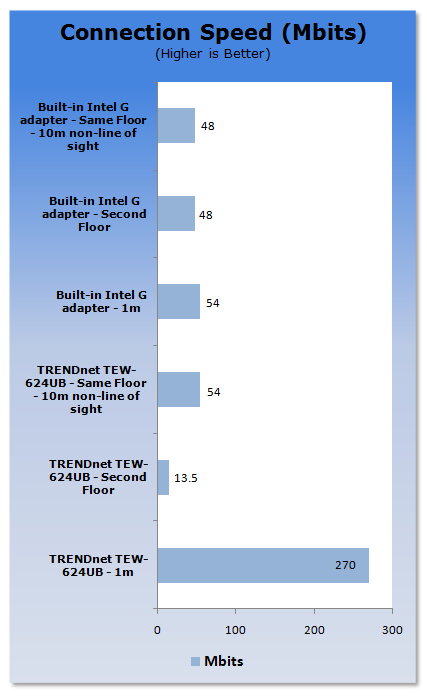 You can see that at short range the TRENDnet adapter connects to the D-Link router at 270Mbps, 54Mbps at about 10m range and on the second floor a rather dismal 13.5Mbps. On the second floor the 802.11g adapter on the Hypersonic was able to connect at a much faster 48Mbps. I scratched my head on this for a few moments and then remembered that most new notebooks (and even older ones) have antennas built into the LCD panel and that is what would have given it the edge over the USB 2.0 adapter.
- Bandwidth (TCP receive)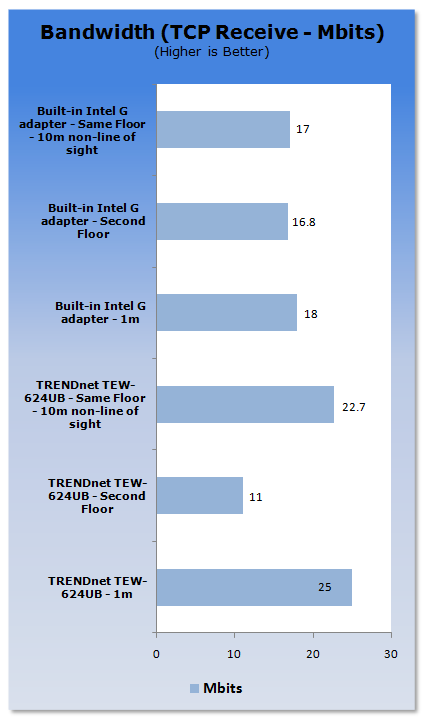 Here at the 1m and 10m range the TRENDnet adapter is a little faster than the Hypersonic notebook, but when we move things to the second floor, we see the TRENDnet adapter begin to struggle and only be able to receive data at up to 11Mbps.
- Bandwidth (TCP sent)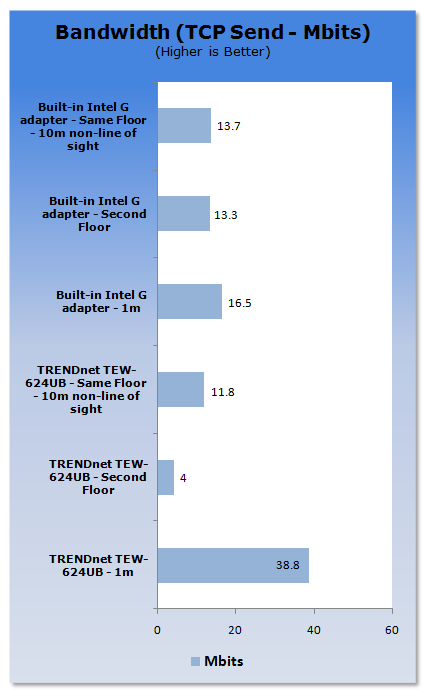 Here the Hypersonic notebooks 802.11g connection is able to make a pretty big mess of the TRENDnet adapter except for at 1m short range.
You can see here (and also in the receive test above) that the distance doesn't affect the Hypersonic notebook as much as it does the TRENDnet adapter.
Final Thoughts
For the asking price of around $50 USD including taxes and shipping (get the latest pricing from
our shopping comparison site
), we think that the TRENDnet 300Mbps Wireless N USB 2.0 adapter is a good deal right off the blocks. However, it is not without its faults.
For one, currently there are no drivers available to use the adapter under 64-bit versions of Windows 2000, XP and Vista and we haven't been told when or if they will become available. Hopefully this is something that the folks over at TRENDnet are working on, as the uptake of 64-bit operating systems is coming on thick and fast, with more and more systems coming with 4GB of RAM and more.
At close range, the TRENDnet 300Mbps Wireless N USB 2.0 adapter offers pretty good relative performance, but
obviously
, well under the claimed theoretical maximum of 300Mbps - and nowhere near the claimed 12 times faster than a standard Wireless G setup, as labeled on the box. That let us down, but we should have learnt by now not to go by the marketing quotes, when it comes to wireless networking hardware.
We thought that the TRENDnet 300Mbps Wireless N USB 2.0 adapter would be a nice upgrade for someone running 802.11g wireless on their notebook and would like a little speed boost - hence the way we tested. You'll see that speed boost at close range (in the same room up to around 1 or 2 meters) but as soon as you move any further away, the adapter struggles. We were able to stream 720p HD video at a range of distances up to about 10 meters away very smoothly, but while we could stream 1080p HD video, it skipped frames and was fuzzy at times and I wouldn't consider it
playable
bearable. The device is built pretty well and is nice and light; we have no doubts about that, but at range when the radio signal is put to the test, it's clear that built-in wireless networking on notebooks offers better performance, especially since most have built-in antennas running up the sides of the LCD panels. Little USB adapters are unable to compete against that at the end of the day.
That leaves us wondering... should we recommend this product at all? It might be okay if you are using this adapter on an old notebook using older 802.11b wireless technology (which has a maximum transfer rate of 11Mbps), but if you have a newer notebook using 802.11g, you'd more than likely be better off sticking to the onboard wireless networking, unless it sucks on your particular notebook.
We will be sticking to using the built-in wireless networking on the Hypersonic notebook.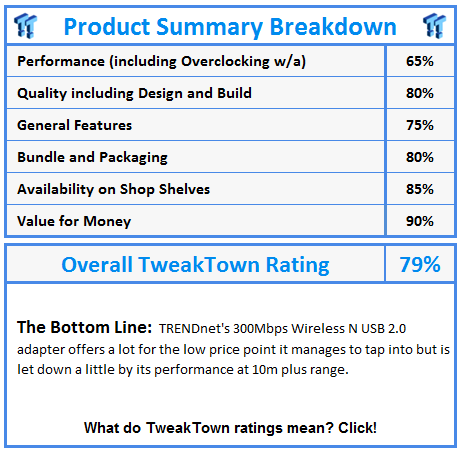 On a side note -
TRENDnet is working on a High Power Wireless N USB adapter which isn't quite ready yet. It includes a base with a 1.5 meter high antenna (promising to offer two times the coverage of standard Wireless N adapters) and that is sure to offer some kick-ass performance. We look forward to testing it!
PRICING: You can find products similar to this one for sale below.
United States: Find other tech and computer products like this over at Amazon.com
United Kingdom: Find other tech and computer products like this over at Amazon.co.uk
Australia: Find other tech and computer products like this over at Amazon.com.au
Canada: Find other tech and computer products like this over at Amazon.ca
Deutschland: Finde andere Technik- und Computerprodukte wie dieses auf Amazon.de
We openly invite the companies who provide us with review samples / who are mentioned or discussed to express their opinion. If any company representative wishes to respond, we will publish the response here. Please contact us if you wish to respond.
Related Tags