GIGABYTE EP45-Extreme Motherboard
P45 is alive and never before has there been a chipset taken up so readily. Now GIGABYTE brings us an Extreme offering.
Published Sun, Aug 31 2008 11:00 PM CDT
|
Updated Fri, Sep 18 2020 10:50 PM CDT
Introduction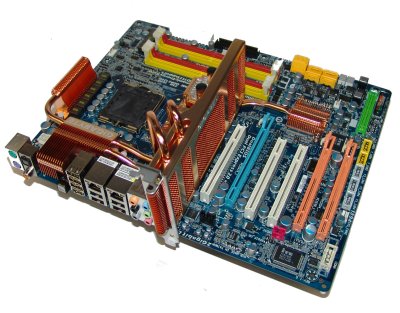 GIGABYTE's portfolio of motherboards keeps getting larger and larger. It's no wonder they are amongst the top three motherboard manufacturers in the market today, right along with ASUS and MSI. While AMD has had its day in the sun, Intel has now taken off with a huge range of chipsets and processors, all of which have managed to make a big splash.
P45 is Intel's IT chipset. While P35 did start the revolution, it wasn't as well adopted as P45; its lack for true Crossfire support made it a pretty big disappointment and it was just an upgrade on the P965 chipset, which already worked perfectly. The X series chipsets were simply too expensive for the average users. While having true full speed Crossfire support, it wasn't affordable for a mid-range system. This is where P45 comes in.
P45 not only supports true Crossfire thanks to its twin x8 PCIe slots, but it also manages to support DDR2 and DDR3 along with the latest ICH10R Southbridge and PCI Express 2.0 support. The best thing is that all this falls into the mid-range PCs price point. Who could argue with that?
Today GIGABYTE has sent us their latest high-end offering, based on the P45 chipset. This baby is dubbed the EP45-Extreme and we will show you why soon.
Specifications
Specifications of the GIGABYTE EP45-ExtremeCPU
Supports Intel Core 2 Series (Extreme/Quad/Duo)
Supports Intel Pentium Dual Core Series
Supports Intel Pentium D Series
Supports Intel Pentium 4 5xx/6xx Series
Supports Intel Celeron D 3xx/4xx Series
Supports Intel 45nm Series CPU
Chipset
Intel P45 Express Chipset
Intel P45 Northbridge
Intel ICH10R Southbridge
DMI @ 2GB/s
System Memory
4 DDR2 SDRAM 240pin DIMM Sockets
Supports DDR2-533/667/800MHz
64/128Bit Dual Channel
Supports up to 8GB Total Memory (4x 2GB)
Bus Frequency
100/133/200/266/333/400MHz Internal
400/533/800/1066/1333/1600MHz External
P4 Bus Architecture
Expansion Slots
3 PCI Express x16
1 PCI Express x1
3 PCI
Connectivity
1 Parallel ATA port supporting 2 IDE Drives
6 Serial ATA ports
2 Gigabit Ethernet Port
Expansion Ports
1 PS2 Keyboard Port
1 PS2 Mouse Port
12 USB 2.0 Ports (8 rear accessible, 4via expansion bracket)
6 Stereo Audio Ports
1 RCA SPDIF Port
1 Toslink S/PDIF Port
2 RJ45 Ethernet Ports
3 Firewire ports (via expansion bracket)
The Motherboard
The Board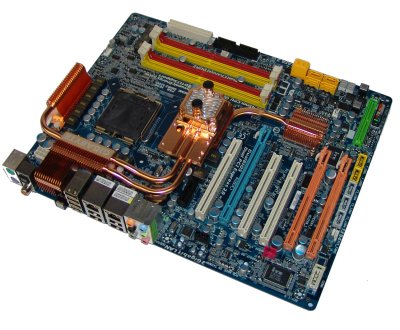 Unfortunately we didn't get the full retail box included with our sample, this due to the early nature of it. However, we did get the board and that's really what counts here today.
As you can see, GIGABYTE has managed to turn out a very impressive layout indeed. GIGABYTE intends this board to be aimed at the overclockers and enthusiasts, so a good layout is extremely important.
As per GIGABYTE style, the 24-pin ATX power connector along with the FDD connector are located behind the four DDR2 memory slots that the board is equipped with on the upper right hand side of the board. The 4-pin power connector is shoved over to the left side of the board behind the PS/2 ports and is snug between the heatsink assembly for the voltage regulators.
Moving down the board, we have the six SATA ports that the ICH10R supports which are towards the lower right edge of the board. Only two of the six are rotated where the other four point straight up. I would have preferred to have seen all of them on their sides and stacked, for a better and cleaner layout. Next to the SATA ports is an 8080 diagnostic connector that reads out post codes from the PCI bus, allowing users to know just what is happening with their systems. Another plus is the onboard press switches for the power on and reset. If you don't plan to put this into a case, you don't have to wire up jumpers for power and reset, they are provided.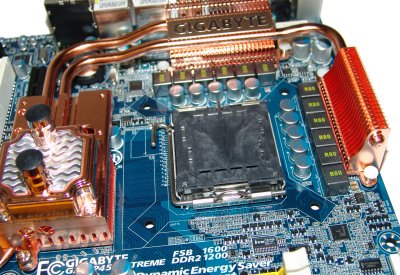 Moving along to the CPU area, it does look a little cramped. However, there is more than enough room for us to get our OCZ Vanquisher installed and removed without too much hassle. Compared to the ASUS P5Q Deluxe which scraped our knuckles on the heatsink when trying to get it installed and removed, the P45-Extreme is quite a bit easier.
GIGABYTE's power regulation system comes from a Dual Circuit 6-phase voltage system. In total there are 12 regulators, but rather than being in series GIGABYTE runs parallel 6 phases to get a total of 12; a better and cleaner voltage signal comes from not overloading a single rail, but having dual planes to go through.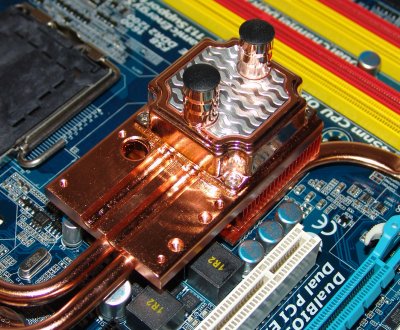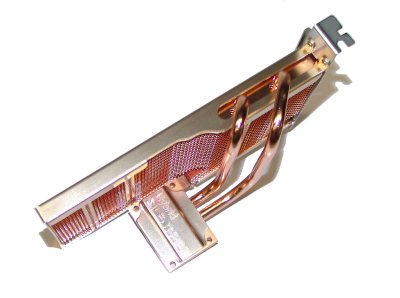 While not the first manufacturer to introduce water cooling onto the Northbridge, GIGABYTE is not here to be outdone. For the cooling you can either leave it as the air cooling system that it's intended for or you can choose to go with running water through the system to help cool the voltage system along with the North and Southbridges. If you intend to go extreme, a bolt on extra is included that uses up the top PCI expansion slot (meaning you lose the only PCIe x1 slot the board) in order to run a unique cooling system. This screws onto a spare plate on the Northbridge cooler and allows for a better overall heat exchange.
The Motherboard - Continued
The Board Continued

Moving along, we get onto the rear I/O ports. We get a good look as what GIGABYTE has laid out for us. In order to increase the convection cooling, the heatsink assembly takes up a bit of space on the rear I/O ports to help vent the heat generated by the Mosfets. This limits the board down a few extra slots. To that end there are no eSATA ports or FireWire ports on the rear, which have to be taken care of with PCI cover brackets. For USB hogs, a total of eight are available on the rear along with two ethernet ports for Dual Band Ethernet. The most notable feature of the rear I/O is the inclusion of a CMOS reset button. This allows you to reset the CMOS in the event of an unrecoverable bad overclock without having to open up the case.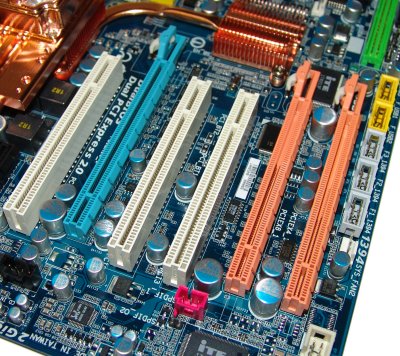 Lastly, it's onto the expansion slots. In total there are three PCI Express x16 slots; one blue and two orange. The single blue slot is tied into the 16 lanes on the P45 Northbridge. If you are using a single graphics card then it's recommended to run it in the blue slot, giving it the full 16 lanes. If you intend to go Crossfire then you must put a second graphics card into the top orange slot. This then moves eight lanes from the blue slots to the orange slot, giving you the twin x8 configuration for Crossfire that the P45 is famous for.
The last PCI Express x16 slot is run off four of the six PCIe x1 lanes that the ICH10R incorporates. This allows you to use a third graphics card for PhysX, or any RAID controller card that requires more than a x1 slot. However, it only runs at a max speed of x4; any card that has over x4 lanes will only run at a max of x4 speed on this slot.
A single PCIe x1 slot sits above the blue x16 slot, however, if you use the extra cooling system that GIGABYTE includes then you lose this slot. Lastly, there are three PCI legacy slots. Personally I would have liked to have seen a single PCI slot and a universal PCIe slot put in to keep the PCIe the dominant expansion architecture.
BIOS and Overclocking
BIOS
GIGABYTE continues to use the same Award version 6 blue BIOS screen. However, things look a little different. Usually the M.I.T menu that houses all the overclocking features is on the right hand edge of the screen. This time, as soon as you boot into the BIOS your first option is the M.I.T menu.
Also, GIGABYTE usually hides certain features from end users and requires you to press CRTL + F1 to gain access to them. No longer is that the case with this board.
Buses
CPU Host Frequency: 100 - 1200 in 1MHz Increments
PCIE Frequency: 90 - 150MHz in 1MHz Increments
Voltages
CPU VCore: 0.50v to 2.3v in 0.00625v increments
CPU Termination Voltage: 0.8v to 1.94v in Various Increments
CPU PLL Voltage: 1.1v to 2.8v in 0.02v increments
CPU Reference: 0.440v to 1.0v in Various Increments
CPU Reference2: 0.440v to 1.0v in Various Increments
MCH Core: 0.8v to 1.8v in 0.1v increments
MCH Reference: 0.5v to 1.45v in 0.05v Increments
MCH/DRAM Reference: 0.49v to 1.75v in Various Increments
ICH I/O: 1.0v to 2.3v in 0.05v Increments
ICH Core: 0.8v to 1.8v in 0.1v increments
DRAM Voltage: 1.8v to 3.0v in 0.02v Increments
DRAM Termination: 0.62v to 1.35v in Various Increments
Channel A Reference: 0.49v to 1.75v in Various Increments
Channel B Reference: 0.49v to 1.75v in Various Increments
Ratio and Dividers
(G)MCH Frequency Latch: 200-266-333-400
Overclocking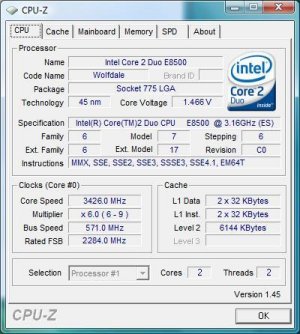 When it comes to overclocking DDR2 based boards, it gets a little tricky getting extra bus speed as we can't lower the ratios below 1:1. Thus, hitting the high 500MHz level means we are pressing the memory close to 1200MHz. However, we did manage an extremely good overclock when it came to our P5Q and we thought this was going to be it, but GIGABYTE managed to hit 571MHz by tweaking all of the voltage options a bit. With more time and patience we could possibly get more and with better RAM and cooling, even more again.
Important Editor Note: Our maximum overclocking result is the best result we managed in our limited time of testing the motherboard. Due to time constraints we weren't able to tweak the motherboard to the absolute maximum and find the highest possible FSB, as this could take days to find properly. We do however spend at least a few hours overclocking every motherboard to try and find the highest possible overclock in that time frame. You may or may not be able to overclock higher if you spend more time tweaking, or as new BIOS updates are released. "Burn-in" time might also come into play if you believe in that.
Test System Setup and Memory Performance
Test System
Processor
: Intel Core 2 Duo E8500 @ 3.16GHz (9.5x333MHz)
Memory
: 2x 1GB DDR2-1186 Geil (Supplied by
Geil
)
Hard Disk
: 500GB Western Digital SE16 (Supplied by
Western Digital
)
Graphics Card
: GIGABYTE 9800GX2 (Supplied by
GIGABYTE
)
Cooling
: GIGABYTE 3D Galaxy II (Supplied by
GIGABYTE
)
Operating System
: Microsoft Windows Vista SP1
Drivers
: Intel INF 9.0.0.1008, Forceware 175.16
Today we are comparing to the GIGABYTE P35-DQ6 motherboard, the very same platform that the new EP45-Extreme is aiming to replace. Today we hope to see if P45 is able to match P35 and hopefully surpass it.
For stock settings, we ran with the CPU at its default 333MHz FSB along with a memory setting of 800MHz which is the highest JEDEC standard and the highest official standard for P35 and P45 support. At overclocked specs, we ran the boards with a memory ratio of 1:1 while the EP45-Extreme ran with an FSB of 571MHz and our P35 managing 558MHz.
EVEREST Ultimate EditionVersion and / or Patch Used:
2006
Developer Homepage:
http://www.lavalys.com
Product Homepage:
http://www.lavalys.com
Buy It Here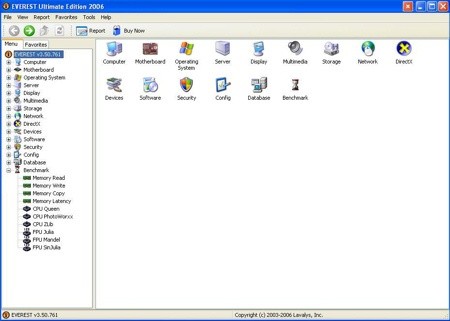 EVEREST Ultimate Edition is an industry leading system diagnostics and benchmarking solution for enthusiasts PC users, based on the award-winning EVEREST Technology. During system optimizations and tweaking it provides essential system and overclock information, advanced hardware monitoring and diagnostics capabilities to check the effects of the applied settings. CPU, FPU and memory benchmarks are available to measure the actual system performance and compare it to previous states or other systems.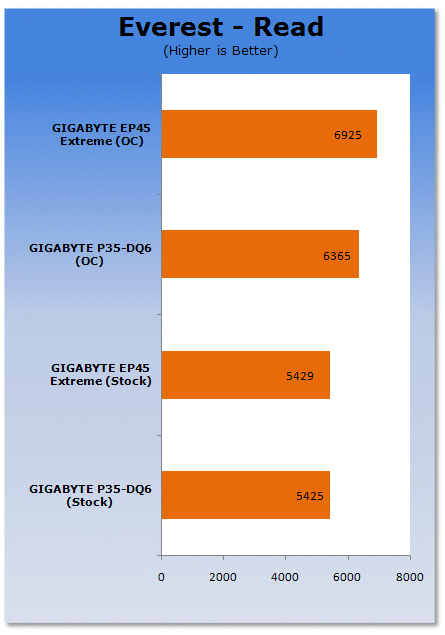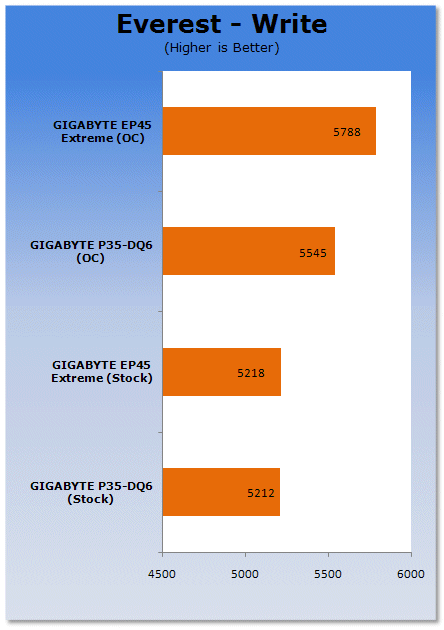 At stock speeds we see that the P45 is able to get a slightly higher memory speed. When overclocked, the P45 manages to shine.
Benchmarks - PCMark Vantage
PCMark VantageVersion and / or Patch Used:
Unpatched
Developer Homepage:
http://www.futuremark.com
Product Homepage:
http://www.futuremark.com/benchmarks/pcmark-vantage//
Buy It Here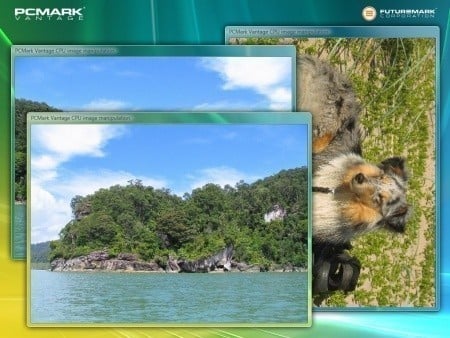 PCMark Vantage is the first objective hardware performance benchmark for PCs running 32 and 64 bit versions of Microsoft Windows Vista. PCMark Vantage is perfectly suited for benchmarking any type of Microsoft Windows Vista PC from multimedia home entertainment systems and laptops to dedicated workstations and high-end gaming rigs. Regardless of whether the benchmarker is an artist or an IT Professional, PCMark Vantage shows the user where their system soars or falls flat, and how to get the most performance possible out of their hardware. PCMark Vantage is easy enough for even the most casual enthusiast to use yet supports in-depth, professional industry grade testing.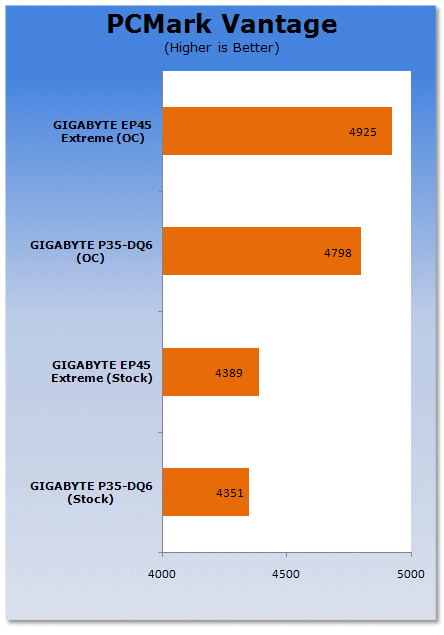 Moving into synthetic system tests, PCMark Vantage puts quite a bit of stress on the system. At stock speeds we see a slight lead to the EP45-Extreme but it's overclocked that the board manages to show its true speed.
Benchmarks - SYSmark 2007 Preview
SYSmark 2007Version and / or Patch Used:
1.04
Developer Homepage:
http://www.bapco.com/
Product Homepage:
http://www.bapco.com/products/sysmark2007preview/>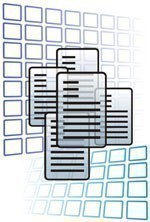 SYSmark 2007 Preview is the latest version of the premier performance metric that measures and compares PC performance based on real world applications.
SYSmark 2007 Preview extends the SYSmark family, which has been widely accepted by IT Managers, PC OEMs, press and analysts worldwide to support Windows Vista.
SYSmark 2007 Preview allows users to directly compare platforms based on Windows Vista to those based on Windows XP Professional and Home.
The new release also incorporates numerous new features and enhancements such as an improved GUI allowing streamlined start-up and run along with a heads-up-display (HUD) and automated error reporting.
SYSmark 2007 Preview is an application-based benchmark that reflects usage patterns of business users in the areas of Video creation, E-learning, 3D Modeling and Office Productivity. This new release includes a robust and refreshed set of applications.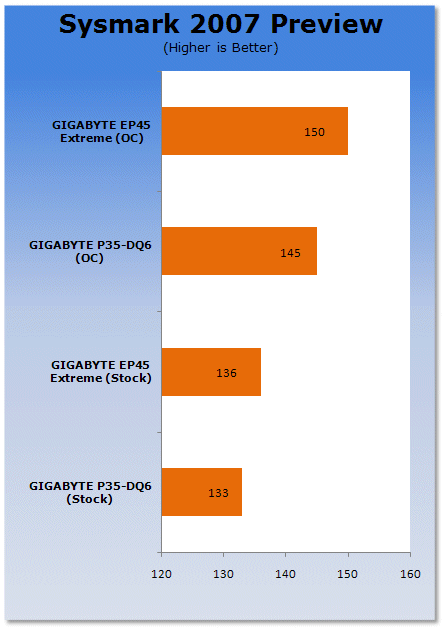 SYSmark gives us a much better overall system test as it's based on real world applications. We see the EP45-Extreme managing to win out just at stock, but gives a good overall overclock speed.
Benchmarks - Adobe Premiere Elements 4.0
Adobe Premiere Elements 4.0Version and / or Patch Used:
4.0
Developer Homepage:
http://www.adobe.com
Product Homepage:
http://www.adobe.com/products/premiereel/
Buy It Here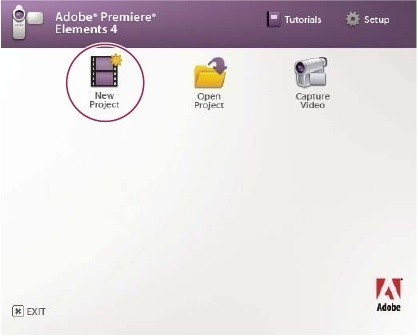 Our test with Adobe Premiere Elements 2.0 is performed with a raw two hour AVI file. It is then compressed into DivX format using the latest version codec. We measure the time it takes to encode and then record CPU usage.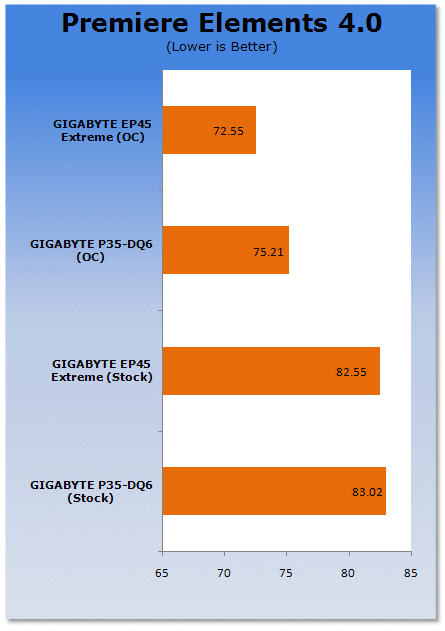 Into the encoding tests we get to see that the EP45-Extreme manages to only get a good score when overclocked. At stock we see both boards just about equal.
Benchmarks - 3DMark Vantage
3DMark VantageVersion and / or Patch Used:
1.01
Developer Homepage:
http://www.futuremark.com
Product Homepage:
http://www.futuremark.com/products/3dmarkvantage/
Buy It Here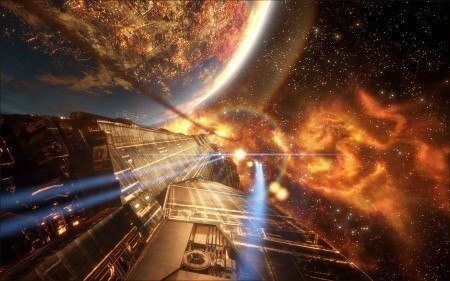 3DMark Vantage is the new industry standard PC gaming performance benchmark from Futuremark, newly designed for Windows Vista and DirectX10. It includes two new graphics tests, two new CPU tests, several new feature tests, and support for the latest hardware.
3DMark Vantage is based on a completely new rendering engine, developed specifically to take full advantage of DirectX10, the new graphics API from Microsoft.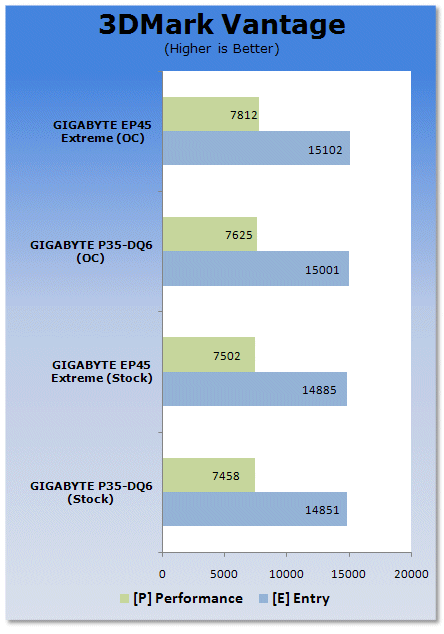 Our first gaming benchmark falls into the synthetic category and 3DMark Vantage manages to do a reasonably good job of stressing the system. First we see that at stock speeds there isn't much difference between the two setups. When overclocking comes into it we see the EP45-Extreme get a better overall score.
Benchmarks - Crysis
CrysisVersion and / or Patch Used:
1.1
Timedemo or Level Used:
Custom Timedemo
Developer Homepage:
http://www.crytek.com/
Product Homepage:
http://www.ea.com/crysis/
Buy It Here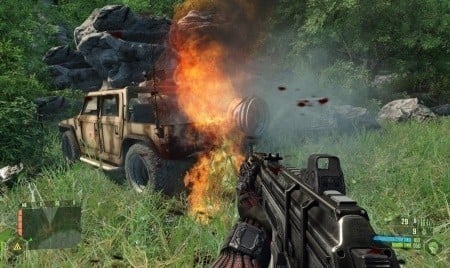 From the makers of Far Cry, Crysis offers FPS fans the best-looking, most highly-evolving gameplay, requiring the player to use adaptive tactics and total customization of weapons and armor to survive in dynamic, hostile environments including Zero-G.
Real time editing, bump mapping, dynamic lights, network system, integrated physics system, shaders, shadows and a dynamic music system are just some of the state of-the-art features the CryENGINE 2 offers. The CryENGINE 2 comes complete with all of its internal tools and also includes the CryENGINE 2 Sandbox world editing system.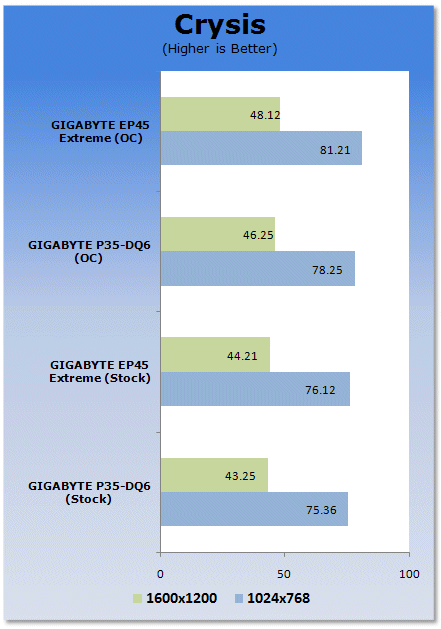 On the last test we see that the EP45-Extreme at stock speeds gives us a good view of the real world gaming potential. Only OC speeds manages to show a better result over the P35.
Power Usage and Heat Tests
Power Consumption
We are now able to find out what kind of power is being used by our test system and the associated graphics cards installed. Keep in mind; it tests the complete system (minus LCD monitor, which is plugged directly into an AC wall socket).
There are a few important notes to remember though; while our maximum power is taken in 3DMark06 at the same exact point, we have seen in particular tests the power being drawn as much as 10% more. We test at the exact same stage every time; therefore tests should be very consistent and accurate.
The other thing to remember is that our test system is bare minimum - only a 7,200RPM SATA-II single hard drive is used without CD-ROM or many cooling fans.
So while the system might draw 400 watts in our test system, placing it into your own PC with a number of other items, the draw is going to be higher.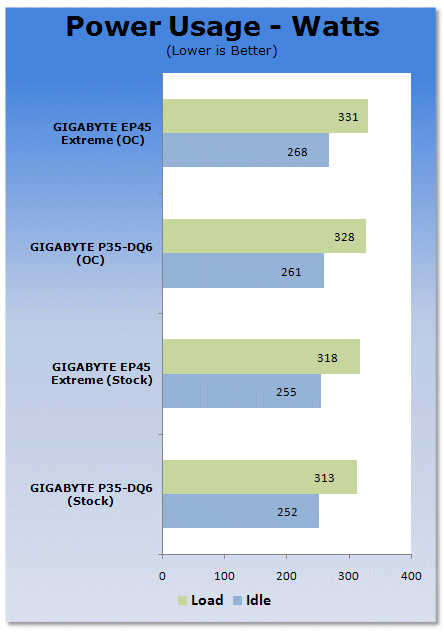 On the power side, the EP45-Extreme sucks a little bit more power than the P35 board, but with extra features and a slightly higher power requirement of the P45 chipset, it's not a bad result.
Heat Generation
As a new measure, we are now monitoring the heat generation from the key components on the motherboards, this being the Northbridge, Southbridge (if it contains one) as well as the Mosfets around the CPU. The results are recorded at idle and load during the power consumption tests.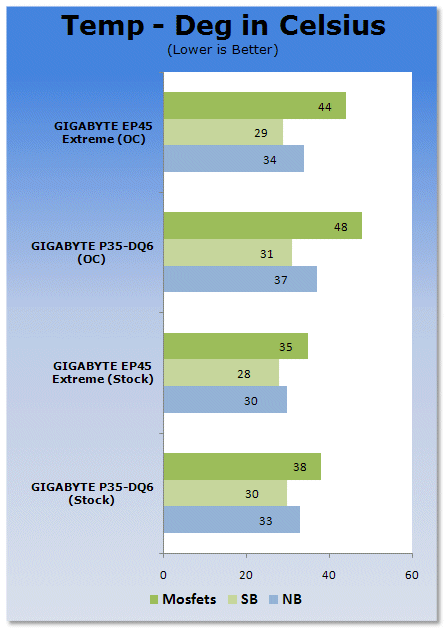 Despite drawing more power, GIGABYTE's hybrid cooling manages to keep things cooler, especially with the extra heat pipe added.
Final Thoughts
In today's market it's getting harder and harder to choose a motherboard. Back about five years ago overclocking was king and companies like ASUS and ABIT had the market cornered. Today overclocking still holds its allure, but just about every board you buy has some degree of overclocking to it, so it's a matter of getting some serious power out of your boards. ASUS does it, MSI does it and GIGABYTE does it hardcore style.
The EP45-Extreme has the most impressive array of voltage options I have ever seen on any motherboard out there. They are also practical, allowing for tweaking of the smallest thing on the board; allowing for a much better and stable tune. Not only that, the tweaking options don't require a degree in rocket science to understand what they are controlling.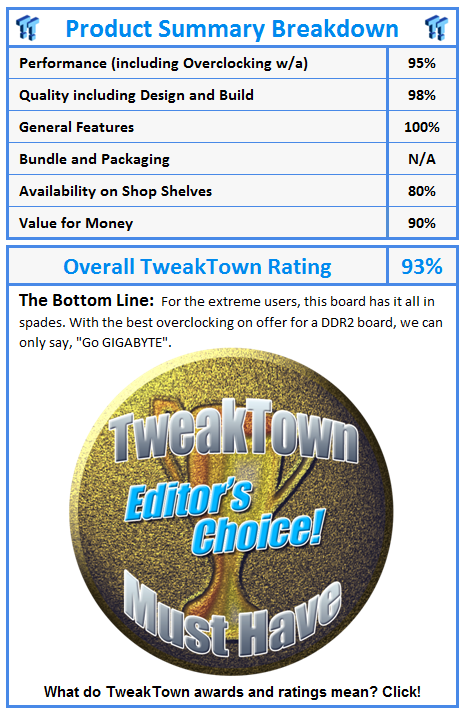 PRICING: You can find products similar to this one for sale below.
United States: Find other tech and computer products like this over at Amazon.com
United Kingdom: Find other tech and computer products like this over at Amazon.co.uk
Australia: Find other tech and computer products like this over at Amazon.com.au
Canada: Find other tech and computer products like this over at Amazon.ca
Deutschland: Finde andere Technik- und Computerprodukte wie dieses auf Amazon.de
We openly invite the companies who provide us with review samples / who are mentioned or discussed to express their opinion. If any company representative wishes to respond, we will publish the response here. Please contact us if you wish to respond.
Related Tags