Topower PowerBird 1100 watt Modular Power Supply
This week Mike has Topower's top dog PowerBird series 1100 watt PSU in hand which should keep most any rig content.
Published Sat, Aug 30 2008 11:00 PM CDT
|
Updated Fri, Sep 18 2020 10:50 PM CDT
Introduction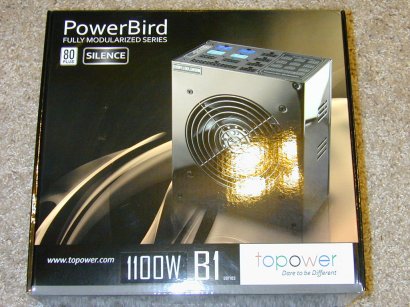 Founded in 1986, Topower is a company that began life as a manufacturer of switching power supplies. While they have expanded their product line of late, today we will be looking at one of their latest offerings in the PSU segment, the PowerBird 1100.
With features including a modular design and a high power efficiency, it is vying for your bid the next time you upgrade your system power. With so many choices in even high end power supplies, we will look at features and performance in an enthusiast build to see if these guys have what it takes to earn your upgrading dollars.
So kick up your heels and relax for a bit as we take a look at the Topower PowerBird 1100 power supply. Does it have what it takes to be a worthy addition to an enthusiast machine? Let's find out!
In The Box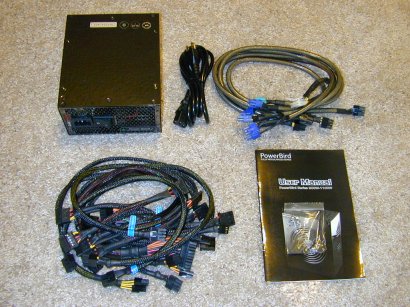 After we get through the shrink wrap and open the box, we find ourselves looking at exactly what we would expect to see. There are not a lot of frills thrown in, but then this is a power supply so frills really aren't necessary.
Besides the main unit, you get all the cabling you will need to run a lot of components, the power cord, a small instruction manual and mounting screws. Topower has also included some small zip ties to help you in your never ending task of cable management.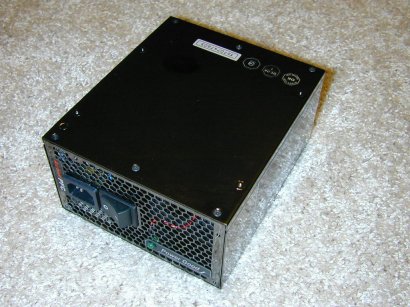 One of the first things you see when looking at the main unit is the total lack of any cabling coming from the primary housing. Yes folks, this is a
completely
modular power supply. I have seen many modular designs but this is the first that has gone to the extreme and removed all native cabling from the main enclosure.
The housing itself has a chrome like finish and is pleasing to the eye. The sheen will be a nice accompaniment to nearly any enclosure with a side window. In an effort to be as widely pleasing as possible, the manufacturer has not included any LED lighting. This means that you will not have to consider the light from this when determining your own color scheme.
As for the specifications, the PowerBird 1100 is rated at 1100 watts of continuous draw. It features six 12v rails, each of which is rated individually at 20A. The entire 12v rail is designed to handle a draw of 81A. Both the 3.3v and 5v rails are rated at 28A each. Given the current ATX standard, this ought to bode very well for a PSU of this capacity. While the 12v rail is expected to be potent, a rating of 81A on this one primary rail is very large.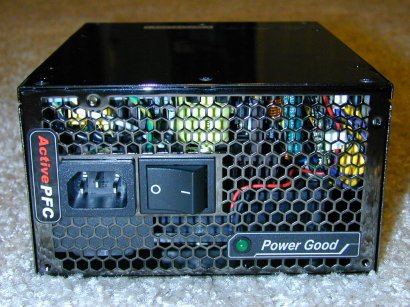 The external panel is pretty much what we have come to expect anymore, a pretty barren area with a lot of openings for ventilation. As is commonplace, the power supply will automatically detect if you are using a 115v or 230v main power input and adjust itself accordingly. You will also note the green light along the bottom edge that lets you know if the unit is getting a proper current. This is a simple addition but a nice one since it takes care of the first step in system troubleshooting.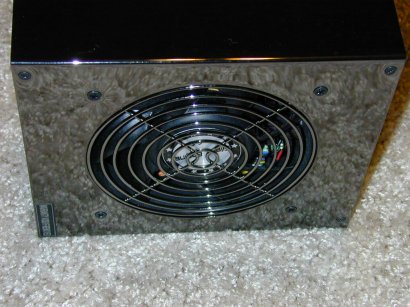 From this angle you can see the cooling used by the PowerBird 1100, in this case a 120mm fan that has no LED lighting but plenty of airflow with a minimum amount of noise. During all phases of testing I was unable to hear the fan over the noise made from the test system. From this angle you can also see the chrome type finish of the external casing. Just remember to hit the side panels with a soft cloth after you finish the installation so the fingerprints will be removed.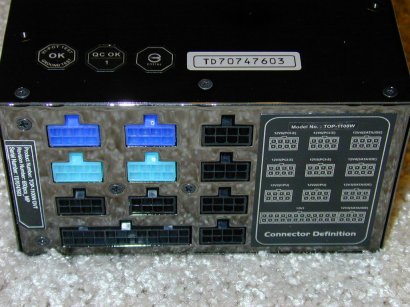 As noted earlier, this model is completely and totally modular. Absolutely nothing is natively connected to the unit itself, so you use only what you need. This even includes the supplemental power adapters for either the Intel or AMD based processors. For those who have not played with a modular design, this makes cable management much easier since you don't have to find hiding spots for all that unused cabling.
I was a bit concerned with having the primary power set up as a modular cable, but I had no difficulties with either installation of reliability when testing the unit. The coupler locks solidly into place and power was always there when it was called for.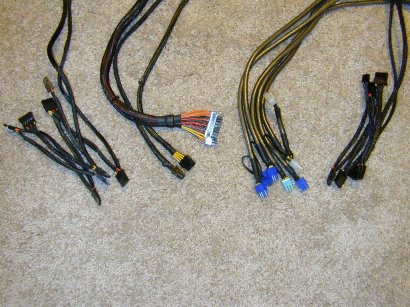 Since we are on the topic of cabling, here is what you get with the PowerBird 1100: 20+4 pin primary, 4+4 pin supplemental, 6 Molex, 8 SATA, 2 FDD, 2 PCI-E6, 2 PCI-E8 and 1 combination cable with both a PCI-E6 and a PCI-E8 connector. This gives a huge amount of flexibility and enough native connectivity to utilize even a high-end graphics subsystem like we will be using in our performance tests.
Cable length was set up with a tall mid-tower in mind. Running cabling through an Antec P190 was a breeze, but those running a tall full tower with a separate power compartment under the component area may run into some length issues for those top optical drive bays. Of course, this isn't an uncommon issue, so those with tall cases are usually already prepared to address this.
Testing
When it comes to testing a power supply, there are two courses to travel. One takes you down a path using a device to stress out the PSU and provide data regarding the power levels across all three rails. The second, and the one I make use of, utilizes an actual test system to give a more real-world account of what the power supply is capable of. While both methods have their merits, I prefer to use an actual computer to more closely resemble the manner of use that you, the potential customer, will put the product through.
That said, let's take a quick look at the test system. I have continued to beef up the system to put a more realistic strain on the power supply.
MSI X48C Platinum motherboard (Supplied by
MSI
)
Intel Core 2 Duo E6600 processor
2x 1024MB Corsair XMS2-8500-C5 memory (Supplied by
Corsair
)
2x Sapphire X2900XT graphics boards in CrossfireX configuration (Supplied by
Sapphire
)
Western Digital 250GB SATA hard drive
2x Western Digital 160GB SATA hard drives
Western Digital 80GB hard drive
Sony 52x CD-ROM optical drive
Samsung 16x DVD-R optical drive
1x 200mm fan
2x 120mm fans
While this isn't a Quad-GPU setup, we are certainly in the realm of having a system that is going to put a significant power drain on any power supply. Each of the X2900XT boards is capable of pulling close to 250 watts of power. Testing will consist of checking the power levels across all three rails at idle and again while the system is under stress. This should give us a good look at the capabilities of the power supply being tested.
Results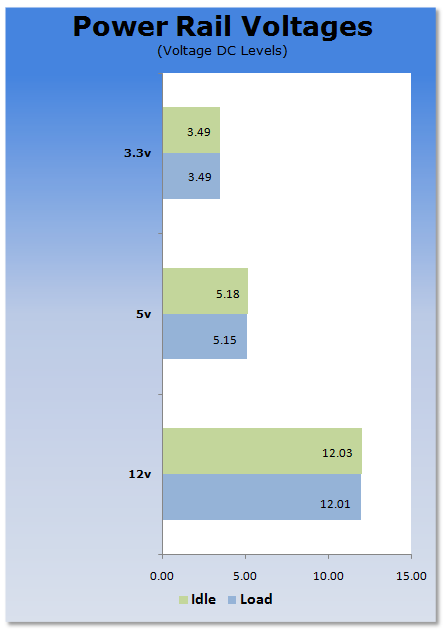 The voltage levels dropped very little during our testing phase, but this was expected. Most high-end power supplies are designed to handle the rigors of a hefty 12v set of components and the Topower PowerBird 1100 doesn't miss the mark. While testing the system under a load, I also monitored the power rails for any fluctuation of voltage level. Both the 3.3v rail and the 12v rail displayed a strict output of the recorded voltage. The 5v rail had a slight fluctuation of 0.01v, so was not anything that would cause concern. Overall the power supply performed very well with the ability to take a pair of power hungry video boards and handle their needs with ease.
Final Thoughts
When it comes to features in a power supply, many folks want something that is modular in design. Of course, these units normally have the primary and supplemental power cables hard-wired into the internals. The Topower PowerBird 1100 features something a little different in that they have made
everything
modular. While I was a little concerned at the beginning of my testing, there were no problems at all and the power was plentiful and true. This is a feature that I could get used to.
Cabling was also abundant and cable length was adequate for a vast majority of enclosures being used. Unless you are making use of one of the mondo full tower monsters that are around, you should have no problems at all with the standard cabling that comes with this PSU.
Aesthetically, the PowerBird 1100 is pleasing to the eye, especially for those using a windowed case. The chrome looking exterior has a very nice sheen and will set off your system components nicely. Also of note is the lack of any lighting, so if you already have some lighting effects in your box, you will not have to worry about any color clashes.
As far as pricing is concerned, this unit has a MSRP of $299.99US but can be found online for about $289. For a power supply at this power range and with this set of features, the PowerBird 1100 falls close to the bottom of the price range. This gives us a lot of power for less than many similarly featured power supplies. Very nice.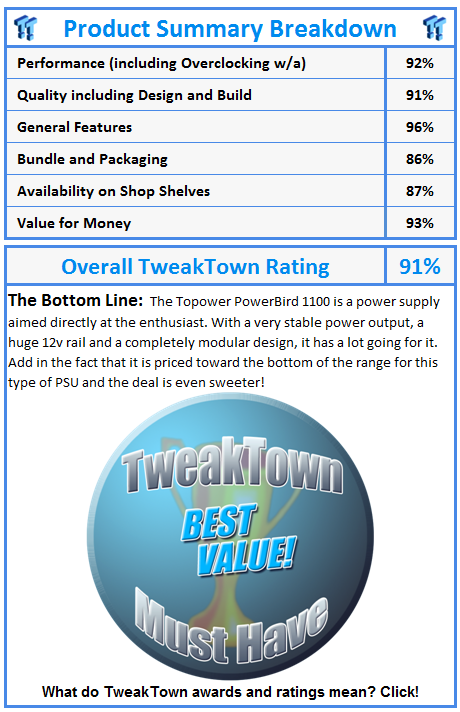 PRICING: You can find products similar to this one for sale below.
United States: Find other tech and computer products like this over at Amazon.com
United Kingdom: Find other tech and computer products like this over at Amazon.co.uk
Australia: Find other tech and computer products like this over at Amazon.com.au
Canada: Find other tech and computer products like this over at Amazon.ca
Deutschland: Finde andere Technik- und Computerprodukte wie dieses auf Amazon.de
We openly invite the companies who provide us with review samples / who are mentioned or discussed to express their opinion. If any company representative wishes to respond, we will publish the response here. Please contact us if you wish to respond.
Related Tags