Western Digital VelociRaptor 10,000RPM Hard Disk in RAID 0
Chris tests three generations of Raptors including the latest VelociRaptor in both single and RAID 0 modes.
Published Mon, Aug 25 2008 11:00 PM CDT
|
Updated Fri, Sep 18 2020 10:50 PM CDT
Introduction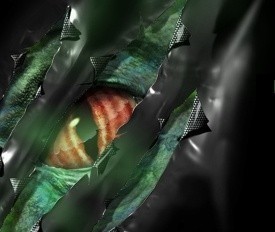 When Western Digital launched their first 10,000 RPM consumer desktop drive, enthusiasts quickly took note. Now in its fourth generation, the Western Digital Raptor Series is still unchallenged and dominates the enthusiast and performance user markets.
10,000 and even 15,000 RPM hard drives started long before the Raptor Series but have been exclusively built for workstation and server environments utilizing SCSI and its successor, SAS connectivity. SATA and later SATA II bridged the gap between consumer ATA and SCSI standards and arguably the biggest performance gains came from Native Command Queuing, but the Raptor Series did not utilize this technology, not until now.
The Western Digital VelociRaptor is more than just a platter upgrade. The new controller takes advantage of Native Command Queuing and also reduces access time even more. The changes were enough for the new Raptor to gain a new name, VelociRaptor. I am not too sure if a new name was in order since even enthusiasts will still call this
The New Raptor
. Let's take a look and see why The New Raptor is so far beyond everything we have come to know and love from Western Digital's flagship enthusiast product.
Specifications, Availability and Pricing

The main bullet point that stands out with the Raptor Series is the rotational speed. The new VelociRaptor retains its 10,000 RPM platter speed, giving the drive unparalleled access time for a consumer drive. In a nutshell, information is requested by the system and the hard drives' controller then needs to pull the information. Once the address is located, the heads (the part that reads the data) move into position. The platters then need to rotate to the area where the data is stored. This action takes only milliseconds, but when several items are requested milliseconds turn into seconds and seconds to minutes. The faster a drives platter rotates, the faster the access time of your data.
Physically, the VelociRaptor has changed a great deal. Most of the changes will be looked at in greater detail when we get to the product images section, starting on the next page. To start with, the VelociRaptor has transformed into a true enterprise product that is stuffed in a 2.5 inch casing like many SAS drives. It is important not to confuse 2.5 inch notebook drives with the enterprise standard since the enterprise drives are a little taller than notebook drives. There is also an issue with power; notebook drives use 5 volts and enterprise drives 12 volts. Some notebooks will physically accept the new VelociRaptor, but in theory will not provide enough power.
One big advantage of the 2.5 inch standard is that you can fit more drives in the same amount of space. A couple of companies make consumer friendly 5.25 inch drive bays that fit 4 hard drives in the same amount of space a typical CD/DVD drive uses.
The secondary advantage of moving to 2.5 inches is the new VelociRaptor comes with a 3.5 inch bracket that doubles as a heatsink. 2.5 inch drives typically produce less heat at 10,000 RPMs than most 7,200 RPM full size drives, but the additional cooling is welcome. Acoustic noise and vibration is also reduced when moving to 2.5 inches, a problem with some of the earlier drives and one enthusiast that I know calls the first and second generation Raptors "Rock Grinders".

In recent press releases Western Digital announced a couple of purchasing options. The first comes from the enterprise nature of the Raptor. It is possible to buy the drive bare as a 2.5 inch enterprise variant or with the 3.5 inch adaptor/heatsink. The first versions of the bracket placed the drive in the middle while putting the drive out of spec for 3.5 inch drives when it came to the location of the connectors; this will be covered in the Product Images Area in more detail. The latest Western Digital press release states that an updated bracket will bring the drive back into 3.5 inch compliance for use in systems with backplanes such as NAS and server systems.
Like the previous 150 and 74 Raptors, it is possible to purchase a VelociRaptor with a smaller capacity; this is done by reducing the amount of platters in the drive. This coupled with two versions with a bracket and a 2.5 inch bare drive gives us six product SKUs just in retail form. Currently the only version I have been able to find for sale is the version reviewed here which carries an MSRP and current e-tail price of 299.99.
The Western Digital VelociRaptor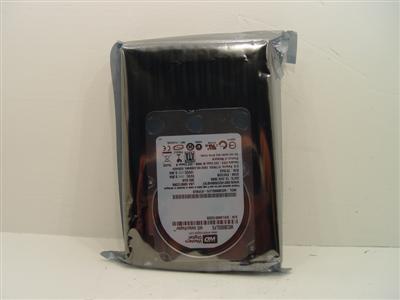 Ideally we would always choose a full retail sample over an OEM product, but sometimes this is not possible. Our sample VelociRaptor came to us in a sealed anti-static bag, but I have purchased a few retail hard drives in my day and can say that Western Digital has always done a good job protecting their hard drives from damage. Most of their retail drives come with a plastic molded surround that keeps the drive in the middle of the oversized package.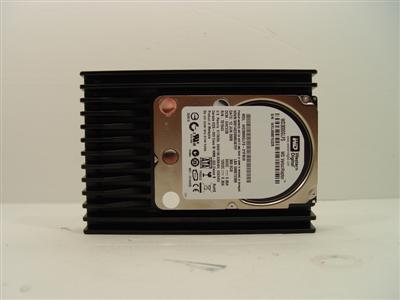 Here we see the 2.5 inch drive for the first time in its 3.5 inch bracket that doubles as a heatsink. The entire bracket is made of aluminium and has fins like a heatsink that help remove heat from drive.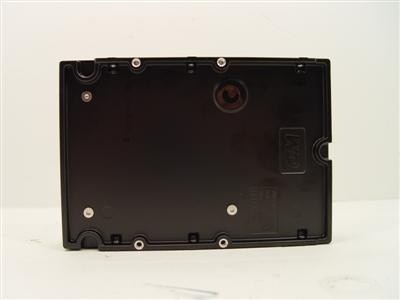 On the back side we see that Western Digital has included a security measure by placing a special sticker over one of the torx bits that secure the drive to the bracket.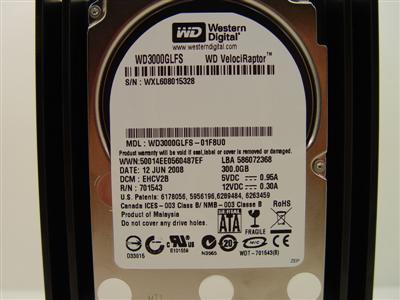 Here we get a better look at the drives label on our sample; the 3.5 inch, SATA Connect (non backplane capable), 300 GB variant, model number WD3000GLFS.
Western Digital made full use of the bracket/heatsink; here we see that the cooling fins are placed everywhere possible.
VelociRaptor Compatibility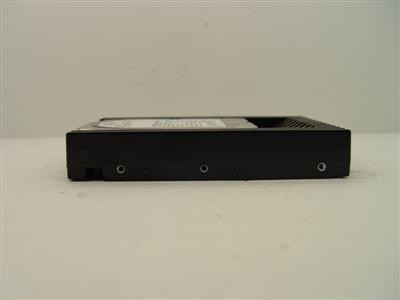 From the side we see the VelociRaptor uses standard screw spacing on their bracket.
When I first started testing the new VelociRaptor, I noticed right from the word go that the drive in current form would not play well in most NAS servers, or for that matter any system that uses a backplane on a 3.5 inch drive system.
It was only after my first review was completed, but prior to publishing that a press release arrived in my inbox stating yet another VelociRaptor variety; this version with an updated bracket that places the drives connectors in the proper place. I am glad to see that Western Digital quickly identified this small problem and just as quickly started to issue a fix. We all know that in this industry small compatibility problems are discovered and fixes sometimes take months to be worked out, but that was not the case here.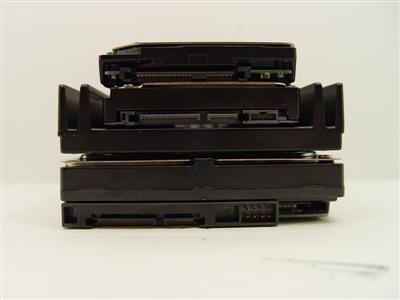 Here we see (from lowest to highest) a standard 3.5 inch SATA hard drive, VelociRaptor and 2.5 inch SAS drive. You can see that with the bracket the VelociRaptor with the standard bracket will not slide into a backplane. On the other end of the scale, a bare 2.5 inch drive, or a drive removed from the bracket will fit in 2.5 inch drive bay like those found
in Enhance Technology's QuadraPack Q14
, a 5.25 inch hot swap drive carrier that fits in a standard CD/DVD ROM bay and holds four 2.5 inch drives.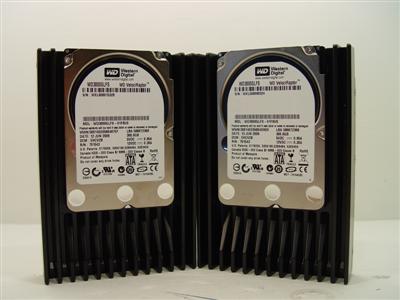 As a hard drive aficionado, I know what I and many of you wanted to see. The one thing that has been void of all of the previous VelociRaptor reviews published thus far; RAID 0 results!
Test System Setup
Test System
Processor
: Intel Core 2 Duo E6750 (Supplied by
Intel
)
Motherboard
: XFX 680i SLi (Supplied by
XFX USA
)
Memory
: 2x 1GB DDR2-1200 (Supplied by
Winchip
)
Graphics Card
: ASUS HD 3870 TOP (Supplied by
ASUS
)
Cooling
: GIGABYTE 3D Galaxy II (Supplied by
GIGABYTE
)
Operating System
: Microsoft Windows Vista Ultimate
Drivers
: NVIDIA 15.17
Controller
: Areca ARC-1231ML (Supplied by
Areca
)
The above setup is what will be used for all hard disk reviews hereon. Hard disks designed primarily for use in notebooks are also tested in the above system. However, some tests which are for determining the effect on battery life simply cannot be run on a desktop. All battery related tests are performed on a Lenovo T61 with WiFi and Bluetooth enabled.
While I would have loved to add six more hours to my testing, I was unable to source a pair of 74GB Raptors for RAID testing. Last year I gave a set of three to a veteran for use in his home system after he returned home from Iraq. I had a 36GB generation 1 Raptor in my personal arsenal as well as several 150GB drives, two of which were used in RAID 0 to compare against the VelociRaptors in matching tests. All tests were performed on the same system back-to-back on the same drivers and hardware.
RAID 0 tests were performed on both the NVIDIA 680i chipset and an Areca ARC-1231ML, the new enthusiast standard SATA RAID controller.
Benchmarks - HD Tune Pro - Read
HD Tune ProVersion and / or Patch Used:
3.00
Developer Homepage:
http://www.efdsoftware.com/
Product Homepage:
http://www.hdtune.com/>
HD Tune is a Hard Disk utility which has the following functions:
- Benchmark: measures the performance
- Info: shows detailed information
- Health: checks the health status by using SMART
- Error Scan: scans the surface for errors
- Temperature display
HD Tune Pro gives us accurate read, write and access time results and for the last couple of years has been gaining popularity amongst reviewers. It is now considered a must have application for storage device testing.
Read Tests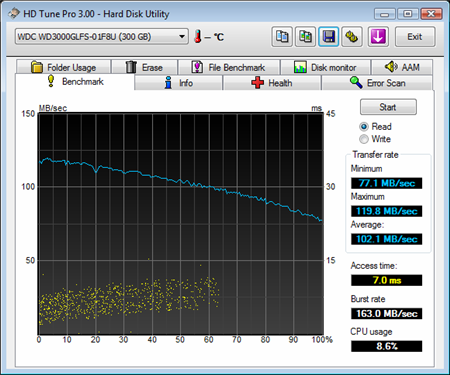 WD VelociRaptor on 680i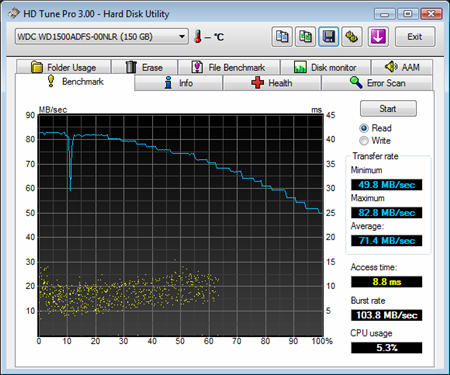 WD Raptor 150GB on 680i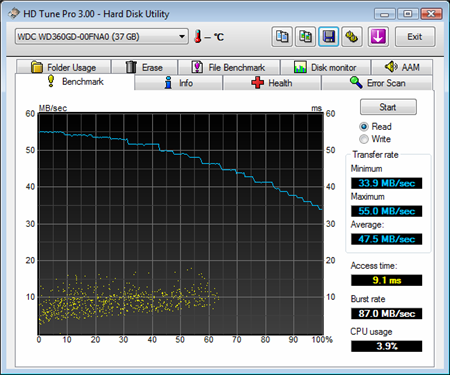 WD Raptor 36GB on 680i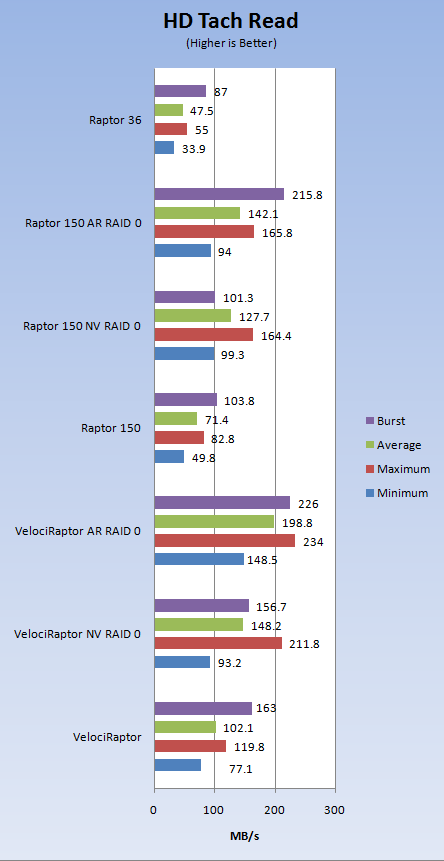 In single drive form we see that the VelociRaptor is quite a bit faster than even the previous generation Raptor 150 GB drive. When compared to the 36 GB first generation, it is easy to see just how far this product line has evolved.
RAID 0 testing shows that the VelociRaptor scales very well in two drive form on both the 680i and Areca controller.
Benchmarks - HD Tune Pro - Write
HD Tune Pro - Write Tests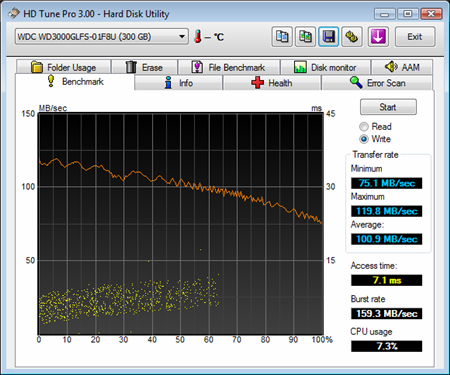 WD VelociRaptor on 680i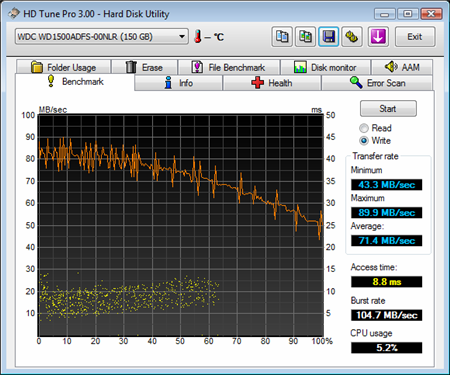 WD Raptor 150GB on 680i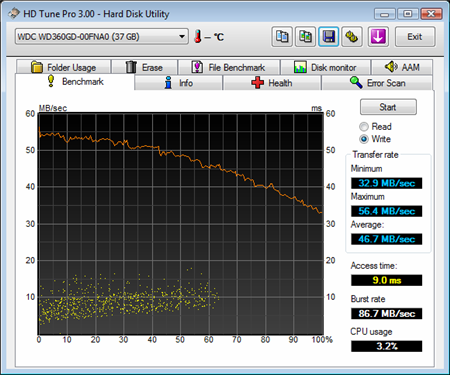 WD Raptor 36GB on 680i
As with the Read Testing, the VelociRaptor is much faster at writing data than previous Raptors. The VelociRaptor is actually faster in this test as a single drive than two previous generation Raptors in RAID 0 when used on the 680i chipset.
We also see that the VelociRaptor scales very well on both controllers. The professional level Areca controller really allows these drives to stretch their legs and show just how powerful they are.
Benchmarks - Everest Random Access Time
Everest Random Access TimeVersion and / or Patch Used:
4.50
Developer Homepage:
http://www.lavalys.com/
Product Homepage:
http://www.lavalys.com/ >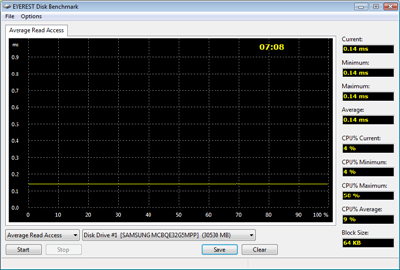 Everest Ultimate and Corporate Edition offer several different benchmarks for testing and optimizing your system or network. The Random Access test is one of very few if not only that will measure hard drives random access times in hundredths of milliseconds as oppose to tens of milliseconds.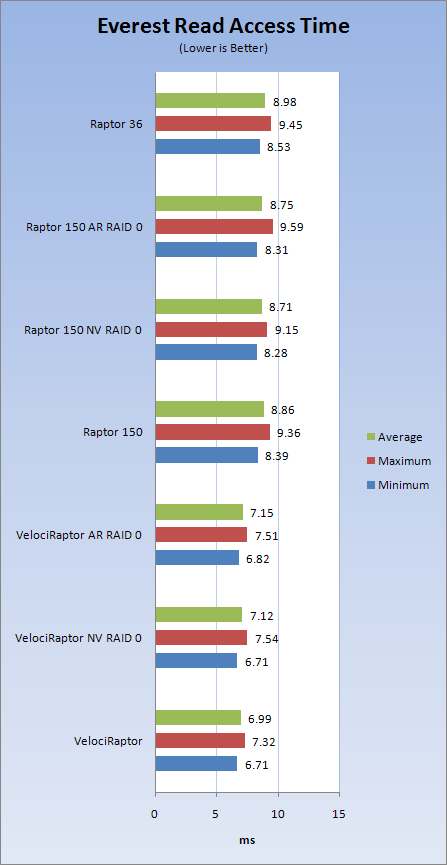 Everest allows us to take a look at the actual access times to the tenth of a millisecond. Here we see that the VelociRaptor has improved in this area over the previous generations and does not take a large performance penalty when used in RAID 0 with two drives.
Benchmarks - PCMark Vantage Hard Disk Tests
PCMark Vantage - Hard Disk TestsVersion and / or Patch Used:
1.0.0
Developer Homepage:
http://www.futuremark.com
Product Homepage:
http://www.futuremark.com/benchmarks/pcmark-vantage//
Buy It Here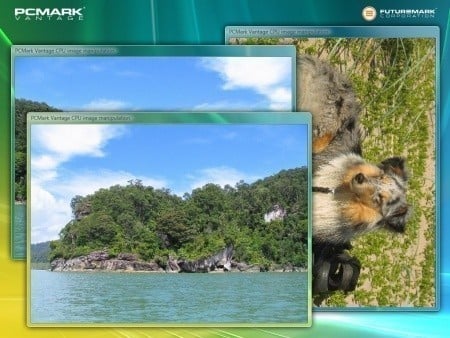 PCMark Vantage is the first objective hardware performance benchmark for PCs running 32 and 64 bit versions of Microsoft Windows Vista. PCMark Vantage is perfectly suited for benchmarking any type of Microsoft Windows Vista PC from multimedia home entertainment systems and laptops to dedicated workstations and high-end gaming rigs. Regardless of whether the benchmarker is an artist or an IT Professional, PCMark Vantage shows the user where their system soars or falls flat, and how to get the most performance possible out of their hardware. PCMark Vantage is easy enough for even the most casual enthusiast to use yet supports in-depth, professional industry grade testing.
FutureMark has developed a good set of hard disk tests for their PCMark Vantage Suite. These tests are based on real world applications that many of us use daily.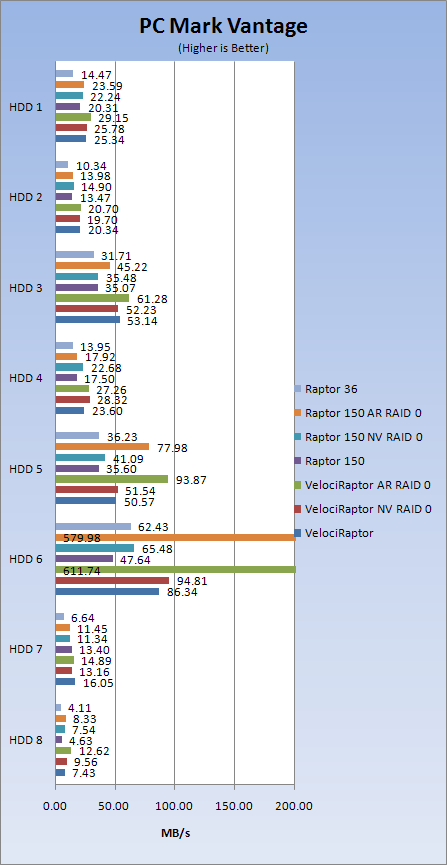 HDD1 - Windows Defender
HDD2 - Gaming
HDD3 - Windows Photo Gallery
HDD4 - Vista Startup
HDD5 - Windows Movie Maker
HDD6 - Windows Media Center
HDD7 - Windows Media Player
HDD8 - Application Loading
Right from the start of looking at the benchmarks, your eyes instantly look at the two RAID results and what the Areca controller does for Windows Media Maker and Media Center. The controller's onboard cache blazes through large amounts of small files at ridicules speeds when paired with the Raptors.
After getting past the two lines that make your jaw drop, we see that the VelociRaptor improves on the Raptor 150GB by the same margin as the 150GB does over the 36GB. There really isn't anything shocking in this set of real world benchmarks.
Benchmarks - Passmark
Passmark Advanced Multi-User TestsVersion and / or Patch Used:
6.1
Developer Homepage:
http://www.passmark.com/
Test Homepage:
http://www.passmark.com/ >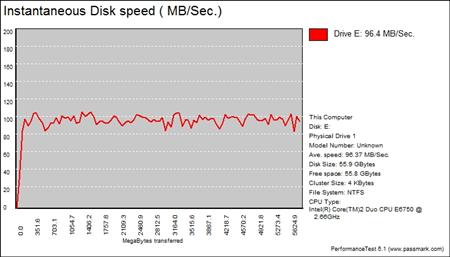 Many users complain that I/O Meter is too complicated of a benchmark to replicate results so my quest to find an alternative was started. Passmark has added several multi-user tests that measure a hard drives ability to operate in a multi-user environment.

The tests use different settings to mimic basic multi-user operations as they would play out on your server. Variances is read / write percentage as well as random / sequential reads are common in certain applications, Web Servers read nearly 100% of the time while Database Servers write a small amount of data.
The Workstation test is the only single user environment and will be similar to how you use your system at home.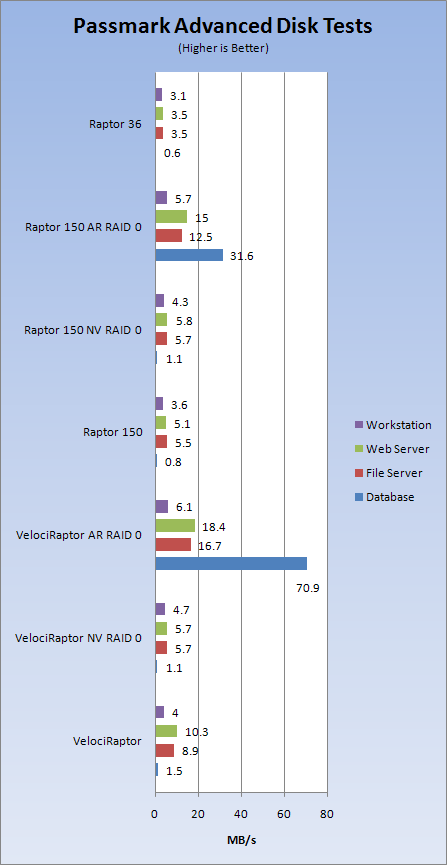 Although we did not compare other enterprise drives in this test, I will in the future put the VelociRaptor against 10K and 15K RPM drives from other manufactures since the Raptor has now grown into a potential low cost alternative to much higher priced SAS drives. It is not that business hasn't already adopted the Raptor Series, but now Western Digital is giving their blessing and calling the 2.5 inch bare version of the drive an enterprise product.
Looking at the tests here, we see that the new VelociRaptor doubles the speed of the Generation 3 Raptor and also beats two Gen 3 drives in RAID 0 on the NVIDIA 680i in most tests.
Final Thoughts
Until Western Digital released the VelociRaptor, 2008 was on track to be a year dominated by Solid-State Drive headlines. Western Digital has quickly put a stop to that and released a major roadblock for the adoption of SSDs for enthusiasts.
The Western Digital VelociRaptor is clearly the fastest consumer hard drive available, SSD or traditional platter based period. There are of course a few faster SSDs and SAS drives, but they are far from consumer class and what I am really saying is consumer priced.
When it comes to price, the VelociRaptor retained the same initial MSRP as the third generation 150GB drive, around 300 U.S. Dollars. The
New Raptor
is available at a number
of e-tail locations in the US
but at this time the price has yet to slip, so if you are looking to purchase now, the MSRP price is what you are going to pay.
When comparing the VelociRaptor to other enterprise 10K drives, the VelociRaptor really stands out from the crowd. All other 10K drives are based on SAS which requires either an expensive controller card or a motherboard with onboard SAS which is also expensive. Western Digital has really dealed a death blow to high cost 10K drives for small to medium sized businesses.
If I had a major complaint with the VelociRaptor, it would be the way the drive was rolled out with an adaptor bracket that does not comply with traditional standards. Western Digital has done a good job correcting the issue, but to be honest, SOMEONE should have caught this prior to launch.
From the "What Could Have Been" category, I am surprised to see that Western Digital only used 16 MB of cache, the same as the third generation Raptor 150. There have been countless numbers of drives released this past year with 32 MB of cache. I can only dream of the performance of a 32 MB cache VelociRaptor. I think a special edition is in order; sign me up for eight!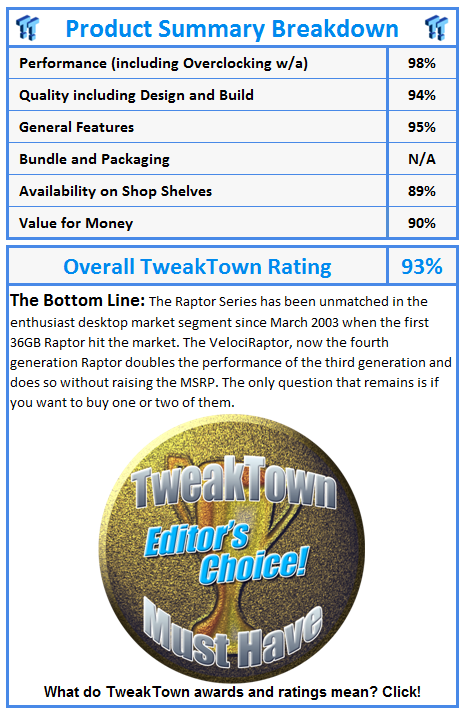 PRICING: You can find products similar to this one for sale below.
United States: Find other tech and computer products like this over at Amazon.com
United Kingdom: Find other tech and computer products like this over at Amazon.co.uk
Australia: Find other tech and computer products like this over at Amazon.com.au
Canada: Find other tech and computer products like this over at Amazon.ca
Deutschland: Finde andere Technik- und Computerprodukte wie dieses auf Amazon.de
We openly invite the companies who provide us with review samples / who are mentioned or discussed to express their opinion. If any company representative wishes to respond, we will publish the response here. Please contact us if you wish to respond.
Related Tags