Thermaltake BlacX eSATA & USB 2.0 Dock
Finally, we have a BlacX to get excited about; the eSATA version is here. Let's see how she performs.
Published Thu, Aug 14 2008 11:00 PM CDT
|
Updated Fri, Sep 18 2020 10:50 PM CDT
Introduction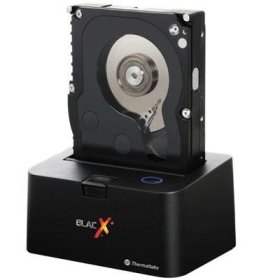 I have already taken a look at the BlacX USB and BlacX SE which is also a USB only desktop drive device. The Thermaltake BlacX units have started a new class in hard drive storage. You can't really call them carriers since you don't take them with you on the go, nor can you call them internal hot swap since they do not sit inside the case. I guess for now, until someone tells me differently we will call them desktop hot swap devices.
The first two USB only BlacX units we looked at performed brilliantly for USB. In the back of my mind, though, I knew the transfer performance was being held up by the connection and recommended to everyone to just hang tight and wait until the eSATA version became available. Today we have this version in hand; the BlacX (part number ST0005U) with eSATA support has finally made its way to my door step and even though I have other articles that need to be written up first, I just had to see how this baby performs.
Before we get to performance numbers, let's go through the routine and see how the BlacX is packaged and look to see if anything has changed from the other two previously reviewed versions.
Specifications, Availability and Pricing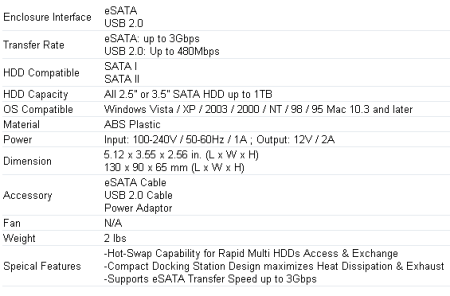 Aside from the two places that mention eSATA and the eSATA cable, the specs for the ST0005U are the same as the N0028USU variant. To be honest, the two are identical in appearance from the front and sides; you have to take a look at the back to see the eSATA connector to tell which is which.
Surprisingly, the ST0005U is not the most expensive BlacX of the three currently available. Looking at the MSRP, the BlacX SE with its four USB ports holds the crown at 69.99. The version we are testing today with eSATA comes in second at 64.99 and the standard BlacX is 59.99. After a quick scan on TweakTown's Shopping Channel I was able to find the BlacX with eSATA for less than 50 U.S. Dollars shipped from Newegg. In a way, I am shocked that the price has already fallen so fast on these since they are fairly unique with little competition.
Thermaltake has several global partners and is a large computer accessory manufacturer. That being said, you should not have a problem finding the BlacX for sale in your area.
It should also be noted that the BlacX's are all rated for drives up to 1TB. At this point I can't say with certainty if this spec will change when we start to see 1.5TB drives in January, or if any of the controller chips will limit the functionality.
Packaging
The Package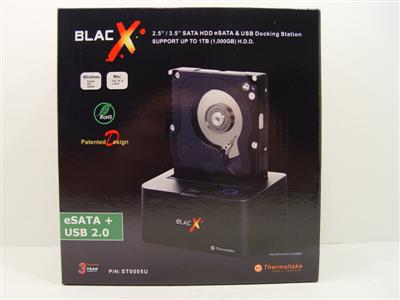 The front of the packaging reminds me of a Formula One car from the 80's with the green eSATA + USB logo. Windows and Mac logos are also on the front so you know at the start if your system is covered. RoHS is a big buzzword these days, so Thermaltake also placed that logo on the front for everyone to see.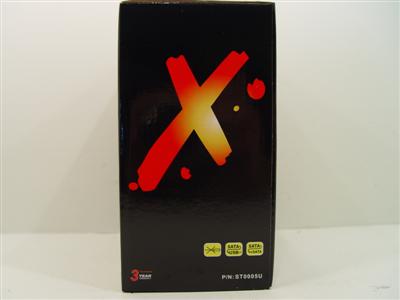 There really isn't much on the side other than the product line logo.
The back of the package lists the features, specifications and a couple of product images.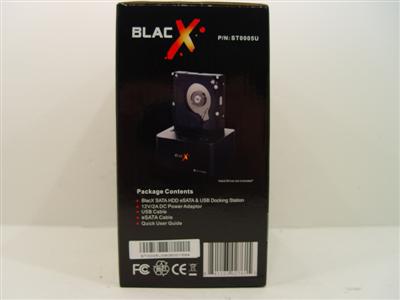 The package contents are listed on this side. Thermaltake has done a good job with the overall packaging and the retail consumer will be able to get a really good idea of what they are purchasing in the store. The only thing I would really like to see is performance numbers compared to a drive connected straight to a motherboards SATA connector. But then again, that is what this article is for.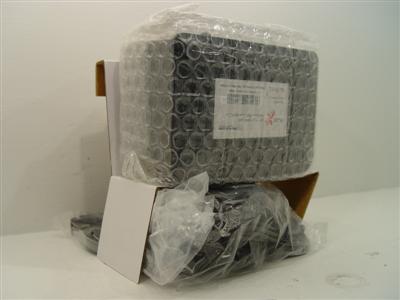 With the outer box removed, we can see how Thermaltake packaged the BlacX. For the most part everything is secure and wrapped so the main unit doesn't arrive scratched from transport.
The Thermaltake BlacX (eSATA)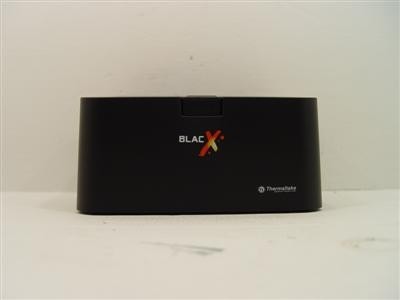 A view from straight off the base shows a BlacX logo on the front. The drive eject button can also be seen here.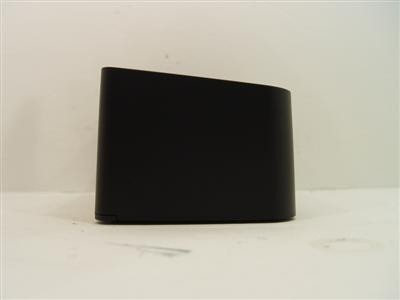 From the side we see that the top has an angle, making inserting the drive a little easier.
Ah, the meat and potatoes. Here we see the USB, eSATA, power connector and unfortunately the power button. My only complaint with the BlacX devices is that the power button is on the back of the unit. If you are working in a tight space you have to be careful not to tip the drive over when reaching around to turn the drive on.
The other side is a mirror image of the first side.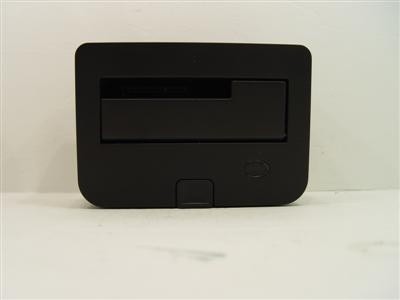 The view from the top shows the status light area; the circle on the lower right side. You can also see the eject button and the door that makes inserting 2.5 inch SATA drives a little easier. The door will collapse when inserting a 3.5 inch desktop drive.
Test System Setup
Test System
Processor
: Intel Core 2 Duo E6750 (Supplied by
Intel
)
Motherboard
: XFX 680i SLi (Supplied by
XFX USA
)
Memory
: 2x 1GB DDR2-1200 (Supplied by
Winchip
)
Graphics Card
: ASUS HD 3870 TOP (Supplied by
ASUS
)
Cooling
: GIGABYTE 3D Galaxy II (Supplied by
GIGABYTE
)
Operating System
: Microsoft Windows Vista Ultimate
Drivers
: NVIDIA 15.17
Controller
: Areca ARC-1231ML (Supplied by
Areca
)
The above setup is what will be used for all hard disk reviews hereon. Hard disks designed primarily for use in notebooks are also tested in the above system. However, some tests which are for determining the effect on battery life simply cannot be run on a desktop. All battery related tests are performed on a Lenovo T61p with WiFi enabled.
Testing the BlacX will be very simple. We are looking to see what effect the BlacX has on a Western Digital Raptor 150GB drive. The first set of tests was run with the Raptor connected to the XFX 680i SLi's on board SATA connectors, the second set with the BlacX connected via USB and the third set with eSATA. Let the testing begin!
Benchmarks - HD Tune Pro - Read
HD Tune ProVersion and / or Patch Used:
3.00
Developer Homepage:
http://www.efdsoftware.com/
Product Homepage:
http://www.hdtune.com/>
HD Tune is a Hard Disk utility which has the following functions:
- Benchmark: measures the performance
- Info: shows detailed information
- Health: checks the health status by using SMART
- Error Scan: scans the surface for errors
- Temperature display
HD Tune Pro gives us accurate read, write and access time results and for the last couple of years has been gaining popularity amongst reviewers. It is now considered a must have application for storage device testing.
Read Tests
Raptor 150GB connected to 680i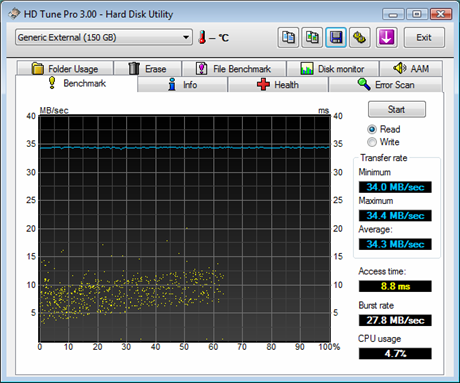 Raptor 150GB connected to BlacX USB
Raptor 150GB connected to BlacX eSATA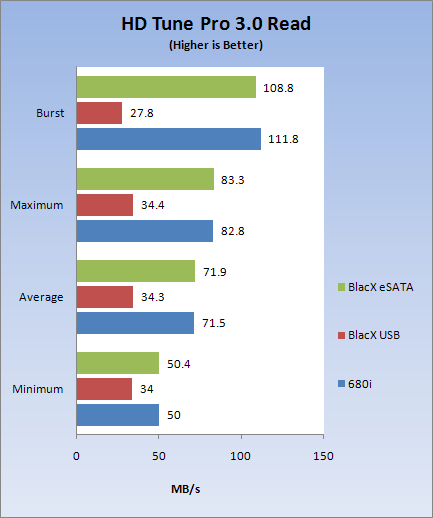 As you can see, USB takes a back seat to SATA and eSATA. Thanks to Windows Vista caching, it looks to perform a little better than standard SATA. This is of course not exactly true; both SATA and eSATA perform within the margin of error for this software. Still, it is nice to see that the BlacX, when using eSATA, does not take a performance hit when it comes to read speeds. Let's have a look at what happens to the write speeds.
Benchmarks - HD Tune Pro - Write
HD Tune Pro - Write Tests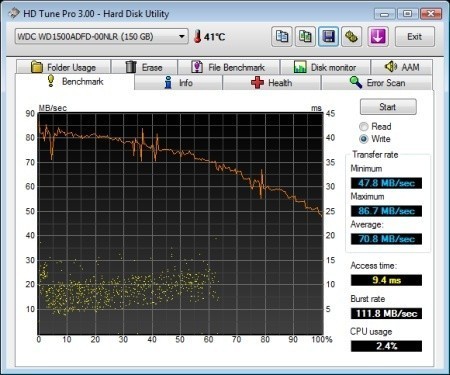 Raptor 150GB connected to 680i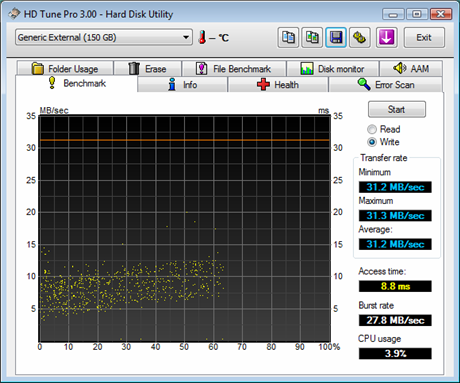 Raptor 150GB connected to BlacX USB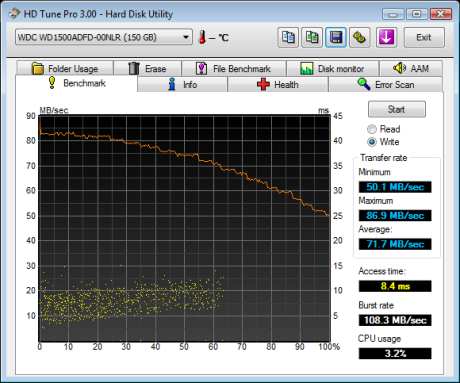 Raptor 150GB connected to BlacX eSATA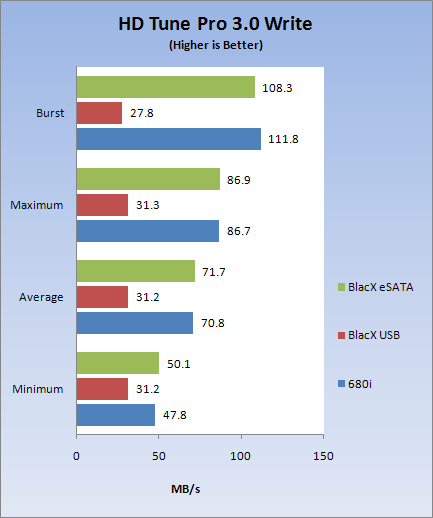 As with the Read Test, we see that eSATA does not take a performance hit at all, like USB 2.0 does. I have to say that eSATA really makes the BlacX come alive.
Final Thoughts
If the two other Thermaltake BlacX products were Must Have convenience products, where does that leave the eSATA version?
eSATA performance added to an already good product just bring the BlacX over the top. The convenience of being able to just pop a drive in and hit a button to access the data on that drive, to me is close to priceless. Then again, I am an enthusiast that has a pretty large stack of hard drives that is only outnumbered by a stack of side panels that are hardly ever on the sides of their cases. I know that I am not the only person out there with this routine.
Breaking it down bit by bit, Thermaltake should have spent a little more time designing the power button on all of the BlacX products. At this point there isn't a competing product on the market that has the same functionality and a front power button, so we will let that one slide. Post testing, I did run into one other issue that may hamper some users. The power and eSATA cables are a bit too short for my liking. eSATA is around 3 feet and the power cable is right around 4 feet long. I would like to see these extended to around 6 feet, but I can also see why Thermaltake went with shorter cables; no one likes to have a rats nest under their computer desk (even though we all do).
On the positive side of things, the BlacX is the first device to offer this type of functionality and is a product many of us are going to use every day. To put it bluntly, what other computer accessory put out in the last two years can you really say has made your life easier? If you are ready for Easy Street and you have a stack of case panels somewhere in your computer room, run out and get a Thermaltake BlacX with eSATA right away.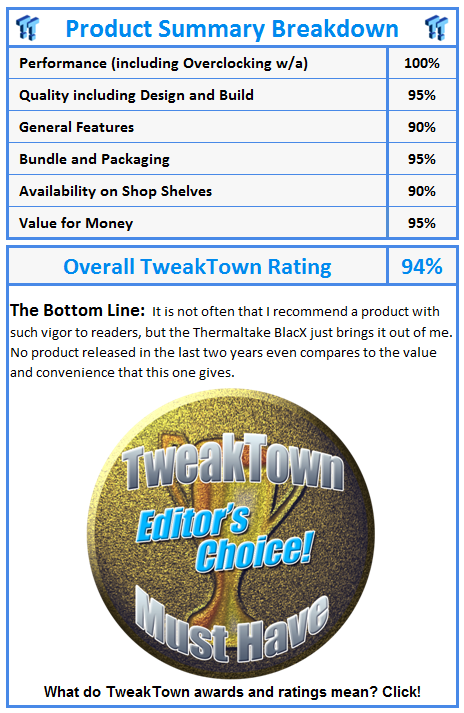 PRICING: You can find products similar to this one for sale below.
United States: Find other tech and computer products like this over at Amazon.com
United Kingdom: Find other tech and computer products like this over at Amazon.co.uk
Australia: Find other tech and computer products like this over at Amazon.com.au
Canada: Find other tech and computer products like this over at Amazon.ca
Deutschland: Finde andere Technik- und Computerprodukte wie dieses auf Amazon.de
We openly invite the companies who provide us with review samples / who are mentioned or discussed to express their opinion. If any company representative wishes to respond, we will publish the response here. Please contact us if you wish to respond.
Related Tags