Corsair Dominator DDR3 2133MHz 2GB Kit
Corsair currently holds the flag for the fastest DDR3 memory on the market, rated for 2133MHz. Let's check 'em out.
Published Tue, Aug 5 2008 11:00 PM CDT
|
Updated Fri, Sep 18 2020 10:50 PM CDT
Introduction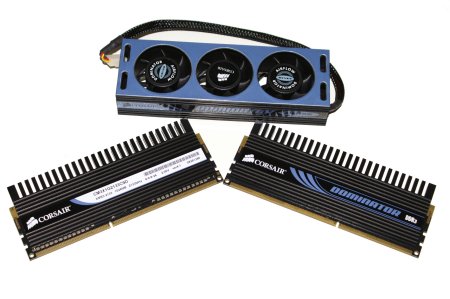 DDR3 may cost more per MB over DDR2 at the current time of writing, but there is one thing that DDR2 can't do as well as DDR3 and that's a higher clock ceiling. DDR2 has reached its limits at DDR2-1200 or 600MHz.
DDR3 has been progressing slowly, but at a steady pace and it's not looking like stopping. While the JEDEC officially only supports 1333MHz DDR3 on its records, Intel has gone a step further; something we wouldn't have expected them to do. They've pushed the boundaries of DDR3 by introducing the XMP profiles that allow speeds of 1600MHz and very soon 1800MHz on its X38 and X48 chipsets with DDR3 memories.
While this may seem quite impressive, it's still not enough; not when the 2000MHz barrier is in sight and quite a few companies are pushing to reach it. Corsair says it has managed to hit speeds well beyond that.
Today we are testing out Corsair's Dominator DDR3-2133MHz memory; the fastest DDR3 modules to hit the market thus far. Let's see just how high we can go.
The Package and Modules
The Package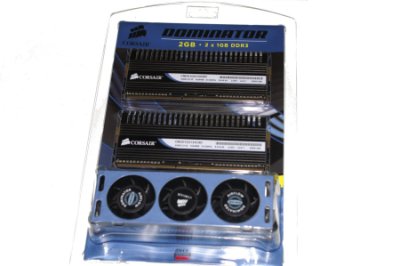 Corsair packs its Dominator series in a split-apart blister package which allows you to see the modules and the fan cooler, so there is no need for any pictures or info on the back of the package. The package is easy to open; unlike some plastic cases, you won't end up putting a knife into your hand while opening it up, like I have done with a few other packages in the past...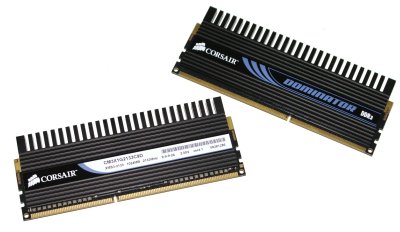 Removing the modules from the package, we get a better look at what you get. All kits these days are matched pairs of memory for Dual Channel operation. This is until someone starts to produce single stick dual channel modules which we hope will begin soon. The modules are equipped with the DHX heatspreaders to transfer heat away from the modules.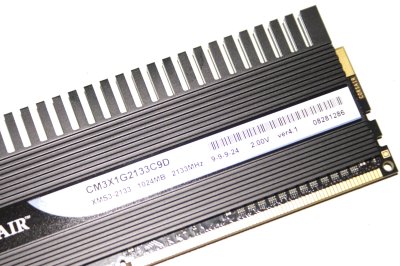 On each side of the modules there is a sticker with the specs and information for the modules. The kit we were sent is a 2GB total kit containing 2x1GB modules rated for 2133MHz with timings of 9-9-9-24 using 2.0v. Some DDR3 boards don't support this high a voltage on the memory bus, so if you're going to go for gold with these modules, make sure you do your homework on the board you're going to pair them with.
With the high voltage and speed of the memory, one thing is for certain, these modules will run hot. And brother, we're not kidding; we measured the memory temp at over 48c when running overclocked, that's why this fan is included. When running at top speeds it's a must to have this baby running. We managed to drop the memory to 44c with it running; very handy.
Overclocking
Overclocking the Modules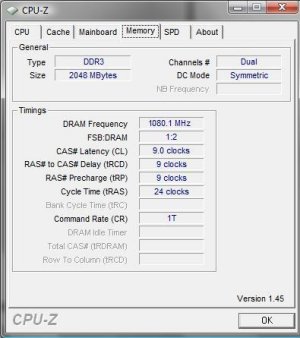 It's onto overclocking and this took quite a bit to accomplish. We used an X48T motherboard to get what we could out of it.
We managed to hit 1080MHz in our time we had with the modules. That's 2160MHz DDR. In order to get this stable we had to go to 2.1v; a very impressive result, indeed. To make the rated 2133MHz we also had to run 2.1v as the 2.0v standard was not quite stable enough during Sciencemark.
Important Editor Note: Our maximum overclocking result is the best result we managed in our limited time of testing the motherboard. Due to time constraints we weren't able to tweak the motherboard to the absolute maximum and find the highest possible FSB, as this could take days to find properly. We do however spend at least a few hours overclocking every motherboard to try and find the highest possible overclock in that time frame. You may or may not be able to overclock higher if you spend more time tweaking, or as new BIOS updates are released. "Burn-in" time might also come into play if you believe in that.
Test System Setup and Everest
Test System
Processor
: Intel Core 2 Duo E8500
Motherboard
: GIGABYTE X48T-DQ6 (Supplied by
GIGABYTE
)
Hard Disk
: 500GB Western Digital SE16 (Supplied by
Western Digital
)
Graphics Card
: GIGABYTE 9800GX2 (Supplied by
GIGABYTE
)
Cooling
: GIGABYTE 3D Galaxy II (Supplied by
GIGABYTE
)
Operating System
: Microsoft Windows Vista SP1
Drivers
: Intel INF 9.0.0.1008, Forceware 175.16
Today's tests consist of the Corsair Dominator 2133MHz kit and our tried and true OCZ 1600MHz XMP series. Our tests today include three settings; 1333MHz which is the highest DDR3 JEDEC standard, 1600MHz which is the highest XMP profile Intel X48 supports and then to our OC tests. Our Corsair was running at 2160MHz while our OCZ managed 1750MHz max speeds.
EVEREST Ultimate EditionVersion and / or Patch Used:
2006
Developer Homepage:
http://www.lavalys.com
Product Homepage:
http://www.lavalys.com
Buy It Here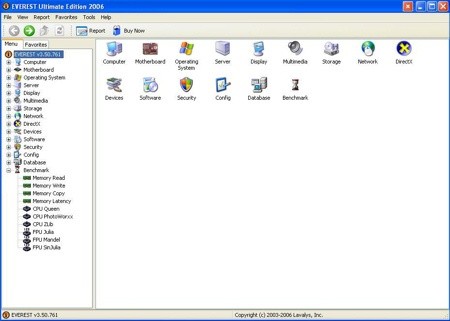 EVEREST Ultimate Edition is an industry leading system diagnostics and benchmarking solution for enthusiasts PC users, based on the award-winning EVEREST Technology. During system optimizations and tweaking it provides essential system and overclock information, advanced hardware monitoring and diagnostics capabilities to check the effects of the applied settings. CPU, FPU and memory benchmarks are available to measure the actual system performance and compare it to previous states or other systems.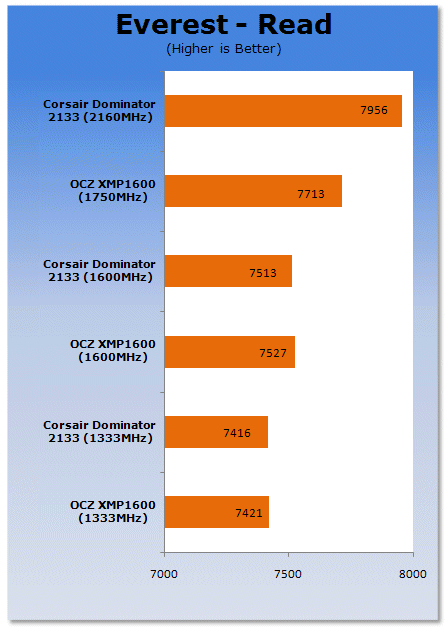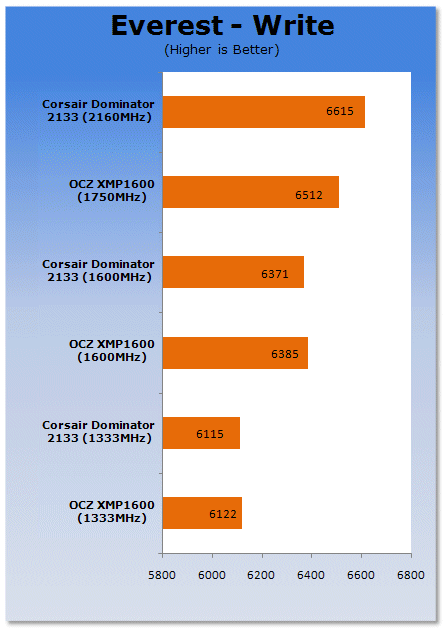 At 1333MHz the OCZ memory has a slightly better timing profile and manages to sneak a little bit ahead. The same occurs at 1600MHz with its timings using XMP still being quite tight. However, when we hit OC the extra bandwidth of the Corsair memory makes it a formidable choice.
Benchmarks - Sciencemark 2.0
ScienceMark 2.0
ScienceMark 2.0 is a mathematical program designed to stress the memory subsystems of both desktop/workstation and server environments to determine the read/write latency as well as the overall memory bandwidth available between the CPU and the memory controller.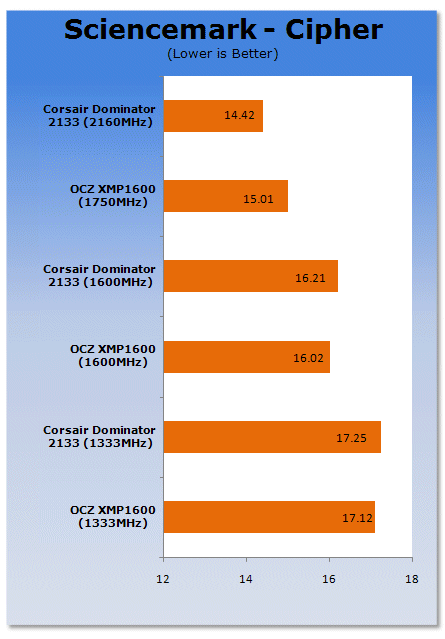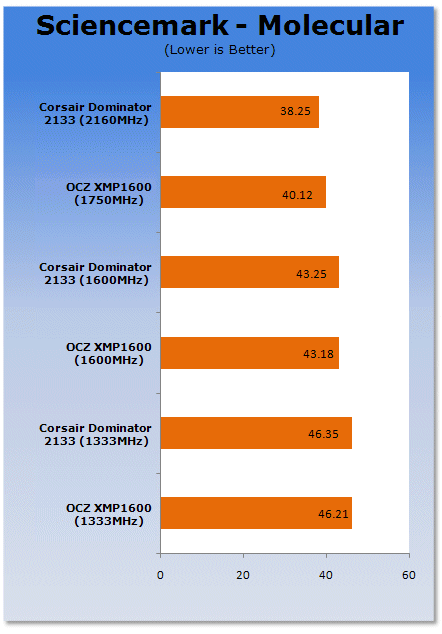 Latency and access times win it here and the OCZ memory wins out at both 1333MHz and 1600MHz due to tighter timings. However, at OC there is no denying the Corsair Dominator wins out.
Benchmarks - Crysis
CrysisVersion and / or Patch Used:
1.1
Timedemo or Level Used:
Custom Timedemo
Developer Homepage:
http://www.crytek.com/
Product Homepage:
http://www.ea.com/crysis/
Buy It Here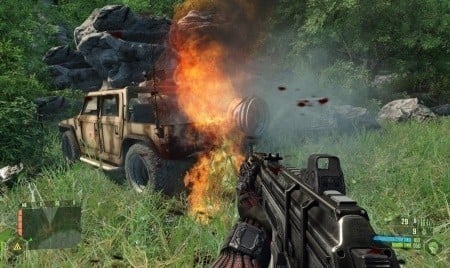 From the makers of Far Cry, Crysis offers FPS fans the best-looking, most highly-evolving gameplay, requiring the player to use adaptive tactics and total customization of weapons and armor to survive in dynamic, hostile environments including Zero-G.
Real time editing, bump mapping, dynamic lights, network system, integrated physics system, shaders, shadows and a dynamic music system are just some of the state of-the-art features the CryENGINE 2 offers. The CryENGINE 2 comes complete with all of its internal tools and also includes the CryENGINE 2 Sandbox world editing system.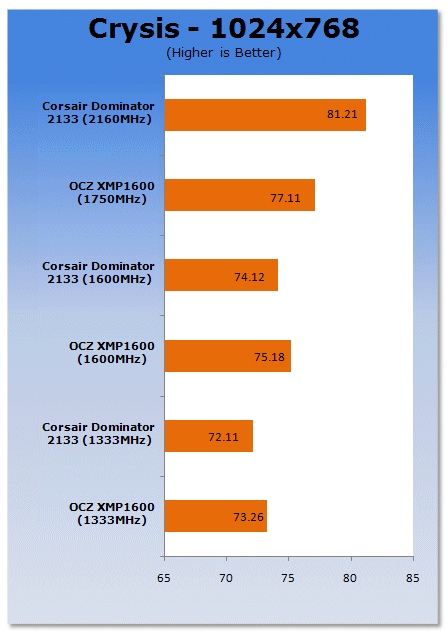 Pressing into real world gaming; the bandwidth and OC that the Corsair memory has manages to increase the FPS in its favour.
Final Thoughts
Some people I talk to these days say overclocking is dead. Well, if that's the case then I guess the motherboard, memory and CPU industry is extinct. By looking at the boards that come out these days, overclocking is a ripe industry. Graphics cards come out factory overclocked, CPUs are being built on better silicon and memory is just sky-rocketing. Overclocking is as dead as HD movies.
In saying that, Corsair has done a fantastic job pushing the boundaries, giving us something to strive for. While it's easy for Joe Blow these days to simply shove an E8500 into his system and hit 3.5GHz straight away, it's pushing every last MHz out that gets some peoples blood running, me included. And with memory that can handle these speeds, it's now a task of getting the system up as high as possible and reaping the benefits.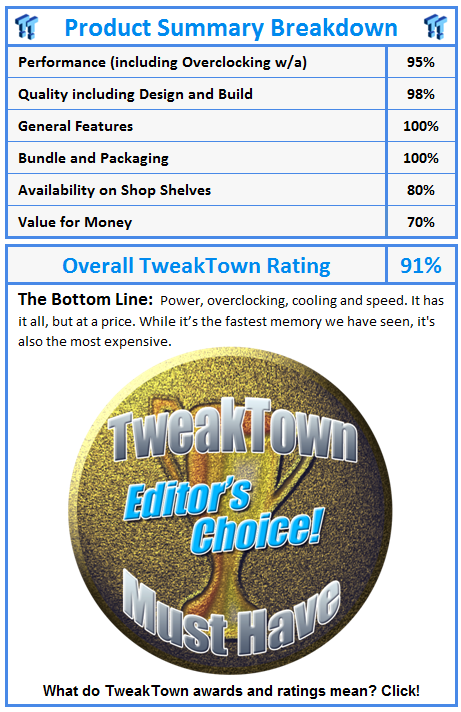 PRICING: You can find products similar to this one for sale below.
United States: Find other tech and computer products like this over at Amazon.com
United Kingdom: Find other tech and computer products like this over at Amazon.co.uk
Australia: Find other tech and computer products like this over at Amazon.com.au
Canada: Find other tech and computer products like this over at Amazon.ca
Deutschland: Finde andere Technik- und Computerprodukte wie dieses auf Amazon.de
We openly invite the companies who provide us with review samples / who are mentioned or discussed to express their opinion. If any company representative wishes to respond, we will publish the response here. Please contact us if you wish to respond.
Related Tags