GELID GC-1 Thermal Compound
Mike looks at a new high performance thermal paste from GELID who are a quickly growing PC cooling company in Hong Kong.
Published Sun, Jul 27 2008 11:00 PM CDT
|
Updated Fri, Sep 18 2020 10:50 PM CDT
Introduction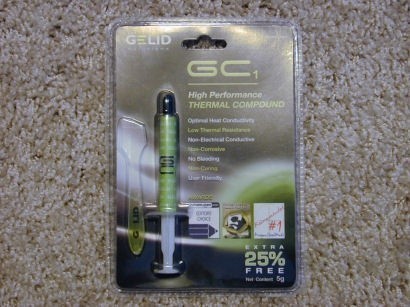 When it comes to thermal compounds, there used to be only one real choice; Arctic Silver. Unless you were building OEM type systems and selling them to others, AS was really the only viable choice for a quality high performance product. Over the past year, however, things have changed dramatically. Several new contenders have come to the front of the market place and shown that there are better solutions.
Enter GELID Solutions, a company founded in 2008 whose goal is to design and manufacture thermal solutions. Though new to the business market, the company is led by a pair of men with experience in the PC cooling industry and aiming their new and growing product line directly at the enthusiast/gaming segment.
So, can this new kid on the block compete with a growing market of very solid performing thermal compounds? Read on to find out!
The Goop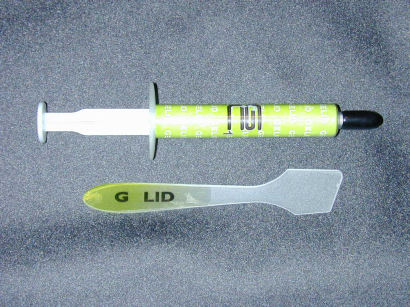 The GELID compound comes in a 5 gram syringe applicator tube, which offers more of the compound for your dollars. Most come with only between 3-4 grams as a rule. It also comes with a small plastic spatula for spreading the compound on larger surface areas. There is a bit of advertising on the spatula, but that is to be expected.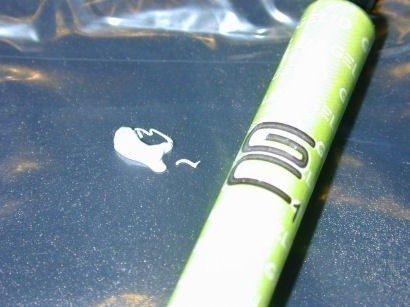 The compound itself is a light colored concoction and has a very smooth consistency. It is not so thin as to be runny at all, but it isn't too thick to spread. Whether you use a spreading technique or place a dollop in the middle of the heat spreader and attach the HSF, the compound will spread evenly and give a solid barrier between the core and the sink.
GC-1 also does not consist of any metal particles so is electrically non-conductive. This is a great benefit for those wanting to address high temperatures for the graphics cores and processors. If you happen to get a little in the wrong place, simply clean it off and you won't have to worry about crossing those trace lines. Like many of the newer family of thermal compounds, GC-1 does not require any cure time. This is a plus for those who want to overclock their system. Also of note is that the formula being used in this compound lasts for a very long time without breaking down. According to literature and the GELID web site, this compound only needs to be replaced about once every ten years.
All right, so now that we know a little about this new goop, it is time to answer the really important question; how does handle processor temperatures?
Testing
When it comes to testing a thermal interface material, the goal is very similar to cooler reviews where the idea is to determine how cool the processor stays under stress. With this concept in mind, I will be thrashing out an Intel based setup to see just how well this compound works.
Before we delve into the number, though, let's take a quick look at the test box.
MSI X48C Platinum motherboard (Supplied by
MSI
)
Intel Core 2 Duo E6600 processor
2x 1024MB Corsair XMS2-8500-C5 memory (Supplied by
Corsair
)
2x Sapphire X2900XT graphics boards (Supplied by
Sapphire
)
In the past, we have made it a habit to look at temperatures at both idle and at load. In this test session, I will be monitoring a bit differently than before. Idle temperatures are more important when realizing the cooling potential of heatsinks, so I will be aiming at testing load temperatures.
Our test methodology consists of running a 100% load test of the processor for approximately 26 minutes. After noting the maximum temperature, I went through the temperature logs and figured an
average
temperature throughout the test cycle.
As noted above, the processor is running at default speed and has the stock Intel OEM heatsink mounted for our testing. All system voltages are also set to default values so that everything will be on an even keel and we can give all compounds we evaluate the same test bed as the others. Ambient temperature was a constant 23C and relative humidity was less than 25% during all test phases. Finally, all thermal compounds tested are given a 3-day burn-in time even if they state they do not require it. This allows all tests to be conducted on an even plane and no excuses for questionable performance can be given.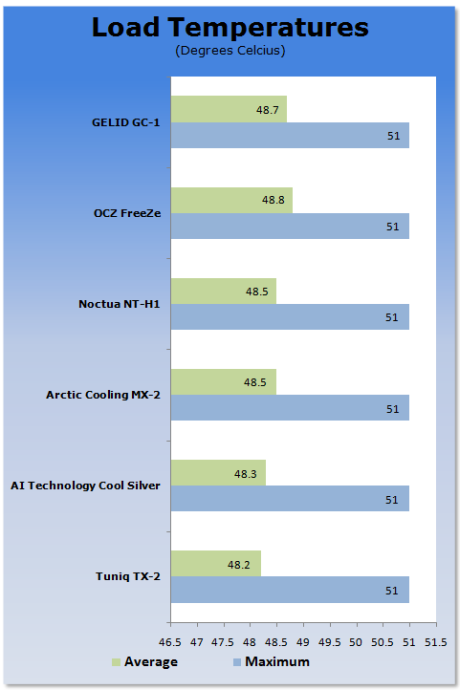 I am beginning to think that all of our competitors are using the same formula. With results like these, it will really come down to price. While availability of the GC-1 is spotty right now (it is a brand new product), the manufacturer's price point and the quantity of the compound you receive should make this a very competitive offering.
[Update]
: We have checked with the manufacturer and have been told that they are expecting to have this product being sold online in quantity in August. Given the MSRP and quantity being marketed in a single syringe, this should be a good deal.
Final Thoughts
When it comes to thermal management, cooler is always better. To further this goal, some enthusiasts have gone to extremes and introduced water, refrigerants and even liquid nitrogen into the equation. For those of us who either are not comfortable with the extreme cooling methods or simply cannot afford them, we must be more careful than ever to protect our investments. The base to this cooling protection has always been the thermal compound.
GELID, a newcomer to the world of enthusiast cooling products, has come up with a compound that is easy to apply, lasts a very long time, does not require any curing, and performs as well as anything else on the market. The days of Arctic Silver have come and gone and GELID has joined others to step up to the plate and offer us a very competitive thermal compound that simply works and works well.
Pricing for the GC-1 compound is listed as having a MSRP of $6.99US for a 5 gram syringe. As noted previously, this is a new product and is still a bit difficult to find at your favorite online store, but even at full retail price it offers a very affordable thermal base for enthusiasts, gamers and overclockers. Things are certainly looking good for these new guys on the block.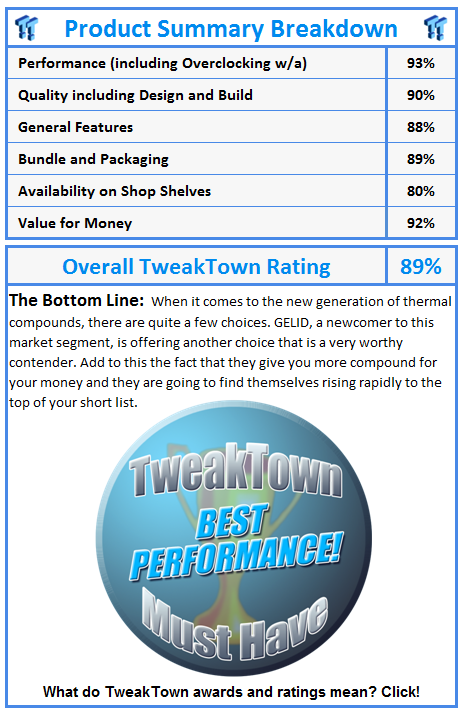 PRICING: You can find products similar to this one for sale below.
United States: Find other tech and computer products like this over at Amazon.com
United Kingdom: Find other tech and computer products like this over at Amazon.co.uk
Australia: Find other tech and computer products like this over at Amazon.com.au
Canada: Find other tech and computer products like this over at Amazon.ca
Deutschland: Finde andere Technik- und Computerprodukte wie dieses auf Amazon.de
We openly invite the companies who provide us with review samples / who are mentioned or discussed to express their opinion. If any company representative wishes to respond, we will publish the response here. Please contact us if you wish to respond.
Related Tags