Rosewill RX630-S-B Xtreme 630W PSU
Rosewill have come in a little under-rated in the past. Mike looks at an affordable yet promising power supply today.
Published Wed, Jul 23 2008 11:00 PM CDT
|
Updated Fri, Sep 18 2020 10:50 PM CDT
Introduction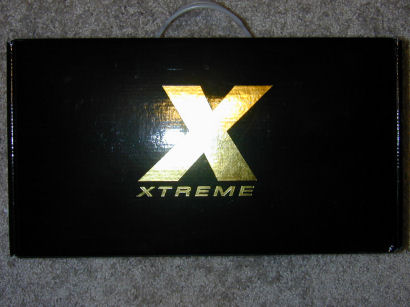 Rosewill has long had a reputation of providing a quality product for an affordable price. With that theme in mind, these guys have come up with a line of power supplies aimed at the enthusiast market. They still look at providing an affordable power solution, but this time around they have added features to keep those with extreme power needs happy.
The Xtreme series of power supplies weigh in at models from 630 watts to 850 watts. Today we will take a look at the little guy in the lineup, the 630 watt model to see what it can do with a reasonably intense system. Stability will be key so we will look not only the level of power but also at whether or not it can maintain this level with little to no fluctuations.
So relax for a bit as we delve a bit deeper into the Rosewill Xtreme Series line of power supplies by checking out their RX630.
In The Box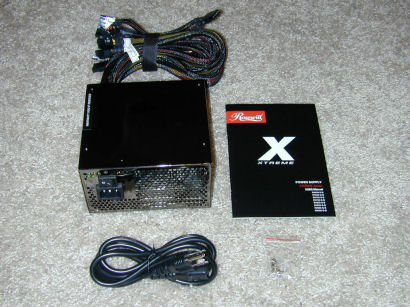 Once you get through the packaging you are faced with exactly what you would expect to see. This includes the power supply, a small instruction manual, a power cable and some mounting screws. Nothing special of out of the ordinary, but remember that Rosewill is all about bringing you a product for a reasonable price.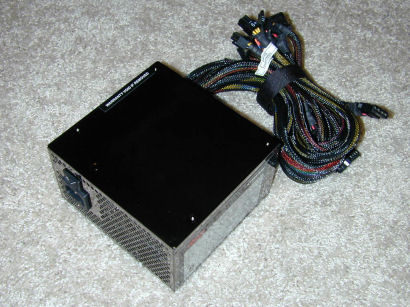 The main unit has a chrome looking exterior that will look nice in a windowed enclosure. While this finish makes it a challenge to keep fingerprints off, once it is properly installed and wiped down you should have few problems. The design is non-modular, so all cabling is attached to the main unit. To address the issue of cable management, however, all cabling harnesses are wrapped in a plastic mesh material to keep everything streamlined and as aerodynamic as possible. To further enhance the aesthetics of the product, the 120mm fan on the bottom is lit with blue LED lighting, creating a blue glow inside the enclosure.
The unit is rated at 630 watts and has a total of four 12v rails, each of which is capable of a 20A power draw. The 5v rail is rated at 24A and the 3.3v rail is rated at the same 24A power draw. According to factory specifications, the 12v rail will accept a 50A or 600 watt draw while the 5v and 3.3v rails combined will carry a load of 140 watts. Total power output is rated at 611 watts with a maximum of 630, so you will not want to be running a constant draw of 600+ watts unless you find troubleshooting an entertaining pastime.
As far as the actual manufacturer of the PSU goes, the RX630 has a UL code of 186010, indicating a product made by ATNG Power Company, a Taiwanese company that most references show as a Tier 5 vendor. ATNG has produced several hit and miss products in the past, so we will take a close look at the performance levels during testing to see how it fares.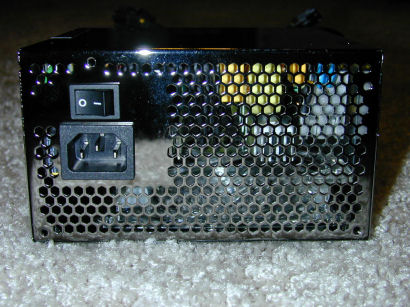 The exterior facing is a similar design to many we have been seeing of late, a vast open area to allow for maximum airflow. It too is covered with a chrome finish so your box will look its best from all angles. The only items of interest here are the power port and the toggle switch to turn the unit on and off. Power switching between 120v and 240v power grids is handled automatically from inside the PSU.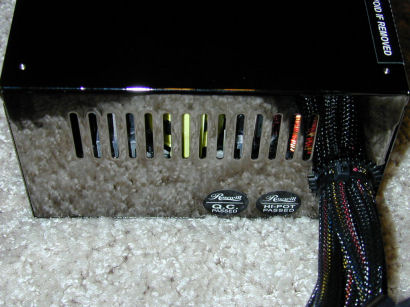 The interior panel has the same chrome finish and some added vent slots on the back to add more incoming air to the cooling of this power supply. From this angle you can see the mesh covering for the cabling harness as well as the plastic grommet that surrounds the hole in the enclosure where the cabling exits. This will protect the cabling from eventually wearing through the mesh and plastic covering of the wires, possibly creating a short and ruining any number of components.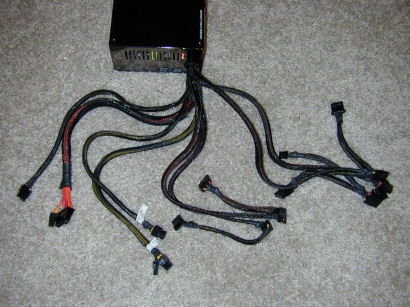 Cabling consists of a 20+4 pin primary power coupler, a 4+4 pin supplemental coupler, 1 PCI-E6, 1 PCI-E6+2, 4 SATA, 6 Molex and 1 FDD connectors. Given the current configurations that are commonly used today, this should handle most moderately equipped systems without having to resort to splitters and such. The PCI-E connectors will allow you to make use of either a pair of mid-level video cards or a single high-end card. This tends to lean toward the upper end of cable connections in the lower priced market segment.
Testing
When it comes to testing a power supply, there are two courses to travel. One takes you down a path using a device to stress out the PSU and provide data regarding the power levels across all three rails. The second, and the one I make use of, utilizes an actual test system to give a more real-world account of what the power supply is capable of. While both methods have their merits, I prefer to use an actual computer to more closely resemble the manner of use that you, the potential customer, will put the product through.
That said, let's take a quick look at the test system. I have continued to beef up the system to put a more realistic strain on the power supply.
MSI X48C Platinum motherboard (Supplied by
MSI
)
Intel Core 2 Duo E6600 processor
2x 1024MB Corsair XMS2-8500-C5 memory (Supplied by
Corsair
)
Sapphire X2900XT graphics board (Supplied by
Sapphire
)
Western Digital 250GB SATA hard drive
2x Western Digital 160GB SATA hard drives
Western Digital 80GB hard drive
Sony 52x CD-ROM optical drive
Samsung 16x DVD-R optical drive
1x 200mm fan
2x 120mm fans
While this isn't a Quad-GPU setup, we are certainly in the realm of having a system that is going to put a significant power drain on any power supply. Our testing of this power supply will be done with only a single video board since it is not designed for dual high-end graphics. Testing will consist of checking the power levels across all three rails at idle and again while the system is under stress. This should give us a good look at the capabilities of the power supply being tested.
Results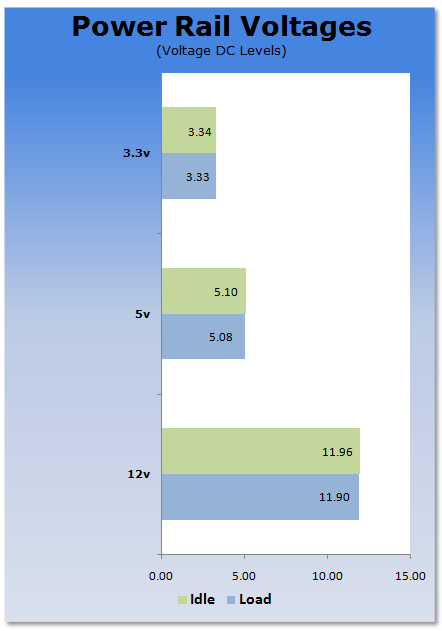 For a lower tier product, I was expecting a bit more drop between idle and load, but the Rosewill RX630 did a decent job of keeping up with the power needs of the test system. Under load, the single graphics card used is capable of pulling close to 150 watts of power on its own, but the dip in power load was minimal even under those conditions. I did note a fluctuation under load of between .1 and .2 volts, but it was an occasional flutter and not a consistent jump between the range. The 5v rail fluctuated .001v under load, but this is not particularly unusual.
Some may note that the 12v rail seems to be rather underpowered, but the level falls well within even a stingy +/- 5% of the rail rating. Also keep in mind that most graphics card manufacturers recommend a power supply rated to at least 700-750 watts when using the 2900XT series boards, so a small hit in that rail wasn't really unexpected.
Overall, the numbers show that the Rosewill RX630 is capable of handling the load of systems up to a borderline enthusiast rig. Considering the graphics card used during testing, it would be safe to say that it can wear the "Xtreme" tag with confidence.
Final Thoughts
As noted early on, Rosewill is in the business of selling quality products at a good price. This has been their business model for a long while, and the RX630 Xtreme is a worthy addition to their product line. Aimed at gamers, this power supply provided surprisingly good results given the test conditions it was put through. With a performance that was acceptable and a very nice outward appearance, this PSU is worth considering.
You will be limited to either a single high-end video card or a pair of mid-range boards, but this is to be expected with the power level of the product. The cabling harness provides enough connectivity for most systems and the cable lengths were long enough to work in all but the largest of enclosures. Any mid-tower being made should be well suited with the cabling of this PSU.
Pricing for this model has a MSRP of an unsightly $189.99US as posted on the Rosewill web site, but online retailers are selling this power supply for about $80US. At this price point, it is one of the most inexpensive units available in the 600-700 watt range with similar features.
As far as those features are concerned, this model comes with an efficiency rating of about 80-85%, has Active PFC (Power Faction Correction), protection from over-voltage, under-voltage, over-current, over-power and over-temperature. It also features four 12v rails and support for both SLI and Crossfire applications. While not one of the fancier power supplies ever tested, it proved to be both reliable and aesthetically pleasing.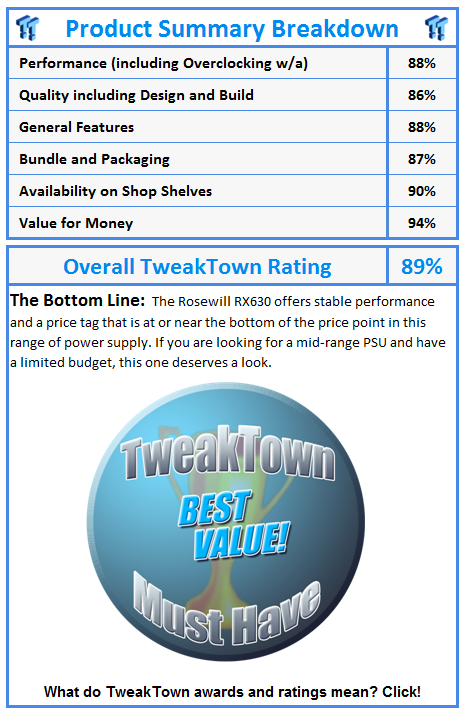 PRICING: You can find products similar to this one for sale below.
United States: Find other tech and computer products like this over at Amazon.com
United Kingdom: Find other tech and computer products like this over at Amazon.co.uk
Australia: Find other tech and computer products like this over at Amazon.com.au
Canada: Find other tech and computer products like this over at Amazon.ca
Deutschland: Finde andere Technik- und Computerprodukte wie dieses auf Amazon.de
We openly invite the companies who provide us with review samples / who are mentioned or discussed to express their opinion. If any company representative wishes to respond, we will publish the response here. Please contact us if you wish to respond.
Related Tags