Kingston HyperX PC3-14400 2GB Memory Kit
Kingston's long-standing HyperX Series of enthusiast memory is back. Today we have a 1600MHz DDR3 kit on trial.
Published Sun, Jul 20 2008 11:00 PM CDT
|
Updated Fri, Sep 18 2020 10:50 PM CDT
Introduction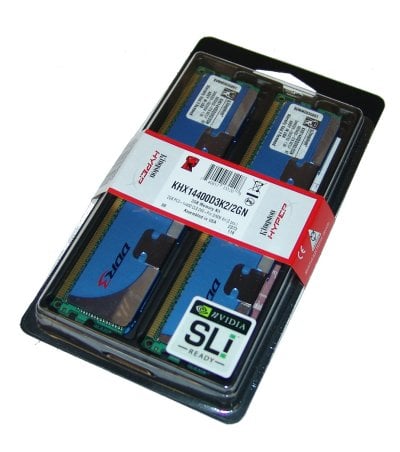 Kingston has managed to not only survive in the cut throat world of DRAM production, but to become one of the best memory technologies out there. When we first saw Kingston in our labs those many years ago, back when DDR was king, Kingston memory really didn't impress us. Their yields were low, overclocking was practically non-existent and we had quite a few compatibility issues with some of their modules on a few boards.
Come 2006, HyperX memory really made a name for itself. With DDR2 modules overclocking to the 1200MHz level (or 600MHz clock cycles), this really got out blood pumping. And even today Kingston is used in a few TweakTown test beds; that's just how well they have pulled themselves out of the dirt.
Now we get into some nitty gritty; NVIDIA has been pushing its SLI certified memory back in the DDR2 era for the 680i and AMD 590 chipsets. It also continued into the 680a, though we still haven't seen too many 680a boards around.
Now that NVIDIA has DDR3 chipsets for the Core 2 platform, it's once again pushing its SLI memory. This is a direct competition to the XMP memory standard that Intel already has in place; these two technologies aren't compatible with each other; that is, if you stick an XMP kit into an SLI board, it will work fine, but none of the extra profiles are available, and vice versa. SLI Ready (or EPP as NVIDIA likes to call it) profiles won't work on X38 and X48.
Today we have Kingston's new HyperX PC3-14400 SLI-ready memory; we will be testing it on the Intel X48 platform, as this is the chipset of choice for the Core 2 range, and P45 will be right behind it.
The Package and Modules
The Package
In previous packages that Kingston has sent us, we usually only get the memory in a plastic protective packaging; this is now going to change with Kingston's new packaging and marketing strategy. The modules are firstly placed in a small cardboard carton that surrounds the memory.
On the back of the package there is some marketing info on the modules, but no relevant data on its speed ratings. On the front through a see-through hole, you can see part of the sticker on the actual packaging
After we remove the cardboard, we are greeted with the familiar package material that Kingston uses. This has the protective sticker that is designed to tell customers if it's been opened before; or if you try to take the memory back saying that you changed your mind and didn't open it, you're busted here (been guilty of that before).
Removing the modules from the plastic protection is easy; no tools needed here. It's a simple case of break the paper sticker and then split the case open.
The kit supplied is a 2GB Dual Channel Kit (2x1GB modules) rated for PC3-14400 or 1800MHz DDR3. The modules have a new blue HyperX heatspreader with the company logo and the HyperX logo on them.
On one side of each module, Kingston has its traditional sticker with a lot of numbers on it to give you some info on the memories specs. However, to read it you need to understand what their code means. Google is your friend here.
Overclocking
Overclocking the Modules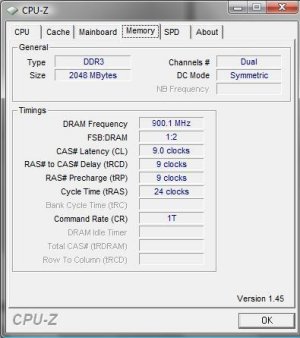 The moment of truth arrives for the Kingston memory. While it is SLI rated to do 1800MHz, we wanted to see how well it would go on an Intel based platform. Simply put, 90% of the Core 2 systems out there are Intel chipset based.
With P45 supporting DDR3, this chipset is going to be the ducks guts, so we tried our luck out with the X48, its cousin. Without any problems we hit the 1800MHz limit, however we did need to go to 1.95v to get it; 1800MHz was completely stable.
Important Editor Note: Our maximum overclocking result is the best result we managed in our limited time of testing the motherboard. Due to time constraints we weren't able to tweak the motherboard to the absolute maximum and find the highest possible FSB, as this could take days to find properly. We do however spend at least a few hours overclocking every motherboard to try and find the highest possible overclock in that time frame. You may or may not be able to overclock higher if you spend more time tweaking, or as new BIOS updates are released. "Burn-in" time might also come into play if you believe in that.
Test System Setup and Everest
Test System
Processor
: Intel Core 2 Duo E8500
Motherboard
: GIGABYTE X48T-DQ6 (Supplied by
GIGABYTE
)
Hard Disk
: 500GB Western Digital SE16 (Supplied by
Western Digital
)
Graphics Card
: GIGABYTE 9800GX2 (Supplied by
GIGABYTE
)
Cooling
: GIGABYTE 3D Galaxy II (Supplied by
GIGABYTE
)
Operating System
: Microsoft Windows Vista SP1
Drivers
: Intel INF 9.0.0.1008, Forceware 175.16
Now we come to the testing phase, and again we are pitting the Kingston memory against our fastest candidate; the OCZ XMP 1600MHz modules we have for our test bed.
For our baseline stock tests we ran the memory at 1333MHz, which as we have said many times before, is the fastest standard recognised by the JEDEC. We then moved the modules to 1600MHz which is the fastest standard Intel recognises. Then we finally move to the top speed; this was 1800MHz on the Kingston memory and 1730MHz on the OCZ memory.
EVEREST Ultimate EditionVersion and / or Patch Used:
2006
Developer Homepage:
http://www.lavalys.com
Product Homepage:
http://www.lavalys.com
Buy It Here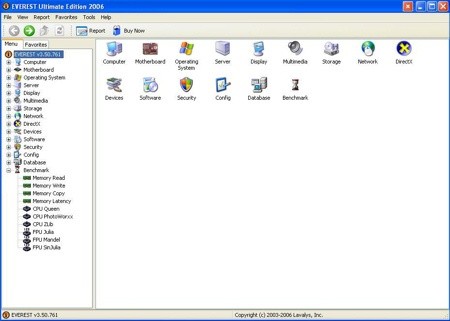 EVEREST Ultimate Edition is an industry leading system diagnostics and benchmarking solution for enthusiasts PC users, based on the award-winning EVEREST Technology. During system optimizations and tweaking it provides essential system and overclock information, advanced hardware monitoring and diagnostics capabilities to check the effects of the applied settings. CPU, FPU and memory benchmarks are available to measure the actual system performance and compare it to previous states or other systems.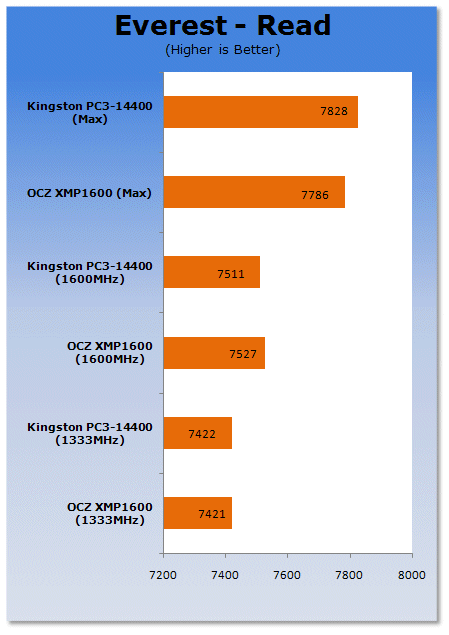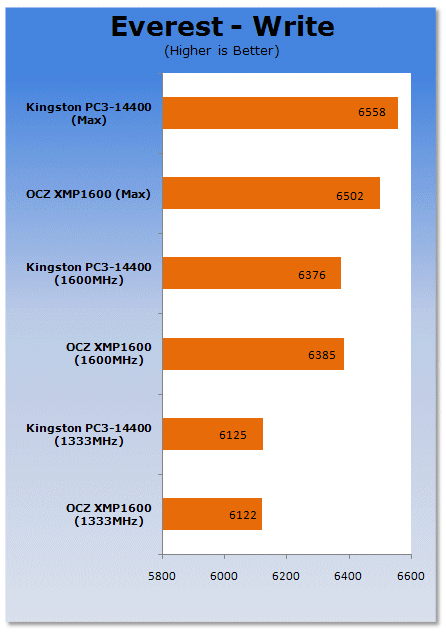 Starting with raw bandwidth performance in Everest, we see that at 1333MHz stock clocks, both kits perform identically.
When we move to the 1600MHz using the XMP profile on the OCZ, its lower latencies of 7-6-7 over the 7-7-7 of the Kingston give it a little jump, but at the max speed level OCZ isn't able to reach 1800MHz; leaving Kingston in the lead.
Benchmarks - Sciencemark 2.0
ScienceMark 2.0
ScienceMark 2.0 is a mathematical program designed to stress the memory subsystems of both desktop/workstation and server environments to determine the read/write latency as well as the overall memory bandwidth available between the CPU and the memory controller.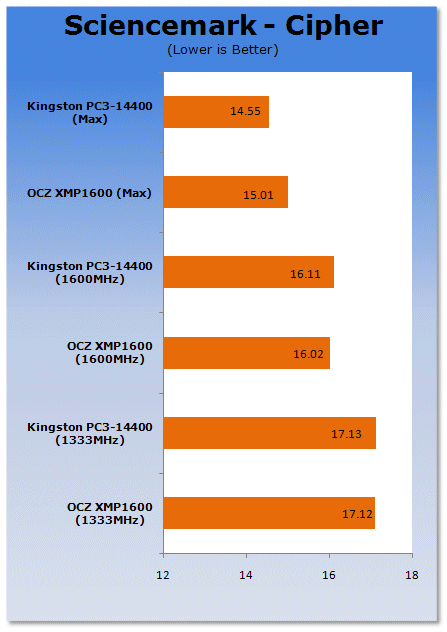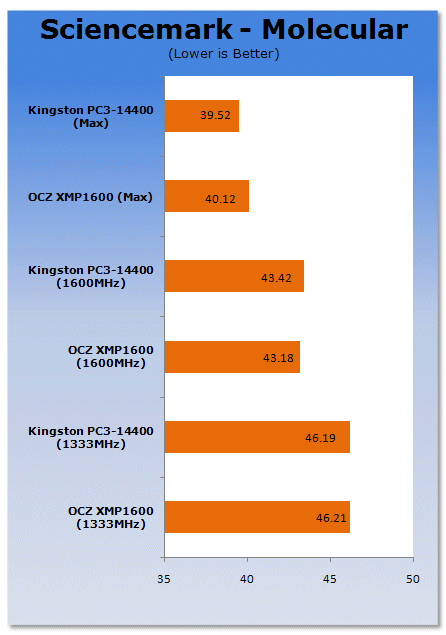 Pressing on into the latency stages, OCZ only gets a slight lead when we go to the 1600MHz setting. At the other settings, 1333MHz ties us both up and at max Kingston gets a tiny lead over OCZ.
Benchmarks - Crysis
CrysisVersion and / or Patch Used:
1.1
Timedemo or Level Used:
Custom Timedemo
Developer Homepage:
http://www.crytek.com/
Product Homepage:
http://www.ea.com/crysis/
Buy It Here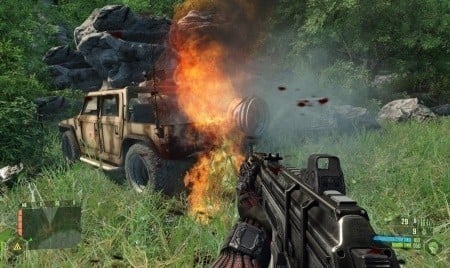 From the makers of Far Cry, Crysis offers FPS fans the best-looking, most highly-evolving gameplay, requiring the player to use adaptive tactics and total customization of weapons and armor to survive in dynamic, hostile environments including Zero-G.
Real time editing, bump mapping, dynamic lights, network system, integrated physics system, shaders, shadows and a dynamic music system are just some of the state of-the-art features the CryENGINE 2 offers. The CryENGINE 2 comes complete with all of its internal tools and also includes the CryENGINE 2 Sandbox world editing system.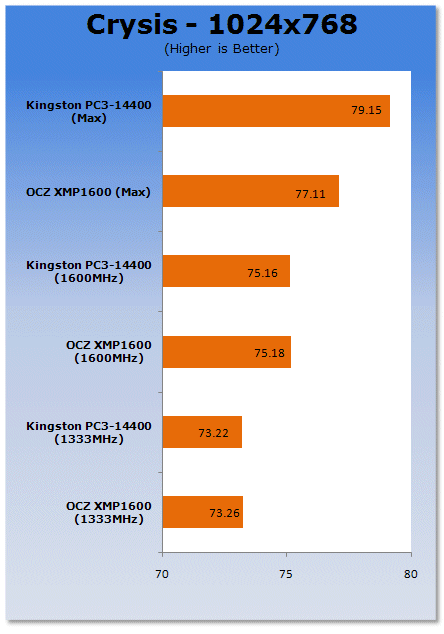 Lastly, in real world gaming 1333MHz show no difference, and 1600MHz shows little improvement. It's only at max speed we get a boost from Kingston due to higher memory, FSB and OC speeds.
Final Thoughts
DDR3 memory is now starting to show its true colours. Yes, at this stage it's more expensive, but for the ultimate system experience, for those who want top performance and overclocking, then DDR3 based systems are the way to go. DDR2 based systems just can't clock as high due to a bottleneck in the DDR2 bus; 1200MHz is the limit, and unless something happens (die shrinks or super high yields) DDR3 is set to take over quite convincingly as the overclocking memory of choice.
Kingston's HyperX memory range has really come of age; its performance is extremely impressive, as well as its ability to overclock. After all, it may be rated for 1800MHz, but remember that 1333MHz is the official speed recognized by JEDEC. NVIDIA has its SLI ready recommendations which are overclocked profiles, so beyond 1333MHz is an overclock. With that said, 1800MHz is a quite a massive jump.
Kingston already has its 2000MHz line coming soon, so stay tuned for a review of this up against the SLI-ready memory. How well it performs may impact your buying decision.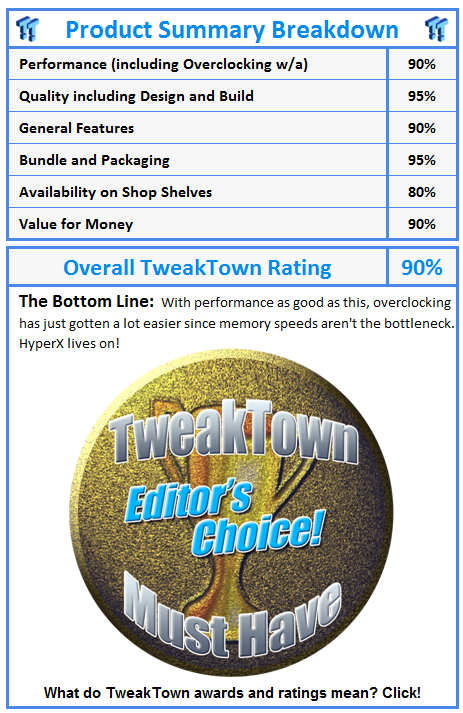 PRICING: You can find products similar to this one for sale below.
United States: Find other tech and computer products like this over at Amazon.com
United Kingdom: Find other tech and computer products like this over at Amazon.co.uk
Australia: Find other tech and computer products like this over at Amazon.com.au
Canada: Find other tech and computer products like this over at Amazon.ca
Deutschland: Finde andere Technik- und Computerprodukte wie dieses auf Amazon.de
We openly invite the companies who provide us with review samples / who are mentioned or discussed to express their opinion. If any company representative wishes to respond, we will publish the response here. Please contact us if you wish to respond.
Related Tags