A-DATA Vitesta DDR3-1600X 2GB Memory Kit
Intel's X38/X48 chipsets support XMP technology and we put it to the test with A-DATA's latest Vitesta DDR3 memory.
Published Sun, Jul 13 2008 11:00 PM CDT
|
Updated Fri, Sep 18 2020 10:50 PM CDT
Rating:

86%
Manufacturer: A-DATA
Introduction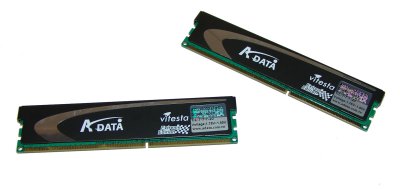 It has been some time since A-DATA memory has crossed our lab table; either they have been hiding or they have been waiting; waiting for a product that would make them into millionaires. Well, maybe not millionaires, but something to impress.
In today's consumer PC market, if you want to get ahead, you need speed, performance and a product that people will want to buy. Graphics cards are held by either NVIDIA or ATI; there are no others of real contention, and this market is cut throat.
One of the biggest performance parts in the system today is the memory or RAM. Your system memory is what makes or breaks your PC; if it's too slow, your CPU can't get fast enough access to the data stored, and with today's ever growing fast paced PCs, you need to keep up.
Intel added what it termed XMP or Extreme Memory Profiling to its X38 and X48 chipsets; this in terms of technology is the same as NVIDIA's EPP which adds extra instructions into the memory SPD, allowing the memory to tell the system how fast it can run, what extra voltages it needs and what timings can be used for certain extreme profiles.
Today we have A-DATA's Vitesta Extreme Edition DDR3 modules designed for XMP with a rating of 1600MHz; the fastest that Intel currently supports on its X series chipsets. Let's see how well it performs.
The Package and Modules
The Package and Memory Modules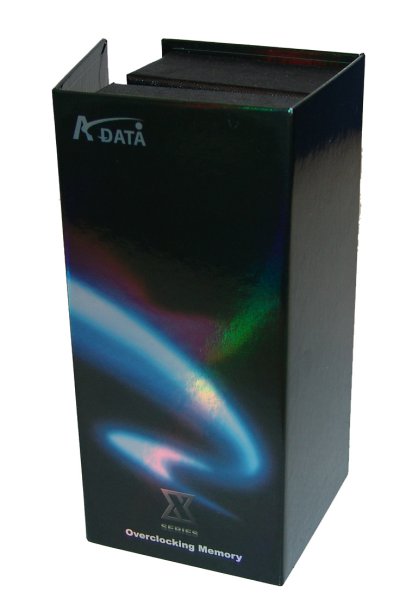 A-DATA packs the Vitesta modules in a rather interesting fold-out box that not only protects the memory, but looks good in the process. It's a sealed box that you have to open, then fold out and pull the memory from its casing.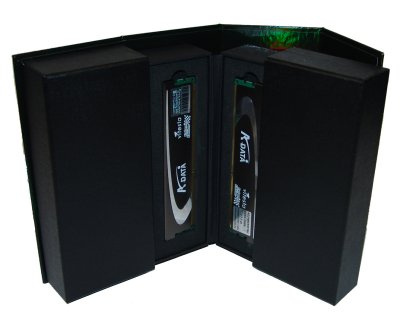 Due to the nature of the box used, there are no pictures on the front, back or sides, and on the inside there is only some basic instructions on how to set up the memory, so you're not going to get any sneak peaks of the modules before you buy them in the shop (apart from this review of course).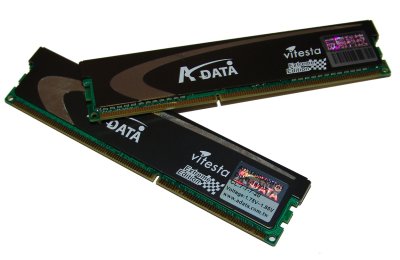 Pulling the modules from the box, we get to see them in all their glory. The modules are what we call standard height with a standard size and thickness heatspreader on both sides to channel heat away from the modules. The spreaders are imprinted with the A-DATA logo and the Vitesta product logo on both sides.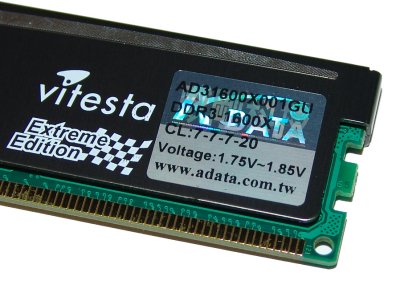 On one side of each module is a hologram sticker with specs on the modules speed and ratings. The kit we received was a 2GB Dual Channel (2x1GB) kit with an XMP profile of 1600MHz and is designed to run at 7-7-7-20 with a maximum of 1.85v.
Overclocking
Overclocking the Modules
Overclocking is always one of the joys of the job, and memory is getting higher in quality each day. These modules are rated to hit 1600MHz on all Intel X38 and X48 boards.
Our GIGABYTE X48T-DQ6 ran these modules at the XMP profile of 1600MHz with the 1.85v, but we weren't happy here. We decided to see what extra we could get out of them; the result was a 1688MHz total speed with a bump in voltage to 1.9v. This was the limit; no extra voltage increase would help it go any higher, but it's a very good result nonetheless.
Important Editor Note: Our maximum overclocking result is the best result we managed in our limited time of testing the motherboard. Due to time constraints we weren't able to tweak the motherboard to the absolute maximum and find the highest possible FSB, as this could take days to find properly. We do however spend at least a few hours overclocking every motherboard to try and find the highest possible overclock in that time frame. You may or may not be able to overclock higher if you spend more time tweaking, or as new BIOS updates are released. "Burn-in" time might also come into play if you believe in that.
Test System Setup and Everest
Test System
Processor
: Intel Core 2 Duo E8500
Motherboard
: GIGABYTE X48T-DQ6 (Supplied by
GIGABYTE
)
Hard Disk
: 500GB Western Digital SE16 (Supplied by
Western Digital
)
Graphics Card
: GIGABYTE 9800GX2 (Supplied by
GIGABYTE
)
Cooling
: GIGABYTE 3D Galaxy II (Supplied by
GIGABYTE
)
Operating System
: Microsoft Windows Vista SP1
Drivers
: Intel INF 9.0.0.1008, Forceware 175.16
In today's venture we will be pitting the A-DATA Vitesta against our trusty old OCZ XMP test kit which we have been using for quite some time in our test bed. These modules have proven to hit over 1700MHz, but for today's result we kept it to the same 1688MHz for both. The OCZ memory was able to lower its timings to 7-6-7-20 for the XMP tests as well as the OC tests. Will this give it any extra boost? Let's find out.
EVEREST Ultimate EditionVersion and / or Patch Used:
2006
Developer Homepage:
http://www.lavalys.com
Product Homepage:
http://www.lavalys.com
Buy It Here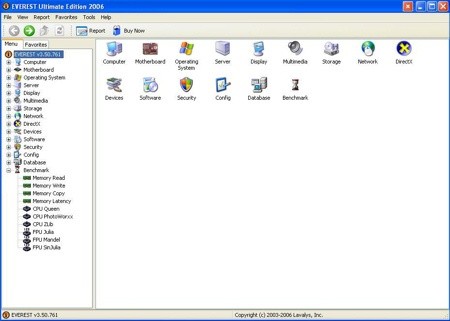 EVEREST Ultimate Edition is an industry leading system diagnostics and benchmarking solution for enthusiasts PC users, based on the award-winning EVEREST Technology. During system optimizations and tweaking it provides essential system and overclock information, advanced hardware monitoring and diagnostics capabilities to check the effects of the applied settings. CPU, FPU and memory benchmarks are available to measure the actual system performance and compare it to previous states or other systems.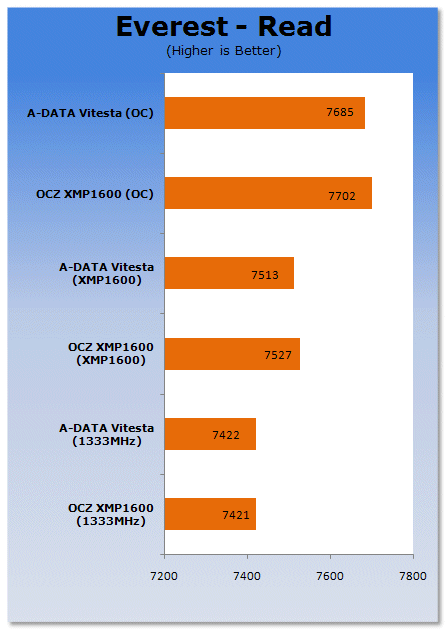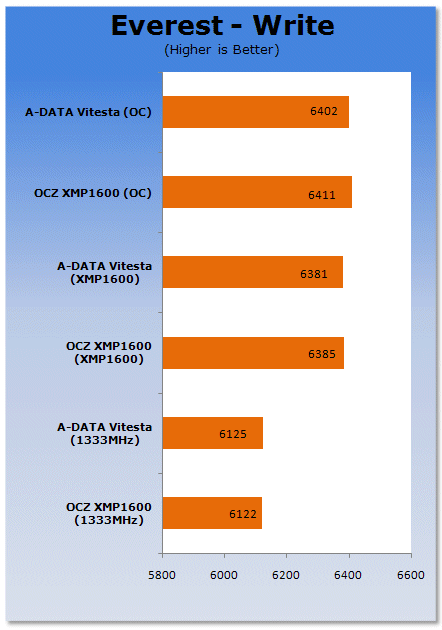 Starting off with the pure synthetic bandwidth tests, we see that both modules at 1333MHz indicate no difference in performance; both run the same latencies.
At 1600XMP mode, we see OCZ just a tiny bit ahead. At OC mode, OCZ still have a couple of points in its favor, but nothing extensive.
Benchmarks - Sciencemark 2.0
ScienceMark 2.0
ScienceMark 2.0 is a mathematical program designed to stress the memory subsystems of both desktop/workstation and server environments to determine the read/write latency as well as the overall memory bandwidth available between the CPU and the memory controller.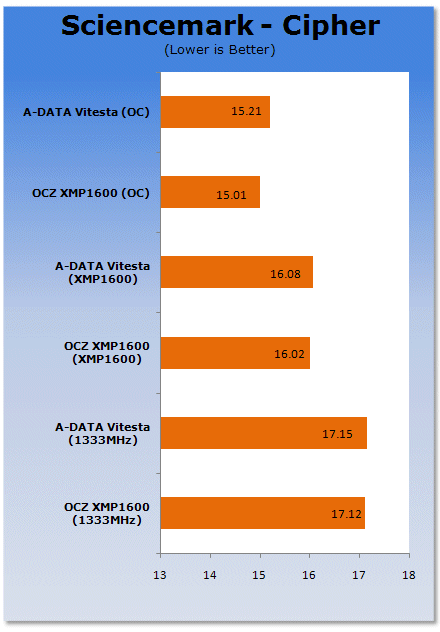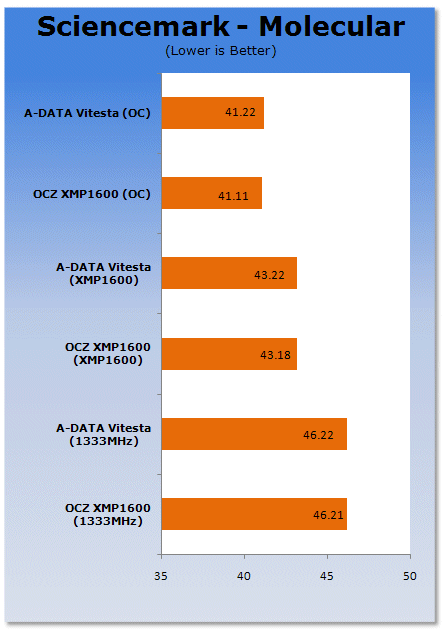 Latency is where the OCZ manages to get just ever so slightly ahead, but only at the XMP profile settings and when overclocking. At 1333MHz there are no discernable differences between the two platforms.
Benchmarks - Crysis
CrysisVersion and / or Patch Used:
1.1
Timedemo or Level Used:
Custom Timedemo
Developer Homepage:
http://www.crytek.com/
Product Homepage:
http://www.ea.com/crysis/
Buy It Here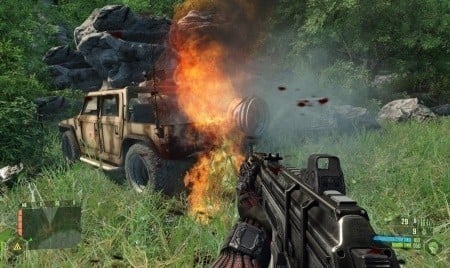 From the makers of Far Cry, Crysis offers FPS fans the best-looking, most highly-evolving gameplay, requiring the player to use adaptive tactics and total customization of weapons and armor to survive in dynamic, hostile environments including Zero-G.
Real time editing, bump mapping, dynamic lights, network system, integrated physics system, shaders, shadows and a dynamic music system are just some of the state of-the-art features the CryENGINE 2 offers. The CryENGINE 2 comes complete with all of its internal tools and also includes the CryENGINE 2 Sandbox world editing system.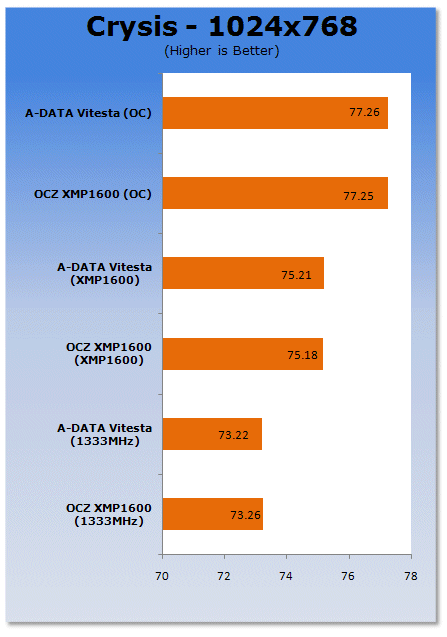 In the real world gaming, the two kits perform identically to each other in all of our tests, negating the synthetic tests.
Final Thoughts
DDR3 still hasn't managed to take over the memory market as the modules of choice; they are still to expensive for the common users, and clock for clock they aren't any faster than DDR2. However, DDR2 has reached its limits; 1200MHz clock speeds are the wall; only a few have managed this.
DDR3 is now approaching 2000MHz and beyond; systems are now able to reach FSBs beyond the 550MHz mark, and using 1:2 memory ratios will see them taking home some very impressive scores.
A-DATA's XMP kit is extremely impressive; it was able to obtain its desired XMP rating and even pushed out a little bit extra. While we did hit a wall not that much past its rated speed, it's still a great module to have, especially if you're running an X38 or X48 chipset.
PRICING: You can find products similar to this one for sale below.
United States: Find other tech and computer products like this over at Amazon.com
United Kingdom: Find other tech and computer products like this over at Amazon.co.uk
Australia: Find other tech and computer products like this over at Amazon.com.au
Canada: Find other tech and computer products like this over at Amazon.ca
Deutschland: Finde andere Technik- und Computerprodukte wie dieses auf Amazon.de
We openly invite the companies who provide us with review samples / who are mentioned or discussed to express their opinion. If any company representative wishes to respond, we will publish the response here. Please contact us if you wish to respond.
Related Tags