Super Talent MasterDrive MX 60GB SSD
The next evolution in SSDs has little to do with performance; Super Talent steers towards affordability.
Published Mon, Jul 7 2008 11:00 PM CDT
|
Updated Fri, Sep 18 2020 10:50 PM CDT
Introduction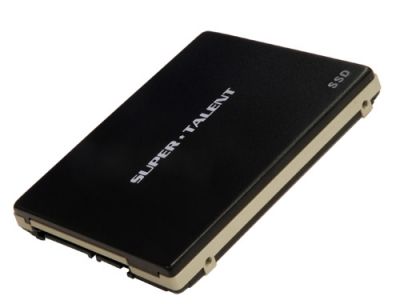 For the past couple of months I have been testing Solid State Drives almost non-stop with a sample in my lab constantly. In that time I have learned three things; solid state is the future, solid state is fast and for solid state to really take off the price needs to come down.
This last month has been filled with press releases from companies promising high performance solid state technology at prices that are up to 30% less than any of the drives we have previously tested. The cost reduction has to do with memory manufacturers starting to ramp up production of the memory chips used, and according to
DRAMeXchange, prices are down 26%
for many MLC memory sizes popular for use in SSDs.
Super Talent is the first to send us their latest MLC Solid State Drive that takes advantage of the new lower contract prices on memory. The MasterDrive MX Line is available in sizes ranging from 8 to 120GB. Our sample 60GB model is available at Newegg right now for less than 400 U.S. Dollars. Let's have a look and see how these new low cost Solid State Drives perform against our trusty Western Digital Raptor 150GB and Samsung's SATA II SLC drive.
Specifications, Availability and Pricing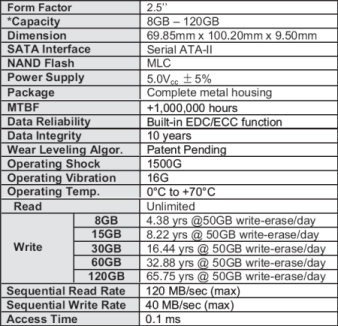 The specifications show that the MasterDrive MX is a 2.5-inch drive, making it perfect for nearly all notebooks on the market today. The drive also uses features found in the SATA-II specs, so Super Talent isn't trying to cut corners to reduce costs.
It has long been known that Solid-State Drives are more resistant to vibration than traditional hard drives, so much so that the military has chosen SSD for a long time. Super Talent set out to prove just how much abuse their new MasterDrive MX can withstand. They recently placed a drive on a paint shaker and started to play a game from the same drive, while it was being shaken to levels that would destroy a standard hard drive. You can see the video
here
.
Of course, many Solid State Drives are capable of withstanding such abuse, but the real stand out feature of the MasterDrive MX is cost. Our 60GB sample is currently offered by Newegg for 395 U.S. Dollars. The 30GB drive can be had for 249 and the larger 120GB is only 575. These are hardly Joe Sixpack prices, but for the enthusiast market the drives are now obtainable. Since many enthusiasts have already migrated over to high performance notebooks that come from the factory with 2GB or more of memory and dual core processors, upgrading the hard drive to Solid-State is the best upgrade option available.
Last night I installed the MasterDrive MX into my Lenovo T61 and the entire hard drive swap took less than Jon Bon Jovi's Saturday Night Live Monolog. After swapping drives, the Windows XP installation took even less time than my regular 100GB 7200 RPM drive takes on its best day.
Packaging
The Package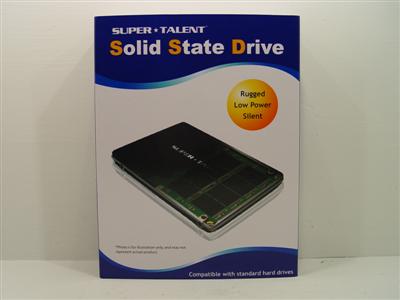 Super Talent isn't going to win any box design awards as the outer box looks rather plain. I was not even able to find the words MasterDrive on the box anywhere, but on the back a small sticker lists the model number. The box clearly shows that a Solid-State Drive is enclosed and a couple of features are listed in a yellow circle.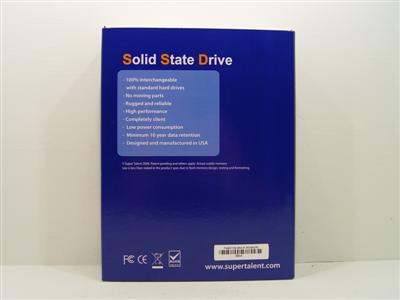 On the back we see a few more features listed, but the package is far from being retail friendly. No performance numbers are given and without the aid of a decoder ring it is difficult to tell what product is actually in the box.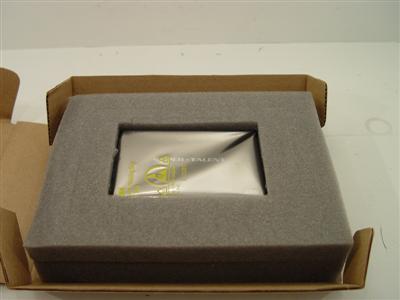 Once inside, we found the drive is packed very well using the same methods as U.S. NVIDIA partners pack their flagship graphics cards with.
The Super Talent MasterDrive MX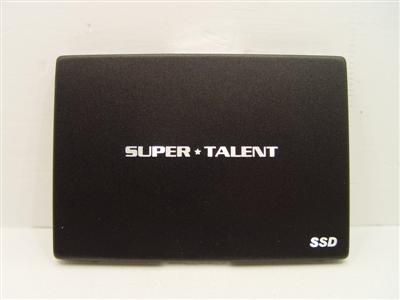 A view from the top shows the drives aluminium casing that is textured for easily handling.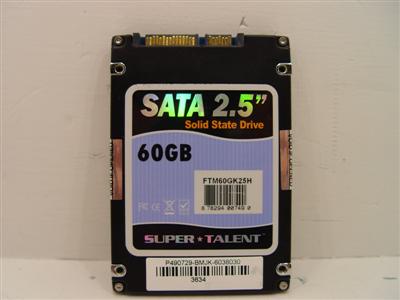 The bottom has a holographic sticker that hopefully will keep counterfeiters away. Model and serial numbers are located here as well. The drive has screw holes on the bottom which is part of the spec and several notebook and drive enclosure manufactures use these mounting positions.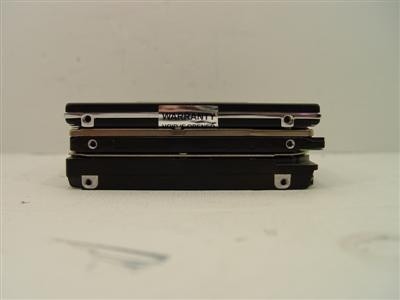 The bottom drive is a SAS drive, the middle is a parallel ATA notebook drive and the top is the Super Talent SSD. Notice that the SAS drive is a little taller than the other two, but the Super Talent SSD is still able to fit into SAS enclosures making it capable of being used in 2.5 inch RAID enclosures.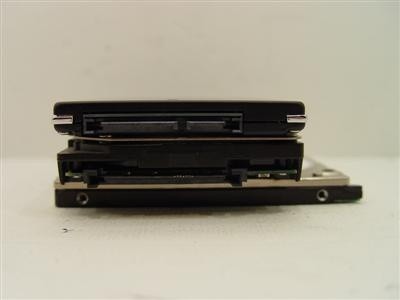 A look at the back shows that the connectors for the SAS and Super Talent SSD are in line, I couldn't even imagine what kind of performance we would see from a 5-way RAID 0 array that only uses two 3.5 inch CD-ROM bays.
Test System Setup
Test System
Processor
: Intel Core 2 Duo E6750 (Supplied by
Intel
)
Motherboard
: XFX 680i SLi (Supplied by
XFX USA
)
Memory
: 2x 1GB DDR2-1200 (Supplied by
Winchip
)
Graphics Card
: ASUS HD 3870 TOP (Supplied by
ASUS
)
Cooling
: GIGABYTE 3D Galaxy II (Supplied by
GIGABYTE
)
Operating System
: Microsoft Windows Vista Ultimate
Drivers
: NVIDIA 15.17
Controller
: Areca ARC-1231ML (Supplied by
DVNation.com
)
The above setup is what will be used for all hard disk reviews hereon. Hard disks designed primarily for use in notebooks are also tested in the above system. However, some tests which are for determining the effect on battery life simply cannot be run on a desktop. All battery related tests are performed on a Lenovo T61 with WiFi enabled.
I used the Samsung SATA-II on the same test system as the Super Talent MasterDrive MX and will include the benchmarks for the single drive configurations. To add a little more spice, benchmarks from a Western Digital 150GB Raptor were also included. The Raptor was tested on an Intel X38 chipset.
Benchmarks - HD Tune Pro - Read
HD Tune ProVersion and / or Patch Used:
3.00
Developer Homepage:
http://www.efdsoftware.com/
Product Homepage:
http://www.hdtune.com/>
HD Tune is a Hard Disk utility which has the following functions:
- Benchmark: measures the performance
- Info: shows detailed information
- Health: checks the health status by using SMART
- Error Scan: scans the surface for errors
- Temperature display
HD Tune Pro gives us accurate read, write and access time results and for the last couple of years has been gaining popularity amongst reviewers. It is now considered a must have application for storage device testing.
Read Tests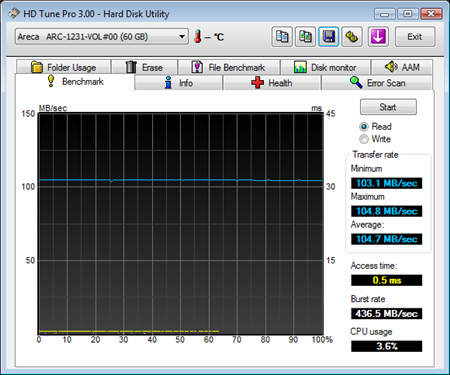 Super Talent MasterDrive MX on Areca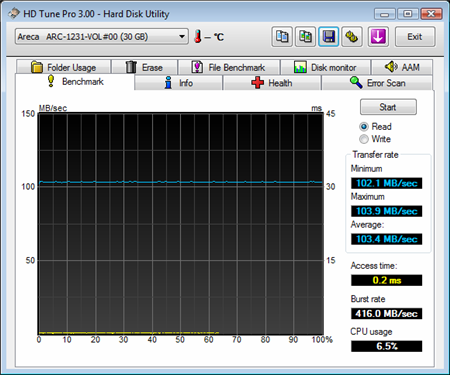 Samsung SATA-II on Areca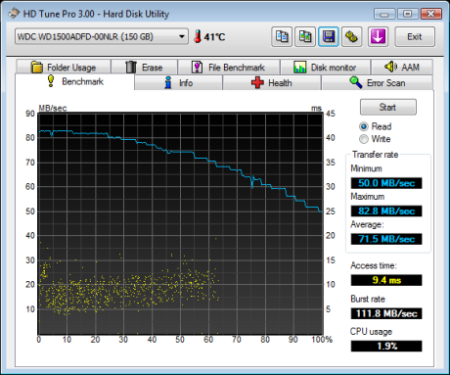 WD Raptor 150GB on X38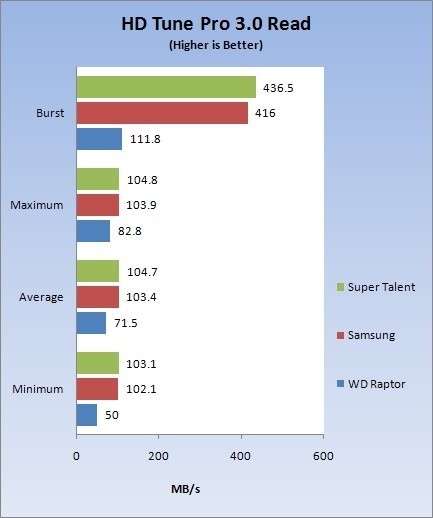 As you can see, the Super Talent MasterDrive MX and Samsung SATA-II drive are very close performance wise. The main difference between these two drives is that the 60GB MasterDrive MX costs the same as the 32GB Samsung SATA-II. Both drives leave the Western Digital Raptor 150GB in the dust.
Benchmarks - HD Tune Pro - Write
HD Tune Pro - Write Tests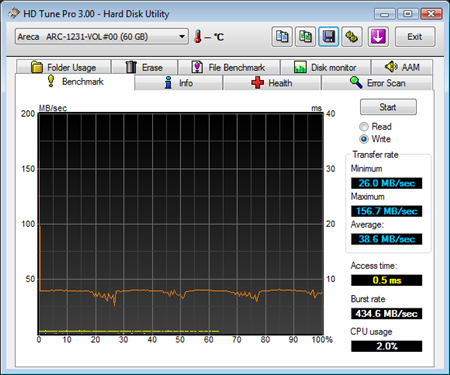 Super Talent MasterDrive MX on Areca
Samsung SATA-II on Areca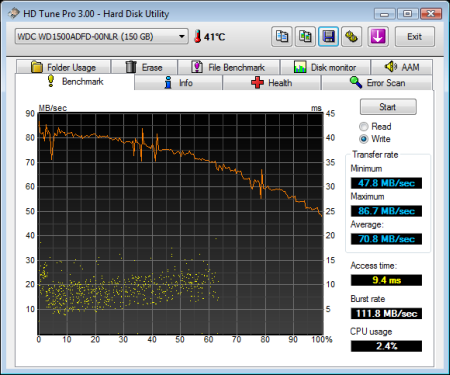 WD Raptor 150GB on X38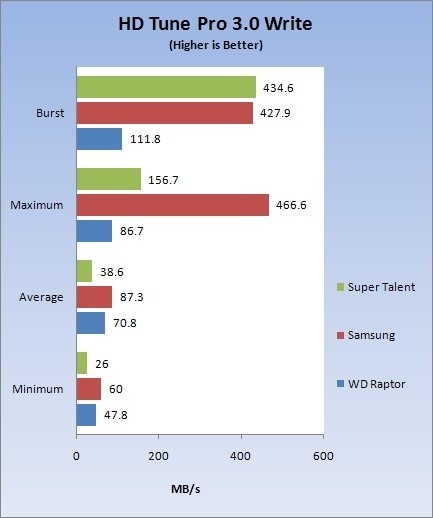 As with the Read Test, the Areca controller gives us a difficult time with the max and burst speeds since the controller has a cache module installed. Looking at the average and minimum speeds, we see that the MasterDrive MX is a little slower than the Samsung SATA-II on write speed.
The small dip in performance that accounted for the minimum speed really hurt the average score. Starting at the 19 MB mark and continuing through to the 28 MB mark you can see the dip. The bad thing is that it happens four times in the drives write cycle. The Super Talent MasterDrive MX uses MLC, a memory type known to have slower write cycles than SLC, the memory that the Samsung SATA-II drives uses. More on this in the conclusion.
Benchmarks - Everest Random Access Time
Everest Random Access TimeVersion and / or Patch Used:
4.50
Developer Homepage:
http://www.lavalys.com/
Product Homepage:
http://www.lavalys.com/>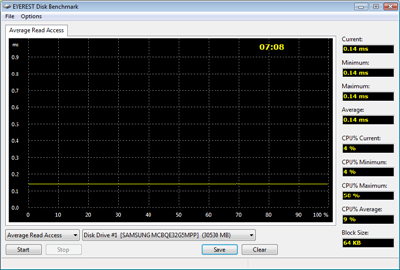 Everest Ultimate and Corporate Edition offer several different benchmarks for testing and optimizing your system or network. The Random Access test is one of very few if not only that will measure hard drives random access times in hundredths of milliseconds as oppose to tens of milliseconds.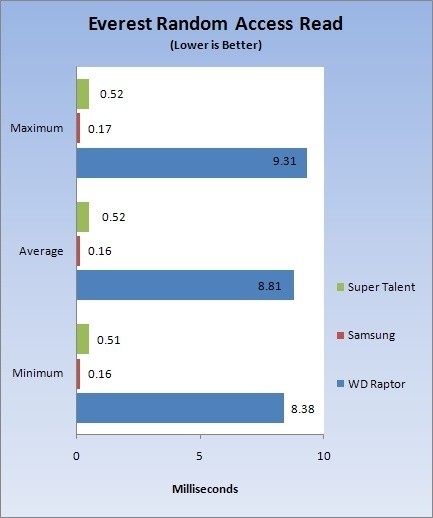 For SSDs the access times are measured in tenths of milliseconds and they put traditional hard drives to shame, even the 10,000 RPM Western Digital Raptor. Here we see that the Samsung Drive is a little quicker accessing the data, but since we are talking about sub milliseconds, I think it is safe to say this one can slide. The important thing to note is how much faster Solid-State Drives are able to access data over standard platter drives.
Benchmarks - PCMark Vantage Hard Disk Tests
PCMark Vantage - Hard Disk TestsVersion and / or Patch Used:
1.0.0
Developer Homepage:
http://www.futuremark.com
Product Homepage:
http://www.futuremark.com/benchmarks/pcmark-vantage//
Buy It Here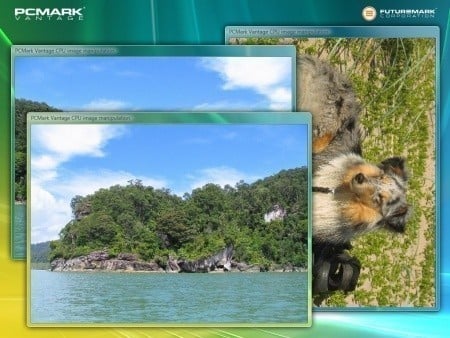 PCMark Vantage is the first objective hardware performance benchmark for PCs running 32 and 64 bit versions of Microsoft Windows Vista. PCMark Vantage is perfectly suited for benchmarking any type of Microsoft Windows Vista PC from multimedia home entertainment systems and laptops to dedicated workstations and high-end gaming rigs. Regardless of whether the benchmarker is an artist or an IT Professional, PCMark Vantage shows the user where their system soars or falls flat, and how to get the most performance possible out of their hardware. PCMark Vantage is easy enough for even the most casual enthusiast to use yet supports in-depth, professional industry grade testing.
FutureMark has developed a good set of hard disk tests for their PCMark Vantage Suite. These tests are based on real world applications that many of us use daily.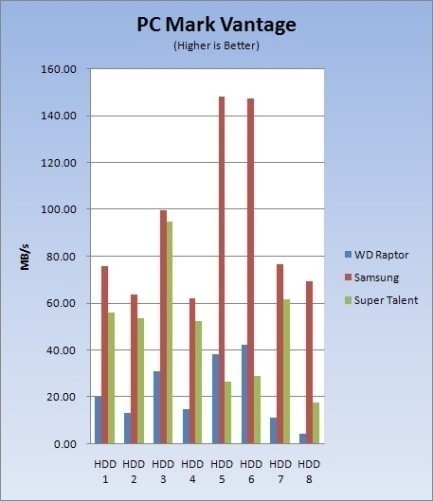 HDD1 - Windows Defender
HDD2 - Gaming
HDD3 - Windows Photo Gallery
HDD4 - Vista Startup
HDD5 - Windows Movie Maker
HDD6 - Windows Media Center
HDD7 - Windows Media Player
HDD8 - Application Loading
In FutureMark's Vantage, we see the Super Talent MasterDrive MX struggle a bit in Windows Movie Maker and Windows Media Center. After running Vantage on the same drive but on the 680i chipset, I received results similar to those published here. I believe the write speed dips are what caused the poor performance in these two tests.
In the other tests, the Super Talent drive had no problem doubling the performance of the Raptor 150GB and keeping pace with the Samsung SATA-II.
Benchmarks - Passmark
Passmark Advanced Multi-User TestsVersion and / or Patch Used:
6.1
Developer Homepage:
http://www.passmark.com/
Test Homepage:
http://www.passmark.com/ >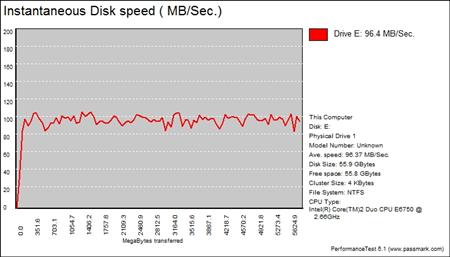 Many users complain that I/O Meter is too complicated of a benchmark to replicate results so my quest to find an alternative was started. Passmark has added several multi-user tests that measure a hard drives ability to operate in a multi-user environment.

The tests use different settings to mimic basic multi-user operations as they would play out on your server. Variances is read / write percentage as well as random / sequential reads are common in certain applications, Web Servers read nearly 100% of the time while Database Servers write a small amount of data.
The Workstation test is the only single user environment and will be similar to how you use your system at home.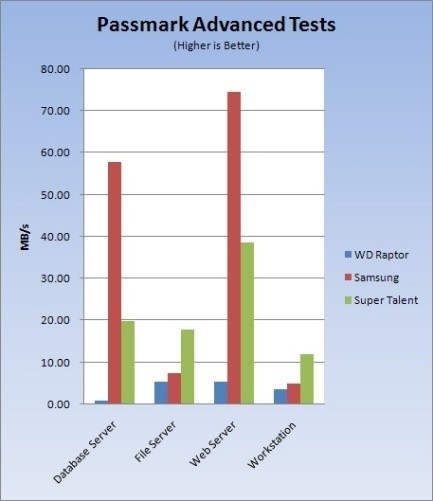 The MasterDrive MX and Samsung batted benchmarks around like a tennis ball in Passmark's multi-user Tests. Both drives clearly outperformed the Raptor 150GB, and in the Database Test where random access is very important, they just made the Raptor simply look slow.
Final Thoughts
From the start I wasn't too sure about comparing the new Super Talent MasterDrive MX 60GB SSD against the Samsung SATA-II 32GB SSD. The Super Talent MD MX 60GB costs a little less than the Samsung 32GB and has nearly double the capacity. I was sure we were going to see a total blowout in performance numbers.
As testing progressed and I started to compare how the drives performed, I was completely shocked to see the two drives battling back and forth for superior numbers. At this point it is difficult to put my finger on exactly where the MasterDrive MX really stands out. Is it an economy drive with great performance or a performance drive with budget pricing? - When looking back at the performance results, I have to say it is both.
The read performance of the Super Talent MasterDrive is top notch and is faster than just about all of the drives I have tested other than the MemoRight GT. Write performance is a different story, even with the help of the Areca controller's built in cache system. The difference lies in the memory technology used; the Samsung uses SLC or Single Level Cell and the Super Talent uses cheaper Multi-Level Cell. MLC is known to perform slower in write cycles but the technology is starting to regain some of the performance loss.
I would venture to say that at this time most enthusiasts could care less, or for that matter even ask if a drive uses SLC or MLC memory. At this point home users care more about how fast their desktop or notebook loads Windows and their favorite applications. Professional users who use more write cycles are a different story.
Up until now, for home users Solid State Drives have been unobtainable due to their high costs; this is starting to change and change rapidly. I think over the next few months we will start to see a much larger divide between home and professional based SSDs with the divide being SLC or MLC. This is a good thing for home users as MLC drives will become cheaper rather than SLC drives costing more than they do now.
The Super Talent MasterDrive MX is a great performer for its targeted audience, the enthusiast / privileged home user. Overall performance is better than all typical hard drives and the price is starting to let up, making the technology affordable for more users. I think notebook users will get the most benefit out of an imminent jump to the Super Talent MasterDrive MX; my testing showed a gain of nearly 45 minutes battery life (results coming in a later article). Desktop users may feel a little pinched with only 60GB of space for a boot drive, but Super Talent does offer a 120GB version if you would like to give it a whirl.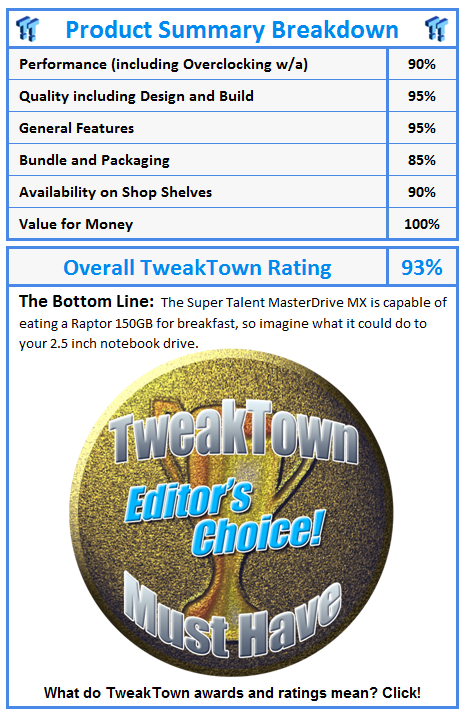 PRICING: You can find products similar to this one for sale below.
United States: Find other tech and computer products like this over at Amazon.com
United Kingdom: Find other tech and computer products like this over at Amazon.co.uk
Australia: Find other tech and computer products like this over at Amazon.com.au
Canada: Find other tech and computer products like this over at Amazon.ca
Deutschland: Finde andere Technik- und Computerprodukte wie dieses auf Amazon.de
We openly invite the companies who provide us with review samples / who are mentioned or discussed to express their opinion. If any company representative wishes to respond, we will publish the response here. Please contact us if you wish to respond.
Related Tags