OCZ Flex-II PC2-9200 4GB Memory Kit
OCZ has been quiet with water cooled memory for a while, but the Flex series returns with a vengeance.
Published Wed, Jul 2 2008 11:00 PM CDT
|
Updated Fri, Sep 18 2020 10:50 PM CDT
Introduction

DDR2 is by no means a dead technology; AMD still has a major vested interest in it as all its current AM2 and AM2+ CPUs run on it. AMD is not as fortunate to swap memory technologies as Intel, since AMD has elected to build memory controllers into the CPU. This results in a far better performing CPU, but limits them to upgradeability. Intel also continues to support DDR2; we thought the 4 series chipsets would be DDR3 only. Intel still supports DDR2 on the X48, P45, P43 and all the G4x series chipsets. Clearly DDR2 still has its place, and why? - It's cheap!!!
DDR3 is the highest costing memory to come out since RAMBUS brought out RIMMs; while they died a very quick death (thank god for that), DDR3 lingers as its clocking is by far better than anything DDR2 is able to produce. Yields will increase more over time, but until that day DDR2 is still the most used memory on mainstream PCs.
OCZ is by far one of the biggest supporters of overclockers out there; this has been evident by bringing out memory that has a water jacket built into it, allowing extreme cooling users to simply pump some H20 into it and cool it down better than that of ordinary air cooling. This is quite sensible really, considering if you have a water cooled system you don't have that many fans inside to keep things cool. RAM at high clock speeds needs some serious cooling, or you're back to blue screens and crashing to desktop situations.
Today we have the newest incarnation of the Flex memory from OCZ with their own built in water jackets. The Flex-II PC2-9200 Kit comprises OCZ's highest clocked DDR2 memory modules; how will they perform? - Let's have a bit of a gander and see.
The Package and Modules
The Package and Memory Modules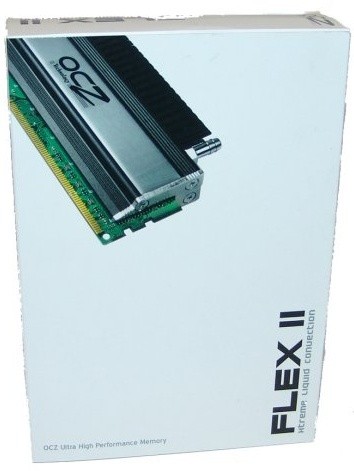 First off, we start with the package that OCZ ships out the modules in. Compared to most modules we have received, the package is rather large; it's pretty well all white with a Flex-II logo on the front and a graphic of the memory module.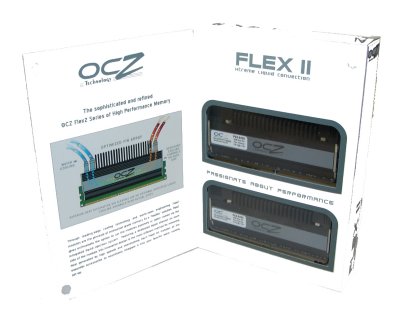 While we like to see colour photos, this is one better; the front flap on the box opens up to show the modules in all their glory behind a plastic blister, so you get to see exactly what you're buying. On the inside flap there is a demo of how the water cooling system works to keep the memory cool.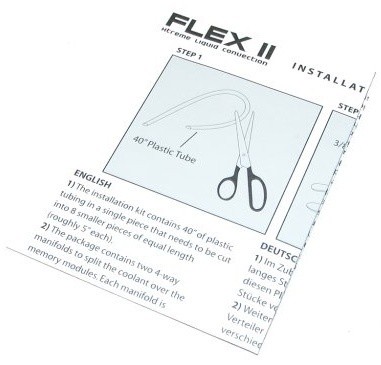 A small pamphlet is included that helps you install the water cooling aspect of the system with full detailed instructions.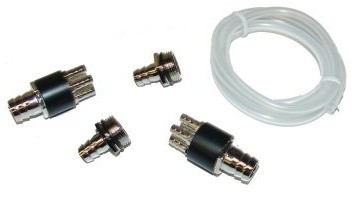 Depending on what size tubing your water cooler is using, OCZ has your covered with 1/2 inch and 3/8 inch converters that feed the memory water as well as carry it back to the cooling circuit.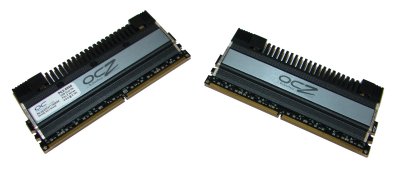 Moving along, we unpack the modules from the blister. One thing was evident upon first handling these babies; the water jacket is extremely heavy..
If you're not into water cooling, you don't have to use it. You can use them with air cooling as well. Of course, this method isn't as effective as making use of the water cooling system.
Each module has on one side the OCZ logo sticker along with the speed rating (PC2-9200 for these modules) and the timings that the modules are meant to run. The kit we received was 4GB (2x2GB modules for Dual Channel) with timings of 5-5-5 at a voltage maximum of 2.1v.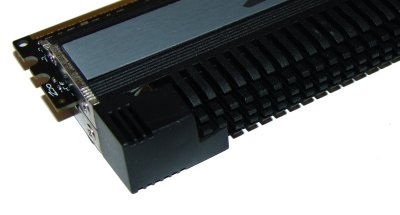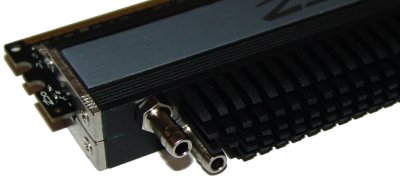 The Flex-II series changes how the water is delivered to the system. On the first generation of Flex XLC modules, there was a single 3/8 inch barb at each end. The Series II has 2 1/4 barbs at each end; one barb passes water through one side of the jacket while the other passes water through the other side, making for a more balanced cooling option.
Overclocking
Overclocking the Modules
Overclocking of OCZ memory is always fun; managing to get high speeds is usually not a problem. We managed to hit the rated 1150MHz with the 2.1v standard, but pushing the memory to 2.25v in the GIGABYTE X38-DQ6 allowed us to increase our overclock to 1196MHz with an FSB of 299MHz. We couldn't get 1200MHz to boot stable unfortunately. But hey, this is quite a good effort from this memory.
We only managed to obtain this speed with the water cooling; when we ran without water, even 1150MHz was pushing it as temps rose quite heavily.
Important Editor Note: Our maximum overclocking result is the best result we managed in our limited time of testing the motherboard. Due to time constraints we weren't able to tweak the motherboard to the absolute maximum and find the highest possible FSB, as this could take days to find properly. We do however spend at least a few hours overclocking every motherboard to try and find the highest possible overclock in that time frame. You may or may not be able to overclock higher if you spend more time tweaking, or as new BIOS updates are released. "Burn-in" time might also come into play if you believe in that.
Test System Setup and Everest
Test System
Processor
: Intel Core 2 Duo E8500
Motherboard
: GIGABYTE X38-DQ6 (Supplied by
GIGABYTE
)
Hard Disk
: 500GB Western Digital SE16 (Supplied by
Western Digital
)
Graphics Card
: GIGABYTE 9800GX2 (Supplied by
GIGABYTE
)
Cooling
: GIGABYTE 3D Galaxy II (Supplied by
GIGABYTE
)
Operating System
: Microsoft Windows Vista SP1
Drivers
: Intel INF 9.0.0.1008, Forceware 175.16
Moving into our RAM setup; we use the GIGAYBTE X38-DQ6 motherboard with the latest Core 2 Duo E8500 at our disposal. This is a good all-round platform. For our stock tests we set the memory ratio to DDR2-800 which is the highest DDR2 speed recognised by the JEDEC for the Intel Platform.
Our overclocking results were with the OCZ on water at 1192, and on air with 1150MHz. Our competitor, the Geil memory was at 1145MHz, which is the highest we managed to get it to run at on this platform. We used a 1:2 memory ratio to reduce the CPU as much as possible from being the bottleneck.
EVEREST Ultimate EditionVersion and / or Patch Used:
2006
Developer Homepage:
http://www.lavalys.com
Product Homepage:
http://www.lavalys.com
Buy It Here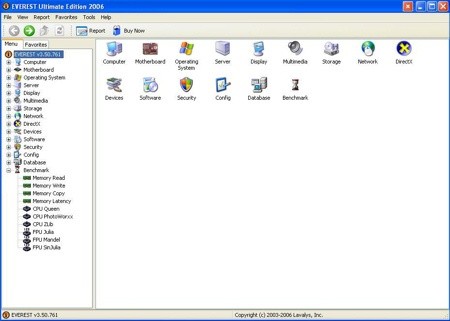 EVEREST Ultimate Edition is an industry leading system diagnostics and benchmarking solution for enthusiasts PC users, based on the award-winning EVEREST Technology. During system optimizations and tweaking it provides essential system and overclock information, advanced hardware monitoring and diagnostics capabilities to check the effects of the applied settings. CPU, FPU and memory benchmarks are available to measure the actual system performance and compare it to previous states or other systems.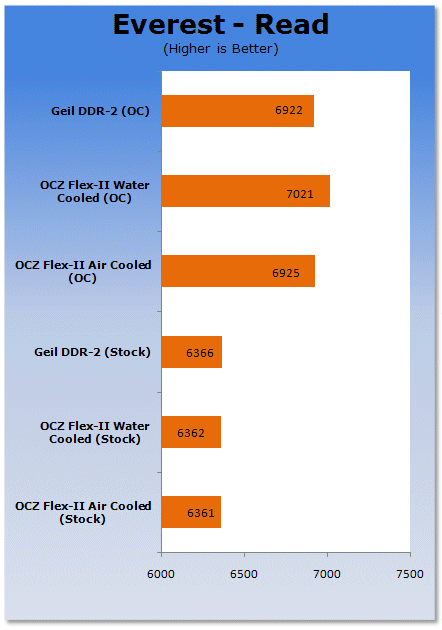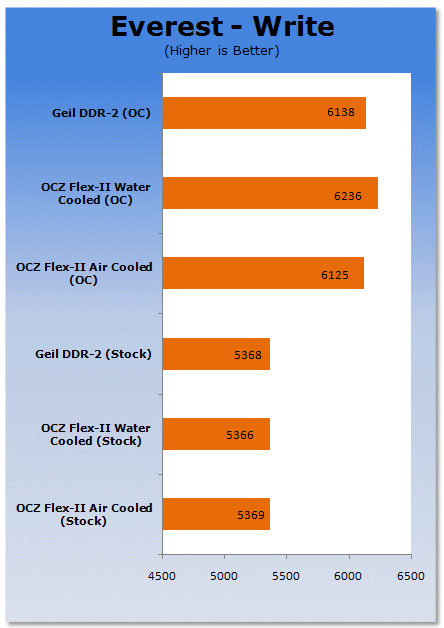 Moving off the mark with Everest; we see that the OCZ memory at stock speeds sits very closely with the Geil. Similar almost non-existant variations are seen from the overclocking tests using air cooling. With the water cooling, the gap opens up slightly.
Benchmarks - Sciencemark 2.0
ScienceMark 2.0
ScienceMark 2.0 is a mathematical program designed to stress the memory subsystems of both desktop/workstation and server environments to determine the read/write latency as well as the overall memory bandwidth available between the CPU and the memory controller.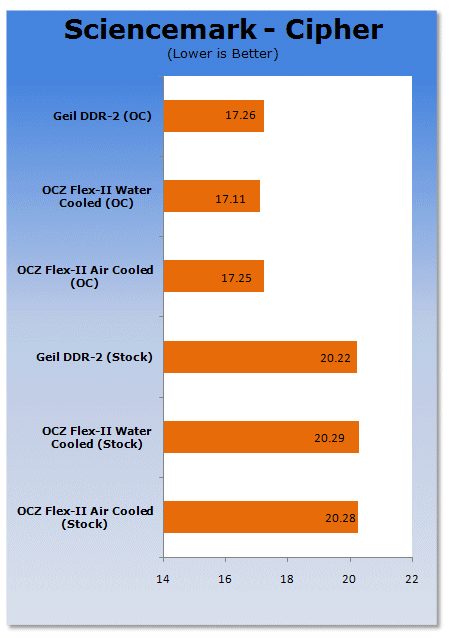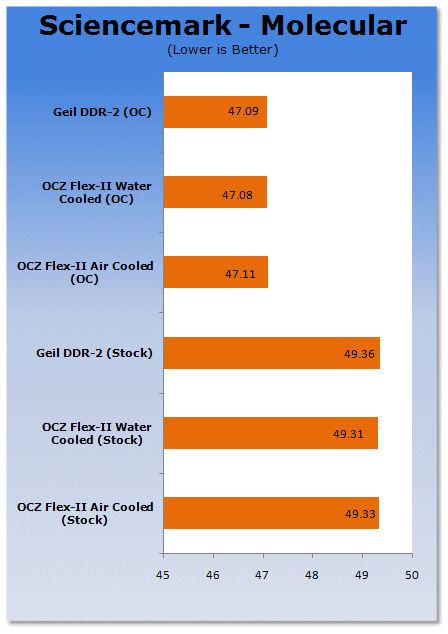 Latency and access times win it here, and both setups are pretty well equal even when overclocked.
Benchmarks - Crysis
CrysisVersion and / or Patch Used:
1.1
Timedemo or Level Used:
Custom Timedemo
Developer Homepage:
http://www.crytek.com/
Product Homepage:
http://www.ea.com/crysis/
Buy It Here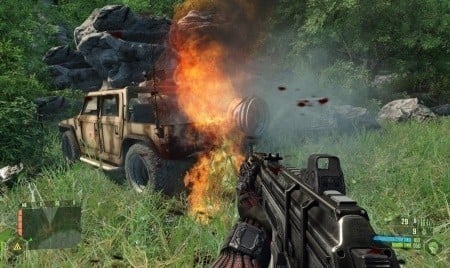 From the makers of Far Cry, Crysis offers FPS fans the best-looking, most highly-evolving gameplay, requiring the player to use adaptive tactics and total customization of weapons and armor to survive in dynamic, hostile environments including Zero-G.
Real time editing, bump mapping, dynamic lights, network system, integrated physics system, shaders, shadows and a dynamic music system are just some of the state of-the-art features the CryENGINE 2 offers. The CryENGINE 2 comes complete with all of its internal tools and also includes the CryENGINE 2 Sandbox world editing system.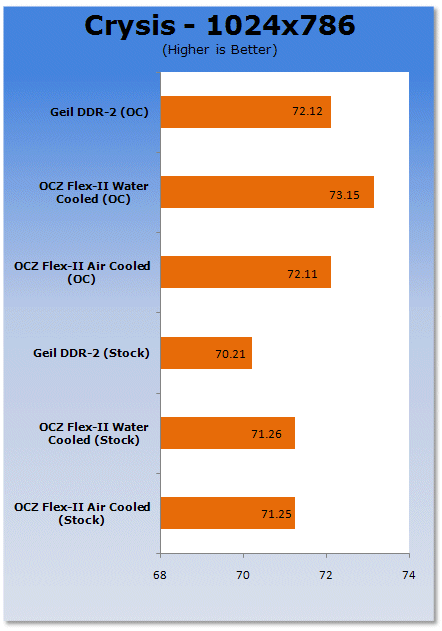 Crysis puts more stress on the system, especially the graphics card. Here we see that the memory speed doesn't really help much at all.
Final Thoughts
DDR2 hasn't died, and one thing is for sure, companies like OCZ will really push the limits of DDR2 technology as long as it's with us. While water cooling isn't for everyone, those who want a much more silent system can look to OCZ who has come to the party with a very impressive memory kit here.
The Flex-II series should improve on the Flex design with dual paths for the water rather than a single, allowing for a more total cooling solution while still keeping the noise within the system to a minimum, thanks to the use of liquids.
The added flexibility of still allowing air cooling users to have the advantages of this memory is nice as well.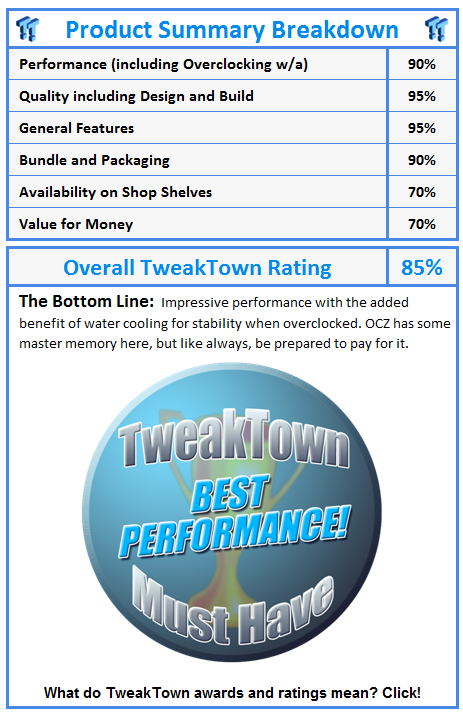 PRICING: You can find products similar to this one for sale below.
United States: Find other tech and computer products like this over at Amazon.com
United Kingdom: Find other tech and computer products like this over at Amazon.co.uk
Australia: Find other tech and computer products like this over at Amazon.com.au
Canada: Find other tech and computer products like this over at Amazon.ca
Deutschland: Finde andere Technik- und Computerprodukte wie dieses auf Amazon.de
We openly invite the companies who provide us with review samples / who are mentioned or discussed to express their opinion. If any company representative wishes to respond, we will publish the response here. Please contact us if you wish to respond.
Related Tags