Samsung 2.5inch 32GB SSD (Four in RAID 0)
Samsung help drive down the severely inflated cost of SSDs. Chris looks at one of its cheapest 2.5" 32GB models today.
Published Sun, Jun 29 2008 11:00 PM CDT
|
Updated Fri, Sep 18 2020 10:50 PM CDT
Introduction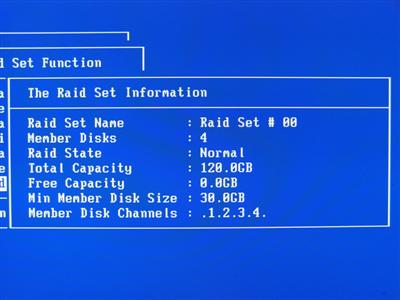 Samsung is one of the largest memory suppliers in the world, so it is natural to find them playing in the Solid-State Drive (SSD) market. Their latest offering, the MCBQE32G5MPP-0VA00 is a 2.5-inch 32GB drive with big potential and a new low price tag. From the get go we were told to expect
MTRON MOBI performance
at a 15% reduced cost.
The new Samsung drives are available in 32 and 64GB in the 2.5-inch form factor. It is my opinion that most of these will make their way into business notebooks, but the professional market will have a different plan. Solid-State Drives have a very low access time that allows their use in RAID arrays without a large access time penalty like when using traditional hard disks.
Today we are going to take the new Samsung MCBQE32G5MPP-0VA00 and put it through hell with two different single drive configurations and run RAID 0 on two, three and four drives. In addition, we took three drives and ran a RAID 5 array just to see if there was a performance hit we would get on an Areca SAS controller.
Specifications, Availability and Pricing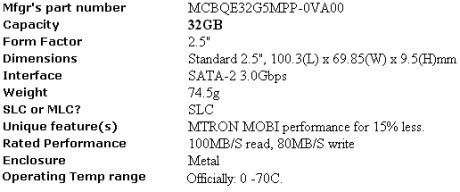 Here we see that the Samsung MCBQE32G5MPP-0VA00 is a 32GB SATA-II drive in 2.5-inch form. The drive uses SLC technology instead of MLC and has a claimed read speed of 100 MB/s while keeping the write speed of around 80 MB/s.
DVNation.com
is currently offering the Samsung MCBQE32G5MPP-0VA00 for 549.00 U.S. Dollars in 32GB form; the 64GB drive is also available for 999.00 U.S. Dollars. is a little less than the MTRON MOBI 32GB SSD currently offered by DVNation, but the claimed speeds are the same.
The new Samsung drive has an operating temperature of 0-70 C. Previous Samsung SSDs were rated at -25 thru 85 C. DVNation.com tell us that the drives may operate at this extended temperature range, but not officially. Most of us do not use our systems at these extremes, but some special purpose systems may, so I wanted to pass the information along.
The Samsung MCBQE32G5MPP-0VA00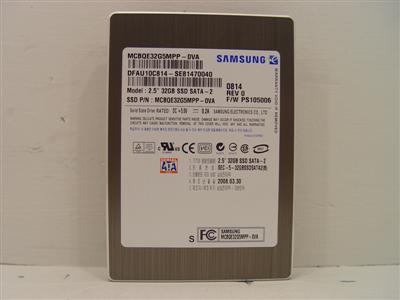 Here we see the top of the Samsung drive. Like many of the SSDs, the drive is incased in aluminum and all of the information is listed on the top sticker.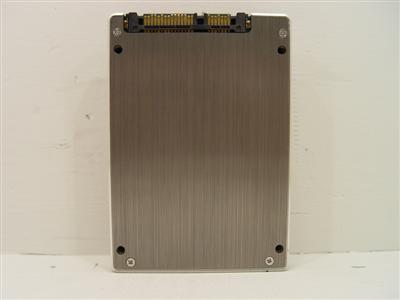 The bottom is a cover that hides the internals. Here you can also see the standard SATA power and data connections.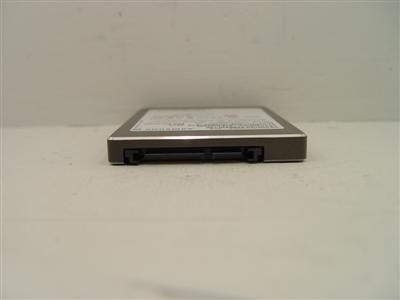 Looking at the drive from the rear shows that the connectors are placed as they are supposed to be, making the drive capable of being used in a 2.5-inch enclosure.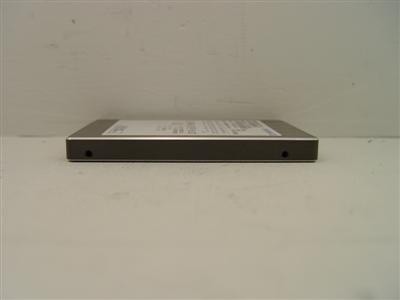 The same is true for the side screw holes; my 5-drive 3.5 inch enclosure is just begging to be filled with these Samsung drives.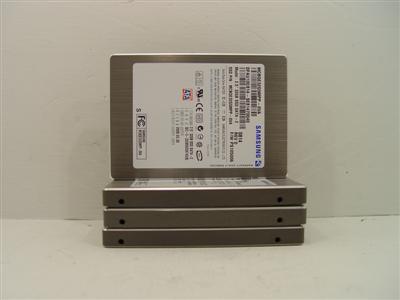 All four drives prepped and ready for action.
Test System Setup
Test System
Processor
: Intel Core 2 Duo E6750 (Supplied by
Intel
)
Motherboard
: XFX 680i SLi (Supplied by
XFX USA
)
Memory
: 2x 1GB DDR2-1200 (Supplied by
Winchip
)
Graphics Card
: ASUS HD 3870 TOP (Supplied by
ASUS
)
Cooling
: GIGABYTE 3D Galaxy II (Supplied by
GIGABYTE
)
Operating System
: Microsoft Windows Vista Ultimate
Drivers
: NVIDIA 15.17
Controller
: Areca 1231ML (Supplied by
DVNation.com
)
The above setup is what will be used for all hard disk reviews hereon. Hard disks designed primarily for use in notebooks are also tested in the above system. However, some tests which are for determining the effect on battery life simply cannot be run on a desktop. All battery related tests are performed on a Lenovo T61 with WiFi enabled.
Benchmarks - HD Tune Pro - Read
HD Tune ProVersion and / or Patch Used:
3.00
Developer Homepage:
http://www.efdsoftware.com/
Product Homepage:
http://www.hdtune.com/>
HD Tune is a Hard Disk utility which has the following functions:
- Benchmark: measures the performance
- Info: shows detailed information
- Health: checks the health status by using SMART
- Error Scan: scans the surface for errors
- Temperature display
HD Tune Pro gives us accurate read, write and access time results and for the last couple of years has been gaining popularity amongst reviewers. It is now considered a must have application for storage device testing.
Read Tests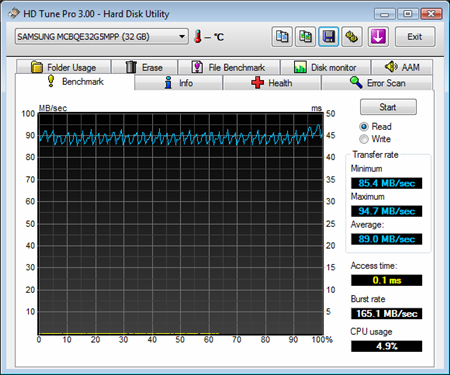 Samsung single drive on NVIDIA 680i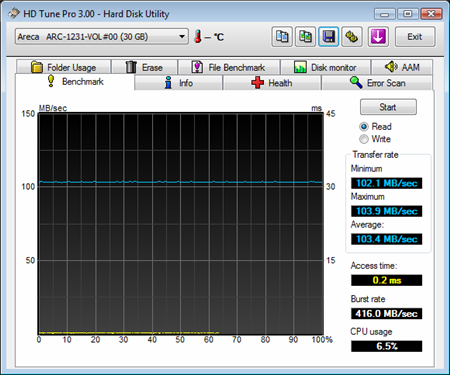 Samsung single drive on Areca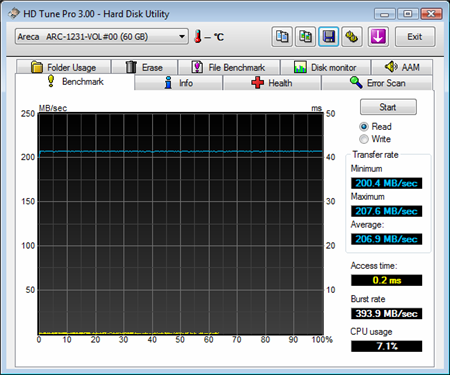 2-Drive RAID 0
3-Drive RAID 0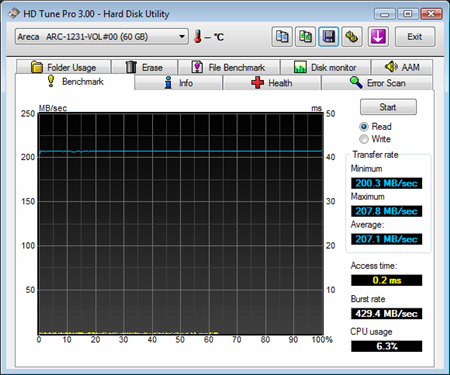 3-Drive RAID 5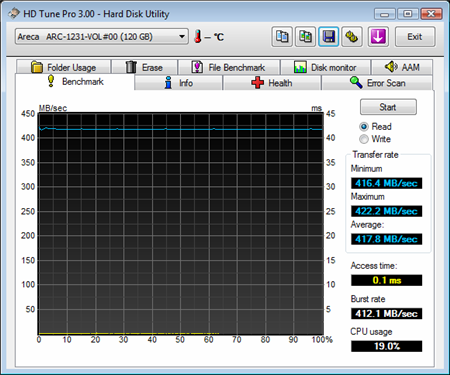 4-Drive RAID 0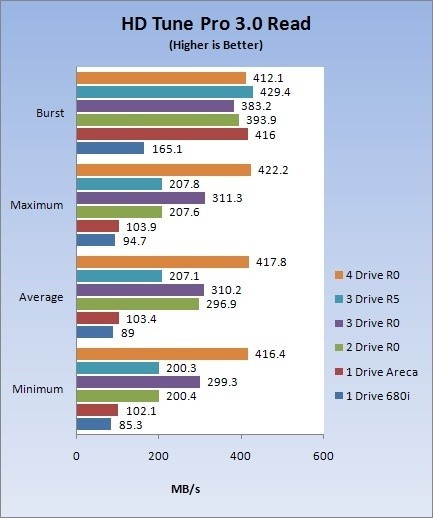 There is a lot of information here for us to take in.
Let's start with the Areca controller and how it affects the numbers. As you can see, the Burst Rate on all of the tests with the controller has gone through the roof. The controller features a user upgradable cache module that allows a portion of data to be stored in fast memory, and this will affect the Burst, Maximum and Average scoring for the better.
When looking at the scores from a single drive on the Areca controller and a single drive on the NVIDIA 680i SLI chipset, we see that the controller is far more efficient at transferring data, even in the Minimum category.
The next thing to look at are the RAID 0 numbers. The Samsung SATA-II drives scale very well when used in RAID 0 and all of the numbers nearly double just by adding another drive. We tested up to four drives and had very good results.
RAID 5 was thrown in, just because we could. It is unlikely anyone would run RAID 5 outside of an enterprise environment, but we had the controller and the drives and thought "What the heck; let's do it". The performance of a RAID 5 array with three drives is similar to that of RAID 0 with two drives. This was expected and in the read category we didn't encounter any ill effects.
RAID 5 is notorious for turning write speeds to mush, so let's move on to see what happens when we run the same tests but with write data instead of read data.
Benchmarks - HD Tune Pro - Write
Write Tests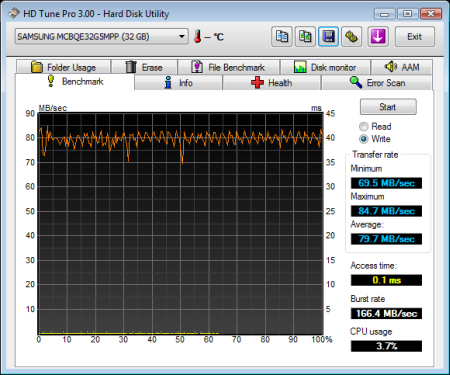 Samsung single drive on NVIDIA 680i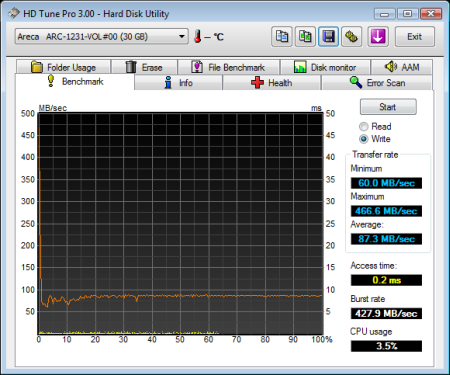 Samsung single drive on Areca
2-Drive RAID 0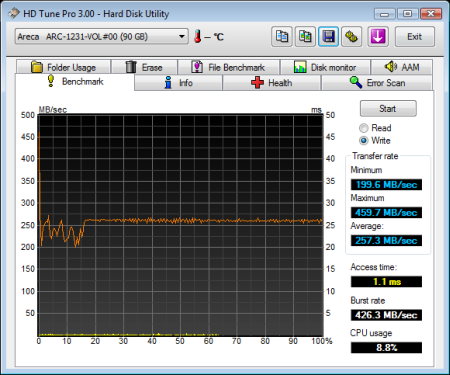 3-Drive RAID 0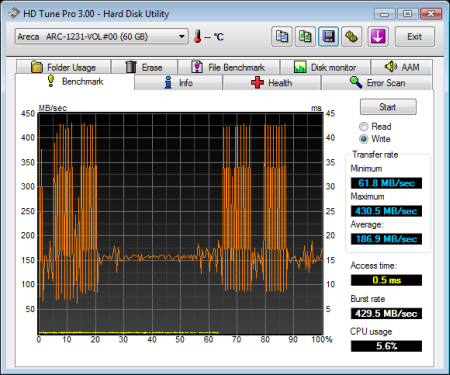 3-Drive RAID 5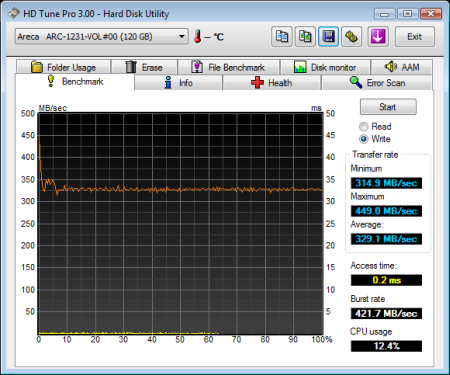 4-Drive RAID 0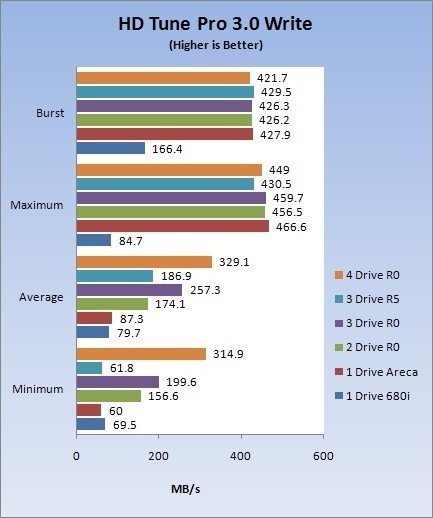 Once again, the controller makes our Burst and Maximum numbers mainly for show since only the first couple of hundred megabytes are at those speeds due to the cache. The action in the Minimum and Average shows that the drives scale very well, but run right around 20MB/s slower than their read speeds. The drives are advertised as such, so it didn't come as a surprise; many of the Solid-State Drives are this way, some are worse than others and I have seen much worse when researching the technology.
When running RAID 0, you can count on around 80 MB/s for each Samsung SATA-II drive used in the array.
RAID 5 takes a little more of a performance hit in the write cycle, but those familiar with RAID 5 know this is common.
Benchmarks - Everest - Random Access Time
Everest - Random Access TimeVersion and / or Patch Used:
4.50
Developer Homepage:
http://www.lavalys.com/
Product Homepage:
http://www.lavalys.com/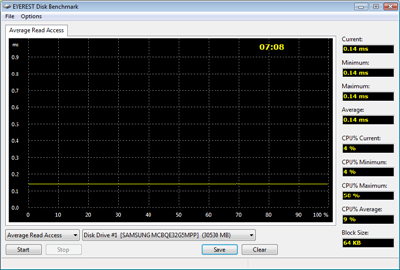 Everest Ultimate and Corporate Edition offer several different benchmarks for testing and optimizing your system or network. The Random Access test is one of very few if not only that will measure hard drives random access times in hundredths of milliseconds as oppose to tens of milliseconds.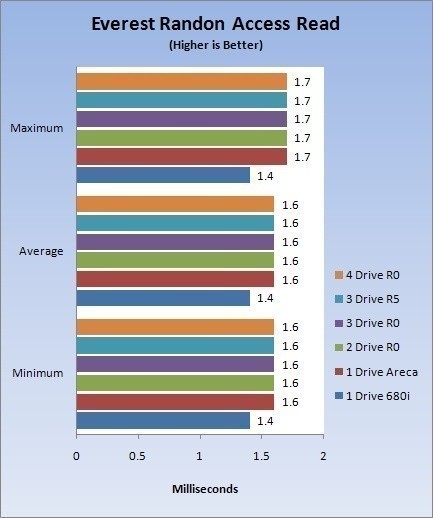 The results are not as dramatic as I expected, but this is a good thing for users. As you can see, SSDs in RAID do not gain access time like traditional hard drives. For traditional drives, the trade off of access time for sustained speed can be a problem; the more drives you add, the longer it takes for the platters to get to the data. Once they are there, the transfer speeds are very fast, but adding a couple of milliseconds can make the system seem slower. Solid-State Drives are immune to these effects.
We did notice that access time is lower on the NVIDIA controller since it is tied into the MCP directly, while the Areca controller has a .2 ms delay in sending the data to the same MCP.
Benchmarks - PCMark Vantage Hard Disk Tests
PCMark Vantage - Hard Disk TestsVersion and / or Patch Used:
1.0.0
Developer Homepage:
http://www.futuremark.com
Product Homepage:
http://www.futuremark.com/benchmarks/pcmark-vantage//
Buy It Here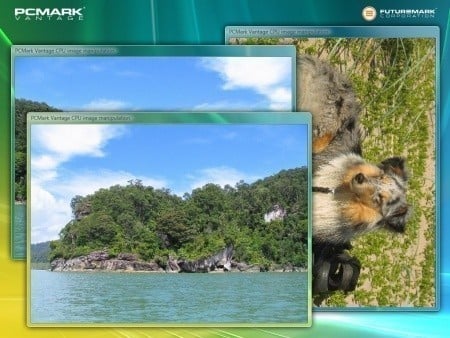 PCMark Vantage is the first objective hardware performance benchmark for PCs running 32 and 64 bit versions of Microsoft Windows Vista. PCMark Vantage is perfectly suited for benchmarking any type of Microsoft Windows Vista PC from multimedia home entertainment systems and laptops to dedicated workstations and high-end gaming rigs. Regardless of whether the benchmarker is an artist or an IT Professional, PCMark Vantage shows the user where their system soars or falls flat, and how to get the most performance possible out of their hardware. PCMark Vantage is easy enough for even the most casual enthusiast to use yet supports in-depth, professional industry grade testing.
FutureMark has developed a good set of hard disk tests for their PCMark Vantage Suite. These tests are based on real world applications that many of us use daily.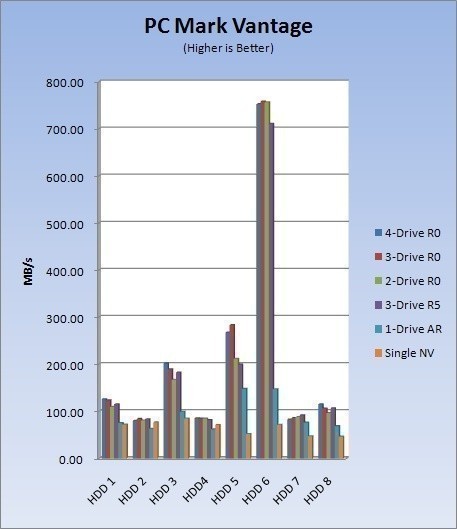 HDD1 - Windows Defender
HDD2 - Gaming
HDD3 - Windows Photo Gallery
HDD4 - Vista Startup
HDD5 - Windows Movie Maker
HDD6 - Windows Media Center
HDD7 - Windows Media Player
HDD8 - Application Loading
Here we see 3-Drive RAID 0 giving 4-Drive RAID 0 a good challenge, but clearly four drives win most of the tests. The Areca single compared to the NVIDIA single drive tests show the benefits of the controller's cache module.
3-Drive RAID 5 is comparable to 2-Drive RAID 0, for the money. If you were to purchase three drives it would be better to run in RAID 0 as opposed to RAID 5 for real world tests.
Benchmarks - Passmark
Passmark Advanced Multi-User TestsVersion and / or Patch Used:
6.1
Developer Homepage:
http://www.passmark.com/
Test Homepage:
http://www.passmark.com/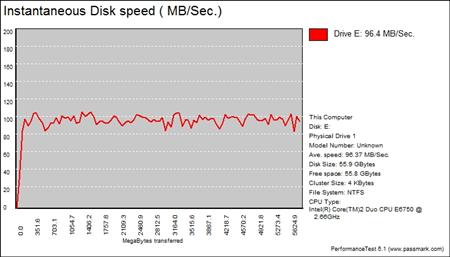 Many users complain that I/O Meter is too complicated of a benchmark to replicate results, so my quest to find an alternative was started. Passmark has added several multi-user tests that measure a hard drives ability to operate in a multi-user environment.

The tests use different settings to mimic basic multi-user operations as they would play out on your server. Variances in read / write percentage as well as random / sequential reads are common in certain applications. Web Servers read nearly 100% of the time while Database Servers write a small amount of data.
The Workstation test is the only single user environment and will be similar to how you use your system at home.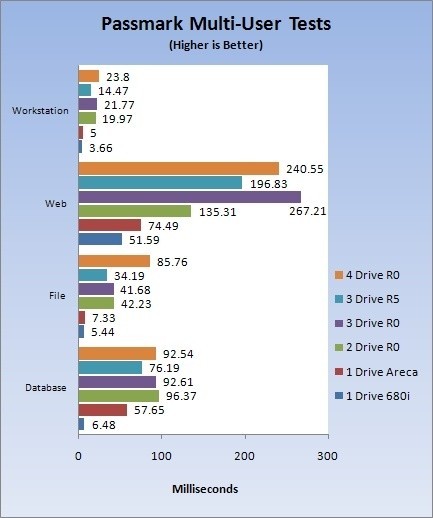 Here we see the Areca controller beating up on the 680i SLI in single drive performance again. 3-Drive RAID 0 also gave 4-Drive RAID 0 a run again in some of the tests. Looking at the File Server Test, we see that 4-Drives give insane performance compared to everything else.
Benchmarks - Real World Applications
WinRAR
Millions of computer enthusiasts all over the world use WinRAR, it is pretty popular with Joe Sixpack also.
Recently we changed the protocol for the WinRAR test to get around processor limitations. By using the Store Compression Method, we eased the demands on the processor and left it to the hard disks to prove their performance.
The tests files were also changed. The Vista and XP Tests take a folder on the drive or array being tested with the retail Vista DVD or Windows XP CD data and compresses it into a single file on the same disk or array. The 1.44 tests compress the original folder into separate 1.44 MB files. For Vista this comes out to over 3000 files. The files will later be used for transfer tests.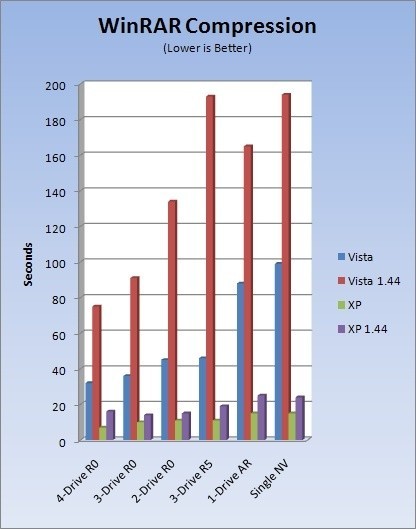 Everything here is perfect, just as you would expect. RAID 5 has a difficult time with the 50% read / write split and the small 1.44 MB files, but as stated previously, if you are using drives like this then go ahead and take the RAID 0 plunge or splurge a little and go RAID 10 - you deserve it.
File Transfer
Using the files make in the compression tests we transferred the files using the copy / paste method going from one folder on the drive or array to another.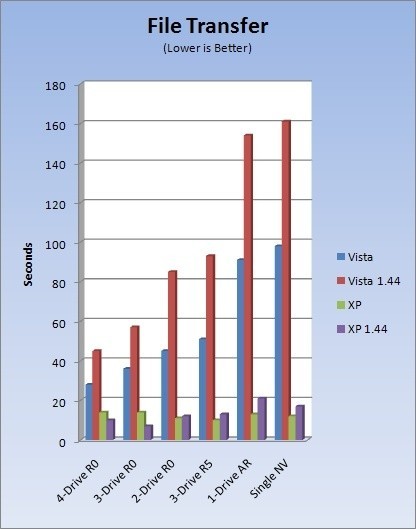 It is like a chorus line from a popular song; Areca beats NVIDIA and RAID 0 is just awesome with the Samsung SATA-II drives.
Final Thoughts
The Samsung MCBQE32G5MPP-0VA00 isn't as fast as the MemoRight GT drives we looked at last month, but with a cost saving of roughly 300 Dollars per drive, we can easily forget about the 20 or so MB/second. After a quick scan of DVNation.com's current inventory, I found that the Samsung SATA-II is one of the lowest priced 32GB 2.5 inch drives they sell.
Don't let the price fool you, the Samsung SATA-II SSD is a real performer and the construction quality is top notch. I have yet to find a Seagate Cheetah or Western Digital Raptor that comes close to the build quality (or for that matter, the performance) of these little Solid-State Drives.
Mixing the RAID aspect into the equation and we have a pro users dream. Picture, Audio and Video software users are going to find the new Samsung SATA-II SSDs just what software needs to come alive, maximizing usability and productivity.
As you can imagine, we are still not quite there for average users or budget enthusiasts, but the Samsung MCBQE32G5MPP-0VA00 is one-step closer. I predict that in a year it will be like picking a Raptor over a 1TB drive now, but with more performance going towards the Solid-State Drives.
I want to thank Jason at
DVNation.com
for supplying us with four of these Samsung SATA-II drives and the
Areca ARC-1231ML SATA/SAS PCI-E RAID controller
. DVNation.com specializes in Solid-State Drives and even offers desktops and notebooks pre-configured for their use.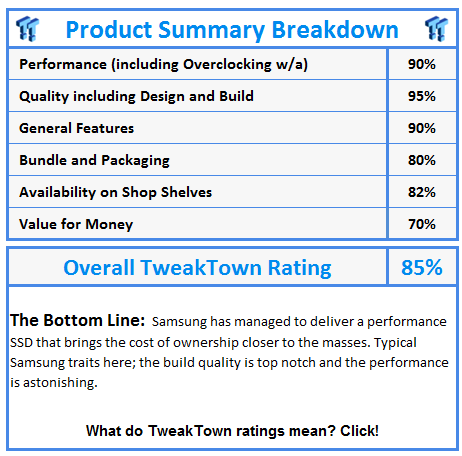 PRICING: You can find products similar to this one for sale below.
United States: Find other tech and computer products like this over at Amazon.com
United Kingdom: Find other tech and computer products like this over at Amazon.co.uk
Australia: Find other tech and computer products like this over at Amazon.com.au
Canada: Find other tech and computer products like this over at Amazon.ca
Deutschland: Finde andere Technik- und Computerprodukte wie dieses auf Amazon.de
We openly invite the companies who provide us with review samples / who are mentioned or discussed to express their opinion. If any company representative wishes to respond, we will publish the response here. Please contact us if you wish to respond.
Related Tags