E-Power Thunder EP-650-TD1 3-in-1 PSU
Mike checks out an affordable but very capable mid-level PSU from E-Power which carries with it a few surprises.
Published Wed, Jun 11 2008 11:00 PM CDT
|
Updated Fri, Sep 18 2020 10:50 PM CDT
Introduction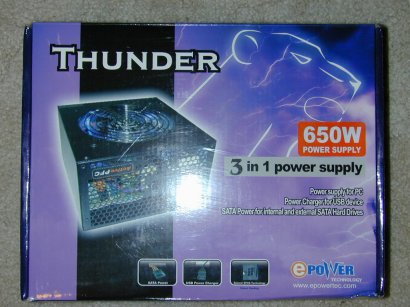 For most of us who have been building systems for a while, we have seen a large influx of power supplies on the market. Whether we are looking for a moderate product to power a standard desktop rig or a monster to breathe life into an enthusiast class machine, the number of choices is simply huge.
Enter E-Power, a company that has been around since 1990 but is not one of the big contenders. This company has a goal of creating high quality at an affordable price, and today we will take a peek at one of their moderate level power supplies to see if they have managed to pull this off.
The Thunder 650 will fall into the mid-level of power supplies by today's standards, so is designed for use in a system that needs plenty of juice but isn't stretching into the high end machines. We will look at the features, the price point, and the performance to help you decide if it rates high enough to be a contender for your upgrading dollars.
In The Box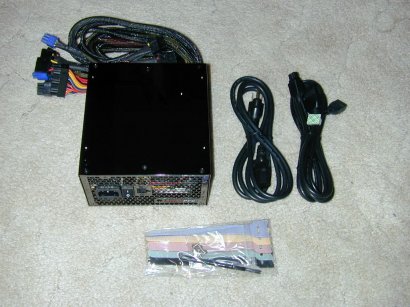 Once we get through the factory shrink wrap and open the box, we are greeted with everything we will need to handle the task at hand. Though not modular in design, the cabling harness is fully wrapped in a mesh material to make your task of cable management pretty easy. Also included is a small bundle of Velcro ties that will help you keep that extra wiring out of the way of your airflow path. There is another addition in the form of an added cable harness, but we will talk about that in just a bit.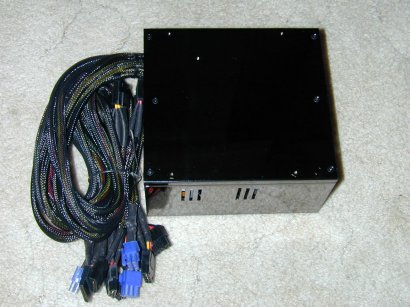 As noted above, this is not a modular power supply. While it is nice to have this feature, I have found that many manufacturers who are looking to shave the price will generally make use of this layout. It is not a deal breaker as long as the cabling is protected and mounted properly, which is the case with the Thunder 650.
The shell is heavy and very sturdy and has a chrome finish to set off your rig if you happen to have a full sized window in your case. This PSU includes over-voltage protection, includes Active PFC, and has four 12v rails to manage the job of providing power to your hungry components. Each of these 12v rails is rated at 20A while both the 5v and 3.3v rails are rated at 24A. This lower amperage rating on the 5v rail means that this product is designed for newer systems. Whether you want to run an AMD or Intel machine, either of the newer technologies will run fine with this setup, but older Athlon XP systems that need a huge 5v rail may run into some stability issues depending on the components included in the system.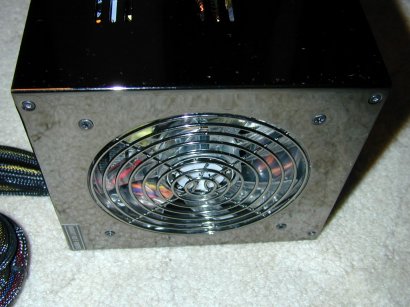 Since modern power supplies tend to run harder than older models, the Thunder 650 includes a 120mm fan on the bottom panel. This will allow ample air to be pulled from your case, through the unit, then expelled out the back, all with a minimum of noise. While operating this PSU I was unable to hear the fan over the system at any time, even when under load. Also of note is that the fan has a blue lighting scheme provided by the blue LED lights installed inside the fan itself.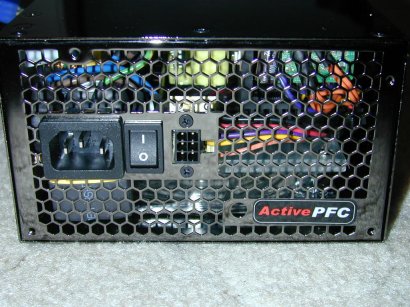 To allow all that airflow to be properly vented out the back, the folks at E-Power have made use of a mesh covering the exterior panel. While another fan is not included here, I have found in the past that a second fan usually makes little to no difference in the cooling potential of the power supply. Since they tend to be smaller fans to boot, they also tend to add noise to the component.
While we are here, take a look at the back panel. While the power port and toggle switch appear pretty normal, there is an added port on this unit that resembles a PCI-E plug. Though that is not what it really is, it does add to the feature list and is where they get the "3-in-1" label. Let's take a quick look at what plugs into this port and then we will see what we have.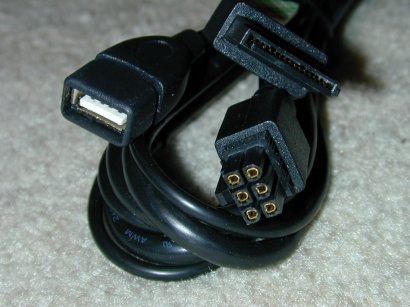 Shown above is the cable assembly that attaches to that port. The 6-pin block will obviously plug into the back of the power supply and the other ends give you the added flexibility of powering an external USB and/or SATA device. Add to this the length of the cable and you have yourself a very convenient means of charging up those devices that make use of a USB or SATA port.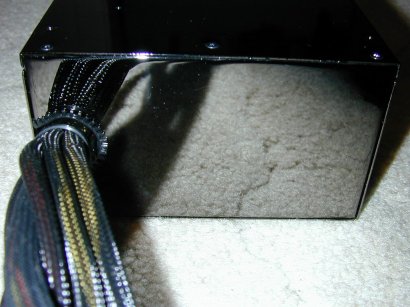 Moving around to the back of the unit shows that chrome finish that was mentioned earlier. It is very finely done and there were no mars in the finish to detract from the overall aesthetics. From this angle you can also see that the cabling harness coming from the casing is properly protected and cinched down close to the exit port. The plastic grommet will keep the wires from rubbing through the mesh and the tying of the harness will keep your cables from flopping around everywhere.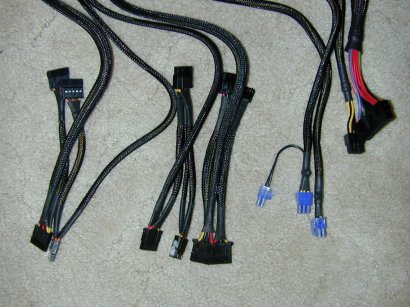 Speaking of the cables, what exactly do we get with this product?
The primary coupling is of the 20+4 pin variety so your power supply will be compatible with either of the two types of motherboards still being used. It also included a 4+4 pin auxiliary coupling, as well as connections for 4 SATA devices, 6 4-pin peripheral devices (Molex) and 2 FDD devices. For graphics there are a 6-pin PCI-E and a 6+2 pin PCI-E connector. If you happen to have a pair of video boards that require a 6-pin PCI-E each, this PSU is rated to handle either an SLI or CrossFire configuration. Of course, if you happen to have a pair of heavy duty graphics adapters, you will be short on connectors, and to be honest, this product isn't designed to handle that type of load.
So far we have the making of a workable power solution, but before we pass judgment, let's see how well this little beast performs in a real-world test, shall we?
Testing
When it comes to testing a power supply, there are two courses to travel. One takes you down a path using a device to stress out the PSU and provide data regarding the power levels across all three rails. The second, and the one I make use of, utilizes an actual test system to give a more real-world account of what the power supply is capable of. While both methods have their merits, I prefer to use an actual computer to more closely resemble the manner of use that you, the potential customer, will put the product through.
That said, let's take a quick look at the test system. I have continued to beef up the system to put a more realistic strain on the power supply.
MSI X48C Platinum motherboard (Supplied by
MSI
)
Intel Core 2 Duo E6600 processor
2x 1024MB Corsair XMS2-8500-C5 memory (Supplied by
Corsair
)
Sapphire X2900XT graphics board (Supplied by
Sapphire
)
Western Digital 250GB SATA hard drive
2x Western Digital 160GB SATA hard drives
Western Digital 80GB hard drive
Sony 52x CD-ROM optical drive
Samsung 16x DVD-R optical drive
1x 200mm fan
2x 120mm fans
While this isn't a Quad-GPU setup, we are certainly in the realm of having a system that is going to put a significant power drain on any power supply. Our testing of this power supply will be done with only a single video board since it is not designed for dual high-end graphics. Testing will consist of checking the power levels across all three rails at idle and again while the system is under stress. This should give us a good look at the capabilities of the power supply being tested.
Results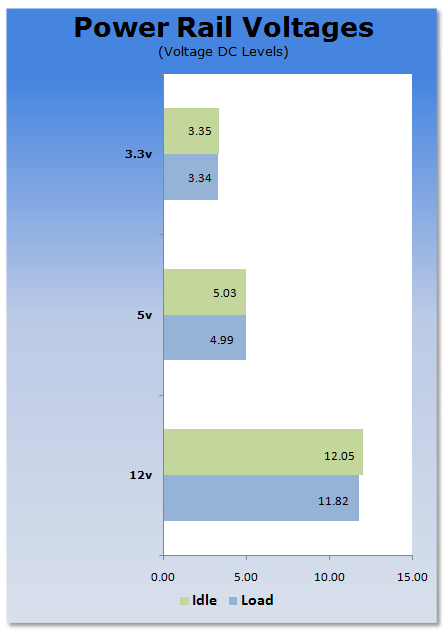 Given that the video card in the test system pulls upwards of 250 watts by itself, our end result is not to shabby at all. There was some lowering of the voltage at the 12v subsystem, but this was to be expected. Both idle and load results fall well within what we have come to expect for a quality power supply. All voltage rails handled the stress with no problems and I noted absolutely no issues with stability during testing.
Final Thoughts
For those in the market for a mid-level power supply, there are a lot of choices. With the features and performance of this Thunder 650, it fares well when placed against the competition. While it certainly isn't the most powerful product on the market, it has ample power for a vast majority of systems currently in use and still offers enough connectors and amperage to allow for future upgrades.
This power supply is priced at about $130US and falls squarely in the middle of the price point for similar models with basically the same features. Add to this the external cable that allows you to power and charge devices using either USB or SATA connectivity and the value goes up a notch. It will certainly handle the load and is well worth taking a look at for your own upgrading needs.
The unit is not modular, but with the sturdy construction of the wiring harness and the inclusion of mesh wrap from end to end, this isn't a big issue. Cable management is still reasonably easy to handle and is made even easier with the included Velcro straps. It also has a lot of appeal to the eye with the chrome finish and the blue LED lighting included with the fan. Overall it is a worthy contender.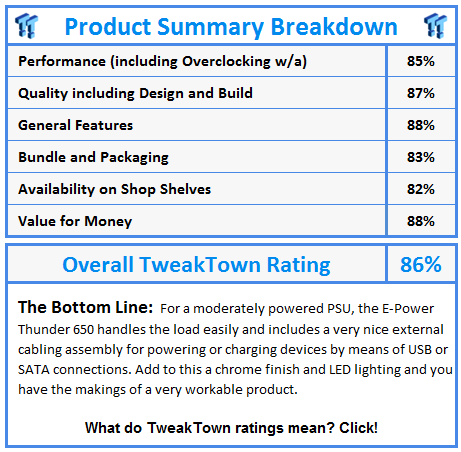 PRICING: You can find products similar to this one for sale below.
United States: Find other tech and computer products like this over at Amazon.com
United Kingdom: Find other tech and computer products like this over at Amazon.co.uk
Australia: Find other tech and computer products like this over at Amazon.com.au
Canada: Find other tech and computer products like this over at Amazon.ca
Deutschland: Finde andere Technik- und Computerprodukte wie dieses auf Amazon.de
We openly invite the companies who provide us with review samples / who are mentioned or discussed to express their opinion. If any company representative wishes to respond, we will publish the response here. Please contact us if you wish to respond.