Thermaltake BlacX SATA to USB HDD Dock
Do you regularly need to access bare HDDs in a clean effortless manner? The BlacX (USB 2.0 version) may be your answer.
Published Thu, May 29 2008 11:00 PM CDT
|
Updated Fri, Sep 18 2020 10:50 PM CDT
Introduction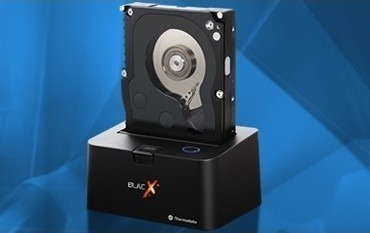 Thermaltake has just come up with the ultimate enthusiast accessory; at least that is what went through my head when I first saw the press release of the new BlacX and BlacX SE. As I read the release my mind started to drift away, thinking about the two foot tall stack of SATA drives sitting in my closet and how useful it would be to just grab a drive and start transferring data to it within seconds. Forget about the need to take off the side panel, get on the floor, find a flash light and locate one of two hundred SATA cables that are in the room (that you can never find when you need one). Just grab a drive and plug it in. If this scenario sounds familiar, than you are definitely a PC enthusiast and will want to read on to have a look at the new Thermaltake BlacX.
Thermaltake currently has three versions of the BlacX floating around, and two of them are nearly identical. Today we will be testing the BlacX with a part number of N0028USU. This drive features USB 2.0 only and looks nearly identical to the BlacX with a part number of ST0005U. The difference between the two models is the second version features USB 2.0 and eSATA. We will talk more about eSATA later in this article and what can be gained by using it. The third version from the BlacX line is physically different and is called the BlacX SE (part number N0029USU) and it uses USB 2.0 but adds a four-port USB 2.0 hub at the base of the unit as well.
Let's take a look at the Thermaltake BlacX and see what kind of performance we can get out of this convenience accessory.
Specifications, Availability and Pricing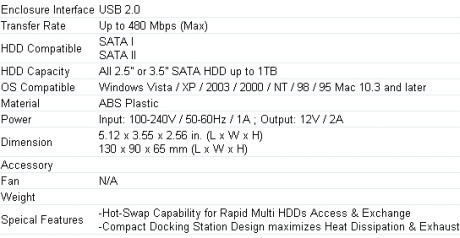 Until now there has been nothing like the Thermaltake BlacX that I am aware of. To call it a SATA to USB enclosure or portable hard drive is a stretch since it is more like a docking station than anything else.
As stated previously, the version we are testing today is the USB only model. USB 2.0 has a theoretical limit of 480 Mbps so don't expect your SATA or SATA II hard drive to run at full transfer speeds when using a USB interface.
It should be pointed out that all three versions of the BlacX can use 3.5-inch standard desktop hard drives
and
2.5-inch notebook drives. SAS drives are a no go, but since the BlacX is a consumer based product we can let that slide.
The BlacX is small; less than six inches wide and without a drive installed is only 3.5 inches tall. The device fits well on a desk taking up very little room, and the rubber nonslip feet on the bottom keep it from sliding around.
The USB only version of the BlacX has an MSRP of 59.99 US Dollars, but Newegg is already selling the drive for less than 40 US Dollars.
Packaging
The Package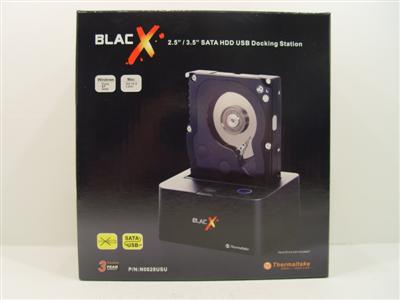 The box front has a lot of information, and most of the buzz is around the images. Tool Free and USB as well as MAC and PC Compatible stand out, but you have to admit that the BlacX with the windowed version of the Raptor looks very cool.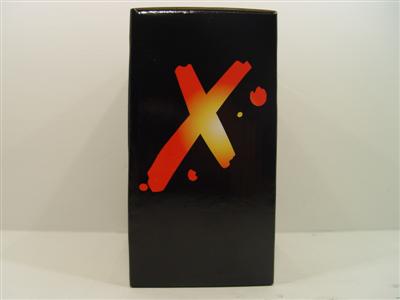 Not much happening on this side of the package other than the logo.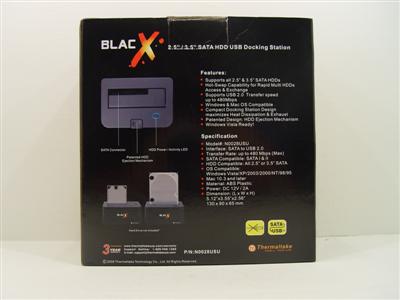 The back of the package shows all of the features and specifications as well as several images of the product.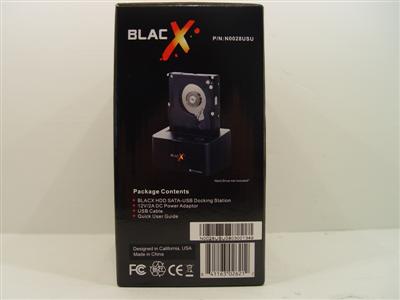 This side shows the package contents as well as another image of the BlacX with the Raptor installed again.
The Thermaltake BlacX USB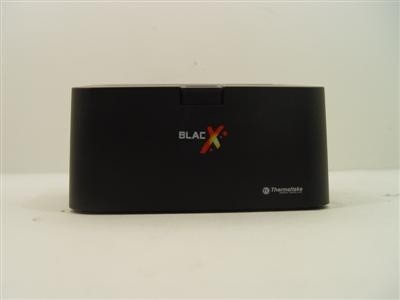 Head on from the front, we can see the small drive eject button along the top leading edge of the BlacX.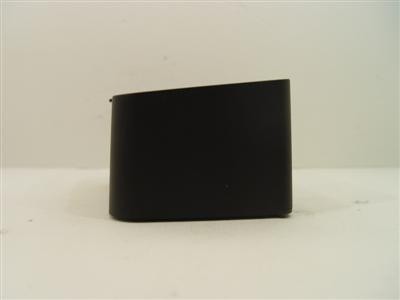 From the side the BlacX has just a little bit of an angle to the top of it. When a drive is installed it fits straight up and down.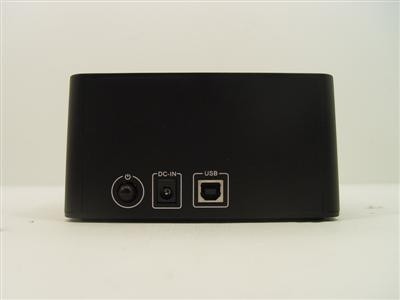 The back is where the power button, USB and power plug is. I would have liked to have seen the power button placed somewhere in front to make it easier to reach.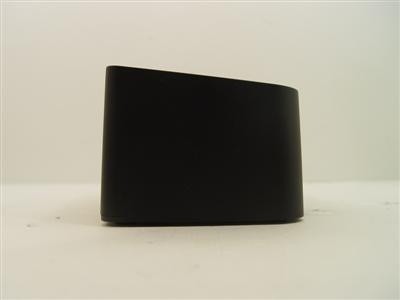 There is not a lot going on with this side either.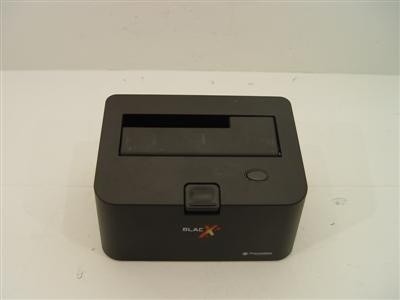 From the top we see the door that folds down when a 3.5 inch drive is installed. After just two drives were inserted the door already appears to have a couple of small scratches on it. The drive eject button is located in the middle and the oval button looking piece on the right side is actually a status LED. This would have been a great place for a power button.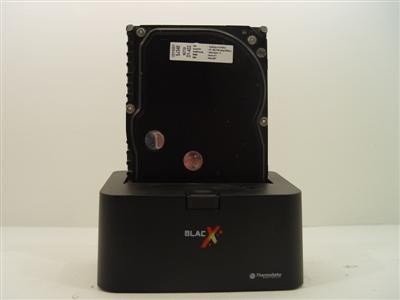 The BlacX with a Western Digital Raptor 150GB installed; I now wish I had bought a case of the windowed version instead of the solid cover drives.
Accessories and Documentation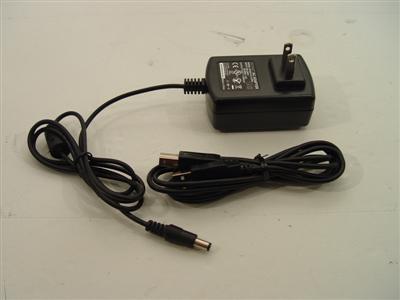 The accessory package is pretty straight forward; you get a power brick and a USB cable.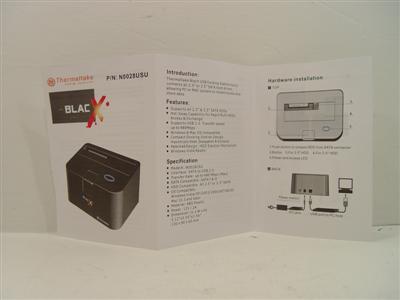 As you can imagine, with only two accessories installation is simple and the manual is just the same. One side is dedicated to listing the parts and the other shows how to plug it all in.
Benchmarks - Test System Setup and HD Tune Pro
Test System
Processor
: Intel Core 2 Duo E6750 (Supplied by
Intel
)
Motherboard
: MSI X38 Diamond (Supplied by
MSI Computer
)
Memory
: 2x 1GB DDR2-1200 (Supplied by
Winchip
)
Graphics Card
: ASUS HD 3870 TOP (Supplied by
ASUS
)
Cooling
: GIGABYTE 3D Galaxy II (Supplied by
GIGABYTE
)
Operating System
: Microsoft Windows Vista Ultimate
Drivers
: Intel INF 8.3.1.1009, ForceWare 163.21
HD Tune ProVersion and / or Patch Used:
3.00
Developer Homepage:
http://www.efdsoftware.com/
Product Homepage:
http://www.hdtune.com/>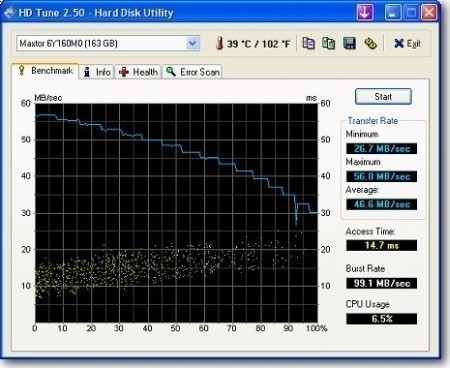 HD Tune is a Hard Disk utility which has the following functions:
- Benchmark: measures the performance
- Info: shows detailed information
- Health: checks the health status by using SMART
- Error Scan: scans the surface for errors
- Temperature display
HD Tune Pro gives us accurate read, write and access time results and for the last couple of years has been gaining popularity amongst reviewers. It is now considered a must have application for storage device testing.
Read and Write Tests
SATA Western Digital Raptor 150 GB Read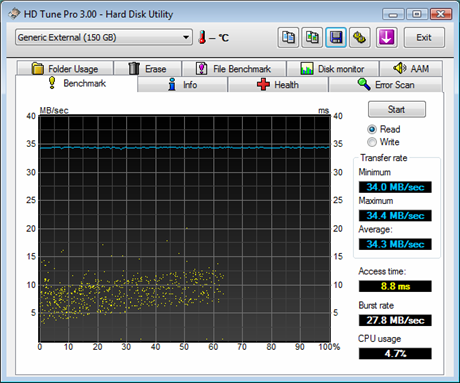 BlacX Western Digital Raptor 150 GB Read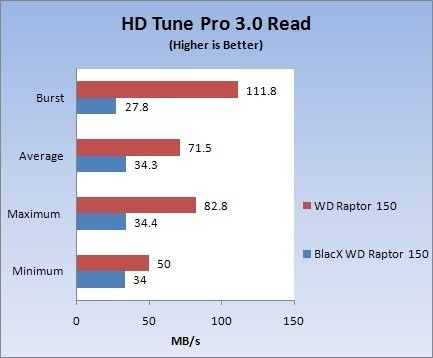 As you can see, the USB interface really puts a hurting on the Western Digital Raptor. The eSATA version should not have this problem so I am not going to harp on the slow down too much, but this should give you an idea of how your drive should perform in the USB-only model. Nearly all SATA and SATA II drives are faster than the BlacX can perform with USB, so no matter what drive you use this is the read speed you should see, or at least close to it.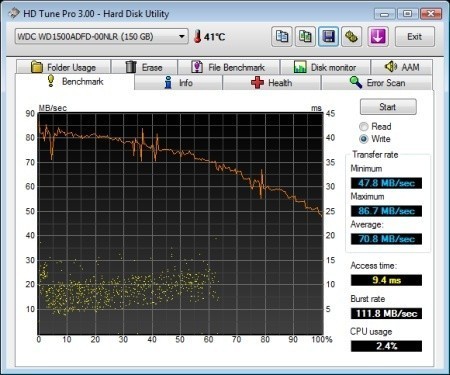 Western Digital Raptor 150 GB Write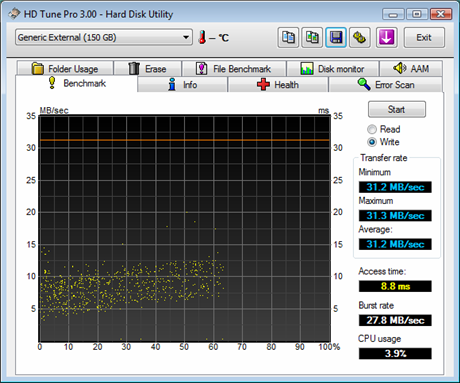 BlacX Western Digital Raptor 150 GB Write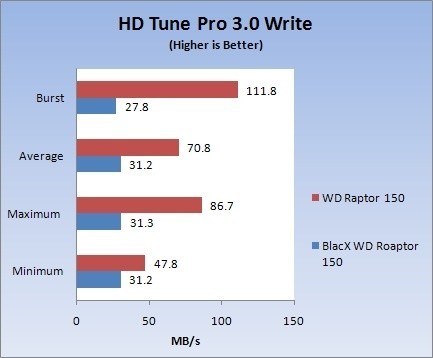 The write speed is nearly identical to the read speeds. This is also due to the USB interface; eSATA would be much faster.
The Thermaltake BlacX is fast enough to quickly drop a drive in and access, just like an old Atari game. The transfer speeds are fast enough to play a full resolution DVD without dropping frames or stuttering. Being able to just drop a drive in to access your data in less than 10 seconds is awesome, I have no idea why this wasn't invented before now.
Final Thoughts
The Thermaltake BlacX USB is a convenience product and is one that enthusiasts have waited a long time for. I personally have used a USB external hard disk carrier many times without the cover on it so that I could quickly swap drives around, and I am sure many reading this have done the same thing. The BlacX makes swapping drives around easier and "less dirty".
The only thing that has me frizzled with the BlacX is that they have two versions named the same thing, yet with a big feature loss on one of them. I think more than a few users will accidently order the USB only version when trying to get the USB + eSATA. Since Thermaltake already has an upgraded model (also only with USB?); the BlacX SE with four USB ports, the BlacX without eSATA could have been named the BlacX LT (for Lite) and in the long run a few headaches would have been eliminated.
Overall, the Thermaltake BlacX is a remarkable product that I will not be able to live without from this time forward. No more digging around for a flashlight, removing a side panel and looking for an extra SATA cable just to dig a file off a drive, and I think people who routinely work on other peoples computers will really benefit from the BlacX.
Thermaltake has one of the best retail and e-tail client lists in the PC accessory market, with nearly all of their products sold locally in every major city in the USA. Newegg has already started to sell the BlacX for less than the MSRP, and picking one up at less than 40.00 US Dollars is a bargain.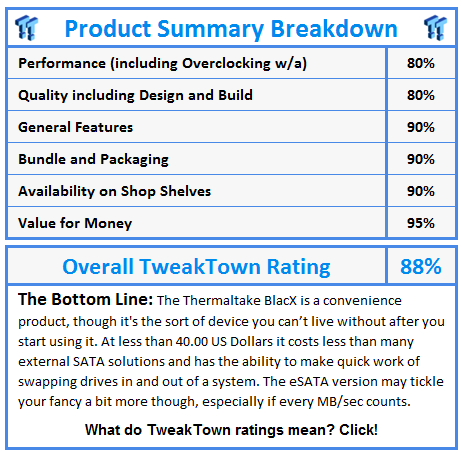 PRICING: You can find products similar to this one for sale below.
United States: Find other tech and computer products like this over at Amazon.com
United Kingdom: Find other tech and computer products like this over at Amazon.co.uk
Australia: Find other tech and computer products like this over at Amazon.com.au
Canada: Find other tech and computer products like this over at Amazon.ca
Deutschland: Finde andere Technik- und Computerprodukte wie dieses auf Amazon.de
We openly invite the companies who provide us with review samples / who are mentioned or discussed to express their opinion. If any company representative wishes to respond, we will publish the response here. Please contact us if you wish to respond.