Gattaca HD Movie Review
"I'm sorry, the wind caught it..."
Published Wed, May 7 2008 11:00 PM CDT
|
Updated Fri, Sep 18 2020 10:50 PM CDT
Rating:

79%
Producer / Publisher:

none
Gattaca
tells the story of an unspecified year in the near future where genetics have divided humanity, dictating where we can work, whom we can marry and the quality of our lives. Vincent Freeman (Ethan Hawke) was given the raw deal, born with no genetic manipulation which rules him out of becoming anything more than a cleaner. But Vincent has interplanetary ambitions and decides to take part in an identity switcheroo, assuming that of Jerome Morrow (Jude Law), whilst genetically far superior, has succumbed to the frailties of the flesh after an accident leaves him confined to a wheelchair.
If that was not complex enough, he soon captures the attention of co-worker Irene Cassinni (Uma Thurman). All goes well until a murder takes place at his workplace which threatens to blow his cover, when all it takes is one eyebrow or piece of skin to reveal the ruse.
Whilst the film is now 11 years old, an age at which films, especially those set in the future and dealing with technology can look a little, well, ridiculous,
Gattaca
is still as impressive and relevant as it was on release. The production design resisted the use of overt future tech and created a timeless 'future'. Made for a modest budget,
Gattaca
tackles large ideas and is one of the few films made in the last decade or so, that have proved themselves to be deemed classic.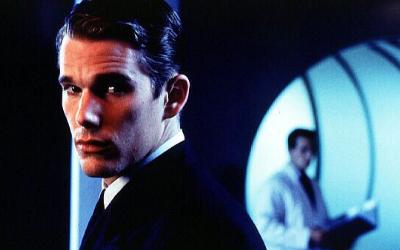 Video
After a succession of direct digital Blu-ray transfers and CG animated fare, it's almost a breath of fresh air to see a film that looks like it existed on celluloid at some stage.
Sony Pictures has most definitely gone back to the original print and struck a new master for
Gattaca
, where it most definitely shows. Gone is the haziness of the original DVD release from the turn of the century, replaced with a near spotless image which revels in crispness and sharp detail. The colours are as subdued as the director intended, with the lighting emphasising yellow and blue hues. Subsequently, colours don't pop like many expect with new Blu-ray releases, but this is purely intentional.
As I mentioned, whilst its good to see that new release titles look stunning, it's equally thrilling to see catalogue titles not merely thrown out for sale yet again, but given the care and attention to see them looking as good as they can. It takes a reasonable investment on the behalf of studios to do this, so full props to Sony for going the extra mile.
Audio
There are a few tracks on this Blu-ray, although due to my lack of understanding of other languages, I stuck to the English Dolby TrueHD (16-bit) track. Again, compared to the bit streamed starvation of the DVD release (Dolby 5.1 at 384 kb/s), the audio can now finally breathe.
It's not the most aggressive track I have ever heard, there are no gimmicky surround effects; the aim of the track is to believably transport you into the world of the future. It's all about subtlety, which is arguably a much harder task for a sound engineer to pull off, and that is most definitely the key here; everything you are meant to hear, you hear. The Blu-ray mastering has introduced no issues that were not in the original master, and that's the beauty of lossless audio.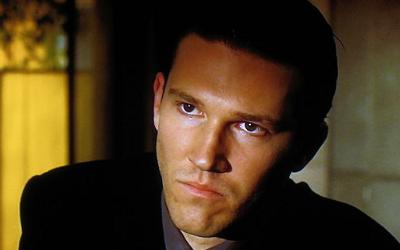 Extras
First up is the brand new, 20 minute
Welcome to Gattaca featurette
, mixing new interviews with key players such as Hawke, Thurman and Law, alongside vintage on set footage, this is a brief but relatively good look into the making of the film. I was however disappointed by the lack of input by director Andrew Nichol, leaving fellow behind the scenes players talk him up and have a habit of talking for him. Still, fairly meaty and likely the last look we will get on the making of the film for some time, if ever.
Next up is an ever more brief
Do Not Alter? featurette
, which takes a serious tack on the issues of DNA enhancement and the brave new world we stand on the cusp of. Thought provoking stuff, just an hour not long enough.
Next we have the refugees from the DVD, the original
EPK featurette
, which is mere promotional fluff from 1997 to promote the film. Filled with sound bytes aplenty, today's audience should wisely avoid.
Lastly we have a collection of crummy looking, standard definition
deleted scenes
, none of which are sorely lacking in the film. The most interesting is the 'coda' scene, which whilst it does have a point and shows that the world would be a very different place had genetics prevented the birth of some of histories greatest minds. It would however have book ended the film badly, and by destroying the fantastic view of the future by dragging it back to our time.
The lack of a commentary is slightly disappointing, and I would have liked to hear some kind of interview or snippets from the director. But what we have is, for the most part, sufficient.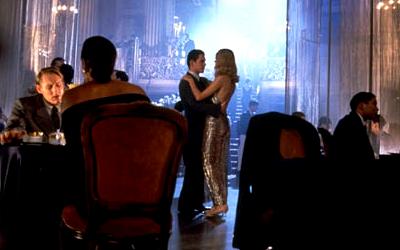 Overall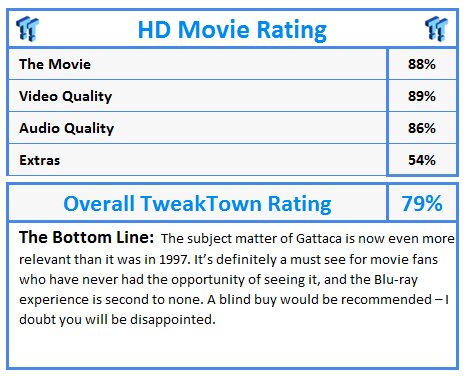 Review Equipment Used:
Display
: Sony KDL52X3100 LCD (1080p resolution/ 24p playback)
Player
: Sony BDP-S500 Blu-ray, PlayStation 3, Toshiba HD-XE1 HD-DVD
Sound
: Sony STR-DA5300 Receiver (7.1 configuration), Sony SSX70ED front speakers (x2), Sony SSCNX70ED center speaker, Sony SSFCR7000 surround speakers (x4), Sony SAW3800 Subwoofer, Sony SAWM500 Subwoofer
PRICING: You can find products similar to this one for sale below.
United States: Find other tech and computer products like this over at Amazon.com
United Kingdom: Find other tech and computer products like this over at Amazon.co.uk
Australia: Find other tech and computer products like this over at Amazon.com.au
Canada: Find other tech and computer products like this over at Amazon.ca
Deutschland: Finde andere Technik- und Computerprodukte wie dieses auf Amazon.de
We openly invite the companies who provide us with review samples / who are mentioned or discussed to express their opinion. If any company representative wishes to respond, we will publish the response here. Please contact us if you wish to respond.