Seagate Momentus 5400.4 250GB 2.5inch HDD
Seagate's fourth generation of Momentus notebook drives are here. We take their largest capacity model for a spin today.
Published Fri, Apr 11 2008 11:00 PM CDT
|
Updated Fri, Sep 18 2020 10:50 PM CDT
Introduction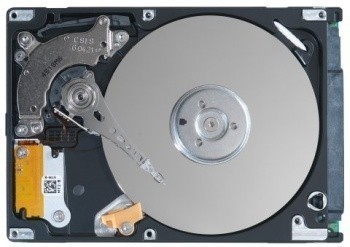 Another day, another hard disk review; and again we have ourselves a notebook drive. It seems to be the trend of making things smaller and more energy efficient; one thing that can be said for sure is that notebooks are the most power efficient units around, certainly when compared to a desktop PC. Notebooks usually come with a 60-80 watt power brick that can run a 2GHz CPU, high-end 3D graphics card, a monitor and all the additional storage mediums used like the HDD, optical drives and even card readers. It's no wonder notebook 2.5" drives are so popular these days.
When it comes to certain scenarios the notebook drive is extremely versatile. First off, for the HTPC and Digital Home setup, the hard disk drive is only there for storage of the operating system as well as storing digital content for playback. USB based drives are able to handle this without any problems, though 2.5" drives out perform these drives quite noticeably and even serve as a well balanced medium for small file servers with restricted space.
Today we have been sent Seagate's new notebook drive, the Momentus 5400.4. This is the fourth generation of Momentus drives; the last one we managed to have a look at out-pioneered the use of Perpendicular recording methods when it first arrived, proving it could easily handle extra data as well as increase speeds. Today we have the latest addition sprouting 250GB capacity. Let's see if it brings anything new to the table.
The Drive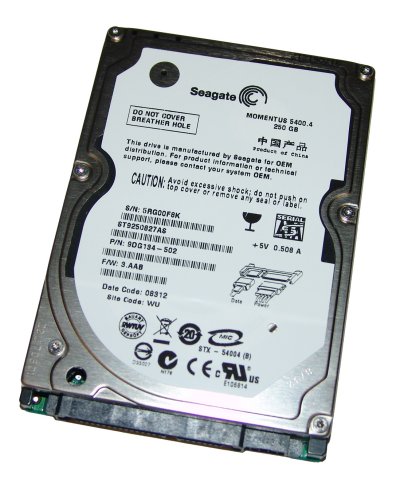 Unlike the Hitachi drive we just tested the other day, the Momentus drive came to us OEM style; that is, with no box. So we start off straight away by looking at the drive itself.
On the whole, the drive looks almost identical to the Hitachi drive, there are no special windows to see into the drive which would be a waste for a notebook, server or HTPC. The label on the top of the drive has the model number, capacity and all the extra info of the drive's manufacturer.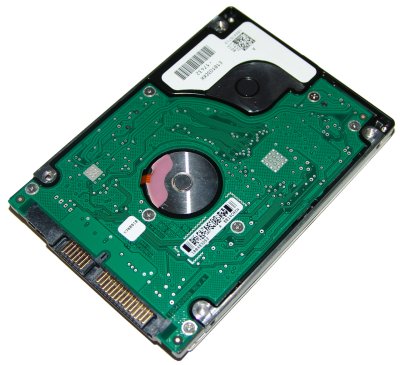 As with most notebook drives, on the bottom the PCB is totally bare at its base. Thanks to miniaturised circuits the controller chips, resistors and voltage regulators are placed between the bottom of the drive case and top of the PCB.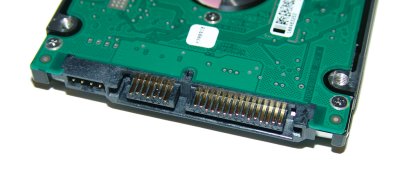 Lastly we see the back of the drive. Thanks to the standardisation of the Serial ATA protocol the drive has the same SATA data and power connectors so you can use them in HTPC's or any other desktop/notebook PC that has a Serial ATA interface.
Test System Setup and HD Tach
Test System
Processor
: Intel Core 2 Quad QX6700 @ 3GHz (9x333MHz)
Memory
: 2x 1GB DDR3-1600XMP OCZ (Supplied by
OCZ Technology
)
Motherboard
: ASUS Maximus Extreme (Supplied by
ASUS
)
Graphics Card
: MSI GeForce 8800GTS 640MB (Supplied by
MSI
)
Cooling
: GIGABYTE 3D Galaxy II (Supplied by
GIGABYTE
)
Operating System
: Microsoft Windows XP SP2
Drivers
: Intel INF 8.3.1.1009, Forceware 163.21
Our test system remains the same from our Hitachi review and the Western Digital 2.5" HDD review, which we will be porting over some results from including the 250GB Scorpio Drive. We used a desktop system to get the most out of the drive without having the notebook itself as a limitation.
HD TachVersion and / or Patch Used:
3.0.1.0
Developer Homepage:
http://www.simplisoftware.com
Product Homepage:
http://www.simplisoftware.com/Public/index.php?request=HdTach
Buy It Here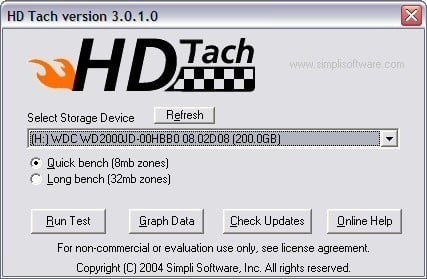 HD Tach has been around for a long time and is excellent when it comes to testing hard drive performance. It is also a very handy program when it comes to testing the controller used on particular motherboards. Tests such as Read, CPU Utilization and Burst are available at a click of the button and give you a good idea of how the hard drive can perform from system to system.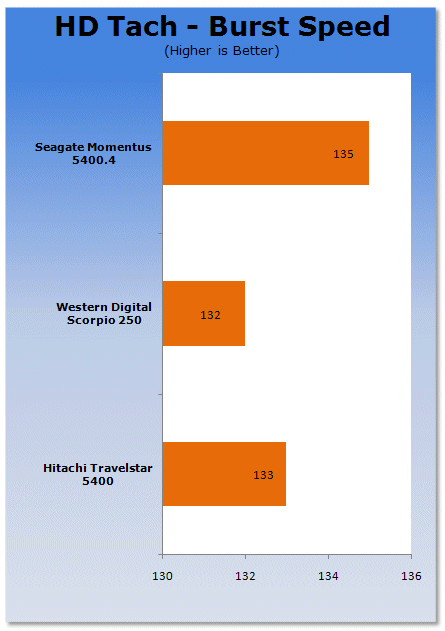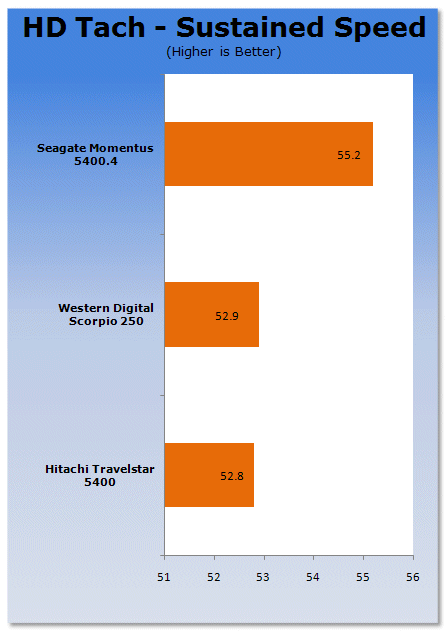 In our first set of tests, we see the Seagate drive just slightly in the lead.
Benchmarks - HD Speed
HD SpeedVersion and / or Patch Used:
x
Developer Homepage:
http://www.steelbytes.com
Product Homepage:
http://www.steelbytes.com/?mid=20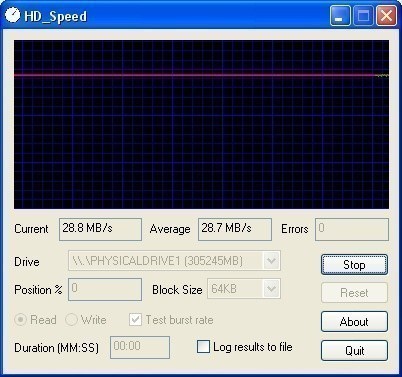 Measures both sustained and burst data transfer rates of your hard disks, cd/dvd-roms and floppy.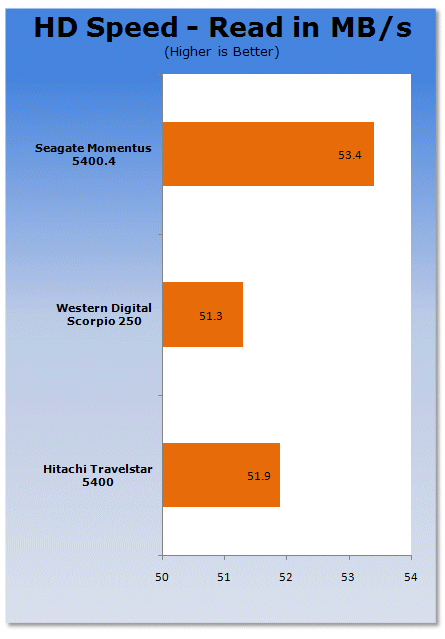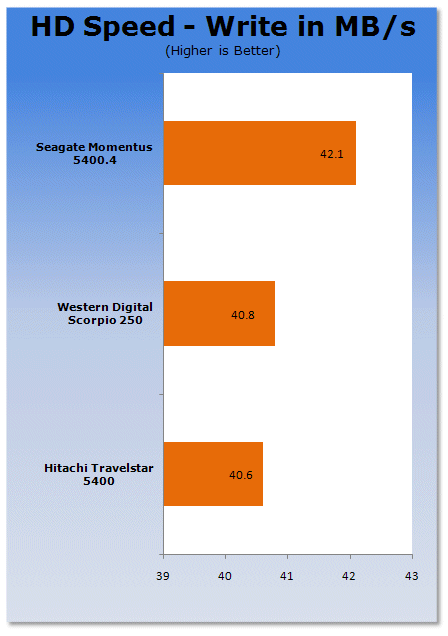 HD Speed pushes the Momentus drive into the lead, but only by around 1MB/s.
Benchmarks - DiskSpeed32
DiskSpeed32Version and / or Patch Used:
x
Developer Homepage:
http://www.geocities.com/vgrinenko/
Product Homepage:
http://www.geocities.com/vgrinenko/DiskSpeed32/
DiskSpeed32 is a program for hard drive speed measurement in Win32 environment. It measures reading speed in whole disk or its part and plots graphical dependence for reading speed by cylinder number. This allows to obtain comparable data not only for different drives, but also for the same disk under different Win32 implementation.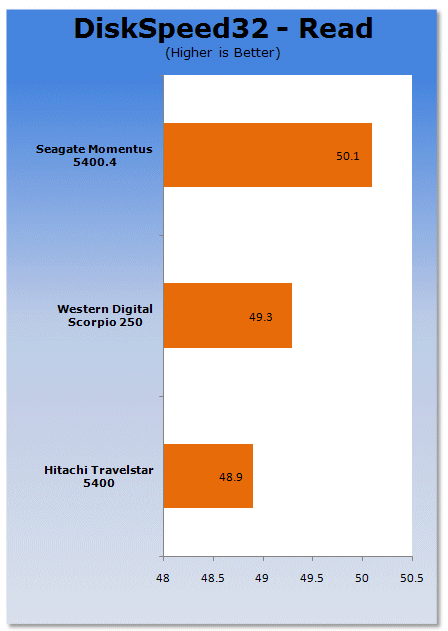 DiskSpeed32 puts all three drives right on par with each other.
Benchmarks - HD Tune
HD TuneVersion and / or Patch Used:
2.54
Developer Homepage:
http://www.efdsoftware.com/
Product Homepage:
http://www.hdtune.com/>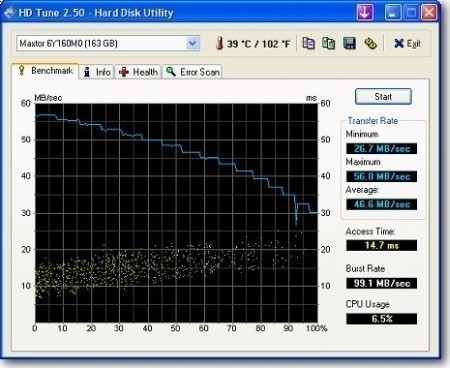 HD Tune is a Hard Disk utility which has the following functions:
- Benchmark: measures the performance
- Info: shows detailed information
- Health: checks the health status by using SMART
- Error Scan: scans the surface for errors
- Temperature display
HD Tune may also work with other storage devices such as memory cards, USB sticks, iPods, etc.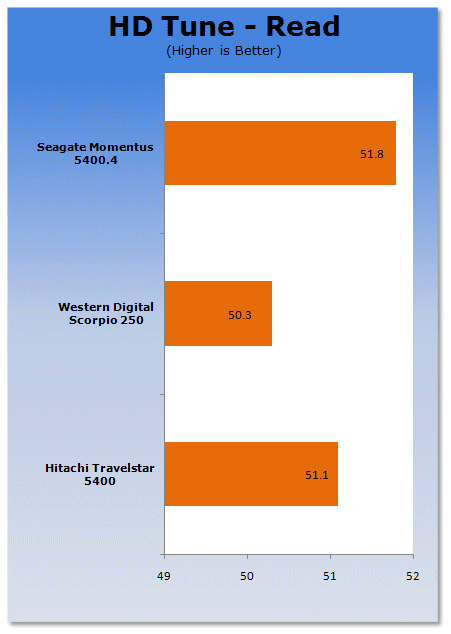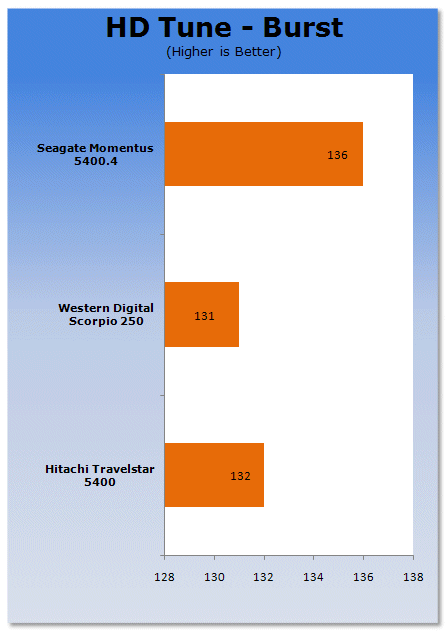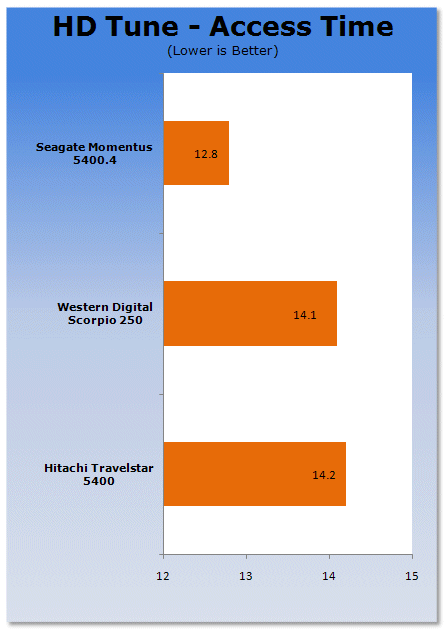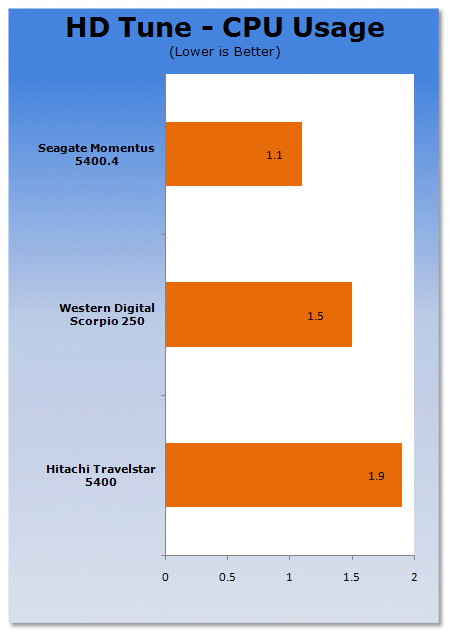 Here we see the Momentus' access time and CPU usage lower than the rest.
Benchmarks - Adobe Premiere Elements 3.0
Adobe Premiere Elements 3.0Version and / or Patch Used:
3.0
Developer Homepage:
http://www.adobe.com
Product Homepage:
http://www.adobe.com/products/premiereel/
Buy It Here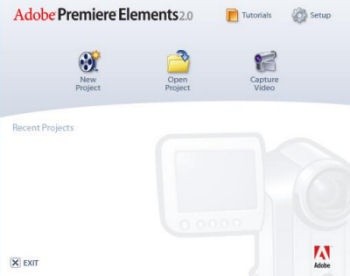 Our test with Adobe Premiere Elements 3.0 is performed with a raw two hour AVI file. It is then compressed into DivX format using the latest version codec. We measure the time it takes to encode and then record CPU usage.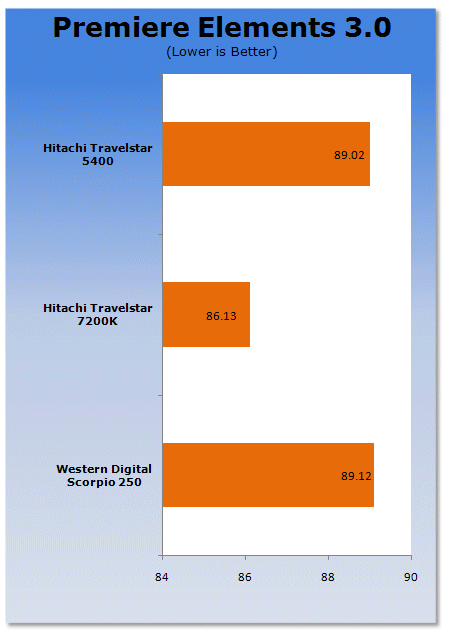 Lastly we see about 1-2 minutes taken off the encode time thanks to the faster access time of the drive along with higher read/write speeds.
Final Thoughts
The Seagate Momentus Hard Disk has been one of the best notebook drives to come out, with the exception of the Hitachi 7200RPM models that is. It's one of, if not the fastest 5400RPM notebook drive out there.
Its construction matches that of all other 2.5" drives; it's light weight so you're not lugging an extra brick inside your notebook. It runs extremely cool, so not to add to heat which is especially important in the HTPC and notebook market where most of these run with only one fan. Furthermore, its capacities continue to grow; the 250GB model is large, but there are 320GB and 500GB models in the fourth generation already making their way to market.
With a good price tag, high performance and a long warranty period, the Momentus 5400.4 is a definite drive to have for the HTPC and notebook environments.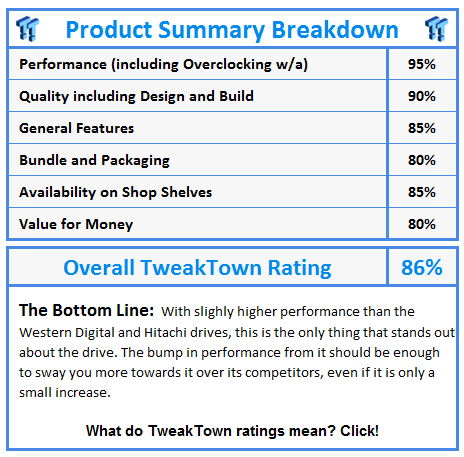 PRICING: You can find products similar to this one for sale below.
United States: Find other tech and computer products like this over at Amazon.com
United Kingdom: Find other tech and computer products like this over at Amazon.co.uk
Australia: Find other tech and computer products like this over at Amazon.com.au
Canada: Find other tech and computer products like this over at Amazon.ca
Deutschland: Finde andere Technik- und Computerprodukte wie dieses auf Amazon.de
We openly invite the companies who provide us with review samples / who are mentioned or discussed to express their opinion. If any company representative wishes to respond, we will publish the response here. Please contact us if you wish to respond.