CyberLink PowerDVD 8 Reviewed
Ben gets stuck into the latest version of CyberLink's popular movie playback software to see what it brings over v7.
Published Thu, Apr 10 2008 11:00 PM CDT
|
Updated Fri, Sep 18 2020 10:50 PM CDT
Introduction

I don't like being biased, so I will be upfront about this. I love PowerDVD. I've used the program ever since I bought a DVD burner in 2002, when they were around $800. A few years ago, I had some kind of PC issue where PowerDVD wouldn't run because there were some conflicting graphics card issues, so I was forced to use rival program Intervideo WinDVD for about 5 minutes; and look, I know many of you guys like it, but I didn't. So I formatted the PC rather than live without PowerDVD.
So last month I get myself a Blu-ray ROM drive, a Lite-On LH-2B1S to be exact, and I ended up finding a few incompatibilities with a few discs whilst running PowerDVD 7. So I was suitably annoyed. But lo and behold, only a mater of days later I receive a press release from CyberLink announcing PowerDVD 8. Let's dive in and see what improvements have been made, and if those incompatibilities have been rectified.
Initial Impressions
The install process is just as easy and painless as normal, and within minutes I was up and running.
CyberLink haven't really made any massive changes to the GUI. It looks a little leaner, and a little cleaner, but overall quite similar. I guess if it's not broke, don't fix it.
The configurations tab is generally the same. Take a look at the settings before you start. If you have a 5.1 system be sure to change the audio output settings, otherwise it will default to plain old stereo sound. You may want to change a few of the colour profiles depending on your monitor, but I chose to leave them at default levels.
CyberLink's CLEV2 is back, a feature which pumps up contrast levels and changes colour values, but as before, if hardware acceleration is turned on this cannot be used. I chose to leave it off as I generally don't like effects that change the look of a film, especially when I need to review a title. That said, most users with a relatively good processor shouldn't need hardware acceleration at any rate.
Performance remains around the same as before. The video quality for standard DVD looks to be around the same high standard as before. I eagerly went in and checked a few of my Blu-ray discs to see how they stacked up. On a 24" screen, man there are a lot of pixels being squashed down, but damn it looks good.
Ratatouille
looks flat out beautiful. I saw no evidence of pausing or stalling, but then again, on a quad core system I wouldn't expect it either.
One of the simplest features, yet one of my favourites (well, it's something I have to refer to frequently when I am reviewing a movie) is the information box, which displays bitrate, video and audio codec information. It's still here, unchanged, in the latest version.
Unfortunately, it seems that PowerDVD 8 still struggles with one of the discs that PowerDVD 7 did;
Across The Universe
, which
I reviewed
a few weeks back. The disc loads to the main menu, but unfortunately cannot get further, nor can I navigate the menu, or force the movie to start any other way. I have sent this issue on to CyberLink, but I am relatively sure it's due to the BD Java structure of that specific disc. That said, I've tried other BD Java movies and they play fine, so this looks like an isolated case.
Unfortunately the anomalies didn't end there.
A Few Oddities
When playing back a disc that has Dolby TrueHD, the on-screen display notifies me that it is only decoding Dolby TrueHD in stereo, but it's most definitely playing back in discreet 5.1 channels, and not outputting some form of stereo to be played back as pro logic on my Logitech Z5500's.
Changing audio tracks on a Blu-ray disc on the fly results in a slow down of the picture, causing stuttering for roughly ten seconds whilst the disc finds its feet. This could be my Lite On drive, but I somehow doubt it. DVD discs do not have the same problem.
According to the press release, version 8 now supports the output of Dolby TrueHD and DTS HD MA, although I lack the hardware to confirm this.
Moving from Blu-ray, I then went to see if there had been any improvements to HD-DVD. I inserted my demo disc of choice -
Hot Fuzz
. I was surprised to see a 'no disc in drive' error. I ejected the disc and tried again. Same error. I then tried
Batman Begins
. Same error. I then began thinking that my relatively new HD-DVD add on drive was on the blink, but I decided to check the CyberLink forums to see if any other users were having the same problem. And they were.
HD-DVD support is completely gone.
To say I was surprised was an understatement. Again, I am waiting to hear from CyberLink on the issues behind this, but the good news is that if you really need HD-DVD playback you can still run PowerDVD 7, con-currently with 8.
New Features and Final Thoughts
New Features
A new feature to version 8 is the Moovie Live feature, which is an attempt to build a community of DVD fans, a Facebook for movies if you will. I suspect it's powered by a database similar to the CDDB database for music CDs. It's a neat feature (which at the time I looked had only been used by a few users), but it really does feel like a version 1.0, merely a fraction of what we will see in future iterations. At the moment it's little more than an organising website for your DVD collection.
The other new feature is the Movie Remix, which allows users to do all manner of destroying the original movie; cut and reorder scenes, record new audio and create new subtitles. These can then be uploaded to Moovie live. Essentially, this is a simplified DVD editing software. I am not sure what DVD distributors are going to think of this feature, but for those that want to flex their creative muscles and make their own fan edit of
Star Wars: Episode One
, then go right ahead (wait, wasn't that done before?)
Final Thoughts
Overall, PowerDVD, even with the teething problems in this new build, and the new lack of HD-DVD support, is still the best DVD playback software on the market, at least in my opinion. The new features, especially Moovie Live, have yet to truly prove themselves, but the future is potentially quite exciting for this feature. It just needs to get a good community behind it, and then it should thrive. Its core feature; DVD playback, is as good as ever and with the improvements made in Blu-ray playback, PowerDVD is now well placed to become the ultimate Blu-ray playback software, which will ensure the programs relevance for some time to come.
Addendum: Just as the review was about to go live, I receive another e-mail from CyberLink. Not even a week after the release of PowerDVD 8, a new build has been released (version 3730a ), featuring two main features; the addition of BD Profile 2.0, otherwise referred to as BD Live, and fixes to BD Java titles. Unfortunately I don't have a BD Live title as of yet, but I was eager to check if
Across the Universe
worked now, and unfortunately it still does not. As CyberLink release updates to PowerDVD 8, I will keep you guys in the loop.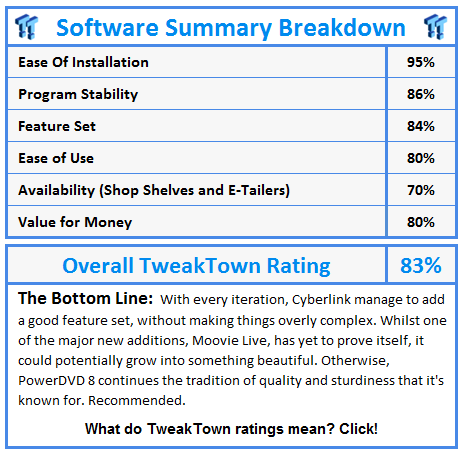 PRICING: You can find products similar to this one for sale below.
United States: Find other tech and computer products like this over at Amazon.com
United Kingdom: Find other tech and computer products like this over at Amazon.co.uk
Australia: Find other tech and computer products like this over at Amazon.com.au
Canada: Find other tech and computer products like this over at Amazon.ca
Deutschland: Finde andere Technik- und Computerprodukte wie dieses auf Amazon.de
Similar Content
We openly invite the companies who provide us with review samples / who are mentioned or discussed to express their opinion. If any company representative wishes to respond, we will publish the response here. Please contact us if you wish to respond.