Ratatouille HD Movie Review
I hate to be rude, but we're French.
Published Sun, Apr 6 2008 11:00 PM CDT
|
Updated Fri, Sep 18 2020 10:50 PM CDT
Rating:

91%
Producer / Publisher:

none
Ratatouille
is the latest in the high quality line of CG animated films, which started with
Toy Story
in 1995. With every successive film, their technical quality improves (a little fact finding reveals that Pixar's original RenderFarm in place in 1995 had the equivalent of 75 GFLOPS with 125 processors, an amount of power that can be achieved with just 20 Q6600 processors today). But with
Ratatouille
, it proves that their story telling abilities are also maturing.
Ratatouille
tells the tail (pun intended) of Remy the rat whom wants to be a chef. Of course, due to human's dislike of rats in the kitchen, he must team up with inept young chef Linguini, to become the best chef in Paris. But there's more to Linguini than meets the eye.
I thoroughly enjoyed
Ratatouille
, even though the film divides opinion. At any rate, it's much better than Pixar's
Finding Nemo
, which I hated. Passionately.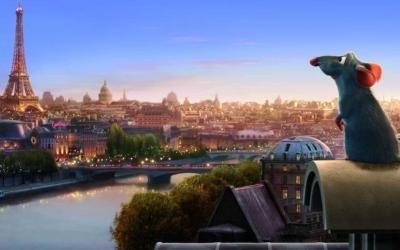 Video
You might remember that I made a throwaway comment in my last Blu-ray review that I couldn't imagine a Blu-ray presentation being much better than
Rush Hour 3
. Ok, fine. I forgot about direct digital CG movies.
Basically, the disc producers took the multi-terabyte master for the movie and spat out a 1080p version, straight from their rendering farm. As such, it hasn't touched a piece of film, hasn't touched a telecine machine, hasn't been touched by a human hand - all the things that can wreak havoc when a few kilometers of film is transferred to video. Ultimately it's no real surprise thatRatatouille looks as sublime as would be expected.
There is only one thing I am thinking that Disney Home Entertainment could have done to break the video quality, and that's either use a really low bitrate, or worse, a combination of MPEG-2 and a low bitrate. Thankfully, they did neither.
Sublime. Perfect. Bellisimo.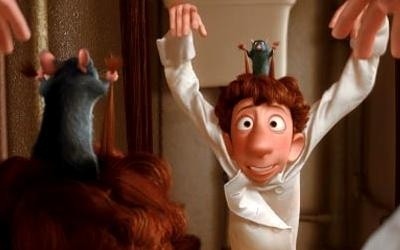 Audio
Being purely in the digital domain, and recording all audio in booths makes the process of production just that little best easier. Basically, it's purely up to the audio production team to make the mix as suppressed or aggressive as they choose. For
Ratatouille
they chose the latter. Because of the disconnect that can befall animated movies, and especially CG animated movies, which depending on the level of realism they strive for, many audiences can easily switch off, or fall in to the uncanny valley, (the term to describe the disconnect that can be felt with computer animation that isn't quite perfect).
So, much rests on the shoulders of the sound team to convey the world and draw the viewer into the proceedings. They have bought the world of Paris together rather well, and created an extremely lively mix. The score by Michael Giacchino is a lot of fun. I'm not sure why he doesn't get more Hollywood work than he does.
Ratatouille
sounds pretty damn good. Probably not quite as aggressive as it could have been, but I guess this was the intent of the audio producers, and not a fault of the Blu-ray presentation.
Unfortunately, due to the amount of extra audio tracks on the disc over the US version, ours does not feature the full 24 bit uncompressed PCM track, rather a 16 bit one. I doubt there would be a huge aural difference in most home theaters, but just knowing it's not technically as good is a big enough psycho-somosis for me.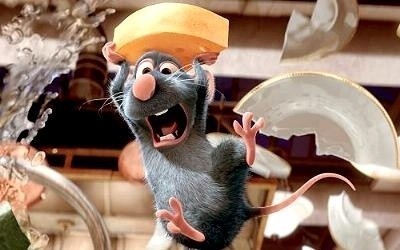 Extras
In the early days of DVD, the Pixar team reveled in DVD technology and were renowned for the quality and content of their extra feature packages. As times have progressed and their releases are no longer catalogue, but new, the production teams have less and less time to craft well rounded feature packages. So whilst what we have here is good, I fully expect at some stage to see a re-release with all the bells and whistles than Blu-ray can provide. But what is here? Let's take a look.
First off, we have an
audio commentary
by Director Brad Bird and Producer Brad Lewis, which is accessible via the cine-explore mode. The two have a good rapport, and I always enjoy hearing what Bird has to say, and he's good at speaking, which makes all the difference. However, Bird fails to really talk about the origins of the film, and the original director, Jan Pikava, whom was replaced in a production shakeup after five years work on the film. And he is basically missing from the entire disc bar one line in a featurette, despite retaining a story credit on the film.
Next we have a small featurette;
'Fine Food and Film'
, which amounts to little more than the director and a chef waxing lyrical about their chosen art forms.
Then there are two animated shorts,
'Your Friend The Rat'
, a well put together, combination traditional and CG short animation which looks at mans relationship with rats, and points out that black plague was due to fleas and not rats.
'Lifted'
is a non related,
'Close Encounters'
-type CG short directed by famous sound mixer Gary Rydstrom, whom left George Lucas' Skywalker sound 2005 to become a director. As per the high quality that Pixar shorts have had in the past, it doesn't disappoint.
Next up is a series of 17 separate segments, which taken as a whole, form a 15 minute
'Animation briefings'
featurette of Director Brad Bird directing his CG staff over rough cut footage of the films progress. It is easy to see the obsessive attention to detail that Bird harbors in his films.
Next up is another series of segments, 10 to be exact, which form to be the films
'Making of'
documentary; rather than take an all encompassing look at production, they take a look at many specific parts of production. It's pretty successful, but I wanted a little more by the end of it.
Next, we have a total of eight
deleted scenes
, separated by two menus. The reason for the apartheid is simple once you watch them; three are deleted scenes in the normal sense, and the remaining five are short deleted shots, amounting to a few seconds of footage each, but shot in a hilarious tone by the animators whom created them. Just watch, especially the last one.
Next up is a BD Java game
'Gusteau's Gourmet Game'
, an extra which I would normally skip over in total disinterest, but the content and execution is just enough to divulge this jaded reviewer and would even say it was mildly fun. But at the end of the day, it's for kids, and they will eat it up.
The last extras subheading gives two additional featurettes,
'The Will'
, which looks at one scene with alternate score, and show quite effectively how the choices in the music affects the overall tone, and the final is a short featurette
'Remembering Dan Lee'
, which looks at the legacy that the young animator left Pixar, after his battle with cancer.
There is a fair bit on offer here, and certainly took a lot longer to review than I had originally planned, but that's what we do here at TweakTown! (Now can I sleep, Cam?)
Overall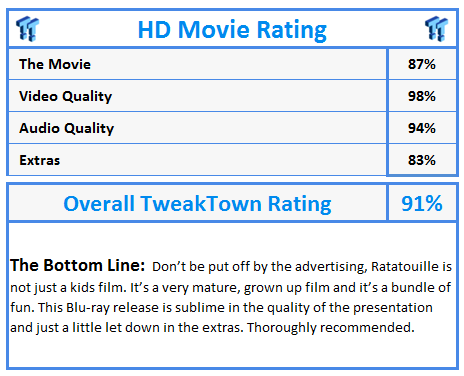 Review Equipment Used:
Display
: Sony KDL52X3100 LCD (1080p resolution/ 24p playback)
Player
: Sony BDP-S500 Blu-ray, PlayStation 3, Toshiba HD-XE1 HD-DVD
Sound
: Sony STR-DA5300 Receiver (7.1 configuration), Sony SSX70ED front speakers (x2), Sony SSCNX70ED center speaker, Sony SSFCR7000 surround speakers (x4), Sony SAW3800 Subwoofer, Sony SAWM500 Subwoofer
PRICING: You can find products similar to this one for sale below.
United States: Find other tech and computer products like this over at Amazon.com
United Kingdom: Find other tech and computer products like this over at Amazon.co.uk
Australia: Find other tech and computer products like this over at Amazon.com.au
Canada: Find other tech and computer products like this over at Amazon.ca
Deutschland: Finde andere Technik- und Computerprodukte wie dieses auf Amazon.de
We openly invite the companies who provide us with review samples / who are mentioned or discussed to express their opinion. If any company representative wishes to respond, we will publish the response here. Please contact us if you wish to respond.