Tuniq Ensemble ENS-1200W-BK 1200w PSU
Tuniq has recently entered the power supply market with a bang. Mike takes a look at their most extreme offering yet.
Published Mon, Mar 31 2008 11:00 PM CDT
|
Updated Fri, Sep 18 2020 10:50 PM CDT
Rating:

90%
Manufacturer: Tuniq
Introduction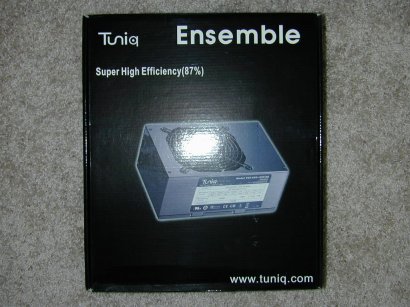 Being a relatively new company, many may not have heard of Tuniq. A subsidiary of Sunbeam, these folks are in the business of creating cooling solutions, enclosures and power supplies. We have looked at some of their offerings in this last category before and have been impressed with what is offered, but this time around they have dipped into the realm of the power user.
With so many choices in the high-end power supply arena, we will delve deeper to see if the folks at Tuniq have a winning solution on their hands. We'll look at what is offered in the area of available power, look at feature sets and of course thrash it around for about a week to look for any instances of instability.
So what are we waiting for? Let's see what this Ensemble has to offer!
In The Box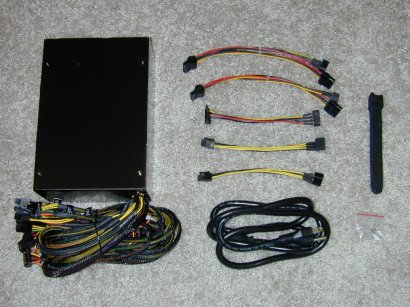 Once you get everything pulled from the packaging, you see everything you would expect to see and then a bit more. But before we check out the goodies, we will start off by looking at the unit itself as a whole. After all, goodies are nice, but we're shelling out premium prices for
power
.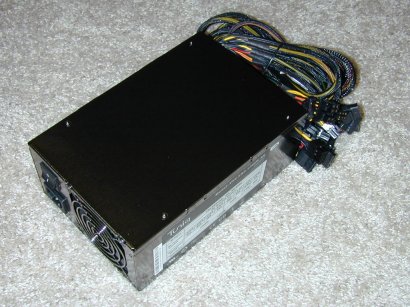 The primary unit is housed in a brushed aluminum enclosure and measures 150mm x 218mm x 85mm. While not one of the shortest units we have tested, there should be no issues in a vast majority of the mid tower sized cases and bigger. Some of your generic brand enclosures may have trouble with the longer size format, but most of us who are in the market for this powerful of a product won't be using something so bland.
This model is rated at 1200 watts of power and like many newer products hitting the market has multiple 12v rails. This particular one has a total of four 12v rails with two being rated at 20A and two rated at 25A. Both the 5v and 3.3v rails are rated at 30A.
As far as feature sets, the Ensemble 1200 touts a 80+ Efficiency Rating claiming its minimum efficiency is 82% at 100% load. It conforms to ROHS standards, has Active PFC and uses Japanese made ripple capacitors. It also has a feature that is handy for those who run their systems full tilt then immediately shut them down; the fan does not stop spinning until internal temperatures reach 50C. This will help maintain a long and healthy life for your power supply.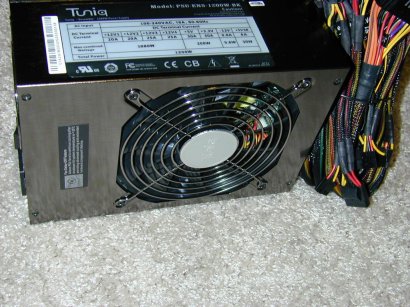 Cooling for this model is accomplished by a 135mm fan mounted on the bottom panel of the unit. This will move air from within your enclosure to exhaust out the back. Like most similar fans, it is relatively quiet even when under load. It is controlled by an internal thermistor and will speed up and slow down in accordance to temperature and stress conditions.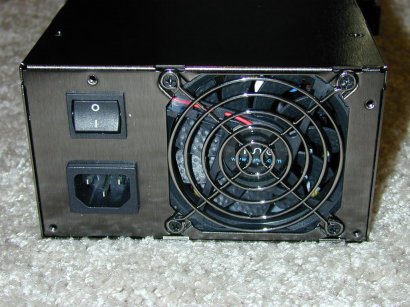 Something we haven't been seeing much of lately is the use of a secondary 80mm fan on the exterior panel. Since the job of this fan is strictly exhaust, it will be moving at all times and also is controlled internally. While the power supply was never loud, the use of the 80mm fan on the rear is going to raise the noise level just a bit. Numbers from the factory indicate the maximum noise level of this unit at 100% load will be about 29 dBA.
From this angle you will also note the lack of a voltage switch. The unit automatically detects your local voltage and makes the proper adjustments internally. From past experience, I can say that this is a change that I am very happy to see as commonplace. Those newer system builders may never know the experience of not double checking that toggle switch and frying a brand new PSU.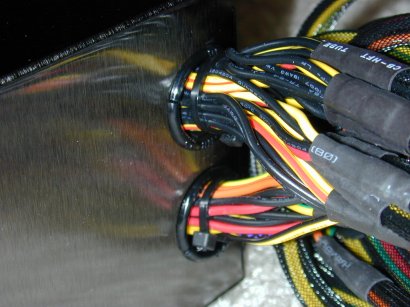 The Ensemble is not a modular power supply. While modular is a nice feature, it is not detrimental to the performance of the unit just because it does not exist in this product. I was a little surprised, however, to see that the wiring harnesses exit the housing in two places. Most have just a single exit for the wiring, but this method seems to give a bit cleaner appearance. This is a good thing for those with large windows in their enclosures and like to showcase their system inside and out. You will also note that the wires are protected by grommets where they exit the housing.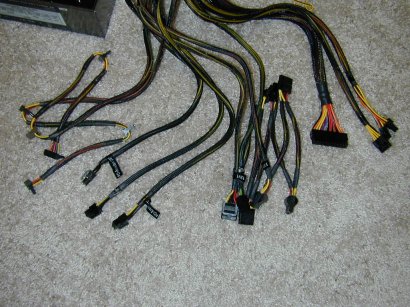 As far as cabling is concerned, the Ensemble 1200 provides for the needs of pretty much every enthusiast build being created. One item of note should be made, however, since the primary power coupler is only a 24-pin version. This means that those with older 20-pin motherboard headers need not apply unless you happen to have an adapter handy. Of course, odds are good that this will not be a factor to many since nearly all motherboards have already converted to this newer 24-pin header design.
Besides the 24-pin primary you get both a dedicated 8-pin and a 4+4 pin connector for additional motherboard requirements. It natively supports six Molex connectors, six SATA connectors, two FDD connectors, two PCI-E connectors and two PCI-E8 connectors. Overall this is a lot of flexibility, but what if you have even greater needs than this?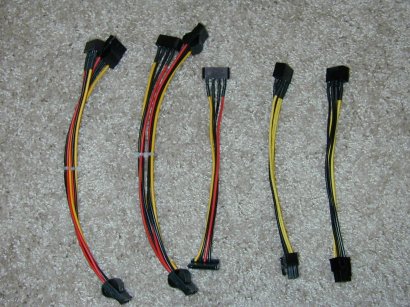 This product also contains several adapter cabling harnesses to help those who have extraordinary power needs. You get two Molex splitters that will raise the total count to eight, a Molex to SATA adapter, and two adapters that will turn those two PCI-E8 connectors into standard PCI-E ports to run that quad-GPU setup that hasn't gone to the newer 8-pin format.
Overall we have a very workable package here, but how does it handle a power system? Let's find out!
Testing
When it comes to testing a power supply, there are two courses to travel. One takes you down a path using a device to stress out the PSU and provide data regarding the power levels across all three rails. The second, and the one I make use of, utilizes an actual test system to give a more real-world account of what the power supply is capable of. While both methods have their merits, I prefer to use an actual computer to more closely resemble the manner of use that you, the potential customer, will put the product through.
That said, let's take a quick look at the test system. At the request of readers, I have beefed up the system to put a more realistic strain on the power supply.
Gigabyte 965P-DS4 motherboard (Supplied by
GIGABYTE
)
Intel Core 2 Duo E6600 processor
2x 1024MB Corsair XMS2-8500-C5 memory (Supplied by
Corsair
)
2x Sapphire X2900XT graphics (Supplied by
Sapphire
)
Western Digital 250GB SATA hard drive
2x Western Digital 160GB SATA hard drives
Western Digital 80GB hard drive
Sony 52x CD-ROM optical drive
Samsung 16x DVD-R optical drive
1x 200mm fan
2x 120mm fans
4x 80mm fans
While this isn't a Quad-GPU setup, we are certainly in the realm of having a system that is going to put a significant power drain on any power supply. The X2900XT graphics cards alone are going to be drawing close to 250 watts each when under load! Testing will consist of checking the power levels across all three rails at idle and again while the system is under stress. This should give us a good look at the capabilities of the power supply being tested.
Results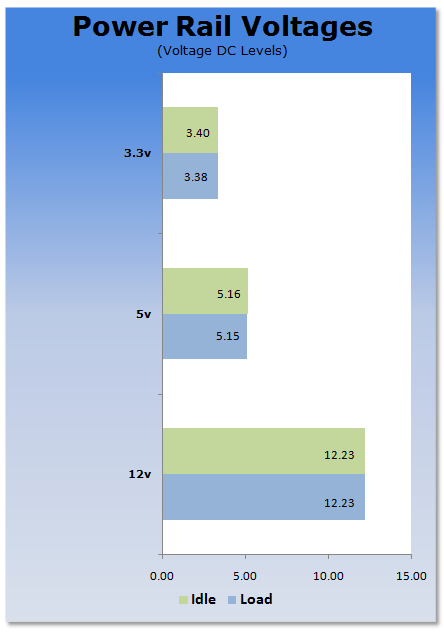 This is out first test with the new dual X2900 series graphics boards and to see the Tuniq Ensemble handle it with no trouble was very nice. While we are not pulling the full 1200 watts of power, it is safe to say that most power rigs will not be pulling what our test rig does. If it can remain completely stable under these conditions, odds are good that it will handle your own rig with ease.
From the chart above you will see that we never dropped more than .02v during any phase of testing. Since I have a multimeter attached to the power supply, I can monitor it in a constant basis and I noted no fluctuations during testing. This PSU handled everything I could throw at it and never even blinked. Very nice indeed.
Final Thoughts
When it comes to high-end power supplies, the market has never offered so many choices as today. We have several manufacturers jumping onto this bandwagon and offering numerous models rated in the kilowatt+ range. From previous reviews, I can also state that most of these "enthusiast level" products are being offered at a premium price.
Enter Tuniq, a relatively new company working under the Sunbeam banner, offering a 1200 watt behemoth and wondering if it will make it in a crowded segment of the market. What can they offer that will make their product stand away and above the competition?
While their basic feature set is pretty commonplace, the addition of the adapters as a standard shows these folks are looking at the needs of the power user. They have also made certain to add small items heavily shielded power cords and Velcro cable straps showing that they actually listen to users who are looking to buy this type of product. But the thing that caught my eye the most was the price. A quick check online showed this unit available for $289US. While still an expensive upgrade, this comes in a good deal lower than many other 1200 watt units that are available. I am used to seeing the price point closer to the $350 range, so the lower cost should help you make certain to get a quality product for a more affordable price.
Bottom line... If you are looking for high-end power, there are a huge number of choices. Looking for
quality
high-end power? That number goes down. Looking for quality high-end power at a reasonable cost? Look no further than the Tuniq Ensemble 1200.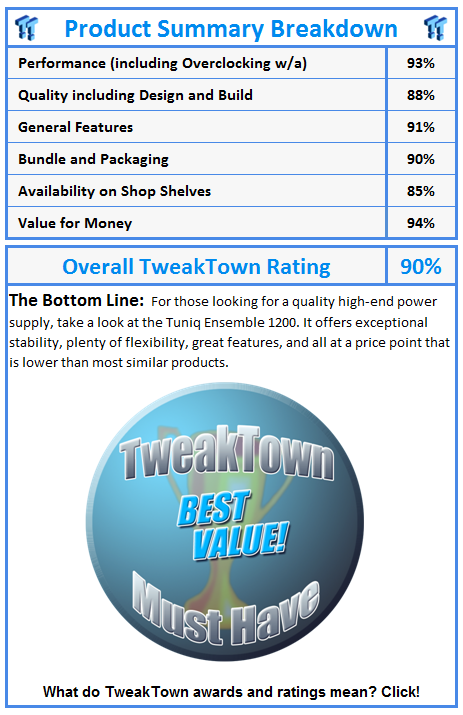 PRICING: You can find products similar to this one for sale below.
United States: Find other tech and computer products like this over at Amazon.com
United Kingdom: Find other tech and computer products like this over at Amazon.co.uk
Australia: Find other tech and computer products like this over at Amazon.com.au
Canada: Find other tech and computer products like this over at Amazon.ca
Deutschland: Finde andere Technik- und Computerprodukte wie dieses auf Amazon.de
We openly invite the companies who provide us with review samples / who are mentioned or discussed to express their opinion. If any company representative wishes to respond, we will publish the response here. Please contact us if you wish to respond.