Western Digital Scorpio 2.5inch 320GB HDD
Running out of space on your lappy? We look at WD's top dog in their Scorpio series of 2.5" notebook hard drives.
Published Thu, Mar 13 2008 11:00 PM CDT
|
Updated Fri, Sep 18 2020 10:50 PM CDT
Introduction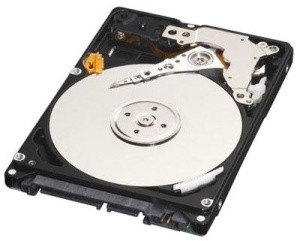 Hard Disk technology keeps getting better and better; with the introduction of SATA we have seen hard disk speeds increase, and Native Command Queuing has also reduced the time it takes for hard disks to recover data on a drive when it's located at different points across the physical disk. Additionally, the adoption of perpendicular recording methods allow for companies to increase the size of drives without having to add extra platters.
While all of these technologies have been great for the desktop hard drives, notebook hard disk drives benefit from this the most. Notebooks have a finite amount of space, especially thin and light models. Notebook drives are generally 2.5" in size making them extremely limited in how many platters the drive can have as well as the density. Not only does the size matter, but the speed also needs to be as high as possible. Notebooks are generally considered to be slower then their desktop counterparts simply because the logistics of getting the same power out of the CPU, GPU, HDD and Memory using a slimline unit is impossible.
As of late, the Memory, CPU and GPU of notebooks has dramatically improved with new architectures, lower voltage memory modules and advancements in graphics technology. This has helped to increase the amount of potential gaming power the notebook era has now inherited; the only weak point being the storage medium, the hard disk.
Hard disks are a simple and cost effective way of storing data; the principal of magnetic storage makes them simple in design, however they have a few flaws compared to solid state storage methods.
First off, they have moving parts; the heads and the spinning metal disks are vulnerable to shock damage if they are dropped or experience extreme G-Force shock, which is a risk with portable computing. The second major flaw is that they are slow compared to that of RAM; memory can transfer data at speeds of over 6GB/s where the fastest HDD can only work with sustained speeds of around the 120MB/s mark when in RAID arrays. While SSD or Solid State Disks are making their way in, we are still working with the current generation of storage and Western Digital has managed to do very well at increasing sizes and speeds.
Today we are testing out the Western Digital Scorpio 2.5" Hard Disk with a maximum capacity of 320GB using the SATA 2.5 specifications. How does it fair? Let's take it for a spin.
The Drive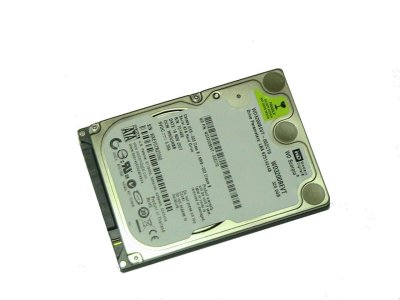 First off we have the drive itself, and looking at it there is nothing remarkable about the look of the drive. There are no pretty see-through windows like the latest Raptor, which is pretty sensible since they will either be in a Notebook or latest generation of small form servers that use 2.5" drives. The top of the drive has the company logo, model number and the capacity of the drive. There are no settings for you to change in the way of master/slave since it is SATA based, this making it much easier to configure, especially for notebooks.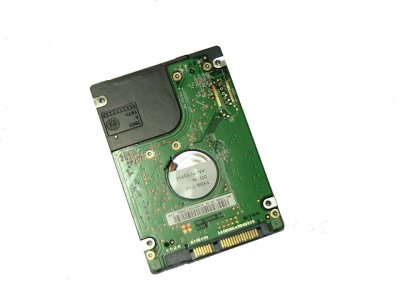 The underside of the drive is extremely clean of high rise circuits and components, simply because they have been sandwiched between the top of the PCB and the lower casing of the drive. With this design you don't have to worry about any short circuits or clearance issues, simply slip it into any notebook that supports SATA HDDs and you're going.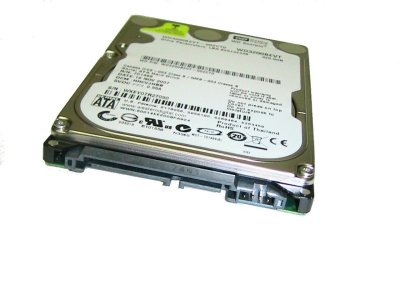 Lastly, on the back of the drive there is a single SATA power and SATA data port. The Notebook SATA and Desktop SATA are identical in specifications, which means you can run these drives in any desktop system if you need to swap out data or place them in any SATA enclosure. The removal of the older 44-pin IDE interface has done wonders for centralising the notebook and desktop standards.
Test System Setup and HD Tach
Test System
Processor
: Intel Core 2 Quad QX6700 @ 3GHz (9x333MHz)
Motherboard
: ASUS Maximus Extreme (Supplied by
ASUS
)
Memory
: 2x 1GB DDR3-1800 XMP OCZ (Supplied by
OCZ
)
Graphics Card
: MSI GeForce 8800GTS 640MB (Supplied by
MSI
)
Cooling
: GIGABYTE 3D Galaxy II (Supplied by
GIGABYTE
)
Operating System
: Microsoft Windows XP SP2
Drivers
: Intel INF 8.3.1.1009, Forceware 163.21
Our test system remains the same from our Hitachi Notebook Upgrade Kit review, which we will be porting over some results from including the 250GB Scorpio Drive which this new one is a member of. We used a desktop system to get the most out of the drive without having the notebook itself as a limitation.
HD TachVersion and / or Patch Used:
3.0.1.0
Developer Homepage:
http://www.simplisoftware.com
Product Homepage:
http://www.simplisoftware.com/Public/index.php?request=HdTach
Buy It Here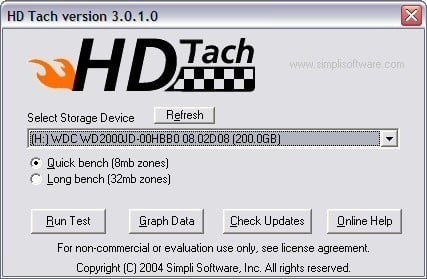 HD Tach has been around for a long time and is excellent when it comes to testing hard drive performance. It is also a very handy program when it comes to testing the controller used on particular motherboards. Tests such as Read, CPU Utilization and Burst are available at a click of the button and give you a good idea of how the hard drive can perform from system to system.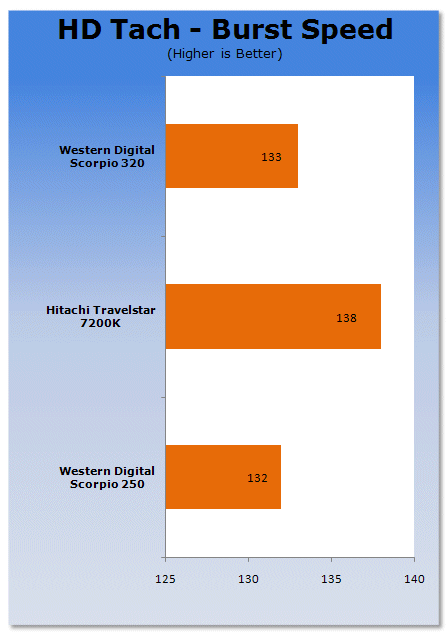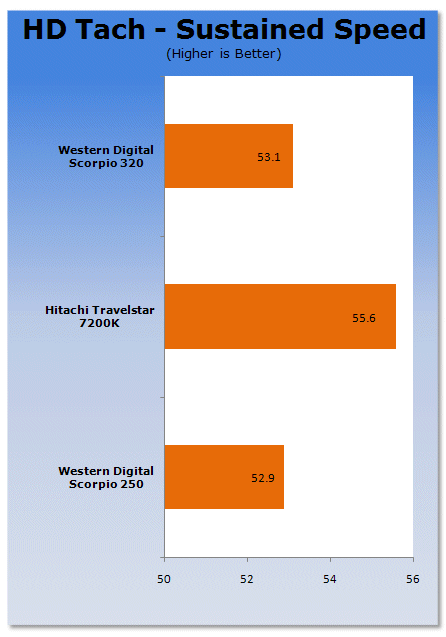 Going against its 250GB brother, the 320GB drive performs identically in HD Tach, and surprisingly it managed to beat out the Hitachi drive despite its 7200RPM rate.
Benchmarks - HD Speed
HD SpeedVersion and / or Patch Used:
x
Developer Homepage:
http://www.steelbytes.com
Product Homepage:
http://www.steelbytes.com/?mid=20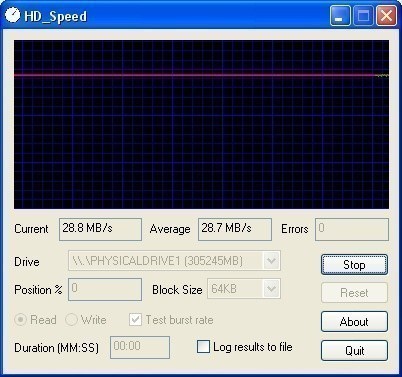 Measures both sustained and burst data transfer rates of your hard disks, cd/dvd-roms and floppy.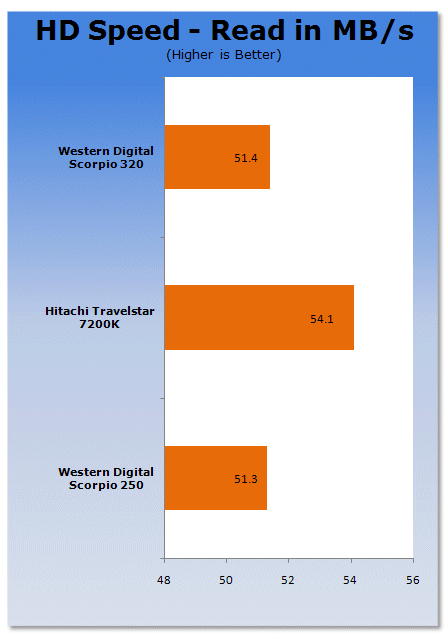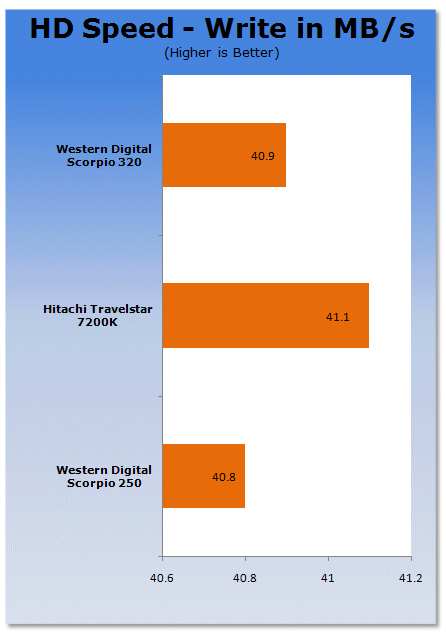 In HD Speed we again see little to no difference between the two Scorpio brothers. Here we see also very little difference between the Hitachi and WD drives as well.
Benchmarks - DiskSpeed32
DiskSpeed32Version and / or Patch Used:
x
Developer Homepage:
http://www.geocities.com/vgrinenko/
Product Homepage:
http://www.geocities.com/vgrinenko/DiskSpeed32/
DiskSpeed32 is a program for hard drive speed measurement in Win32 environment. It measures reading speed in whole disk or its part and plots graphical dependence for reading speed by cylinder number. This allows to obtain comparable data not only for different drives, but also for the same disk under different Win32 implementation.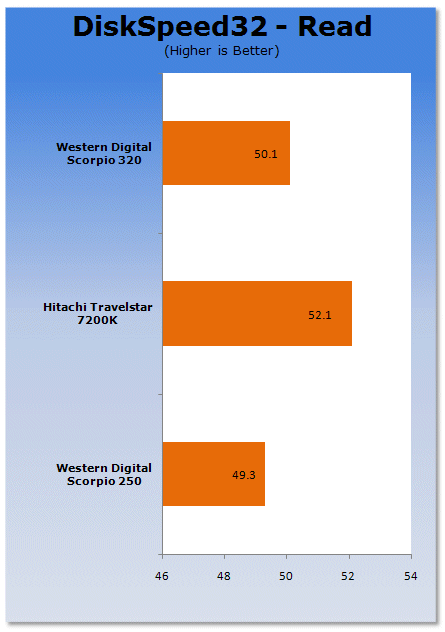 DiskSpeed32 shows similar results as our previous HDD tests. The two Scorpio drives perform identically and are keeping right up with the Hitachi drive.
Benchmarks - HD Tune
HD TuneVersion and / or Patch Used:
2.54
Developer Homepage:
http://www.efdsoftware.com/
Product Homepage:
http://www.hdtune.com/>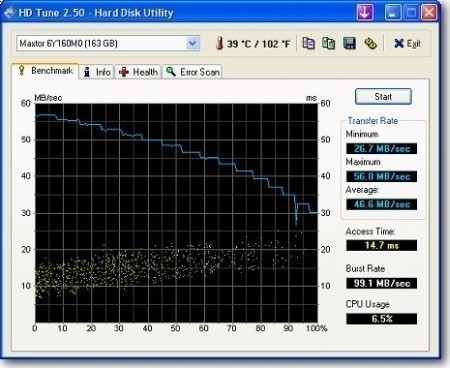 HD Tune is a Hard Disk utility which has the following functions:
- Benchmark: measures the performance
- Info: shows detailed information
- Health: checks the health status by using SMART
- Error Scan: scans the surface for errors
- Temperature display
HD Tune may also work with other storage devices such as memory cards, USB sticks, iPods, etc.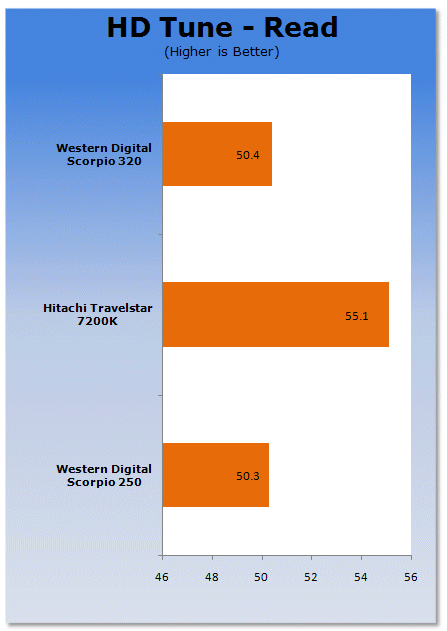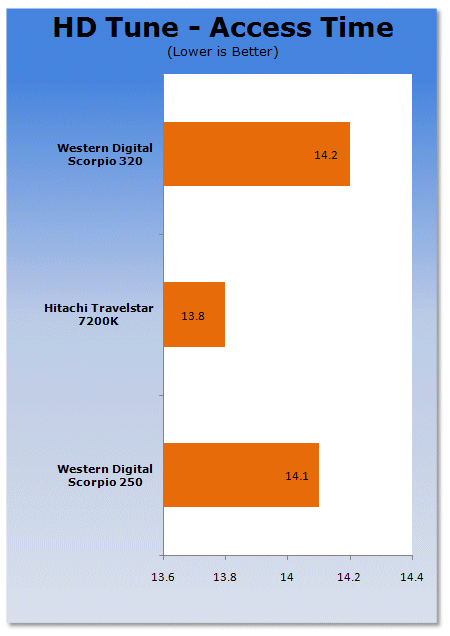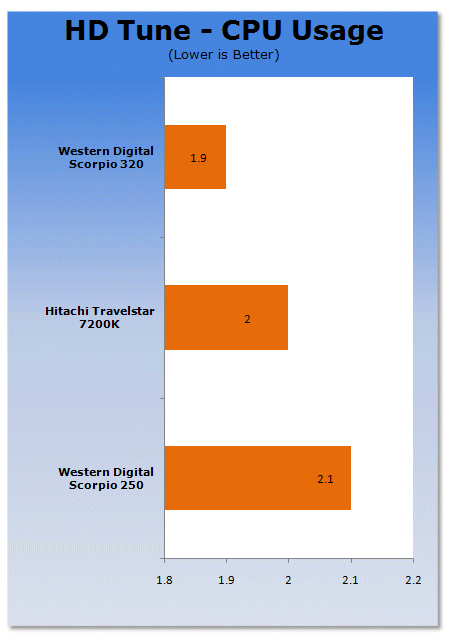 Again here we see the two Scorpio drives performing the same as each other, also just managing to hold it over the Hitachi drive.
Benchmarks - Adobe Premiere Elements 2.0
Adobe Premiere Elements 2.0Version and / or Patch Used:
2.0
Developer Homepage:
http://www.adobe.com
Product Homepage:
http://www.adobe.com/products/premiereel/
Buy It Here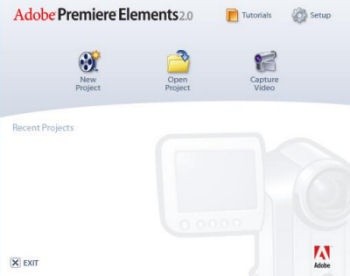 Our test with Adobe Premiere Elements 2.0 is performed with a raw two hour AVI file. It is then compressed into DivX format using the latest version codec. We measure the time it takes to encode and then record CPU usage.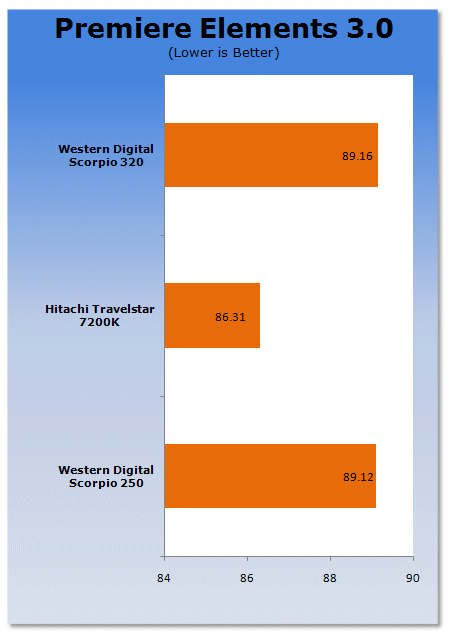 Lastly we see that the Western Digital drives perform again right on top of each other, however, the Hitachi manages to sneak in front this time.
Final Thoughts
Western Digital's latest installment of the Scorpio series drives is a great addition, especially for those looking for larger capacities for single drive situations like Notebooks. If you want to set up larger capacity RAID arrays in small form servers, these drives are also very good. However, its performance is still the same as the first Scorpio we have looked at. We were hoping to see some improvement, but this wasn't to be.
Western Digital's implementation for its notebook drives have been extremely good. We haven't seen anything to discourage us from buying one, however, with 7200RPM drives now making their way in, we hope to see Western Digital's next series of drives incorporate this new rotation speed along with larger cache sizes to help take advantage of the SATA 2.5 300MB/s transfer rates. Till then, the Scorpio fits the bill just about right.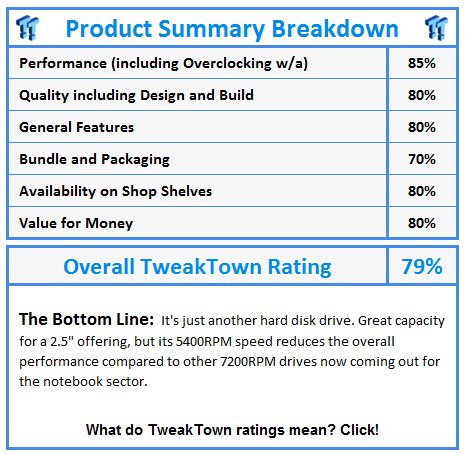 PRICING: You can find products similar to this one for sale below.
United States: Find other tech and computer products like this over at Amazon.com
United Kingdom: Find other tech and computer products like this over at Amazon.co.uk
Australia: Find other tech and computer products like this over at Amazon.com.au
Canada: Find other tech and computer products like this over at Amazon.ca
Deutschland: Finde andere Technik- und Computerprodukte wie dieses auf Amazon.de
We openly invite the companies who provide us with review samples / who are mentioned or discussed to express their opinion. If any company representative wishes to respond, we will publish the response here. Please contact us if you wish to respond.