E-TEN Glofiish X650 GPS Smartphone
Lars puts the spotlight on a feature-packed Smartphone from E-TEN with built-in GPS and 640x480 display.
Published Sun, Feb 10 2008 11:00 PM CST
|
Updated Fri, Sep 18 2020 10:50 PM CDT
Rating:

81%
Manufacturer: E-TEN
Introduction and First Glance
E-TEN and its Glofiish brand of Windows Mobile devices might not be familiar to you, but this is a company that has been around for quite a while; though unlike say HTC, they haven't struck up any deals with the mobile network providers to sell discounted or branded handsets. Instead, E-TEN tried going down a different route with all of its recent models featuring a built in GPS, something which has started to become a lot more common on recent Windows Mobile devices. However, the company is now looking at trying to get in with the network providers, which hopefully should see the Glofiish devices become a lot more affordable than they've been to date.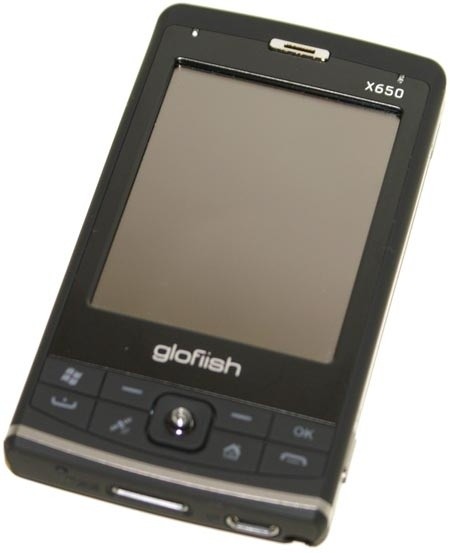 Today we're looking at the Glofiish X650 which is a slightly updated version of the X600, although they do share the same external design. Let's start with taking a look at the device itself. The X650 measures 107 x 58 x 14.7 mm (HxWxD) and weighs 136g with the battery. This is reasonably thin for a device of this type, but something like the HTC Touch is still a lot more pocket friendly.
The front of the X650 is home to a 2.8-inch 640x480 LCD display which can display 65k colours, and this is the first of the upgrades compared to the X600. This is definitely a step above most other Windows Mobile 6 Professional devices and something we hope other manufacturers will follow suit on. The only other manufacturer that we know of that uses a lot of VGA resolution displays on its devices is GSmart.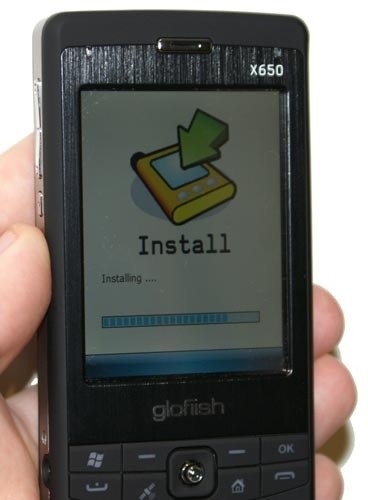 Below the screen is a vast array of buttons, more so than you see on most Windows Mobile devices that don't have a keypad. There are two rows of buttons with a small joystick in the middle. Starting with the top row going from left to right we have the Windows start button, left and right soft key and an OK button. The lower row has a call button, GPS button, home button and finally an end call button. The joystick is the main navigation control when you don't use the touch screen, and it can be depressed to make selections. Above the screen are two small LED's; the one on the left indicates WiFi, Bluetooth and GPS usage while the one on the right is charging and network connectivity indicator.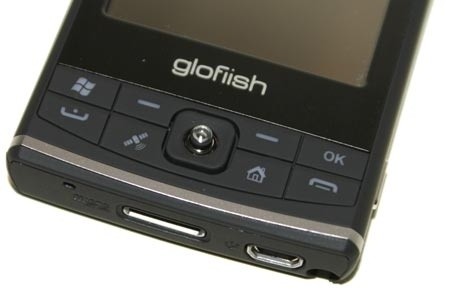 The buttons don't stop there though, on the right hand side you'll find the power/standby button as well as the camera shutter release button. On the left hand side are two volume control buttons as well as a button with dual functionality as it will start the voice dial application with a short press and the voice recorder with a long press. At the bottom of the left hand side is also a 2.5mm audio jack for the supplied headset.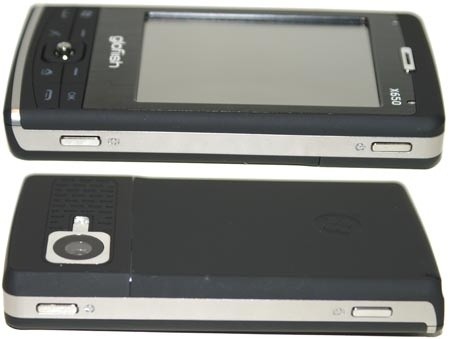 At the bottom of the handset is a standard mini USB jack to which the charger connects, and this is also used for sync'ing the X650 with your computer. Here is also a slot for a micro SD card which seemed like a bad location at first, but the card is recessed quite deep so there shouldn't be any worry of accidental removal of the card. The stylus is also slotted into the bottom part of the handset right next to the USB port. Finally, around the back you'll find a 2 Megapixel camera with auto focus and an LED flash. The camera on the X600 doesn't have auto focus, but we'll talk a bit more about the camera later.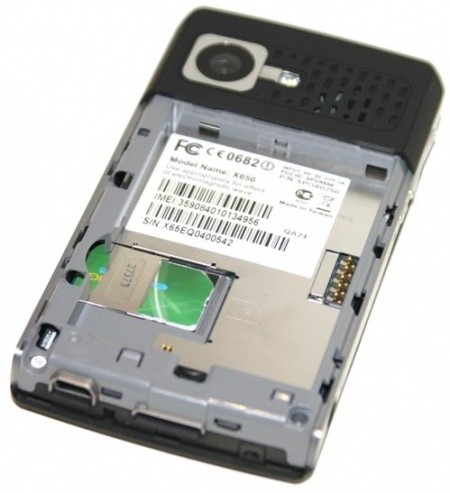 Our review sample had a two tone black and silver design with a metal inlay around the screen. The back was coated with a soft rubber like material as well as the front edges. The silver trim on the side looks quite smart and the buttons are also silver coloured which makes for an overall stylish design. One strange quirk of the X650 is that you have to remove the stylus to be able to remove the battery cover; we're not quite sure why E-TEN designed it like this, as it's just awkward. The 1,530mAh Lithium Polymer battery is locked in place with a small latch at the bottom, and underneath it is the SIM card holder. Battery life seemed to be no better than any other Windows Mobile device, i.e. 2-3 days of usage.
Internals and Software
Let's now take a closer look at what's inside the X650; for starters it has a 500MHz Samsung SC3 2442 processor and this is 100MHz faster than the X600. The X650 has 64MB of RAM and 256 of ROM, again an upgrade from the X600's 128MB of ROM. We would've liked to have seen a bit more RAM as well, as with the integration of a GPS receiver the satellite navigation applications can be quite memory hungry, and if you're then running multiple applications at the same time, 64MB is a little bit stingey. Even more so when you consider that you have just shy of 20MB of usable RAM without any running applications. However, you do get about 140MB of free storage space which should at least allow you to install any satellite navigation software onto the device memory which is a nice touch.
The integrated GPS sports a SiRF Star III chipset which is one of the most popular on the market, and it also supports TMC in those countries where it's supported. This is thanks to the built in FM radio, yet another feature rarely seen in Windows Mobile devices. In terms of connectivity, the only thing missing is 3G, but E-TEN has the X800 series for those wanting this feature. The X650 supports quad band GSM (850/900/1800/1900MHz) and it also does GPRS and EDGE where available. Further to this you'll find 802.11b/g WiFi and Bluetooth 2.0 with EDR.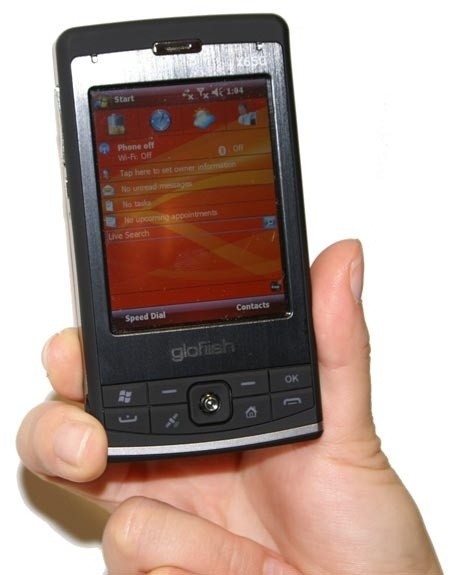 On the software side of things E-TEN has added a wide range of their own applications as well as some third party ones, and in all honesty this is quite a mixed bag. E-TEN has used a fair amount of applications from SPB, although these can be disabled if you don't like them. Some of the more standard applications that you're used to seeing on most Windows Mobile devices are however missing. E-TEN has gone for its own wireless manager and the icon looks like something from the days of Windows 3.11. Similarly, the Bluetooth manager is very different, although it's pretty straight forward to use so no big deal here.
Pressing the home button oddly enough doesn't take you to the home screen, but instead it brings up a menu which gives you the option to set the display in landscape mode, change scenario, turn the camera flash into a flashlight, start the task manager, get to the SMS manager, file explorer, calculator, wireless manager and finally the FM tuner application. This can indeed be useful, but the button should really have a different icon to make it more clear what it does. The default soft key shortcuts are also odd, as you have the choice of speed dial and contacts and they can't be user changed.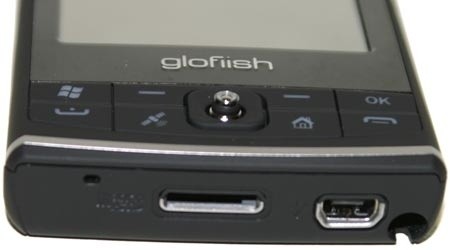 E-TEN has provided a couple of applications that allows you to try out the GPS, and one of them gives you a view of the earth and which satellites you're connected to. Alternatively, it shows you the latitude and longitude as well as altitude and speed. The altitude meter didn't seem to be that accurate though, as it changed constantly even though the altitude wasn't during out testing. There's also a digital compass, but for some reason it has two modes and it seemed to point in different directions when you switched between them, and as we didn't have a manual for this software we're not sure why this was the case.
The possibly somewhat more useful application is the so called Location SMS utility which allows you to send an e-mail with your exact position to someone, but unless they have a GPS with the ability to enter these details, it's not that helpful.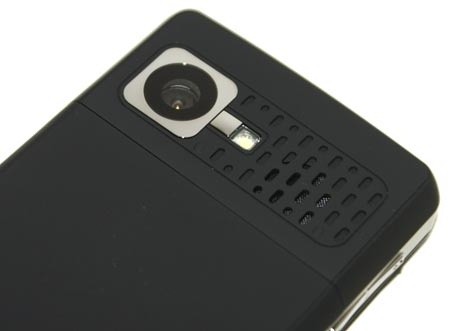 The camera application is also quite different from what we've seen on other Windows Mobile devices, and again it has rather clunky looking icons and the whole application felt sluggish when in use. The camera itself wasn't exactly what we'd call impressive in terms of quality. It's usable without the flash, but the sluggish application and the super slow auto focusing means that it's nigh on impossible to take pictures of moving targets. Enable the flash and you end up with washed out pictures that are useless.
Here's a shot which was originally taken at 1600x1200 with the flash turned on :-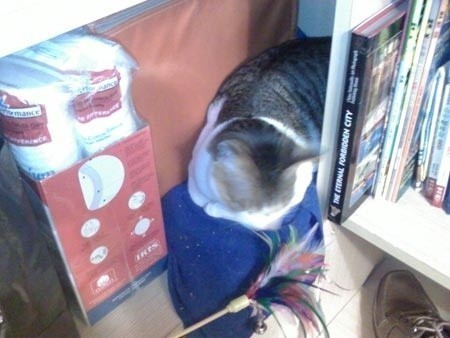 And another without the flash :-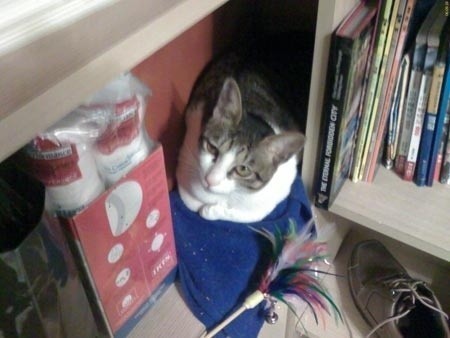 Clearly there's room for improvement, but I must admit I've seen worse.
Software (Cont.) and Final Thoughts
Software - Continued
The FM tuner application feels unfinished but works quite well, and it can be set to Europe, US and Japan which is good for those that travel a lot. It's easy to make presets and you can type in a frequency if you know it when you make your presets.
Another utility that some might find useful is what E-TEN calls the Namecard Manager; this is a business card scanner utility that relies on the built-in camera. Having tried it on a few different business cards we can't say we were overly impressed, but some of it seemed to be camera related, although on curved font business cards the results were abysmal with hardly any of the text being correct. However, if you only deal with people that have simple fonts on their business cards it could shorten the time it takes you to enter all the information onto your phone.
One feature we do like is the call filter, as it allows you to blacklist numbers and this means that the handset won't ring if a number on the list tries to call you. The X650 also has four scenarios or modes that you can set and switch between, much like any other mobile phone. There's also a handy backup utility which allows you to back up all your phone data on a memory card. As we said in the beginning, the applications really are a mixed bag; some are really useful, others are terrible to use while some seem to be there just to make this handset different from every other Windows Mobile device.
We almost forgot to mention the accessories you get, which is a pretty decent bundle as the X650 comes with a nice quality leather case which can be attached to your belt, a charger with exchangeable tips (although our review unit only came with one), a carry strap, a USB cable and two styluses. An optional car mount can be purchased to suit the X650 for GPS use, but it would have been nice to have seen this as a standard inclusion.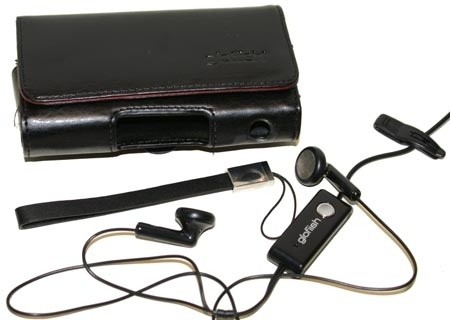 Final Thoughts
We're not quite sold on the X650. It has a lot of potential and the screen is excellent, especially if you want to use it for web access or some light work thanks to the inclusion of Office for Windows Mobile. On the downside though, the slightly odd key layout and more importantly the joystick which is anything but a joy to use leaves a bit of a sour taste. The joystick actually has a tendency to poke your leg if you put the handset a certain way in your trousers pocket. It's one of those things where you'd be worried that it'd break off as it's not recessed like many other phones that rely on a joystick for navigation.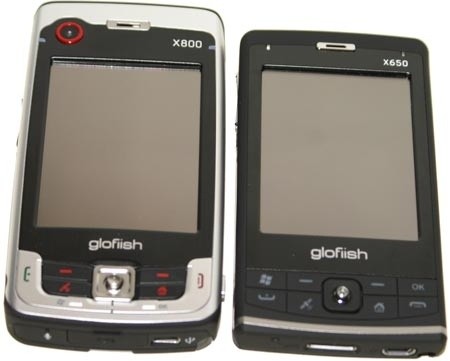 Size compared to the X800
Other issues are some of the included applications which look awful and aren't that user friendly; the worst of them has to be the camera application. Most of these issues should be quite easy for E-TEN to fix and a firmware upgrade should resolve the problems. At $555 US this isn't a cheap handset, but you do get quite a lot for your money and the X650 doesn't have any direct competitors in the market. The closest device we can think of is the HTC P3600, although this is a 3G handset but it lacks the high resolution display, is fatter and costs an extra $50 US. The other option would be E-TEN's X800 which is $45 US more, but comes with 3G as well. We should have a review of this coming shortly.
Overall, the E-TEN Glofiish X650 is a decent enough handset if you're looking for a Windows Mobile device with built-in GPS and a high resolution display. But if you can live with a separate GPS unit, there are better options out there for less money.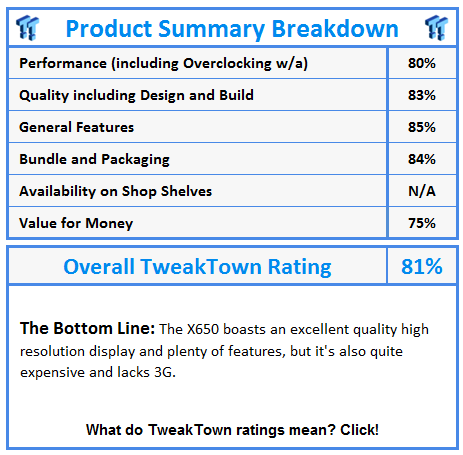 PRICING: You can find products similar to this one for sale below.
United States: Find other tech and computer products like this over at Amazon.com
United Kingdom: Find other tech and computer products like this over at Amazon.co.uk
Australia: Find other tech and computer products like this over at Amazon.com.au
Canada: Find other tech and computer products like this over at Amazon.ca
Deutschland: Finde andere Technik- und Computerprodukte wie dieses auf Amazon.de
We openly invite the companies who provide us with review samples / who are mentioned or discussed to express their opinion. If any company representative wishes to respond, we will publish the response here. Please contact us if you wish to respond.