GIGABYTE X38T-DQ6 Motherboard
With X48 not on shelves just yet we can't rule out a good DDR3 based X38 board. We take a look at GIGABYTE's X38T-DQ6.
Published Wed, Jan 23 2008 11:00 PM CST
|
Updated Fri, Sep 18 2020 10:50 PM CDT
Introduction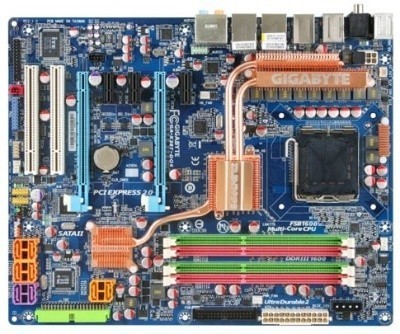 While Intel has now shifted their focus towards the X48 chipset as the ultimate chipset for the Intel Core 2 experience, there is still one chipset that Intel hasn't planned to completely wipe off the face of the earth; in fact, it's slated to be the more cost effective enthusiast chipset, just that it isn't as focused on the highest clock speeds possible. Which chipset is that? Why the X38 of course.
Originally planned to be the big momma for the Core 2 platform, its overclocking performance simply wasn't enough to let Intel get ahead, especially since P35 chipsets with DDR3 were able to out clock the Intel masterpiece. The only thing about X38 that saves it is the fact it has Dual x16 PCI Express slots over the single x16 and x4 configuration of the P35's Crossfire setup. ASUS were the only motherboard makers who managed to work out a way to get good Crossfire support on P35 using the IDT's PCI Express Expander chipsets that can split off PCI Express bandwidth or act as a PCI Express switch.
Today we have a new candidate in our labs for consideration, GIGABYTE's X38T-DQ6. The "T" series of the GIGABYTE boards denotes that it is a DDR3 variant of an already existing DDR2 model. We tested the X38-DQ6 a while back which is their DDR2 variant. Today we have their DDR3 variant on the bench; does it improve on the DDR2 version? Only time will tell.
Specifications
Specifications of the GIGABYTE X38T-DQ6CPU
Supports Intel Core 2 Series (Extreme/Quad/Duo)
Supports Intel Pentium Dual Core Series
Supports Intel Pentium D Series
Supports Intel Pentium 4 5xx/6xx Series
Supports Intel Celeron D 3xx/4xx Series
Supports Intel 45nm Series CPU
Chipset
Intel X38 Express
X38 Northbridge
ICH9R Southbridge
DMI @ 2GB/s
System Memory
4 DDR3 SDRAM 240pin DIMM Sockets
Supports DDR3-800/1066/1333MHz
64/128Bit Dual Channel
Supports up to 8GB Total Memory (4x 2GB)
Bus Frequency
100/133/200/266/333MHz Internal
400/533/800/1066/1333MHz External
P4 Bus Architecture
Expansion Slots
2 PCI Express x16
2 PCI Express x1
2 PCI
Connectivity
1 Parallel ATA port supporting 2 IDE Drives
8 Serial ATA ports
2 Gigabit Ethernet Port
Expansion Ports
1 PS2 Keyboard Port
1 PS2 Mouse Port
12 USB 2.0 Ports (8 rear accessible, 4 via expansion bracket)
6 Stereo Audio Ports
1 RCA SPDIF Port
1 Toslink SPDIF Port
3 Firewire ports (2 rear accessible, 1 via expansion bracket)
The Box and What's Inside
Package and Contents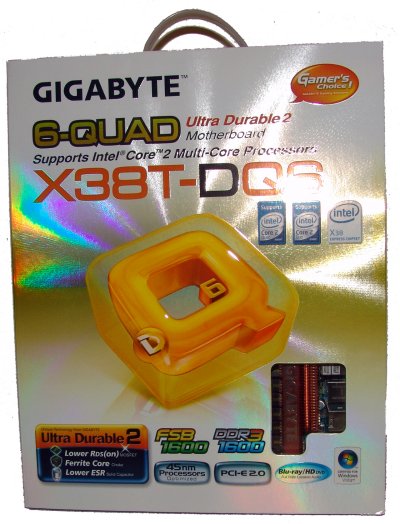 GIGABYTE's X38T is a part of the DQ6 series of boards which is their top of the line series with just about every feature you could ever want. The box that you get the board shipped in is a huge oversized one. The front gives you only a few details on the board itself.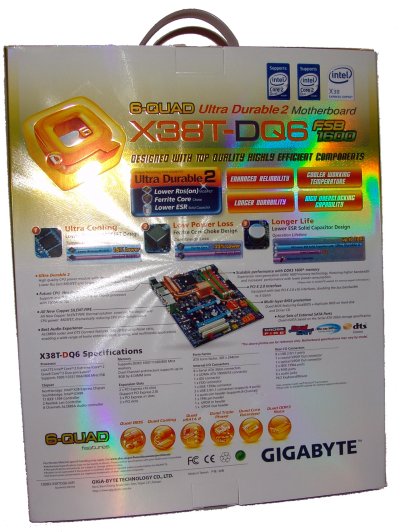 The back of the box however gives quite a bit more information along with a full colour photo of the board so there are no surprises on what you're getting from your hard earned bucks.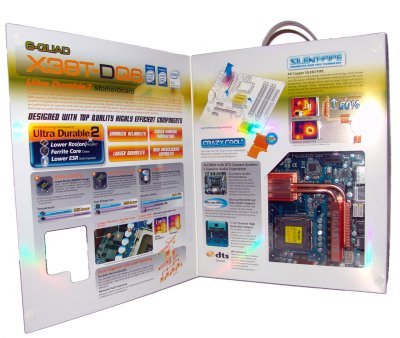 GIGABYTE's box also has a flip-open front that allows you to get a small glimpse of the board itself along with a bit more information on some of the board's features.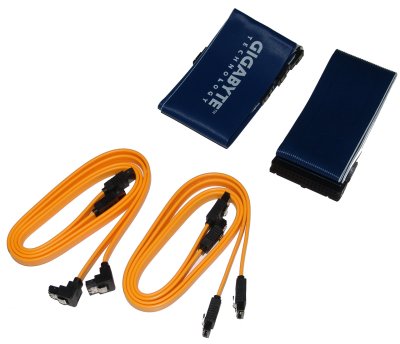 GIGABYTE provides in its package four out of eight SATA data cables in relation to how many SATA ports are available on the board, so if you plan to run six or more drives you're going to have to head down to your local PC shop to get some more cables. The ribbon cable bundle includes a single FDD and IDE setup.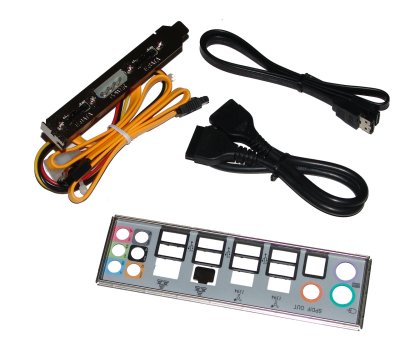 Rather than routing two of the onboard SATA ports direct to e.SATA, GIGABYTE gives you a choice to use them by including a PCI expansion cover bracket that has two e.SATA ports on it which can be plugged into any of the SATA ports on the board.
The Motherboard
The Board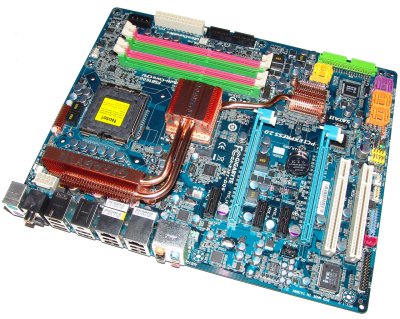 The board itself is of typical GIGABYTE design using a blue full sized ATX PCB on 6 layers. It has taken some harsh criticism in the past on not only our part but a few other sites to get GIGABYTE to do the layout right, but as of late we have nothing but praise for them.
The 24-pin power and FDD connector sit on the right hand side top edge of the board behind the DDR3 memory slots that the board supports, whilst the 4/8 pin power connector gets moved to the left top edge of the board behind the PS/2 ports and in front of the heatpipe cooler assembly, though this can make it a bit tricky to get the cable out if you ever need to swap power supplies.
The IDE controller port sits at the mid point of the right hand side edge of the board and is rotated 90 degrees which helps keep the IDE cable out of the way of any graphics cards that are being installed. Two of the eight SATA ports the board has are directly behind the IDE port. The final six ports are located at the very bottom edge of the board.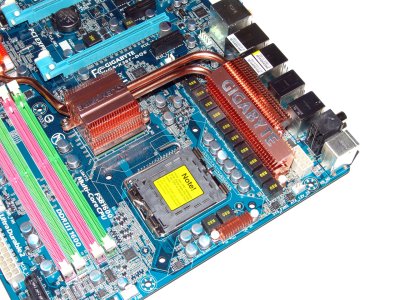 The CPU area on the board looks quite spacious these days thanks to GIGABYTE's new heatpipe design and total re-design of the voltage regulators. The CPU is provided with power though a 12-phase voltage regulation system that is cooled by the heatpipe assembly which is also connected to the Northbridge and Southbridge chipsets to provide maximum convection cooling.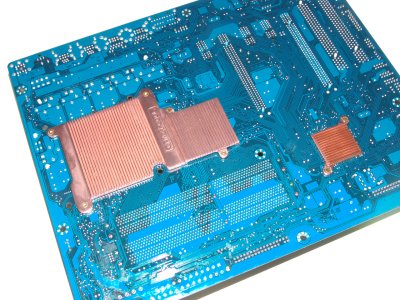 On the rear of the board GIGABYTE has placed two extra heatsinks to help remove heat from the system; an extra large one at the top cools the back of the CPU and the Northbridge while a smaller one is placed on the back of the Southbridge chipset.

The rear I/O ports are identical in design to the X38-DQ6 DDR2 version and the X48-DQ6 we just recently reviewed. It looks like GIGABYTE has decided to do a unified port arrangement on this series of boards which is good to see. There's no need to change them if you not adding extra ports.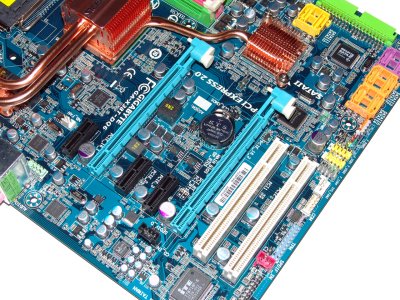 Coming down to the expansion slots we have an identical arrangement to the X38-DQ6 and the X48-DQ6. There are two blue PCI Express x16 slots that are run off the Northbridge and receive 16 lanes each to support full speed Crossfire. NVIDIA still hasn't given Intel a licence for SLI so don't get your hopes up for this. The two blue slots are PCI Express 2.0 compliant so if you get one of ATI's latest PCI Express 2.0 cards you can take full advantage of it.
Three PCI Express x1 slots are given for additional PCI Express connectivity and two PCI legacy slots for TV tuners and sound cards also make the cut.
The IDE and two purple SATA ports are controlled by the JMicron PCI Express controller chip. The two Gigabit Ethernet ports are run off two separate PCI Express Marvell chips and the Firewire support comes from a Texas Instruments PCI based Firewire chip.
BIOS and Overclocking
BIOS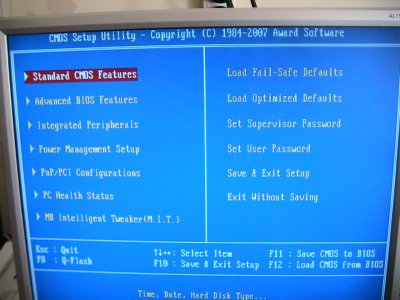 GIGABYTE's X38T-DQ6 BIOS is identical to all of their previous DQ6 BIOS setups using the Award 6.0 system which has served its purpose for quite some time. With the announcement of MSI going with their new EFI setup now, we can only hope GIGABYTE has something in the works here too. The MB Intelligent Tweaker(M.I.T) menu has all of the overclocking options within it.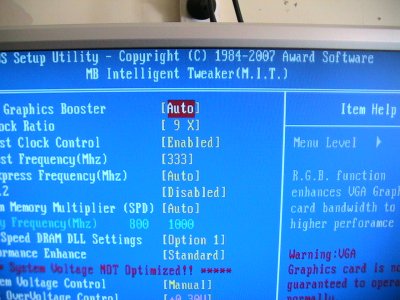 Buses
Host Frequency: 100MHz to 700 MHz in 1MHz increments
PCI Express Frequency: 100MHz to 150MHz in 1MHz increments
Voltages
DDR3 OverVoltage Control: +0.05v to +2.55v in 0.05v increments
PCI-E OverVoltage Control: +0.05v to 0.35v in 0.05v increments
FSB OverVoltage Control: +0.05v to +0.35v in 0.05v increments
(G)MCH OverVoltage Control: +0.025v to 0.375v in 0.025v increments
CPU OverVoltage Control: 0.83125v to 2.35000v in 0.00125v increments
Overclocking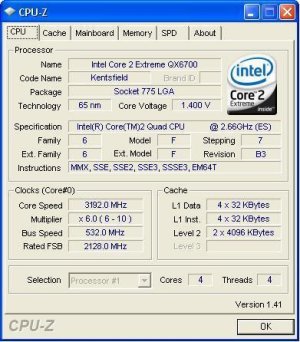 Our overclocking experience was quite good considering the X38's less than stellar track record with overclocking. Using the F5 BIOS we were provided by GIGABYTE we managed to push our less than impressive 511MHz clock we were getting right up to 532MHz which is the wall we hit; no matter how much voltage or tweaking we used, pushing for another 1MHz over this would result in a no boot, no win situation.
Important Editor Note: Our maximum overclocking result is the best result we managed in our limited time of testing the motherboard. Due to time constraints we weren't able to tweak the motherboard to the absolute maximum and find the highest possible FSB, as this could take days to find properly. We do however spend at least a few hours overclocking every motherboard to try and find the highest possible overclock in that time frame. You may or may not be able to overclock higher if you spend more time tweaking, or as new BIOS updates are released. "Burn-in" time might also come into play if you believe in that.
Test System Setup and Memory Performance
Test System
Processor
: Intel Core 2 Quad QX6700 @ 3GHz (9x333MHz)
Memory
: 2x 1GB DDR3-1600 OCZ (Supplied by
OCZ
)
Hard Disk
: 500GB Seagate 7200.9 (Supplied by
Seagate Australia
)
Graphics Card
: MSI GeForce 8800GTS 640MB (Supplied by
MSI
)
Cooling
: GIGABYTE 3D Galaxy II (Supplied by
GIGABYTE
)
Operating System
: Microsoft Windows XP SP2
Drivers
: Intel INF 8.3.1.1009, Forceware 163.21
Our test system has not changed in some time and the usual array of benchmarks have been run including the addition of Battlefield 2142 for good measure.
Our overclocking tests are pushed to the limits with regards to the FSB. The memory is always set to run 1:1 in overclocked mode. Our ASUS board ran with a 527 MHz FSB and our GIGABYTE PX38T-DQ6 ran with a 532MHz FSB, both using 6x multipliers.
At stock speeds we used an FSB of 333MHz and 9x multiplier to get 3GHz out of the system. We also set the memory ratio to 1333MHz which is the highest this board supports without going to XMP mode and using a 400MHz FSB.
EVEREST Ultimate EditionVersion and / or Patch Used:
2006
Developer Homepage:
http://www.lavalys.com
Product Homepage:
http://www.lavalys.com
Buy It Here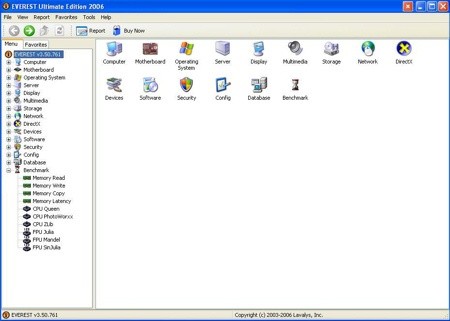 EVEREST Ultimate Edition is an industry leading system diagnostics and benchmarking solution for enthusiasts PC users, based on the award-winning EVEREST Technology. During system optimizations and tweaking it provides essential system and overclock information, advanced hardware monitoring and diagnostics capabilities to check the effects of the applied settings. CPU, FPU and memory benchmarks are available to measure the actual system performance and compare it to previous states or other systems.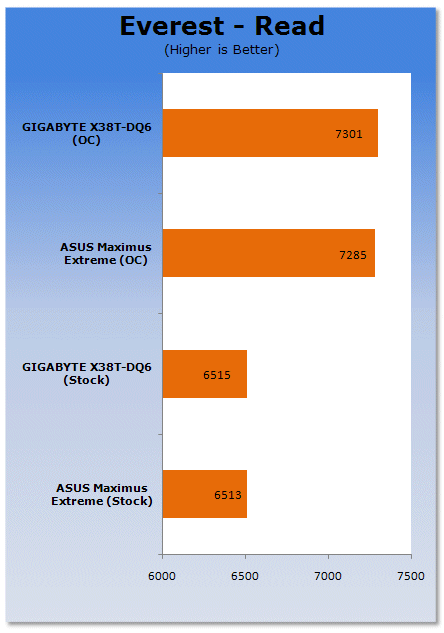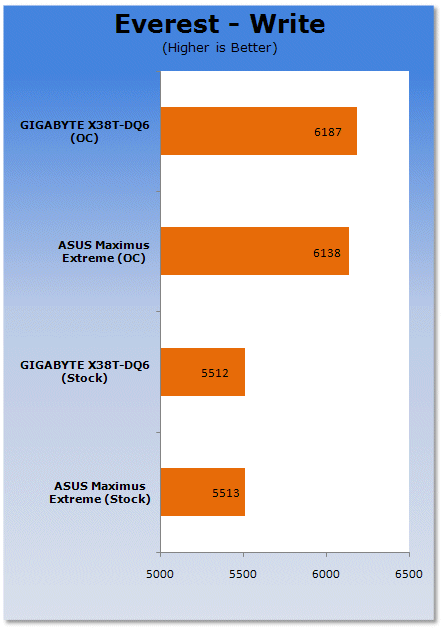 At stock speeds we see no difference between the two boards. When overclocking takes over we see a slight rise from the GIGABYTE board with only a marginal FSB increase over the ASUS Maximus Extreme.
Benchmarks - PCMark05
PCMarkVersion and / or Patch Used:
1.2.0
Developer Homepage:
http://www.futuremark.com
Product Homepage:
http://www.futuremark.com/products/pcmark04/
Buy It Here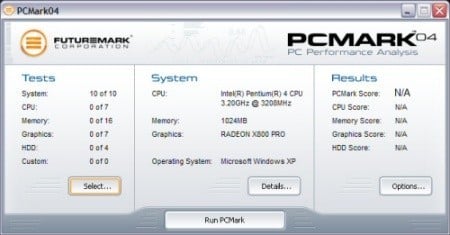 PCMark is a multipurpose benchmark, suited for benchmarking all kinds of PCs, from laptops to workstations, as well as across multiple Windows operating systems. This easy-to-use benchmark makes professional strength benchmarking software available even to novice users. PCMark consists of a series of tests that represent common tasks in home and office programs. PCMark also covers many additional areas outside the scope of other MadOnion.com benchmarks.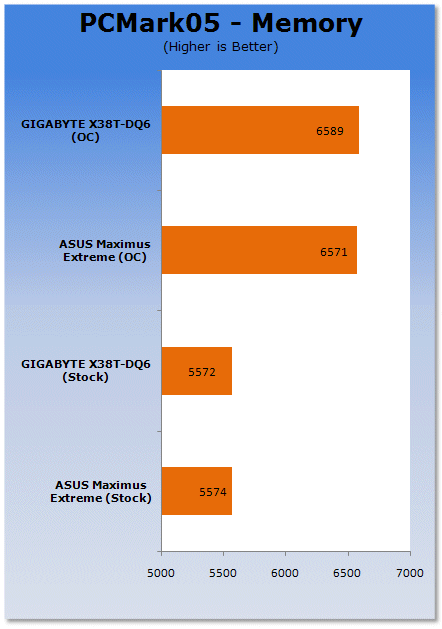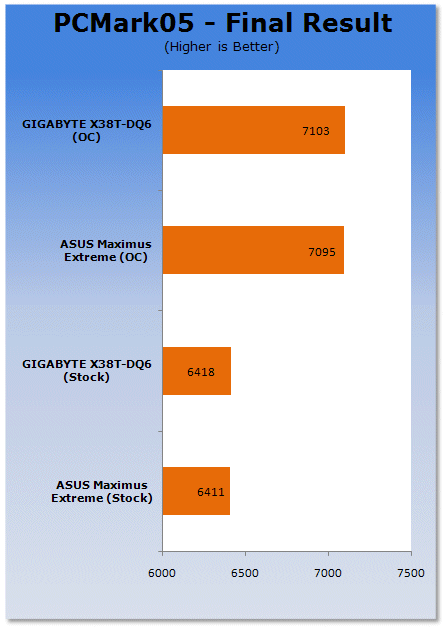 PCMark05 shows us some similar results in that we see stock scores right on top of each other; GIGABYTE only manages a slight win in overclocked scores.
Benchmarks - Adobe Premiere Elements 3.0
Adobe Premiere Elements 3.0Version and / or Patch Used:
3.0
Developer Homepage:
http://www.adobe.com
Product Homepage:
http://www.adobe.com/products/premiereel/
Buy It Here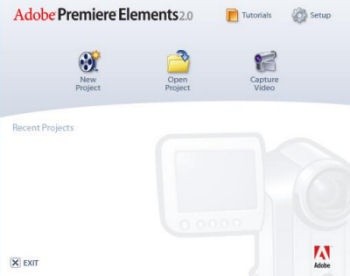 Our test with Adobe Premiere Elements 2.0 is performed with a raw two hour AVI file. It is then compressed into DivX format using the latest version codec. We measure the time it takes to encode and then record CPU usage.
Premiere Elements shows stock results all at the same level, but only a slight lead to GIGABYTE on the overclocked front.
Benchmarks - HDD Performance
HD TachVersion and / or Patch Used:
3.0.1.0
Developer Homepage:
http://www.simplisoftware.com
Product Homepage:
http://www.simplisoftware.com/Public/index.php?request=HdTach
Buy It Here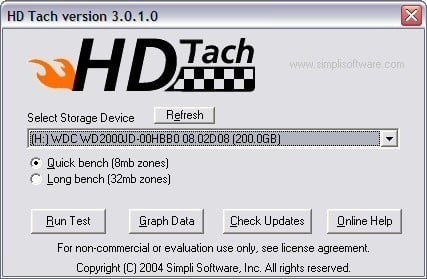 HD Tach has been around for a long time and is excellent when it comes to testing hard drive performance. It is also a very handy program when it comes to testing the controller used on particular motherboards. Tests such as Read, CPU Utilization and Burst are available at a click of the button and give you a good idea of how the hard drive can perform from system to system.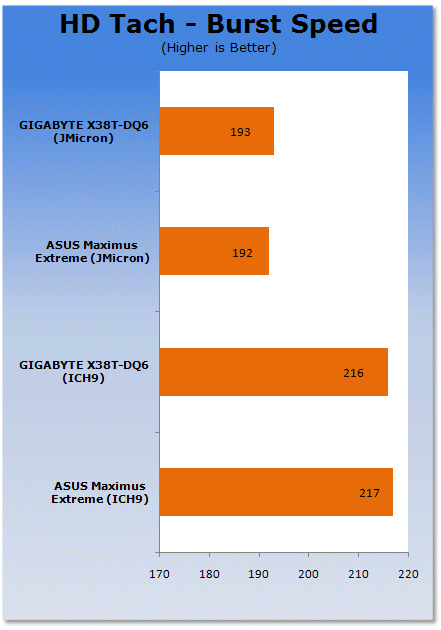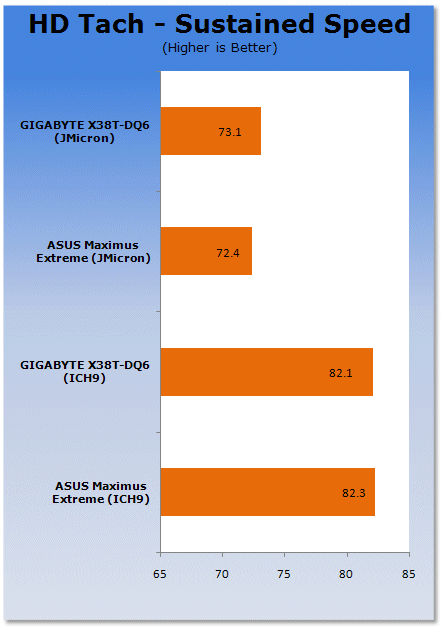 Thanks to the same onboard controllers for both the Southbridge driven SATA and the PCI-E SATA we see identical scores across the two platforms.
Benchmarks - 3DMark06
3DMark06Version and / or Patch Used:
1.1.0
Developer Homepage:
http://www.futuremark.com
Product Homepage:
http://www.futuremark.com/products/3dmark06/
Buy It Here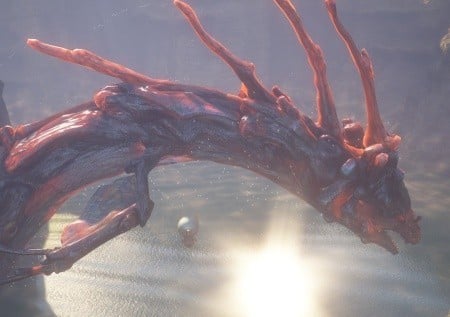 3DMark06 is the very latest version of the "Gamers Benchmark" from FutureMark. The newest version of 3DMark expands on the tests in 3DMark05 by adding graphical effects using Shader Model 3.0 and HDR (High Dynamic Range lighting) which will push even the best DX9 graphics cards to the extremes.
3DMark06 also focuses on not just the GPU but the CPU using the AGEIA PhysX software physics library to effectively test single and Dual Core processors.
GIGABYTE only manages to gain the lead when overclocked. At stock speeds both are equal.
Benchmarks - Prey
PreyVersion and / or Patch Used:
1.2
Timedemo or Level Used:
Hardware OC Demo
Developer Homepage:
http://www.humanhead.com
Product Homepage:
http://www.prey.com
Buy It Here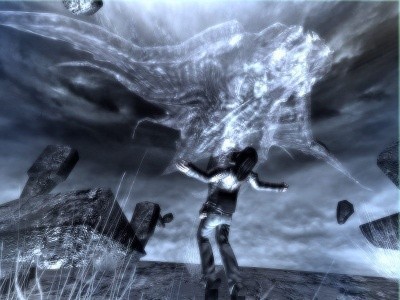 Prey is one of the newest games to be added to our benchmark line-up. It is based off the Doom 3 engine and offers stunning graphics passing what we've seen in Quake 4 and does put quite a lot of strain on our test systems.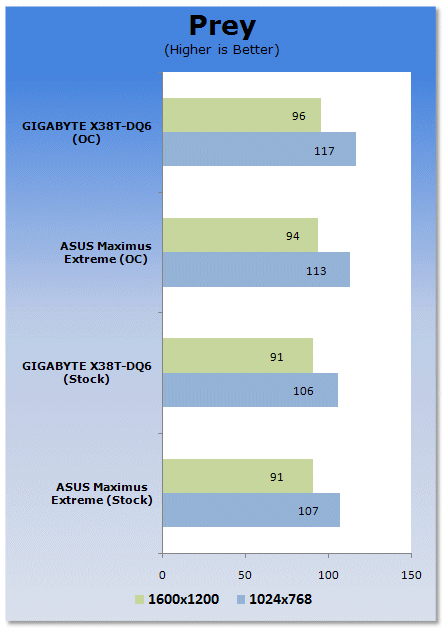 In Prey we see hardly any difference between the two boards at stock and overclocked.
Benchmarks - Battlefield 2142
Battlefield 2142Version and / or Patch Used:
1.25
Timedemo or Level Used:
Custom Timedemo
Developer Homepage:
http://www.dice.se/
Product Homepage:
http://www.battlefield.ea.com/battlefield/bf2142/
Buy It Here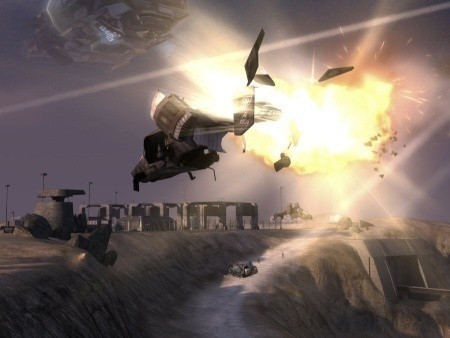 In Battlefield 2142, players choose to fight for one of two military superpowers - the European Union or the newly formed Pan Asian Coalition -in an epic battle for survival.
Armed with a devastating arsenal of hi-tech weaponry, including assault rifles, cloaking devices and sentry guns, players will also take control of the most lethal vehicles known to man. Massive Battle Walkers wage fierce combat on the ground, while futuristic aircraft rule the skies. When taking on this futuristic armor players will need to use their wits and an arsenal of new hi-tech countermeasures like EMP grenades and smart mines to level the playing field.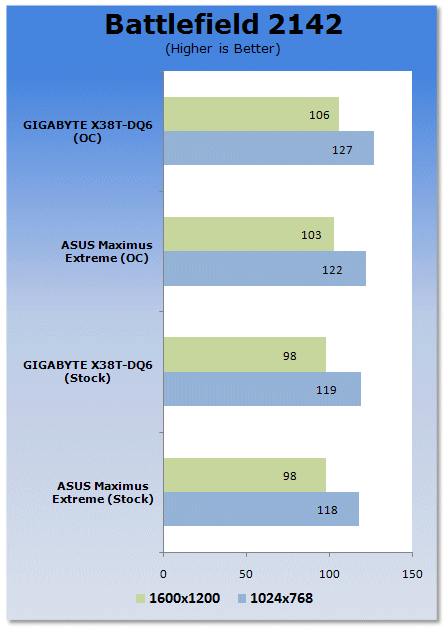 Battlefield 2142 doesn't show much gap between the two boards either.
Benchmarks - Far Cry
Far CryVersion and / or Patch Used:
1.3
Timedemo or Level Used:
Benchemall Default Demo(
download here
)
Developer Homepage:
http://www.crytek.com
Product Homepage:
http://www.farcrygame.com
Buy It Here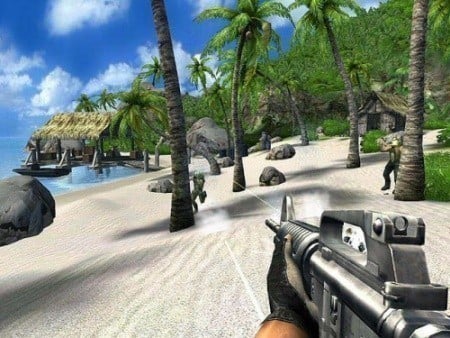 While Far Cry is now one of our older benchmarking games, it is still able to put pressure on most computers systems as it is able to utilize all parts of the system. Utilizing PS2.0 technology with the latest versions supporting Shader Model 3.0 with DX9c and offering an exceptional visual experience, there is no denying that even some of the faster graphics cards get a bit of a workout.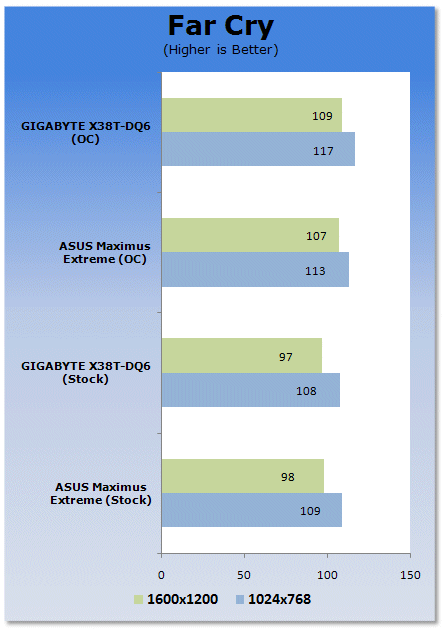 Lastly, we see no difference at stock and only a very small rise to the GIGABYTE at overclocked speeds.
Power Consumption Tests
Power Consumption
We are now able to find out what kind of power is being used by our test system and the associated graphics cards installed. Keep in mind; it tests the complete system (minus LCD monitor, which is plugged directly into an AC wall socket).
There are a few important notes to remember though; while our maximum power is taken in 3DMark06 at the same exact point, we have seen in particular tests the power being drawn as much as 10% more. We test at the exact same stage every time; therefore tests should be very consistent and accurate.
The other thing to remember is that our test system is bare minimum - only a 7,200RPM SATA-II single hard drive is used without CD-ROM or many cooling fans.
So while the system might draw 400 watts in our test system, placing it into your own PC with a number of other items, the draw is going to be higher.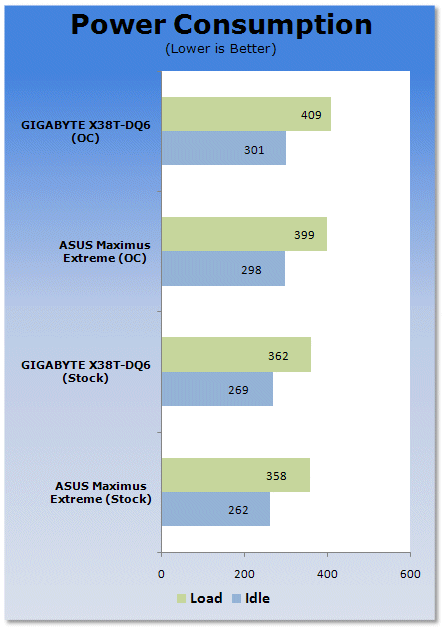 Due to having four extra power phases in use, GIGABYTE's power usage is slightly higher than the ASUS board at both stock and overclocked speeds.
Final Thoughts
X38 based motherboards are soon to take a nose dive in price since the chipset is due to be replaced as the enthusiast offering by the X48 which we have already managed to get our hands on and test in both DDR2 and DDR3 flavours. Overclocking on these boards has shown drastic improvements by passing 550MHz FSB at these early BIOS stages, and we are soon to see more.
GIGABYTE's X38T-DQ6 may be a good board in a few months; with a new revision we should see DES come into the fray to reduce power consumption when at low CPU loads, as well as a price drop because of the introduction of the X48. However, at this late stage of the X38/X48 crossover, it's hard to recommend many X38 boards unless they are cheap.
On the whole, GIGABYTE has done a good job, but if you're after all the features on the X38T board I would advise the wait till X48T-DQ6 hits with its DES and possible further push on overclocking. We may see a new king soon.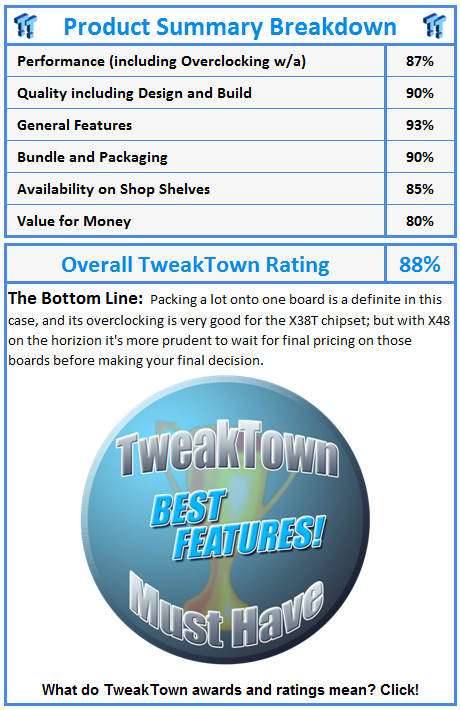 PRICING: You can find products similar to this one for sale below.
United States: Find other tech and computer products like this over at Amazon.com
United Kingdom: Find other tech and computer products like this over at Amazon.co.uk
Australia: Find other tech and computer products like this over at Amazon.com.au
Canada: Find other tech and computer products like this over at Amazon.ca
Deutschland: Finde andere Technik- und Computerprodukte wie dieses auf Amazon.de
We openly invite the companies who provide us with review samples / who are mentioned or discussed to express their opinion. If any company representative wishes to respond, we will publish the response here. Please contact us if you wish to respond.