PNY DDR2 XLR8 PC2-9384 2GB Memory Kit
PNY really push the boundaries of DDR2 with this 1173MHz kit. Read on to see if it performs as expected.
Published Sat, Jan 5 2008 11:00 PM CST
|
Updated Fri, Sep 18 2020 10:50 PM CDT
Rating:

85%
Manufacturer: PNY
Introduction

DDR2 certainly isn't dead yet; it's clear that there is still a lot of demand for DDR2 modules even though DDR3 is now bedding itself into the market as the new performance choice. AMD's dependency on DDR2 is quite well known as AMD integrates its memory controller directly into its CPU; a new CPU, Socket and board are all required for a memory upgrade. While this is an extreme handicap for the AMD upgrade path, its does have one distinct advantage. Any CPU to memory access times are greatly reduced, in fact the CPU has direct access to memory rather than having to go through a slow FSB, this allowing it to excel in memory tasks using DDR2 where Intel needs higher speed memory to make up for it. AMD can get away with using lower speed memory and doing the same amount of memory calculations.
Intel has the upgrade path under its belt. The memory controller sits on the Northbridge chipsets, and like it has done for the past 10 years all CPU to memory transactions have to go along the FSB to the Northbridge chipset then through the memory bus and back again. This does incur quite a bit of latency; however, the upgradeability for Intel users is extremely flexible. If you're still using an old 500 series LGA775 Pentium 4 CPU or even a Celeron-D processor, the latest X38 motherboard and DDR3 memory are usable to you.
DDR2 is sticking around mostly because of AMD; while AM3 is on its way, it's still a fair way off, and the way AMD do launches these days it will be delayed months before we even seen the AM3 socket. Intel still supports DDR2 quite readily, and even X38 and upcoming X48 motherboards will both have DDR3 and DDR2 memory controllers as options on select boards, so you still have the flexibility there depending on what board you get.
Today we are testing out another somewhat unknown company to us; while we have heard of PNY before, we haven't seen them in the extreme memory range which they are pushing for today with the new PC2-9384 DDR2 memory kit we have been sent. Let's see just what it has in store for us.
The Modules
PNY XLR8 PC2-9384 Modules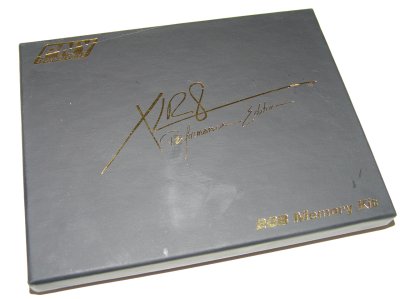 PNY's new memory modules go under the XLR8 (Accelerate) naming scheme. There are currently five kits available in the XLR8 range, all of them 2GB Dual Channel Kits. They range from PC2-6400 (DDR2-800) to PC2-9384 (DDR2-1173). The kits come in a black two piece hardened case made from cardboard; the top comes up to reveal the memory encased in a plastic blister inside which easily comes apart.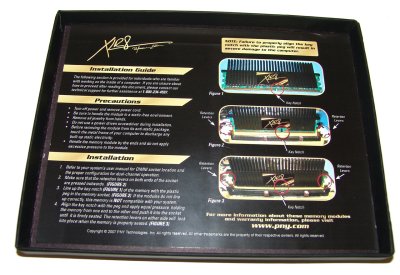 On the back of the top lid there is a bit of information on the modules and instructions on how to install the memory modules onto a motherboard. It's all subjective info, you need to locate the slots on your own board but they may not be colour coded like the ones in the PNY pictures, though the basic principal is there and still rather helpful.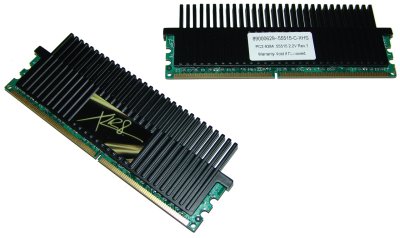 Removing the modules from the blister pack we get to see them in all their glory. For a company that's more so into generic products rather than enthusiast level hardware, the XLR8 modules have that extra look and feel about them which makes us take them seriously. The heatsink included on the modules is a full raised design with extended passive cooling fins that stick up well above the modules, this helps to move case air flow across them to cool the modules down more efficiently.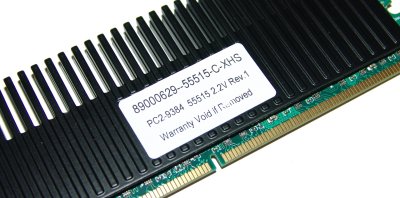 On one side of each of the two modules is a sticker. This sticker has some basic information on the module including the model number, series number, speed, timings and voltage ratings. The kit we receieved was a PC2-9384 kit which translates to DDR2-1173 or a core speed of 586MHz, which if your board can support it you should see 586MHz in CPU-Z, though this depends on a lot of other factors too. The modules are designed to run 5-5-5-15 and at 2.2v without voiding the warranty of the memory. 2.2v is more than enough to overclock most memory, but if you want to go higher and try your luck you can, just be aware that your warranty is null and void above 2.2v.
Overclocking
Overclocking the PNY XLR8
Our overclocking results were pretty impressive. With our limited testing period using these modules we managed to hit 550MHz with timings of 5-5-5-15 at only 2.0v. With more tweaking and a little more voltage I don't doubt that we could have hit the 590MHz area with these modules. We found if we slammed the speeds straight up there it would simply die, but moving up in steps the modules kept going and going, allowing us to slowly move towards our target.
Important Editor Note: Our maximum overclocking result is the best result we managed in our limited time of testing the motherboard. Due to time constraints we weren't able to tweak the motherboard to the absolute maximum and find the highest possible FSB, as this could take days to find properly. We do however spend at least a few hours overclocking every motherboard to try and find the highest possible overclock in that time frame. You may or may not be able to overclock higher if you spend more time tweaking, or as new BIOS updates are released. "Burn-in" time might also come into play if you believe in that.
Test System Setup and Everest
Test SystemProcessor
: Intel Core 2 Quad QX6700 @ 3GHz (9x333MHz)
Motherboard
: GIGABYTE P35-DQ6 (Supplied by
GIGABYTE
)
Hard Disk
: 1TB Seagate 7200.11 (Supplied by
Seagate Australia
)
Graphics Card
: MSI GeForce 8800GTS 640MB (Supplied by
MSI
)
Cooling
: GIGABYTE 3D Galaxy II (Supplied by
GIGABYTE
)
Operating System
: Microsoft Windows XP SP2
Drivers
: Intel INF 8.3.1.1009, Forceware 163.21
Our test system makes use of the P35 chipset on GIGABYTE's P35-DQ6. We use this board over the X38 as we have found it to overclock more readily than the X38 FSB since it runs cooler. We compared the XLR8 modules to our Geil reference memory which has managed to break the 1200MHz DDR2 barrier.
We clocked the Geil down to 550MHz for comparison in our overclocked tests where it used the exact same 5-5-5-15 timings, so it will be interesting to see how they both fair side by side. Our stock speeds were down with a DDR2-800MHz setting in BIOS and the timings wound down as low as possible too. The Geil managed 4-4-3-12 and the XLR8 at 4-4-4-12.
EVEREST Ultimate EditionVersion and / or Patch Used:
2006
Developer Homepage:
http://www.lavalys.com
Product Homepage:
http://www.lavalys.com
Buy It Here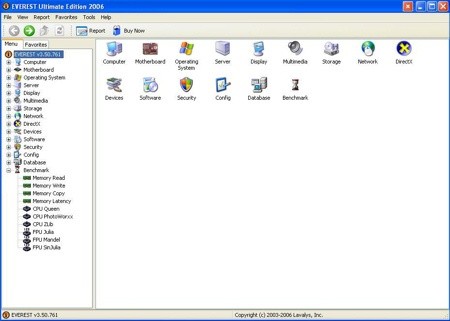 EVEREST Ultimate Edition is an industry leading system diagnostics and benchmarking solution for enthusiasts PC users, based on the award-winning EVEREST Technology. During system optimizations and tweaking it provides essential system and overclock information, advanced hardware monitoring and diagnostics capabilities to check the effects of the applied settings. CPU, FPU and memory benchmarks are available to measure the actual system performance and compare it to previous states or other systems.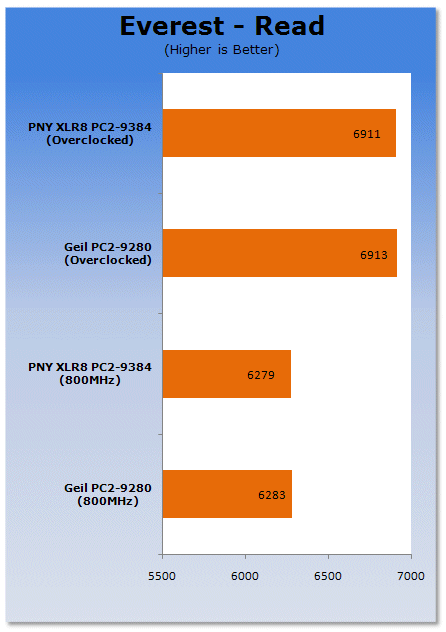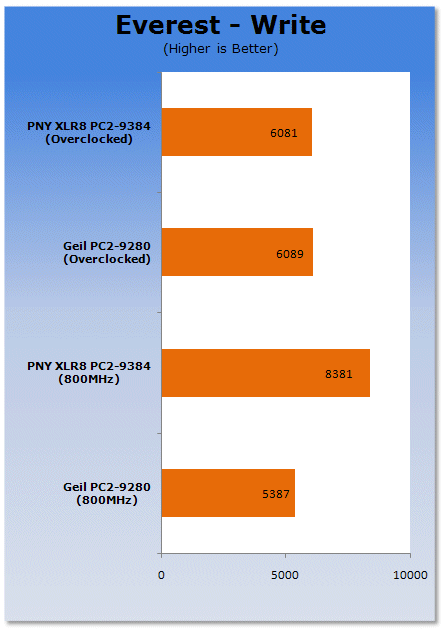 At stock speeds both modules perform almost identically, the Geil is just able to gain a few extra points. At overclocked we see both perform on par.
Benchmarks - PCMark05
PCMarkVersion and / or Patch Used:
1.2.0
Developer Homepage:
http://www.futuremark.com
Product Homepage:
http://www.futuremark.com/products/pcmark04/
Buy It Here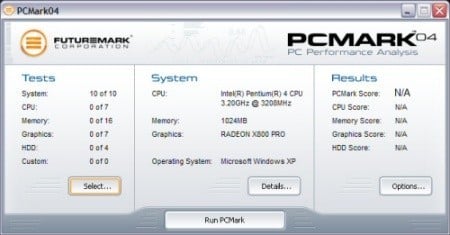 PCMark is a multipurpose benchmark, suited for benchmarking all kinds of PCs, from laptops to workstations, as well as across multiple Windows operating systems. This easy-to-use benchmark makes professional strength benchmarking software available even to novice users. PCMark consists of a series of tests that represent common tasks in home and office programs. PCMark also covers many additional areas outside the scope of other MadOnion.com benchmarks.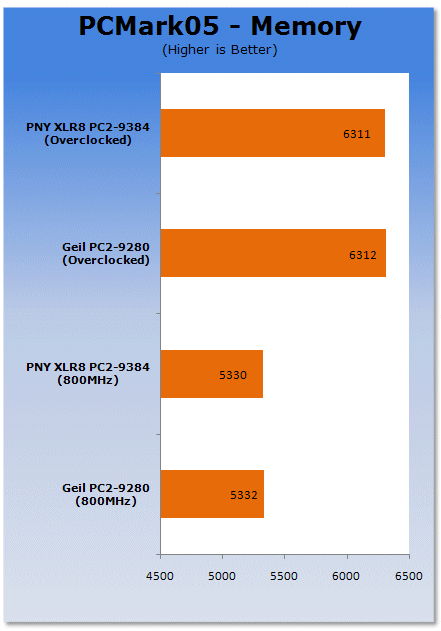 PCMark05 shows the same trend as Everest.
Benchmarks - Adobe Premiere Elements 3.0
Adobe Premiere Elements 3.0Version and / or Patch Used:
2.0
Developer Homepage:
http://www.adobe.com
Product Homepage:
http://www.adobe.com/products/premiereel/
Buy It Here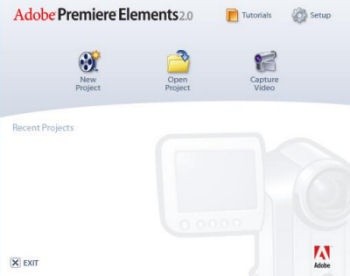 Our test with Adobe Premiere Elements 3.0 is performed with a raw two hour AVI file. It is then compressed into DivX format using the latest version codec. We measure the time it takes to encode.
Premiere Elements shows almost identical scores across the board at stock and overclocked speeds.
Benchmarks - ScienceMark
ScienceMark 2.0
ScienceMark 2.0 is a mathematical program designed to stress the memory subsystems of both desktop/workstation and server environments to determine the read/write latency as well as the overall memory bandwidth available between the CPU and the memory controller.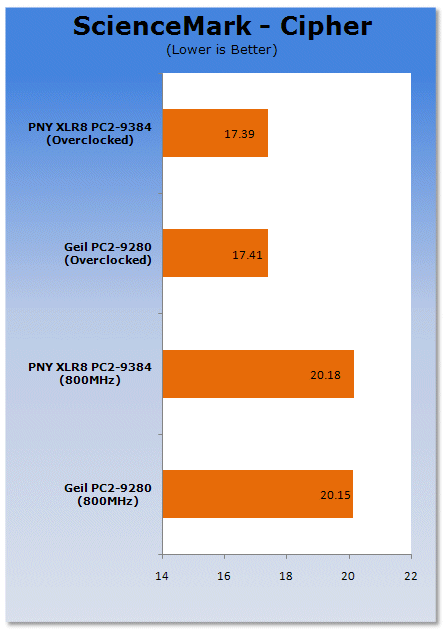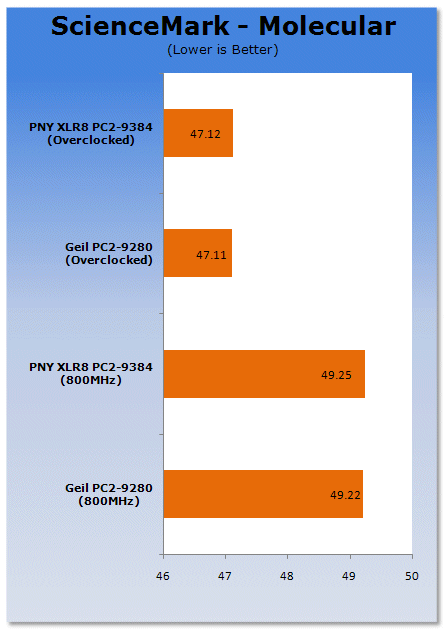 The lower latencies of the Geil at 800MHz put it just in front of the PNY. At overclocked speeds both perform identical.
Benchmarks - Prey
PreyVersion and / or Patch Used:
1.2
Timedemo or Level Used:
Hardware OC Demo
Developer Homepage:
http://www.humanhead.com
Product Homepage:
http://www.prey.com
Buy It Here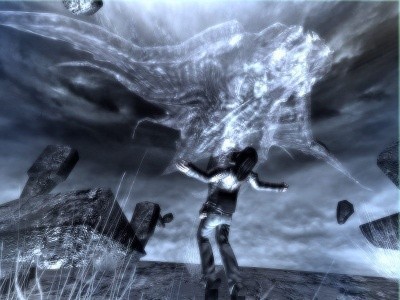 Prey is one of the newest games to be added to our benchmark line-up. It is based off the Doom 3 engine and offers stunning graphics passing what we've seen in Quake 4 and does put quite a lot of strain on our test systems.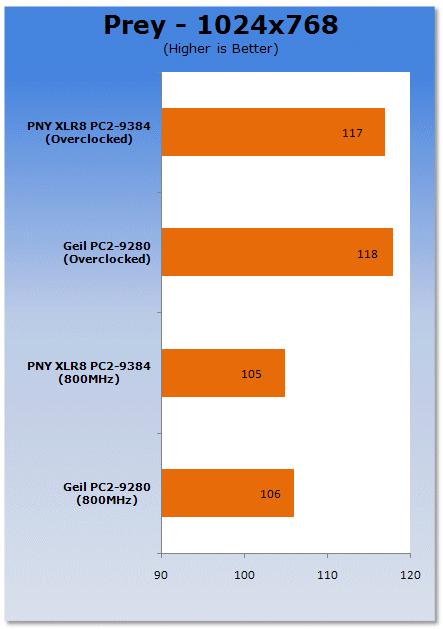 Pushing into the gaming side of things we don't see any benefit from either memory here. Both perform identical to each other in both stock and overclocked tests.
Benchmarks -Battlefield 2142
Battlefield 2142Version and / or Patch Used:
1.25
Timedemo or Level Used:
Custom Timedemo
Developer Homepage:
http://www.dice.se/
Product Homepage:
http://www.battlefield.ea.com/battlefield/bf2142/
Buy It Here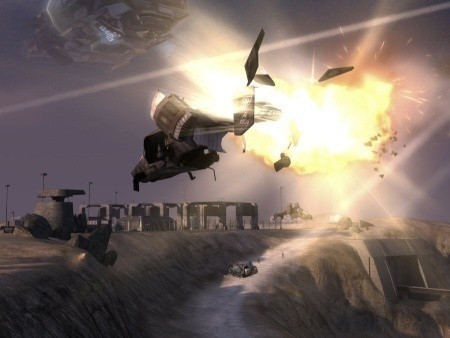 In Battlefield 2142, players choose to fight for one of two military superpowers - the European Union or the newly formed Pan Asian Coalition -in an epic battle for survival.
Armed with a devastating arsenal of hi-tech weaponry, including assault rifles, cloaking devices and sentry guns, players will also take control of the most lethal vehicles known to man. Massive Battle Walkers wage fierce combat on the ground, while futuristic aircraft rule the skies. When taking on this futuristic armor players will need to use their wits and an arsenal of new hi-tech countermeasures like EMP grenades and smart mines to level the playing field.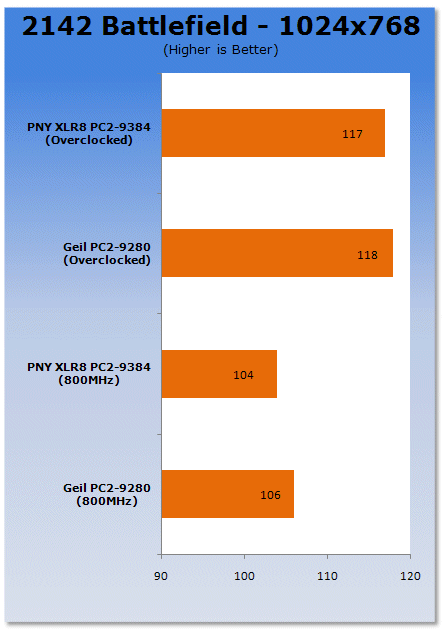 In our last gaming test we see that the PNY falls only a couple of FPS behind at stock speeds. At overclocked speeds both are equaled out again.
Final Thoughts
Another day, another DDR2 kit manages to come along and impress us. While we are leaning towards DDR3 as the future memory of choice, DDR2 still has its place. While clock speeds aren't going up anymore we are seeing higher density memory coming out which also clocks higher, runs at lower latencies and consumes less power to do its job, which is where the technology should now start heading.
AMD's Athlon 64 AM2 series are all DDR2 dependant, so its good to see that companies haven't given up on this memory standard; until AMD goes AM3 (who knows when that will launch) DDR2 still has a vital role to play.
PNY has done a great job on the XLR8 PC2-9384 kit; its price is just about right, performance is spot on and with a little more time in our labs we could definitely squeeze even more speed out of them. We haven't topped them out and it's good to see that they have headroom to play with.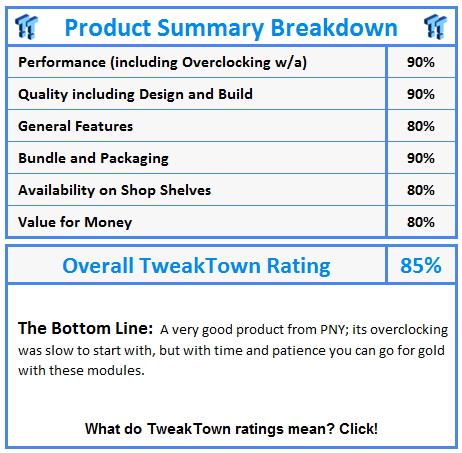 PRICING: You can find products similar to this one for sale below.
United States: Find other tech and computer products like this over at Amazon.com
United Kingdom: Find other tech and computer products like this over at Amazon.co.uk
Australia: Find other tech and computer products like this over at Amazon.com.au
Canada: Find other tech and computer products like this over at Amazon.ca
Deutschland: Finde andere Technik- und Computerprodukte wie dieses auf Amazon.de
We openly invite the companies who provide us with review samples / who are mentioned or discussed to express their opinion. If any company representative wishes to respond, we will publish the response here. Please contact us if you wish to respond.