Hitachi 2.5inch 200GB Notebook Upgrade Kit
Looking for an efficient way to boost your notebook's storage? This might be just the ticket.
Published Mon, Dec 31 2007 11:00 PM CST
|
Updated Fri, Sep 18 2020 10:50 PM CDT
Introduction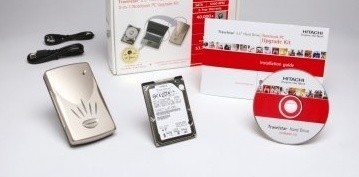 While we have mainly concentrated on the desktop market when it comes to hard drives, we must not forget the micro cousin which fills the notebook sector. Desktops are the primary mode for users of computers, but for the business user or those who want the Digital Notebook experience, some of the drives out there are too slow and have an extremely limited capacity; this is due to the power requirements of a notebook as well as the physical size constraints you're limited to.
Hitachi has come up with what looks to be one of the best ideas in the notebook storage market; an upgrade kit that includes a 2.5" Serial ATA hard disk which is what every new notebook along with some older ones on the market use. Designed to give you two hard disks in total, the new one is placed inside your notebook while the older one is installed into a USB powered 2.5" HDD enclosure and run through your USB ports; this giving you even more storage capacity.
Today we test out Hitachi's Notebook Upgrade Kit with 200GB capacity and a USB external enclosure included.
The Drive and its Companion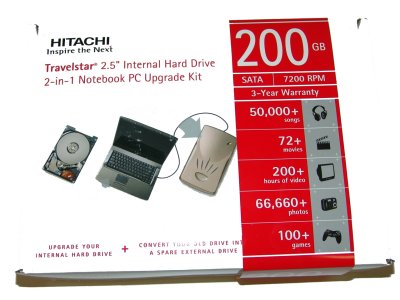 First off we take a look at the package. Hitachi has targeted this at the retail sector and is designed to be sold in stores like Tandy, Dick Smith and so on. This is a commercially available product that you should not only find in your local PC shop, but retail stores that sell PC's and PC components like K-Mart and such.
The package is white with a red band around it. The front has some basic info on what you can expect to gain from this product.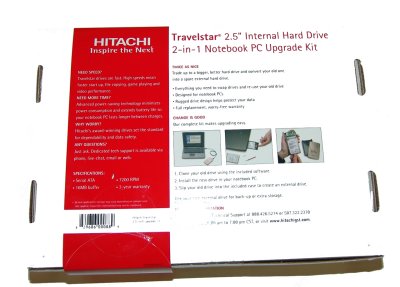 The back has some basic info on how to install the drive into your notebook as well as demonstrating how to install your old hard disk from your notebook into the external USB carry case, this allowing you to keep the data you originally had on it; or if you have transferred that over to the new drive then it allows you to format it and use it as a new storage unit. If your HDD in your laptop is sufficient and you don't want to upgrade it, you can simply put the 200GB HDD straight into the caddy and use it as the external drive; it's entirely up to you.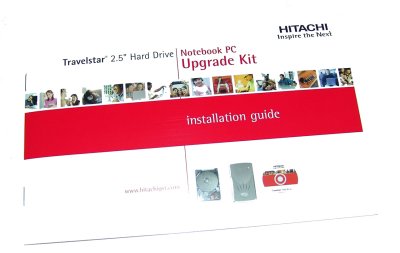 The user manual supplied gives you more detail on how to install the drive into your laptop. However, to locate the HDD and remove it you will need your notebook user manual to do this along with a few tools. If you're not confident of this, take it to a local PC shop where they can do this for you extremely easily.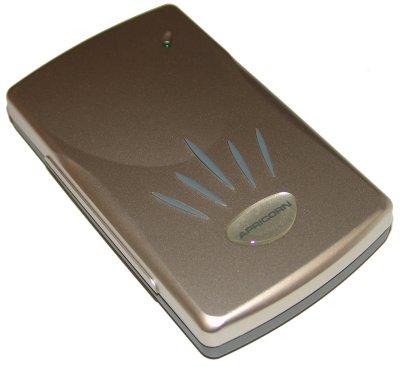 Creeping along, we come to the caddy that is included in the kit. It's a simple two-part plastic kit with a top and bottom; once you separate it there is a small PCB inside with SATA ports on it to connect either your old Laptop HDD or the one supplied in the kit, this depending on which way you want to go. If your notebook uses the older 44-pin IDE interface, you can't install the new HDD to your system or use the old one in the caddy. If you do want this kit, for these kinds of notebooks you will simply have to use the supplied drive in the caddy.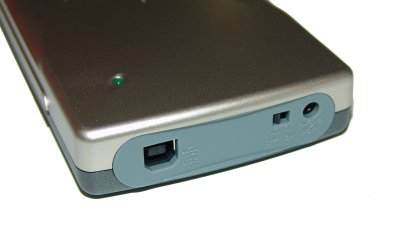 On the back of the unit there is a power input port, a single On/Off switch and a 4-pin USB port. Due to drive requirements you need to supply extra power to the caddy.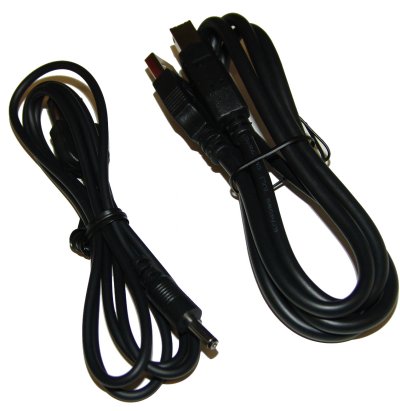 This is done though two USB cables, one has a USB port at one end to plug into the notebook with a power plug at the other end. The second USB cable that is supplied is the data cable with USB plugs at each end; in order to use this unit you need two USB ports spare on your notebook, one for power and one for data. This unfortunately will drain battery power a lot quicker.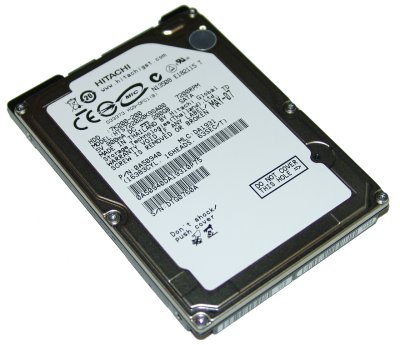 The drive that is packed in with the kit is Hitachi's latest notebook monster. It holds a total of 200GB of data. The thing that makes this drive particularly interesting is that it runs at 7200RPM which is the same as your standard desktop drive, and it comes with 16MB of cache memory which is also comparable to mid-range desktop drives.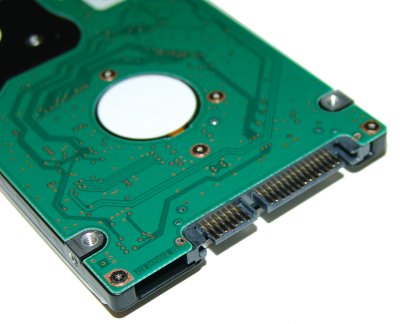 The drive's underside contains no exposed circuits; sandwiching them between the PCB and the bottom of the drive case keeps them out of harms way. The drive is part of the Serial ATA Generation 2.5 spec, meaning it supports the 3Gbps or 300MB/s Host to Buffer interface speed, this improving speed while reducing power over Parallel ATA designs. The drive only requires 5v in order to run, so it's even a good looking drive if you wanted to build a power conscious desktop or for users building Mini-ITX PC's on VIA's mATX boards.
Test System Setup and HD Tach
Test System
Processor
: Intel Core 2 Quad QX6700 @ 3GHz (9x333MHz)
Motherboard
: ASUS Maximus Extreme(Supplied by
ASUS
)
Memory
: 2x 1GB DDR2-1600 OCZ XMP (Supplied by
OCZ
)
Graphics Card
: MSI Geforce 8800GTS 640MB (Supplied by
MSI
)
Cooling
: GIGABYTE 3D Galaxy II (Supplied by
GIGABYTE
)
Operating System
: Microsoft Windows XP SP2
Drivers
: Intel INF 8.3.1.1009, Forceware 163.21
Our test platform remains unchanged from our Seagate 7200.11 Hard Disk review. We'll be including the Seagate drive's results in these tests using both the drive on the SATA bus as well as placing it in a SATA to USB HDD carrier. We also used the Western Digital 2.5" HDD we reviewed recently in both SATA and USB mode, and our Hitachi drive in both SATA and USB mode using the cradle. Both the WD 2.5 HDD and the Hitachi 2.5 HDD in the USB mode used the Hitachi supplied USB caddy.
HD TachVersion and / or Patch Used:
3.0.1.0
Developer Homepage:
http://www.simplisoftware.com
Product Homepage:
http://www.simplisoftware.com/Public/index.php?request=HdTach
Buy It Here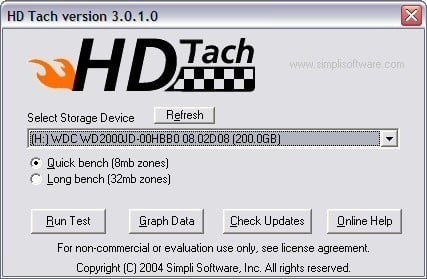 HD Tach has been around for a long time and is excellent when it comes to testing hard drive performance. It is also a very handy program when it comes to testing the controller used on particular motherboards. Tests such as Read, CPU Utilization and Burst are available at a click of the button and give you a good idea of how the hard drive can perform from system to system.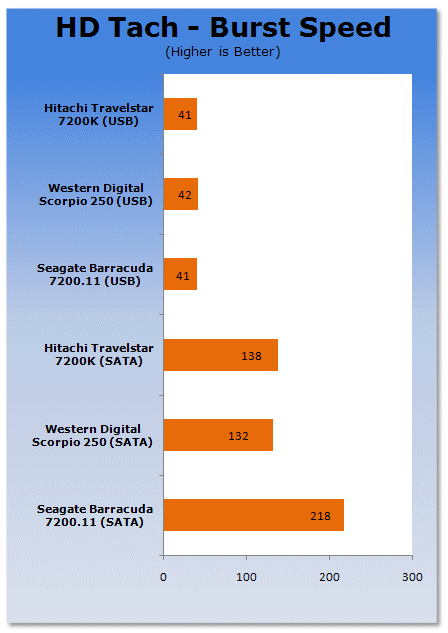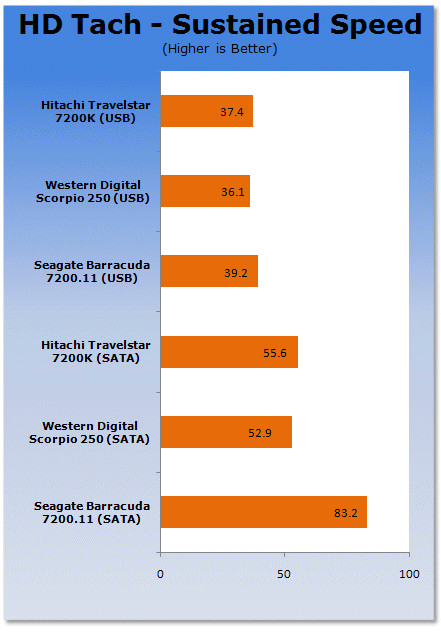 None of the drives are able to keep up with the power of the Seagate 7200.11 desktop drive; this is just put in there for reference to desktop technology. However, the Hitachi drive does manage to beat out the Western Digital drive by a few MB/s in Sustained Read. Both perform almost identically in Burst though. When it comes to the USB stages, both drives are identical; the USB is the limiting factor here, preventing both drives from performing at their peak.
Benchmarks - HD Speed
HD SpeedVersion and / or Patch Used:
x
Developer Homepage:
http://www.steelbytes.com
Product Homepage:
http://www.steelbytes.com/?mid=20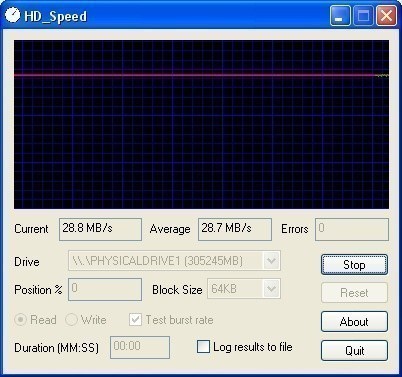 Measures both sustained and burst data transfer rates of your hard disks, cd/dvd-roms and floppy.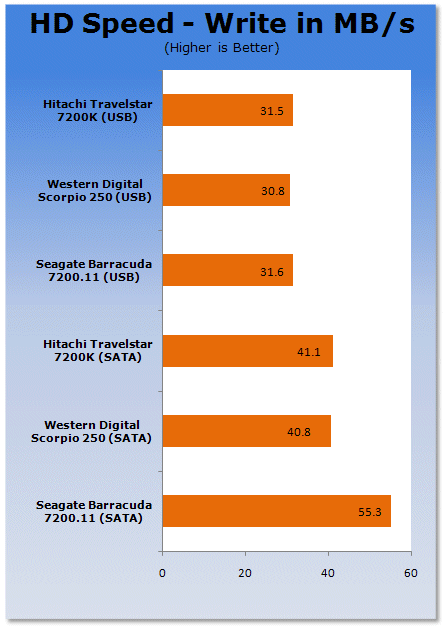 HD Speed gives the same results, the Hitachi drive just manages to beat out the Western Digital drive on the SATA bus, but both perform equal on the USB setup.
Benchmarks - DiskSpeed32
DiskSpeed32Version and / or Patch Used:
x
Developer Homepage:
http://www.geocities.com/vgrinenko/
Product Homepage:
http://www.geocities.com/vgrinenko/DiskSpeed32/
DiskSpeed32 is a program for hard drive speed measurement in Win32 environment. It measures reading speed in whole disk or its part and plots graphical dependence for reading speed by cylinder number. This allows to obtain comparable data not only for different drives, but also for the same disk under different Win32 implementation.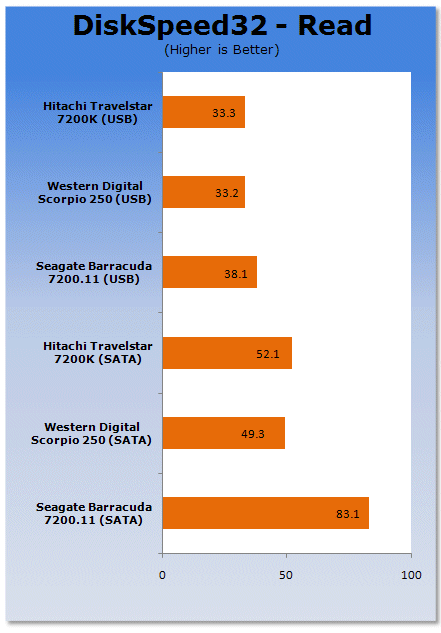 Coming into DiskSpeed32 we see that the Hitachi has lost a bit of ground here and only just manages to edge across the line in DiskSpeed32 on the SATA bus. Using USB, both run the exact same once again.
Benchmarks - HD Tune
HD TuneVersion and / or Patch Used:
2.54
Developer Homepage:
http://www.efdsoftware.com/
Product Homepage:
http://www.hdtune.com/>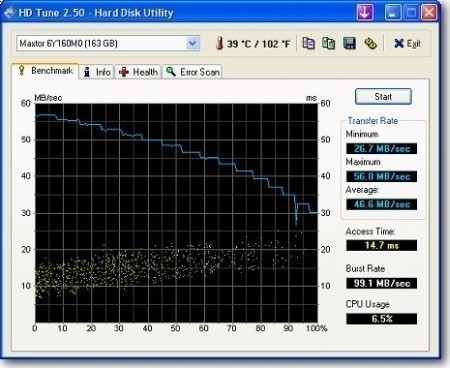 HD Tune is a Hard Disk utility which has the following functions:
- Benchmark: measures the performance
- Info: shows detailed information
- Health: checks the health status by using SMART
- Error Scan: scans the surface for errors
- Temperature display
HD Tune may also work with other storage devices such as memory cards, USB sticks, iPods, etc.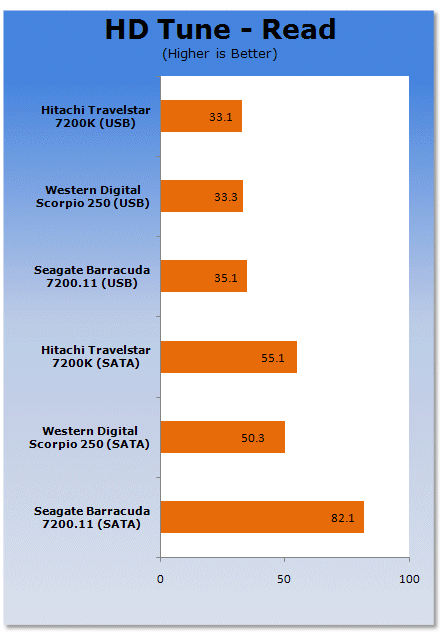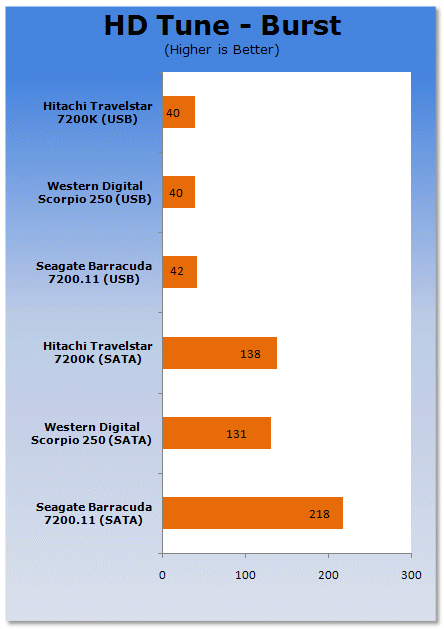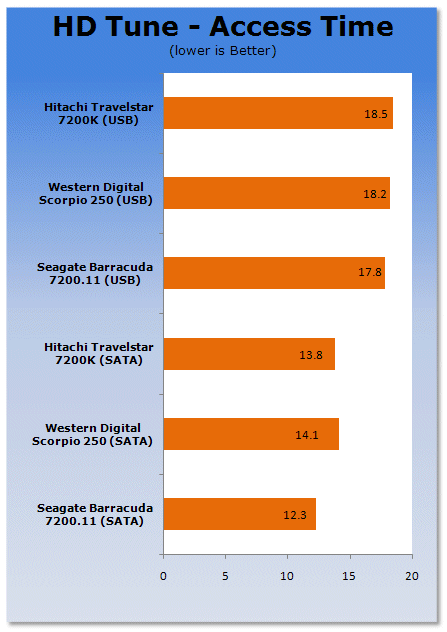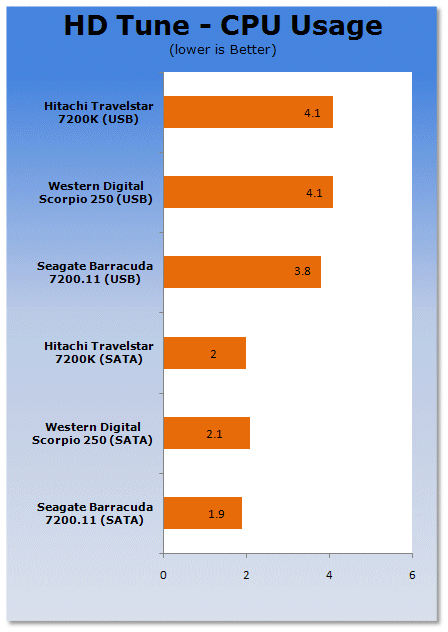 Moving into HD Tune we see Hitachi make up the ground here as it's able to process data quicker. The USB results we see here are almost identical for both drives; USB is definitely not the greatest standard for mass storage drives like HDDs as they tend to be extremely limited by it. e.SATA is a more preferred method, and it shouldn't be long before we see notebooks with this interface.
Benchmarks - Adobe Premiere Elements 3.0
Adobe Premiere Elements 3.0Version and / or Patch Used:
3.0
Developer Homepage:
http://www.adobe.com
Product Homepage:
http://www.adobe.com/products/premiereel/
Buy It Here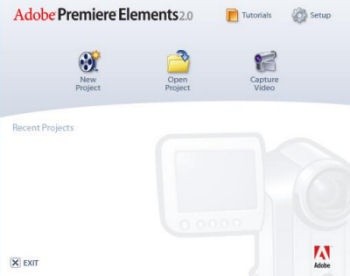 Our test with Adobe Premiere Elements 2.0 is performed with a raw two hour AVI file. It is then compressed into DivX format using the latest version codec. We measure the time it takes to encode and then record CPU usage.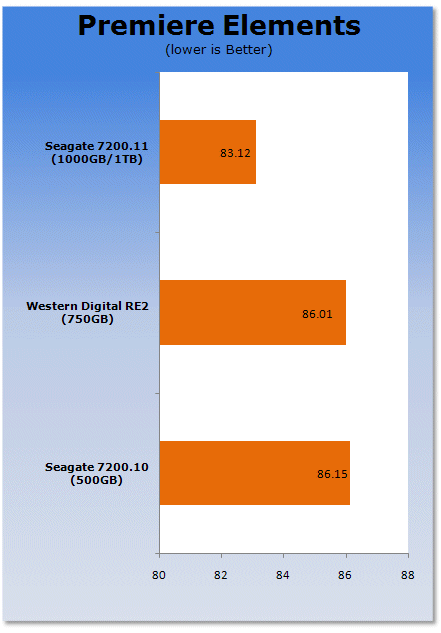 Premiere Elements is a real judge of character here, the Hitachi manages to shave a few minutes off encode times. When it comes to connecting the drives via USB, it's clear that USB connectivity isn't an option for this sort of work.
Final Thoughts
Hitachi hasn't been into hard disks as long as the likes of Seagate, Western Digital or Maxtor; in fact, it wasn't until Hitachi acquired IBM's engineers that their drives started to be a real power, and it's good to see that the performance of the IBM drives have managed to keep going whilst the reliability has improved. I think we all remember the old issues the Deskstar drives used to be plagued with, or as they quickly became referred to as "Deathstar" drives.
Hitachi has really put out a kit here which I think borders on the practical and extraordinary. In fact, it's hard to think of anyone else who sells a dual purpose notebook upgrade kit; normally it's a case of swapping out the old drive out for a new one and the old one becomes totally useless or redundant. Here Hitachi has catered to the fact that the drive can be used for another purpose, of if you so intend you can use the drive included in the kit and make an external drive straight out of it. The decision is there to be made by you.
Overall, the Hitachi drive performed beautifully for a 2.5" notebook drive; its noise level was almost non-existent, heat was extremely good and my overall impression was top notch.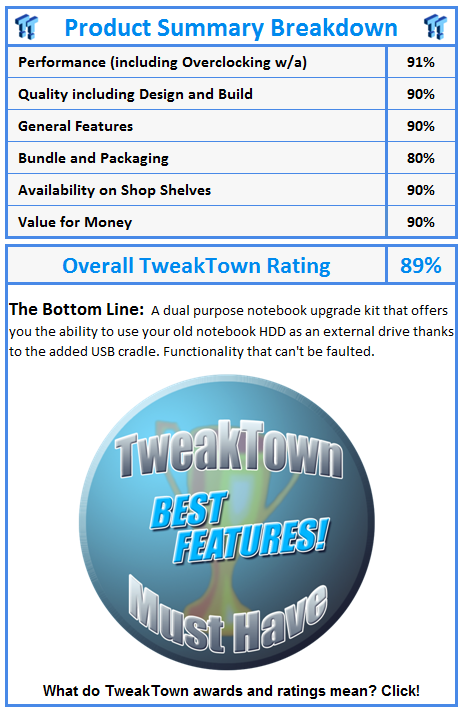 PRICING: You can find products similar to this one for sale below.
United States: Find other tech and computer products like this over at Amazon.com
United Kingdom: Find other tech and computer products like this over at Amazon.co.uk
Australia: Find other tech and computer products like this over at Amazon.com.au
Canada: Find other tech and computer products like this over at Amazon.ca
Deutschland: Finde andere Technik- und Computerprodukte wie dieses auf Amazon.de
We openly invite the companies who provide us with review samples / who are mentioned or discussed to express their opinion. If any company representative wishes to respond, we will publish the response here. Please contact us if you wish to respond.