LG Viewty KU990 3G 5MP Mobile Phone
We look at one of LG's latest feature-packed mobile phones with 5 Megapixel camera, 3G connectivity and DivX playback.
Published Mon, Nov 26 2007 11:00 PM CST
|
Updated Fri, Sep 18 2020 10:50 PM CDT
Introduction and Features
LG has gone from a relatively budget oriented player in the mobile phone market to a company that is something of a fashion icon alongside its Korean counterpart Samsung. The Chocolate and
Shine
ranges have been very successful for LG, but what we're looking at today has more akin with the
Prada
phone. The latest model from LG is the KU990 or Viewty is it's also known as. It corrects a lot of the shortcomings that the Prada phone suffered from, but it has some of its own which we'll bring up a bit later.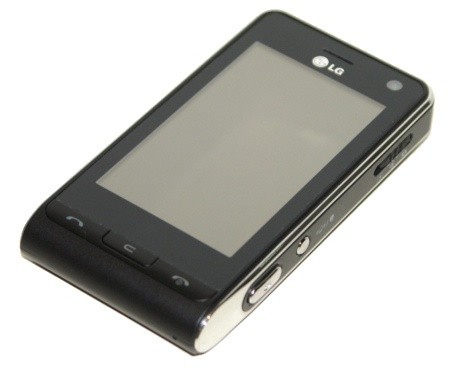 At first glance, the design of the Viewty isn't that different from the Prada phone as both have only three buttons on the front and a rather large LCD display. The UI also shares several common aspects with the Prada phone, but the two are quite different. For starters, the Viewty is quite a bit larger at 103.5 x 54.4 x 14.8 (HxWxD) compared to the Prada phone, and it weighs 27g more at 112g. It's still quite pocket friendly by all means, especially compared to many Windows Mobile devices which it is competing against in terms of what's on offer.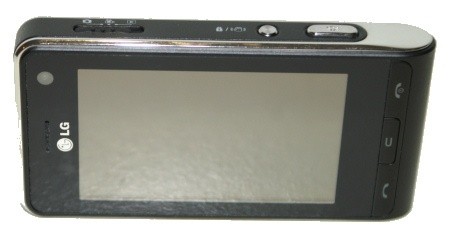 The touch screen is the same 3-inch, 400x240 resolution display as on the Prada phone and it can display up to 262,000 colours. But this isn't really the selling point of the Viewty, nor is the smartphone functionality a key selling point, as the main feature of the Viewty is the built in 5 Megapixel camera with autofocus, and as with the Prada it has a Schneider-Kreuznach certified lens. This is one of only a handful phones so far to feature a 5 Megapixel camera, but after having taken a few pictures with it and comparing to an almost three year old Pentax Optio WP, the short end of the stick is that it can't compete even with an old pocket camera.
A 100 percent crop at full jpeg quality from an outdoors shot at 5 Megapixels. You can clearly see that it suffers from a lot of image noise.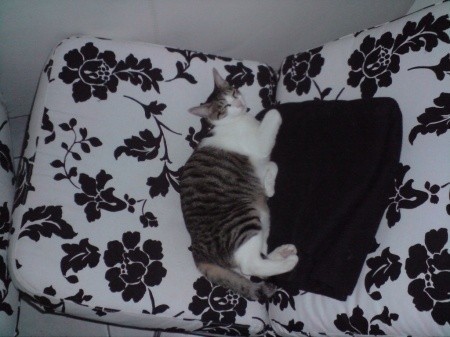 Click to enlarge
None the less it beats most other mobile phone cameras and it also offers a few interesting features such as the option for manual focusing and up to 16x digital zoom. The digital zoom is pretty much useless past 2x as the pictures become too pixelated to be of any real use. The oddest feature which ties in with the camera is the zoom controller, this also doubles up as the scroll wheel on the phone as this is a ring around the camera lens. This works ok in theory, but in practice it's way too easy to get your fingers in the way if you use the zoom.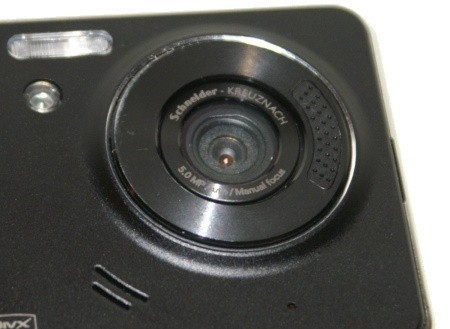 We have to say that the flash is rather good though, and there's even an autofocus light which is rarely seen on mobile phones but it doesn't make up for the otherwise rather poor photo quality. As you can see from the pictures, LG is touting the Image Stabilizer feature, although this is simply a "shake reducer" which is done by increasing the ISO setting; this means that you'll lower the quality and most likely get grainier pictures as an end result.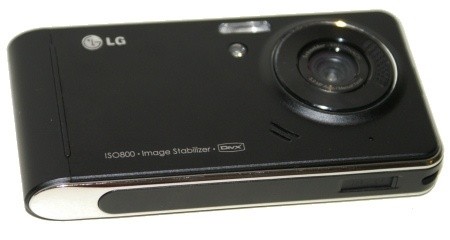 There are plenty of camera settings to go around, and interestingly enough the Viewty has a hardware slider on the right hand side that allows you to select between still shooting, video shooting and playback. The video mode has a funky feature which allows you to record video in 120fps, albeit at a mere 320x240 resolution. You might wonder what this would be good for; well, playback happens a lot slower which means that you get a slow motion video of whatever it was you recorded which can be kinda fun to play with.
It can of course record video at some rather more useful resolutions such as 640x480 and two wide options, 400x240 and 640x384. The video quality isn't outstanding, but the video mode sure is better than the camera mode. You can still use the digital zoom, although this will make the video quality look awful. You can of course use the front mounted camera as well (since this is a 3G handset, but we'll get to that in a second) which is good for self portraits, although it's limited to 320x240 or 176x144 resolution.
Features - Cont. and Software
Features (Cont.) and Software
Enough about the camera, let's take a closer look at what else is on offer here. The Viewty doesn't have a lot of external buttons and with the camera mode switch we can count to six. That's it, that's all you get. On the front there's a call and end call/power on/off button as well as a back/clear button. On the right hand side there's the camera shutter button, a key/screen lock button which also doubles up as an instant shake reduction button when the camera is in use and finally the camera mode slider.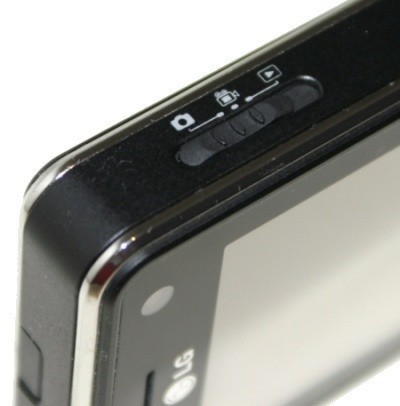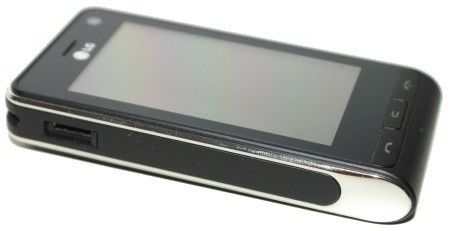 On the left hand side is a small sliding latch which reveals the headset/charger/USB port when opened. Above this is a lanyard fastener and at the top of the phone is a release button for the back. It's quite tricky to open the back, as it doesn't pop out quite enough to be easy to remove and it's made from very thin steel which makes it light and quite fiddly to remove. Once you've managed to open the back, you're greeted by a fairly standard 3.7V 1,000mAh Li-Ion battery and underneath it is the SIM-card holder. Just above the battery is a micro SD card slot, although you have to remove the battery to actually be able to access it, which is a pain if you want to swap your memory card.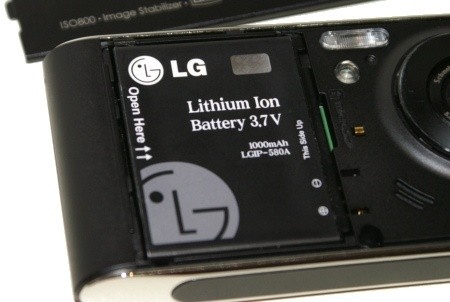 Internally we're looking at a fairly well specified handset with some 90MB of user accessible memory and what appears to be a fairly snappy processor, although we're not sure what it is or at what speed it's running since LG doesn't provide these kind of details. It works on GSM 900, 1800 and 1900MHz networks and it supports EDGE and GPRS. It also works on 2100MHz UMTS 3G networks and it supports HSDPA speeds of up to 3.6Mbps.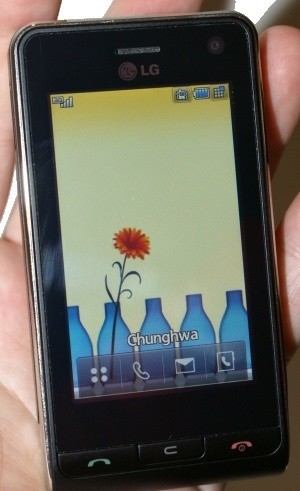 It also supports Bluetooth 2.0, but we weren't able to find out if this was with EDR support or not. The Viewty also has a built in FM radio, but as we didn't get the headset with the review unit, we were unable to test this. It doesn't have WiFi which is a shame, but you rarely get it all, so we're not going to make a big a deal out of it no matter how nice an inclusion it would've been.
The Viewty has a lot of software features and it has built in DivX support, something of a novelty on mobile phones. The only problem we had was that it wasn't happy playing any of the files we tested, possibly due to the resolution, but the only warning message we got was that the file wasn't supported even though several of the files we tested with would show a preview icon. It will also play back 3GP and MPEG4 files and we had some better success with some AVI files recorded with a Windows Mobile device as these played just fine.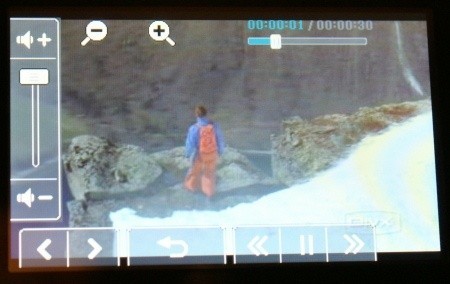 The built in music player handles AAC, eAAC, MP3 and WMA, but again we ran into problems with the Viewty not recognising over half of the tracks on the memory card we had stored them on. We're not sure why this is, as all the files have played fine on other handsets we've tried them with. LG has also integrated a wide range of Google features into the handset, but again it seemed like we weren't allowed to access Gmail due to some kind of a network tie-in, although Google maps worked quite well over a 3G connection. There's also support for Blogger and YouTube and depending on where you get this phone you might also get MSN or Yahoo messenger on it.
Software - Cont.
Software - Continued
What threw us a bit was the user interface, which in all extents is the same as the one on the Prada, except for one small thing; there's a new quick menu which consists of three by three icons which is accessed by sliding your finger to the left or right at the standby screen. This doesn't always give you access to the features you expect. For example, the Games and Apps menu had Google Mail and Google Maps under Games, while the only game on our review unit was under Games and Apps in the main menu. The Games and Apps menu that is accessed from the quick menu is actually called My Games and Apps and is different from the one you access from the main menu system; confusing or what?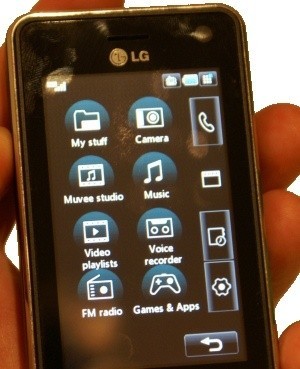 While on the subject, the built in game is called Space Commando and it is actually pretty good. It features some decent 3D graphics and it involves you shooting various bad guys by tapping different areas of the screen. The graphics aren't amazing, but better than many other phones. There's also a range of productivity applications such as an organiser, memo, a range of converters and a calculator as well as a web browser. For text input there are a few different options to choose between, although neither is great.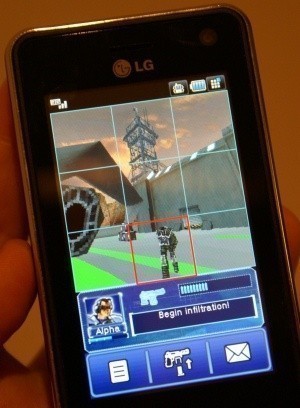 The first and most basic one is standard T9 or keypad input, which is slow and awkward on a touch screen device as you don't get much of a feedback despite the option to have the handset vibrate when you touch a key. The next is handwriting recognition which is available in two different modes, screen or box. The screen mode is pretty much freehand; write and it tries to recognise your words, it works fairly well but there's definitely room for improvement. The box mode gives you two boxes for increased speed and it interprets each letter which makes it quite slow and it throws up random letters from time to time.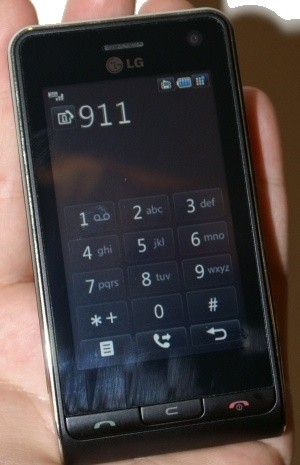 Our preferred mode of text entry is the virtual keyboard which flips the phone into landscape mode, and it works rather quite well. The clear button works as backspace and the space bar is located a bit odd at the bottom right hand corner, but it takes only a few seconds to get used to how it all works. The only problem is that LG has somehow missed out the apostrophe key and this has to be inserted as a special character which is a pain when you're typing, especially as they've managed to add easier ways of inserting greek symbols, we kid you not.
One pet hate has to be the way you use the zoom wheel around the camera as the scroll wheel when you're navigating menus. You have to use your left index finger to actually be able to scroll and the natural way would be that pushing the scroll wheel right would take you down in the menus, while pulling it left would make it go up; but alas, LG decided to make it go the opposite direction which feels very strange and 'backwards'. It's also an uncomfortable way of scrolling the menus and you can't access the scroll bar at all, since it doesn't have any real function apart from showing you where in the menu system you are.
It seems like LG has thrown together too many concepts into one device and missed out quite a lot when it comes to usability. This is sadly not uncommon with these kinds of devices, although in all fairness most of these niggles are things you can get used to and maybe you're happy with the things the way they are. But there are a couple of other issues that aren't as easy to forgive.
Conclusion
One of the biggest flaws is the scroll wheel, and here comes the real killer. Since this is apparently as much camera as it is phone, every time you use the scroll wheel you end up putting your greasy fingerprints on the lens as there's no lens protector. This means you end up having to clean the lens every single time you want to take a photo. We're also not so sure about the raised edge around the lens and the zoom ring/scroll wheel, as our review unit seemed to have taken a few knocks before we got it and the finish was already wearing thin on parts of the scroll wheel.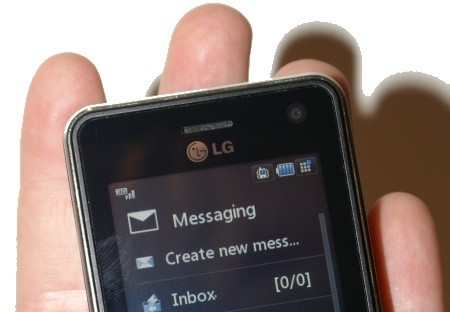 Having a protruding lens also means that the phone will rest on it when you put it down on a desk, which could possibly add further wear to the camera parts and even cause damage to the lens. We're not keen on this design and we think LG should go back to the drawing board for the next model and design something with a lens cover and move the scroll/zoom controls to the side of the device; having another button or two really isn't a big deal.
Another minor issue is that the Viewty isn't SDHC compatible, so you're limited to using 2GB memory cards. This might not be a big deal unless you want to take a lot of pictures and videos as well as being able to use the Viewty as your portable music and video player. You'll always have to compromise, but the lack of SDHC on a brand new device like this is quite frankly a bit odd.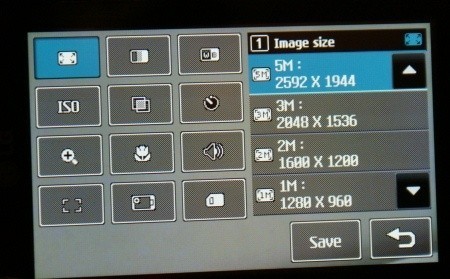 Battery life seemed to be decent with quoted talk times of 355 minutes on 2G, 233 on 3G and 138 minutes of video call time. The battery should last about 434h in standby on a 2G network and oddly enough up to 454h on a 3G network according to LG. The battery seemed to last ok during the time we had the phone, but it's always hard to assess battery life, though it compares pretty well with other similar devices.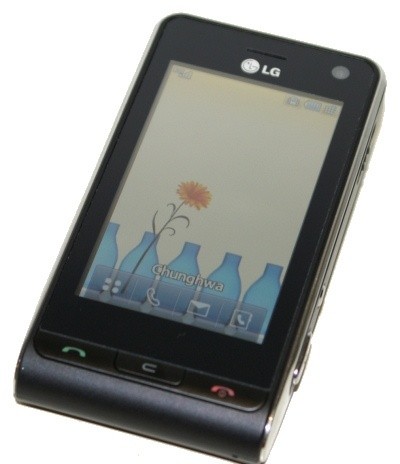 So is the Viewty a beauty or a beast? Well, it has some good features and it has some that are frustrating to use, but overall it's not a bad phone if you're looking for something out of the ordinary. LG needs to tweak the software a bit more to make it compatible with a wider range of files that it's supposed to support, and the UI could do with being tweaked a bit to remove some confusing options. But if you're looking for a stylish, albeit somewhat basic smartphone with one of the better mobile phone cameras out there, then this might be what you've been waiting for.
It seems to be limited to Europe and Asia at the moment and the final hurdle would be the price, although that is somewhat dependant on the deals your network offers. Without a contract you're looking at around $683 AU + tax converted from what Expansys sells it for in the UK, which is not terrible compared to say the Prada phone which the same company retails for about $552 AU + tax, and it compares quite well to what it is selling for in Taiwan which is $697 AU, although this includes tax.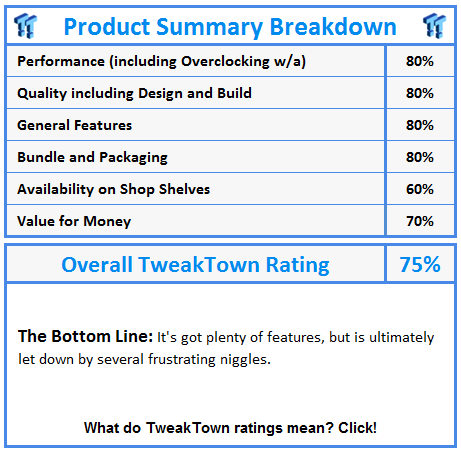 PRICING: You can find products similar to this one for sale below.
United States: Find other tech and computer products like this over at Amazon.com
United Kingdom: Find other tech and computer products like this over at Amazon.co.uk
Australia: Find other tech and computer products like this over at Amazon.com.au
Canada: Find other tech and computer products like this over at Amazon.ca
Deutschland: Finde andere Technik- und Computerprodukte wie dieses auf Amazon.de
We openly invite the companies who provide us with review samples / who are mentioned or discussed to express their opinion. If any company representative wishes to respond, we will publish the response here. Please contact us if you wish to respond.