Western Digital Scorpio 250GB 2.5inch HDD
Today we look at a large capacity Scorpio series 2.5" HDD from Western Digital which boasts excellent performance.
Published Wed, Oct 31 2007 11:00 PM CDT
|
Updated Fri, Sep 18 2020 10:50 PM CDT
Introduction
Notebooks and laptop PCs of late have become rivals to that of the desktop market. This holds true when you look at the specs of the new notebooks coming out. Processor power is hitting the 2.5 GHz mark, memory sizes are in excess of 1GB and mobile GPUs are comparable to that of the desktop as well. In fact, there are even some notebooks with SLI in them. With all these advancements there are still some parts lagging behind such as the audio side of things; and more importantly, storage solutions.
Laptops have one great disadvantage when it comes to the desktop segment, they are restricted in size. Who wants to lug around a heavy laptop computer? Not I. Processors are getting smaller in size, but frequencies go up, power requirements go down and heat dissipation gets better; this gives you more processing power at less voltage.
Memory modules are shrinking in physical size, but again the amount of memory per stick is increasing giving you even more power out of your PC. With the development of graphics technology getting better we start to see high-end graphics in tiny packages as well. The one thing that has its limitations is the storage.
Hard disks while getting larger in storage size can only go to a certain point with magnetic recording. You can only shrink the magnetic strips to a certain size before you start to encounter cohesion problems with the platters. Speed is another factor, in order for you to increase the rotation speed of a HDD you need to increase the voltage to the motors, which is another problem as laptops have limited battery life; the more speed the HDD has, the more voltage it will draw off the battery. More voltage also presents other problems such as heat. When you place more voltage into a device it's traded off as heat. Again, laptops have limited space for cooling, so everything has to fit within a fine tolerance.
Today we are testing out one of the newest HDDs to come out for the laptop market, Western Digital's Scorpio HDD with an amazing 250GB capacity, this being one of the largest 2.5" HDDs on the market.
Specifications
Specifications of the WD Scorpio 250GBModel Number
WD2500BEVS
Interface
Serial ATA 1.0a Protocol
Capacity
250GB
Cache Buffer Size
8MB
Platter Rotation Speed
5,400RPM
Latency
4.20 Average
Seek Time
12.0ms Read and Write
The Drive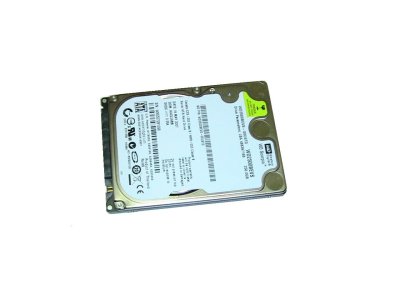 The Western Digital Scorpio looks just like any 2.5" laptop hard disk, there are no clear cases like the Raptor has, which being a laptop drive would be simply a mute point. The weight of the drive is slightly heavier to hold than our Seagate Momentus 5400.2 drive which is our current laptop test bed. While heavier it feels a lot stronger than the Seagate drive. The metal panels on the WD drive feel more solid in construction, whereas on the Seagate drive we are able to press in a bit on the metal.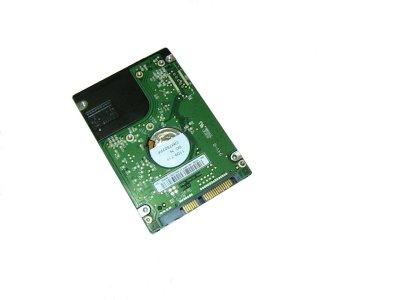 The under-belly of the drive is quite neat. In fact there are no circuits, chip or components at all above the surface of the PCB. Western Digital has placed them all on the PCB between the drive casing, keeping things smooth and simple which is especially a good thing in a laptop that may need to have a case around the drive as we don't want short outs.
The drive comes with a massive 8MB of cache memory, one of the largest caches available for the laptop market. While it can't beat the 32MB of the Deskstar 1TB drive, we aren't aiming at the super high-end here.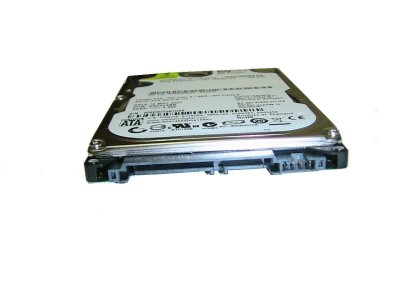 The interface for the Scorpio has moved form the 44-pin IDE interface we are accustomed to on the 2.5" drives to Serial ATA. Thanks to the smaller nature of Serial ATA data and power cables and the interface on the PCB itself, laptops can be designed with universal fit HDDs that don't need a cradle to install them into the system. The SATA data and power plugs can be incorporated into the motherboard PCB for a slot-in feel. It's simple, effective and eliminates the need for proprietary connectors.
Test System Setup and HD Tach
Test System
Processor
: Intel Core 2 Quad QX6700 @ 3GHz (9x333MHz)
Motherboard
: GIGABYTE P35-DQ6 (Supplied by
GIGABYTE
)
Memory
: 2x 1GB DDR2-1186 Geil (Supplied by
Geil
)
Graphics Card
: MSI GeForce 8800GTS 640MB (Supplied by
MSI
)
Cooling
: Stock Intel Cooler
Operating System
: Microsoft Windows XP SP2
Drivers
: Intel INF 8.3.1.1009, Forceware 163.21
Todays test system consists of a GIGABYTE P35 system that is normally used for our motherboard test bed, but we are going to be a bit different here. Our test drives comprise the Western Digital Scorpio 250GB, our Seagate Momentus 5400.3 160GB, the Hitachi Deskstar 7K1000 and our 500GB Seagate 7200.10 HDD.
Since the Momentus HDD is an IDE drive we have decided to use an IDE to SATA converter so we can hook the IDE drive onto the ICH9R's SATA ports to make the review more fair. The SATA converter only supports 150MB/s 1.0a SATA specs so it's not going to increase any speeds on the drive as the Momentus only supports 100MB/s transfer rates.
HD TachVersion and / or Patch Used:
3.0.1.0
Developer Homepage:
http://www.simplisoftware.com
Product Homepage:
http://www.simplisoftware.com/Public/index.php?request=HdTach
Buy It Here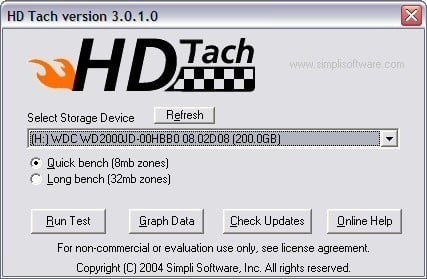 HD Tach has been around for a long time and is excellent when it comes to testing hard drive performance. It is also a very handy program when it comes to testing the controller used on particular motherboards. Tests such as Read, CPU Utilization and Burst are available at a click of the button and give you a good idea of how the hard drive can perform from system to system.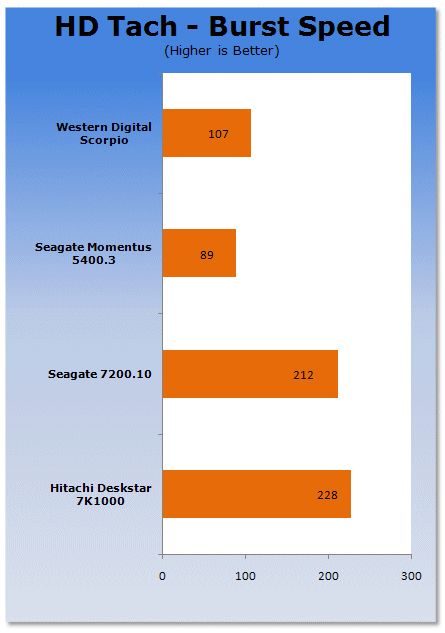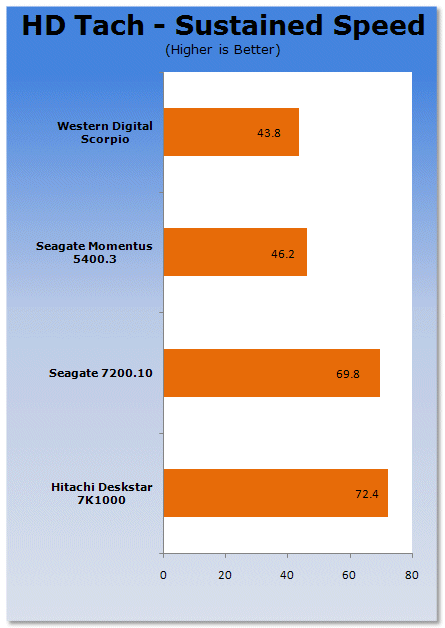 On the Burst speed tests the Scorpio manages to blitz the Momentus drive thanks to the full use of the SATA 1.0a specs. Sustained speed isn't much higher really as the drives have the same rotation speed and seek times.
Benchmarks - HD Speed
HD SpeedVersion and / or Patch Used:
x
Developer Homepage:
http://www.steelbytes.com
Product Homepage:
http://www.steelbytes.com/?mid=20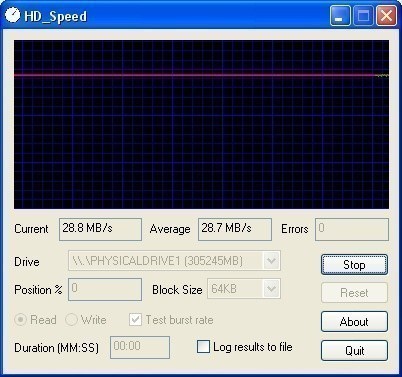 Measures both sustained and burst data transfer rates of your hard disks, cd/dvd-roms and floppy.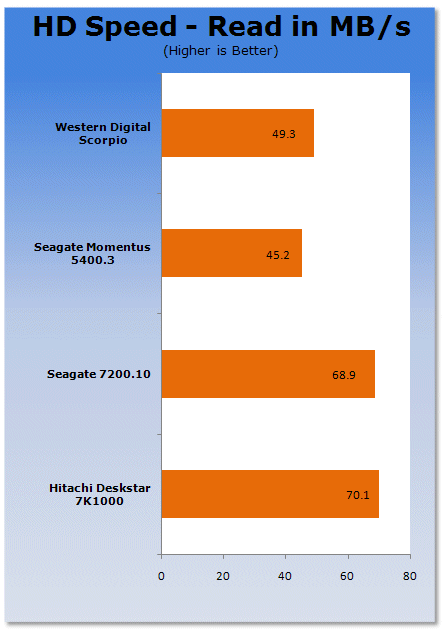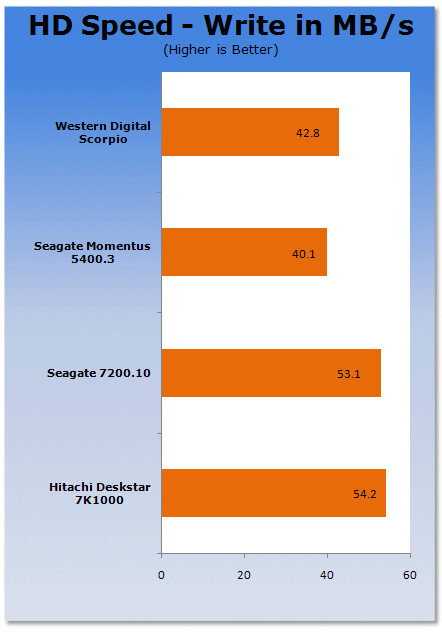 HD Speed shows the Western Digital Scorpio ahead again on the burst speed charts, but sustained didn't give it as big a lead as we thought it would.
Benchmarks - DiskSpeed32
DiskSpeed32Version and / or Patch Used:
3.0
Developer Homepage:
http://www.geocities.com/vgrinenko/
Product Homepage:
http://www.geocities.com/vgrinenko/DiskSpeed32/
DiskSpeed32 is a program for hard drive speed measurement in Win32 environment. It measures reading speed in whole disk or its part and plots graphical dependence for reading speed by cylinder number. This allows to obtain comparable data not only for different drives, but also for the same disk under different Win32 implementation.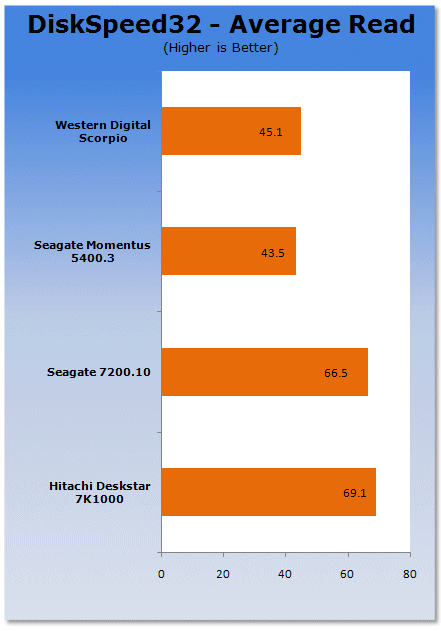 DiskSpeed32 manages to give the Western Digital a very slight lead over the Seagate 5400.3 Momentus.
Benchmarks - Adobe Premiere Elements 2.0
Adobe Premiere Elements 2.0Version and / or Patch Used:
2.0
Developer Homepage:
http://www.adobe.com
Product Homepage:
http://www.adobe.com/products/premiereel/
Buy It Here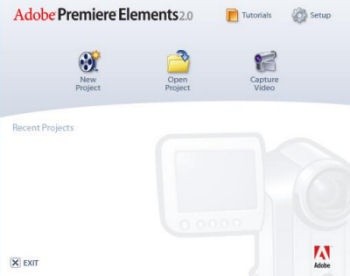 Rather than a encode test, we added a number of changes to the movie including audio, video transition, splits, picture in picture additions, no less than 50 changes in total were added and then the movie saved to its original format to see how the drive handled the changes, Since memory and CPU are not a factor here as both are running the same, the time difference is the HDD's inability to keep up with the CPU and memory.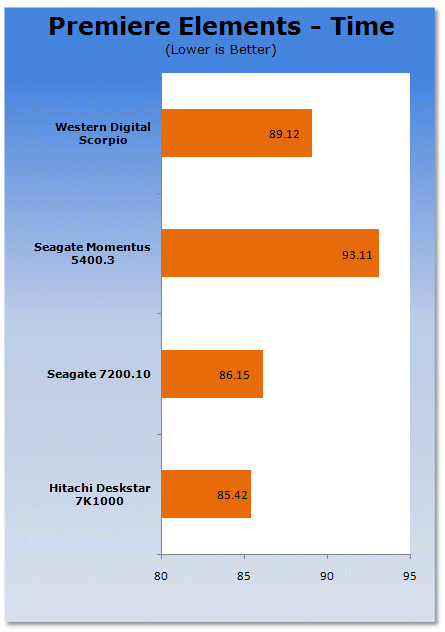 Here the Western Digital manages to spread its wings over the Momentus HDD and gain quite a good win. In the real world applications we see the Western Digital drive has its advantages.
Final Thoughts
Magnetic storage is soon to enter "end game". With Solid State drives now starting to gain in speed and size, the days for the magnetic HDD are soon to see the end of the tunnel. While it's still a few years away at least, we have to deal with what is available and it's good to see companies like Western Digital not giving up on the whole small form market sector.
The Scorpio hard disk has managed to impress us, not only is it able to out perfom the IDE based Momentus, its size has also grown to a healthy 250GB; this is quite adequate for the notebook market or for those building Mini-ITX systems and wanting the 2.5" HDD advantage. If you're looking for a large capacity 2.5" SATA drive which boasts great performance the Scorpio is a very good option.
Overall we would be hard pressed to find a larger capacity 2.5" drive with the same speed, prove and performance.
PRICING: You can find products similar to this one for sale below.
United States: Find other tech and computer products like this over at Amazon.com
United Kingdom: Find other tech and computer products like this over at Amazon.co.uk
Australia: Find other tech and computer products like this over at Amazon.com.au
Canada: Find other tech and computer products like this over at Amazon.ca
Deutschland: Finde andere Technik- und Computerprodukte wie dieses auf Amazon.de
We openly invite the companies who provide us with review samples / who are mentioned or discussed to express their opinion. If any company representative wishes to respond, we will publish the response here. Please contact us if you wish to respond.