Biostar P35 T Series TP35D3-A2 Deluxe
We look at a DDR3 based P35 motherboard from Biostar today which promises terrific bang for buck.
Published Mon, Oct 29 2007 11:00 PM CDT
|
Updated Fri, Sep 18 2020 10:50 PM CDT
Introduction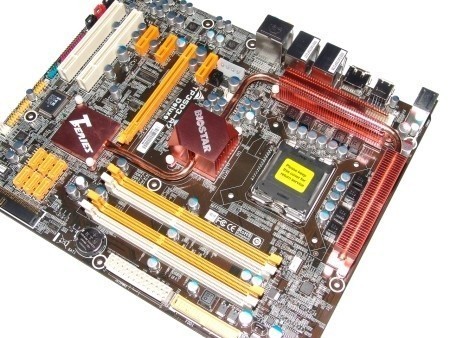 Biostar is one of the few motherboard companies we haven't seen much from in the past, which is a bit of a shame as we have seen quite a few interesting boards pop up but very little coverage goes up on them. I'm not sure if it's that they don't push their boards like others, or if we are just out of the loop. Well folks, that is not happening today!
We have been given the chance to review Biostar's new T series board based around the P35 chipset supporting DDR3 memory. P35 has been the real show card for Intel and just about everyone has been jumping on the bandwagon; and who can blame them? DDR2 or DDR3 on the one chipset along with CrossFire certification makes it a real go'er.
So sit back and strap into that favourite chair of yours, because here we go again at TweakTown with the Biostar T Series TP35D3-A2 Deluxe.
Specifications
Specifications of the TP35D3-A2 DeluxeCPU
Supports Intel Core 2 Series (Extreme/Quad/Duo)
Supports Intel Pentium Dual Core Series
Supports Intel Pentium D Series
Supports Intel Pentium 4 5xx/6xx Series
Supports Intel Celeron D 3xx/4xx Series
Supports Intel 45nm Series CPU
Chipset
Intel P35 Express
P35 Northbridge
ICH9R Southbridge
DMI @ 2GB/s
System Memory
4 DDR3 SDRAM 240pin DIMM Sockets
Supports DDR3-800/1066/1333MHz
64/128Bit Dual Channel
Supports up to 8GB Total Memory (4x 2GB)
Bus Frequency
100/133/200/266/333MHz Internal
400/533/800/1066/1333MHz External
P4 Bus Architecture
Expansion Slots
1 PCI Express x16
3 PCI Express x1
2 PCI
Connectivity
1 Parallel ATA port supporting 2 IDE Drives
6 Serial ATA ports
2 Gigabit Ethernet Ports
Expansion Ports
1 PS2 Keyboard Port
1 PS2 Mouse Port
12 USB 2.0 Ports (6 rear accessible, 6 via expansion bracket)
6 Stereo Audio Ports
2 e.SATA Ports
The Box and What's Inside
Package and Contents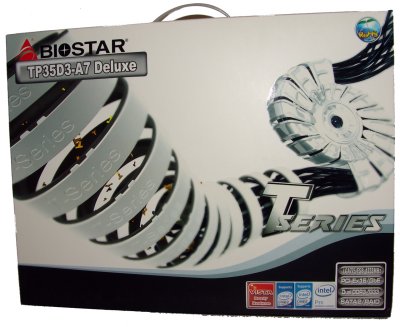 First off we have a look at the packaging that the board comes in as well as the contents you get with it. Biostar's P35 board isn't the most expensive board on the market, but not the cheapest either, falling mid-range you should expect a decent bundle inside. The front of the box is a black and white affair with spiral design on the front that looks somewhat neat. As normal we have very little info on the board at the front apart from the company logo and model number as well as the mandatory Intel Logos to show what it supports.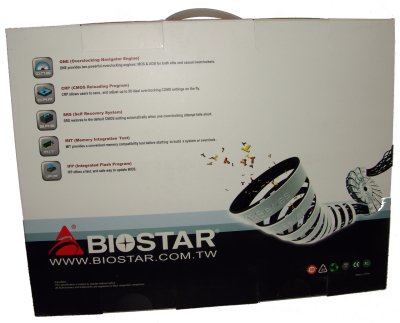 The back, well it's almost as bare as the front. There's just some basic info on what the board supports. Biostar hasn't gone with the colour photo on the back of the box, which we prefer to see from every vendor for boards in the mid to high-end range. The low-end can get away with it but this board should have a colour photo on the back.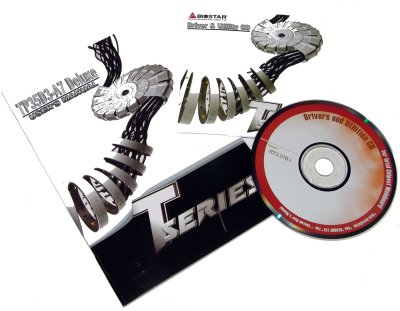 Documentation included is more than adequate for the board. The user manual is rather thin but does explain the main functions of the board as well as the BIOS setup. A quick install pamphlet is also included if you want to skip the full on reading material and get down to the board install. The driver CD that is included gives you all the Windows XP and Vista drivers you need, but no Linux support for the wide range of Linux users out there.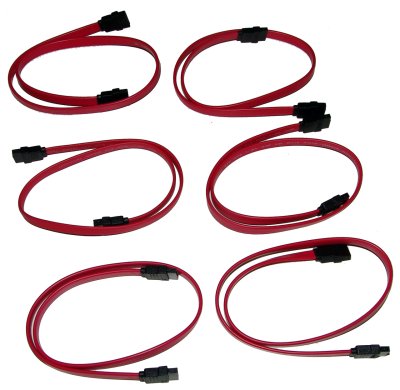 Biostar has gone all out on the cable bundle side of things, there are so many we had to do it in three separate areas. First off is the SATA cables, out of the total six internal SATA ports available on the board Biostar has given you six data cables. So if you want to use all of the ports, you can straight out of the box.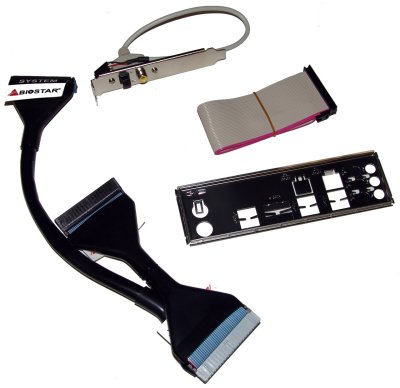 Next comes our parallel cable bundle. A single rounded IDE cable with two drive support makes up for the single Parallel ATA channel onboard and a single FDD cable that supports a single drive is included too. A PCI cover plate that a RCA and Toslink S/PDIF output port is also included for the digital audio side of things. If you don't have any DTS receivers you can simply avoid installing this part, or if you go external sound you don't have to have this installed either.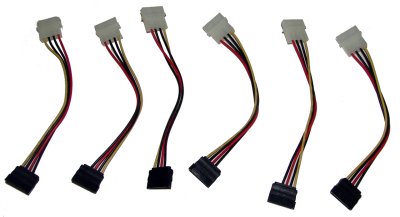 Lastly the power cables; not all PSUs in use today have enough native SATA power ports on them. To this end Biostar has given you six Molex power adapters, so you have all six here if you plan to use all six ports with a PSU that doesn't have any SATA power. No worries here.
The Motherboard
The Board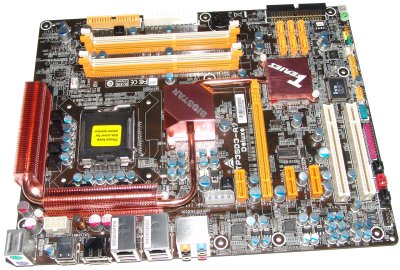 Biostar has pretty well got a work of art here for our first board we have been graced with by them. While not as well known as ASUS, GIGABYTE or MSI, Biostars board looks like it is up there in the top ranks with its design.
The PCB is a full ATX layout on a dark brown PCB to give it a little bit of flair. The basic colour scheme is bright yellow and white slots, a rather attractive setup for case modders out there who want something to show off.
On the layout front, Biostar has a great setup. The 24-pin power connector along with a yellow FDD connector is located behind the four DDR3 memory slots on the top right side of the board. This keeps all the large cables in one spot avoiding a huge air flow restriction over the entire board, this way there is only a small dead spot.
The 4/8 pin CPU power connector is placed at the top left hand corner of the board behind the PS/2 ports, this is the most preferred spot for it apart from putting it behind the memory slots which isn't always possible. The cable is then kept as far away from the CPU heatsink to allow best air flow, nice to see Biostar starting off on the right foot. You may also see a 4-pin Molex power connector just above the top PCI Express x1 slot, this is designed to give the PCI Express slot extra power for certain video cards that don't provide a power port on the back of the card, though you don't have to use this if your card has its own power connector.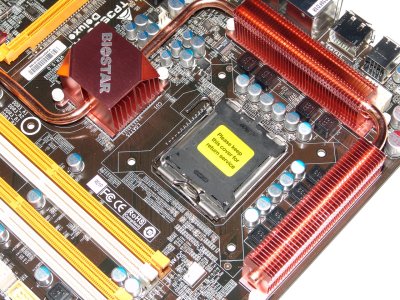 Down to the CPU area, things are a bit tight with the heatpipe assembly cooling the power regulation system, but large heatsinks do fit, though be it a bit tight. The heatpipe system that Biostar uses cools the top and side mosfets, northbridge and southbridge.
Voltage supply to the CPU comes from the 8 phase onboard voltage regulator system which uses solid state capacitors and voltage coils. While it's not digital, it's just about as good.

Biostar's rear I/O port arrangement is extremely good with plenty of space between the ports. Gone are the parallel and serial ports, honestly I don't think you will miss them these days. On the back you get two e.SATA ports which run off the JMicron SATA/PATA combo chip used to give the board its IDE channel. Two Gigabit Ethernet ports are included on the board for dual networking configurations, though I find it personally hard to use the second one, especially with Gigabit routers these days.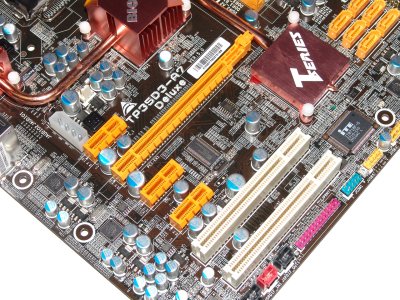 Finally down to the expansion slots on the board. While the P35 does have Crossfire certifications, Biostar's board doesn't put that to use but rather goes towards the single card setup like an 8800GTX or HD2900XT. A single PCI Express x16 slot is in place for the graphics card along with three PCI Express x1 slots and two PCI legacy slots.
As we mentioned just before, a JMicron PCI Express SATA/PATA chip gives the board its two e.SATA ports and its single IDE port since the ICH9 series (like the ICH8 series) does not have any IDE channels. Two Marvell PCI Express LAN chips also give the board its Dual Gigabit LAN setup.
BIOS and Overclocking
BIOS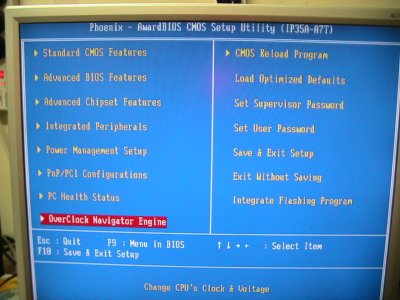 Biostar's choice of BIOS is the Award Phoenix Modular BIOS using the blue screen with sub menu style layout. This is the most familiar BIOS to us as it has been around since the 486 days, only more refined now. All the overclocking features lie under the overclock navigator engine menu.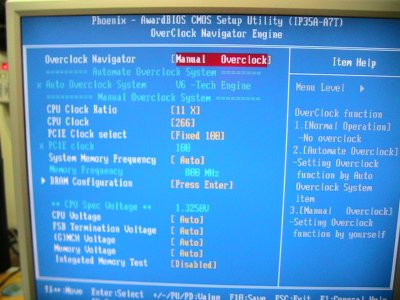 Buses
CPU Clock: 200 - 600 in 1MHz Increments
PCIE Frequency: 100 - 200 in 1MHz Increments
Voltages
CPU Voltage: +0.12v to +0.787v in 0.012v increments
Memory Voltage: +0.5v to 0.35v in 0.05v Increments
FSB Termination Voltage: 1.35v to 1.55v in 0.05v increments
(G)MCH voltage: 1.35v to 1.55v in 0.05v increments
Overclocking
Overclocking the Biostar board was quite good. With its DDR3 memory support we managed to get the board to a respectable 535MHz FSB. While it can't beat our P35T's top speed of 583MHz, it's still well within what we would expect from a P35 board.
Important Editor Note: Our maximum overclocking result is the best result we managed in our limited time testing the motherboard. Due to time constraints we don't have enough time to tweak the motherboard to the maximum and find the highest possible FSB as this could take days to properly find. We do however spend at least a few hours overclocking every motherboard to try and find the highest possible overclock in that time frame. You may or may not be able to overclock higher if you spend more time tweaking or as new BIOS updates are released or "burn in" time might come into play if you believe in that.
Test System Setup and Memory Performance
Test System
Processor
: Intel Core 2 Quad QX6700 @ 3GHz (9x333MHz)
Memory
: 2x 1GB DDR3-1800 Corsair (Supplied by
Corsairl
)
Hard Disk
: 500GB Seagate 7200.9 (Supplied by
Seagate Australia
)
Graphics Card
: MSI Geforce 8800GTS 640MB (Supplied by
MSI
)
Cooling
: Stock Intel Cooler
Operating System
: Microsoft Windows XP SP2
Drivers
: Intel INF 8.3.1.1009, Forceware 163.21
Our test systems have been upgraded recently, rather than using our Core 2 Extreme dual-core processor we are now using a Core 2 Extreme quad-core QX6700. Our usual arrangement of benchmarks were used for this test so nothing here has changed.
Our overclocking tests are pushed to the limits with regards to the FSB. Memory is always set to run 1:1 in overclocked mode. Our Biostar board ran with a 535 MHz FSB and our GIGABYTE P35T-DQ6 ran with a 583MHz FSB, both using 6x multipliers.
EVEREST Ultimate EditionVersion and / or Patch Used:
2006
Developer Homepage:
http://www.lavalys.com
Product Homepage:
http://www.lavalys.com
Buy It Here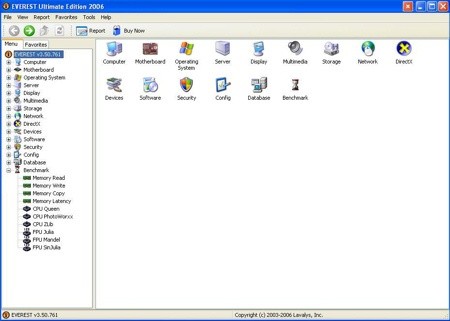 EVEREST Ultimate Edition is an industry leading system diagnostics and benchmarking solution for enthusiasts PC users, based on the award-winning EVEREST Technology. During system optimizations and tweaking it provides essential system and overclock information, advanced hardware monitoring and diagnostics capabilities to check the effects of the applied settings. CPU, FPU and memory benchmarks are available to measure the actual system performance and compare it to previous states or other systems.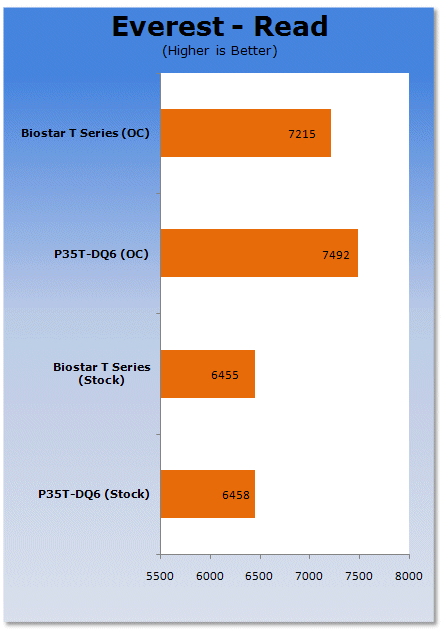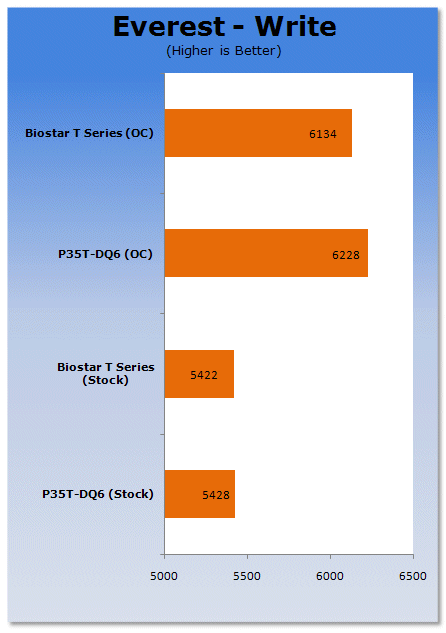 At the stock rock speeds we see both boards perform identical. When we overclock the Biostar falls quite a bit behind due to its slower clocked FSB and CPU.
Benchmarks - PCMark05
PCMarkVersion and / or Patch Used:
1.2.0
Developer Homepage:
http://www.futuremark.com
Product Homepage:
http://www.futuremark.com/products/pcmark04/
Buy It Here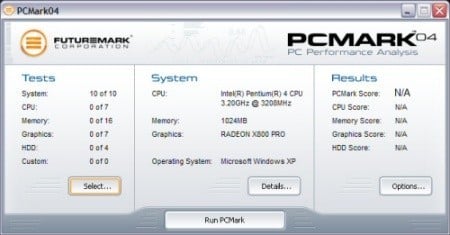 PCMark is a multipurpose benchmark, suited for benchmarking all kinds of PCs, from laptops to workstations, as well as across multiple Windows operating systems. This easy-to-use benchmark makes professional strength benchmarking software available even to novice users. PCMark consists of a series of tests that represent common tasks in home and office programs. PCMark also covers many additional areas outside the scope of other MadOnion.com benchmarks.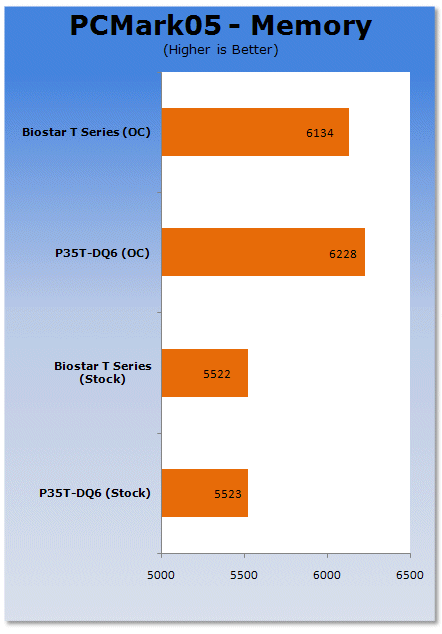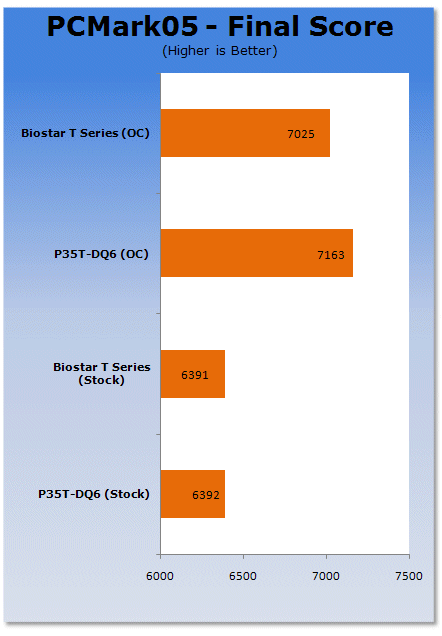 PCMark05 shows the same trend as Everest. At stock speeds we don't see any difference, only when you overclock you get the extra power out of the system.
Benchmarks - Adobe Premiere Elements 2.0
Adobe Premiere Elements 2.0Version and / or Patch Used:
2.0
Developer Homepage:
http://www.adobe.com
Product Homepage:
http://www.adobe.com/products/premiereel/
Buy It Here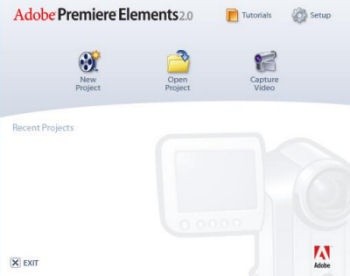 Our test with Adobe Premiere Elements 2.0 is performed with a raw two hour AVI file. It is then compressed into DivX format using the latest version codec. We measure the time it takes to encode and then record CPU usage.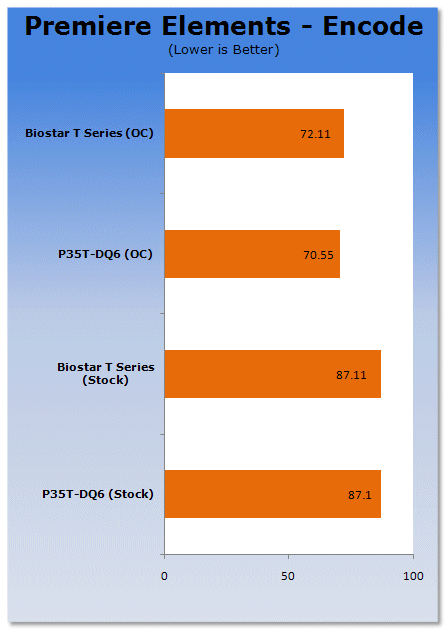 Premiere Elements using as much bandwidth from the memory and CPU as it can favors no one at stock but gives GIGABYTE's board the lead in the overclocking race.
Benchmarks - HDD Performance
HD TachVersion and / or Patch Used:
3.0.1.0
Developer Homepage:
http://www.simplisoftware.com
Product Homepage:
http://www.simplisoftware.com/Public/index.php?request=HdTach
Buy It Here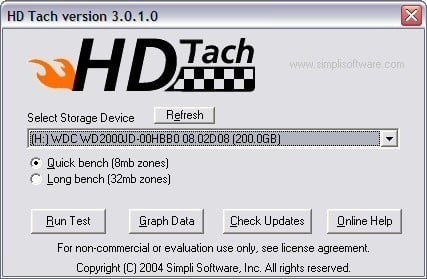 HD Tach has been around for a long time and is excellent when it comes to testing hard drive performance. It is also a very handy program when it comes to testing the controller used on particular motherboards. Tests such as Read, CPU Utilization and Burst are available at a click of the button and give you a good idea of how the hard drive can perform from system to system.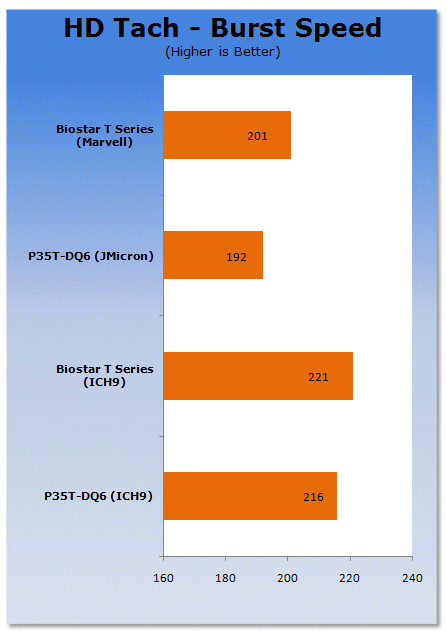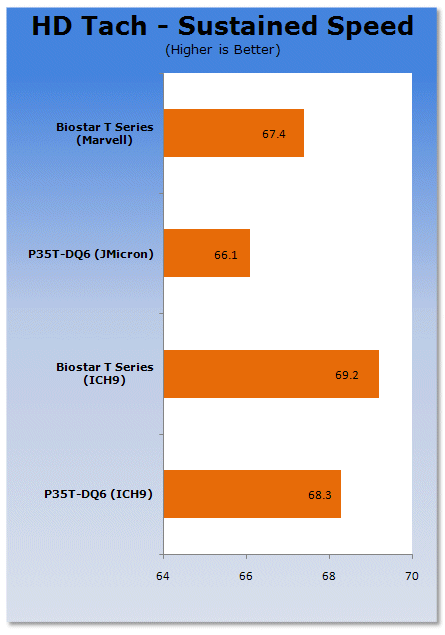 Hard disk performance is equal across the board, Biostar does top out though which is nice to see.
Benchmarks - 3DMark06
3DMark06Version and / or Patch Used:
1.1.0
Developer Homepage:
http://www.futuremark.com
Product Homepage:
http://www.futuremark.com/products/3dmark06/
Buy It Here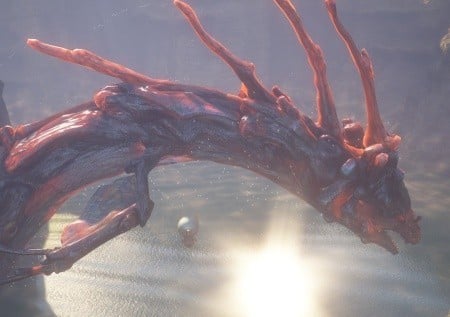 3DMark06 is the very latest version of the "Gamers Benchmark" from FutureMark. The newest version of 3DMark expands on the tests in 3DMark05 by adding graphical effects using Shader Model 3.0 and HDR (High Dynamic Range lighting) which will push even the best DX9 graphics cards to the extremes.
3DMark06 also focuses on not just the GPU but the CPU using the AGEIA PhysX software physics library to effectively test single and Dual Core processors.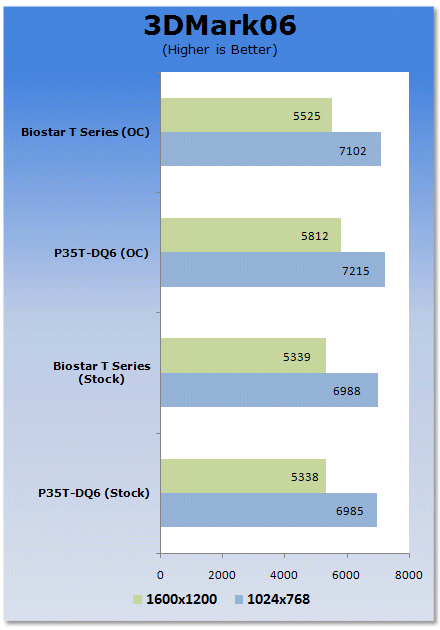 Moving into the gaming side; while synthetic we see 3DMark favor GIGABYTE only when overclocking.
Benchmarks - Prey
PreyVersion and / or Patch Used:
1.2
Timedemo or Level Used:
Hardware OC Demo
Developer Homepage:
http://www.humanhead.com
Product Homepage:
http://www.prey.com
Buy It Here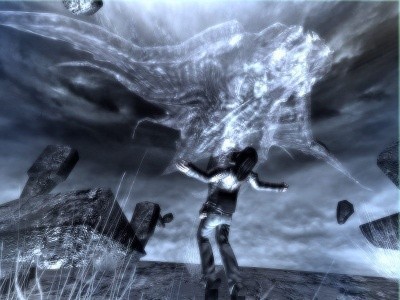 Prey is one of the newest games to be added to our benchmark line-up. It is based off the Doom 3 engine and offers stunning graphics passing what we've seen in Quake 4 and does put quite a lot of strain on our test systems.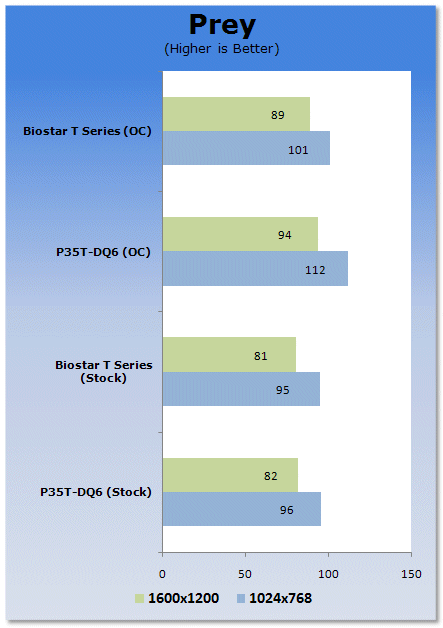 Moving into real world gaming we see that Prey gives GIGABYTE the lead at the overclocked stage, but at stock there is no difference.
Benchmarks - Far Cry
Far CryVersion and / or Patch Used:
1.3
Timedemo or Level Used:
Benchemall Default Demo(
download here
)
Developer Homepage:
http://www.crytek.com
Product Homepage:
http://www.farcrygame.com
Buy It Here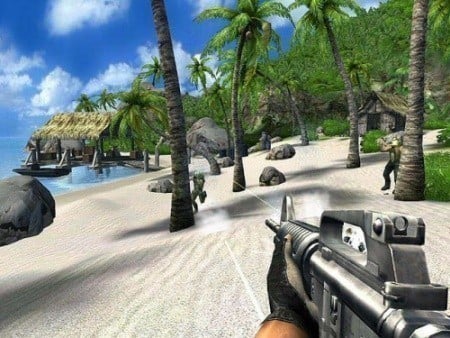 While Far Cry is now one of our older benchmarking games, it is still able to put pressure on most computers systems as it is able to utilize all parts of the system. Utilizing PS2.0 technology with the latest versions supporting Shader Model 3.0 with DX9c and offering an exceptional visual experience, there is no denying that even some of the faster graphics cards get a bit of a workout.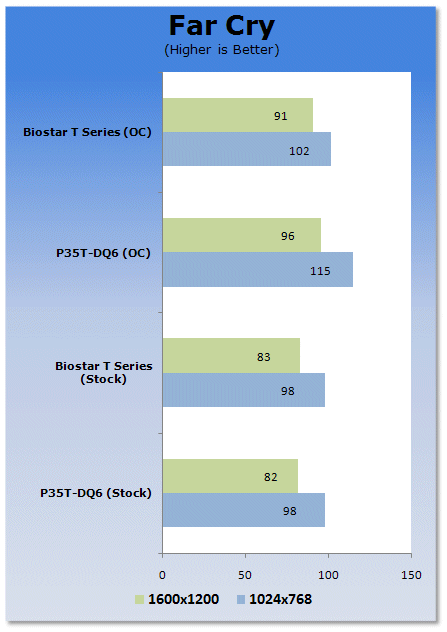 Far Cry puts GIGABYTE well in the lead when overclocking.
Power Consumption Tests
Power Consumption
We are now able to find out what kind of power is being used by our test system and the associated graphics cards installed. Keep in mind; it tests the complete system (minus LCD monitor, which is plugged directly into an AC wall socket).
There are a few important notes to remember though; while our maximum power is taken in 3DMark06 at the same exact point, we have seen in particular tests the power being drawn as much as 10% more. We test at the exact same stage every time; therefore tests should be very consistent and accurate.
The other thing to remember is that our test system is bare minimum - only a 7,200RPM SATA-II single hard drive is used without CD-ROM or many cooling fans.
So while the system might draw 400 watts in our test system, placing it into your own PC with a number of other items, the draw is going to be higher.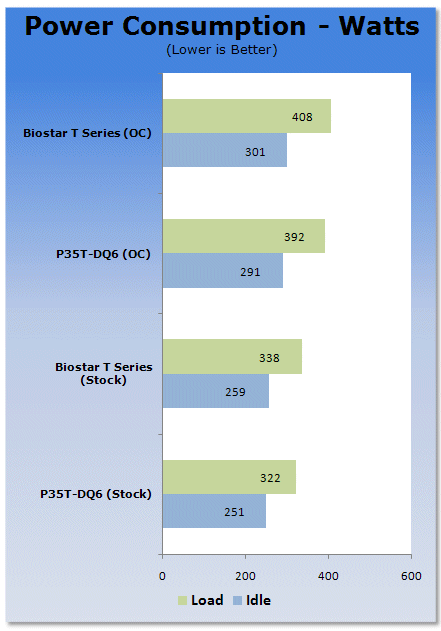 Power consumption between the Biostar and GIGABYTE shows the GIGABYTE managing a win even when not overclocked. This is quite possibly due to the 12 phase voltage system rather than the 8 used on the Biostar.
Final Thoughts
Biostar has come out with a great board in the T Series line, being the first one we have managed to test from them we have been left with a pleasant feeling from this rather unfamiliar company to us.
The P35 chipset is definitely a real go'er for a company to start its enthusiast line on, and Biostar hasn't pushed itself like ASUS, DFI, MSI or GIGABYTE in the high-end market, but today we are starting to see a change.
Though our testing showed the DFI board not being able to beat the GIGABYTE board in overclocking, this is likely because it lacks some of the more advanced voltages that the GIGABYTE board offers. One thing it does beat the GIGABYTE board at though is price. P35T from GIGABYTE is a high-end board, and its price reflects that. While not the cheapest board on the market, Biostar's TP35D3-A2 Deluxe does come in under the GIGABYTE's price tag; and for overclocking on a budget, this can be the winning factor.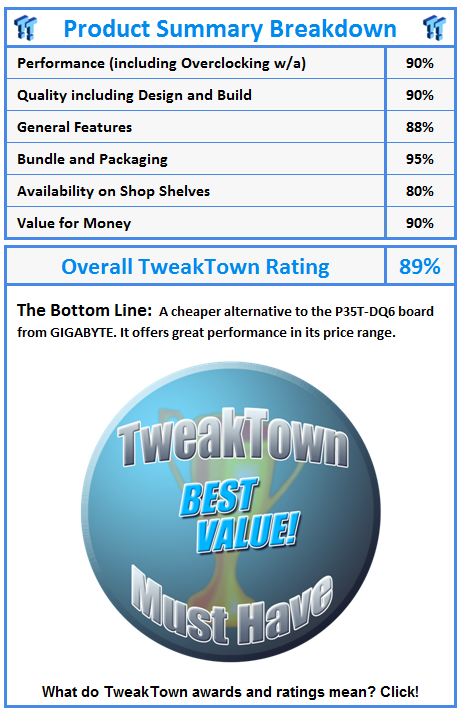 PRICING: You can find products similar to this one for sale below.
United States: Find other tech and computer products like this over at Amazon.com
United Kingdom: Find other tech and computer products like this over at Amazon.co.uk
Australia: Find other tech and computer products like this over at Amazon.com.au
Canada: Find other tech and computer products like this over at Amazon.ca
Deutschland: Finde andere Technik- und Computerprodukte wie dieses auf Amazon.de
We openly invite the companies who provide us with review samples / who are mentioned or discussed to express their opinion. If any company representative wishes to respond, we will publish the response here. Please contact us if you wish to respond.