GIGABYTE U60 UMPC - Exclusive Look!
We've just got our hands on GIGABYTE's new U60 Ultra Mobile PC, a device that holds its own in the portable PC market.
Published Sun, Oct 14 2007 11:00 PM CDT
|
Updated Fri, Sep 18 2020 10:50 PM CDT
Introduction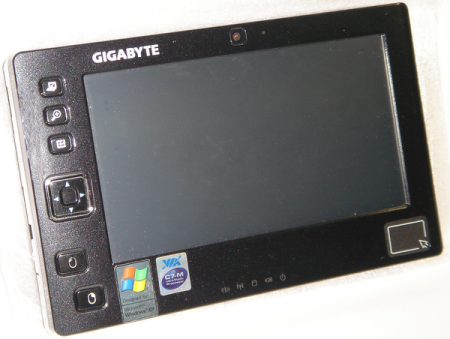 GIGABYTE recently showed the world a glimpse of their Ultra Mobile Personal Computer (UMPC) called the U60 at CeBIT, and again at Computex earlier this year. You can see our teaser preview
here
.
Now we've got our hands on one of the early production samples and this puppy is all set to take the world by storm. Being based in Taiwan has its perks in terms of us being able to get access to the latest technology, but on the downside however it seems we're not going to be able to get the retail product as it will be delivered in Europe and the West. This is mainly because the software is regionally dependent, but I have been given the list of all the software that the U60 will ship with. So rest assured that this review will cover as many of the features that you will experience with this interesting box of tricks.
This product definitely has the makings of an award winner and it seems worthy of our coveted "BEST VALUE" award providing everything goes well. Let's look deeper and see if it has all that it is hyped up to be.
Oh, and for those of you waking up, UMPCs are the new buzzword in the IT industry and are supposed to fill the niche between a PDA/Smartphone and a tablet PC or laptop. It has big shoes to fill based on our expectations alone, so I'll get right down to it.
The Chipset
Info about the chipset
This UMPC runs off a VIA technologies C7-M processing unit clocked at 1GHz in full swing. The technology integrated within the chip is supposed to be very ecologically friendly and competes directly with the Pentium M (Centrino chipset platform) segment of the market. This unique offering from VIA is supposed to deliver a more heat efficient solution to anything else the market has to offer.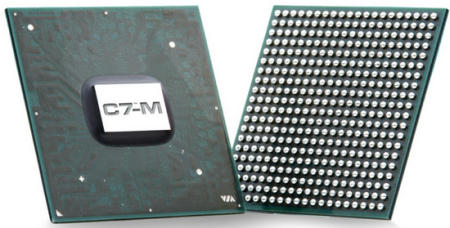 VIA have deliberately focused on power management and heat economy in this VX700 chipset through various ingenious power saving technical methodologies which they have built into their design. One of the included technologies is a dynamic clock gating control on functional blocks to turn off parts of the chip not in use. In addition to that there is support for the latest power management specifications including ACPI 3.0 and APM v1.2 as well as support for CPU clock throttling and clock stop during ACPI C2/C3/C4 reduced activity states.
Furthermore, there is support for multiple system suspend types, all with automatic hardware wake-up. The other features are fairly common and include Power-on Suspend (POS) with flexible CPU/PCI bus reset options, Suspend to DRAM (STR) and Suspend to Disk (soft-off). Essentially this system is perfect for a small, unobtrusive device such as a UMPC.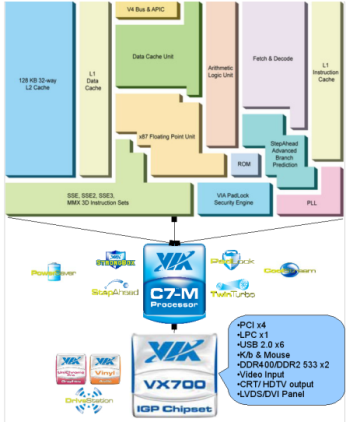 Looking through some interesting diagrams courtesy of VIA, we were able to see that the C7-M integrates with a single solution chipset called the VIA VX700 IGP, this designed to take the place of the double chipset platform which is traditionally made up of a northbridge and southbridge.
This all-in-one VIA solution from the chipset to CPU incorporates the 8 channel Vinyl HD Audio capability and the UniChrome Pro II graphics core. The DDR or DDR2 memory controller (depending on the configuration) has two DIMM slots. The GIGABYTE U60 has the two slots configured for DDR2 667MHz PC2-5300 and shares the memory with the VGA display. The chipset supports four PCI devices, six USB 2.0 connections as well as the usual mouse/keyboard capabilities.
In addition, GIGABYTE has enabled many wireless devices such as Bluetooth 2.0 + EDR (Enhanced Data Rate) and Wi-Fi making this UMPC ultra portable, ultra connectable and ultra impressive. Add on the docking station, digital TV Tuner and GPS modules and there is suddenly very little that this machine cannot do.
Check out the full specifications listing here:-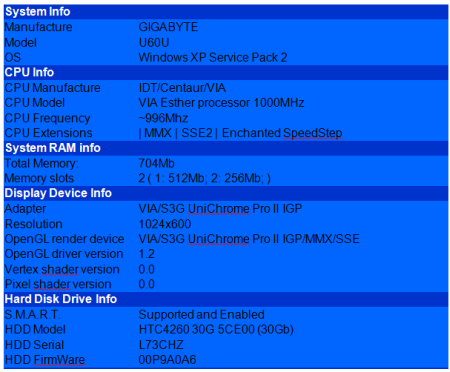 The VX700 single solution chipset gives off a Thermal Design Power (TDP) of 3.5Watts and really halves the real estate needed on the platform. With a low wattage TDP signature, low power consumption and even better; a device that can fit easily and lightly (weight -740g) into one's bag or jacket pocket, the UMPC is set to be very popular indeed.
The Package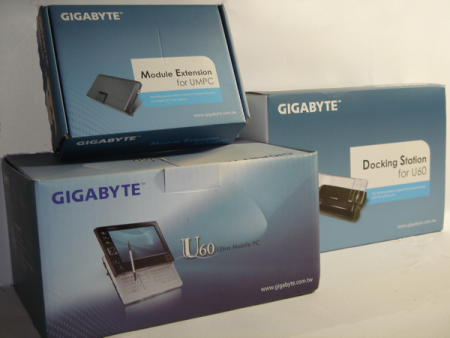 The package and accessories are quite unique in various shades of blue, yet they are nothing special. The boxes have minimal information and need some work to make them more useful to the prospective purchaser.
Inside the box, the UMPC is snug in a high density foam bracket. There is a cheap looking shroud enwrapped around the device. A nice touch would have been to include a more sophisticated carry bag/pouch for the UMPC. As things are now, you will have to buy the carry bag separately.
Included in the box will be the following list of software with all the associated manuals. I was shipped the demo product as mentioned before, and all of the software was already pre-installed so I won't be able to comment on any problems you could face in this regard.
The list
:-
- Windows XP Home Edition or Windows XP Professional Edition
- CyberLink Power DVD 7 OEM two channel version
- Norton Anti-Virus 2007
- GIGABYTE Power Control Utility
For a system that is set to sell for below $1000US, that's not bad at all. If you buy the additional accessories like the TV-tuner and GPS modules, then you will most likely get various software apps for those particular modules.
My system had the following setup
:-
- Microsoft Windows XP Professional Edition
- Cyberlink Power DVD 7
- Pensoft
- PaPago (Chinese Version)
- GPS software
- TV-tuner software
- Microsoft Office Viewer 2003
I subsequently installed Skype, MSN Live Messenger, Yahoo Messenger and several benchmark applications such as 3DMark2001 SE and 3DMark 2003. I also installed PCMark05 just to see if it would run.
The Benchmarks
Benchmarks
Using gaming benchmarks on this UMPC all-in-one solution is a bit of a joke. Most of the benchmark tests in the 3DMark suites just don't work, period! BUT, I still couldn't resist the temptation to bench this machine and catalog the results. Check it out below.
PCMark05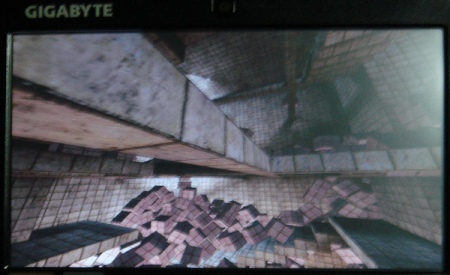 PCMark05 was not so great, but the good news is that despite only a few graphics trails from the suite running, it still completed those tests without any hitches.
3DMark2001 SE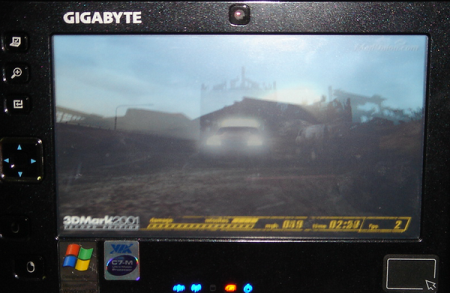 3DMark2001 SE was barely able to run and it's clearly evident that the UMPC was beginning to struggle. The result is just made out below :-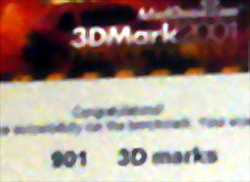 Yes, that's 901 3DMarks, but just to bring you back into perspective here; how many of you can run 3DMark2001 SE on your PDAs? With this type of computer being a whole new genre with really no suitable benchmarks out there, it's a little cruel to think too much of this. The emphasis of the product is on performance per watt and not on games performance. I still maintain that this product does exactly what it has been designed to do, and it expresses itself in an endearing way that fits the profile.
Doing more benchmarks turned up the following results:
CPU Bench Results
DhryStone ALU: 1,973 MDIPS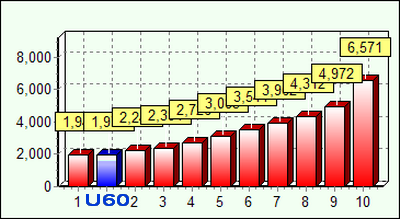 1. Intel Celeron 700 MHz
2. AMD Duron 800 MHz
3. AMD Thunderbird 850 MHz
4. AMD Thunderbird 900 MHz
5. Intel Pentium 4 1.6 GHz
6. Intel Pentium 4 1.7 GHz
7. Intel Pentium 4 1.8 GHz
8. AMD Athlon XP 1600+ 1.4 GHz
9. AMD Athlon XP 2000+ 1.67 GHz
10. Intel Pentium 4 3.0 GHz
WhetStone FPU: 159 MWIPS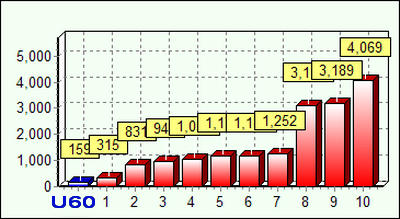 1. Intel Celeron 700 MHz
2. AMD Duron 800 MHz
3. AMD Thunderbird 850 MHz
4. Intel Pentium 4 1.6 GHz
5. Intel Pentium 4 1.7 GHz
6. AMD Thunderbird 900 MHz
7. Intel Pentium 4 1.8 GHz
8. Intel Pentium 4 3.0 GHz
9. AMD Athlon XP 1600+ 1.4 GHz
10. AMD Athlon XP 2000+ 1.67 GHz
Speed: 997 MHz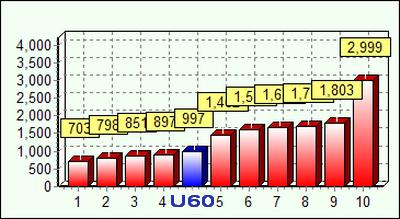 1. Intel Celeron 700 MHz
2. AMD Duron 800 MHz
3. AMD Thunderbird 850 MHz
4. AMD Thunderbird 900 MHz
5. AMD Athlon XP 1600+ 1.4 GHz
6. Intel Pentium 4 1.6 GHz
7. AMD Athlon XP 2000+ 1.67 GHz
8. Intel Pentium 4 1.7 GHz
9. Intel Pentium 4 1.8 GHz
10. Intel Pentium 4 3.0 GHz
The CPUs capabilities are right alongside some of the hottest CPUs out there in the last decade. If you consider the low TDP of the VIA chipset and the economical output of the C7-M CPU with all the special power saving features, then you realize how good this setup really is.
CPU Multimedia Bench Results
Benchmark Index: 592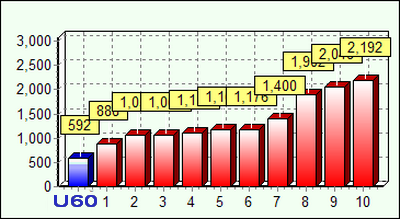 Technology: SSE
Built-in Co-Processor: Yes
MMX Extensions: Yes
Enhanched MMX Extensions: No
3DNow! Extensions: No
Enhanched 3DNow! Extensions: No
As a multimedia device, the system lacks powerful capabilities such as the special instruction sets (3DNow! and Enhanced MMX), but it may be more simply that neither AMD nor Intel are prepared to license out those functions to VIA. Either way, I didn't notice any problems when running DVDs, videos streamed from the web, TV or music media at all.
Battery Lifespan
Something that is always a concern to laptop users, PDA users and Smartphone users is the lifespan of the battery. I found this unique benchmark utility which records the battery discharge rate while under full load.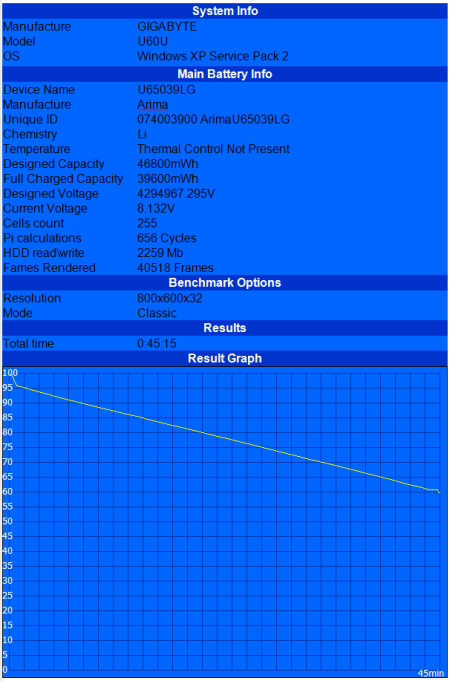 After letting it run for 45 minutes, you can see that there is a steady and consistent discharge rate, and based on the above graph the battery would most likely be completely flat after about two hours running at FULL load. This however rarely happens and so the U60 UMPC device should give you roughly 4 hrs uptime without needing a charge.
General Usage
Usage of the GIGABYTE U60 UMPC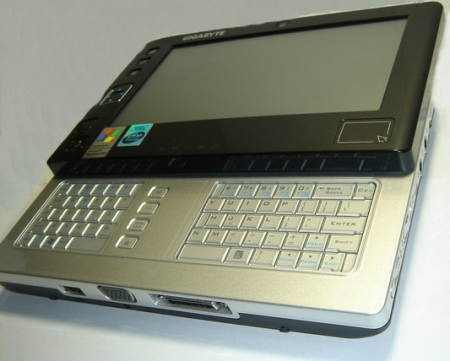 The GIGABYTE U60 is the equivalent of your desktop PC five years ago. That's in terms of raw computational power; In terms of size it has a very tiny footprint. The expression "Dynamite comes in small packages" comes to mind, and while not quite dynamite it certainly packs a lot of punch for the W.19cm x L.12cm (W.7.4" x L.4.75") unit. When the keyboard is extended, the Length changes to 18cm (7.25"). The actual screen size is 16.5cm (6.5") measured along the diagonal. There are lock buttons for the battery, an SD card reader, 2x USB ports, a stylus receptacle, reset buttons, an on/off sliding switch, microphone & earphone jacks with volume control, power cable port, VGA port and a docking station receptacle.
In the center of the keyboard there are buttons for turning on and off your Wi-Fi hardware as well as Bluetooth. In addition, the webcam button is positioned here. The keyboard is small and if you have big fingers it will not be easy to type on it. You can however use the stylus and write the words directly onto the touch screen monitor. There is a mouse pad on the right hand side of the screen, and correspondingly on the left hand side are the "mouse button 1" & "mouse button 2". This configuration makes it ideal to carry the unit around and be able to do something on it with ease.
There are also many advanced features that only a modern PC of today's world could use. Those features include USB, networking IEEE 802.11 b/g wireless and Bluetooth 2.0 +EDR (Enhanced Data Rate) which works at an EDR of 3.0 Mbit/s. This makes it three times faster than normal Bluetooth transmission speeds, and up to ten times in certain more perfect scenarios. In addition, it has lower power consumption through a reduced duty cycle and simplifies multi-link scenarios due to more available bandwidth. The actual data transfer rate is 2.1 megabits per second and the basic signaling rate is about 3 megabits per second.
Additional capabilities that make this device portable and extremely useful, especially if you use your PC as an entertainment centre are the two add-on modules. You are conveniently able to do anything from watching TV (hopefully you have interesting channels to tune into), or using the GPS device as a map guide to get you places. Back at the lab, I took some pictures of the add-on accessory called the Co-Star TV-Tuner module.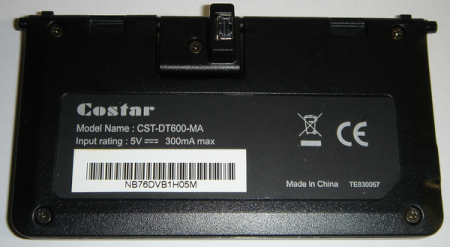 The device fits snugly into the back of the UMPC and takes the place of the sliding plastic back-stand. The GPS module is almost identical, just with a different sticker.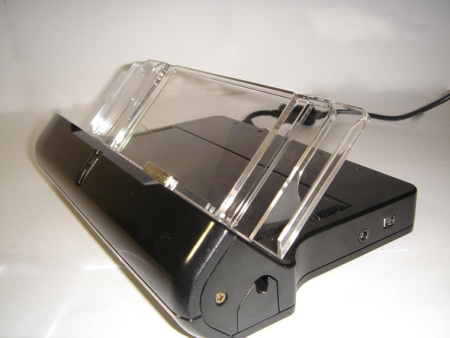 The docking bay is definitely something worth getting as it adds a number of features that make it unique. Besides being an attractive add-on, it also has an integrated LAN card & port (RJ-45 connection), an additional VGA connection (since the one on the UMPC is covered over by the docking station when the UMPC connects to the dock), and three USB ports (The UMPC only has two USB ports without the Docking station). Also interesting to note is the IEEE 1394 connector, the earphone jack and the stylus pen ejector tray. Almost everything about the UMPC seems to be well thought out and executed in style. It has a premium feeling about it, and when you consider the RRP (Under $1000US) then it should sell very well indeed.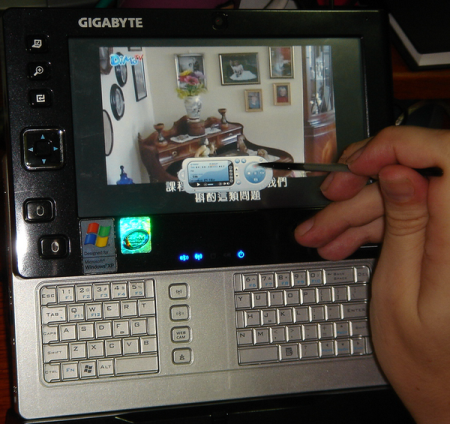 To download music or video over the net is also a cinch as connectivity is virtually guaranteed no matter what medium you use. I was able to walk around Taipei which has free Wi-Fi around the main centers of the city and I could logon while walking. I would stop every now and then to chat on MSN, I then selected a coffee shop and while sipping a Latte was watching news from yahoo's news service. I even tried tuning into the local broadcasted television, but had to move the portable aerial that ships with the Co-Star TV module a bit to get a clear picture.
Final Thoughts
I have to admit that the first two days using the device were a little awkward. However, once I was used to it all the features and buttons became second nature.
My only real gripe with the whole structure was that the webcam was fixed, and the lens could not be swiveled. Thus if you wanted to do webcam to webcam conversation you had to position yourself relative to the lens rather than adjusting the lens to where you are comfortable. That is however a minor thing that can most likely be fixed on future models.
After using this device I feel confident that it has a place in the market. The price point is exceptional and will give any customer a sense of having bought what they paid for, with a bit extra for good measure. That kind of feeling is the reason I shop. I have no hesitation in giving the TweakTown "BEST VALUE!" award to this unique product.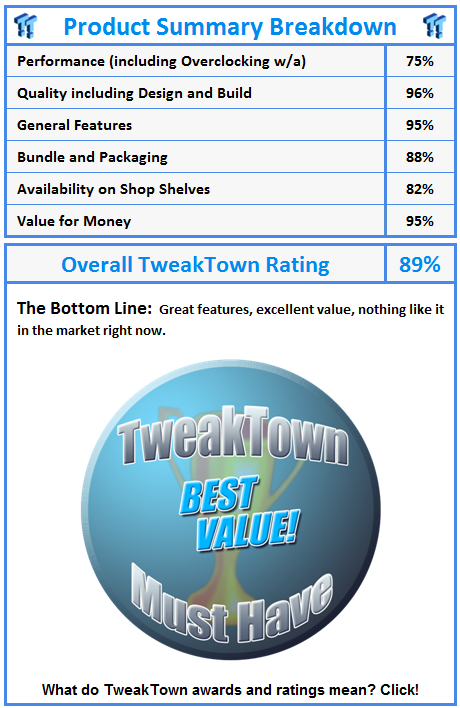 PRICING: You can find products similar to this one for sale below.
United States: Find other tech and computer products like this over at Amazon.com
United Kingdom: Find other tech and computer products like this over at Amazon.co.uk
Australia: Find other tech and computer products like this over at Amazon.com.au
Canada: Find other tech and computer products like this over at Amazon.ca
Deutschland: Finde andere Technik- und Computerprodukte wie dieses auf Amazon.de
We openly invite the companies who provide us with review samples / who are mentioned or discussed to express their opinion. If any company representative wishes to respond, we will publish the response here. Please contact us if you wish to respond.