Super Talent VIDEGO24T MP4 Series Player
Lars takes a look at a PMP from Super Talent today to see if it offers anything over more common players like the iPod.
Published Fri, Oct 5 2007 11:00 PM CDT
|
Updated Fri, Sep 18 2020 10:50 PM CDT
Intro and Features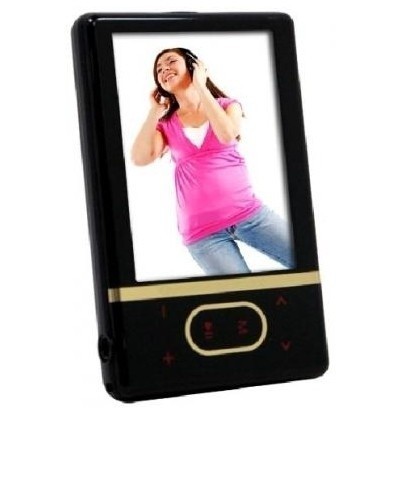 In the days of new iPods, Zens and Sansas, TweakTown were sent the latest portable media player from a slightly less well known player in the market, Super Talent. You might be more familiar with Super Talent as a system memory manufacturer and more specifically so for its overclocking products. Super Talent also produces a range of SSD drivers, USB drives, SD and MMC cards, and as it happens MP3 players and PMPs.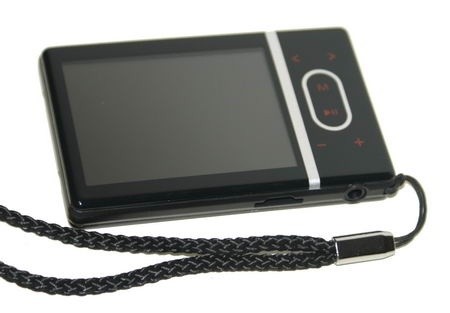 From our experience, it's always worth going with the slightly better known and well established brands when you're picking up something like this, though at times we've been proven wrong but don't get fooled into buying something just because it's cheap.
At first look, the Vidego 24T from Super Talent looks like a slim and fairly stylish device in black with some silver highlights.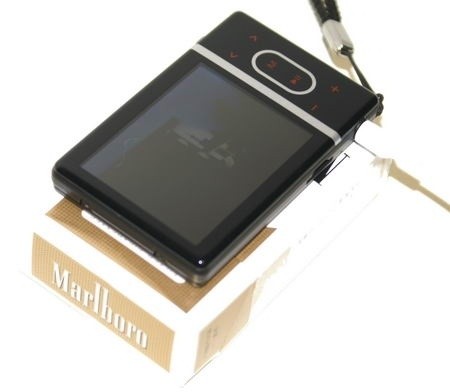 Starting with the exterior parts you'll see some touch controls on the fascia and on the top is a hold switch style button as well as a small square button. On the right hand side is a mini USB 2.0 connector and at the bottom are the headphone socket and a microSD card slot. There's some text on the back which tells you what the various things are, either with symbols or in plain English.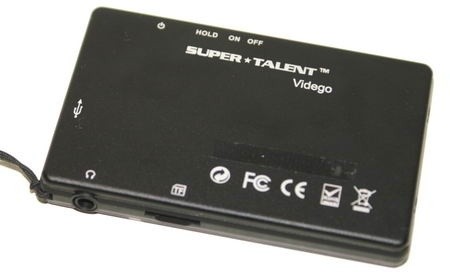 The Vidego 24T comes with a set of fairly basic white headphones, they sound ok but considering where the headphone jack is located we'd like to have seen an L-shaped connector rather than the fairly short but straight one. The fact that you navigate the Vidego 24T in horizontal mode doesn't mean that it fits your pocket that way, hence the need for an L-shaped headphone connector.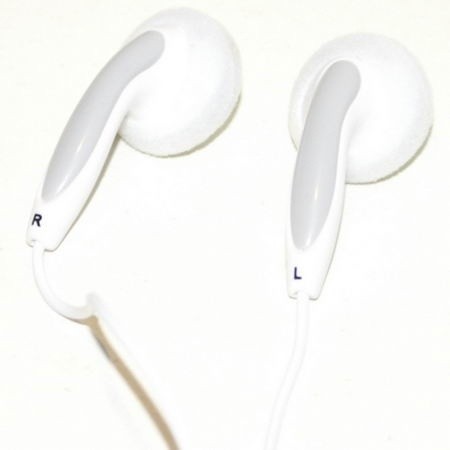 Powering on the Vidego 24T is rather different as the hold switch has three positions; off, on and hold. This means that you have to move it to the on position and then press the square power button next to it. This is the first time we've seen a device that requires the use of two buttons to power apart from some gardening machines, not a good design in our opinion.
It takes a few seconds for the Vidego 24T to kick in and once it powers on you're greeted by a bright 320x240 display that measures 2.4-inches and is capable of displaying 262,000 colours. It's actually rather good and looking at pictures or video on it is a positive experience in that regard.
To the right of the display are the controls and this is where we ran into the first problem. The controls consist of touch sensitive buttons and sometimes they were over sensitive and at other times not responsive enough. The way you use them are far from logical at times, as there's only six buttons in total. You have a back and forward button, a menu and play/pause button inside the silver oval and below that are the volume controls.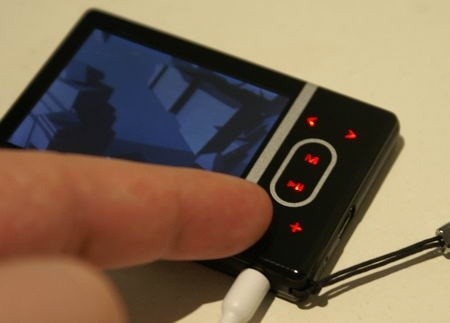 To select things you normally use the play/pause button, and oddly enough the menu button takes you back. Another problem is that the buttons respond to long and short presses, well at least they're supposed to, but from our experience with the player this is a bit hit and miss. Some menu options don't seem to be doing anything and the manual can be confusing at the best of times.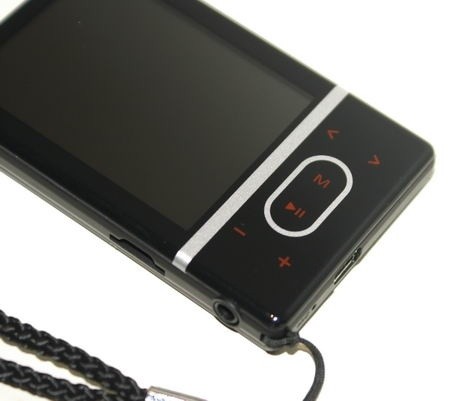 There are a lot of different menu options and although the Music option is the one you're most likely to use, there are a fair few other things that the Vidego 24T can do, though with varied degrees of success.
Usage and Conclusion
Looking over the menu options, there's the video menu which allows you to play back video files, and the quality on the relatively small screen is surprisingly good. The only options you have is to fast forward or reverse the video and pause it, so no cool gimmicks here. The Photo album allows you to watch pictures and again these look quite good despite the limitations of the screen.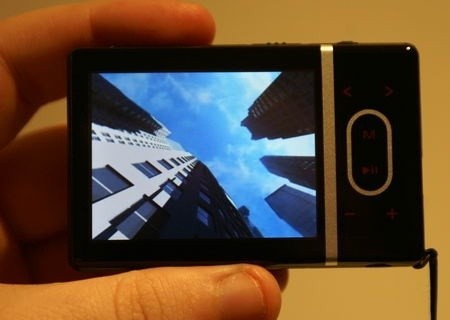 Next up is the built in FM radio and this seemed to have a life of its own. To save a preset you have to press and hold the play/pause button and then select save, choose the position you want to save that radio station at and then verify that that's where you want it to be stored. Of course the default option is no. There's a bar at the bottom of the screen but it doesn't seem to have any kind of correspondence to the frequency shown on the display. But the biggest problem is that there's no way to stop the auto tuning, so it just carries on until it finds a station, which makes it almost impossible to manually tune in a station. You can also only tune the radio up, not down.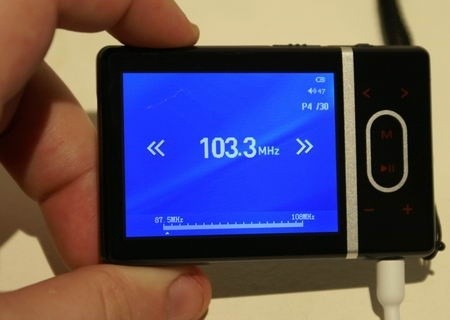 There's a built in eBook reader, but we have no idea what file formats it supports apart from plain text files, since nothing is mentioned in the documentation. Having said that, it's not that nice to read books on a screen this small despite the quality of the display. The Vidego 24T also has a built in microphone next to the mini USB port and it will record WAV files at 4 to 22KHz.
There's also a file explorer and a games menu. The file explorer allows you to access files on a memory card as well as to browse the files on the device. The game menu seems to be a pointless addition, at least on our device as it didn't come with any pre-installed games and we have no idea what kind of games are supported as again this isn't in the manual.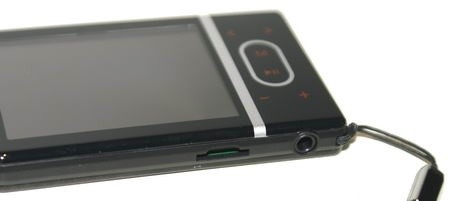 Finally there's the system setup menu which allows you to adjust things such as the screen brightness, power saving, button beeps, slide show settings, recording settings and language. You can also reset the device back to its original settings here and find out some system information like the firmware revision and space available.
Pressing and holding the play button while you're inside the music menu will bring up a menu which allows you to adjust the equalizer settings, the play mode and something that didn't work which was listed as RW/FF, go figure. The power button here can also be used to select a part of a track or any audio file you want to listen to over and over again, press it once for the start point and one more time for the end point.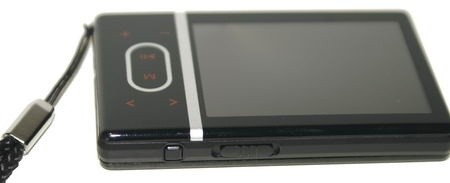 The Vidego 24T is only available in 1GB capacity, but the SDHC compatible microSD slot allows you to upgrade this at an affordable price. Apart from the headphones you also get a neck strap and a USB cable in the box. There's a driver CD for Windows 98 users and it also contains a video conversion application which seems to be quite speedy, albeit scarce when it comes to features.
We don't have a price for the Vidego 24T, but you needn't worry about that anyhow, as there's no way we'd tell you to buy this thing. It has a good display and decent sound quality, but that's about all it's got going for itself as the controls are awful and the menu system isn't much better. The build quality is far from great as well, we'd suggest you go spend your money with a more established brand, just as we said in the introduction.
If you're still interested, then you can find out more at Super Talent's website
here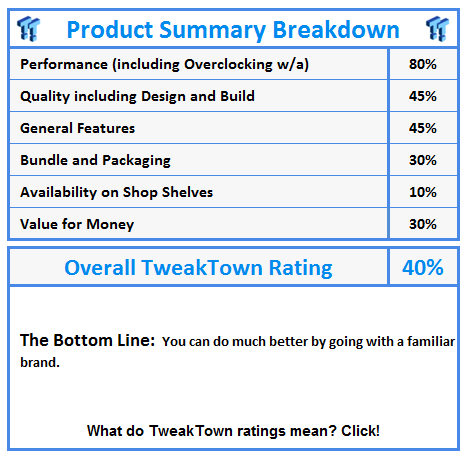 PRICING: You can find products similar to this one for sale below.
United States: Find other tech and computer products like this over at Amazon.com
United Kingdom: Find other tech and computer products like this over at Amazon.co.uk
Australia: Find other tech and computer products like this over at Amazon.com.au
Canada: Find other tech and computer products like this over at Amazon.ca
Deutschland: Finde andere Technik- und Computerprodukte wie dieses auf Amazon.de
We openly invite the companies who provide us with review samples / who are mentioned or discussed to express their opinion. If any company representative wishes to respond, we will publish the response here. Please contact us if you wish to respond.