ASUS BC-1205PT Blu-ray ROM Drive
Is Shanes love for Blu-ray justfied? Let's have a look if ASUS contiues to bring a smile to his face with the BC-1205PT.
Published Tue, Sep 25 2007 11:00 PM CDT
|
Updated Fri, Sep 18 2020 10:50 PM CDT
Rating:

93%
Manufacturer: ASUS
Introduction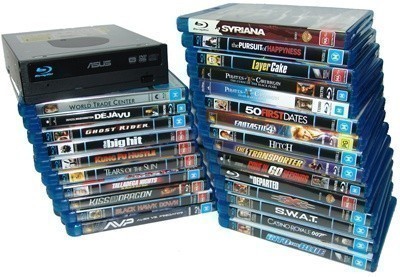 I'm not going to lie to you - I'm a complete and utter Blu-ray fan boy, "down with HD DVD!!"; so when word came that the ASUS BC-1205PT Blu-ray ROM samples were ready to be shipped out it pretty much had the two thumbs up approval from me.
Love or hate this next gen format war someone's going to win it and my Blu-ray collection hopes that it's Sony. While movies are going to be a huge part of who wins the war it's going to come down to availability of players, and while HD DVD has the XBOX 360 along with a small lineup of laptops and the retail market, Blu-ray has not only the Playstation 3 and the retail market but a good line-up of laptops thanks to Sony and a number of ROM drives from not only ASUS but companies like Pioneer, BenQ and Panasonic.
The kind of person who is getting stuck into the format war is the same kind of person who has a good media center PC, so having a competitively priced ROM is quite important for the market. When word came around that the ASUS BC-1205PT was going to be hovering around the mid $300 AUD high $200 USD mark it looked extremely positive.
While it looks like ASUS are going to remain neutral to the war there doesn't seem to be any word on the HR-0205T HD DVD ROM drive that we saw at Computex 2007, and the fact continues to remain that while in Australia you can walk into any store that carries an XBOX 360 and pick up a HD DVD add-on drive you're unable to purchase the actual movies from the same place. Currently Australian HD DVD users have to resort to ordering from online stores and from overseas to get their high def fix. Everyone knows that this is simply a big no no for the Ma and Pa demographic who want to be able to walk into their local video store and pick up their favorite movie in high def glory.
What we're going to look at today is if the BC-1205PT is not only able to replace that DVD ROM of yours but also be welcomed with open arms into your home.
The Package
While the particular version we look at today comes in full retail packaging there is no doubt that an OEM model will be more popular if it comes to the market thanks to the reduced price these products usually carry.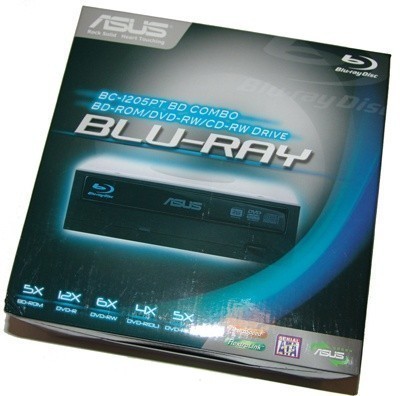 The front of the box shows us a picture of the ROM, the model number along with Blu-ray being mentioned a number of times. Across the bottom we can see that the drive offers 5x BDROM (Blu-ray), 12x DVD-R, 6x DVD-RW, 4x DVD-R(DL) and 5x DVD-RAM. We can also see that technology like FlextraLink and FlextraSpeed are implemented along with the fact that the drive is Serial ATA.
Flextralink offers protection from buffer underruns while FletraSpeeds takes care of on the fly speed adjustments when it comes to reading and writing.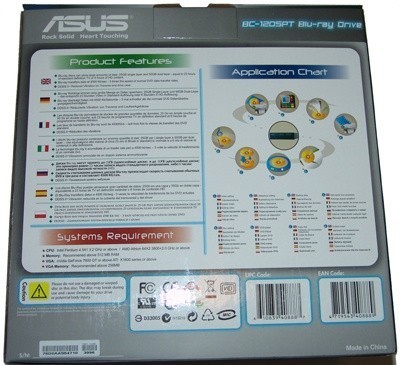 Turning the box over we have some product features, an application chart that pretty much tells you exactly what you can do with the drive, warning, system requirements and the standard array of logos.
Apart from the actual drive itself we also have four screws, a quick install guide in twenty-five languages and a CyberLink BD Solution disc which offers, PowerDVD, PowerProducer, Power2Go, PowerBackup and InstantBurn.
There is only so much you can do with a burner package and it seems like ASUS have covered everything.
The Drive
Moving onto the drive there is only so much you can say about a ROM. The front facet gives us the Blu-ray Disc logo in a stand out blue color along with ASUS in the middle.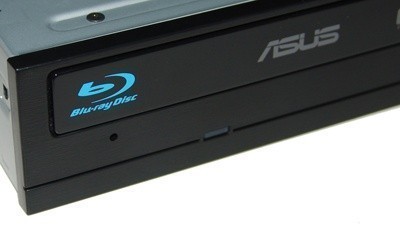 The right gives us the standard RW, DVD, DISC logos and the whole drive comes in at a few millimeters longer then the Pioneer DVR-212BK 16x DVD Burner. Clearly nothing that's going to cause any issues.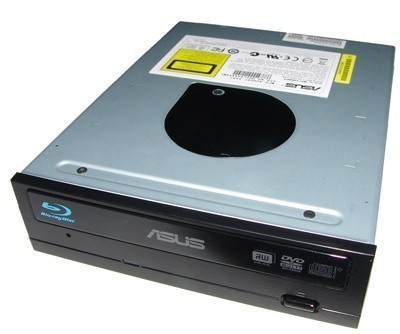 Swinging around to the back of the drive we have the standard SATA connector along with the SATA power connector found on SATA hard drives.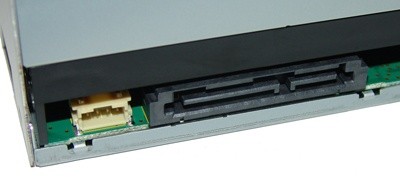 The top of the drive has the usual sticker that gives us the manufacturing date, model, brand, power ratings, explanation of the connectors, warning about the laser and the standard rundown on how the product complies with the FCC.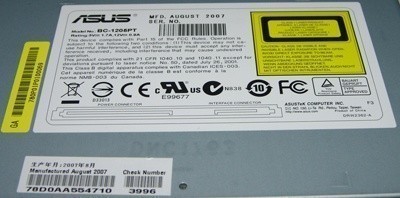 The only thing missing from the whole drive is probably a beige faceplate but fortunately most cases these days offer their own cover for the ROM drive so it doesn't really matter what color the front is; it's not an issue having it match your home theater PC or your standard tower.
Test System Setup and Nero DiscSpeed 4
Test System SetupProcessor(s):
Intel Core 2 Quad Q6600 @ 3GHz (333MHz x 9)
Cooling:
Corsair Nautilus500 (Supplied by
Corsair
) with Arctic Cooling MX-2 Thermal Compound (Supplied by
Arctic Cooling
)
Motherboard(s):
ASUS Blitz Extreme (Supplied by
ASUS
)
Memory:
2 X 1GB Corsair XMS3 DDR-3 1066MHz 7-7-7-21 (Supplied by
Corsair
)
Graphics Card(s)
: Palit 8800GTS 320MB (Supplied by
Palit
)
Hard Disk(s):
Hitachi 80GB 7200RPM SATA-2
Operating System:
Windows XP Professional SP2
Drivers:
Forceware 162.18
We will be attaching the BC-1205PT to our standard test bed. What we'll test is the copy speeds to and from a DVD using both the BC-1205PT and also a Pioneer DVR-212BK DVD Writer/Reader.
Our 50GB Dual Layer movie of choice was Black Hawk Down which packs a total of 43.53GB, while our Single Layer movie was Ice Age 2: The Meltdown which holds a total of 22.69GB. Finally for our DVD portion of testing we use World in Conflict which is a newly released game and uses up a total of 4.16GB.
To test the burning capabilities we use an ISO image of Windows Vista X64 which comes in at a heavy 3.75GB. The blank media we use is from Sony. It's a single layer 4.7GB DVD-R that supports up to 16x burning capabilities.
Nero DiscSpeed 4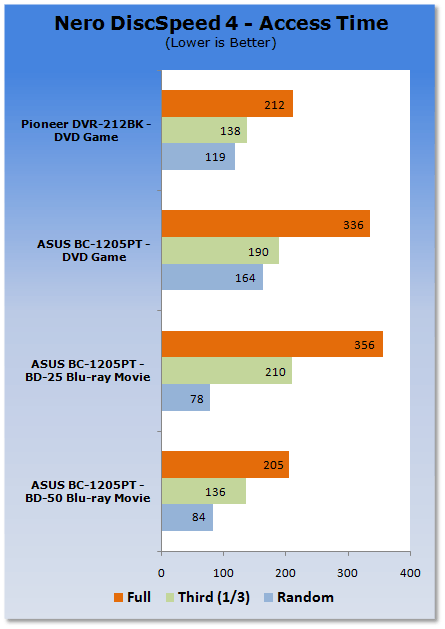 The best access times can be seen on the BD-50 disk while we can clearly see that the Pioneer is faster when compared directly to the ASUS BC-1205PT using the same disk.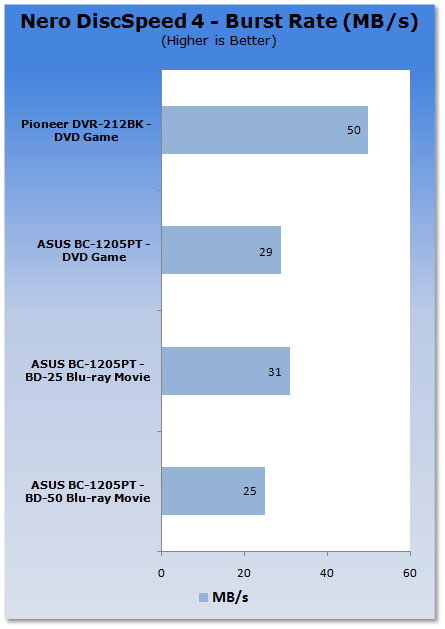 Burst time across all media on the ASUS BC-1205PT is quite similar while we can see the Pioneer DVR-212BK has a big jump on the ASUS offering.
Benchmarks - Nero DiscSpeed 4 Continued
Nero DiscSpeed 4 Continued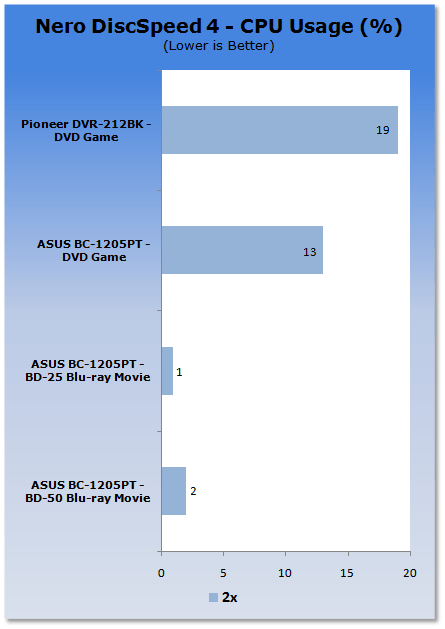 CPU load is considerably low for Blu-ray media and the ASUS offering continues to keep it low on our DVD when compared to the Pioneer DVR-212BK.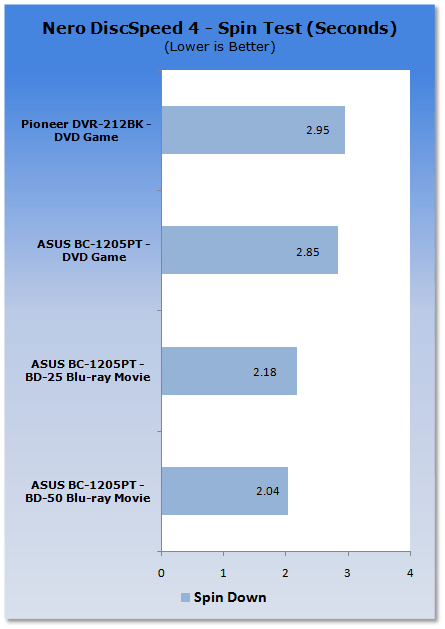 Spin down times are similar between the two drives using our DVD but it's interesting to see that the Blu-ray disks manage to spin down the fastest.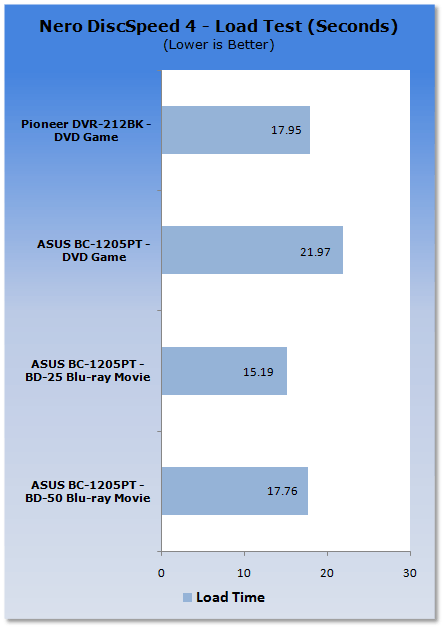 We see that the Pioneer DVD-only drive manages to cut the load time down by a few seconds but we again see that Blu-ray load times are quite low.
Benchmarks - Nero DiscSpeed 4 - Burning
Nero DiscSpeed 4 - Burning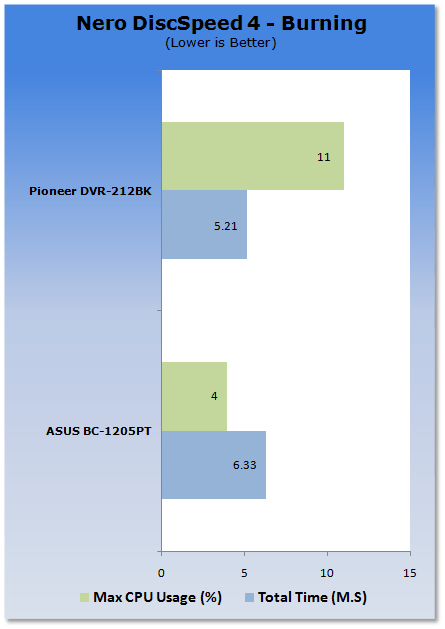 We again see that the Pioneer offering continues to have quite high CPU usage when compared to that of the ASUS. Of course the 16x capabilities on the Pioneer give it an overall faster burn.
Final Thoughts
The ASUS BC-1205PT is not only a very capable Blu-ray reader but is also excellent at burning those DVDs and installing those games. The thing is though, while this is all fantastic we would recommend that if the space is available that you get a standard DVD Writer/Reader for all those mundane tasks and let the BC-1205PT simply handle Blu-ray media only. With the low cost on DVD drives there isn't really any reason you couldn't have one sitting in the system alongside your Blu-ray ROM.
Performance is good - Blu-ray generally seems to be great in the access department but we can still see that the burst rate is quite a bit behind that of the Pioneer DVR-212BK DVD burst. This is slightly worrying - to give you an idea it took 6 minutes for the DVD test to complete on the Pioneer DVR-212BK, around 8 minutes on the BC-1205PT and a whopping 70 minutes for the BD-50 disk. The slightly slower burst speed isn't that much of an issue when dealing with a few gigs here and there, but once you get into the 25+ GB territories copying is quite slow - this is of course to be expected of new technology though, so it's not really a problem with ASUS or the drive.
Movies look simply fantastic and on a screen like the Dell 30" which has a huge 2560 x 1600 resolution screenshots simply don't do the image justice, there are huge improvements over DVD and the greater capacity on Blu-ray when compared to HD-DVD could really seal the deal for Sony as the media of choice for the next generation of movie lovers.
To really sum it all up, if you're an absolute image quality freak and demand simply the best from your components the BC-1205PT which will be released later this year should be on your shopping list. Coming into December and the holidays let's hope that it's a high def Christmas for everyone.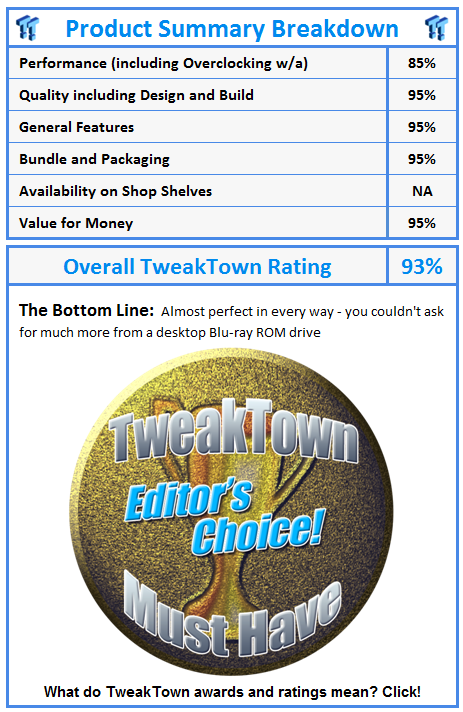 PRICING: You can find products similar to this one for sale below.
United States: Find other tech and computer products like this over at Amazon.com
United Kingdom: Find other tech and computer products like this over at Amazon.co.uk
Australia: Find other tech and computer products like this over at Amazon.com.au
Canada: Find other tech and computer products like this over at Amazon.ca
Deutschland: Finde andere Technik- und Computerprodukte wie dieses auf Amazon.de
Similar Content
We openly invite the companies who provide us with review samples / who are mentioned or discussed to express their opinion. If any company representative wishes to respond, we will publish the response here. Please contact us if you wish to respond.