ASUS P5E3 Mobo - X38 and DDR3 is here
We've just gotten a hold of our first DDR3 based X38 motherboard, the ASUS P5E3. We compare to DDR2 X38 and DDR3 P35.
Published Mon, Sep 24 2007 11:00 PM CDT
|
Updated Fri, Sep 18 2020 10:50 PM CDT
Rating:

90%
Manufacturer: ASUS
Introduction
DDR3 has now started to make its presence felt in the retail market and DDR3 modules for all the major players are starting to show up. DDR2 was criticised for its latency issues as well as its inability to beat DDR at clock for clock speeds. While this may be the case there is one thing to remember, DDR2-800 and DDR3-800 should perform almost identical due to the fact that they are running the same speed, just different technologies. DDR3 just has the ability to clock beyond that of DDR2 and that's where we will see the performance increase.
Intel has been the big player to move to DDR3 with AMD still having no time for this new technology yet. Simply put, I don't think AMD users will be happy with another socket change so soon since it has to change its CPU and motherboards in order to run different memory.
P35 using DDR3 has already shown us that it can be a big player, it's able to run the memory clocks at 2000MHz without any problems; and now Intel has built further on this by bringing an enthusiast version to the desktop market, the X38.
We have already looked at the X38 in detail with our GIGABYTE X38-DQ6 board, however this board was only running DDR2 memory. Today we have been given our first DDR3 supporting X38 from ASUS, the P5E3. How does it fair compared to GIGABYTE's X38 and P35T? Let's have a look see.
Specifications
Specifications of the ASUS P5E3CPU
Supports Intel Core 2 Series (Extreme/Quad/Duo)
Supports Intel Pentium Dual Core Series
Supports Intel Pentium D Series
Supports Intel Pentium 4 5xx/6xx Series
Supports Intel Celeron D 3xx/4xx Series
Supports Intel 45nm Series CPU
Chipset
Intel X38 Express
X38 Northbridge
ICH9R Southbridge
DMI @ 2GB/s
System Memory
4 DDR3 SDRAM 240pin DIMM Sockets
Supports DDR3-800/1066/1333MHz
64/128Bit Dual Channel
Supports up to 8GB Total Memory (4x 2GB)
Bus Frequency
100/133/200/266/333MHz Internal
400/533/800/1066/1333MHz External
P4 Bus Architecture
Expansion Slots
3 PCI Express x16
2 PCI Express x1
2 PCI
Connectivity
1 Parallel ATA port supporting 2 IDE Drives
6 Serial ATA ports
2 e.SATA Ports
1 Gigabit Ethernet Port
Expansion Ports
1 PS2 Keyboard Port
12 USB 2.0 Ports (6 rear accessible, 6 via expansion bracket)
6 Stereo Audio Ports
1 RCA SPDIF Port
1 Toslink SPDIF Port
2 Firewire ports (1 rear accessible, 1 via expansion bracket)
The Motherboard
The Board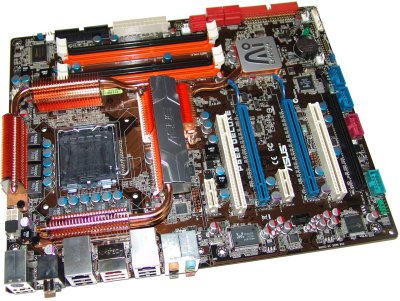 Ordinarily we start with the packaging and what you get for your dollar, but today it's a little difficult to that as we were sent just the board due to the early stage of production. However it is the full MP board so there is no Beta BIOS'.
Starting on the layout ASUS has once again done a very effective job in keeping things simple and clean. The 24-pin power connector along with the FDD port sit behind the four DDR3 memory slots which are coloured black and deep orange. The 4/8 pin combo port sits behind the PS/2 rear I/O ports, just between the heatpipe heatsinks. The IDE port is located near the bottom right of the board on the very edge and rotated 90 degrees. Four of the six SATA ports controlled by the motherboard also share the same arrangement with the final two ports that are SB driven sitting upright.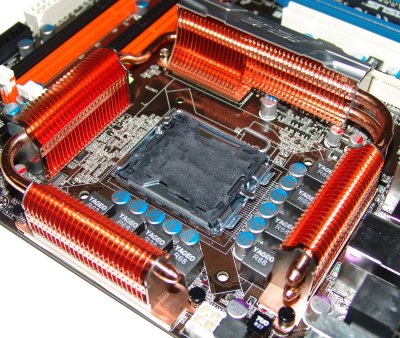 ASUS has unfortunately crowded the CPU area with a large heatpipe assembly that cools the 8-phase voltage regulators, northbridge and southbridge. While the ASUS board falls short of the GIGABYTE's twelve phases, eight is more than enough for even the most demanding Core 2 series CPUs and even the Pentium-D series drawing 130 watts.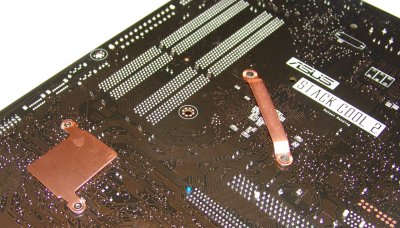 ASUS has put a single heatsink on the back of the southbridge chip. This is also a smart idea but would have been more effective if they also cooled the back of the CPU and northbridge like the GIGABYTE. X38 draws a lot more energy than P35 and in turn heats up more, there is no such thing as too much cooling.

ASUS has done away with a rear PS/2 mouse port on their new boards, and the P5E3 follows this with only a keyboard PS/2 port. Where the mouse port normally sits are now two extra USB ports giving you a total of six on the back of the board. The JMicron chip used to power the IDE port also powers the two eSATA ports available on the back of the board just below the Firewire port, these ports can be set as ACHI or RAID mode.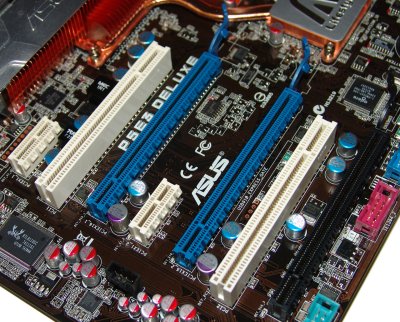 Now we come down to the slots on the board. ASUS has a very interesting setup with three PCI Express x16 slots. The two blue slots are routed to the X38 MCH and thanks to Intel they now both run at full speed. Crossfire finally gets full speed PCI Express to match that of NVIDIA's SLI. Too long we have had to deal with either dual x8 slots or the 16/4 slot configuration of the P35. The third PCI Express x16 slot is run off the southbridge and runs at x4, exactly how the P35 got its extra PCI Express x16 slot. This gives you the option to use a third graphics card for physics or if you want you can run RAID controllers that use x4 or x8 slots, the extra headroom is certainly nice. Added to this you get two PCI Express x1 slots and 2 PCI slots to make up the final bundle.
BIOS and Overclocking
BIOS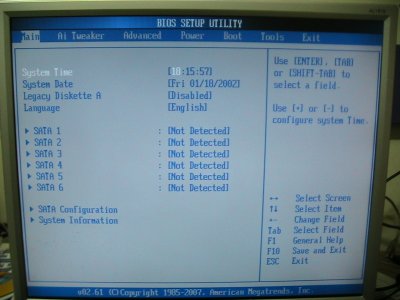 ASUS has not changed their BIOS layout for some time. Using the Award 6 BIOS core like so many others, ASUS goes with a tab menu style with the main option sets up the top and sub menus under each one. This is similar to how Intel set their own reference boards out. The A.I Tweaker menu holds all the overclocking settings which is just a new name for the old Jumperfree menu they used to use.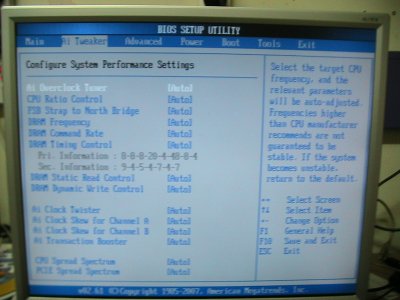 Buses
FSB Frequency: 200 - 800 in 1 MHz Increments
PCIE Frequency: 100 - 150 in 1MHz Increments
Voltages
CPU Voltage: 1.1v to 1.7v in 0.00625v increments
CPU PLL voltage: 1.5v to 2.78v in 0.02v increments
DRAM Voltage: 1.5v to 2.78v in 0.02v Increments
FSB Termination Voltage: 1.2v to 1.5v in 0.02v increments
Northbridge voltage: 1.5v to 2.78v in 0.02v increments
Southbridge Voltage: 1.05 to 1.2v in 0.15v increments
Clock Over Charge Voltage: 0.7v to 1.0v in 0.1v increments
As you can see ASUS gives quite a lot of choices, especially when it comes to the voltage side of things.
Overclocking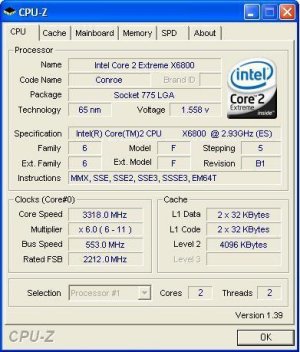 Our overclocking experience was good. Using conventional air cooling and our Dominator memory with the fan running, we managed to get the board to 558 MHz FSB with the RAM at 1:1. This at its early stage is extremely impressive for an X38 chipset and it seems to run a lot happier on DDR3 than we managed to get with DDR2.
Important Editor Note: Our maximum overclocking result is the best result we managed in our limited time testing the motherboard. Due to time constraints we don't have enough time to tweak the motherboard to the maximum and find the highest possible FSB as this could take days to properly find. We do however spend at least a few hours overclocking every motherboard to try and find the highest possible overclock in that time frame. You may or may not be able to overclock higher if you spend more time tweaking or as new BIOS updates are released, or "burn in" time might come into play if you believe in that.
Test System Setup and Memory Performance
Test System SetupProcessor
: Intel Core 2 Extreme Q6800 @ 3GHz (9x333MHz)
Memory
: 2x 1GB DDR3-1800 Dominator (Supplied by
Corsair
)
Hard Disk
: 500GB Seagate 7200.9 (Supplied by
Seagate Australia
)
Graphics Card
: 2x MSI X1950 Pro Radeon Crossfire (Supplied by
MSI
)
Cooling
: GIGABYTE Neon775 (Supplied by
GIGABYTE
)
Operating System
: Microsoft Windows XP SP2
Drivers
: Intel INF 8.3.0.1013, ATI Catalyst 7.7
Our test system today consists of our P35 DDR3 setup from GIGABYTE, our X38-DQ6 with DDR2 and the ASUS P5E3 with DDR3. Our usual suite of tests have been run but we have made a little bit of a difference. Our stock settings were done with the CPU at 3GHz using a 333 MHz FSB and 9x multiplier with the DRAM set to its highest possible ratio. For the DDR3 boards this was 1333 MHz whilst the X38-DQ6 with DDR2 was set to 1066 MHz.
With overclocking we did something a little bit different. The GIGABYTE P35T DQ6 has the ability to hit 580 MHz with the right memory, and the Dominator memory is able to give it this at a 1:1 ratio. We decided rather than give the P35T an unfair advantage in the tests we limited the overclock to 558 MHz, the same as the ASUS board to see if there is any advantage. Our X38-DQ6 however can't reach this speed and was only running at 517MHz.
EVEREST Ultimate EditionVersion and / or Patch Used:
2006
Developer Homepage:
http://www.lavalys.com
Product Homepage:
http://www.lavalys.com
Buy It Here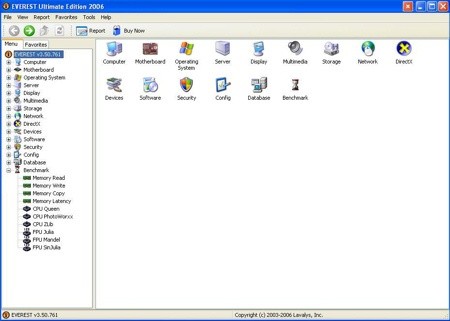 EVEREST Ultimate Edition is an industry leading system diagnostics and benchmarking solution for enthusiasts PC users, based on the award-winning EVEREST Technology. During system optimizations and tweaking it provides essential system and overclock information, advanced hardware monitoring and diagnostics capabilities to check the effects of the applied settings. CPU, FPU and memory benchmarks are available to measure the actual system performance and compare it to previous states or other systems.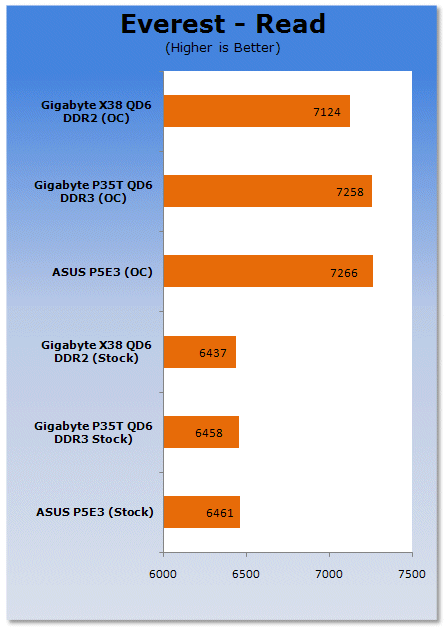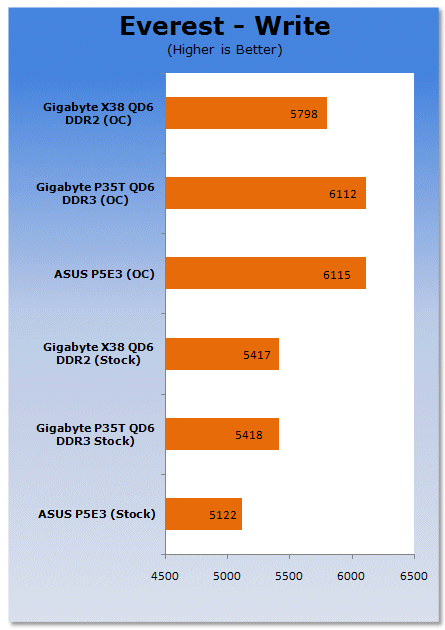 Between the two DDR3 platforms we don't see much of a difference. Both the P35 and X38 are right on top of each other. The X38 with DDR2 does fall slightly behind in both stock and OC tests.
Benchmarks - PCMark05
PCMarkVersion and / or Patch Used:
1.2.0
Developer Homepage:
http://www.futuremark.com
Product Homepage:
http://www.futuremark.com/products/pcmark04/
Buy It Here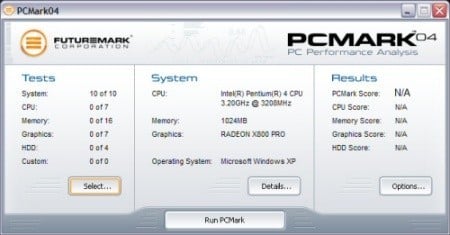 PCMark is a multipurpose benchmark, suited for benchmarking all kinds of PCs, from laptops to workstations, as well as across multiple Windows operating systems. This easy-to-use benchmark makes professional strength benchmarking software available even to novice users. PCMark consists of a series of tests that represent common tasks in home and office programs. PCMark also covers many additional areas outside the scope of other MadOnion.com benchmarks.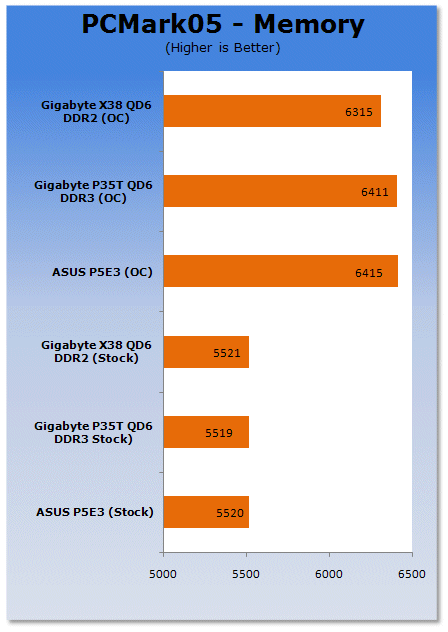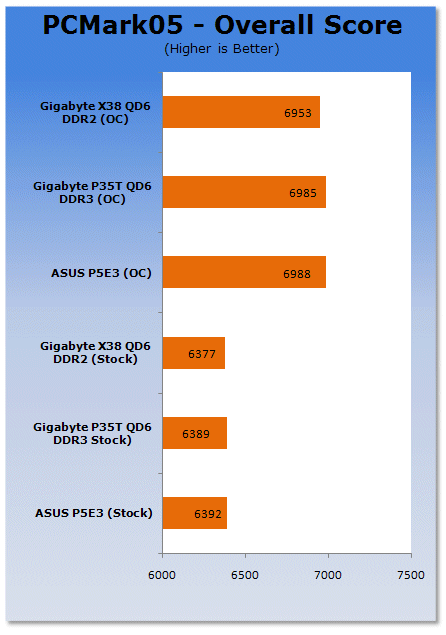 PCMark05 paints the same picture; we don't see much improvement going to X38 over the P35 with DDR3.
Benchmarks - Adobe Premiere Elements 2.0
Adobe Premiere Elements 2.0Version and / or Patch Used:
2.0
Developer Homepage:
http://www.adobe.com
Product Homepage:
http://www.adobe.com/products/premiereel/
Buy It Here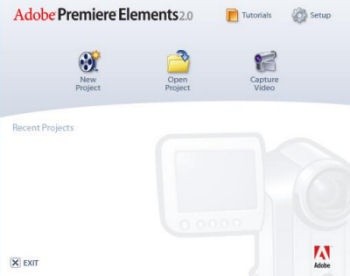 Our test with Adobe Premiere Elements 2.0 is performed with a raw two hour AVI file. It is then compressed into DivX format using the latest version codec. We measure the time it takes to encode and then record CPU usage.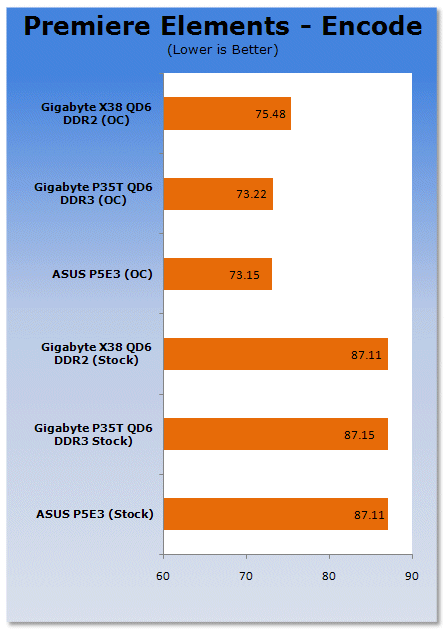 Adobe Premiere Elements shows absolutely no difference between the X38 with DDR3 and the P35 with DDR3.
Benchmarks - HDD Performance
HD TachVersion and / or Patch Used:
3.0.1.0
Developer Homepage:
http://www.simplisoftware.com
Product Homepage:
http://www.simplisoftware.com/Public/index.php?request=HdTach
Buy It Here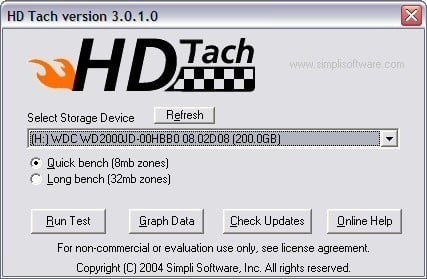 HD Tach has been around for a long time and is excellent when it comes to testing hard drive performance. It is also a very handy program when it comes to testing the controller used on particular motherboards. Tests such as Read, CPU Utilization and Burst are available at a click of the button and give you a good idea of how the hard drive can perform from system to system.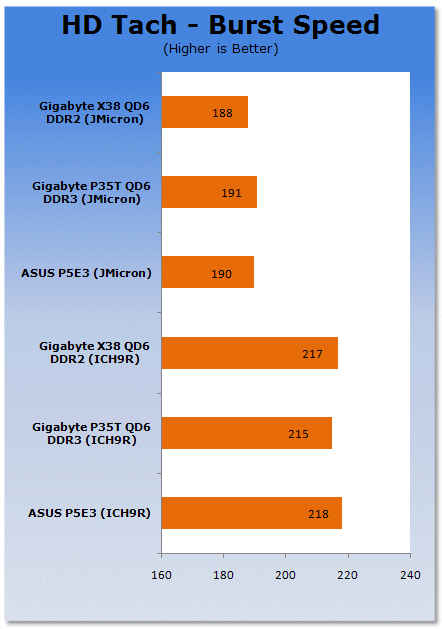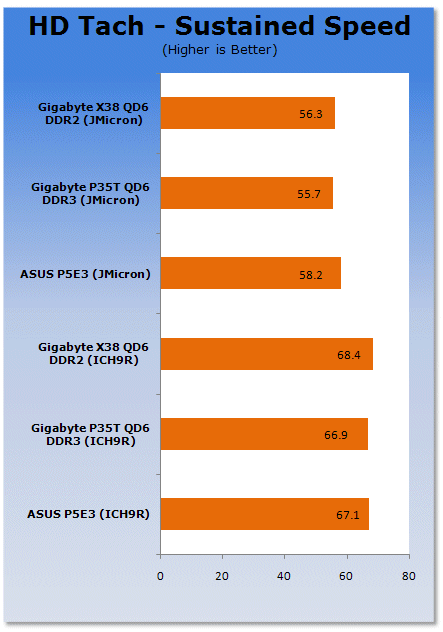 HDD performance across the board is identical thanks to the same HDD controller on all the boards.
Benchmarks - 3DMark06
3DMark06Version and / or Patch Used:
1.1.0
Developer Homepage:
http://www.futuremark.com
Product Homepage:
http://www.futuremark.com/products/3dmark06/
Buy It Here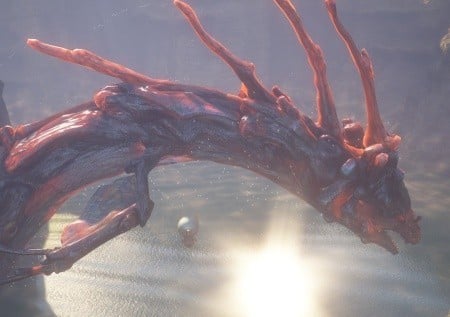 3DMark06 is the very latest version of the "Gamers Benchmark" from FutureMark. The newest version of 3DMark expands on the tests in 3DMark05 by adding graphical effects using Shader Model 3.0 and HDR (High Dynamic Range lighting) which will push even the best DX9 graphics cards to the extremes.
3DMark06 also focuses on not just the GPU but the CPU using the AGEIA PhysX software physics library to effectively test single and Dual Core processors.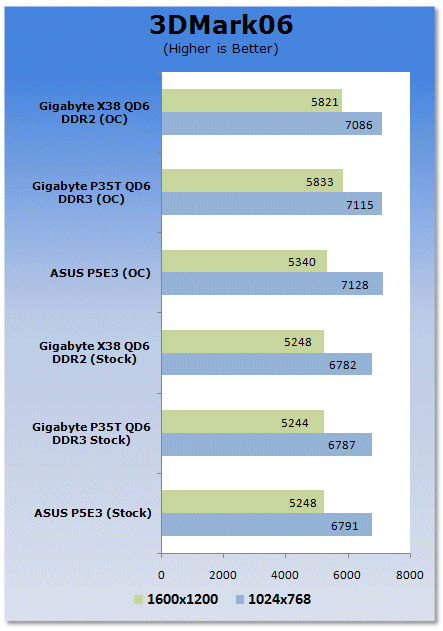 3DMark06 gives the ASUS X38 a win, this quite possibly due to the dual full speed x16 slots rather than the 16/4 config of the P35T.
Benchmarks - Prey
PreyVersion and / or Patch Used:
1.2
Timedemo or Level Used:
Hardware OC Demo
Developer Homepage:
http://www.humanhead.com
Product Homepage:
http://www.prey.com
Buy It Here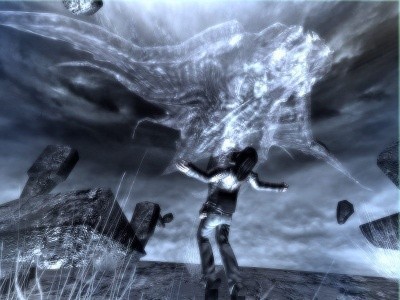 Prey is one of the newest games to be added to our benchmark line-up. It is based off the Doom 3 engine and offers stunning graphics passing what we've seen in Quake 4 and does put quite a lot of strain on our test systems.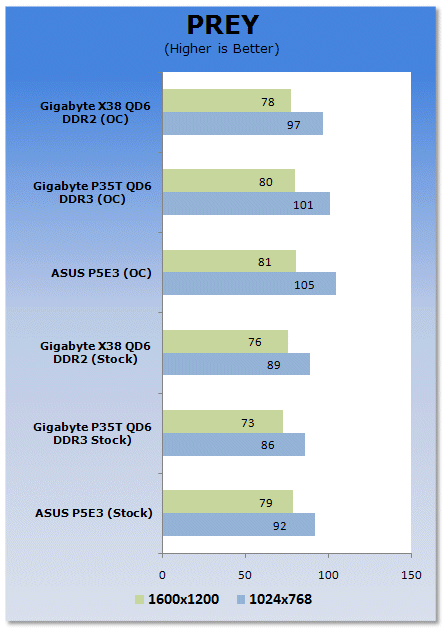 Prey also puts the ASUS X38 in front of the P35T setup, again the dual x16 slots are most likely the cause of this.
Benchmarks - Far Cry
Far CryVersion and / or Patch Used:
1.3
Timedemo or Level Used:
Benchemall Default Demo(
download here
)
Developer Homepage:
http://www.crytek.com
Product Homepage:
http://www.farcrygame.com
Buy It Here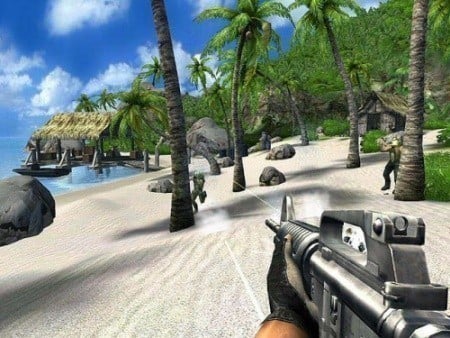 While Far Cry is now one of our older benchmarking games, it is still able to put pressure on most computers systems as it is able to utilize all parts of the system. Utilizing PS2.0 technology with the latest versions supporting Shader Model 3.0 with DX9c and offering an exceptional visual experience, there is no denying that even some of the faster graphics cards get a bit of a workout.
Our last gaming benchmark shows the ASUS X38 in front with the better graphics support.
Power Consumption Tests
Power consumption Tests
We are now able to find out what kind of power is being used by our test system and the associated graphics cards installed. Keep in mind; it tests the complete system (minus LCD monitor, which is plugged directly into an AC wall socket).
There are a few important notes to remember though; while our maximum power is taken in 3DMark06 at the same exact point, we have seen in particular tests the power being drawn as much as 10% more. We test at the exact same stage every time; therefore tests should be very consistent and accurate.
The other thing to remember is that our test system is bare minimum - only a 7,200RPM SATA-II single hard drive is used without CD-ROM or many cooling fans.
So while the system might draw 400 watts in our test system, placing it into your own PC with a number of other items, the draw is going to be higher.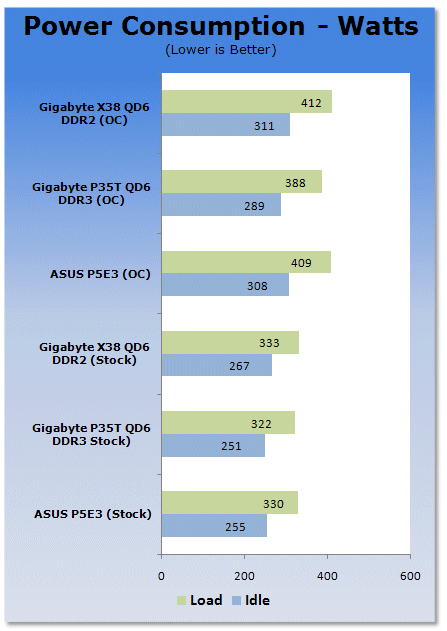 Power consumption of the ASUS X38 with DDR3 is over that of the P35 with DDR3 since X38 draws more energy, however it is slightly down compared to the DDR2 X38 setup which is a good sign.
Final Thoughts
X38 with DDR3 is definitely the way to go. Its early stage silicon has already shown us that its overclocking abilities can get up and boogie, and DDR3 has also shown that under the right conditions 2000 MHz is possible.
The days of DDR2 for the Intel platform are now numbered, P35 started the trend and the X38 continues on with full speed PCI Express x16 slots. We have yet to really determine the best board for the job as we have only seen two boards based on the Intel X38 chipset, one DDR2 and one DDR3 so we can't judge who has the fastest X38 out there. But what we can say is that DDR3 and X38 is a much more happy medium than DDR2 and X38.
The introduction of the dual x16 PCI Express slots has been a long time coming, in fact we were hoping that at least twin x8 slots would have been brought forward to the P35 to give a the Crossfire users out there something to build on, but Intel simply went their own way there. X38 replaced the aging 975X which was Intel's only true Crossfire setup board with two PCI Express x8 slots.
ASUS has done a very good job on their first X38 board, based around DDR3 rather than DDR2 like GIGABYTEs first we are happy to see just how well the board overclocks at this early stage. Its feature set is beyond what we would have expected as well. ASUS has truly done a good job at this early stage of the race, hopefully with new BIOS updates and better revision silicon in the future we will see overclocking beyond the 600 MHz FSB mark.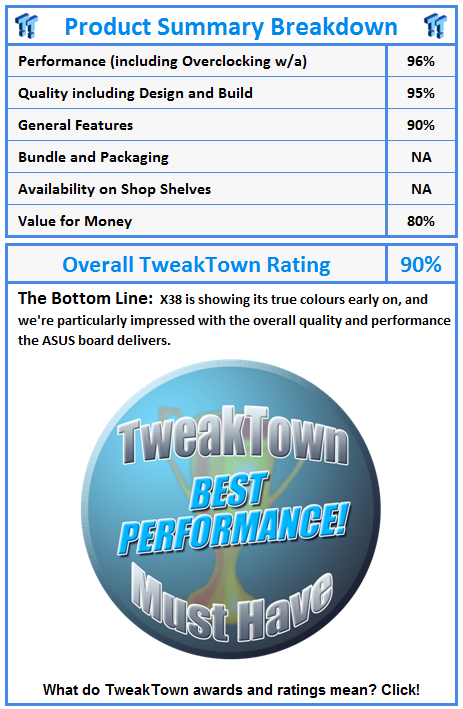 PRICING: You can find products similar to this one for sale below.
United States: Find other tech and computer products like this over at Amazon.com
United Kingdom: Find other tech and computer products like this over at Amazon.co.uk
Australia: Find other tech and computer products like this over at Amazon.com.au
Canada: Find other tech and computer products like this over at Amazon.ca
Deutschland: Finde andere Technik- und Computerprodukte wie dieses auf Amazon.de
We openly invite the companies who provide us with review samples / who are mentioned or discussed to express their opinion. If any company representative wishes to respond, we will publish the response here. Please contact us if you wish to respond.