Hitachi Deskstar 7K1000 1TB Hard Drive
With huge 1 terabyte HDDs now much easier on your wallet, we check out one of these monsters from Hitachi today.
Published Sun, Sep 9 2007 11:00 PM CDT
|
Updated Fri, Sep 18 2020 10:50 PM CDT
Introduction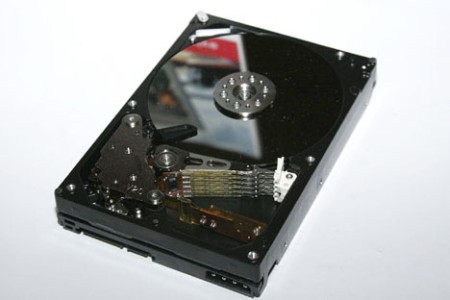 Storage solutions for the desktop hard disk market are now really starting to take shape. Over the past ten years of PC technology hard disks have been stagnant while sizes have just slowly increased, we have been stuck with the same slow and clumsy interface.
The IDE protocol was invented for the first AT and XT series of PCs. Designed to transfer data in a parallel format, IDE grew on motherboards to incorporate two channels per IDE port. At its height, two IDE ports were included on mainstream motherboards, supporting up to four drives. IDE got a big boost when the ATAPI standard was introduced. ATAPI stands for ATA Packet Interface; what this allowed for was devices like LS-120, CD/DVD drives and Zip drives to be connected to the IDE channel, something that was not previously possible and would require a separate controller card to connect the CD drive to the PC.
IDE finally gave way to the Serial ATA protocol which is what is currently in use today. Serial ATA moves the transfer of data from and to devices in a full serial nature, as opposed to the now very old and limited parallel format of the IDE standard. When this happened, speeds were able to increase from 100MB/s of the IDE interface to 150 on SATA generation 1 and 300MB/s on SATA generation 2. Along with better performance, SATA also uses much smaller data transfer cables; rather than 80 wire IDE we now use 7 wire Serial ATA. Ports increased, motherboards could only support four IDE drives at their best without the use of external cards. Serial ATA today natively supports up to six drives on Intel ICH8 and ICH9 motherboards.
While speeds increased, we started to see the drives themselves struggling to come in larger capacities due to their design for storing data. Hard Disks are still the slowest component in the computer for data storage due to the magnetic nature of how the data is stored. Recently we have seen big improvements made with the introduction of perpendicular recording along with Native Command Queuing (or NCQ).
Today we have our hands on one of the largest capacity desktop drives available on the market. Hitachi has sent us their new Deskstar 7K1000 drive supporting a full terabyte of data. How will this drive perform? Let's go have a look.
Specifications
Model Number
HDS721010KLA330
Interface
Serial ATA-II 300MB/s
Capacity
1000MB or 1TB
Data Buffer Size
32MB
Rotation Speed
7200RMP
Latency
4.17ms Average
Seek Time
8.5ms Rear, 9.5ms Write
Storage Type
Perpendicular Magnetic Recording
The Drive
Hitachi's Deskstar 7K1000 - The Drive
Hitachi's Deskstar hard drive line-up comes complete in its own box and is available on retail shelves; this unlike some hard drives available in OEM and packed in a simple plastic blister to protect it, Hitachi has gone the whole hog. The front of the Hitachi Deskstar box is white with a picture of a simple HDD on the front. The size of the drive is clearly printed on the front with a red banner/protective seal which also has the drive's size along with some interesting stats about how many videos, MP3s and pictures you can typically get onto 1TB of HDD space.
The back of the box contains some marketing hype as well as a three step procedure with pictures on how easy it is to connect the Hitachi drive to the PC. The inclusion of the instructions is a very good step as a less experienced end user can get the idea on how easy it is to put a hard disk into their own PC and not have to go pay a technician $50 to do a five second job.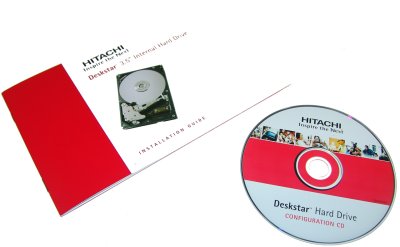 When you open the box you're greeted with a Hitachi Installation Guide which explains in full detail just how to connect the drive to the PC power supply as well as installing it to the case chassis rails and the Serial ATA data port. A software CD is provided with Hitachi's desktop management software. If you're installing this drive as a companion to the PC rather than the boot disk, this software will initialize the drive as well as format it so Windows XP or Vista is able to see it in My Computer.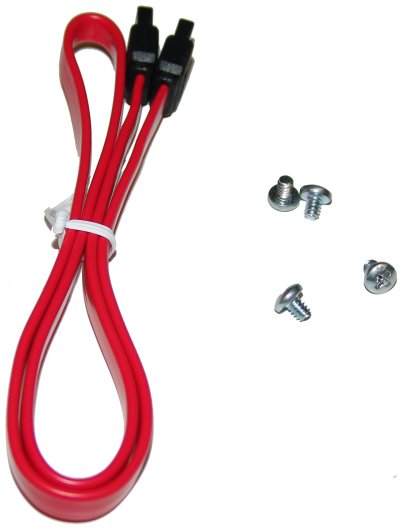 If you have bought yourself a more budget oriented board for your system, and assuming this is a second drive for you, chances are you don't have enough Serial ATA data cables; this could be a problem with some company's drives, but not Hitachi's. A single Serial ATA data cable is provided, the only problem is it doesn't have any of the clips on them to hold the cable to the drive or into the SATA-II ports on motherboards. Four screws are provided for you to attach the drive to the case chassis.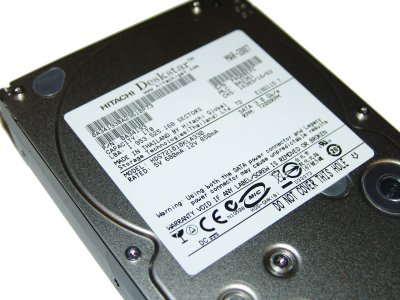 Now we come down to the drive itself where all your precious data is stored. On the outside the drive looks like any other that you would go and get from a PC vendor. It's what's inside that counts. The drive supports 1TB of data. While this is 1TB from the company the windows formatted size is 936GB of data. When companies sell hard disks they state them to the Nearest 1, this means they class 100MB HDDs as having 100MB of space, unfortunately a megabyte is actually 1024bytes so formatted sizes are smaller than stated. The top of the drive itself just has a label with info on the drive head and cylinder specs as well as the model number.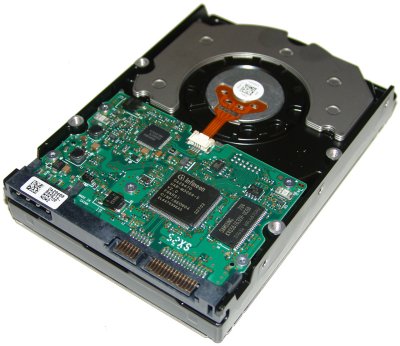 The underside of the drive contains the interface control board. The board contains the Infineon SATA 3.0Gpbs control chip. This chip is what the drive uses to communicate with the motherboard's Serial ATA controller. This chip is also responsible for the behaviour of the drive's NCQ system. Next to this is a single Samsung memory chip. Previously we have seen drives with up to 16MB of cache memory, which is a huge amount for storing data temporarily. The larger the cache the better as it allows for a faster read rate along the SATA-II interface. Seagate held the record for putting 16MB on their drives first, but Hitachi has gone one better.
The Deskstar 7K1000 has a full 32MB of cache memory. Since the drive heads can't read or write data anywhere near the 300MB/s speed that Serial ATA II is capable of, large caches are used to store data that is commonly being accessed like some of the system's pagefile. Since the memory is capable of transferring data faster than the 300MB/s, it's accessed at near on full speed which is why we get burst speeds of over 200MB/s.
At the back of the drive you get a choice of power connector, you can use the SATA power if your power supply has one. If yours doesn't and you don't want to use molex converters, no worries as there is a 4-pin molex connector too.
In order to fit sizes beyond the 500GB barrier, companies have had to switch the way they have the hard disk store data. Traditionally the data blocks or magnetic blocks that store the data sit on a longitudinal axis on the drive platter. While simple to implement, it limits the amount of data that can be written to the drive. Current drives over 500GB use what's called perpendicular recording and its method of aligning the partials rotates them 90 degrees. This means that the longer blocks stand upright rather than laying across the drive, thus allowing more data to be packed onto the drive. This has seen drives hit 750GB and now the full terabyte, making RAID arrays at 2TB or beyond much more affordable and simple to implement.
Test System Setup and HD Tach
Test System SetupProcessor
: Intel Core 2 Extreme X6800 (Supplied by
Intel
)
Motherboard
: Gigabyte P35-DQ6 (Supplied by
Gigabyte
)
Memory
: 2x 1GB DDR2-1186 Geil (Supplied by
Geil
)
Hard Disk
: 500GB Seagate 7200.9 (Supplied by
Seagate Australia
)
Graphics Card
: MSI Geforce 8800GTS 640MB (Supplied by
MSI
)
Cooling
: Gigabyte Neon775 (Supplied by
Gigabyte
)
Operating System
: Microsoft Windows XP SP2
Drivers
: Intel INF 8.3.0.1013, Forceware 162
Today we are using our motherboard test system to run our hard disk benchmarks. We have used our 500GB Seagate 7200.10 drive with 16MB of cache memory and a rotation speed of 7200RPM up against the new Hitachi 7K1000.
HD TachVersion and / or Patch Used:
3.0.1.0
Developer Homepage:
http://www.simplisoftware.com
Product Homepage:
http://www.simplisoftware.com/Public/index.php?request=HdTach
Buy It Here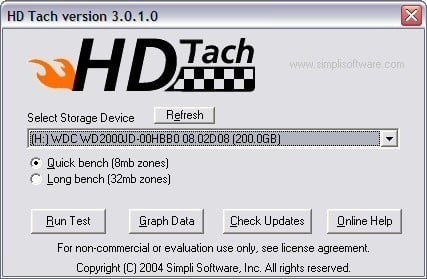 HD Tach has been around for a long time and is excellent when it comes to testing hard drive performance. It is also a very handy program when it comes to testing the controller used on particular motherboards. Tests such as Read, CPU Utilization and Burst are available at a click of the button and give you a good idea of how the hard drive can perform from system to system.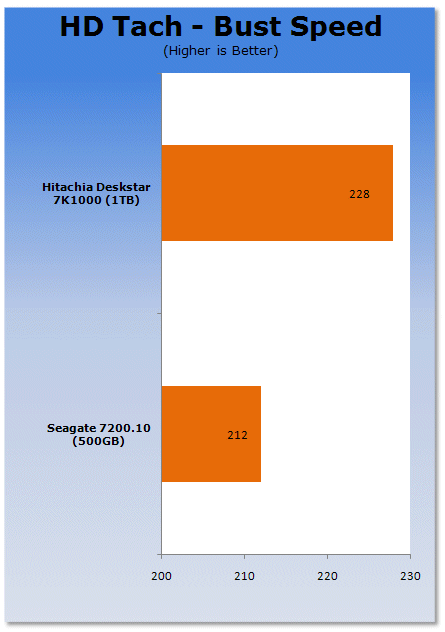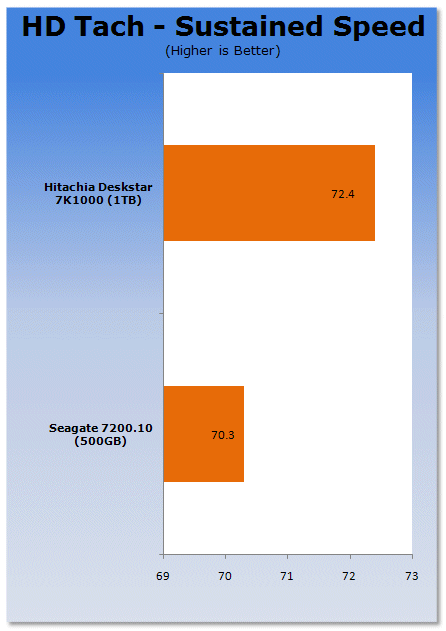 HD Tach shows that the extra cache has helped the drive gain extra burst speeds as well as a slightly better overall sustained read speed.
Benchmarks - HD Speed
HD SpeedVersion and / or Patch Used:
1.5.1.55
Developer Homepage:
http://www.steelbytes.com
Product Homepage:
http://www.steelbytes.com/?mid=20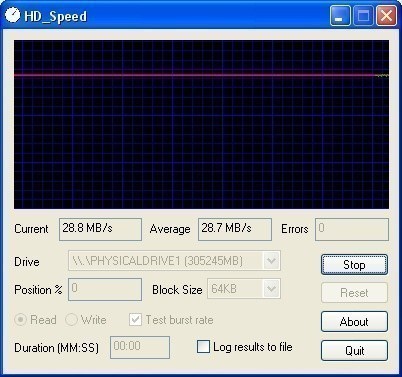 Measures both sustained and burst data transfer rates of your hard disks, CD/DVD-ROMs and floppy drives.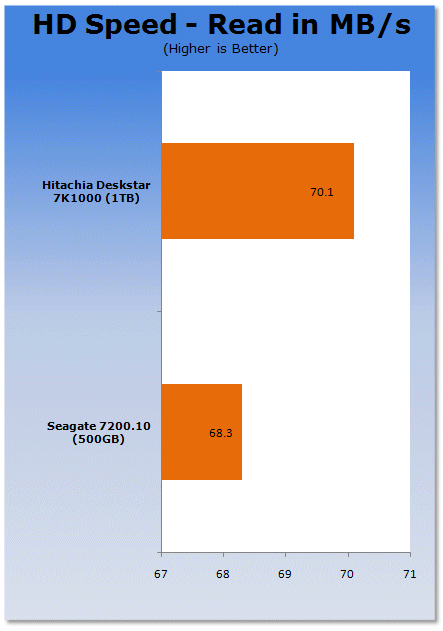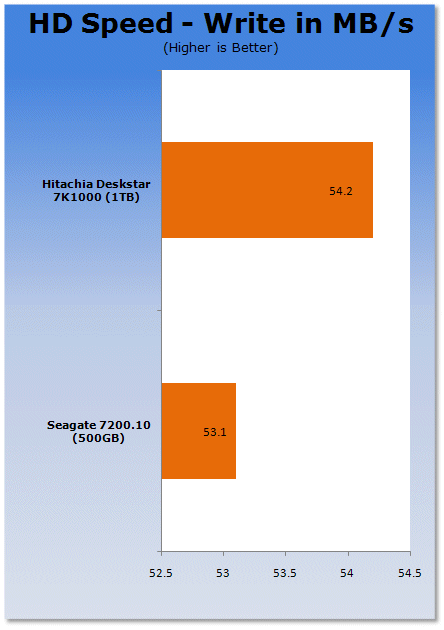 HD Speed gives similar results to HD Tach, but closes the gap a bit between the two drives.
Benchmarks - DiskSpeed32
DiskSpeed32Version and / or Patch Used:
3.0
Developer Homepage:
http://www.geocities.com/vgrinenko/
Product Homepage:
http://www.geocities.com/vgrinenko/DiskSpeed32/
DiskSpeed32 is a program for hard drive speed measurement in Win32 environment. It measures reading speed in whole disk or its part and plots graphical dependence for reading speed by cylinder number. This allows to obtain comparable data not only for different drives, but also for the same disk under different Win32 implementation.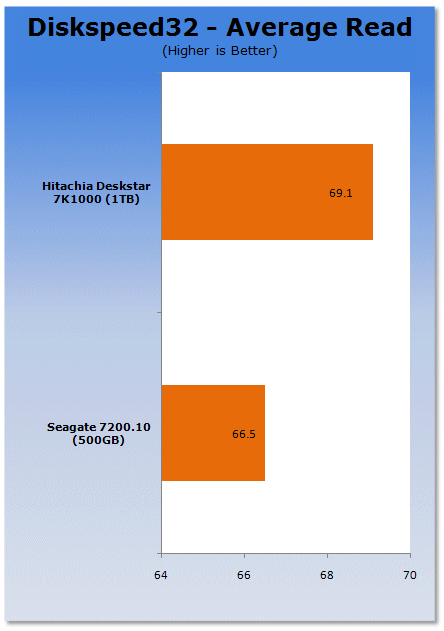 Diskspeed32 loves the extra cache of the Hitachi drive and puts it out well in front.
Benchmarks - Adobe Premiere Elements
Adobe Premiere Elements 2.0Version and / or Patch Used:
2.0
Developer Homepage:
http://www.adobe.com
Product Homepage:
http://www.adobe.com/products/premiereel/
Buy It Here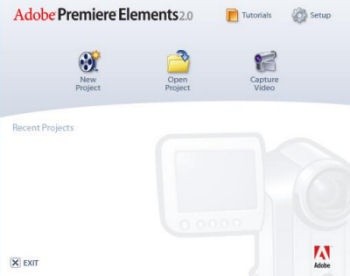 Our test with Adobe Premiere Elements 2.0 is performed with a raw two hour AVI file. It is then compressed into DivX format using the latest version codec. We measure the time it takes to encode and then record CPU usage.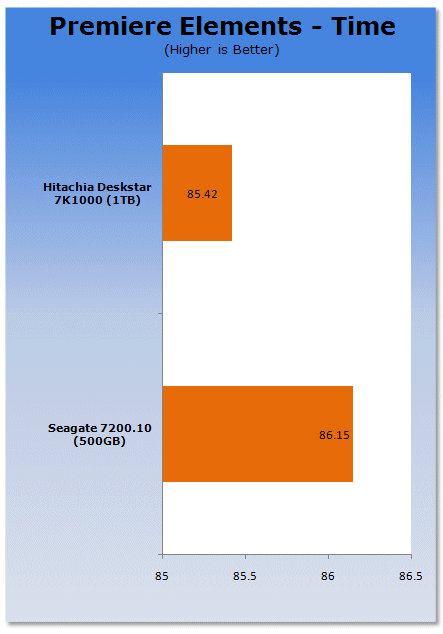 Premiere Elements isn't as cache intense as it's doing a lot more read/writes to the drive rather than the cache memory. Even so, the Hitachi is still slightly faster here.
Final Thoughts
Desktop hard disks have had to improve over the last five years to keep up with the increasing speeds in processors as well as the speed and size of memory. Games now fun faster thanks to SLI and Crossfire graphics, but what good is that if you have to wait an eternity for your system to boot or games to load thanks to a slow clunky hard disk drive?
Not only has the hard disk had to gain performance, it has also needed to grow in size. Operating systems, multimedia applications, videos, audio files and even games have increased in size over the years, making drives like the 7K1000 almost a necessity if you want to future-proof yourself a bit.
Hitachi has done a great job with the 7K1000 and we find ourselves going as far as saying that it's one of the best hard drives we have had the pleasure of reviewing. While Western Digital's Raptor drives are quick, they are also quite expensive and lack the SATA 3.0Gbps support, making them somewhat ancient in comparison. While 10,000 RPM is nice, we have seen the Deskstar's performance and know it to be almost identical to results we have previously witnessed from 10K Raptors, this thanks to the whopping 32MB of cache onboard and 3.0Gbps throughput.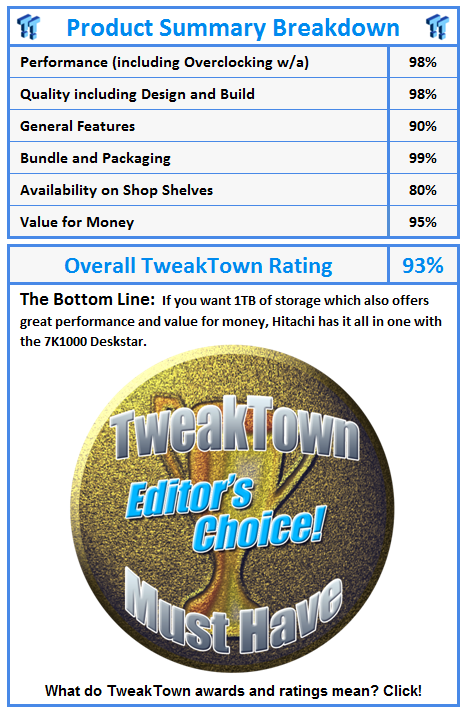 PRICING: You can find products similar to this one for sale below.
United States: Find other tech and computer products like this over at Amazon.com
United Kingdom: Find other tech and computer products like this over at Amazon.co.uk
Australia: Find other tech and computer products like this over at Amazon.com.au
Canada: Find other tech and computer products like this over at Amazon.ca
Deutschland: Finde andere Technik- und Computerprodukte wie dieses auf Amazon.de
We openly invite the companies who provide us with review samples / who are mentioned or discussed to express their opinion. If any company representative wishes to respond, we will publish the response here. Please contact us if you wish to respond.