BandRich C100 HSDPA 3.5G Modem
Today we try out a standalone HSDPA 3.5G ExpressCard based modem for internet access to your computer anywhere, anytime.
Published Tue, Sep 4 2007 11:00 PM CDT
|
Updated Fri, Sep 18 2020 10:50 PM CDT
Introduction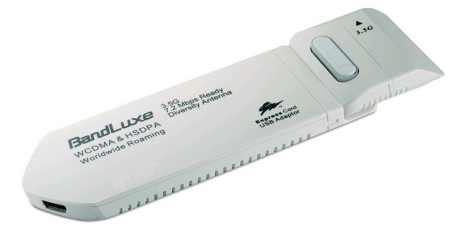 When it comes to options for mobile high-speed Internet on the move, there are plenty of choices available and even more on the way with Wi-MAX set to make its real public debut from next year.
Wi-Fi internet quickly became popular for its ease of use and relative affordability with now pretty much all notebooks and mobile devices such as phones, PDAs, tablet PCs and UMPCs coming with at least 802.11b. Wi-Fi internet fees are usually fairly reasonable but the problem with this technology is that it is not available everywhere. If you live in a major city and only live and work in this type of area, you'll likely find multiple wireless access points to hook onto, but even then as you move around the connection will drop out and you will need to reconnect.
What happens though if you are the type of person that ventures out of the city or takes weekend getaways or just lives and works in an area with poor wireless infrastructure? You are basically screwed for high-speed internet access then...
or are you?
Now that HSDPA / 3.5G is here (data connection over mobile phone networks) and very affordable in many places around the world (minus of course Australia and USA for example, who pay out the ass for it!), there are more solutions becoming available for users who are required to be connected to the outside world all of the time with a fast connection speed. For instance, in Taiwan we only pay around $28 USD (or $34 AUD) per month for unlimited time and data 3.5G data connections through Chung Hwa Telecom. There are many other countries that offer similar and comparably incredible 3.5G plan deals as opposed to other countries who charge unrealistic amounts. Hence, a HSDPA modem is only going to be a realistic option if you can get a mobile plan or HSDPA data plan (without voice number etc) from your phone company who has good deals going - read:
unlimited download rates
.
Today we spend some quality time with a product from a company called BandRich from Taiwan. They have a HSDPA 3.5G modem which also supports plain old slower 3G and GPRS / EDGE; this simply called the "C100". It is an ExpressCard HSDPA data modem for notebooks which also comes with USB adapter supporting up to 7.2Mbps download speeds over your mobile phone network. It supports GSM bands 850, 900, 1800, 1900 and UMTS (that is 3G and 3.5G) bands 850, 1900, 2100 and it works at up to 110KM/h making it suitable for highway driving and commuting to work, on the train or bus. You can even send and receive SMS messages from your computer but cannot make or receive voice calls.
We play around with this fancy device for a bit and find out how it works and if it is actually any good at providing high-speed broadband Internet access on the move!
Up Close and Personal
C100 Up Close and Personal
The C100 HSDPA 3.5G data modem from BandRich is quite a simple device in how-to functions. Natively it is a 34mm widthwise ExpressCard modem enabling you to hook it directly into most notebooks. However, it also comes with a handy USB adapter in case you do not have access to an ExpressCard slot.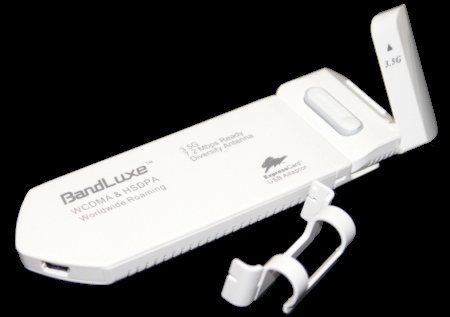 Included are USB cables that provide power and data to the C100 - it is mini USB to two normal sized USB ports. For best performance, BandRich recommends that both USB plugs are plugged into two
separate
USB ports. This, of course, will take up two precious USB ports on your system but one of the USB ports (the power plug) is a double adapter type which allows another USB device to be plugged into it - smart thinking by BandRich.
The device itself measures 119.6 x 42 x 11.25 (which includes the antenna) meaning it is small enough to sit in the palm of your hand (if you have a big hand like me!). It weighs in at around 60 grams total which includes the USB adapter and cables, so it is very easy to carry around in your notebook bag.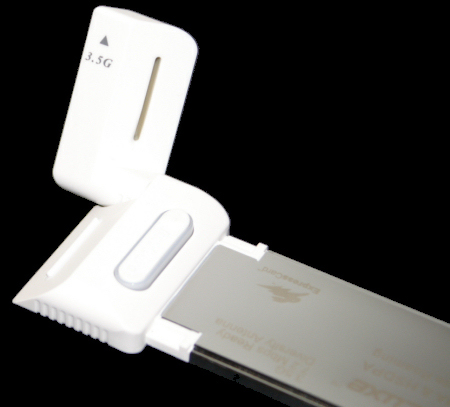 The antenna is rotatable from its flat position of 180 degrees all the way to roughly 45 degrees, which may or may not assist in attaining a better signal strength. Throughout our testing, it did not seem to make any difference but we tested in a city area with strong mobile reception. It may make more of a difference in remote areas with not so good mobile tower reception. The C100 will work up to speeds of around 110KM/h and possibly faster but that was untested. This means if you often travel on the highway or on train, you won't have any connection issues - unless of course it is a fast train then you might have some issues. We didn't have a chance to test it on Taiwan's new fast train network, which speeds up to and even over 300KM/h at full speed.
What is interesting is that the C100 includes an external antenna jack which allows you to use other more powerful and bigger antennas. If you are in an isolated country area and the nearest mobile tower is miles away (usual occurrence in big countries like Australia), it could mean the difference between having high-speed internet access or none at all - on the move
or
in your house. We did not bother testing with an external antenna as during testing we had quite good signal strength in Taipei County, but you can imagine if you invested some money in an antenna, you could really get close to the maximum download speed your phone company offers.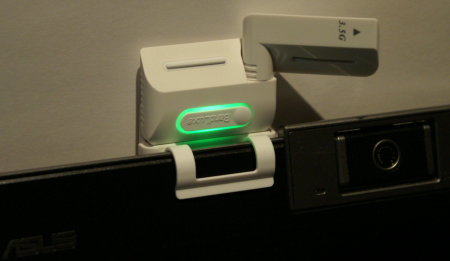 The package includes a little adapter which clips nicely onto the C100 and allows you to mount the device on your notebook LCD screen or other suitable places. It works fairly well but considering the adapter is designed to work with a wide range of notebooks with different LCD size widths, it did sit on our ASUS 13" LCD notebook alright but it did move around a little and felt a little unsteady.
The C100 has two different types of what we could call "power states". When there is no download or upload activity, the connection automatically switches down to GPRS, but the instant there is connection activity, it switches up to the best connection available - in our case HSDPA / 3.5G. When in low power state, the C100 is lit up green and when in high power state, it is lit up blue - this makes it very simple to determine which type of connection it is using at any given time (and if there is a SIM or connection error, the C100 will light up red).
The easy assumption for BandRich doing this would be that most of the time the C100 will be used on portable devices where battery life is important and 3.5G chews up battery life real quickly, hence the reason for auto switching down. If the C100 had an AC power source, it would not matter as much but since all power is drawn from your computer or mobile device, this design implementation is fabulous.
The package also includes a Quick Start Guide and CD with driver and software however we used the latest version from the BandRich at the time which was version 1.01.024.
Let's move onto installation and using the device now!
Installation
Installation of the C100
Installation of the C100 is rather simple. If you want HSDPA 3.5G access, you are going to need to obtain a SIM card that supports it and that will involve contacting your phone company and asking them about it including plans and rates.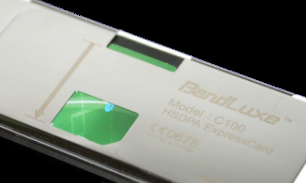 Once you have the SIM, it is a simple task of inserting the SIM card into the reverse side of the C100 and that is simple to do as everything is matched up with the angle of one side of the SIM being different to the other three sides. I hope that made sense!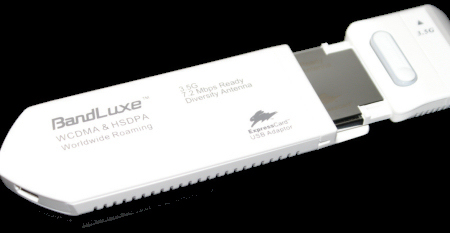 Once the SIM is inserted, you need to work out if you are using the ExpressCard plug or USB. Since we tested using USB, we will cover that part. Simply slide the C100 into the included USB adapter till it goes all the way in. There is no actual click type sound for confirmation but you will know once it has been fully inserted (
Ed. Note - no time for sex jokes here!
). Now grab the included USB cables and plug the mini USB cable into the bottom of the USB adapter and the other two into your computer into two separate USB ports, but do not piggy back them as they each need separate ports for best performance. Easy so far, huh?
Your best bet will be
visiting the BandRich website
and downloading the latest versions. There is support for Windows 2000 (SP4), XP (SP2) and Vista (32-bit and 64-bit) along with support for MAC OSX tiger 10.4.x or above - there is no driver or software support for Linux at this stage. Now go ahead and install the software which will install drivers, the Connection Manager and also setup the HSDPA data connection as a new modem connection on your PC after the first time you hit connect in the program.
There was no need for us to change any settings to get connected. Using a Chung Hwa Telecom SIM enabled for 3.5G, the software automatically detected the network. Once we hit connect, it created a new system dial-up connection called "CHT" under Network Connections using COM4 and we were connected to the outside world at 7.2Mbps, all in a matter of seconds - it will always connect at "7.2Mbps" but it doesn't mean it will necessarily do that speed (as you could be hooked onto a slower GPRS, EDGE or 3G network), it is just the maximum the C100 supports.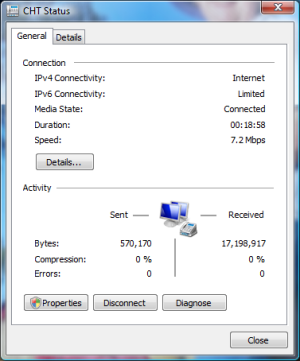 Once that initial dial-up connection has been created through the BandLuxe Connection Manager, you don't even need to use the Connection Manager if you don't want to - you can connect and disconnect it like a normal 56k modem connection. This method connects in only one second and happily transmits data with ease straight away with no delays. Your phone provider may ask you to enter a username and password and even a dial-in number or APN, but with Chung Hwa that is not the case and that info was automatically pulled from the SIM card itself into the profiles area - if you are required to do this, you can venture into the settings area and manually configure your network settings in the profiles area.
That is installation covered - you may want to reboot to ensure things run smoothly but our installation did not even require a reboot when installing on the 32-bit versions of XP and Vista.
Usage Testing - Connection Manager
Now that everything is setup, installed and ready to go we are all set to test the C100 and see how it actually performs in some real-world testing, starting with the Connection Manager.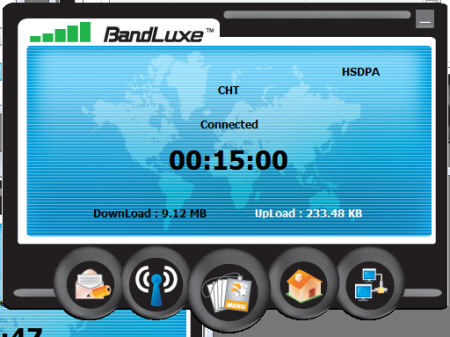 We will start off by checking out the Connection Manager (CM) and then move on. We weren't expecting much from the CM but it actually has some useful tools and information presented. On the main start-up screen it tells you which network you are connected to, what connection speed it is currently using (WCDMA or HSDPA and so on), how long you have been connected, how much you have downloaded and uploaded in kilobytes (KB). Near the top there is also a green signal strength bar which is handy for initial setup and making sure the C100 antenna is positioned properly.
It goes deeper than that though. Starting from the bottom icons we have the "Compose" button which takes us to the area that allows us to send and receive SMS messages. It's very simple to send a text message as you can see below.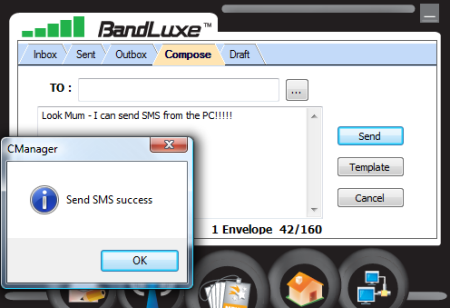 The next button allows us to switch RF mode to flight mode for takeoff and landing. The next button takes us to the settings area which is full of useful goodies.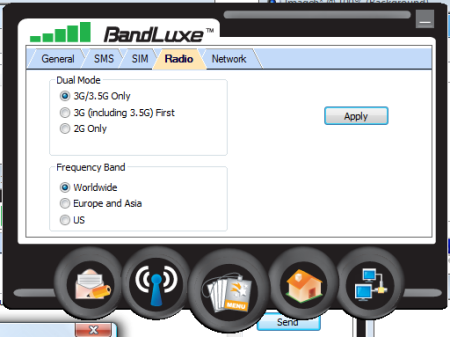 We won't provide screenshots for all these options but in this area you can do numerous things such as: enable "auto connect on startup", select CM language, enable or disable new SMS alerts, change SIM PIN codes, select what type of connection mode you want to use (3G/3.5G Only, 3G (including 3.5G) First or 2G Only), select your frequency band which is set to worldwide by default, so you shouldn't need to touch it. The final option is network settings where you can manually pick which network you want to use; this is handy if you are crazy enough to use HSDPA global roaming when you are outside of your country.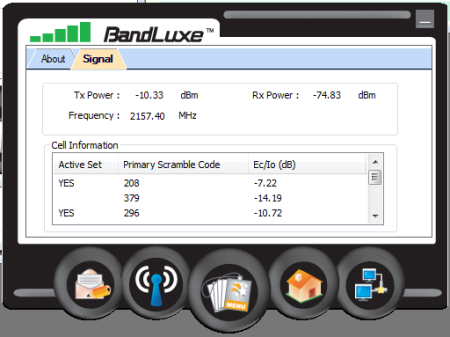 Going even further there is a contacts section where you can backup phone numbers stored on your SIM and restore them at a later point. The information section is important as it has an area which provides real-time details about your signal strength which is handy for tweaking and trying to find the most ideal position for the antenna to sit and face.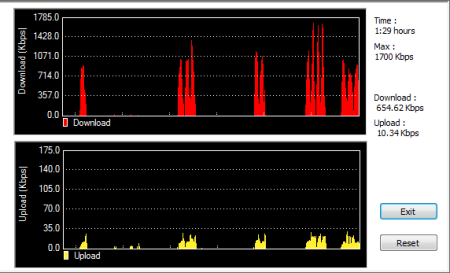 Finally for the CM is the statistics area which provides real-time information about your active download and upload speeds in graphical format, as you can see from the screenshot above. It's basically got everything covered!
Usage Testing - Speed Testing
Now that we are done looking at the CM, let's move onto probably one of the more exciting aspects of the review - speed testing!
After minimal tweaking (placing the antenna very close to our office window - in fact, it was sitting in the window seal from the eleventh floor of our building), we did some speed testing to see exactly what we could get out of the C100 and Chung Hwa Telecom HSDPA service here in Taiwan.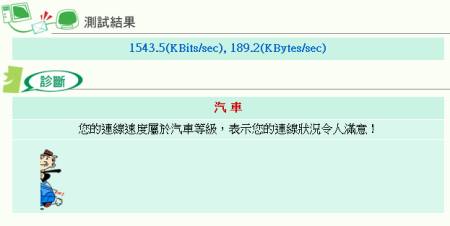 We used a local Taiwan internet speed tester from Anet to measure attainable download speeds and were very pleased with the results. As you can see from the results above, we managed to hit a little over 1.5Mbps (or 189.2KB/s) which is about what we expected.
According to the CM, it peaked at 1.8Mbps (or 230KB/s) at some point but 1.5Mbps is not too bad for an internet connection on the move - surely fast enough to perform most tasks and it is important to remember it is as fast (if not faster) than standard ADSL fixed line phone connections.
Keep in mind, this is not to say the BandRich C100 is limited to this speed - we have tested with other HSDPA devices such as the UBiQUiO 503G mobile phone using the same SIM card in the same location and we saw similar results. In fact, the 503G only managed to attain 1.1Mbps over its Windows Mobile 6 internet sharing program via USB.
Depending on where you are located and what your phone company provides (and what time you are using the connection), you will see faster or slower download speeds including 7.2Mbps, 3.6Mbps, 1.8Mbps (this seems to be what the Taipei network is limited to at the moment), 1.2Mbps or 384Kbps. Upload speeds are capped at a maximum of up to 384Kbps.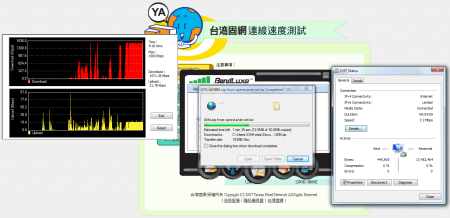 The above is a handy screenshot of everything in action when downloading from a local server, it was reaching 183KB/s which really is not too shabby. It is not the 1024KB/s we sometimes see from our ADSL2 connection but if you were out and about and away from home or office, it is better than 56k dial-up or no Internet connection at all. Click on the image for a larger version!
Final Thoughts
When all is said and done, we have got to say that we are rather impressed with the C100 HSDPA data modem from BandRich.
We are hard pressed to find any faults with the C100. From the get go, it impressed us. Build quality and style is brilliant, installation and setup is very simple and it only takes a couple of minutes to get connected. Being ExpressCard with USB adapter means that it basically works on any computer, so no hassles there. The Connection Manager is full of many useful tools and information and makes the whole experience even nicer with its ability to send and receive SMS messages, monitor data transfers and so forth - the GUI is even quite sexy, too.
As far as connection speeds go, it achieved the fastest HSDPA 3.5G speeds we have been able to attain in Taipei so far. We have tested on other devices and none were able to go as high as 1.8Mbps as the C100 was able to achieve at one point. Even the average 1.5Mbps was impressive and provided a solid internet connection in whatever we threw at it. Heck, we even tried our luck and had torrents downloading and uploading over the Chunghwa Telecom SIM in the C100.
Important note - make sure you check your data plan rates and how much you can actually download with your phone company first before you start doing stuff like that or you could end up with an absurdly huge bill at the end of the month! MSN, e-mail, FTP, Skype and anything else we threw at it worked just fine like it was our normal ADSL2 office connection. We suspect though that the C100 will act just like any modem and only support what the ISP provides to you, in our case we had open access to basically everything.
We did manage to find one down side though and that is the price.
Our friends at eXpansys are listing the C100
for $309.95 USD (about $375 AUD) and that is a considerable amount of money to drop on a modem. Keeping in mind there are not too many products of this nature around at the moment on shop shelves and as competition increases with more brands introducing similar products, the price should drop. However if you are an early adopter of new technology, you are going to pay for it here.
Besides the pricing issue, the BandRich BandLuxe C100 HSDPA data modem is bloody brilliant - it does its job perfectly, looks good, works well and most importantly will allow you to stay connected to broadband level internet access when you are on the move. We just love it to bits but your wallet might think otherwise.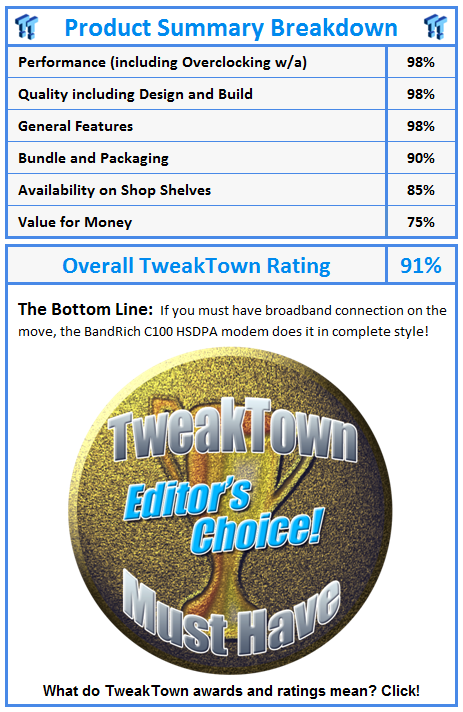 PRICING: You can find products similar to this one for sale below.
United States: Find other tech and computer products like this over at Amazon.com
United Kingdom: Find other tech and computer products like this over at Amazon.co.uk
Australia: Find other tech and computer products like this over at Amazon.com.au
Canada: Find other tech and computer products like this over at Amazon.ca
Deutschland: Finde andere Technik- und Computerprodukte wie dieses auf Amazon.de
Similar Content
We openly invite the companies who provide us with review samples / who are mentioned or discussed to express their opinion. If any company representative wishes to respond, we will publish the response here. Please contact us if you wish to respond.