Seagate Freeagent Pro eSATA/USB Storage
Today we have a look at snazzy external storage solution from Seagate with fast eSATA connectivity and more..
Published Mon, Sep 3 2007 11:00 PM CDT
|
Updated Fri, Sep 18 2020 10:50 PM CDT
Introduction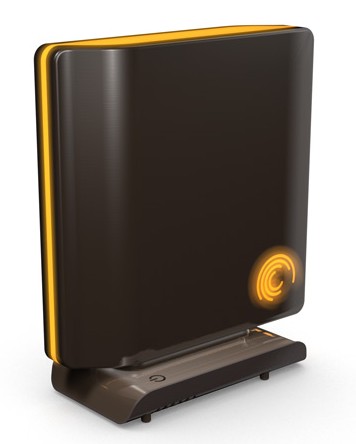 Computers have come a long way since their introduction. The size of the computer has shrunk from needing separate rooms for the storage and processors to the size of a wrist watch. While some parts have had to shrink, the size of some parts have had to increase, though not in a physical sense; rather an increase in the speed the processors run at, the amount of memory the system can support and of course the size of the storage mediums we use.
The old style of recording data within the PC remains today. Invented over thirty years ago, the hard disk; a magnetic storage device is still trusted to keep all our data stored for easy access. Originally starting at around 1MB capacity, hard disks have now grown to over 10,000 times as much, storing 1 Terabyte on the latest generation of drives. Why do we need so much?
Back when PC's were originally designed, they were pure business machines, no one ever thought of a PC as a multimedia station. Running simple business applications required a simple operating system and simplistic programs like Word. Today we use PC's for music, videos and much more. Multimedia storage takes up far more space than that of a simple word document; in order to store a worthwhile combination, drive spaces have had to increase to cope with this. Not only have file's sizes increased for multimedia, but gaming has changed to include HD movies requiring even more space. Even today's operating systems are extremely complex, thus requiring more space again.
While adding storage devices inside the system is good, there is a limit to the amount of space inside a case, and internal connectors are finite. External storage thanks to USB, Firewire and eSATA makes perfect sense, as the amount of devices you can connect is increased as well as moving the storage drive outside the case, in turn providing better PC cooling.
Today we are looking at a full storage solution from Seagate called the Freeagent Pro. How well does this baby stack up? Let's have a look.
Inside the Box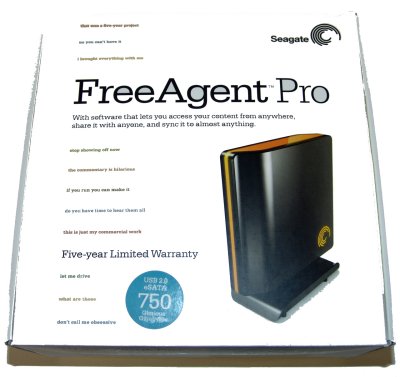 Seagate has focused its Freeagent Pro at the desktop segment market, with no expense spared. Seagate has done a good job on the package; the box the drive is shipped in is white with a full colour photo on the front along with some basic feature set info along with the size and interface supported.
On the back there is another colour photo of the drive, but no useful info is included, just a bunch of marketing hype on the drive.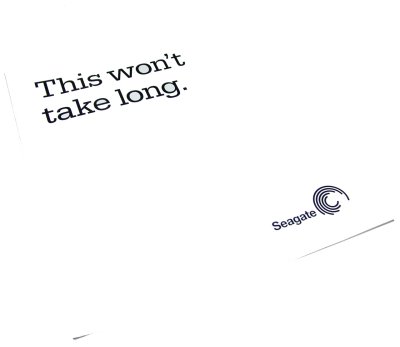 The documentation included in the box is very simple but effective, being a simple setup you only need to plug in the power and an interface cable, depending on what your drive comes with.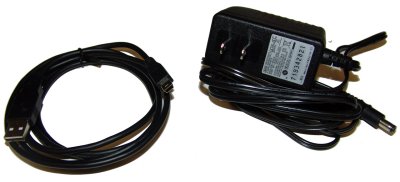 The cables and accessories included for our model were a power converter and a USB 2.0 cable. Our drive does support both USB and eSATA but no eSATA cable was included, a definite strike against the drive. If you have eSATA on your board and want to use the eSATA interface you're going to need to buy an extra cable.
The Drive
The Seagate Freeagent Pro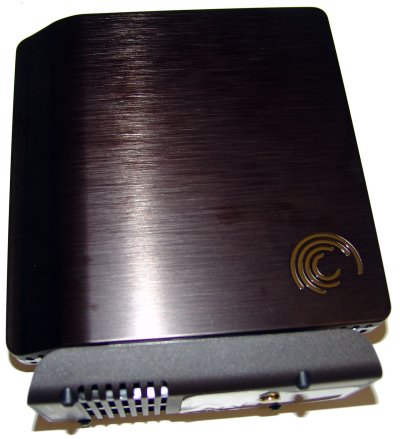 Now we come down to the drive. Seagate has enclosed the drive in a black casing with an interface module stand at the bottom. The Seagate logo on the drive along with the sides have an orange EL LED system inside. When the drive is successfully connected to the PC, these LEDs glow orange.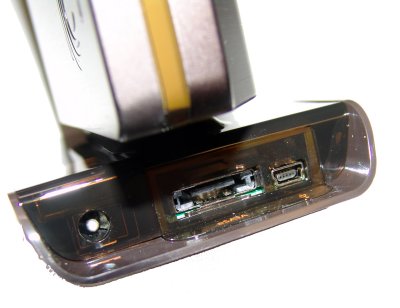 Our drive came with an eSATA port and a USB 2.0 interface port on the modular drive connector. Seagate have designed the Freeagent Pro to have a modular connector on the bottom. The connector works as a stand to keep the drive upright. This modular connector can be removed from the drive and replaced with another. Seagate has a connector setup with USB and Firewire, USB and eSATA or Firewire, eSATA and USB.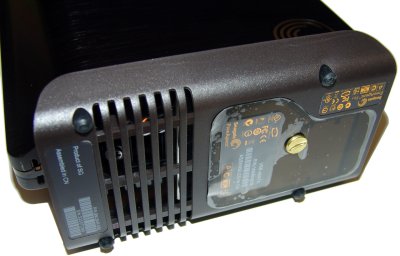 On the bottom of the drive, a single brass screw holds the drive to the modular connector. The modular connector has a simple SATA connection system that connects the drive to the modular system. The modular bay contains all the circuits for the interface chosen.
Seagate includes software on the drive when you install the unit to the system. Windows XP and Vista require no drivers for USB as the drive is detected as a Mass Storage Device like any USB flash drive or generic external HDD enclosure, and eSATA simply runs into a hot plug of the SATA ports, requiring no drivers whatsoever. The software that Seagate provides is a simple backup utility that you can customise to backup specific data at dedicated time intervals. This is a very handy feature, however if you're just wanting an external drive for movie storage like me, this software is kind of redundant.
Test System Setup and HD Tach
Test System SetupProcessor
: Intel Core 2 Extreme X6800 (Supplied by
Intel
)
Motherboard
: Gigabyte P35-DQ6 (Supplied by
Gigabyte
)
Memory
: 2x 1GB DDR2-1186 Geil (Supplied by
Geil
)
Hard Disk
: 500GB Seagate 7200.9 (Supplied by
Seagate Australia
)
Graphics Card
: MSI Geforce 8800GTS 640MB (Supplied by
MSI
)
Cooling
: Gigabyte Neon775 (Supplied by
Gigabyte
)
Operating System
: Microsoft Windows XP SP2
Drivers
: Intel INF 8.3.0.1013, Forceware 162
Today we are using our motherboard test system to run our hard disk benchmarks. We are pitting the Freeagent Pro drive against our generic Blue Eye Gigasave combo converter with a Seagate 7200.10 250GB hard disk. Our combo converter has USB 2.0, Firewire-800 and eSATA interfaces on the back. We will be using them in all three interfaces along with the USB and eSATA interface on the Freeagent Pro.
HD TachVersion and / or Patch Used:
3.0.1.0
Developer Homepage:
http://www.simplisoftware.com
Product Homepage:
http://www.simplisoftware.com/Public/index.php?request=HdTach
Buy It Here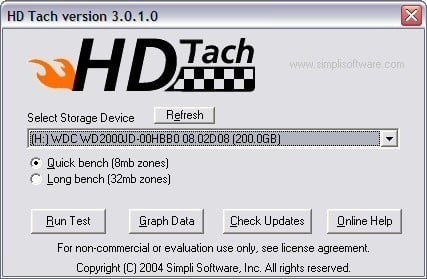 HD Tach has been around for a long time and is excellent when it comes to testing hard drive performance. It is also a very handy program when it comes to testing the controller used on particular motherboards. Tests such as Read, CPU Utilization and Burst are available at a click of the button and give you a good idea of how the hard drive can perform from system to system.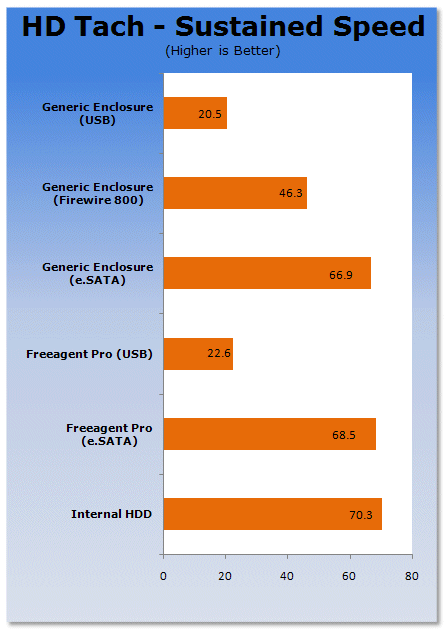 Our first tests show that the Seagate Freeagent using eSATA is almost as fast as the internal HDD. The drive inside the Freeagent also seems to be faster than that of the one in our generic enclosure as it manages to outperform it slightly in eSATA mode.
Switching to USB caused the drive to nose dive in performance and was not able to make any headway against the Firewire 800 interface on the generic enclosure.
Benchmarks - HD Speed
HD SpeedVersion and / or Patch Used:
1.5.1.55
Developer Homepage:
http://www.steelbytes.com
Product Homepage:
http://www.steelbytes.com/?mid=20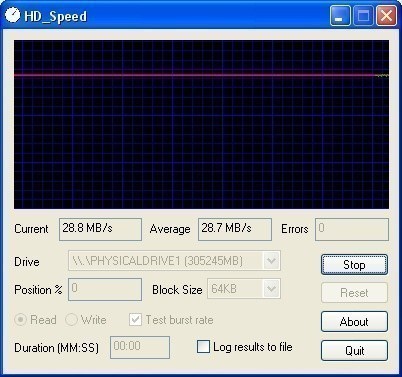 Measures both sustained and burst data transfer rates of your hard disks, cd/dvd-roms and floppy.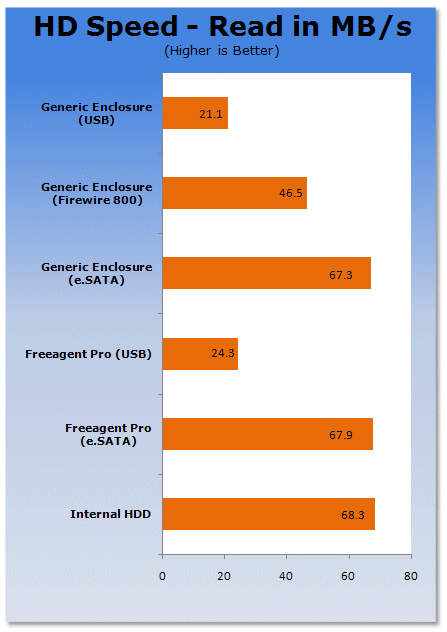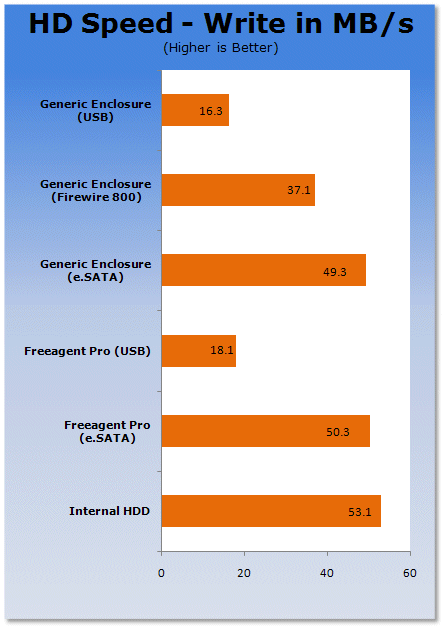 HD Speed shows the same trends as HD Tach. eSATA provides the best interface, with Firewire being the second choice.
Benchmarks - DriveSpeed 32
DiskSpeed32Version and / or Patch Used:
3.0
Developer Homepage:
http://www.geocities.com/vgrinenko/
Product Homepage:
http://www.geocities.com/vgrinenko/DiskSpeed32/
DiskSpeed32 is a program for hard drive speed measurement in Win32 environment. It measures reading speed in whole disk or its part and plots graphical dependence for reading speed by cylinder number. This allows to obtain comparable data not only for different drives, but also for the same disk under different Win32 implementation.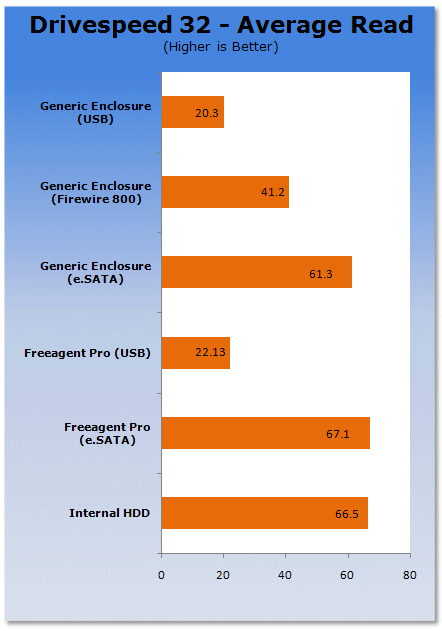 Drivespeed 32 also favours the Freeagent Pro drive with its eSATA interface. Using USB should be the last resort if you don't have eSATA, as the transfer rate drops dramatically.
Benchmarks - Adobe Premiere Elements
Adobe Premiere Elements 2.0Version and / or Patch Used:
2.0
Developer Homepage:
http://www.adobe.com
Product Homepage:
http://www.adobe.com/products/premiereel/
Buy It Here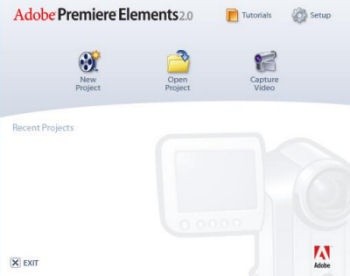 Our test with Adobe Premiere Elements 2.0 is performed with a raw two hour AVI file. It is then compressed into DivX format using the latest version codec. We measure the time it takes to encode and then record CPU usage.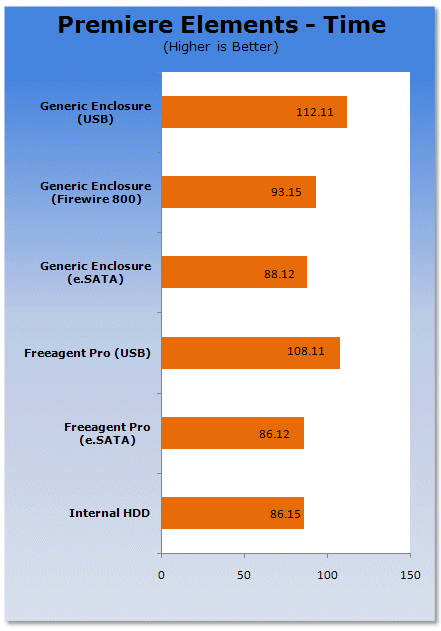 Rather than have the system encode a file, we made some drastic changes to the movie file; we added in over 100 transitions, effects and so on. We then timed how long it took the system to render the changes while saving to each drive and interface.
Here you can see that eSATA is a definite must as USB simply doesn't have the bandwidth to do this. Firewire does help but still it is nowhere near the Freeagent Pro's eSATA interface.
Final Thoughts
There is simply no denying it, external storage is here and it's not going to go anywhere soon. The days of having 12+ drives in a single case are over. Not only does it take a huge amount of connectors that the PC doesn't have, but also adds to the amount of heat inside the case.
Hard Disks run quite warm, Western Digital's 10,000RPM Raptors run extremely hot in fact; that's why they have vents on the drive itself. External enclosures add no extra heat to the case, there is no cramping inside the case with extra drives, as you can simply sit it on your desktop or beside the PC, depending on what you prefer. Most drives use a USB interface, which is good for a basic storage system. Movies can be streamed to one or two PCs over a network using USB, but anymore than that you're going to need Firewire or eSATA.
Since the eSATA interface made its debut we have been extremely excited about this interface. Using the SATA transition protocol means it can run at 3Gbps outside of the case, making it as fast as the internal drive in fact. This is something that USB or Firewire can never hope to achieve.
Seagate's Freeagent pro drive is a definite must have if you're into large capacity storage. The drive sizes range from 320GB all the way to 750GB and soon Seagate will add a 1TB drive into the line up; and with the flexible option of the interface protocol and upgradeability to a new protocol in the future, along with its impressive performance scores, this is a hard product to go past.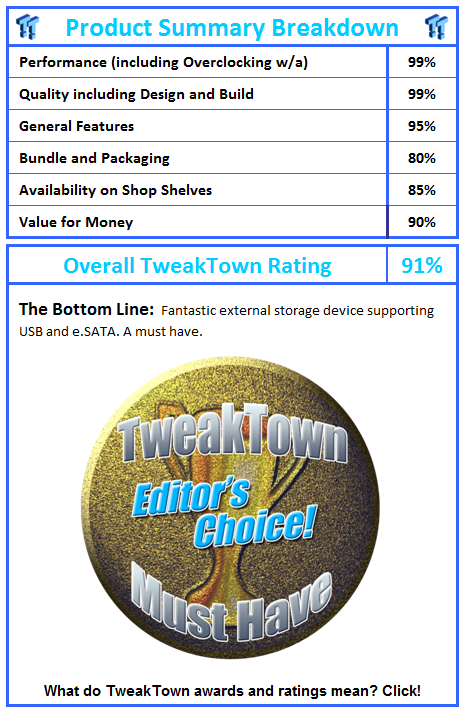 PRICING: You can find products similar to this one for sale below.
United States: Find other tech and computer products like this over at Amazon.com
United Kingdom: Find other tech and computer products like this over at Amazon.co.uk
Australia: Find other tech and computer products like this over at Amazon.com.au
Canada: Find other tech and computer products like this over at Amazon.ca
Deutschland: Finde andere Technik- und Computerprodukte wie dieses auf Amazon.de
We openly invite the companies who provide us with review samples / who are mentioned or discussed to express their opinion. If any company representative wishes to respond, we will publish the response here. Please contact us if you wish to respond.