HIS HD 2900 XT 1GB GDDR4 in Crossfire
Shane fires up a pair of 1GB Radeon HD 2900 XT cards in Crossfire mode today and compares them to the 512MB variants.
Published Sat, Sep 1 2007 11:00 PM CDT
|
Updated Fri, Sep 18 2020 10:50 PM CDT
Rating:

92%
Manufacturer: HIS
Introduction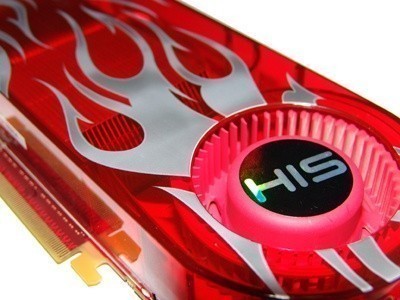 The HD 2900 XT is a great card; don't let those haters tell you otherwise. At launch there was no denying that it lagged behind the competition, and sure AA and AF performance isn't the best but thanks to AMD keeping on top with driver releases the card continues to improve every month.
Originally there was supposed to be an XT/XTX combination of the HD 2900 but for some reason it never really happened, instead there has been a new incarnation of the XT which not only comes with a jaw dropping 1GB of memory on it but also carries GDDR4, the latest graphics card memory to hit the market.
As impressive as 1GB of GDDR4 sounds it's really only numbers, what we really need to know is does this extra memory actually effect our game experience in a positive way or are we just throwing more money down the drain.
The Package
When first looking at the 1GB HD 2900 XT box from HIS one emotion that hit us was shock. Why you ask? The box is small, we don't just mean small for a high-end card (in that case alone it would be considered very small) but for a full size flagship graphics card. The box is also very thin, it actually looks really good, sometimes boxes are just too big and annoying but HIS have managed to cram everything they need into this nice little box.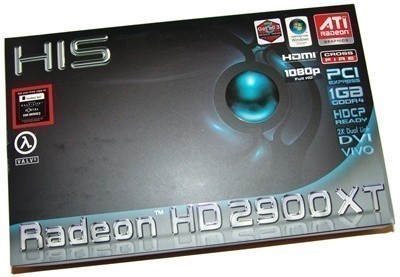 Getting past the size of the box and simply having a look at the front we can see all the standard information, yes the card is a Radeon HD 2900 XT and this particular model is the brand spanking new 1GB GDDR4 version. We can also see all the other important information on the front of the box like Crossfire, HDMI, Dual Link DVI, Black Box inclusion and a few other important logos.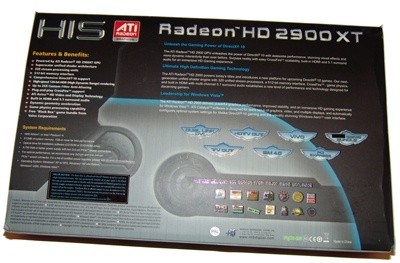 Turning the box over we have some more features mentioned along with a recap of some of the main features that the card offers. We also have a number of awards across the bottom.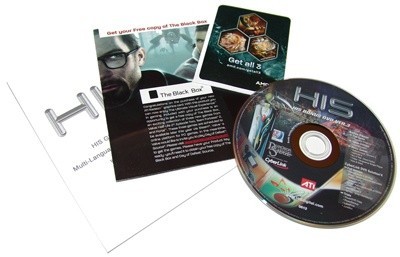 Diving inside the box we have a multi language manual, our Black Box coupon and our bonus HIS DVD. Game wise we have Dungeon Siege which on a HD 2900 XT would run at about 1000FPS. It's actually becoming a bit of a joke including Dungeon Siege, as the release date on it was 2002. Not too sure what's going on in that marketing department but someone has to jump on a new game.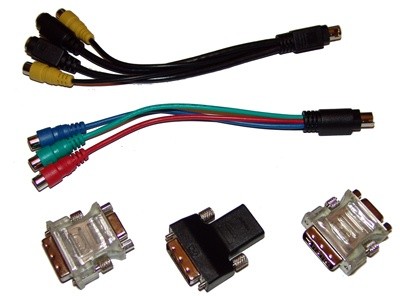 Cable wise is your standard HD 2900 XT line up. VIVO cables, Component out, 2 DVI to VGA connectors and of course the DVI to HDMI connector.
The package is pretty good but the simple fact that HIS continue to include Dungeon Siege over and over and over again is just becoming a joke!
The Card
With the box and contents out the way it's time to see the what exactly we have on our hands today.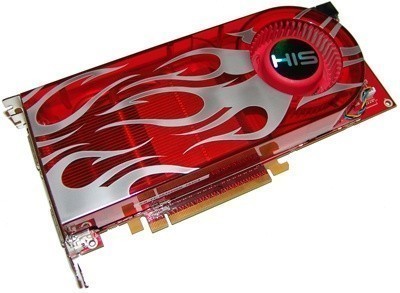 The HIS HD 2900 XT 1GB GDDR4 offers the same standard setup as the 512MB GDDR3 model, apart from the HIS sticker on the fan we wouldn't be able to determine what brand it is. The biggest gripe with the look of the card is that there is no way to tell if it's a 1GB model. If you find yourself with a window in your case you want to show off your new card loudly and proudly.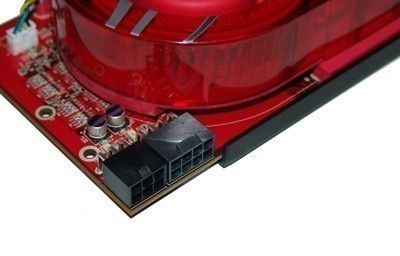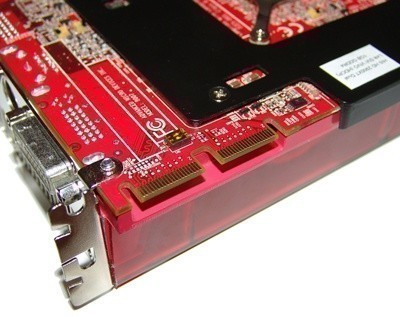 Since the cooler takes up the whole card there isn't a whole lot to see, just doing a quick sweep we see the standard 6 Pin/8 Pin PCI Express power connector setup that was on the 512MB GDDR3 model along with the very important Crossfire connectors across the top of the card. We'll be making use of these today!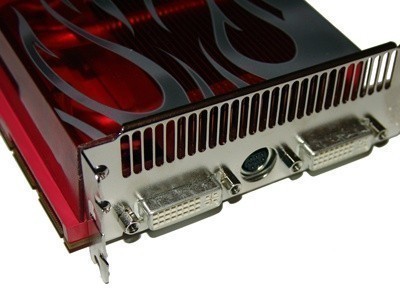 I/O wise is also very standard with 2 Dual Link DVI Connectors and our little round black port that is not only capable of video-out but also video-in, better known as VIVO.
The big thing is what does the 1GB GDDR4 card offer over the standard 512MB GDDR3 model. This helps give us a memory bump from 1650MHz to 2000MHz DDR. The core remains the same at 743MHz.
Test System Setup and 3DMark05
Test System SetupProcessor(s):
Intel Core 2 Duo Q6600 @ 3GHz (333MHz x 9)
Motherboard(s):
ASUS Blitz Extreme (Supplied by
ASUS
)
Memory:
2 X 1GB Corsair XMS3 DDR-3 1066MHz 7-7-7-21 (Supplied by
Corsair
)
Hard Disk(s):
Hitachi 80GB 7200RPM SATA-2
Operating System:
Windows XP Professional SP2
Drivers:
ATI Catalyst 7.8 and DX9c
With two HD 2900 XT 1GB cards in hand it was time to see how the cards compared directly against their 512MB counterparts. Today we will be running the 512MB and 1GB cards in both Crossfire and individually.
We have added some new games in for good measure and as always when testing such fast cards we mix our resolutions up by dropping 1600 x 1200 and including 2560 x 1600 alongside 1920 x 1200 and, and of course that standard run of the mill 1280 x 1024 setup.
3DMark05Version and / or Patch Used:
Build 130
Developer Homepage:
http://www.futuremark.com
Product Homepage:
http://www.futuremark.com/products/3dmark05/
Buy It Here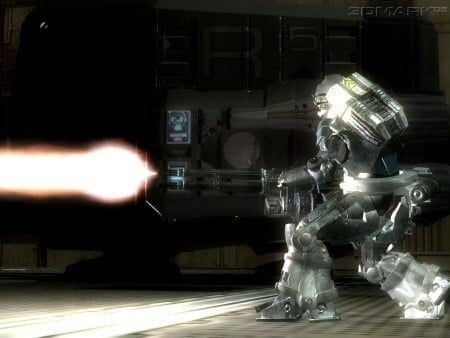 3DMark05 is now the second latest version in the popular 3DMark "Gamers Benchmark" series. It includes a complete set of DX9 benchmarks which tests Shader Model 2.0 and above.
For more information on the 3DMark05 benchmark, we recommend you read our preview
here
.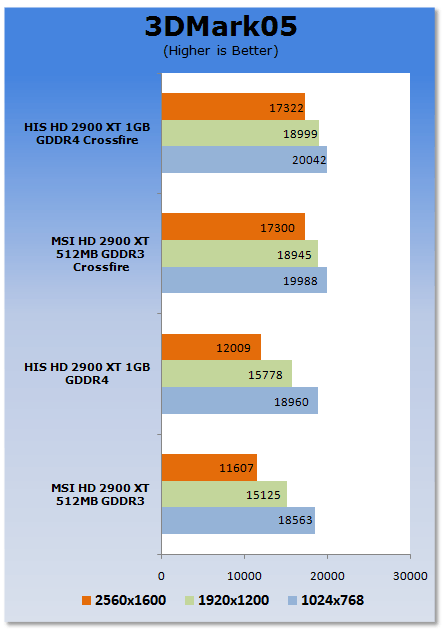 We can see that straight away the new 1GB models with the slight bump in memory speed give us an increase over the 512MB GDDR3 model.
Benchmarks - 3DMark06
3DMark06Version and / or Patch Used:
Build 110
Developer Homepage:
http://www.futuremark.com
Product Homepage:
http://www.futuremark.com/products/3dmark06/
Buy It Here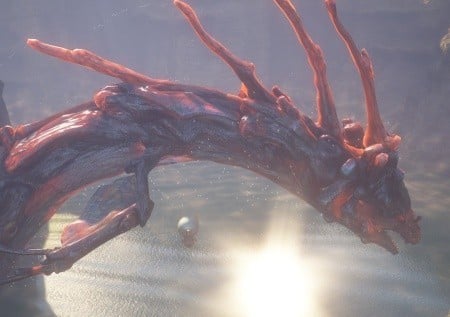 3DMark06 is the very latest version of the "Gamers Benchmark" from FutureMark. The newest version of 3DMark expands on the tests in 3DMark05 by adding graphical effects using Shader Model 3.0 and HDR (High Dynamic Range lighting) which will push even the best DX9 graphics cards to the extremes.
3DMark06 also focuses on not just the GPU but the CPU using the AGEIA PhysX software physics library to effectively test single and Dual Core processors.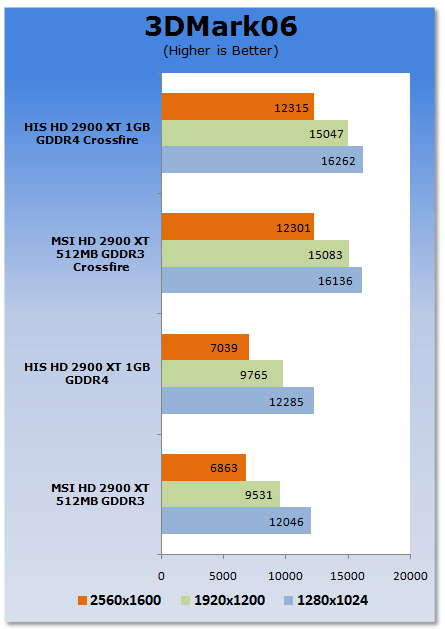 Gains are again seen when moving to the more intensive 3DMark06, what's interesting is that the performance increase can be seen more in the single card situation than the Crossfire setup.
Benchmarks - Half Life 2 (Episode One HDR)
Half Life 2 (Episode One HDR)Version and / or Patch Used:
Latest from Steam
Timedemo or Level Used:
Custom Timedemo
Developer Homepage:
http://www.valvesoftware.com
Product Homepage:
http://www.half-life2.com
Buy It Here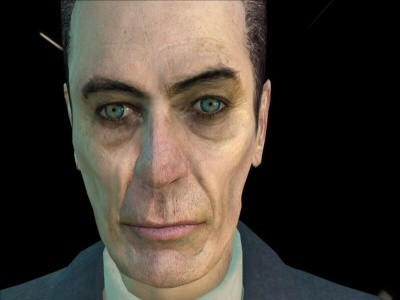 By taking the suspense, challenge and visceral charge of the original, and adding startling new realism, responsiveness and new HDR technology, Half-Life 2 Episode One opens the door to a world where the player's presence affects everything around him, from the physical environment to the behaviors even the emotions of both friends and enemies.
We benchmark Half Life 2 Episode One with our own custom timedemos as to avoid possible driver optimizations using the "record demo_name" command and loading the timedemo with the "timedemo demo_name" command - For a full list of the commands,
click here
.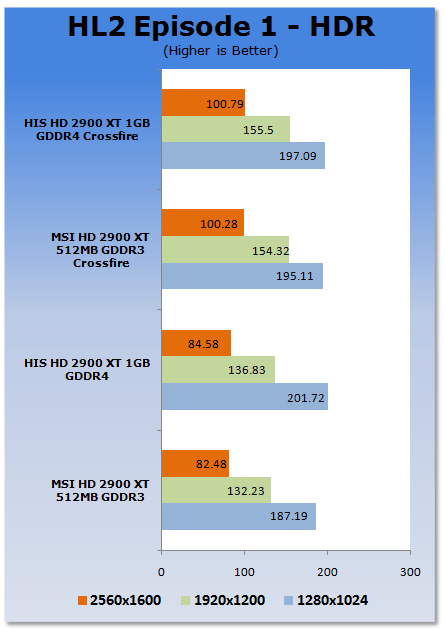 Moving from the aging Lost Coast to the more recent Episode One we can see that the new 1GB GDDR4 model continues to show gains across the board. We again see though that in Crossfire the gains aren't as noticeable.
Benchmarks - Prey
PreyVersion and / or Patch Used:
Unpatched
Timedemo or Level Used:
HardwareOC Custom Benchmark
Developer Homepage:
http://www.humanhead.com
Product Homepage:
http://www.prey.com
Buy It Here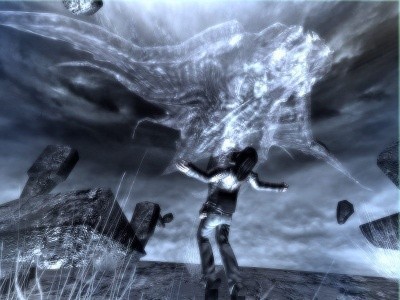 Prey is one of the newest games to be added to our benchmark line-up. It is based off the Doom 3 engine and offers stunning graphics passing what we've seen in Quake 4 and does put quite a lot of strain on our test systems.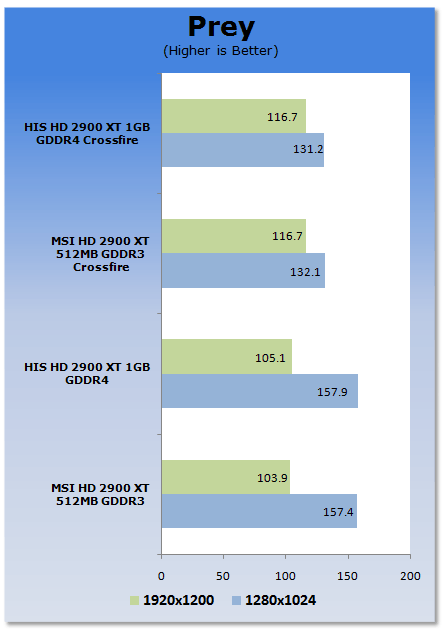 Prey was one game that never really saw much in the way of gains when it came to overclocking, and that's all the HD 2900 XT 1GB GDDR4 is, so it comes as no surprise that there is no real noticeable difference. The most interesting piece of information we get from this is that Prey manages to take a hit with Crossfire running and performs slightly slower than a single card.
Benchmarks - F.E.A.R.
F.E.A.R.Version and / or Patch Used:
Unpatched
Timedemo or Level Used:
Built-in Test
Developer Homepage:
http://www.vugames.com
Product Homepage:
http://www.whatisfear.com/us/
Buy It Here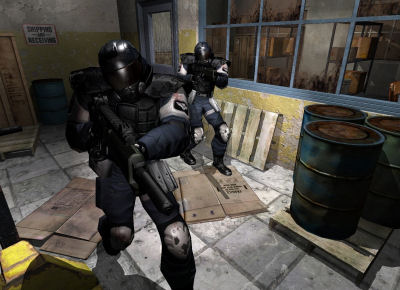 F.E.A.R. (First Encounter Assault Recon) is an intense combat experience with rich atmosphere and a deeply intense paranormal storyline presented entirely in first person. Be the hero in your own spine-tingling epic of action, tension, and terror...and discover the true meaning of F.E.A.R.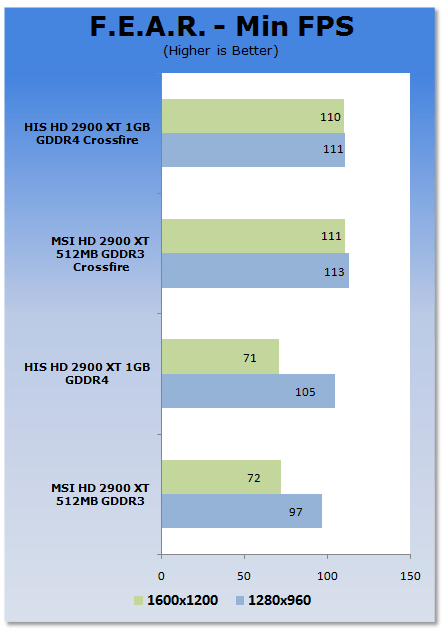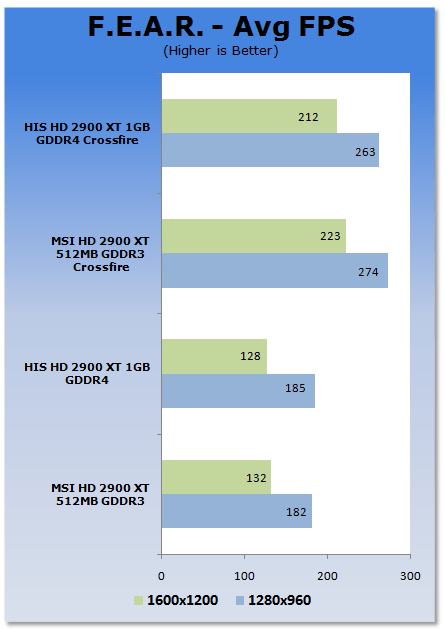 F.E.A.R. results are a bit over the place with the new card performing better in one area and not so good in another.
Benchmarks - Company of Heroes
Company of HeroesVersion and / or Patch Used:
1.5
Timedemo or Level Used:
Built-in Test
Developer Homepage:
http://www.relic.com
Product Homepage:
http://www.companyofheroesgame.com
Buy It Here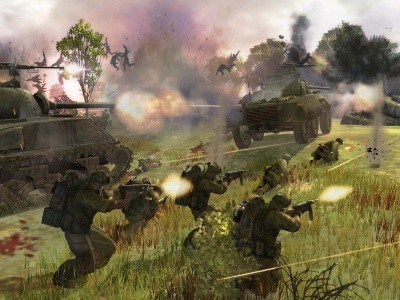 Company of Heroes, or COH as we're calling it, is one of the latest World War II games to be released and also one of the newest in our lineup of benchmarks. It is a super realistic real-time strategy (RTS) with plenty of cinematic detail and great effects. Because of its detail, it will help stress out even the most impressive computer systems with the best graphics cards - especially when you turn up all the detail. We use the built-in test to measure the frame rates.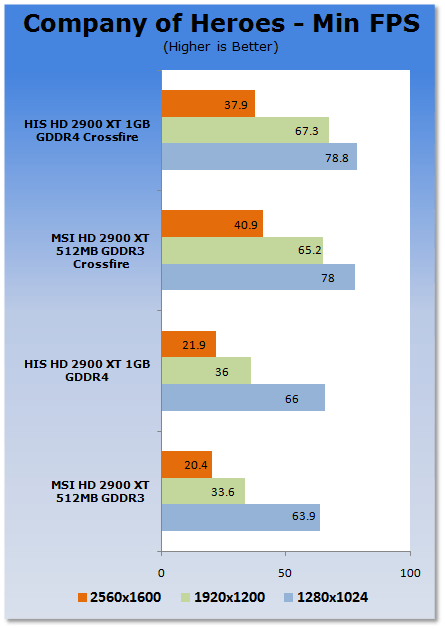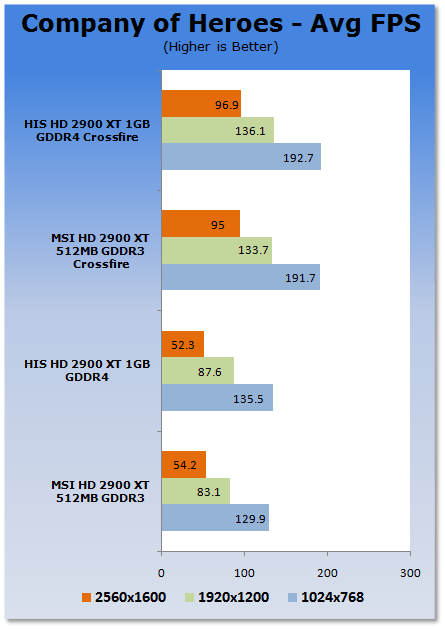 Almost across the whole board we see the minimum FPS jump for the 1GB GDDR4 cards, the only time performance was down slightly was at 2560 x 1600 when in Crossfire.
Benchmarks - World in Conflict (DX9)
World in Conflict (DX9)Version and / or Patch Used:
Demo
Timedemo or Level Used:
Built-in Test
Developer Homepage:
http://www.massive.se
Product Homepage:
http://www.worldinconflict.com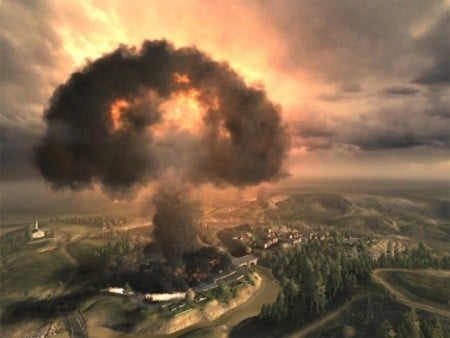 World in Conflict is a real-time strategy video game by Massive Entertainment and to be published by Sierra Entertainment for Windows (DX9 and DX10) and the Xbox 360.
The game is set in 1989 where economic troubles cripple the Soviet Union and threaten to dissolve it. However, the title pursues a "what if" scenario where, in this case, the Soviet Union does not collapse and instead pursues a course of war to remain in power. It is an intensive new game is sure to put plenty of stress on even the latest graphics cards and we use the built-in benchmarking for our testing.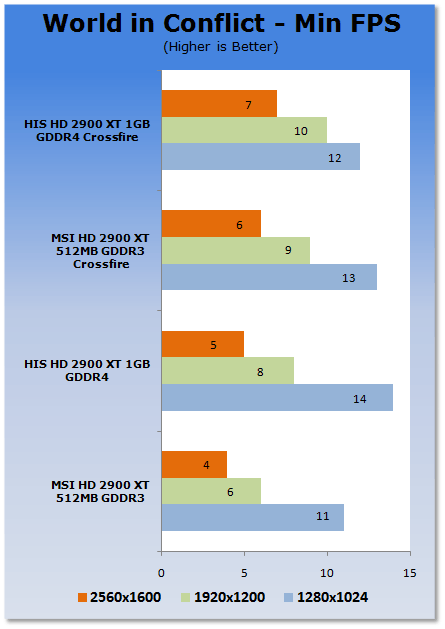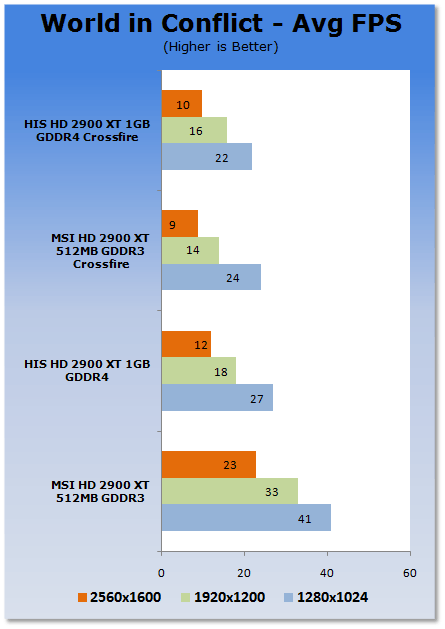 With the new WIC demo in hand and its built-in benchmark we can see that the 1GB GDDR4 card offers us an increase when compared to the 512MB GDDR3 model. It's clear that the developers behind WIC are still having some issues with Crossfire given the performance figures are almost identical to that of the single card setup. Whether this is something AMD or the WIC developers will work on is anyone's guess.
Benchmarks - Lost Planet
Lost Planet: Extreme ConditionVersion and / or Patch Used:
Demo
Timedemo or Level Used:
Built-in Test
Developer Homepage:
http://www.capcom.com
Product Homepage:
http://www.nzone.com/object/nzone_lostplanet_home.html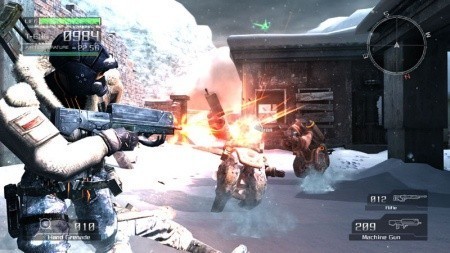 Driven to the brink of extinction on ice-covered wastelands, humankind fights to survive. From extreme conditions and insurgent Snow Pirates to hostile gargantuan alien Akrid, all that you can trust are your instincts.
Combining a gripping single player campaign and intense multiplayer modes with support for up to 16 players online, Lost Planet is an epic gaming masterpiece. Enormous world maps unfold as players' battle across vast snow fields and deserted cities either on foot or in armed, robotic Vital Suits.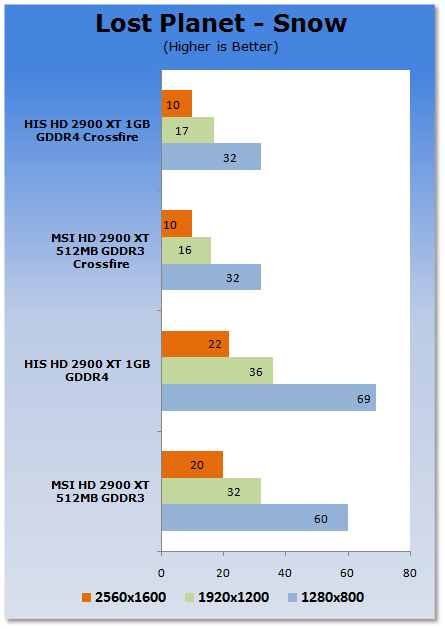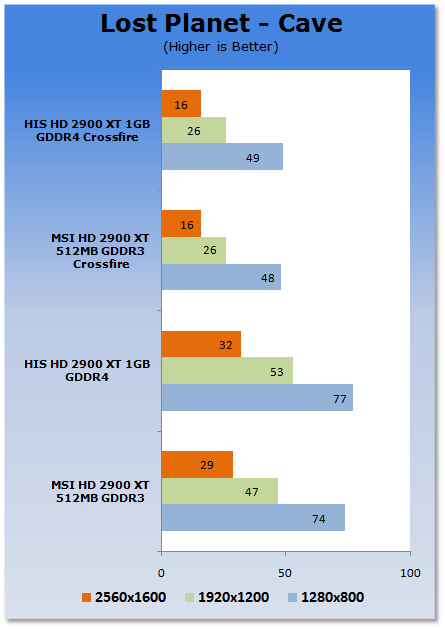 We can see again that the 1GB GDDR4 models with their increased memory clock outperform the cheaper 512MB GDDR3 cards. While Lost Planet has a setting for Multi GPU rendering it's clear that it's not a fan of the Crossfire setup and performance takes a huge hit.
Benchmarks - High Quality
3DMark06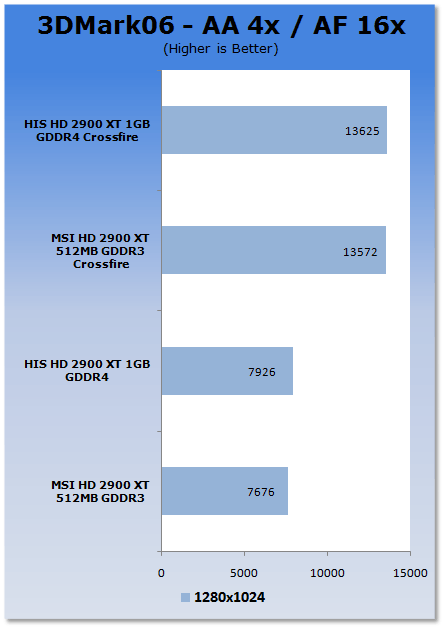 We see the best gain in the single card setup again, when we move to Crossfire performance the two cards are very close.
HL2: Episode 1 HDR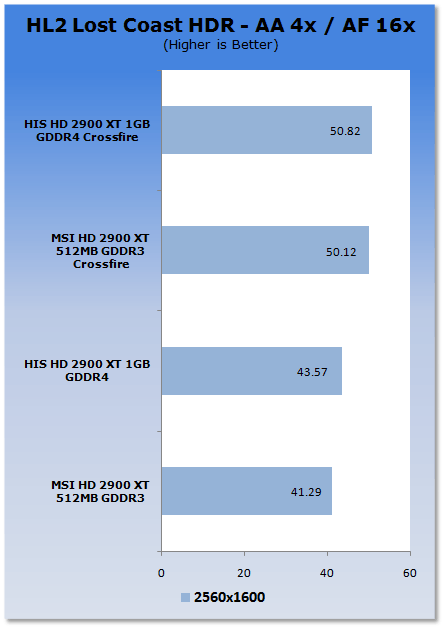 With these intensive settings we see that the newer 1GB GDDR4 models again hold the lead.
Lost Coast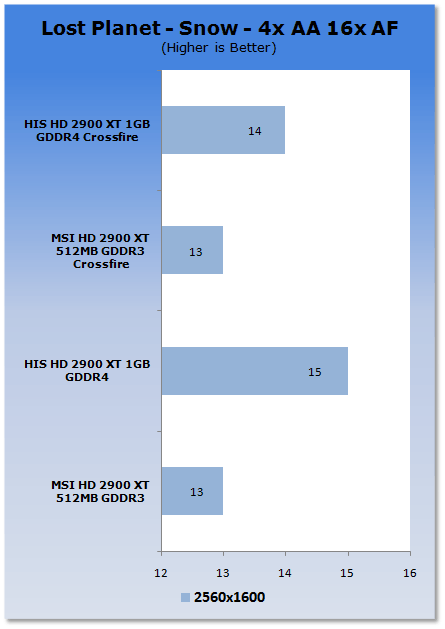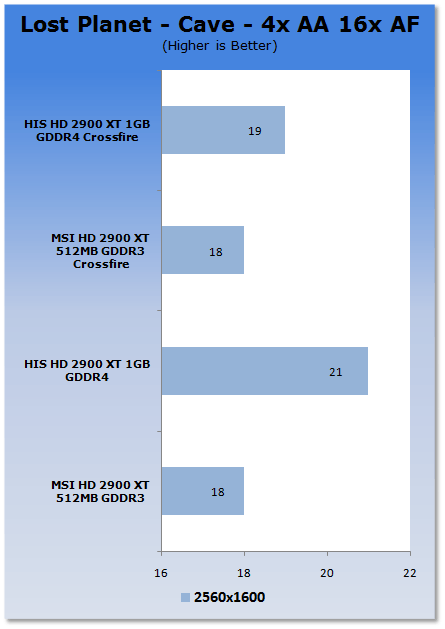 In this very intensive test we can see that the 1GB GDDR4 cards from HIS perform a fair bit faster than that of the 512MB ones. Unfortunately you're not going to be doing much gaming with a 21FPS average.
Temperature Test
Temperature Tests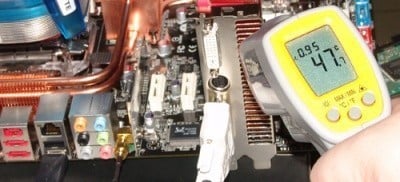 With the TES 1326 Infrared Thermometer literally in hand we found ourselves getting real-world temperatures from the products we test at load (3D clock speeds).
There are two places we pull temperature from - the back of the card directly behind the core and if the card is dual slot and has an exhaust point we also pull a temperate from there, as seen in the picture.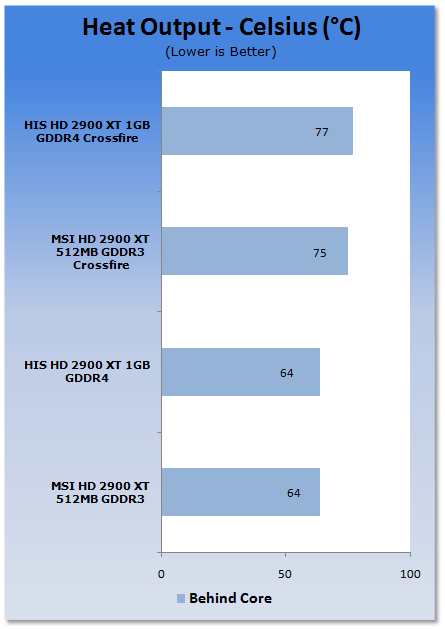 The increased memory and memory speed on the HIS HD 2900 XT 1GB GDDR4 cards don't seem to affect the heat of the overall cards. It's only when we move to Crossfire that it is a few Celsius warmer.
Power Consumption Tests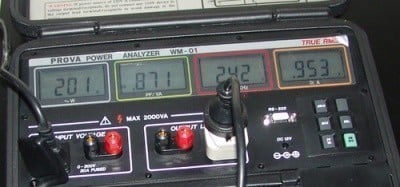 Using our new PROVA Power Analyzer WM-01 or "
Power Thingy
" as it has become quickly known as to our readers, we are now able to find out what kind of power is being used by our test system and the associated graphics cards installed. Keep in mind; it tests the complete system (minus LCD monitor, which is plugged directly into AC wall socket).
There are a few important notes to remember though; while our maximum power is taken in 3DMark06 at the same exact point, we have seen in particular tests the power being drawn as much as 10% more. We test at the exact same stage every time; therefore tests should be very consistent and accurate.
The other thing to remember is that our test system is bare minimum - only a 7,200RPM SATA-II single hard drive is used without CD ROM or many cooling fans.
So while the system might draw 400 watts in our test system, placing it into your own PC with a number of other items, the draw is going to be higher.
The new 1GB GDDR4 models manage to take more power across the board. The single card setup draws roughly 10% more power while the Crossfire solution doesn't quite draw that much more.
Kamikaze Run
With our Corsair N500 ready to go it was time to crank up the CPU and start to overclock the HD 2900 XT 1GB cards from HIS. With a CPU speed of 3870MHz on our lovely Q6600 G0 SLACR and one HD 2900 XT 1GB GDDR4 coming clocked in at 825MHz/2100MHz DDR we managed to achieve a very promising score of 19,504 3DMarks in 3DMark06.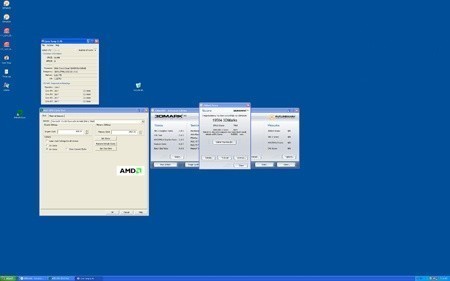 This is really an impressive feat for anyone and the highest 3DMark06 score that TweakTown has seen in our labs. These cards are really for performance junkies, there's no denying that!
Final Thoughts
AMD really have done some wonderful things with the HD 2900 XT, the card continues to impress us. We can see that overclocking is possible but not by a load, the bottom line is though that the performance of the cards are simply great, especially when you consider the price of them.
Anyone who is serious about performance is looking down the barrel of a P35 motherboard and a G0 processor, your only option at the moment for a dual card setup is Crossfire and it doesn't look like the release of the X38 is going to change this.
The overall quality and features of the products are very high like all other HD 2900 XT cards, the cards feel extremely sturdy, the fan is mounted with screws in multiple locations and it just all round feels like a top quality product.
Checking out the bundle didn't bring us much in the way of surprises, the standard cables and connectors that you expect from any HD 2900 XT. The inclusion of Dungeon Siege we don't even consider, if HIS had chosen to include something more recent there is absolutely no reason we wouldn't see the bundle and package score be closer to the 95% mark. We really hope this is something HIS take into consideration.
If you're happy with what the HD 2900 XT 1GB cards are capable of the good news is that you shouldn't have any issue getting onto your favorite e-tailor/retailer and ordering one or two. The 1GB GDDR4 models while in the country don't seem to be held on hand as much though, so you might be hanging out for a day or two before it's shipped to you.
The HD 2900 XT continues to be very good value for money, 1GB GDDR4 cards give us a nice little boost in a single card setup and when in Crossfire bring us our biggest 3DMak06 score to date thanks to the increased memory speed.
These aren't the kind of cards that you would upgrade to from a HD 2900 XT 512MB GDDR3 but if you have the dollars and you're in the market for a new video card the 1GB GDDR4 model is a great card, especially since AMD have done more than just slap twice the amount of memory on.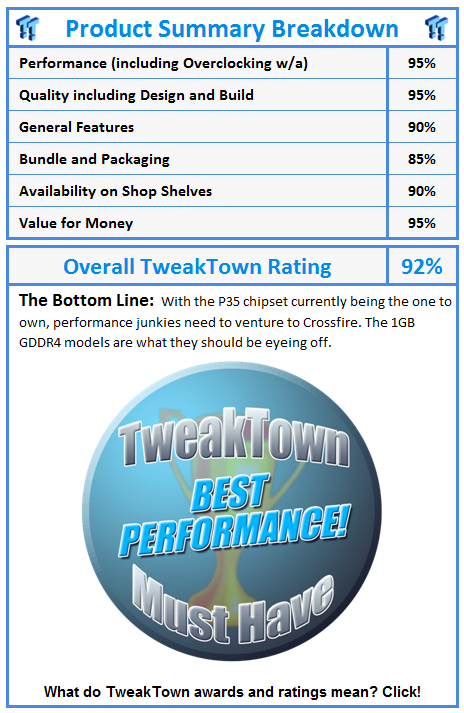 PRICING: You can find products similar to this one for sale below.
United States: Find other tech and computer products like this over at Amazon.com
United Kingdom: Find other tech and computer products like this over at Amazon.co.uk
Australia: Find other tech and computer products like this over at Amazon.com.au
Canada: Find other tech and computer products like this over at Amazon.ca
Deutschland: Finde andere Technik- und Computerprodukte wie dieses auf Amazon.de
We openly invite the companies who provide us with review samples / who are mentioned or discussed to express their opinion. If any company representative wishes to respond, we will publish the response here. Please contact us if you wish to respond.