MSI Radeon HD 2900 XT 512MB Graphics Card
MSI's Radeon HD 2900 XT graphics cards is under the spotlight as we put it through the paces with the newest drivers.
Published Mon, Jun 11 2007 11:00 PM CDT
|
Updated Fri, Sep 18 2020 10:50 PM CDT
Rating:

85%
Manufacturer: MSI
Introduction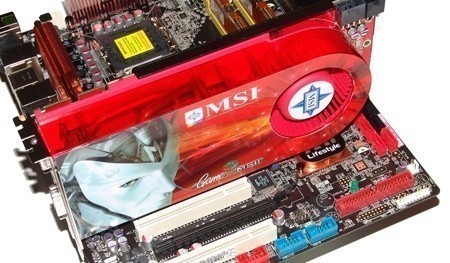 There is no doubt that AMD's ATI Radeon HD 2900 XT got off to a bit of a rocky start.
The initial drivers were nothing to get excited about and made the performance overall look pretty ordinary. The biggest problem though is that it seems most people have already made up their minds - I will not lie to you, I had. I honestly saw the initial test results and thought the card was a joke considering how long we had been waiting for it.
The good news is that ATI are really on the ball when it comes to drivers. It has been like this for a few years now and it only took a new set of drivers to really make the HD 2900 XT something worth having as far as we are concerned.
People all over the world now are recommending the HD 2900 XT over the 8800GTS 640MB and we are about to investigate why.
Let us have a look at what exactly MSI bring to the party this time around before we dive into our test system setup and check out some real numbers and see is the HD 2900 XT worth talking about? In this review, we also introduce our first batch of new testing including temperature readings, sound levels and also power consumption!
The Package
The box is big! MSI have gone for an ASUS style box which is large, in your face and generally looks pretty good. The biggest gripe with these boxes is that they are more costly to freight; they do not fit in standard air bags and are just generally a bit of a pain in the butt.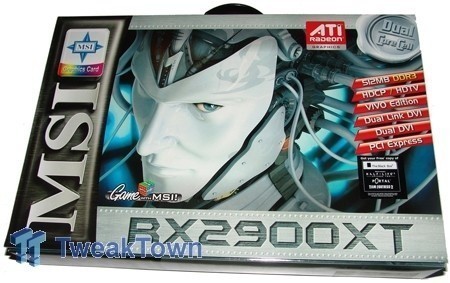 The front of the box has all our general information like the model, amount of RAM, the fact that HDCP is included and a few other key features. We can also see that a copy of the Black Box is included which has now actually been discounted and automatically has become the Orange Box which includes Half Life 2, Episode 1, Episode 2, Portal and Team Fortress 2 (but the latter three are not ready yet but you will be able to download them once they are!)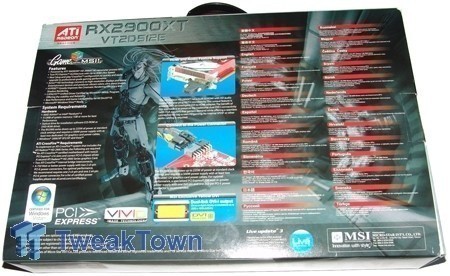 Turning the box over we have a few pictures of the card and its main features, like the HDMI adapter and the fact that an 8-pin power connector is also needed.
As we dive inside we have all our normal paper work but there is an absolute bucket load of cables - included is Component Out, VIVO, S-Video, Molex to 6 pin, 6 pin to 8 pin (great!), two DVI to VGA connectors, DVI to HDMI connector and a Crossfire cable.
The package is all round pretty healthy and for the price of the card it really seems your getting a good bang for buck. Now we just have to wait for Team Fortress 2 and EP2 to come out and you will really feel like you have your dollars worth!
MSI RX2900XT
The Card
With the package out the way it is time to have a closer look at the card to see what exactly MSI have done with it. Like most high-end cards these days though, there really is not much more than a sticker on the front and some stickers on the back.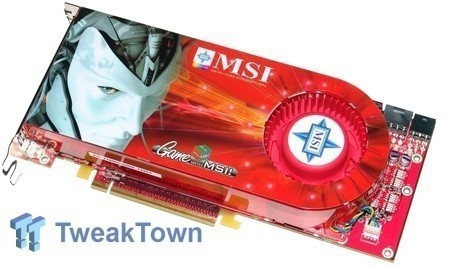 Turning the card over we have a huge back plate that manages to take over most the card. We can see our normal array of stickers all over the place that show us the model along with serial number and C-Tick.
Moving around the card we have the new power connectors. While we have the standard 6-pin PCI Express connector, we also have an 8-pin connector. Most people will find themselves without any 8-pin connector on their PSU but the good news is you do not need it. While MSI have chosen to include a convertor in their package, if you get a HD 2900 XT that does not come with one, you simply use a normal 6-pin connector and the only function you will lose is the Overdrive ability, which is ATI's built-in overclocking program in CCC.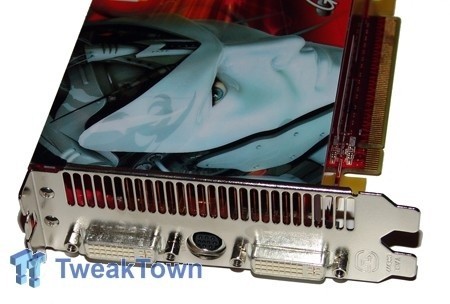 At the front of the card we have our Dual DVI ports along with our TV-Out port which also supports Video In. Both DVI ports are Dual Link compatible so if you find yourself with a pair of 30" LCD monitors, you are ready to go. Both DVI ports also support HDCP so if you want to play some HD-DVD or Blu Ray content in the near future, you do not have to worry about that pesky copy protection error (assuming your monitor also supports HDCP).
Clocks on the card are standard coming in at 748MHz on the core and 1658MHz DDR on the memory. MSI have got a water cooled model coming out in the near future which should see some increased clock speeds but for the moment we will just have to play with the stock clocked model.
Benchmarks - Test System Setup and 3DMark05
Test System SetupProcessor(s):
Intel Core 2 Duo E6600 @ 3GHz (333MHz x 9)
Motherboard(s):
ASUS P5K3 Deluxe (Supplied by
ASUS
)
Memory:
2 X 1GB Corsair XMS3 DDR-3 1066MHz 7-7-7-21 (Supplied by
Corsair
)
Hard Disk(s):
Hitachi 80GB 7200RPM SATA-2
Operating System:
Windows XP Professional SP2
Drivers:
Nvidia ForceWare 158.22, Catalyst 7.4, HD2900XT 47096 and DX9c
This is a really exciting article as we have just began to implement some new tests to offer you the reader more for your money - you do not pay anything to begin with, so you are actually getting incredible value but it just got better.
We have got rid of the non-HDR test for Half Life 2: Lost Coast and added RyderMark as a new synthetic test along with Supreme Commander. While we do not have Lost Planet here due to it not wanting to play nice with the HD 2900 XT we will have it in up and coming articles along with other DX10 benchmarks as we migrate over to Windows Vista soon.
The biggest additions are the inclusion of real world temperature testing, sound levels and power consumption draw both at idle and load. We are also testing on our new ASUS P5K3 DDR-3 platform.
We will not ramble on anymore; let us see what kind of numbers we got with the HD 2900 XT, a new test platform and newest drivers! We have also got some fancy new benchmark graphs to go along with our new website design.
3DMark05Version and / or Patch Used:
Build 130
Developer Homepage:
http://www.futuremark.com
Product Homepage:
http://www.futuremark.com/products/3dmark05/
Buy It Here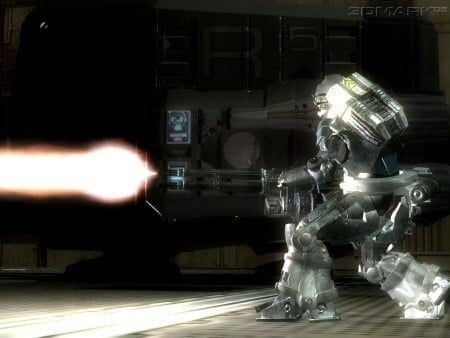 3DMark05 is now the second latest version in the popular 3DMark "Gamers Benchmark" series. It includes a complete set of DX9 benchmarks which tests Shader Model 2.0 and above.
For more information on the 3DMark05 benchmark, we recommend you read our preview
here
.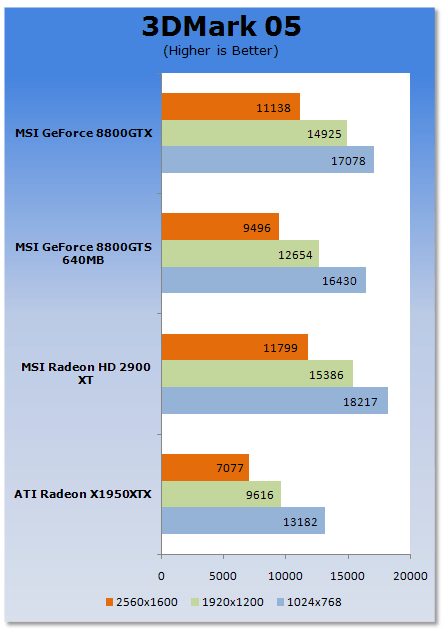 In 3DMark05 we can see that across the board the Radeon HD 2900 XT is the fastest card, outperforming both the GeForce 8800GTS and GTX from Nvidia along with showing the kind of increase we get when compared to the older Radeon X1950XTX.
Benchmarks - 3DMark06
3DMark06Version and / or Patch Used:
Build 110
Developer Homepage:
http://www.futuremark.com
Product Homepage:
http://www.futuremark.com/products/3dmark06/
Buy It Here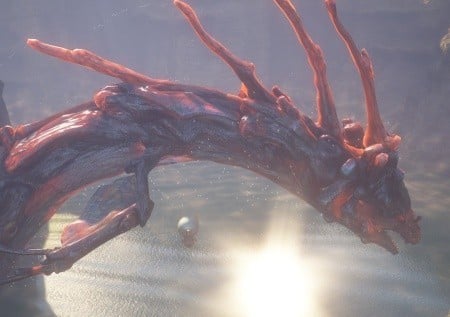 3DMark06 is the very latest version of the "Gamers Benchmark" from FutureMark. The newest version of 3DMark expands on the tests in 3DMark05 by adding graphical effects using Shader Model 3.0 and HDR (High Dynamic Range lighting) which will push even the best DX9 graphics cards to the extremes.
3DMark06 also focuses on not just the GPU but the CPU using the AGEIA PhysX software physics library to effectively test single and Dual Core processors.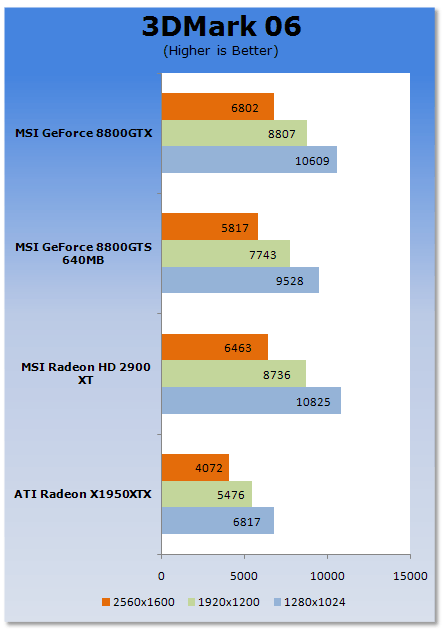 As we place more load onto the cards we can see the move from a X1950XTX yields a nice increase while it manages to outperform the 8800GTS 640MB consistently and only fall short to the GTX at the 1920 x 1200 and 2560 x 1600 test resolutions.
Benchmarks - RyderMark
RyderMarkVersion and / or Patch Used:
Beta 2
Developer Homepage:
http://www.candellasoftware.com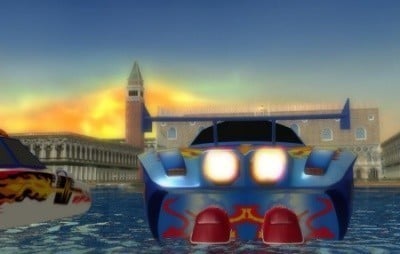 RyderMark is a new 3D benchmark application by Candella Software designed to take on the 3DMark series from Futuremark.
We are testing using the early Beta 2 version which was sent to us by the developers. For a closer look at the benchmark software,
take a look at our preview
.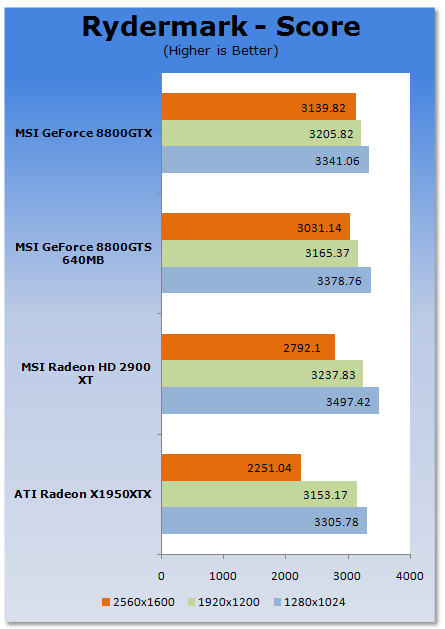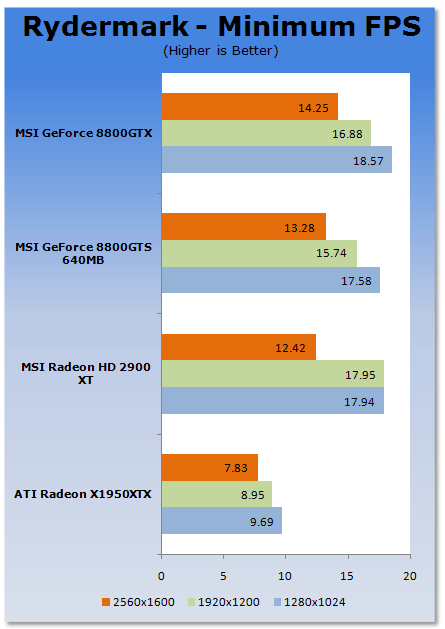 Moving to the new RyderMark we can see from on overall score perspective the HD 2900 XT only falls back at the highest resolution - it would seem that RyderMark likes the extra memory. The results also translate over to our minimum FPS score.
Benchmarks - Half Life 2 (Lost Coast HDR)
Half Life 2 (Lost Coast HDR)Version and / or Patch Used:
Latest from Steam
Timedemo or Level Used:
Custom Timedemo
Developer Homepage:
http://www.valvesoftware.com
Product Homepage:
http://www.half-life2.com
Buy It Here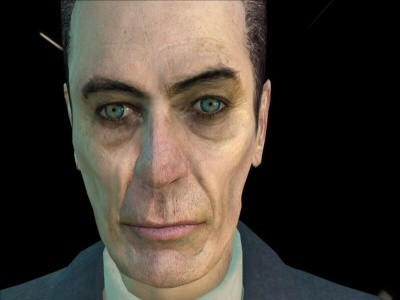 By taking the suspense, challenge and visceral charge of the original, and adding startling new realism, responsiveness and new HDR technology, Half-Life 2 Lost Coast opens the door to a world where the player's presence affects everything around him, from the physical environment to the behaviors even the emotions of both friends and enemies.
We benchmark Half Life 2 Lost Coast with our own custom timedemos as to avoid possible driver optimizations using the "record demo_name" command and loading the timedemo with the "timedemo demo_name" command - For a full list of the commands,
click here
.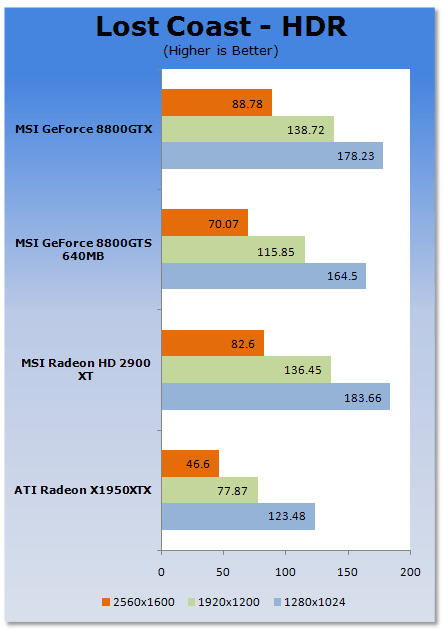 Source based games have generally always favored the ATI offerings and we can see that AMD's new VGA card continues to beat the 8800GTS, it only begins to drop back a little at the higher resolution but it still manages to be on the heels of the 8800GTX.
Benchmarks - Prey
PreyVersion and / or Patch Used:
Unpatched
Timedemo or Level Used:
HardwareOC Custom Benchmark
Developer Homepage:
http://www.humanhead.com
Product Homepage:
http://www.prey.com
Buy It Here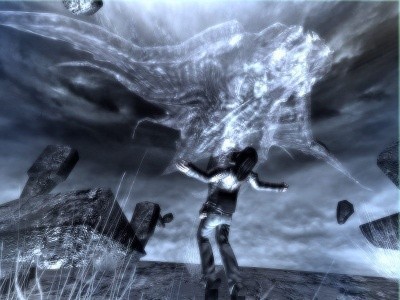 Prey is one of the newest games to be added to our benchmark line-up. It is based off the Doom 3 engine and offers stunning graphics passing what we've seen in Quake 4 and does put quite a lot of strain on our test systems.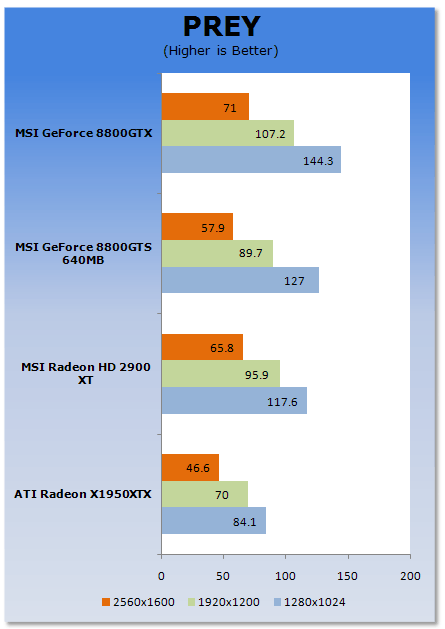 Prey being based on OpenGL manages to always give Nvidia the upper hand and we can see that at the lower resolution the GeForce 8800's manage to get a decent jump on the card.
As we increase the load the HD 2900 XT manages to overtake the 8800GTS and get within striking distance of the 8800 GTX again.
Benchmarks - F.E.A.R.
F.E.A.R.Version and / or Patch Used:
Unpatched
Timedemo or Level Used:
Built-in Test
Developer Homepage:
http://www.vugames.com
Product Homepage:
http://www.whatisfear.com/us/
Buy It Here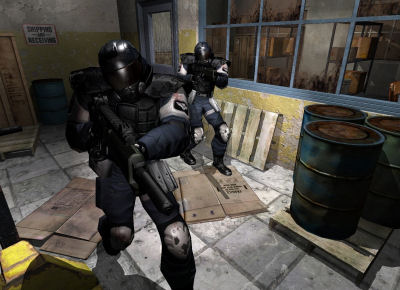 F.E.A.R. (First Encounter Assault Recon) is an intense combat experience with rich atmosphere and a deeply intense paranormal storyline presented entirely in first person. Be the hero in your own spine-tingling epic of action, tension, and terror...and discover the true meaning of F.E.A.R.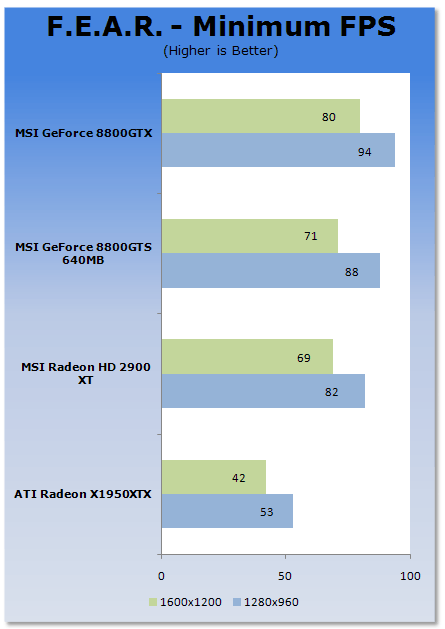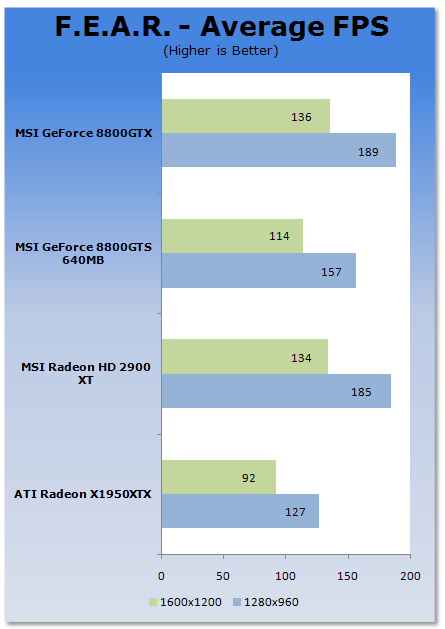 While the average scores show the 8800GTX and HD 2900 XT really battling it out when you look at the minimum FPS, the Nvidia offerings manage to take a good lead.
Benchmarks - Company of Heroes
Company of HeroesVersion and / or Patch Used:
1.5
Timedemo or Level Used:
Built-in Test
Developer Homepage:
http://www.relic.com
Product Homepage:
http://www.companyofheroesgame.com
Buy It Here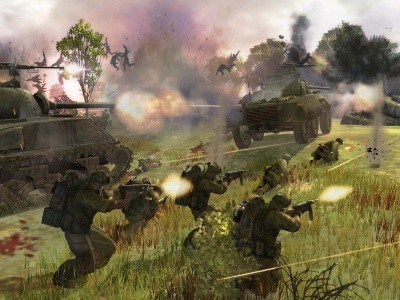 Company of Heroes, or COH as we're calling it, is one of the latest World War II games to be released and also one of the newest in our lineup of benchmarks. It is a super realistic real-time strategy (RTS) with plenty of cinematic detail and great effects. Because of its detail, it will help stress out even the most impressive computer systems with the best graphics cards - especially when you turn up all the detail. We use the built-in test to measure the frame rates.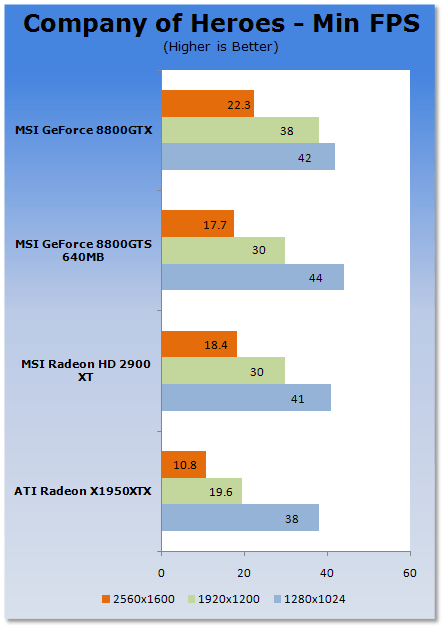 AMD's new ATI Radeon HD 2900 XT manages to almost score identical to the 8800GTS 640MB from Nvidia which is priced the same - it is only the more expensive GTX that is able to jump ahead of the HD 2900 XT.
Benchmarks - Supreme Commander
Supreme CommanderVersion and / or Patch Used:
3220
Timedemo or Level Used:
Built-in Test
Developer Homepage:
http://www.gaspowered.com
Product Homepage:
http://www.supremecommander.com
Buy It Here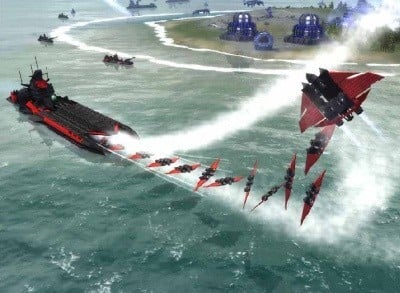 In the 37th Century, you are the Supreme Commander of three races, with a single goal in mind-to end the 1000 year Infinite War and become the reigning power supreme. For a thousand years, three opposing forces have waged war for what they believe is true. There can be no room for compromise: their way is the only way. Dubbed The Infinite War, this devastating conflict has taken its toll on a once-peaceful galaxy and has only served to deepen the hatred between the factions.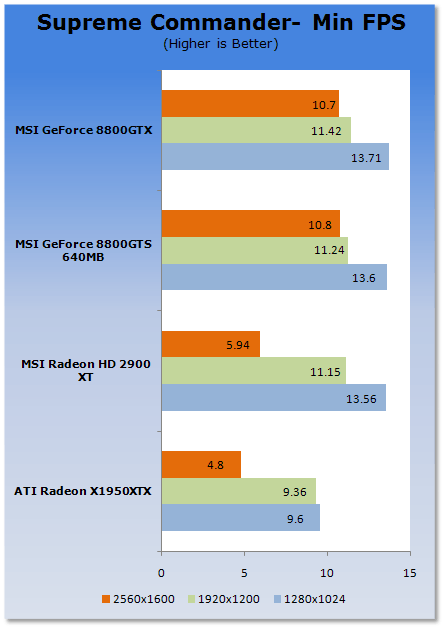 Radeon HD 2900 XT seems to do fine up until 2560 x 1600 where the Nvidia offerings really manage to crush the HD 2900 XT. Up to 1920 x 1200 though there really is not much difference.
Benchmarks - High Quality AA and AF
High Quality AA and AF
Our high quality tests let us separate the men from the boys and the ladies from the girls. If the cards weren't struggling before they will start to now.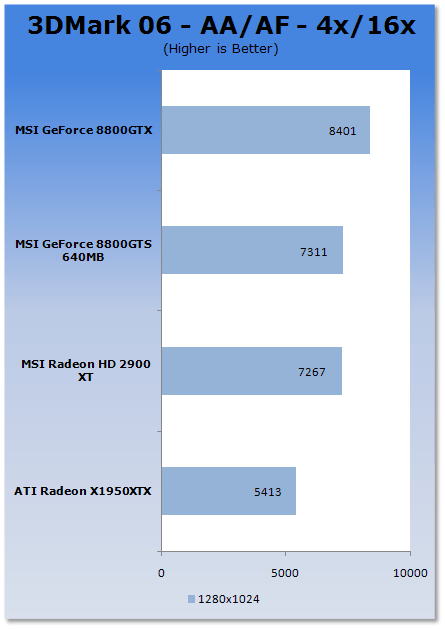 Turning on AA and AF high quality settings the HD 2900 XT manages to score similar to the 8800GTS where in our non AA/AF tests we saw it come first.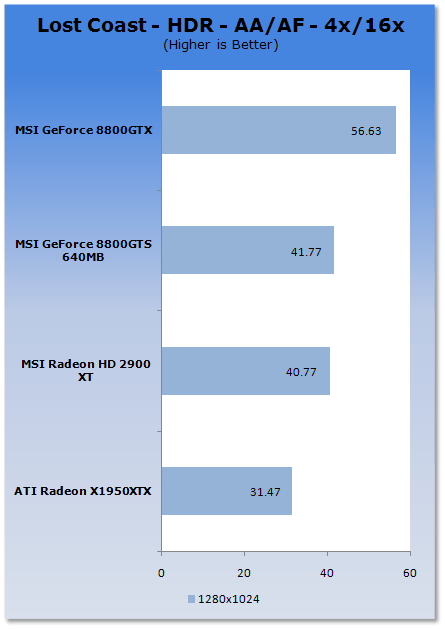 We again see with the AA and AF on that performance is closer to the GTS offering from Nvidia while the GTX manages to outperform the card quite significantly.
Again moving to the OpenGL based Prey we can see that the Nvidia cards really put the hurt on with the HD 2900 XT only managing to be slightly faster than the older Radeon X1950XTX.
Benchmarks - Overclocking
Overclocking
Hoping the HD 2900 XT could continue to shine when we move in to the overclocking side of things we fired up the AMD overclocking program that has been floating around the internet.
Starting at 743MHz on the core we moved to a massive 860MHz giving us almost a 20% rise, the memory managed to also go pretty hard moving from 1658MHz DDR to 1880MHz DDR. While the card does support software voltage changes we left it at default.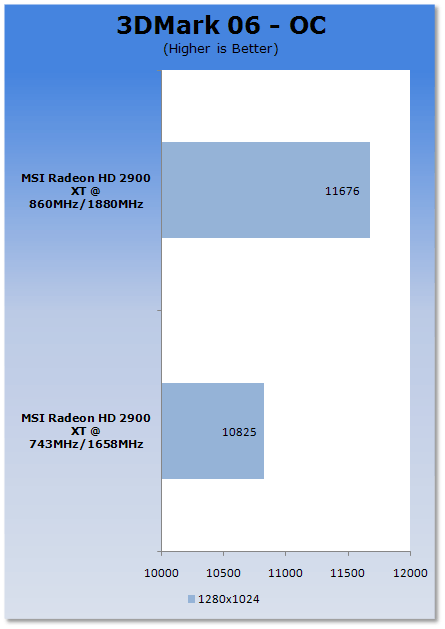 With the card having quite an overclock we find ourselves with a nice jump in performance.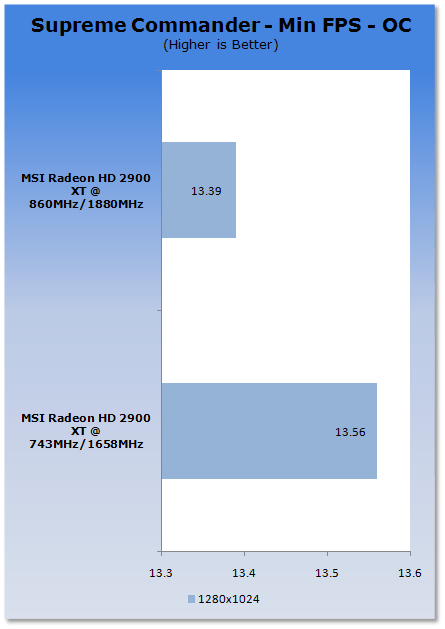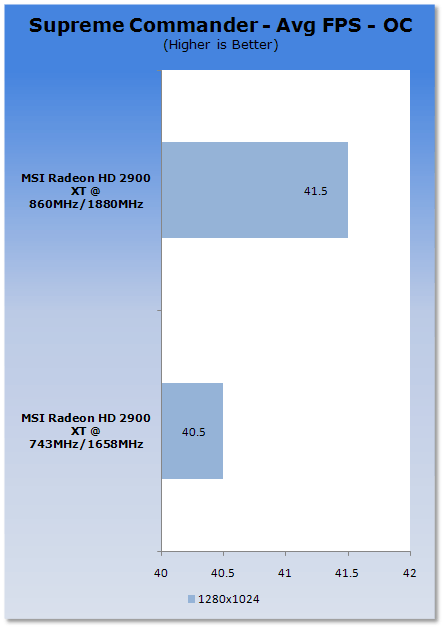 Overclocking did not really manage to affect the overall results of the HD2900XT.
Temperature and Sound Tests
Temperature Tests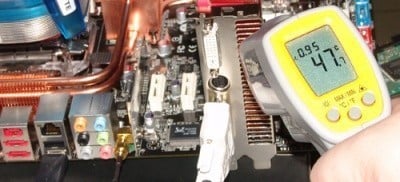 With the TES 1326 Infrared Thermometer literally in hand we found ourselves getting real-world temperatures from the products we test at load (3D clock speeds).
There are two places we pull temperature from - the back of the card directly behind the core and if the card is dual slot and has an exhaust point we also pull a temperate from there.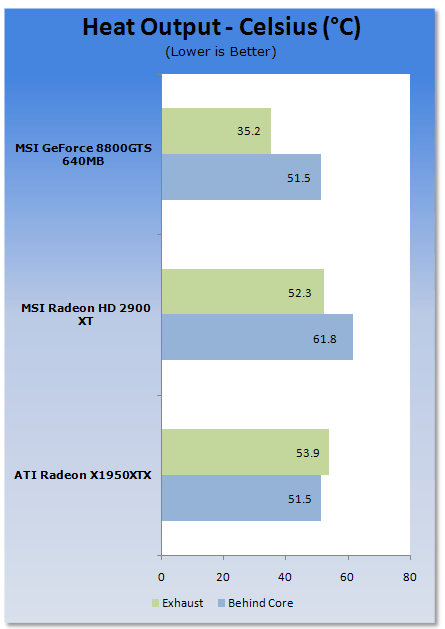 The ATI offerings are really a heater, in the cold Melbourne weather at the moment just sit in front of the exhausts and you can warm yourself up with ease. The core and exhaust temperatures are well up from the Nvidia offering.
Sound Tests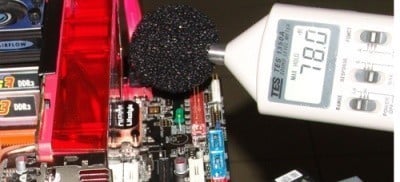 Pulling out the TES 1350A Sound Level Meter we find ourselves quickly yelling into the top of it to see how loud we can be.
After five minutes of that we get a bit more serious and place the device two CM away from the fan on the card to find the maximum noise level of the card when idle (2D mode) and in load (3D mode).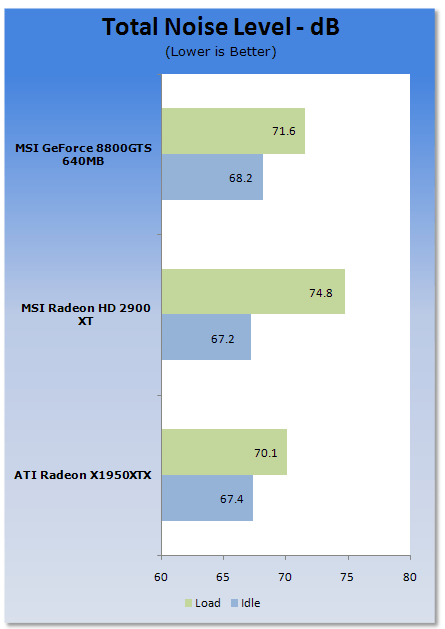 Idle noise we have very little difference between the cards, when we crank it up though and find ourselves in a game the new Radeon HD 2900 XT is the loudest card out of the bunch.
Power Consumption Tests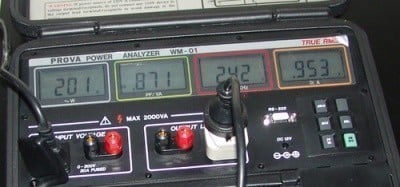 Using our new PROVA Power Analyzer WM-01 or "
Power Thingy
" as it has become quickly known as to our readers, we are now able to find out what kind of power is being used by our test system and the associated graphics cards installed. Keep in mind; it tests the complete system (minus LCD monitor, which is plugged directly into AC wall socket).
There are a few important notes to remember though; while our maximum power is taken in 3DMark06 at the same exact point, we have seen in particular tests the power being drawn as much as 10% more. We test at the exact same stage every time; therefore tests should be very consistent and accurate.
The other thing to remember is that our test system is bare minimum - only a 7,200RPM SATA-II single hard drive is used without CD ROM or many cooling fans.
So while the system might draw 400 watts in our test system, placing it into your own PC with a number of other items, the draw is going to be higher.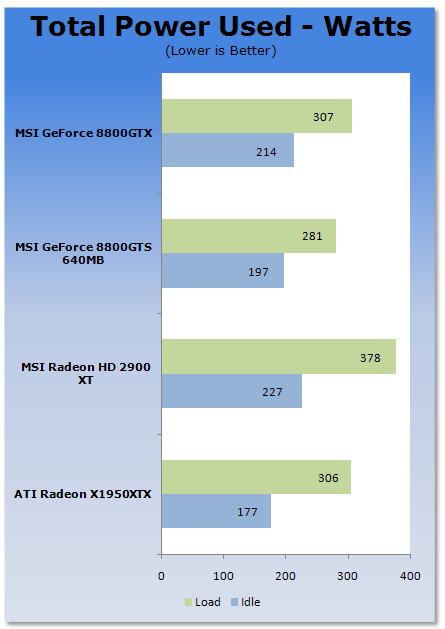 It has been mentioned from the word go that AMD's ATI Radeon HD 2900 XT was always going to be power hungry but it is clearly using much more power when compared to cards like the GeForce 8800GTS and 8800GTX.
It is drawing more power at load then the others and over 20% more at load when compared to the GTX.
Final Thoughts
So, there it is... the new ATI Radeon HD 2900 XT.
The new drivers have helped the card a lot - it really does go from a joke of a product to something that you could recommend. The biggest problem we see is that AMD may have already done the damage by not waiting another week or two for the new drivers to come out.
The biggest problem with the card would have to be the amount of power it draws alongside the fact that this in turn makes it operate at higher temperatures. It is literally a mini heater in winter and we do not want to know what it is like in summer.
Onto the positive points, the package from MSI is great! VIVO, HDMI Convertor, HDCP along with all those other handy cables and of course
Black Box
Orange Box, it has a lot going for it. Throw in the fact that it is really about the same price as a standard GeForce 8800GTS 640MB and it is easy to see why you would pick this card up over the other.
You of course cannot forget the fact that AMD is really on the ball in the driver department. We should continue to see more and more performance out of the card as time goes on meaning that it could become quite the killer card. Yes, it is late to the market but as long as people realize it is a good card AMD should be alright and give them a chance for the next generation of cards due out later this year.
On a side note, we spent some extra time with the MSI Radeon HD 2900 XT to see what it was really capable of. Trying some max OC on the Intel Core 2 E6600 @ 3.7GHz we got within a 1000 marks (3DMark06) of the XFX 8800 Ultra XXX running at the same overclocked CPU speed. It is clear the card has potential but it is going to take another driver release or two until we see more serious power out of the product.
- Pros
Package including Orange Box
Price vs. Performance is very good
New drivers offering better performance
Impressive overclocking
Manages to give more expensive 8800GTX run for its money
- Cons
Power requirements
Operating temperature
1GB DDR-4 version coming out soon
Rating - 8.5 out of 10 and TweakTown's "MUST HAVE" Best Value Award!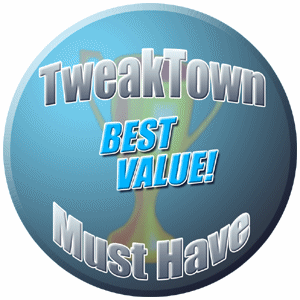 PRICING: You can find products similar to this one for sale below.
United States: Find other tech and computer products like this over at Amazon.com
United Kingdom: Find other tech and computer products like this over at Amazon.co.uk
Australia: Find other tech and computer products like this over at Amazon.com.au
Canada: Find other tech and computer products like this over at Amazon.ca
Deutschland: Finde andere Technik- und Computerprodukte wie dieses auf Amazon.de
We openly invite the companies who provide us with review samples / who are mentioned or discussed to express their opinion. If any company representative wishes to respond, we will publish the response here. Please contact us if you wish to respond.