XFX GeForce 8800 Ultra XXX - Uber Performance, Monster Price Tag!
Nvidia's tweaked G80 GPU is the GeForce 8800 Ultra. Our look at the XFX XXX shows us what happens with some factory OC!
Published Sun, May 6 2007 11:00 PM CDT
|
Updated Fri, Sep 18 2020 10:50 PM CDT
Rating:

75%
Manufacturer: XFX
Introduction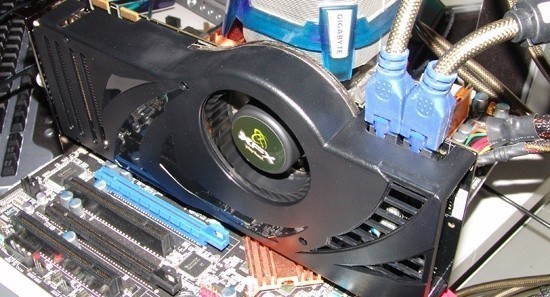 So you read the reviews on the brand new reference Nvidia GeForce 8800 Ultra graphics card the other day, and you thought "
Hey! GeForce Ultra is not that Ultra at all!
" It is currently without a doubt at the top of the graphics card leader board at the moment, king of the hill by a long way but the former crown holder 8800 GTX was already doing pretty well, anyway. The tweaked out G80 GPU is Nvidia's
answer
preemptive strike to whatever AMD might come out with later this month in their new R600 range.
Let's find out if the Ultra can be truly and fully "Ultra" with the help of XFX and all the overclockers that work at the company who want to give us nothing but performance and huge amounts of it.
That is right - we are talking about retail GeForce 8800 Ultra, the type you actually buy in the shop. This is not just any ordinary 8800 Ultra though, it is an XXX edition (factory overclocked and at the highest end of the XFX range, which usually means top out of all the Nvidia partner brands) and trust us, by the time we finished with it, we thought that it deserved that XXX stamp well and truly.
There is not much point going into too much detail on the GPU itself as it's really just a GeForce 8800GTX on steroids - increase clocks across the board gives us more bandwidth - there are no other changes, it is just a refresher product. Nvidia claims a newer revision chip is used which is the reason for being able to pump out the higher clock speeds - maybe they just got lucky with some better than expected factory yields, nevertheless, the 8800 Ultra is here.
Let us have a look at exactly what XFX are offering us today and see if it's worth getting or not. After all, that is a very important question, as it does come with an RRP of around $1400 AUD in Australia or around $1000 - $1100 USD in the United States. Yep, and unless you are reading whilst rolling around in your secured money pit right now, you thought the regular 8800 Ultra was excessively expensive at $850 USD.
In The Box
The Package
Straight away we have an awesome looking box from XFX, they have moved away from the white background to the black here and it gives it a bit more evil and sinister look. It really suits it overall.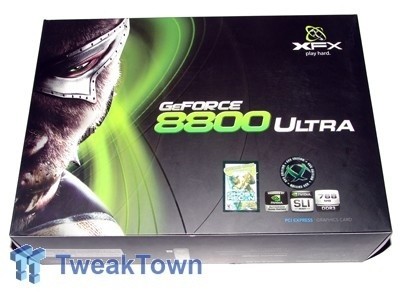 You can see that we have a bit of detail on the front of the box but not loads, the model is clearly listed along with the amount of RAM, some logos, a mention that Ghost Recon Advanced Warfighter is included and finally that this particular model is the XXX version which means it comes factory overclocked and sits at the very top of the range from XFX.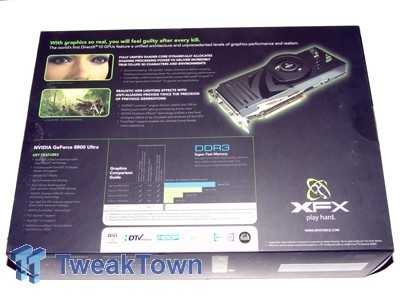 Turning the box over we have a picture of the card in the top along with the main features on offer from the G80 core and the 8800 Ultra today. There is no mention of any clock speeds anywhere on the front or back and the only thing we can see is that on the sticker we have 675M which is the core clock of the card.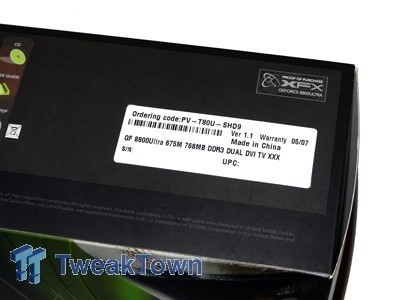 We really think that XFX should have made clear the core, memory and shader clock speeds on the front of the box so people knew just exactly how XXX this card was.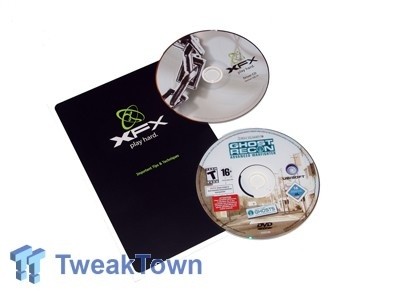 Moving inside the package it is much of the same - we have our normal array of paper work that sits with the driver CD and a full version copy of Ghost Recon Advanced Warfighter. While it's nice to see a full version game something a bit more recent would have been nice especially considering the price tag that comes with it. Heck, it would be out of the question to throw in two or three games to help justice the extravagant price tag.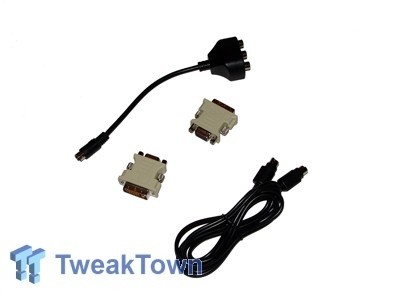 Cables are also very standard, component breakout cable, S-Video and two DVI to VGA connectors. Don't have enough PCI Express power connectors on your power supply? Well, too bad... none are included in the package. With that said though we can understand it this time around, with a card of this caliber if you don't have a power supply that has at least two PCI Express connectors we would be recommending a new power supply without question as chances are your current PSU ain't gonna cut any cheese here.
Overall the box looks great but the package is on the light side, with that said we aren't too sure what we expected from it though we can say probably a little bit more when you look at the price of the thing.
The Card
It is the black sheep of the family, alright! At first glance, it oozes with style and is just shouting out monster performance with its sleek black appearance. Considering the price, it should damn well almost smile politely back at you too.
Length wise the PCB is exactly the same as the GTX, the only difference with the dimensions is that it sits slightly higher due to the cooler that covers the entire front side of the card but this is not going to be a problem for anyone as the PCI Express power connectors are still coming out above the card through a conveniently placed hole.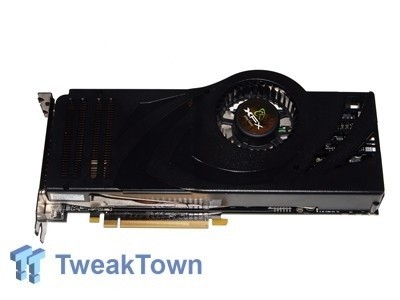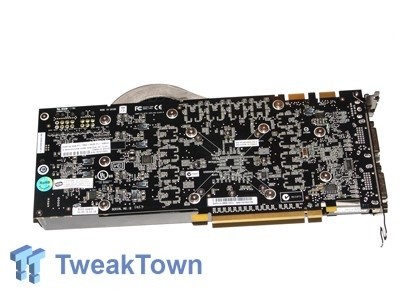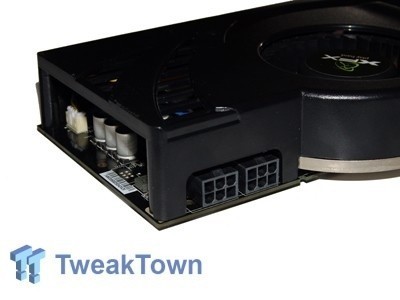 We can see that the PCI Express power connectors are in the same location as the standard GTX but simply have a cover around it this time.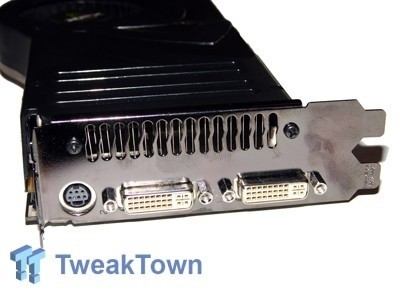 I/O wise is also exactly the same with a couple of dual-link DVI ports and TV out port. As you would probably already assume the card is also of course a dual slot unit.
Volume levels of the card is actually really good, while the setup of the card is different to that of the previous 8800GTX king, it uses the same kind of fan, which is quiet and does a pretty good job at keeping the card cool - clearly good enough for XFX to go a bit crazy with the clock speeds.
The standard GeForce 8800GTX comes clocked in with a 575MHz / 1350MHz / 1800MHz DDR (Core / Shader / Memory) setup. The Ultra comes along and improves upon that offering at stock 612MHz / 1500MHz / 2160MHz DDR. What this does for us is increase our memory bandwidth from 96GB/s to 103.7GB/s. Given that many companies including XFX already have 8800GTX OC cards on the market (XXX GTX operates at 630MHz core / 2000MHz DDR) and cost much less than the Ultra, it's debatable if there will even be any tangible performance increases.
Luckily XFX improve upon this with their high-end 8800 Ultra XXX model which comes clocked at 675MHz / 1675MHz / 2300MHz DDR - quite an increase across the board and a big jump over the fastest GTX cards on the market. We're getting more bandwidth again which should give us a clear lead over the 8800GTX as well as the reference Ultra cards that we saw in other reviews a few days ago.
Benchmarks - Test System Setup and 3DMark05
Test System SetupProcessor(s):
Intel Core 2 Duo E6600 @ 3.33GHz (366MHz x 9 and FSB 1:1)
Motherboard(s):
ABIT IN9 32X-MAX Wi-Fi (Supplied by
Universal ABIT
)
Memory:
2 X 1GB Crucial PC8000 5-5-5-15 (Supplied by
Crucial
)
Hard Disk(s):
Hitachi 80GB 7200RPM SATA 2
Operating System:
Microsoft Windows XP Professional SP2
Drivers:
Nvidia ForceWare 158.16 and DX9c
Compared against a stock clocked GeForce 8800GTX and a stock clocked 8800 Ultra, it was time to see just exactly what the card was going to be able to do.
The question is one of the most we have had to answer so far this year when it comes to the GPU considering the staggering asking price of around $1400 AUD (Down Under) or $1000 - $1100 USD (in the United States) for XFX's highly overclocked XXX Ultra - even the regular 8800 Ultra will currently set you back $850 USD, which is roughly $250 - $300 USD more than the GTX. Taking those prices into consideration, you can almost buy two 8800 GTX cards for the same price or pretty well close enough as the 8800 Ultra XXX. We would not expect a single 8800 Ultra even with monster OC to come anywhere even close compared to a couple of 8800 GTX cards in SLI mode.
Like all our graphics card reviews that find us in the high-end arena where lots of money is required to be spent, we have mixed up our resolutions - we test at 1280 x 1024 for standard LCD users, 1920 x 1200 for people who like their 23 - 24" monitors and then 2560 x 1600 for the people with money to burn. We also up the ante in our high quality tests by testing AA and AF at 2560 x 1600.
The only programs that are any difference is 3DMark05 is tested at its default 1024 x 768 instead of 1280 x 1024, 3DMark06 in our HQ tests is also ran at its default 1280 x 1024 setup and F.E.A.R. which doesn't support any widescreen games natively.
3DMark05Version and / or Patch Used:
Build 130
Developer Homepage:
http://www.futuremark.com
Product Homepage:
http://www.futuremark.com/products/3dmark05/
Buy It Here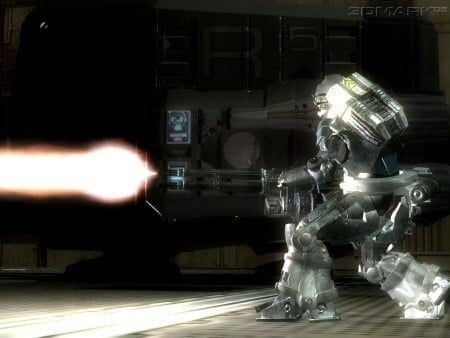 3DMark05 is now the second latest version in the popular 3DMark "Gamers Benchmark" series. It includes a complete set of DX9 benchmarks which tests Shader Model 2.0 and above.
For more information on the 3DMark05 benchmark, we recommend you read our preview
here
.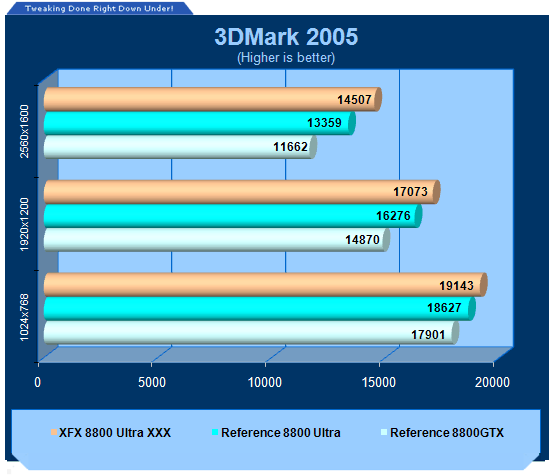 Straight away we can see the reverse stairway effect, when you look at what the XXX version scores compared to a standard GTX you really can see quite a significant difference.
Benchmarks - 3DMark06
3DMark06Version and / or Patch Used:
Build 110
Developer Homepage:
http://www.futuremark.com
Product Homepage:
http://www.futuremark.com/products/3dmark06/
Buy It Here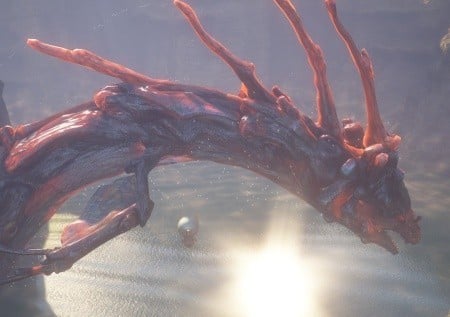 3DMark06 is the very latest version of the "Gamers Benchmark" from FutureMark. The newest version of 3DMark expands on the tests in 3DMark05 by adding graphical effects using Shader Model 3.0 and HDR (High Dynamic Range lighting) which will push even the best DX9 graphics cards to the extremes.
3DMark06 also focuses on not just the GPU but the CPU using the AGEIA PhysX software physics library to effectively test single and Dual Core processors.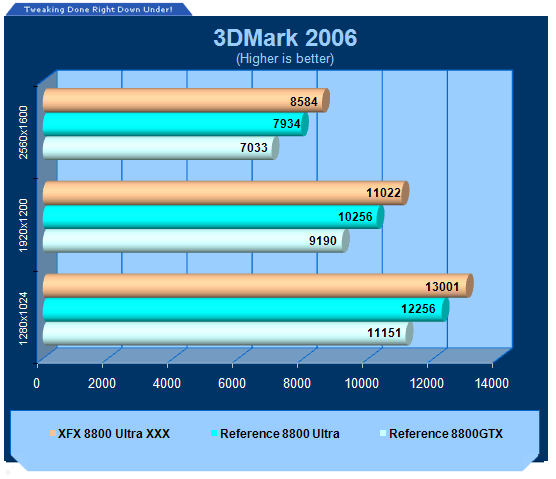 3DMark06 also shows us significant gains, with 20% separating the GTX and the Ultra XXX and we can see that the standard clocked model sits nicely in between the two.
Benchmarks - Half Life 2 (Lost Coast)
Half Life 2 (Lost Coast)Version and / or Patch Used:
Unpatched
Timedemo or Level Used:
Custom Timedemo
Developer Homepage:
http://www.valvesoftware.com
Product Homepage:
http://www.half-life2.com
Buy It Here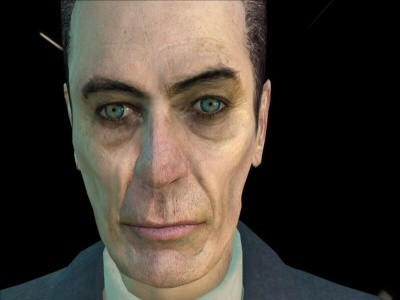 By taking the suspense, challenge and visceral charge of the original, and adding startling new realism, responsiveness and new HDR technology, Half-Life 2 Lost Coast opens the door to a world where the player's presence affects everything around him, from the physical environment to the behaviors even the emotions of both friends and enemies.
We benchmark Half Life 2 Lost Coast with our own custom timedemos as to avoid possible driver optimizations using the "record demo_name" command and loading the timedemo with the "timedemo demo_name" command - For a full list of the commands,
click here
.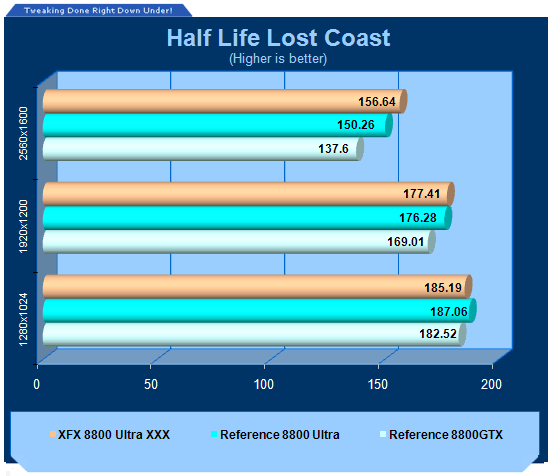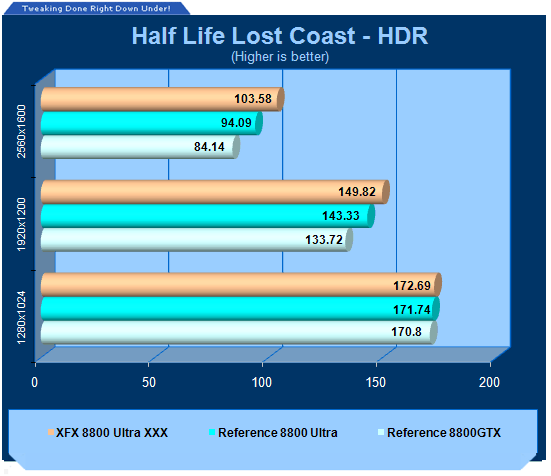 Our non-HDR tests show us hitting a CPU wall up to 2560 x 1600 and even at the lower resolution HDR test. There are some significant gains at the highest resolution when HDR is enabled.
Benchmarks - Prey
PreyVersion and / or Patch Used:
Unpatched
Timedemo or Level Used:
HardwareOC Custom Timedemo
Developer Homepage:
http://www.humanhead.com
Product Homepage:
http://www.prey.com
Buy It Here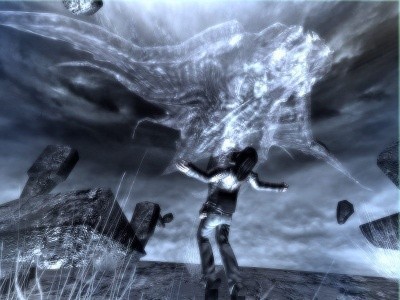 PREY is one of the newest games to be added to our benchmark line-up. It is based off the Doom 3 engine and offers stunning graphics passing what we've seen in Quake 4 and does put quite a lot of strain on our test systems.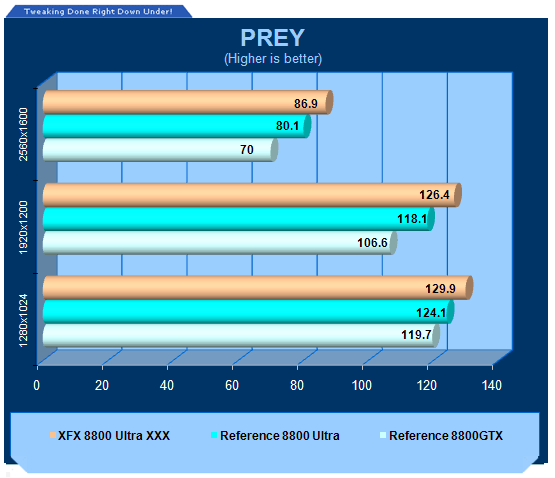 Our lower resolution tests shows performance gains like you would expect but nothing too significant, it's not until we hit 1920 x 1200 and 2560 x 1600 that we really see what the card is made of and how it can continue to push out the high FPS.
Benchmarks - F.E.A.R.
F.E.A.R.Version and / or Patch Used:
Unpatched
Timedemo or Level Used:
Built-in Test
Developer Homepage:
http://www.vugames.com
Product Homepage:
http://www.whatisfear.com/us/
Buy It Here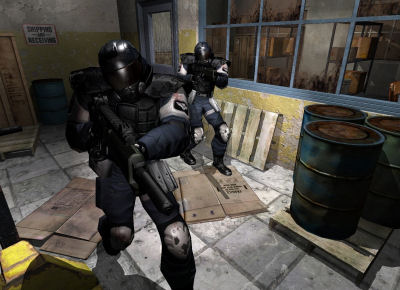 F.E.A.R. (First Encounter Assault Recon) is an intense combat experience with rich atmosphere and a deeply intense paranormal storyline presented entirely in first person. Be the hero in your own spine-tingling epic of action, tension, and terror...and discover the true meaning of F.E.A.R.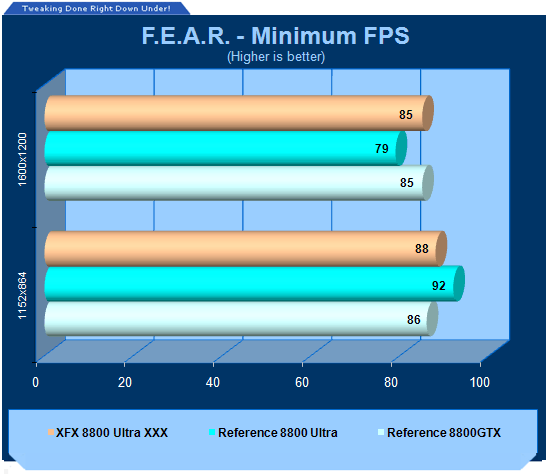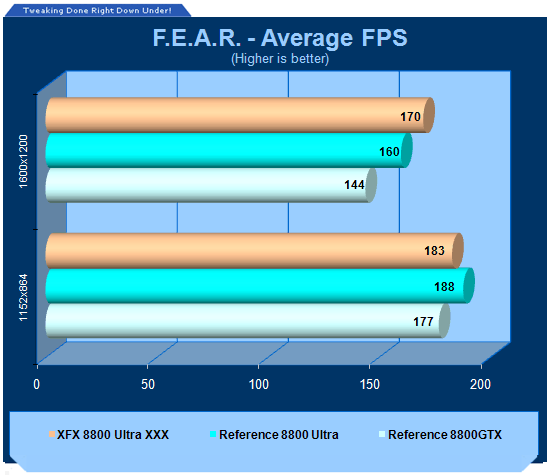 Low resolution F.E.A.R. results are a bit all over the place but we can see at the higher res the averages beginning to see the same pattern as we have seen so far.
Benchmarks - Company of Heroes
Company of HeroesVersion and / or Patch Used:
1.5
Timedemo or Level Used:
Built-in Test
Developer Homepage:
http://www.relic.com
Product Homepage:
http://www.companyofheroesgame.com
Buy It Here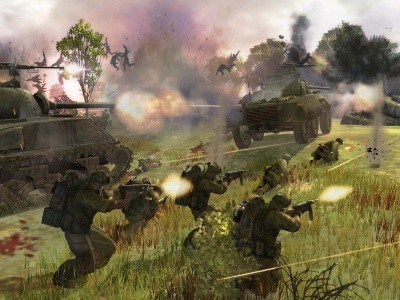 Company of Heroes, or COH as we're calling it, is one of the latest World War II games to be released and also one of the newest in our lineup of benchmarks. It is a super realistic real-time strategy (RTS) with plenty of cinematic detail and great effects. Because of its detail, it will help stress out even the most impressive computer systems with the best graphics cards - especially when you turn up all the detail. We use the built-in test to measure the frame rates.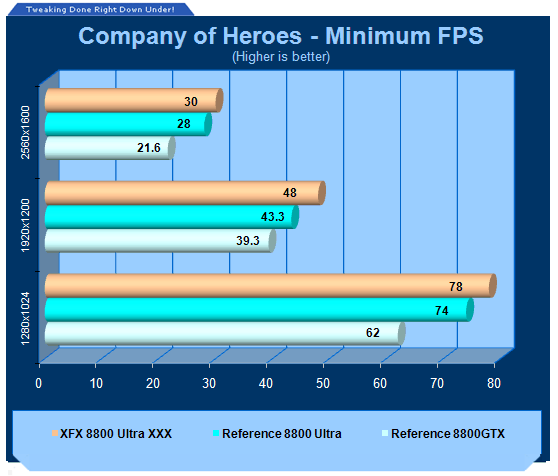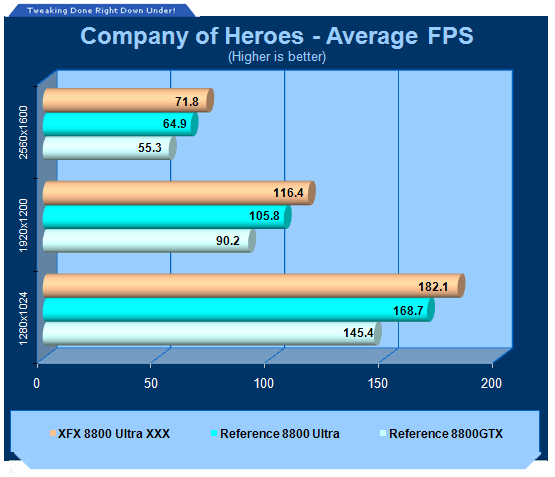 COH really sees significant gains at the highest resolution with it being capable of breaking that 30 FPS minimum barrier at 2560 x 1500, the Ultra is a clear performer when you start climbing up in the resolution in the latest intensive games.
Benchmarks - High Quality AA and AF
High Quality AA and AF
Our high quality tests let us separate the men from the boys and the ladies from the girls. If the cards weren't struggling before they will start to now.
As soon as we start to increase the strain on the GPU we can see that the Ultra really is able to handle itself when under pressure.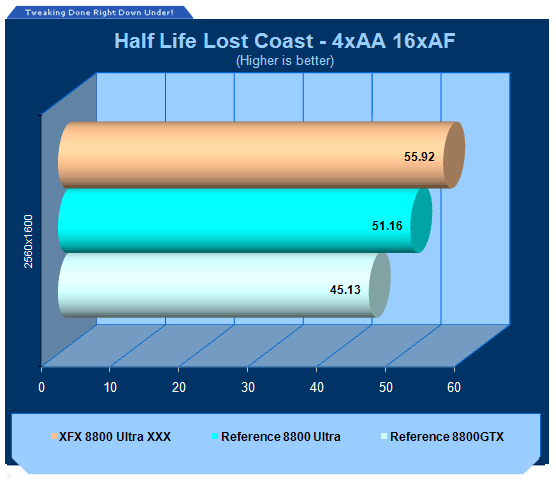 We again see gains exceeding 20% at these intensive settings and offering what is the difference between playable and not playable at these ultra HD resolutions. With Half Life 2 not supporting SLI you're not going to get any better performance from another set up at the moment.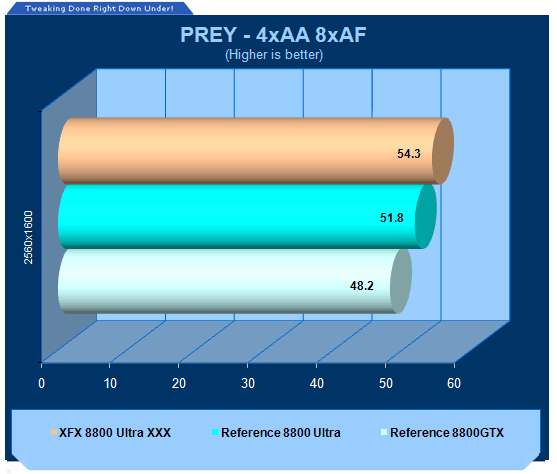 Finally we leave with Prey which sees a nice bump across the board, tipping an average of almost 55FPS the chances are you're going to be pretty comfortable playing Prey at these extreme settings with the 8800 Ultra XXX.
Final Thoughts
You cannot say that the new Nvidia GeForce 8800 Ultra is not a true performer let alone when you pair it up with the XFX brand and their factory overclocked XXX edition but this is coming at such a huge cost to the user. The other thing is though, it is not just the XFX price premium that we have seen for a while now - every brand has a huge price starting at around $1050 AUD in Australia or around $850 USD in the United States. Consider that the GeForce 8800GTX starts at $750 AUD and you have to really wonder how on earth does someone justify spending the extra cash.
Interested to know if we could push things even further, we again got nowhere with a XXX variant graphics card from XFX. While we did push the memory up 100MHz DDR, the core only went up 10MHz and this only resulted in our 3DMark score going from 13001 to 13070. The main thing to figure out now though is if the cheaper cards on the market will provide the ability to overclock as high like we have seen with the GeForce 8600GTS products - only time will tell and we are sure that we will find out in coming weeks.
The bottom line is quite simple - there really is no way you could justify the price increase of the new 8800 Ultra, let alone the XFX XXX edition, not at all and not in the slightest. If you have the money and you want the best of the best, the Bugatti Veyron of all graphics card, for sure buy it, but there is no way you could honestly say to someone that it was a wise purchase.
The card is nothing more than a way of sticking it to AMD and ATI - in a marketing sense - in regards to their upcoming R600 launch later this month. Much like Intel seem to be trying their very hardest to destroy AMD, Nvidia is also giving it their best shot, too.
XFX's 8800 Ultra XXX screams along at top speed leaving every other single GPU solution in the dust, there is no doubt about that. However it is safe to say that with word on the street that supply and quantities is very low, Nvidia is not expecting to sell many of these graphics cards. We have even heard from some of Nvidia's partners in Taiwan that they do not even want to touch the tweaked G80 chip in fear that they will not sell. Nvidia believe there will be a few handfuls of ultra high-end extreme users out there that will pay the money just to have the best of the best.
Bottom line... absolutely monster killer performance but with a price tag that could make you faint! It gets our "MUST HAVE" award for Best Performance
only
because it is the single GPU champion but your money is honestly much better spent elsewhere.
- Pros
Monster XFX XXX performance!
Best performing GPU on the market
Full version game included
- Cons
Price!
Light package
Price!
Limited supply - get in quick!
Price!
Better options (such as SLI) available for the price!
Rating - 7.5 out of 10 and TweakTown's "MUST HAVE" Best Performance Award!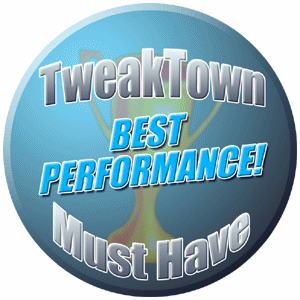 PRICING: You can find products similar to this one for sale below.
United States: Find other tech and computer products like this over at Amazon.com
United Kingdom: Find other tech and computer products like this over at Amazon.co.uk
Australia: Find other tech and computer products like this over at Amazon.com.au
Canada: Find other tech and computer products like this over at Amazon.ca
Deutschland: Finde andere Technik- und Computerprodukte wie dieses auf Amazon.de
We openly invite the companies who provide us with review samples / who are mentioned or discussed to express their opinion. If any company representative wishes to respond, we will publish the response here. Please contact us if you wish to respond.