ECS 965PLT-A Motherboard - Intel 946GZ Chipset Tested
ECS claims the 965PLT-A motherboard offers mainstream performance at a budget price. Let's put it to the test.
Published Tue, Apr 17 2007 11:00 PM CDT
|
Updated Fri, Sep 18 2020 10:50 PM CDT
Introduction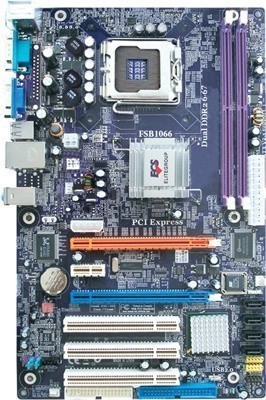 While at TweakTown we do try to look as close to each market segment as we can, we sometimes overlook the value market. We are sent quite a lot of high-end motherboards and it's very rare that a budget board crosses our labs; however, we are always happy to test.
Value boards are what you would most likely get in a pre-built system from your local computer shop when you are not going for huge gaming performance or a massive OC. We have already looked at AMD's new 690G chipset for the AM2 with onboard graphics, and today we are taking a look at the Core 2 side of things.
ECS (Elitegroup Computer Systems) has been good enough to supply us with its latest model called the 965PLT-A. While the board has "965" in its name, it does not actually feature a 965 chipset. In fact it is based on the new 946GZ chipset from Intel, designed with the new GMA 3000 graphics chip embedded in the northbridge.
We plan to test this chipset to see how it performs compared to a 6200 TurboCache graphics card as well as our normal tests with the Radeon X1950Pro. So come have a look at the latest board to cross our labs.
Specifications
Specifications of the ECS 965PLT-ACPU
Supports Intel Core 2 Quad, Duo and Extreme Series CPU
Supports Intel Pentium D 800 - 900 Series CPU
Supports Intel Pentium 4 500 - 600 Series CPU
Supports Intel Celeron D 300 - 400 Series CPU
Chipset
Intel P946GZ Express Chipset
946GZ northbridge
ICH7 southbridge
System Memory
2 DDR2 SDRAM 240-pin DIMM Sockets
64/128-bit dual-channel
Supports up to 2GB total memory (2x 1GB)
Bus Frequency
100/133/266MHz internal
400/533/800/1066MHz external
Expansion Slots
2 PCI Express x16
1 PCI Express x1
3 PCI
Connectivity
1 Parallel ATA port supporting 2 IDE Drives
4 Serial ATA ports
1 Gigabit Ethernet Port
Expansion Ports
1 PS2 keyboard port
1 PS2 mouse port
8 USB 2.0 ports (4 rear accessible, 4 via expansion bracket)
1 Serial port
1 D-SUB VGA port
3 Stereo audio ports
The Board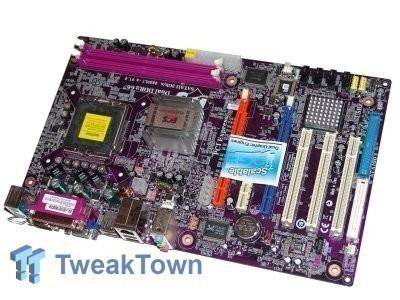 Due to the early nature of our review we did not get a retail package box, just a driver CD and user manual, so we decided to skip those parts and go right on to the board. Like ECS's 650i SLI motherboard, the PCB colour is purple/pink, the size however is a lot different measuring only 30cm in length and 19cm in width. This makes it a very small board for an ATX layout and does cause some problems.
The 24-pin power connector is located behind the 2 DDR2 memory slots, which is a plus, however this is pretty much where the good part ends. Nevertheless we won't be overly critical as this board is designed for budget use, not performance and overclocking. The 4-pin power connector is located between the MCH heatsink and rear I/O ports on the left hand side of the board meaning that you have to route the extra power cable around the CPU.
Another problem is the location of the IDE and FDD ports on the bottom of the board below the last PCI slot. This raises problems with routing the large cables though the case.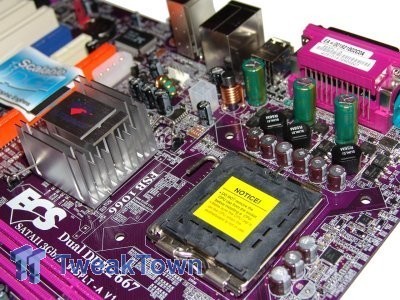 The ECS 965PLT-A only uses a 3-phase voltage regulation system meaning it is just about adequate for Core 2 series CPUs, but for the Netburst series you are really pushing it.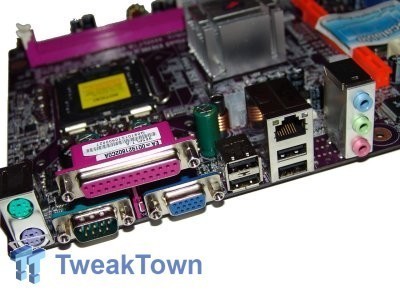 The ECS 965PLT-A board has reasonably good rear I/O ports, however there is no parallel port for "old skool" printers, so if you have one, this board will not support it.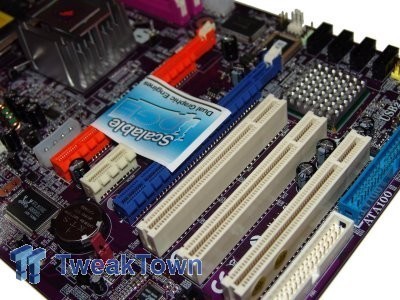 Lastly we come down to the expansion slots and for a budget board there is certainly something that is not budget, dual PCI Express x16 slots. The orange slot is controlled by the northbridge and has 16 lanes routed to it, whereas the blue slot only has 4 lanes, similar to how the P965 works its dual graphics card configurations. We did not have any luck with getting Crossfire to work at this stage, however, with the rumours that AMD might make this technology an open platform we could soon see these boards running dual-GPUs in the future.
In between the 2 PCI Express x16 slots there is a single PCI Express x1 slot and below all these are 3 PCI slots for legacy expansion.
BIOS and Overclocking
BIOS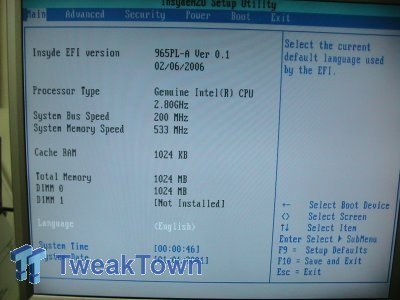 Now it is down to the BIOS. ECS has gone with the same menu style that Asus uses for its boards and the same that Intel uses on its desktop boards. The core is Award version 6 with the overclocking items located under the advanced menu in the performance support submenu.
Being a budget board we did not expect much in the way of overclocking and that we did not get. You can adjust the FSB from 100MHz to 500MHz in 1MHz increments.
For voltages you only get CPU, memory, and northbridge, which can only be increased up to +2% max. To this end we only managed to get an extra 20MHz out of the board, so we did not bother worrying about overclocking results here.
Benchmarks - Test System Setup and Memory Performance
Test System SetupProcessor
: Intel Core 2 Extreme X6800 (Supplied by
Intel
)
Memory
: 2x 1GB DDR2-1066 Corsair (Supplied by
Corsair
)
Hard Disk
: 500GB Seagate 7200.9 (Supplied by
Seagate Australia
)
Graphics Card
: MSI RX1950 Pro (Supplied by
MSI
)
Cooling
: Gigabyte Neon775 (Supplied by
Gigabyte
)
Operating System
: Microsoft Windows XP SP2
Drivers
: Intel INF 8.1.1.1001, ATI catalyst 7.1, Intel GMA Driver 14.27
Today we are testing out the GMA 3000 onboard graphics against a 6200 TurboCache graphics card as well as an RX1950Pro card. We compared the results to the P965 Gigabyte DQ6 board.
Everest Ultimate EditionVersion and / or Patch Used:
2006
Developer Homepage:
http://www.lavalys.com
Product Homepage:
http://www.lavalys.com
Buy It Here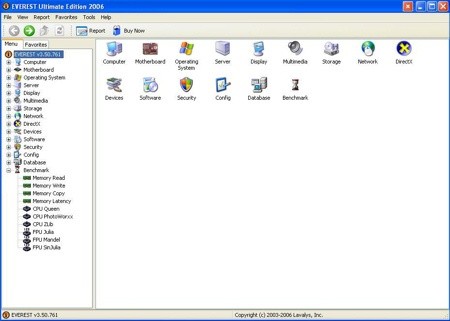 Everest Ultimate Edition is an industry leading system diagnostics and benchmarking solution for enthusiasts PC users, based on the award-winning Everest Technology. During system optimizations and tweaking it provides essential system and overclock information, advanced hardware monitoring and diagnostics capabilities to check the effects of the applied settings. CPU, FPU, and memory benchmarks are available to measure the actual system performance and compare it to previous states or other systems.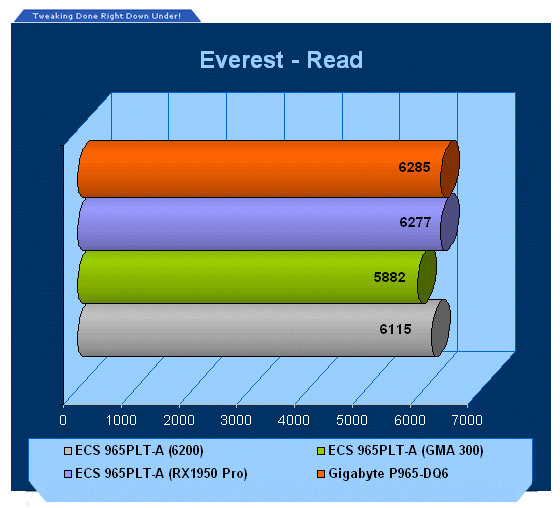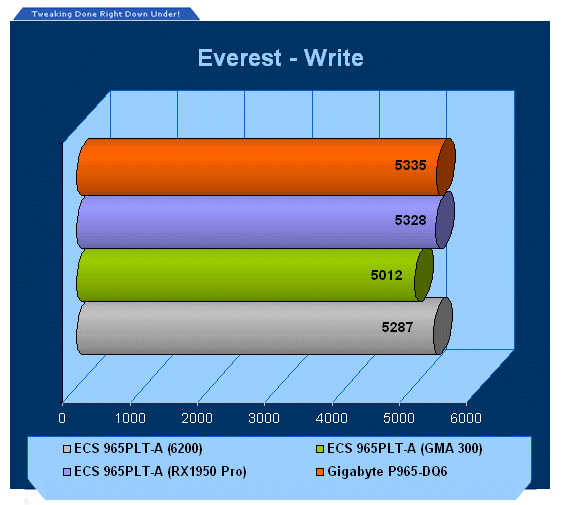 With the GMA 3000 enabled we see a performance hit in memory. In the case of the 6200 TurboCache there is not as much of a hit as memory is not being used for graphics at this point.
Benchmarks - PCMark05
PCMarkVersion and / or Patch Used:
1.2.0
Developer Homepage:
http://www.futuremark.com
Product Homepage:
http://www.futuremark.com/products/pcmark04/
Buy It Here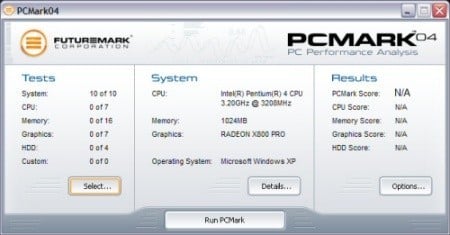 PCMark is a multipurpose benchmark, suited for benchmarking all kinds of PCs, from laptops to workstations, as well as across multiple Windows operating systems. This easy-to-use benchmark makes professional strength benchmarking software available even to novice users. PCMark consists of a series of tests that represent common tasks in home and office programs. PCMark also covers many additional areas outside the scope of other MadOnion.com benchmarks.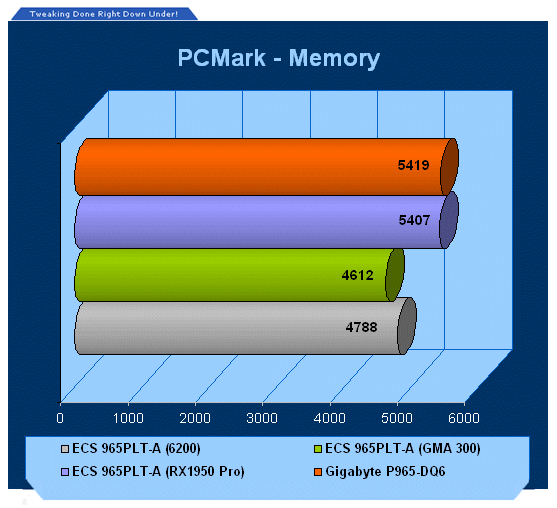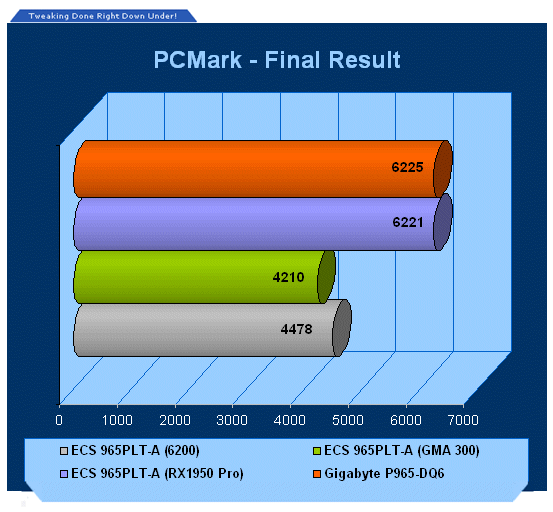 The GMA 3000 again causes some latency due to its constant use of system memory as its frame buffer memory.
Benchmarks - WorldBench
WorldBench 5.0Version and / or Patch Used:
Retail, version 5.0
Developer Homepage:
http://www.pcworld.com
Product Homepage:
http://www.pcworld.com
Buy It Here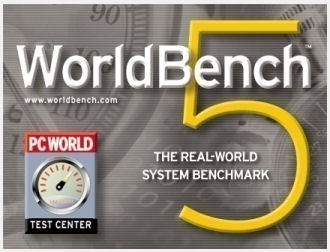 WorldBench 5.0 is the fifth generation of PC World's industry-standard benchmarking application. Designed to measure the performance of today's wide range of personal computers, WorldBench has been in continuous use at PC World for nine years.
WorldBench 5.0 uses the following applications to gauge system performance: ACD Systems ACDSee PowerPack 5.0, Adobe Photoshop 7.0.1, Adobe Premiere 6.5, Ahead Software Nero Express 6.0.0.3, Discreet 3ds max 5.1 (DirectX), Discreet 3ds max 5.1 (OpenGL), Microsoft Office XP with SP2, Microsoft Windows Media Encoder 9.0, Mozilla 1.4, Musicmatch Jukebox 7.10, Roxio VideoWave Movie Creator 1.5 and WinZip Computing WinZip 8.1.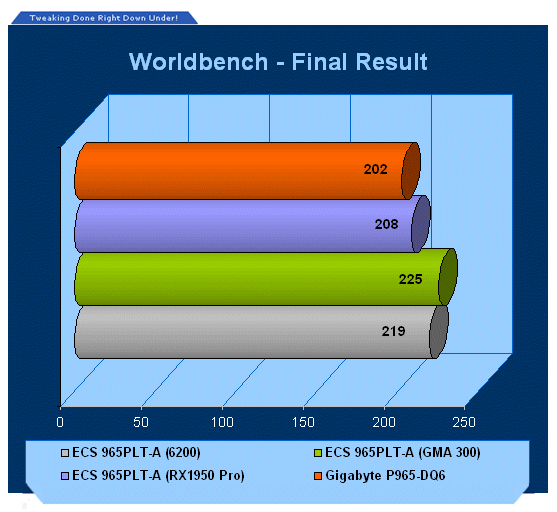 WorldBench shows us that despite the use of onboard graphics there is not a huge hit when it comes to office work, this would be due to the fact the graphics core is not in as much use, requiring less system memory utilisation on the GMA 3000 core.
Benchmarks - Adobe Premiere Elements 2.0
Adobe Premiere Elements 2.0Version and / or Patch Used:
2.0
Developer Homepage:
http://www.adobe.com
Product Homepage:
http://www.adobe.com/products/premiereel/
Buy It Here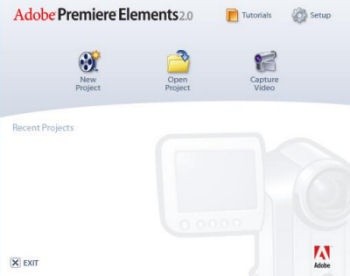 Our test with Adobe Premiere Elements 2.0 is performed with a raw two hour AVI file. It is then compressed into DivX format using the latest version codec. We measure the time it takes to encode the file and record CPU usage.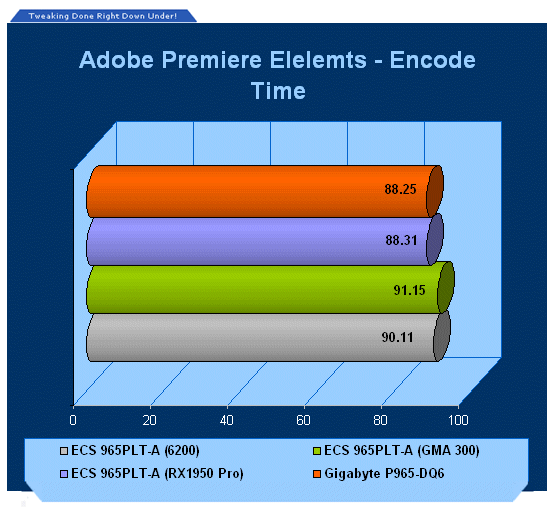 Adobe Premiere Elements also does not show a huge drop in encode times due to the fact the graphics system is not in use.
Benchmarks - HDD Performance
HD TachVersion and / or Patch Used:
3.0.1.0
Developer Homepage:
http://www.simplisoftware.com
Product Homepage:
http://www.simplisoftware.com/Public/index.php?request=HdTach
Buy It Here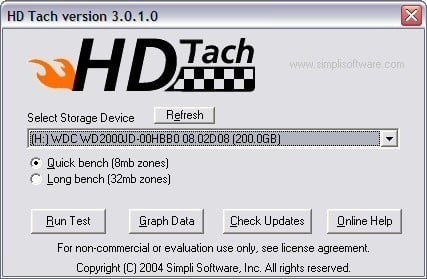 HD Tach has been around for a long time and is excellent when it comes to testing hard drive performance. It is also a very handy program when it comes to testing the controller used on particular motherboards. Tests such as read, CPU utilization and burst are available at the click of a button and give you a good idea of how a hard drive can perform from system to system.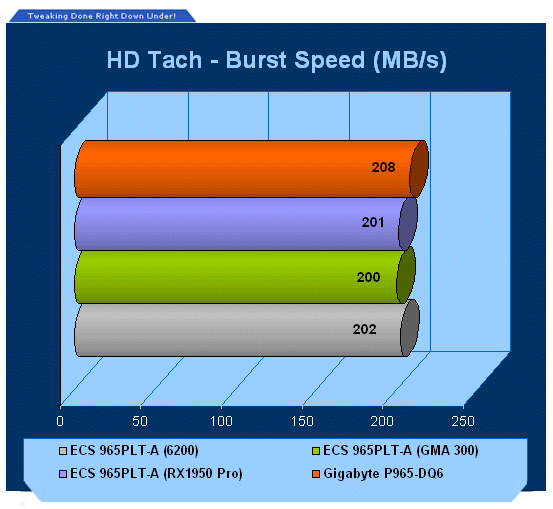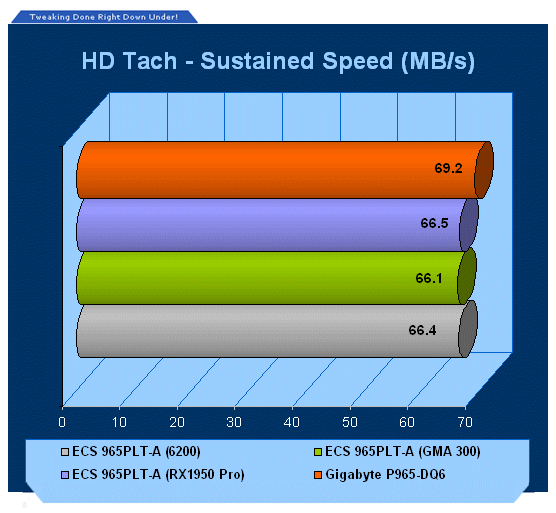 HDD performance is only marginally different when compared to the ICH8 as the ECS board uses the ICH7 southbridge.
Benchmarks - 3DMark06
3DMark06Version and / or Patch Used:
1.1.0
Developer Homepage:
http://www.futuremark.com
Product Homepage:
http://www.futuremark.com/products/3dmark06/
Buy It Here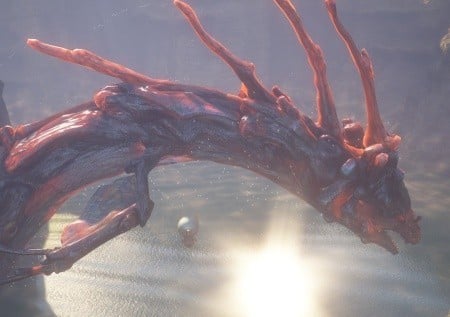 3DMark06 is the very latest version of the "Gamers Benchmark" from FutureMark. The newest version of 3DMark expands on the tests in 3DMark05 by adding graphical effects using Shader Model 3.0 and HDR (High Dynamic Range lighting) which will push even the best DX9 graphics cards to the extremes.
3DMark06 also focuses on not just the GPU but the CPU using the Ageia PhysX software physics library to effectively test single and dual-core processors.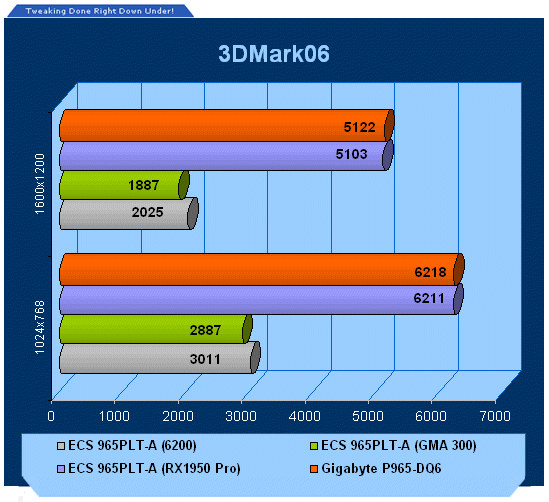 The GMA 3000 cannot hold out too well against the 6200 TurboCache in games despite its ability to run DX9 games. It is just not really that good.
Benchmarks - PREY
PREYVersion and / or Patch Used:
1.2
Timedemo or Level Used:
HardwareOC Custom Timedemo
Developer Homepage:
http://www.humanhead.com
Product Homepage:
http://www.prey.com
Buy It Here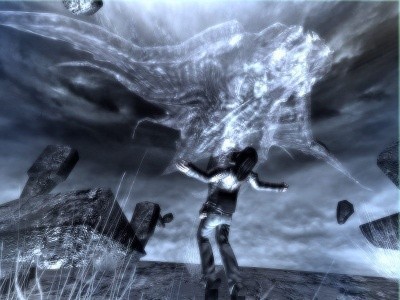 Prey is one of the newest games to be added to our benchmark line up. It is based on the Doom 3 engine and offers stunning graphics passing what we've seen in Quake 4 and puts quite a lot of strain on our test systems.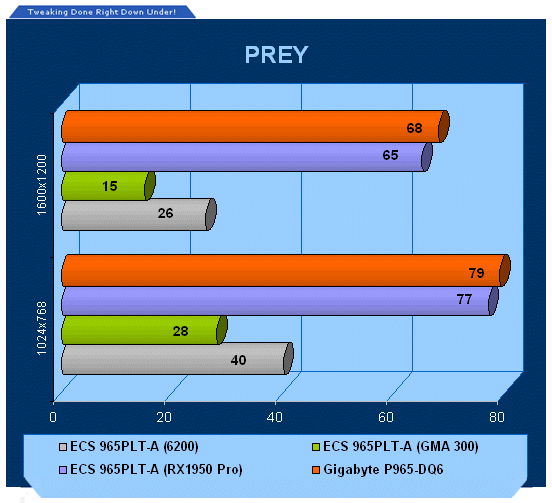 PREY also shows the GMA 3000 is not intended for high-end games.
Benchmarks - Far Cry
Far CryVersion and / or Patch Used:
1.3
Timedemo or Level Used:
Benchemall Default Demo(
download here
)
Developer Homepage:
http://www.crytek.com
Product Homepage:
http://www.farcrygame.com
Buy It Here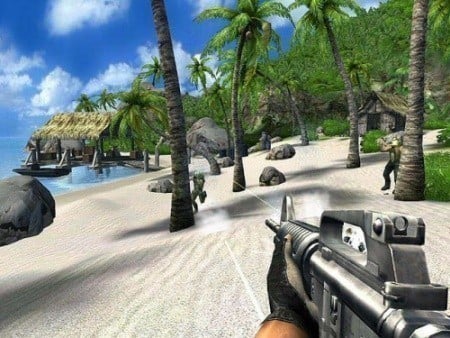 While Far Cry is now one of our older benchmarking games, it is still able to put pressure on most computer systems as it is able to utilize all parts of the system. Utilizing Pixel Shader 2.0 technology, and in the latest versions, Shader Model 3.0 with DX9c, Far Cry offers an exceptional visual experience, so there is no denying that even some of the faster graphics cards get a bit of a workout.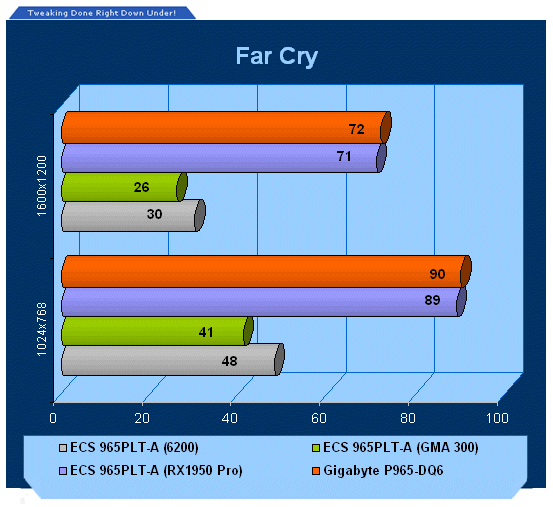 Far Cry being an older game is playable at 1024x768 with the GMA 3000.
Final Thoughts
After all our tests we are pretty happy with the results of the ECS 965PLT-A motherboard. Despite being a budget board, it has enough performance to serve well as an office or and even home media centre PC.
Feature wise the board is dry. Without any additional controller chips there are no additional SATA ports, Firewire, or wireless networking. Only the Gigabit Ethernet chip is added to give an extra boost, without which the board would have no networking features.
It's not the type of motherboard you should be looking at for extreme performance or gaming but if you're looking for a cheap board which supports the latest Intel processors including quad-core, ECS might have something for you to consider here.
- Pros
Stable platform
GMA 3000 is DX9 compliant
Can play basic games
Great office or media centre PC
Reasonably cheap
- Cons
No additional features like SATA or Firewire
Rating - 8.5 out of 10 and TweakTown's "MUST HAVE" Best Value Award!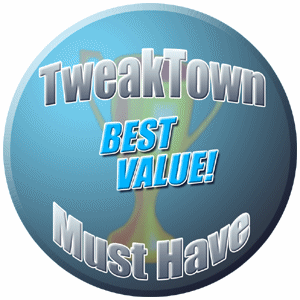 PRICING: You can find products similar to this one for sale below.
United States: Find other tech and computer products like this over at Amazon.com
United Kingdom: Find other tech and computer products like this over at Amazon.co.uk
Australia: Find other tech and computer products like this over at Amazon.com.au
Canada: Find other tech and computer products like this over at Amazon.ca
Deutschland: Finde andere Technik- und Computerprodukte wie dieses auf Amazon.de
We openly invite the companies who provide us with review samples / who are mentioned or discussed to express their opinion. If any company representative wishes to respond, we will publish the response here. Please contact us if you wish to respond.