ECS NF650iSLIT-A Motherboard - Much more affordable than 680i
Core 2 Duo and SLI, the dream platform for you, but previously too expensive to consider? ECS come to the rescue!
Published Mon, Apr 9 2007 11:00 PM CDT
|
Updated Fri, Sep 18 2020 10:50 PM CDT
Introduction
The platform for Core 2 keeps growing on a daily basis - chipsets are coming left, right and centre - and we are more than pleased about that.
Intel has chipsets for their processor and it is no surprise that both are for high-end (975X), mainstream (P965) and value (G965). While Intel does make their own chipsets and some are very solid indeed, they aren't always the most feature rich or technically impressive, what the market even wants. I do remember the old Intel I820 chipset and the attempt to push people on to RDRAM (Rambus) but that was a total failure, which they seem to have learnt from.
nVidia is definitely the major player in the Core 2 market. AMD/ATI does have a chipset for this market, but we haven't heard much more about upcoming chipsets for this platform. VIA has no intention of pushing into the market as the major player, only SiS has the opportunity, and they are starting to work on this.
Today we are looking at nVidia's mainstream SLI product designed to keep the costs down but give the customer something that is worth the money. Today we are looking at the nVidia nForce 650i SLI chipset in the form of the version 1.0 NF650iSLIT-A motherboard from ECS.
Its advantage is that it is cheaper than more expensive 680i SLI and 680i SLI LT motherboards but does that make it a substandard motherboard? Let's read on and check out the onboard features, performance and overclocking and then try and make a decision.
Specifications
Specifications of the ECS NF650iSLI-T-ACPU
Supports Intel Core 2 Quad/Duo/Extreme Series CPU
Supports Intel Pentium-D 800 - 900 Series CPU
Supports Intel Pentium 4 500 - 600 Series CPU
Supports Intel Celeron-D 300 - 400 Series CPU
Chipset
nVidia nForce 650i SLI Chipset
C55 SPP Northbridge
C55 MCP Southbridge
Hyper Transport @ 2GHz
System Memory
4 DDR2 SDRAM 240pin DIMM Sockets
Supports DDR-533/667/800MHz
64/128Bit Dual Channel
Supports up to 4GB Total Memory (4x 1GB)
Bus Frequency
133/200/266/333MHz Internal
533/800/1066/1333MHz External
Expansion Slots
2 PCI Express x16
2 PCI Express x1
4 PCI
Connectivity
1 Parallel ATA port supporting 2 IDE Drives
4 Serial ATA ports
1 Gigabit Ethernet Port
Expansion Ports
1 PS2 Keyboard Port
1 PS2 Mouse Port
8 USB 2.0 Ports (4 rear accessible, 4 via expansion bracket)
2 Serial Ports
1 Parallel Port
5 Stereo Audio Ports
Inside the Box
Package and Contents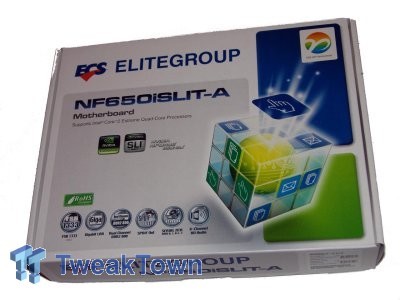 First off like normal, we take a look at the extras you're supplied in the packaging. If you're spending a fortune on a board, you are going to want something for your dollar apart from a board but if you're spending very little, expect the basics.
The ECS 650i SLI board is aimed at the mid-range user who doesn't want to spend a lot on their systems but still get the performance they strive for, so the board is priced accordingly and the package reflects this. The box itself from the front is rather plain, with just the model number and the brand logo.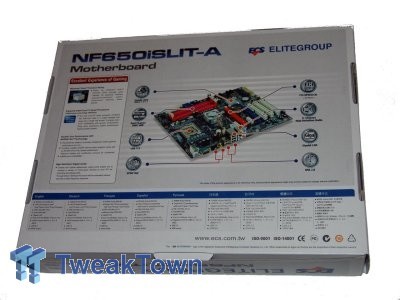 The back of the box has a great deal of information on the board's features as well as a full color photo of the board, so there are no surprises on what you get.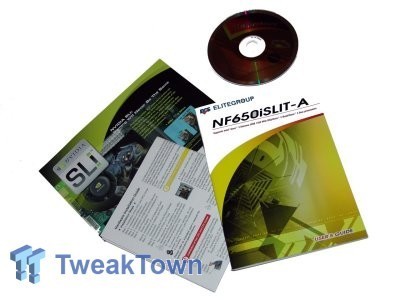 ECS has a good amount of documentation included with the board. You get one user manual that gives full information on the board's features, setup processes and BIOS settings. The other two manuals that are included are simple pamphlets for quick install of the board as well as BIOS setup. The software CD included gives drivers for XP, XP64 and Windows Vista. It's now a requirement to include Vista drivers with the boards in order to be considered a universal board for all the Windows operating systems.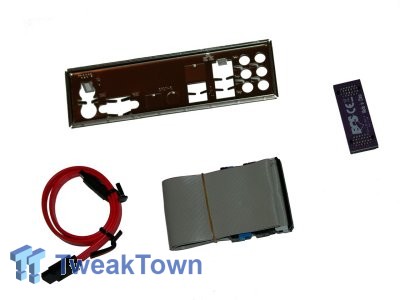 Lastly we come down to the extras such as the cables. ECS only provides a couple of SATA data cables out of a total of four SATA ports, a single IDE parallel cable, a single PCB SLI bridge and an I/O shield. In all, very little is included, if you want to use all four SATA ports, you will need to purchases extra SATA data cables. If your PSU doesn't have any SATA HDD power plugs, you're going to need to buy all four separately, a bit of a disappointment as cables aren't really that expensive but clearly ECS are trying to keep the cost of the product as low as possible.
Motherboard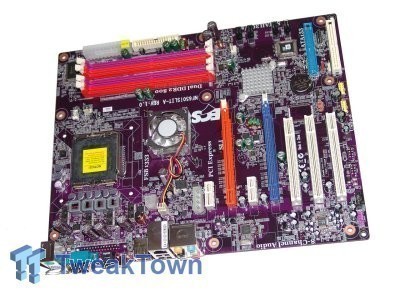 The ECS 650i motherboard uses a full ATX layout similar to that of the P965 boards and even what the more expensive 680i boards tend to use. ECS uses its usual purple/pink PCB that distinguishes themselves from other board makers. On layout, ECS has done a reasonably good job with its connectors, though there are a few gripes to speak of.
The 24-pin power connector is located behind the DDR-2 memory slots along with the FDD connector. The 4-pin power connector for the CPU voltage is in its usual ridiculous spot, considering how much space there is on the PCB right between the Northbridge chip and the rear I/O ports, our least favorite position. The two IDE ports are also in another ridiculous position at the bottom right of the board, meaning more cable clutter if you have HDD mounting spaces up high in your case.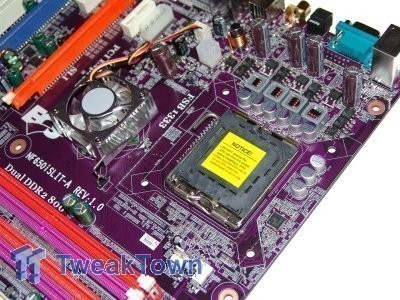 Despite the board's shortcomings on its connector placements, ECS has a good CPU landscape. To give the CPU its power, ECS uses 4 phases of voltage regulation to keep the CPU well fed, this is more than enough to power even the hungriest Pentium-D series CPU, since this board is designed to run Core 2 CPU's that use half the power of a Netburst CPU, you've got plenty of power on tap. Quite surprising for a cheap motherboard, you've got support for all current and upcoming Dual and Quad core processors from Intel along with native and official support for upcoming 333MHz FSB (1333MHz Quad Pumped) processors.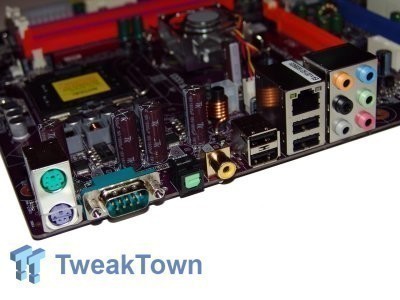 The rear I/O ports on the back of the motherboard are quite sparse. The usual PS/2 ports, USB and audio ports are there along with a Serial port. There are no parallel ports, only thing of significance are the RCA and SPDIF ports for digital audio out.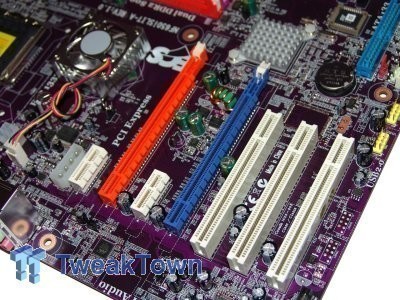 Coming to the end of the board itself we take a look at what slots are present to plug your peripherals into. Being an nForce 650i SLI chipset, this board features nVidia SLI feature, but it does not support full-speed SLI. The 650i Northbridge (actively cooled with fan, which is a bonus) has a single PCI Express x16 interface for graphics; if you plug a single graphics card into the orange slot you get all 16 lanes to the graphics card. When a second graphics card is plugged into the blue x16 slot, both slots revert down to x8 speed to allow for SLI, similar to how the old nForce 4 SLI chipset used to work.
The rest of the slots consist of two PCI Express x1 slots for additional future storage and three PCI legacy slots for older expansion features. Since it's a cheaper motherboard using a cut down chipset, you miss out on extras such as lots of SATA ports. In total there are only four SATA ports, a single Gigabit network port, four USB ports on the I/O panel but you do get a total of two IDE connectors for a total of four Ultra DMA133/100/66 devices. The SATA ports do support RAID 0, 1, 0+1, 5 and JBOD through nVidia MediaShield which is nice and you've got 8 Channel High Definition Audio.
BIOS and Overclocking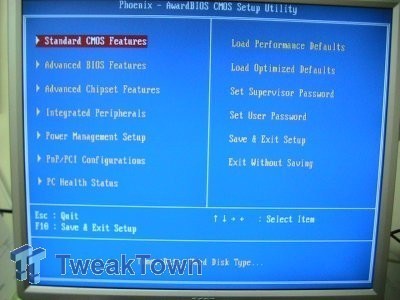 Being based on nVidia's nForce 650i chipset, there is a BIOS layout set out by nVidia to gain "Designed by nVidia" credentials. ECS has followed the NV BIOS setup quite well. Award 6.0 modular BIOS is used as the base. All overclocking features are located under the Advanced Chipset Features menu with various sub menus where the major features are located.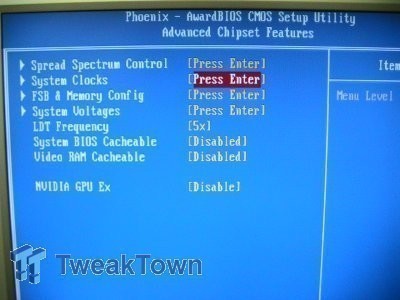 FrequenciesFSB (QDR)
: 400MHz to 2500MHz in 1MHz Increments
Mem (DDR)
: 400MHz to 1400MHz in 1MHz Increments
PCI-E
: 100MHz to 131MHz in 1MHz Increments
VoltagesCPU Core
: 0.850v to 1.60v in 0.025v Increments
CPU FSB
: 1.2v to 1.4v in 0.05v Increments
Memory
: 1.8v to 2.2v in 0.05v Increments
nForce SPP
: 1.2v to 1.5v in 0.05v Increments
Overclocking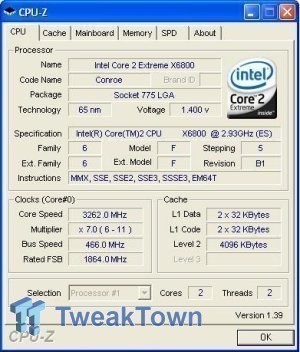 Our overclocking tests were quite good considering there wasn't a huge amount of tweaking to be had in terms of voltages and we are working with a motherboard that is considerably cheaper than most other boards in the nForce 6xx series.
Using BIOS version 07/03/07 which is the latest from the ECS website, we managed to hit 466MHz (1864MHz QDR) FSB quite happily and we are fairly pleased with the result, all things considered. Sure, it's much lower than the maximum we've seen from some boards (500MHz+) but attainable FSB is still quite high and will keep basic overclockers happy.
Important Editor Note: Our maximum overclocking result is the best result we managed in our limited time testing the motherboard. Due to time constraints we don't have enough time to tweak the motherboard to the maximum and find the highest possible FSB as this could take days to properly find. We do however spend at least a few hours overclocking every motherboard to try and find the highest possible overclock in that time frame. You may or may not be able to overclock higher if you spend more time tweaking or as new BIOS updates are released or "burn in" time might come into play if you believe in that.
Benchmarks - Test System Setup and Memory Performance
Test System SetupProcessor
: Intel Core 2 Extreme X6800 (Supplied by
Intel
)
Memory
: 2x 1GB DDR2-1066 Corsair at 1:1 ratio (Supplied by
Corsair
)
Hard Disk
: 500GB Seagate 7200.9 SATA (Supplied by
Seagate Australia
)
Graphics Card
: MSI Radeon X1950 Pro (Supplied by
MSI
)
Cooling
: Gigabyte Neon775 (Supplied by
Gigabyte
)
Operating System
: Microsoft Windows XP Professional SP2
Drivers
: nForce Platform Driver 9.53, ATI Catalyst 7.1 and DX9c
Today's test systems consist of the Gigabyte 680i which we recently reviewed and of course the ECS 650i.
Both motherboards operated at stock settings as well as maximum FSB overclock. For the impressive and more expensive Gigabyte 680i this was 520MHz FSB with a multiplier of 6x providing a CPU clock speed of 3120MHz. The ECS motherboard operated at 466MHz FSB with a multiplier of 7x providing a CPU clock speed of 3262MHz.
While the cheaper ECS motherboard has the CPU speed advantage, the Gigabyte has the advantage of a much higher bus speed as well as faster chipset. Consider also that we are running the memory and FSB at a 1:1 ratio (ECS at PC2-7456 or 932MHz DDR and Gigabyte at PC2-8320 or 1040MHz DDR).
Let's move onto the all important benchmarks!
EVEREST Ultimate EditionVersion and / or Patch Used:
2006
Developer Homepage:
http://www.lavalys.com
Product Homepage:
http://www.lavalys.com
Buy It Here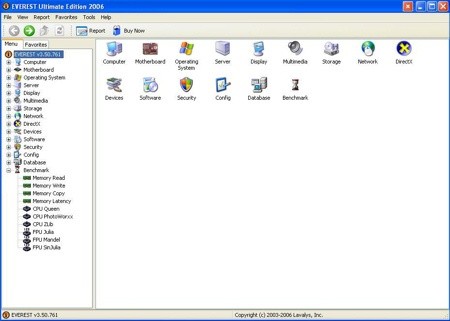 EVEREST Ultimate Edition is an industry leading system diagnostics and benchmarking solution for enthusiasts PC users, based on the award-winning EVEREST Technology. During system optimizations and tweaking it provides essential system and overclock information, advanced hardware monitoring and diagnostics capabilities to check the effects of the applied settings. CPU, FPU and memory benchmarks are available to measure the actual system performance and compare it to previous states or other systems.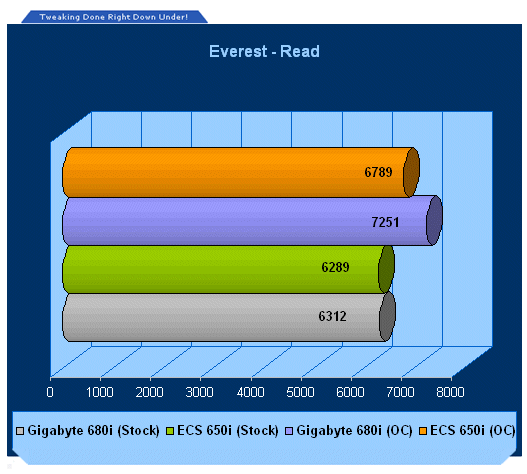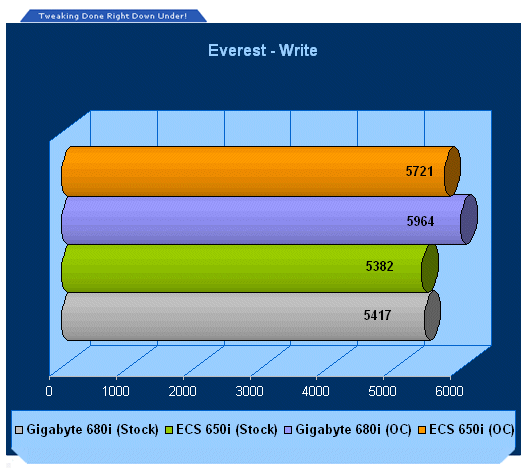 Even at stock the 650i isn't quite as fast as the 680i, when overclocked its apparent there is a big gap between both motherboards.
Benchmarks - PCMark
PCMarkVersion and / or Patch Used:
1.2.0
Developer Homepage:
http://www.futuremark.com
Product Homepage:
http://www.futuremark.com/products/pcmark04/
Buy It Here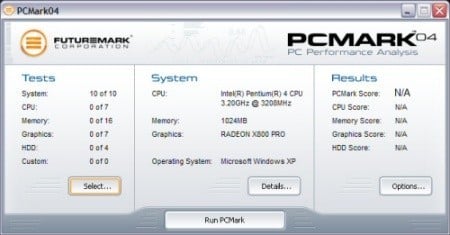 PCMark is a multipurpose benchmark, suited for benchmarking all kinds of PCs, from laptops to workstations, as well as across multiple Windows operating systems. This easy-to-use benchmark makes professional strength benchmarking software available even to novice users. PCMark consists of a series of tests that represent common tasks in home and office programs. PCMark also covers many additional areas outside the scope of other MadOnion.com benchmarks.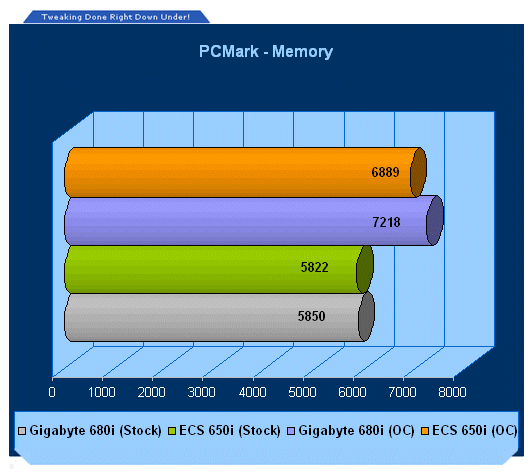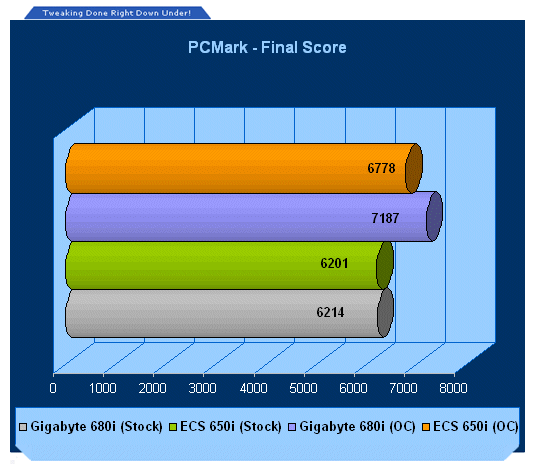 Again we see there is quite a difference between both and the 680i shows why the extra cash can be justified.
Benchmarks - WorldBench
WorldBenchVersion and / or Patch Used:
5.0
Developer Homepage:
http://www.pcworld.com
Product Homepage:
http://www.pcworld.com
Buy It Here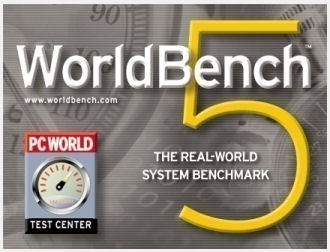 WorldBench 5.0 is the fifth generation of PC World's industry-standard benchmarking application. Designed to measure the performance of today's wide range of personal computers, WorldBench has been in continuous use at PC World for nine years.
WorldBench 5.0 uses the following applications to gauge system performance: ACD Systems ACDSee PowerPack 5.0, Adobe Photoshop 7.0.1, Adobe Premiere 6.5, Ahead Software Nero Express 6.0.0.3, Discreet 3ds max 5.1 (DirectX), Discreet 3ds max 5.1 (OpenGL), Microsoft Office XP with SP-2, Microsoft Windows Media Encoder 9.0, Mozilla 1.4, Musicmatch Jukebox 7.10, Roxio VideoWave Movie Creator 1.5 and WinZip Computing WinZip 8.1.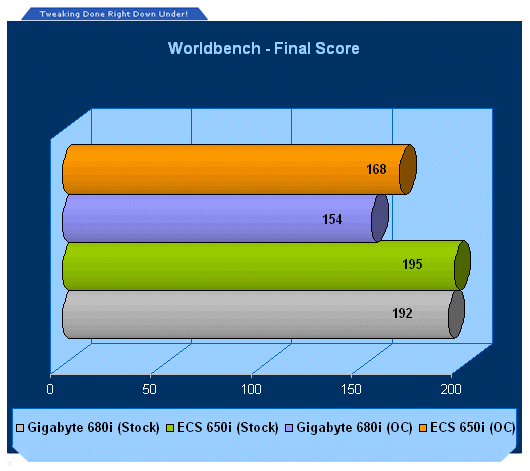 Despite the slightly higher CPU clock speed of the ECS board, it doesn't help it enough here, the 680i shows its true colours and wins through again.
Remember lower scores are better here!
Benchmarks - Adobe Premiere Elements
Adobe Premiere ElementsVersion and / or Patch Used:
2.0
Developer Homepage:
http://www.adobe.com
Product Homepage:
http://www.adobe.com/products/premiereel/
Buy It Here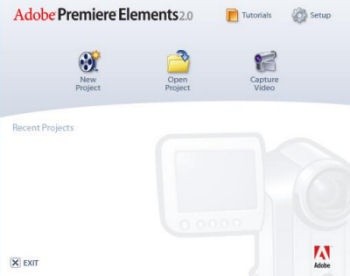 Our test with Adobe Premiere Elements 2.0 is performed with a raw two hour AVI file. It is then compressed into DivX format using the latest version codec. We measure the time it takes to encode and then record CPU usage.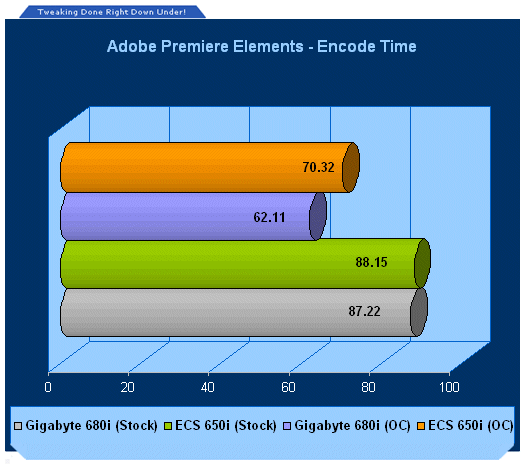 Memory bandwidth is paramount here, 650i doesn't have the goods against its bigger brother with the more expensive Gigabyte 680i motherboard being able to finish a clear 8 minutes faster when overclocked.
Benchmarks - HDD Performance
HD TachVersion and / or Patch Used:
3.0.1.0
Developer Homepage:
http://www.simplisoftware.com
Product Homepage:
http://www.simplisoftware.com/Public/index.php?request=HdTach
Buy It Here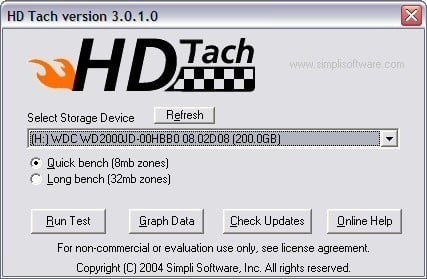 HD Tach has been around for a long time and is excellent when it comes to testing hard drive performance. It is also a very handy program when it comes to testing the controller used on particular motherboards. Tests such as Read, CPU Utilization and Burst are available at a click of the button and give you a good idea of how the hard drive can perform from system to system.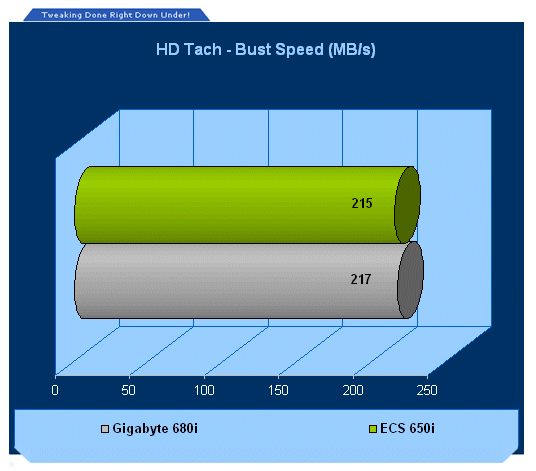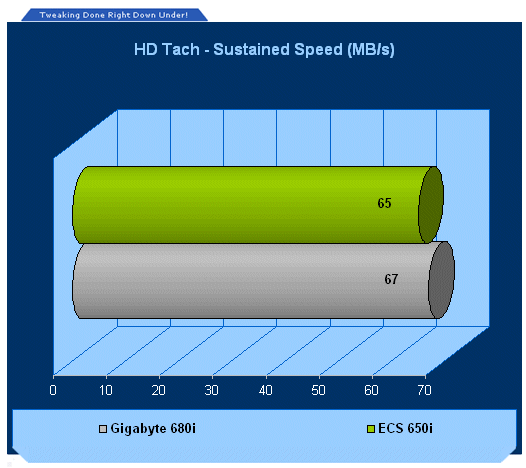 This is where the 650 chipset pretty much equals the 680 as the same SATA controller goes into both, just less ports on the 650.
Benchmarks - 3DMark06
3DMark06Version and / or Patch Used:
Build 110
Developer Homepage:
http://www.futuremark.com
Product Homepage:
http://www.futuremark.com/products/3dmark06/
Buy It Here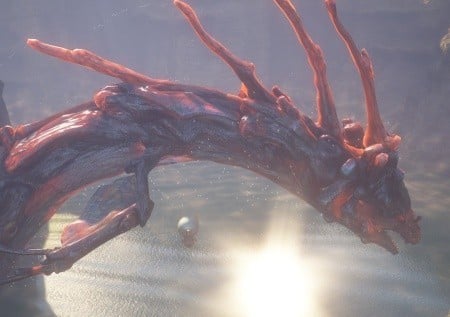 3DMark06 is the very latest version of the "Gamers Benchmark" from FutureMark. The newest version of 3DMark expands on the tests in 3DMark05 by adding graphical effects using Shader Model 3.0 and HDR (High Dynamic Range lighting) which will push even the best DX9 graphics cards to the extremes.
3DMark06 also focuses on not just the GPU but the CPU using the AGEIA PhysX software physics library to effectively test single and Dual Core processors.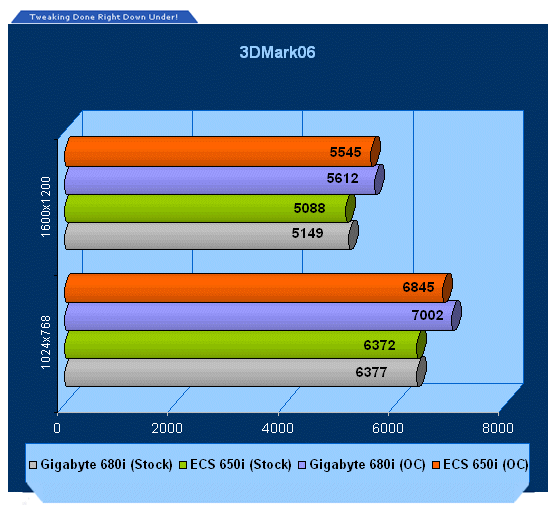 The ECS 650 board here shows that it doesn't match up to the 680i based chipsets.
Benchmarks - PREY
PREYVersion and / or Patch Used:
1.2
Timedemo or Level Used:
HardwareOC Custom Timedemo
Developer Homepage:
http://www.humanhead.com
Product Homepage:
http://www.prey.com
Buy It Here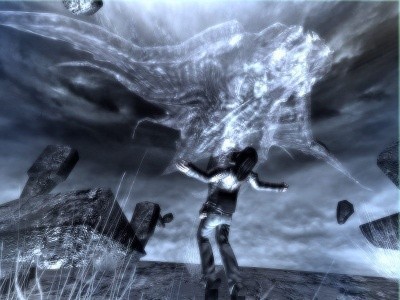 PREY is one of the newest games to be added to our benchmark line-up. It is based off the Doom 3 engine and offers stunning graphics passing what we've seen in Quake 4 and does put quite a lot of strain on our test systems.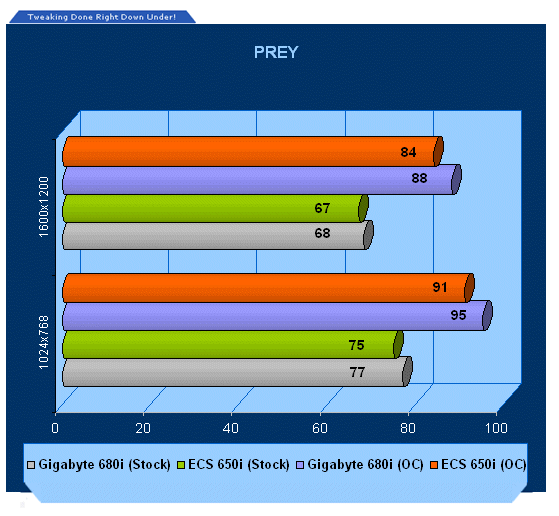 PREY is limiting by the graphics card here but still manages to give the 680i the win.
Benchmarks - Far Cry
Far CryVersion and / or Patch Used:
1.3
Timedemo or Level Used:
Benchemall Default Demo
Developer Homepage:
http://www.crytek.com
Product Homepage:
http://www.farcrygame.com
Buy It Here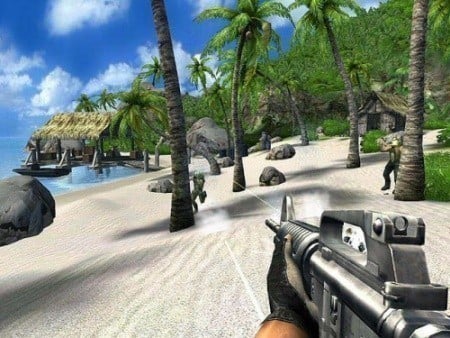 While Far Cry is now one of our older benchmarking games, it is still able to put pressure on most computers systems as it is able to utilize all parts of the system. Utilizing PS2.0 technology with the latest versions supporting Shader Model 3.0 with DX9c and offering an exceptional visual experience, there is no denying that even some of the faster graphics cards get a bit of a workout.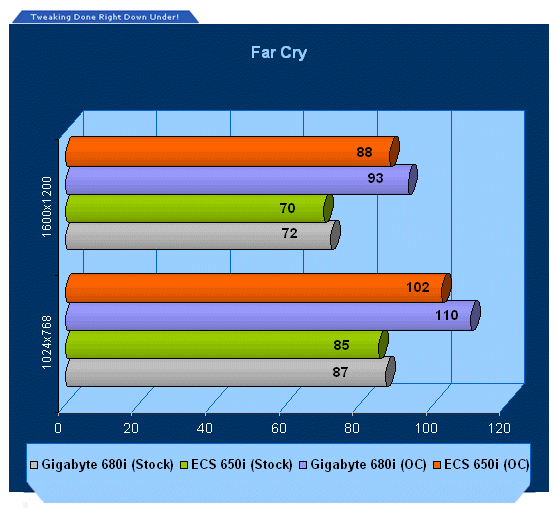 Lastly we come to Far Cry and the 680i again takes honours quite convincingly.
Final Thoughts
ECS is one of the motherboard manufacturers who have really made a good go of it lately. Once an OEM only manufacturer, they have now expanded to take place with the mild overclockers out there such as Asrock, EPoX, Jetway and Biostar and they've got their eyes set higher but they're doing a pretty good job of it so far.
ECS' NF650iSLIT-A (V1.0) motherboard really did show some promise with a reasonable overclock, and while it's not the best we have seen, over 400MHz was good to see out of the box without having to resort to drastic cooling. One thing we are disappointed in is placement of connectors on the board and ECS's continuation to do it this way. We have been lenient in the past, but when companies keep doing it wrong after we keep pointing it out time and time again, sometimes we have to be a bit harder in our appraisals.
Overall if you're looking for a reasonably good and much more affordable motherboard for setting up an SLI dual graphics system which will be running Windows Vista, you're definitely not going to go wrong with the ECS NF650iSLIT-A (V1.0). While it is not for sale in Australia yet, we're expecting the price to be around $170 - $180 AUD (roughly $145 USD) in Australia and now compare that to the Gigabyte 680i which costs around $450 AUD (roughly $370 USD at the time of writing) in Australia and you have a much more affordable product.
Just keep in mind it is a mid-range motherboard with a focus on price, so you are missing out on some performance and features from the full blown nForce 680i and 680i LT boards but that might be just what you're looking for if even the cut down 680i LT is too expensive for your budget.
- Pros
Cheaper option than nForce 680i (close to half the price of 680i LT)
SLI dual graphics (half-speed 8 x 8) at a much cheaper price
Fairly good overclocking results
Good upgrade platform for capable mid-range Vista PC
8 channel audio and RAID support
Official support for 1333MHz Quad Pumped processors
Full Quad Core CPU support
- Cons
IDE and 4-pin power connectors badly placed
Less performance and features than full blown 680i and 680i LT boards
- Latest Pricing
Rating - 8.5 out of 10
PRICING: You can find products similar to this one for sale below.
United States: Find other tech and computer products like this over at Amazon.com
United Kingdom: Find other tech and computer products like this over at Amazon.co.uk
Australia: Find other tech and computer products like this over at Amazon.com.au
Canada: Find other tech and computer products like this over at Amazon.ca
Deutschland: Finde andere Technik- und Computerprodukte wie dieses auf Amazon.de
We openly invite the companies who provide us with review samples / who are mentioned or discussed to express their opinion. If any company representative wishes to respond, we will publish the response here. Please contact us if you wish to respond.