Foxconn N68S7AA-8EKRS2H nForce 680i Motherboard
Foxconn's nForce 680i motherboard comes with the usual bells and whistles plus some but without the huge price tag.
Published Thu, Mar 8 2007 11:00 PM CST
|
Updated Fri, Sep 18 2020 10:50 PM CDT
Introduction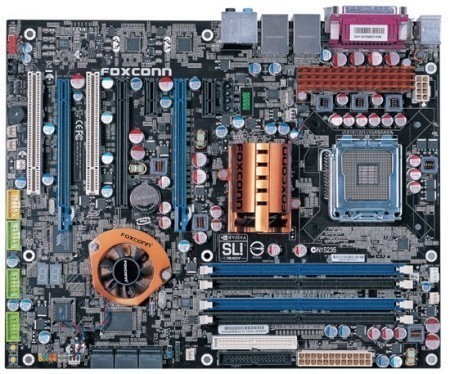 Around about a couple of years ago, it was hard to find boards of a large variety for the Intel processor platform. Pentium 4 was really a sour spot with the motherboard producers. On the other hand, chipsets for AMD's Athlon 64 processors were plentiful - nVidia, SiS, ULi, ATI and even VIA technologies all had chipsets out to take some market share for Athlon 64.
Now the tables have turned - AMD is on the back burner, while there are chipsets still being made for AMD processors, clearly Core 2 has given Intel new life, and chipsets from the major vendors are coming in hard and fast.
Intel has its own very solid P965 and 975X chipsets along with its upcoming Bearlake P35 and X38 series chipsets with DDR-3 memory support among other things and should show up in the May and June time frame. SiS has new ones coming out, VIA even has started to look into Core 2 and even AMD/ATI has chipsets currently on the market and even working on new ones for their competitors processor platform. nVidia though at this time is the biggest player for Core 2, especially for Dual Graphics SLI.
Today we are looking at another contender for the Core 2 market using the nVidia nForce 680i chipset being Foxconn with their obscurely named N68S7AA-8EKRS2H motherboard. Foxconn has been known in the past for the more budget conscious boards, not wanting to take on the big boys like MSI, ASUS, Gigabyte and the likes who really push overclocking to its limits but it seems like they mean business now and are ready for the challenge.
Let's see just how well this motherboard is able to perform compared to others on the market and if it's worth buying consideration.
Specifications
Specifications of the Foxconn N68S7AA-8EKRS2HCPU
Supports All Socket T (LGA775) Series CPU (Netburst and Core Series)
Chipset
nVidia nForce 680i
nVidia C55XE Northbridge
nVidia MCP55XE Southbridge
Hyper Transport Link
System Memory
4 DDR2 SDRAM 240pin DIMM Sockets
Supports DDR2-533/667/800/1066Mhz
64/128Bit Dual Channel
Supports up to 4GB Total Memory (4x 1GB)
Bus Frequency
100/133/200/266/1333MHz Internal
400/533/800/1066/1333MHz External
Expansion Slots
3 PCI Express x16
2 PCI Express x1
2 PCI
Connectivity
1 Parallel ATA Port (2 Drives Total)
6 Serial ATA ports
1 e.SATA Port
2 Gigabit Ethernet Port
Expansion Ports
1 PS2 Keyboard Port
1 PS2 Mouse Port
10 USB 2.0 Ports (4 rear accessible, 6 via expansion bracket)
6 Stereo Audio Ports
1 e.SATA Port
1 RCA SPDIF Port
1 Toslink SPDIF Port
2 Firewire Ports (1 rear accessible. 1 via expansion bracket)
2 RJ45 LAN Ports
Inside the Box
Package and Contents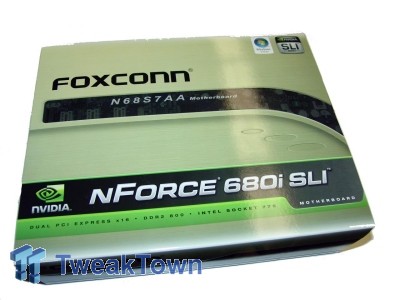 As always we first look at the box as well as what Foxconn puts in it. The front of the box is rather plain in design. Foxconn have used the nVidia green and black colour scheme.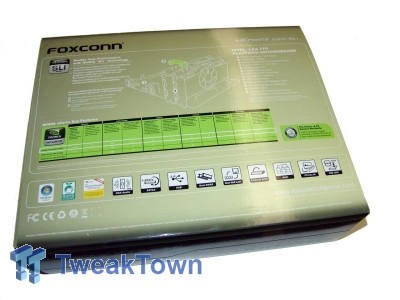 The back of the box doesn't give a whole lot more info than the front. There are a few brief explanations of the features that the nForce chipset supports as well as info on SLI, but no great relevant info on the board or its features, so make sure you research before buying.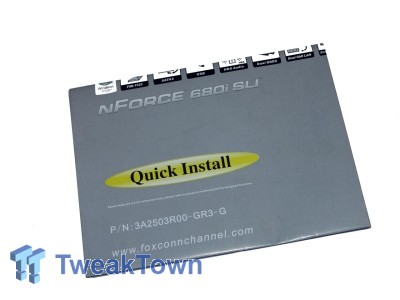 In the way of documentation, Foxconn doesn't give much at all here either. Only a quick installation pamphlet is included with location of the onboard headers, front panel connectors and basic layout features. If you want a detailed manual, you must access the PDF file on the CD that is provided.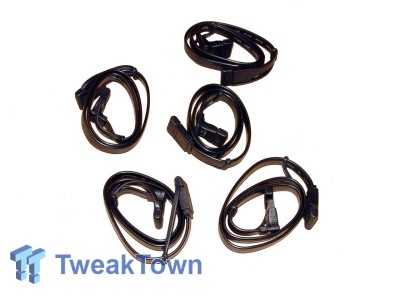 Foxconn provides a reasonable cable bundle. There are a total of 5 (out of the total 6 ports on the board) SATA data cables as well as a couple SATA power converters with three drives per splitter in case your power supply doesn't support the full amount of drives.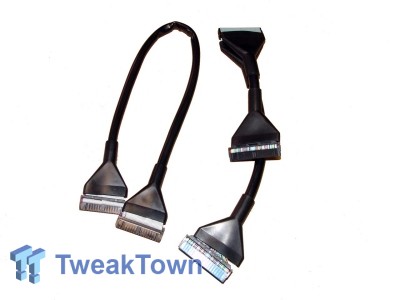 As for the cables for the parallel devices, there is a single rounded IDE cable with two drives supported and a FDD with a single drive support is included, which is perfect match for the board. We would like to see e.SATA cables provided now should you get an enclosure that doesn't supply these in the e.SATA drive package.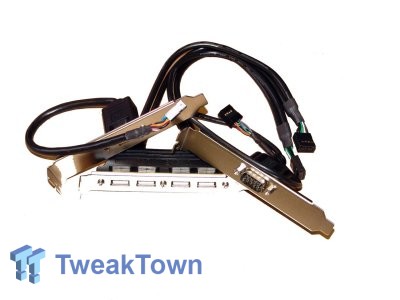 There are a total of three PCI expansion cover ports supplied. There is a single COM port that plugs into a green header behind the audio ports, 4 port USB 2.0 header and a single Firewire port header.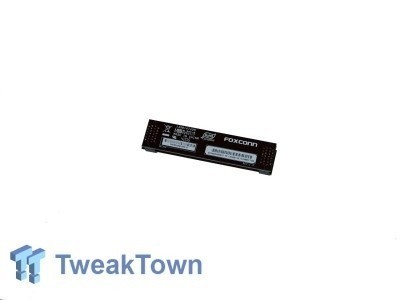 Last on the accessories is the SLI bridge connector that you need to use for hardware based SLI. Since the graphics cards are placed quite a distance apart you need to use this longer bridge then previous SLI motherboard configurations.
Motherboard
The Motherboard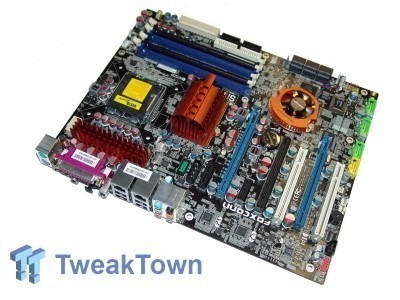 Down to the nitty gritty of the board itself. Foxconn has used a layout that is quite similar to the reference design layout set by nVidia which is like most other nForce 680i motherboards minus companies like ASUS, MSI and Gigabyte who prefer to create their own unique and original designs.
nVidia did a very good job with the layout and there is no reason not to follow it. Connectors are sensibly placed on the board with the 24-pin power connector located behind the memory slots along with the IDE and FDD ports. The 4/8 pin combo power port is located behind the PS/2 towers just nestled near the heatsinks the board incorporates.
The SATA ports controlled by the Southbridge or MCP as nVidia call it are located below the memory ports on the right hand side of the board. Foxconn has changed the reference design somewhat in that the SATA ports are stacked in groups of two on a 90 degree angle to the boards face. With the GeForce 8800 graphic card size (and the upcoming R600 from AMD set to be even larger), this is the best and most useful way to install the SATA ports on the board making them accessible to the users inside the case when the large graphics card are already installed.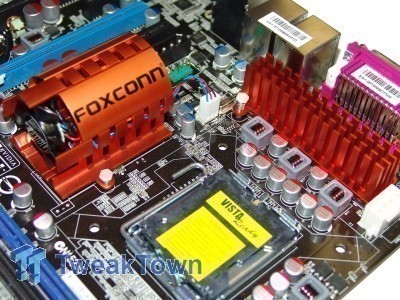 Foxconn has gone with a four phase power system to give the CPU its juice which is two phases less than the reference eVGA motherboard that we were sent some time ago. To keep the voltage systems cool, a large alloy heatsink covers the Mosfets and the north and south bridges are cooled actively with fans which is different to most other companies who use passive silent cooling.
Foxconn hasn't made the transition to all solid copper capacitors yet (metal is currently used), but this should change in their future boards. While 4 phase is more than enough to run Core 2 Duo systems, its is bordering for overclocking stability on Pentium 4 and even Core 2 Quad processors which can go up to 130watts TDP.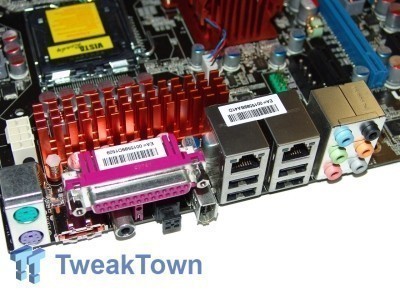 The rear I/O panel of the Foxconn board gives us a few extra features that we are happy to see with the first being the e.SATA port. While USB 2.0 and Firewire are good for external storage, they don't provide enough bandwidth for the drives to be fully effective as a high speed storage medium for media encoders - even notebook hard drives perform at faster speeds that Firewire or USB 2.0 can provide. To combat this, e.SATA was drafted by the SATA organisation that operates at the same speed at SATA 2.5 (3Gbps).
When drafting e.SATA up the requirements are for a higher shielded cable to allow for cabling over 1 metre, e.SATA can go up to 2 metres in length. As the name suggests, e.SATA is Serial ATA port only external in nature. This means you get the full 300MB/s transfer rate, so now the drive is the bottleneck at this point in time.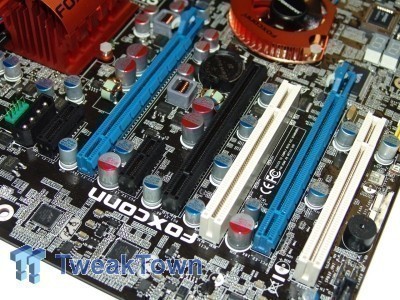 Graphics wise the nForce 680i chipset comes complete with two full speed x16 PCI Express slots but nVidia doesn't do things normal like you might expect. The C55XE Northbridge that houses the DDR-2 memory controller and the FSB link also has 16 PCI Express lanes for the first Graphics port. The MCP55XE houses the second PCI Express x16 graphics slot, due to an 8GB/s North to Southbridge link, there is enough bandwidth there so it won't adversely affect the graphics performance in SLI but there may be some extra latency.
A third PCI Express x16 slot coloured black is included. While having a physical x16 slot size, it is electrically only x8 in speed. This is available for a third graphics card to run either a physics engine or to add extra monitors to your setup. If you don't want to run physics or extra monitors, it can add in any PCI Express card - high-speed and expensive RAID cards that use an x4 or x8 interface will benefit from this slot. Rounding off the list are 2 PCI Express x1 slots and 2 PCI slots just like most other 680i motherboards.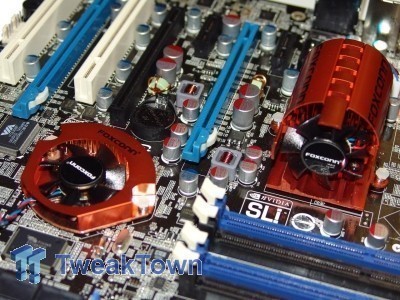 Lastly we wanted to show something that Foxconn has done very well. nVidia's nForce 680i chipset outputs quite a lot of heat. When overclocking, Northbridge chipsets require active cooling, Foxconn has gone the extra step and actively cooled the North and Southbridges which may well pay dividends when it come to FSB overclocking a little later in this review. We saw in our testing that the abit IN9 32X-MAX Wi-Fi motherboard struggled with heat related issues but it looks like Foxconn have got you covered here.
BIOS and Overclocking
BIOS
We used the latest BIOS available on the Foxconn website at time of testing and that being 692F1P17. While nVidia does use an Award BIOS for its NV BIOS setup, Foxconn have gone their own way and are using an AMI Megatrends BIOS. It's something totally different from what we've been used to with 680i motherboard but what is not are the features in the BIOS - everything that nVidia includes in their NV BIOS setup are there in one form or another from Foxconn with a different name.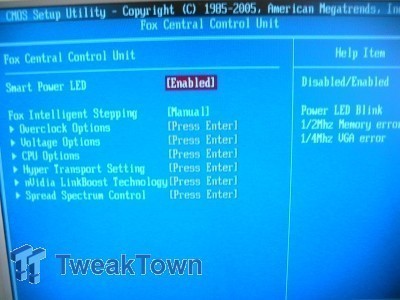 Foxconn placed all the overclocking sub menus under the Fox Central Control Menu where you can adjust every thing this board has to offer in terms of overclocking and voltages.
FrequenciesFSB Clock (QDR)
: 400MHz to 2500MHz in 1MHz increments
Memory Clock (DDR)
: 400MHz to 1400MHz in 1MHz increments
SPP to MCP
: 200MHz to 1000MHz in 200MHz increments
MCP to SPP
: 200MHz to 1000MHz in 200MHz increments
PCI Express Slot 1
: 100MHz to 200MHz in 1MHz increments
PCI Express Slot 2
: 100MHz to 200MHz in 1MHz increments
PCI Express Slot 3
: 100MHz to 200MHz in 1MHz increments
VoltagesCPU Voltage Offset
: +0.125v to +0.25v in + 0.125v increments
Memory Voltage
: 1.6914v to 2.3771v in various increments
MCP Voltage
: 1.5v to 1.875v in 0.025v increments
SPP Voltage
: 1.174v to 1.5704v in various increments
Memory Termination Voltage
: 0.8317v to 1.1689v in various increments
VLTD Voltage
: 1.1174v to 1.5704v in various increments
As you can see there are quite a few options available to us which should aid quite nicely in overclocking.
Overclocking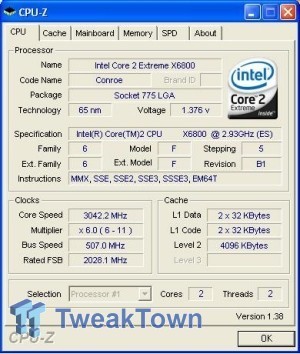 Unfortunately we didn't have a huge amount of testing time available to us for overclocking but what we did get in the time we had was amazing. 507MHz FSB was what we managed to get with only having to change the voltages up 2 steps in each case - we think that if we had more time, we might have gotten even more.
It's quite an impressive overclock in that the more expensive ASUS Striker Extreme managed around 510MHz FSB (and we had more time to OC to attain that result) and that costs considerably more and the Foxconn FSB result is a good improvement over the nVidia reference motherboards we have tested from companies like eVGA.
Is Foxconn finally ready to put on their black shiny shoes and try and seriously take on the big guns of the motherboard industry? We're not entirely sure yet but this is certainly a step in the right direction.
Important Editor Note: Our maximum overclocking result is the best result we managed in our limited time testing the motherboard. Due to time constraints we don't have enough time to tweak the motherboard to the maximum and find the highest possible FSB as this could take days to properly find. We do however spend at least a few hours overclocking every motherboard to try and find the highest possible overclock in that time frame. You may or may not be able to overclock higher if you spend more time tweaking or as new BIOS updates are released or "burn in" time might come into play if you believe in that.
Benchmarks - Test System Setup and Memory Performance
Test System SetupProcessor
: Intel Core 2 Extreme X6800 (Supplied by
Intel
)
Memory
: 2x 1GB DDR2-1066 Corsair (Supplied by
Corsair
)
Hard Disk
: 500GB Seagate 7200.9 SATA (Supplied by
Seagate Australia
)
Graphics Card
: MSI Radeon X1950 Pro (Supplied by
MSI
)
Cooling
: Gigabyte Neon775 (Supplied by
Gigabyte
)
Operating System
: Microsoft Windows XP SP2
Drivers
: nVidia Platform Driver 9.53, ATI Catalyst 7.1 and DX9c
Our test systems were comprised of the eVGA nForce 680i motherboard (based on nVidia reference design) as our base line board and the Foxconn 680i motherboard.
As always we tested using stock speeds and overclocked at maximum FSB attainable. We used 507MHz FSB with a multiplier of 6x for the Foxconn motherboard providing a CPU clock speed of 3042MHz and the eVGA motherboard operated at a maximum of 503MHz FSB with a multiplier of 6x providing a CPU clock speed of 3018MHz.
Let's get this show underway and see what the Foxconn N68S7AA-8EKRS2H motherboard is truly capable of in the all important benchmark numbers.
EVEREST Ultimate EditionVersion and / or Patch Used:
2006
Developer Homepage:
http://www.lavalys.com
Product Homepage:
http://www.lavalys.com
Buy It Here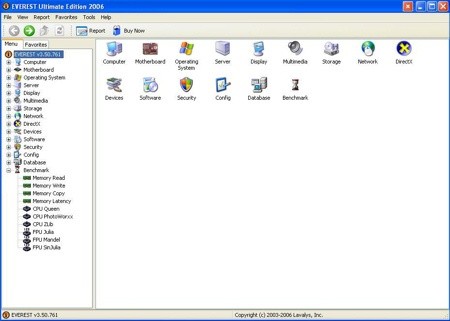 EVEREST Ultimate Edition is an industry leading system diagnostics and benchmarking solution for enthusiasts PC users, based on the award-winning EVEREST Technology. During system optimizations and tweaking it provides essential system and overclock information, advanced hardware monitoring and diagnostics capabilities to check the effects of the applied settings. CPU, FPU and memory benchmarks are available to measure the actual system performance and compare it to previous states or other systems.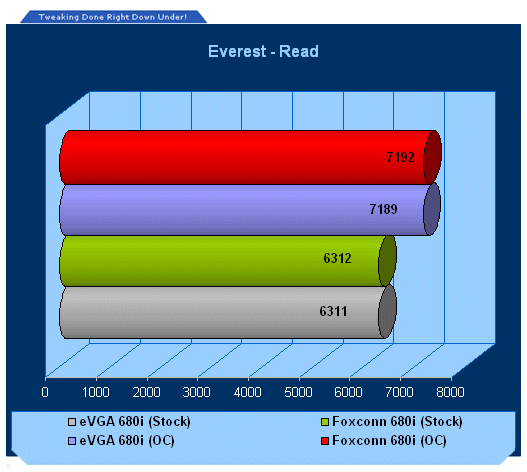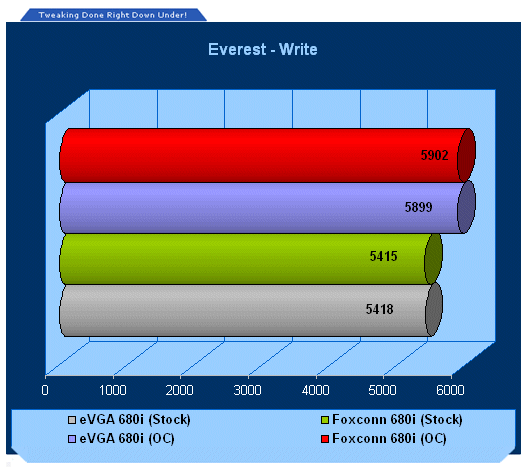 Extremely close results between the two boards, even when overclocked.
Benchmarks - PCMark
PCMarkVersion and / or Patch Used:
1.2.0
Developer Homepage:
http://www.futuremark.com
Product Homepage:
http://www.futuremark.com/products/pcmark04/
Buy It Here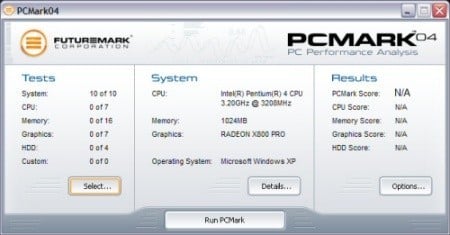 PCMark is a multipurpose benchmark, suited for benchmarking all kinds of PCs, from laptops to workstations, as well as across multiple Windows operating systems. This easy-to-use benchmark makes professional strength benchmarking software available even to novice users. PCMark consists of a series of tests that represent common tasks in home and office programs. PCMark also covers many additional areas outside the scope of other MadOnion.com benchmarks.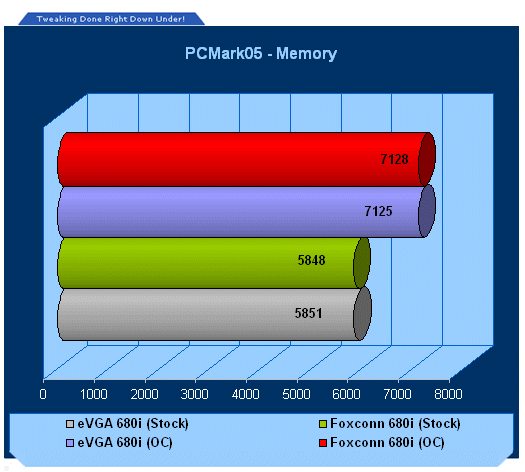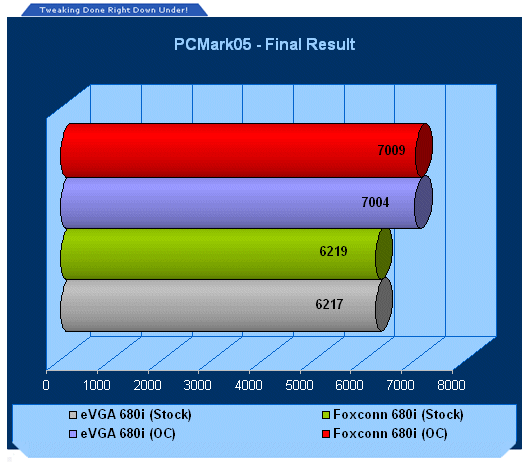 PCMark shows both motherboards just about dead on each other with the Foxconn product just coming out in front.
Benchmarks - WorldBench
WorldBenchVersion and / or Patch Used:
5.0
Developer Homepage:
http://www.pcworld.com
Product Homepage:
http://www.pcworld.com
Buy It Here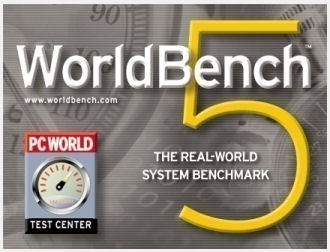 WorldBench 5.0 is the fifth generation of PC World's industry-standard benchmarking application. Designed to measure the performance of today's wide range of personal computers, WorldBench has been in continuous use at PC World for nine years.
WorldBench 5.0 uses the following applications to gauge system performance: ACD Systems ACDSee PowerPack 5.0, Adobe Photoshop 7.0.1, Adobe Premiere 6.5, Ahead Software Nero Express 6.0.0.3, Discreet 3ds max 5.1 (DirectX), Discreet 3ds max 5.1 (OpenGL), Microsoft Office XP with SP-2, Microsoft Windows Media Encoder 9.0, Mozilla 1.4, Musicmatch Jukebox 7.10, Roxio VideoWave Movie Creator 1.5 and WinZip Computing WinZip 8.1.
Here only a few points separate both boards and remember lower scores are better!
Benchmarks - Adobe Premiere Elements
Adobe Premiere ElementsVersion and / or Patch Used:
2.0
Developer Homepage:
http://www.adobe.com
Product Homepage:
http://www.adobe.com/products/premiereel/
Buy It Here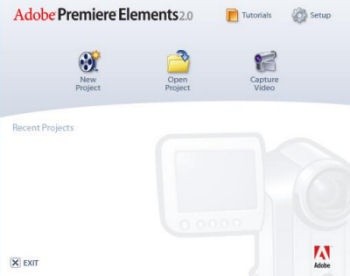 Our test with Adobe Premiere Elements 2.0 is performed with a raw two hour AVI file. It is then compressed into DivX format using the latest version codec. We measure the time it takes to encode and then record CPU usage.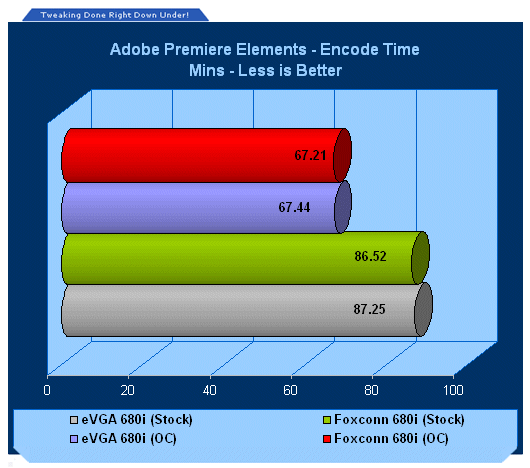 Both boards complete the encode just about dead on each other with the Foxconn managing to finish about 20 seconds quicker when overclocked.
Benchmarks - HDD Performance
HD TachVersion and / or Patch Used:
3.0.1.0
Developer Homepage:
http://www.simplisoftware.com
Product Homepage:
http://www.simplisoftware.com/Public/index.php?request=HdTach
Buy It Here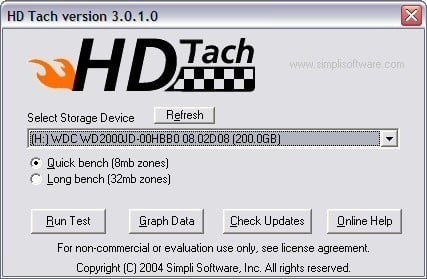 HD Tach has been around for a long time and is excellent when it comes to testing hard drive performance. It is also a very handy program when it comes to testing the controller used on particular motherboards. Tests such as Read, CPU Utilization and Burst are available at a click of the button and give you a good idea of how the hard drive can perform from system to system.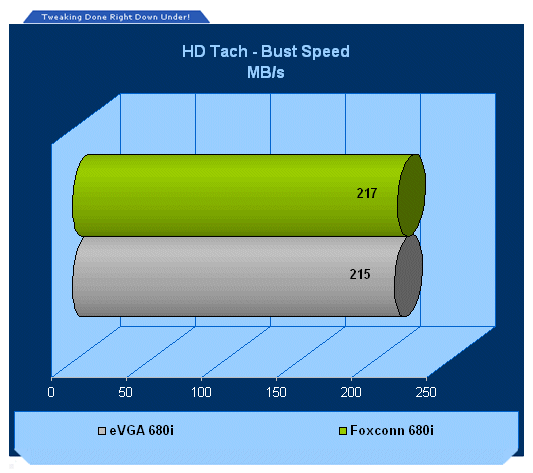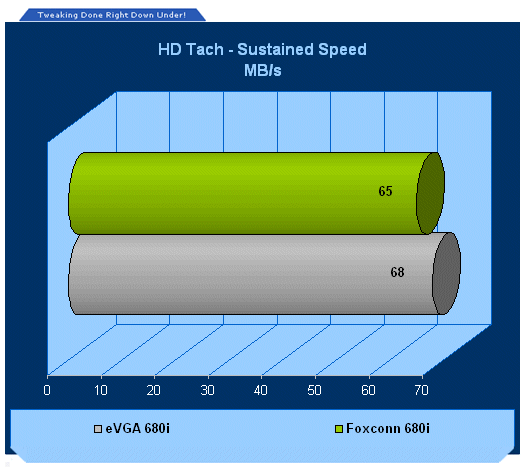 HDD performance is where we expected it since both motherboards use the same MCP and SATA controller for HDD connectivity.
Benchmarks - 3DMark06
3DMark06Version and / or Patch Used:
Build 110
Developer Homepage:
http://www.futuremark.com
Product Homepage:
http://www.futuremark.com/products/3dmark06/
Buy It Here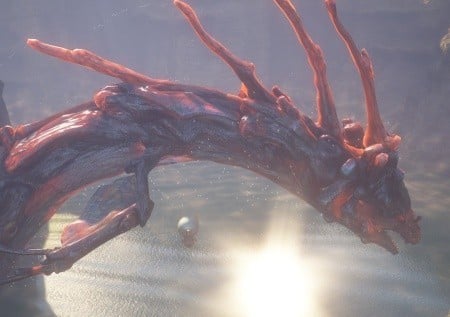 3DMark06 is the very latest version of the "Gamers Benchmark" from FutureMark. The newest version of 3DMark expands on the tests in 3DMark05 by adding graphical effects using Shader Model 3.0 and HDR (High Dynamic Range lighting) which will push even the best DX9 graphics cards to the extremes.
3DMark06 also focuses on not just the GPU but the CPU using the AGEIA PhysX software physics library to effectively test single and Dual Core processors.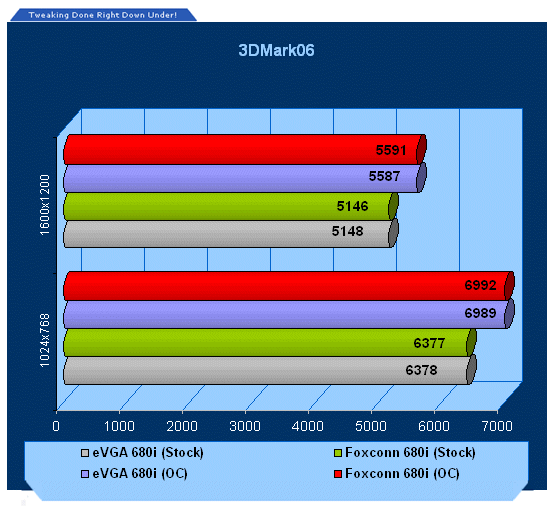 3DMark06 doesn't show much difference between stock and overclocked results.
Benchmarks - PREY
PREYVersion and / or Patch Used:
1.2
Timedemo or Level Used:
HardwareOC Custom Timedemo
Developer Homepage:
http://www.humanhead.com
Product Homepage:
http://www.prey.com
Buy It Here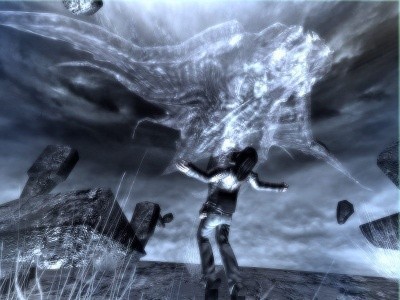 PREY is one of the newest games to be added to our benchmark line-up. It is based off the Doom 3 engine and offers stunning graphics passing what we've seen in Quake 4 and does put quite a lot of strain on our test systems.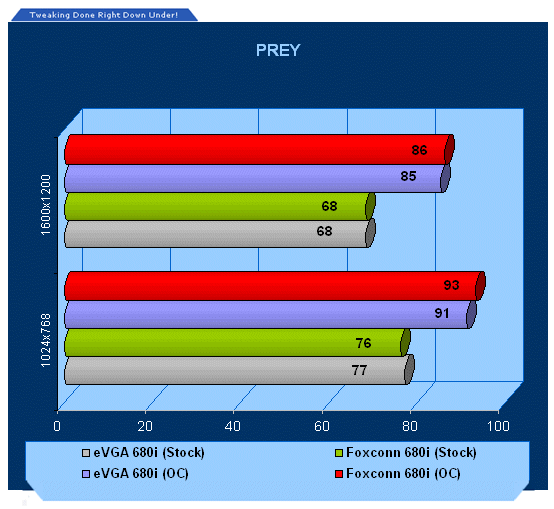 Here we see another close call with the Foxconn motherboard only marginally in front.
Benchmarks - Far Cry
Far CryVersion and / or Patch Used:
1.3
Timedemo or Level Used:
Benchemall Default
Developer Homepage:
http://www.crytek.com
Product Homepage:
http://www.farcrygame.com
Buy It Here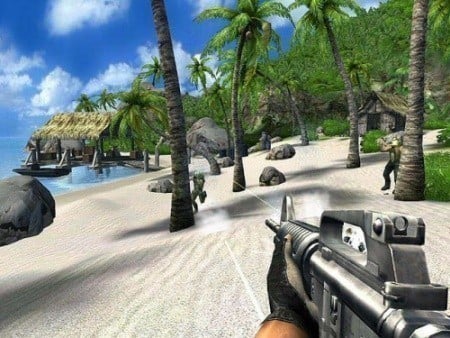 While Far Cry is now one of our older benchmarking games, it is still able to put pressure on most computers systems as it is able to utilize all parts of the system. Utilizing PS2.0 technology with the latest versions supporting Shader Model 3.0 with DX9c and offering an exceptional visual experience, there is no denying that even some of the faster graphics cards get a bit of a workout.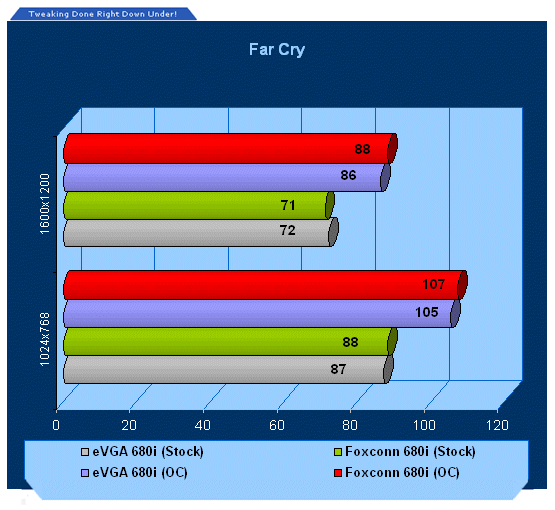 Again very little difference between both but Foxconn manages to maintain its small lead nevertheless.
Final Thoughts
Foxconn has really come quite a long way in a relatively short life time of producing retail motherboards under their own brand name. Designing budget boards may have been their first intentions, but now they have starting to make motherboards that you can really consider to be a high grade contender when it comes to great performance and even overclocking as we saw in this review of their nForce 680i motherboard.
While the Foxconn N68S7AA-8EKRS2H motherboard seems quite similar to most other nForce 680i motherboards on the market, it's evident that quite a lot of engineering thought as gone into this product with inclusions such as active chipset cooling for the hot operating nForce 680i chipsets. As we saw in our overclocking testing, we managed to attain an impressive 507MHz FSB from the board which is only slightly less than the more expensive ASUS Striker Extreme and quite a bit better than most other nForce 680i reference based boards. We can more than likely attribute the impressive overclocking success to the added thought by Foxconn put into very effective cooling.
While the lack of the extra 2 phases of power regulation on the CPU has been made, it didn't affect our Core 2 Extreme X6800 CPU, however, a Quad Core or Pentium Extreme series could see some down sides in overclocking with stability possibly being compromised. Chances are though if you are buying this motherboard you won't be using an older and more power hungry Intel processor, so all should be good but just something to keep in mind.
Despite this we are very happy with Foxconn's N68S7AA-8EKRS2H nForce 680i motherboard and have no problems recommending it for your new Core 2 system. Keeping in mind C2D + 680i is not a cheap platform to begin with but pricing should also end up being quite comparatively attractive too, only slightly more expensive than reference 680i motherboards from companies. Foxconn are onto a good thing here and while it's not the most impressive motherboard we have tested recently, it gets out thumbs up.
- Pros
Dual full-speed PCI Express x16 slots
Extra PCI Express x16 slot for physics
e.SATA for fast external storage
Great overclocking and very effectively cooling setup
Fast and stable
Rounded IDE and FDD cables for better case airflow
Great pricing considering the included extras
Extra USB 2.0 and Firewire headers
- Cons
Less power phases may cause issues for older Intel processors
Installation documentation lacking
Rating - 9 out of 10 and TweakTown's "MUST HAVE" Best Value Award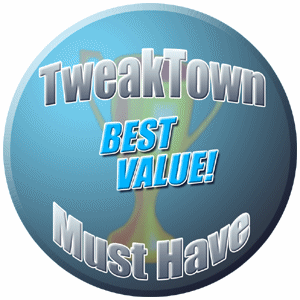 PRICING: You can find products similar to this one for sale below.
United States: Find other tech and computer products like this over at Amazon.com
United Kingdom: Find other tech and computer products like this over at Amazon.co.uk
Australia: Find other tech and computer products like this over at Amazon.com.au
Canada: Find other tech and computer products like this over at Amazon.ca
Deutschland: Finde andere Technik- und Computerprodukte wie dieses auf Amazon.de
We openly invite the companies who provide us with review samples / who are mentioned or discussed to express their opinion. If any company representative wishes to respond, we will publish the response here. Please contact us if you wish to respond.