Palit Radeon X1950GT Super 512MB Graphics Card
AMD continue pulling all they can from their supply of RV570 chips but is the Radeon X1950GT 512MB any good or useless?
Published Wed, Feb 28 2007 11:00 PM CST
|
Updated Fri, Sep 18 2020 10:50 PM CDT
Rating:

70%
Manufacturer: Palit
Introduction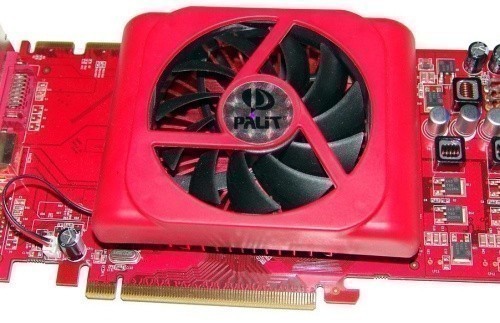 Honestly, if AMD and ATI stopped concentrating on launching new graphics cards using the aging RV570 core, we would probably have our eagerly awaited R600 (Radeon X2800) by now.
Instead of giving us the new upcoming competitor to the monstrous GeForce 8800GTX, AMD instead announce that the new Radeon X1950GT is released. We're all for new graphics cards but what happened when the Radeon X1950GT was announced? nVidia's brand new line up of GeForce 8300, 8600 and 8900 got all leaked and instantly everyone was thinking of the green team.
We would probably go as far to say that if it wasn't for AMD releasing monthly Catalyst drivers, we might have forgotten about them by now - R600 to all appears as if it is quickly becoming vaporware and looks like it should be hanging out with Duke Nukem Forever.
OK! We are being a little harsh and a little inaccurate but let's have a look at what exactly the Radeon X1950GT is before we continue to criticize. It's a about the same price as a regular nVidia GeForce 7900GS 256MB but cheaper than the Radeon X1950PRO with 256MB and 512MB of memory. It makes it somewhat of a questionable release since it's only marginally cheaper than the 256MB PRO.
Let's get into and find out what the new Radeon X1950GT from the folks at Palit has to offer against its competitors and if it's actually worth buying or if it's just an excuse for AMD and ATI to kill over supply problems of the RV570 chip.
The Package
I said it once and I will say it again, Frobot rocks! With the same theme we see on a lot of Palit boxes, we have this sexy eyed frog on the front. Being an ATI card it of course follows the red theme. (BTW, what happens when AMD completely takes over and use the same green color scheme as nVidia?) The card is of course Vista ready, Crossfire capable and comes with a copy of SpellForce 2.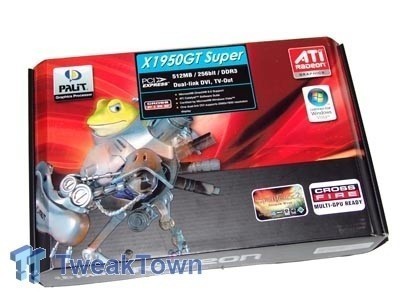 The back of the box is all very standard with some more information related to the core in a number of languages. It's a very standard layout for Palit boxes and we see it on just about all their cards.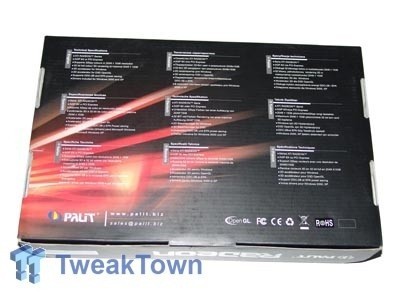 Moving to the inside and bypassing the card temporally we can have a very typical Palit layout - cable wise we have the HDTV out component cable, S-Video cable, PCI Express power cable and a DVI to VGA connector.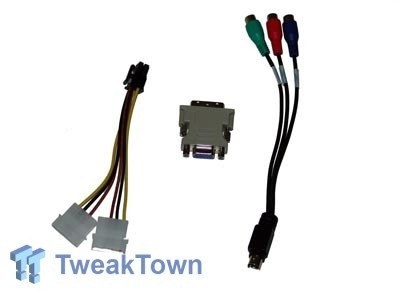 Software wise we get our driver CD along with a copy of PowerDVD and like we saw on the front of the box, a full version of SpellForce 2.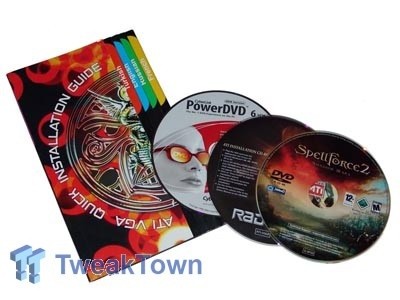 Not a huge bundle but better than other companies, at least Palit choose to include a game and they change it quite regularly, unlike other companies who are still choosing to supply Dungeon Siege 2 which was released in April of 2005.
The Card
Moving onto the card and in a couple of words, it's big and red, very red indeed. What's interesting is that looking at the front of the card you can see a massive gap to the left of the PCB where there seems to be very little circuitry wise.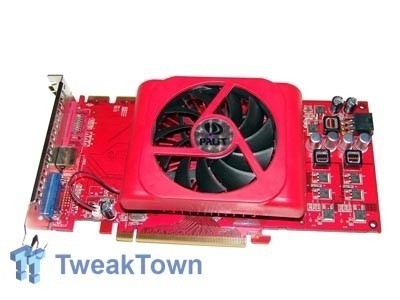 There is quite a large 80mm fan on the front that uses a total of two slots but it's not loud which is important. There are a number of fins on the side to help direct the air over the memory while dissipating the heat at the same time. We would assume that it's probably a Palit cooler as it doesn't seem very ATI to us.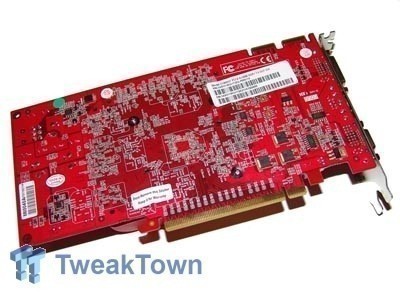 Flipping the card over we see nothing out of the ordinary. Four screws hold the large heatsink in place and we of course have our sticker that lets us know the model along with all our other details.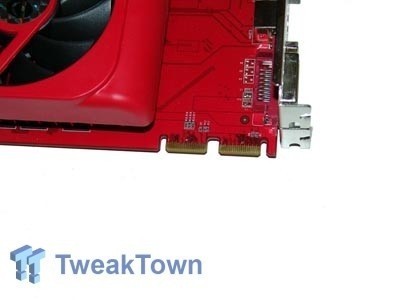 As you can see in the picture above, Radeon X1950GT uses the new Crossfire system that uses an internal connection instead of the cable configuration used on the earlier ATI models.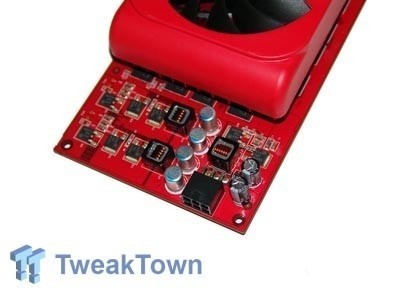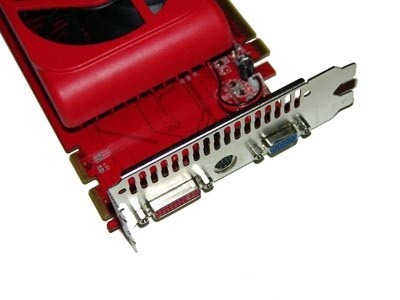 With the GT being a mid-range card a PCI Express power connector is required and the other side shows us two DVI connectors along with the TV Out port.
Specifications wise this graphics cards sits below the Radeon X1950PRO with a reduced core and memory speed. With a 500MHz / 1200MHz DDR setup on the X1950GT compared to the 580MHz / 1400MHz DDR on the Radeon X1950PRO, it isn't a whole lot slower and with the same amount of pixel and vertex shaders as the X1950PRO, clock speeds are the only difference.
Available in both 256MB and 512MB the Super version from Palit here today utilizes a total of 512MB of DDR-3 memory. At time of writing it is cheaper than a regular non-extreme 512MB version of the X1950PRO by around $60 AUD (or roughly $45 USD) and is cheaper than a regular non-extreme 256MB version of the X1950PRO by around $30 AUD (or roughly $24 USD).
Now that we have covered the package and the card, let's move on and check out the all important benchmark numbers!
Benchmarks - Test System Setup and 3DMark05
Test System SetupProcessor(s):
Intel Core 2 Duo E6600 @ 3150MHz (350MHz FSB 1:1)
Motherboard(s):
ASUS P5B Deluxe (Supplied by
ASUS
)
Memory:
2 X 1GB G.Skill HZ PC8000 @ 350MHz 4-4-4-12 (Supplied by
Bronet
)
Hard Disk(s):
Hitachi 80GB 7200RPM SATA 2
Operating System:
Windows XP Professional SP2
Drivers:
ATI Catalyst 7.1, nVidia ForceWare 93.71 and DX9c
Since we don't know exactly where the new comer Radeon X1950GT 512MB graphics card (costing roughly $245 AUD or $193 USD in Australia) sits in terms of performance against the other boys, it seemed fair to include both the Radeon X1950PRO 256MB (costing roughly $275 AUD or $216 USD in Australia) from ATI and a factory overclocked version of the GeForce 7900GS 256MB (costing roughly $300 AUD or $236 USD in Australia) from Gigabyte and nVidia.
Keep in mind that a regular and non-overclocked GeForce 7900GS 256MB will cost you roughly the same price as the 512MB version of the Radeon X1950GT. Although we were using the more expensive Turbo Force overclocked 7900GS from Gigabyte in this review, the 7900GS is very easy to overclock.
With all of the pricing details considered, we will move on and run our normal array of benchmarks. Even though the Radeon X1950GT has slower clock speeds than the more expensive Radeon X1950PRO, will its extra memory come through and save it?
Let's check out the performance!
3DMark05Version and / or Patch Used:
Build 130
Developer Homepage:
http://www.futuremark.com
Product Homepage:
http://www.futuremark.com/products/3dmark05/
Buy It Here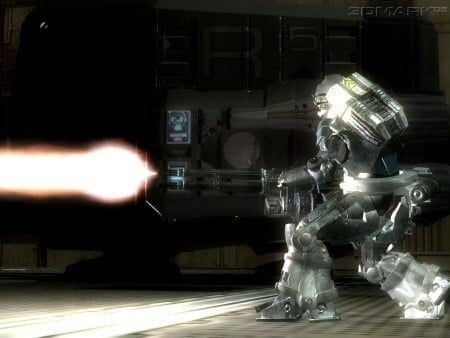 3DMark05 is now the second latest version in the popular 3DMark "Gamers Benchmark" series. It includes a complete set of DX9 benchmarks which tests Shader Model 2.0 and above.
For more information on the 3DMark05 benchmark, we recommend you read our preview
here
.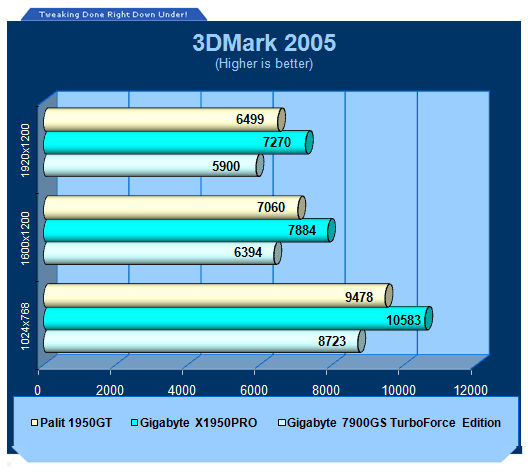 Straight of the mark we can see that the new Radeon X1950GT sits in between both the 7900GS and X1950PRO which isn't bad considering it is the cheapest of them all.
Benchmarks - 3DMark06
3DMark06Version and / or Patch Used:
Build 110
Developer Homepage:
http://www.futuremark.com
Product Homepage:
http://www.futuremark.com/products/3dmark06/
Buy It Here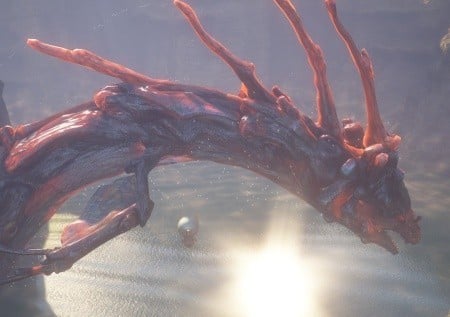 3DMark06 is the very latest version of the "Gamers Benchmark" from FutureMark. The newest version of 3DMark expands on the tests in 3DMark05 by adding graphical effects using Shader Model 3.0 and HDR (High Dynamic Range lighting) which will push even the best DX9 graphics cards to the extremes.
3DMark06 also focuses on not just the GPU but the CPU using the AGEIA PhysX software physics library to effectively test single and Dual Core processors.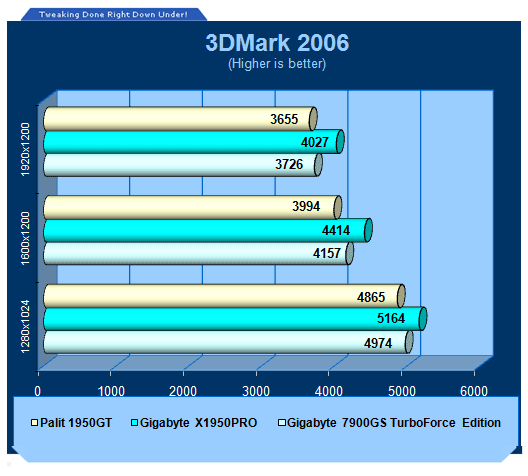 Moving to the more intensive 3DMark06 benchmark, we can see the Radeon X1950GT begin to lag behind a little with the 7900GS beating it slightly.
Benchmarks - Half Life 2 (Lost Coast)
Half Life 2 (Lost Coast)Version and / or Patch Used:
Unpatched
Timedemo or Level Used:
Custom Timedemo
Developer Homepage:
http://www.valvesoftware.com
Product Homepage:
http://www.half-life2.com
Buy It Here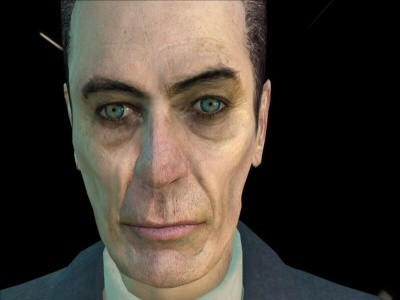 By taking the suspense, challenge and visceral charge of the original, and adding startling new realism, responsiveness and new HDR technology, Half-Life 2 Lost Coast opens the door to a world where the player's presence affects everything around him, from the physical environment to the behaviors even the emotions of both friends and enemies.
We benchmark Half Life 2 Lost Coast with our own custom timedemos as to avoid possible driver optimizations using the "record demo_name" command and loading the timedemo with the "timedemo demo_name" command - For a full list of the commands,
click here
.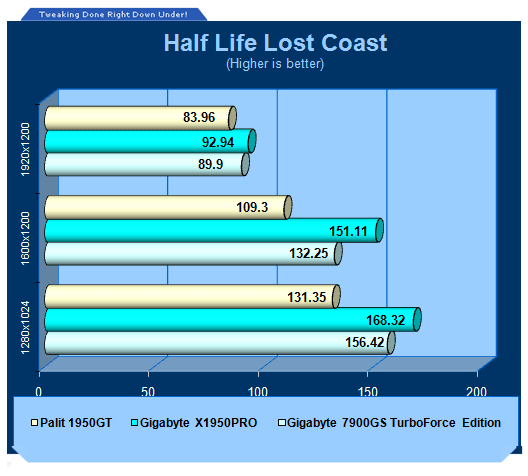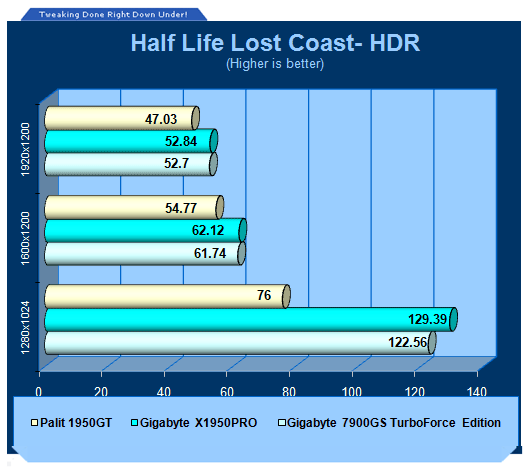 The ATI favorite HL2 sees that only under extreme pressure (1600x1200 with and without HDR) that the Radeon X1950GT can hold its ground against the other two graphics cards, the lower resolution sees it lagging behind a lot.
The extra 256MB of onboard memory on the Radeon X1950GT over the other two graphics cards seems to be paying dividends as the cards are put under higher levels of stress.
Benchmarks - PREY
PREYVersion and / or Patch Used:
Unpatched
Timedemo or Level Used:
HardwareOC Custom Timedemo
Developer Homepage:
http://www.humanhead.com
Product Homepage:
http://www.prey.com
Buy It Here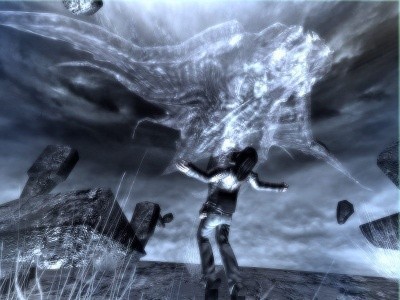 PREY is one of the newest games to be added to our benchmark line-up. It is based off the Doom 3 engine and offers stunning graphics passing what we've seen in Quake 4 and does put quite a lot of strain on our test systems.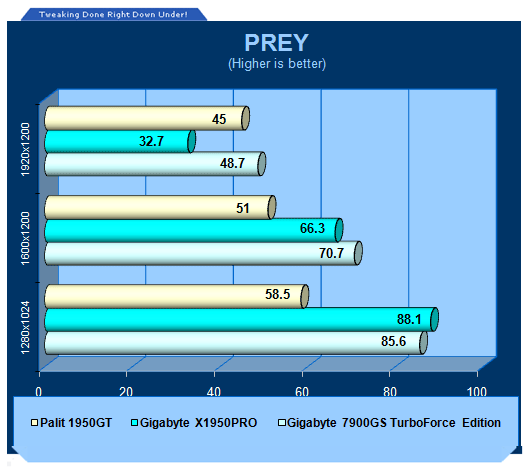 We see a similar picture here but even with a few tests the Radeon X1950PRO really spat out a weird result at the highest resolution. Again, that extra memory seems to be playing an important role at high resolutions.
Benchmarks - F.E.A.R.
F.E.A.R.Version and / or Patch Used:
Unpatched
Timedemo or Level Used:
Built-in Test
Developer Homepage:
http://www.vugames.com
Product Homepage:
http://www.whatisfear.com/us/
Buy It Here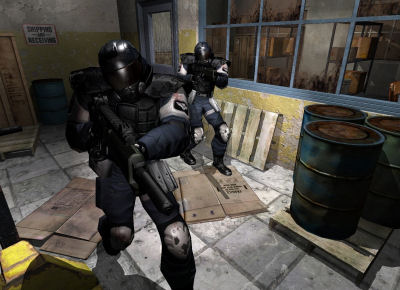 F.E.A.R. (First Encounter Assault Recon) is an intense combat experience with rich atmosphere and a deeply intense paranormal storyline presented entirely in first person. Be the hero in your own spine-tingling epic of action, tension, and terror...and discover the true meaning of F.E.A.R.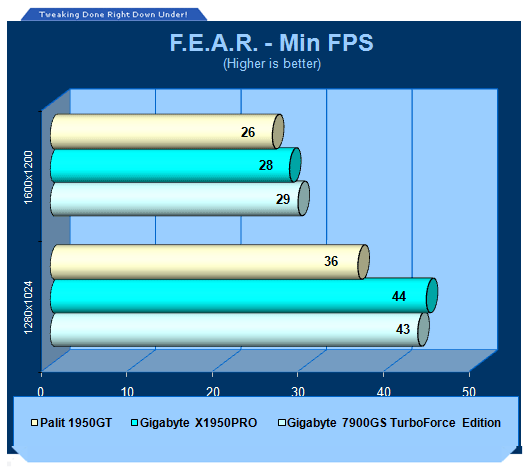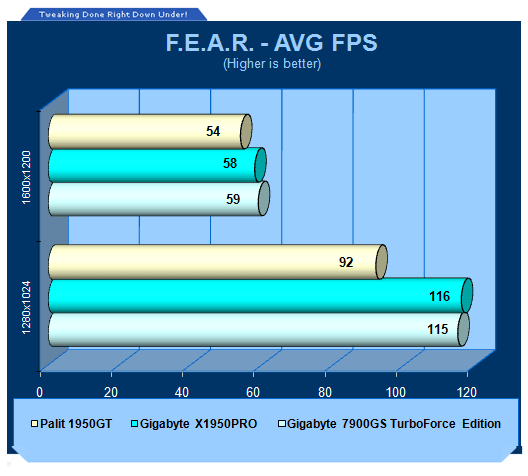 We continue to see that at the higher resolution the Radeon X1950GT can keep up with the GeForce 7900GS and the Radeon X1950PRO but at the lower resolution it really gets dominated where its extra memory cannot be utilized as well as the higher resolutions.
Benchmarks - Company of Heroes
Company of HeroesVersion and / or Patch Used:
Demo
Timedemo or Level Used:
Built-in Test
Developer Homepage:
http://www.relic.com
Product Homepage:
http://www.companyofheroesgame.com
Buy It Here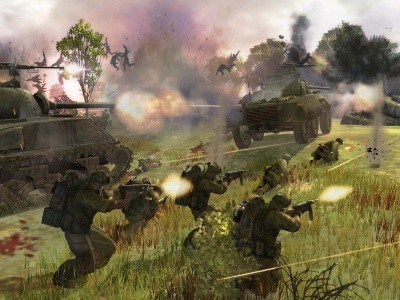 Company of Heroes, or COH as we're calling it, is one of the latest World War II games to be released and also one of the newest in our lineup of benchmarks. It is a super realistic real-time strategy (RTS) with plenty of cinematic detail and great effects. Because of its detail, it will help stress out even the most impressive computer systems with the best graphics cards - especially when you turn up all the detail. We use the built-in test to measure the frame rates.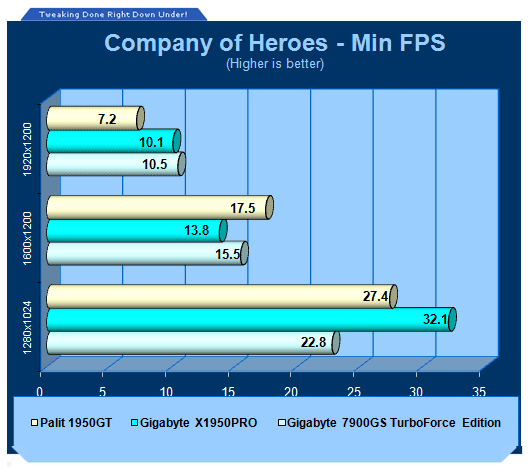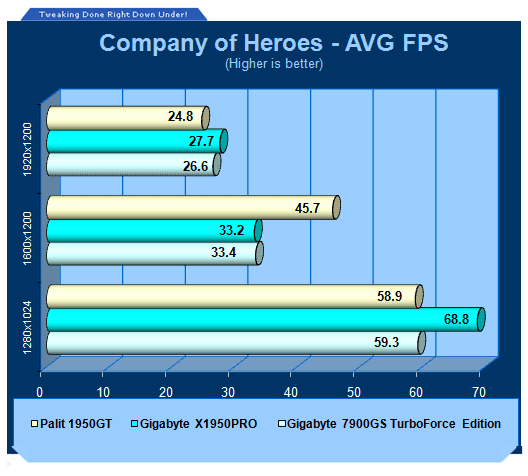 The GT skyrockets ahead at the medium resolution (which is clearly a sweet spot for the Radeon X1950GT with its extra memory) with everything evening back out at the higher resolution.
The extra memory (512MB compared to the 256MB on the GS and PRO) comes in quite handy in certain areas, mostly at high resolutions but only in certain games depending on if the game prefers faster clock speeds or more memory at certain resolutions.
Benchmarks - High Quality AA and AF
High Quality AA and AF
Our high quality tests let us separate the men from the boys and the ladies from the girls. If the cards weren't struggling before they will start to now.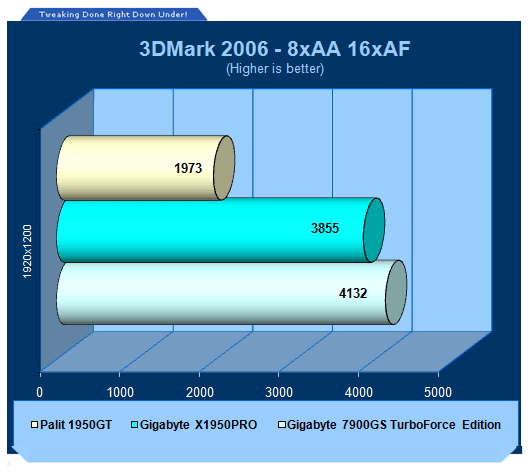 As soon as we really crank on the pressure the Radeon X1950GT really can't handle it as we again see the GT lagging behind a lot like in our non AA and AF 3DMark06 tests. The GT saw advantages at high resolutions but in these tests it appears as if AA and AF prefer faster clock speeds rather than extra memory.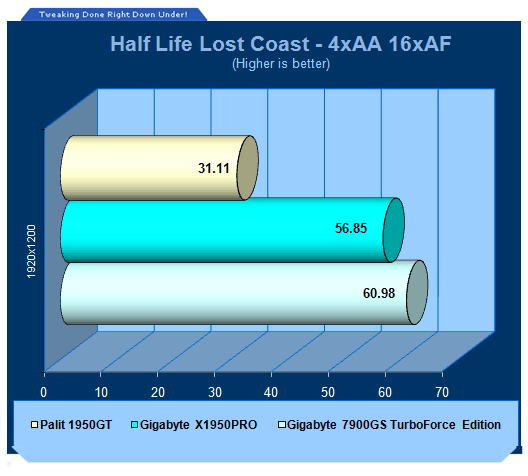 The extra memory really doesn't help the GT as with this much load on the graphics card we are coming down to raw power which is a result of clock speeds.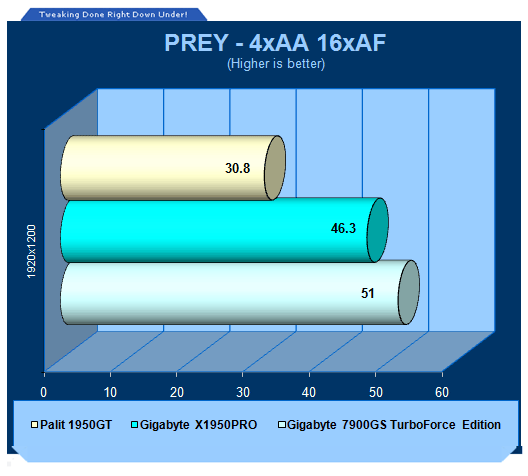 Finally we see the GS win thanks to its OpenGL optimization, the PRO sits just behind it and the GT really falls to the back of the pack in our final test.
Final Thoughts
What can we say about the new Radeon X1950GT? The X1950GT 512MB Super from Palit isn't really all that "Super" at all, to be dead honest with you.
You actually have to feel sorry for the ATI partners as there is no doubt that ATI are applying pressure for them sell these new cards and move out the remainder supply of RV570 chips. No doubt AMD and ATI would be making it clear that R600 is just around the corner and if they want good supply of the new chip, they should help in over supply areas. It's a rough game, this industry.
With a price difference of only $30 AUD (or roughly $24 USD) between it and the 256MB version of the Radeon X1950PRO, we would hugely recommend that you save the extra few dollars and if you were that tight for money, we would recommend that you make the move to the highly overclockable GeForce 7900GS 256MB which can be had for basically the same price as the 512MB version of Radeon X1950GT and it will end up providing better performance.
Palit have done the best they can with the new graphics card, slapped on an attractive and quiet cooling solution, packaged a game with the card and released it at a competitive price point but the bottom line is none of this is really going to help. It is clearly a last resort for ATI to get rid of these RV570 cores before a flurry of new ones come out in the shape of the R600.
Giving the graphics card a score we would have to give it 7 out of 10. It's not the worst card on the market and Palit as usual have done a good job with it. But if we had to give the actual Radeon X1950GT from AMD and ATI a score, it would be closer to 4 out of 10 because it's nothing but an unnecessary stop gap solution to help get rid of excess chip supply and not a very good solution. Spend just a few extra bucks and you'll end up getting a much better deal.
Just bring the R600 out already!
- Pros
Similar pricing to the 7900GS 256MB
256MB and 512MB variants
Full version game
Cons
Pointless release
Spends a little extra and get something that is much better!
Rating - 7 out of 10
PRICING: You can find products similar to this one for sale below.
United States: Find other tech and computer products like this over at Amazon.com
United Kingdom: Find other tech and computer products like this over at Amazon.co.uk
Australia: Find other tech and computer products like this over at Amazon.com.au
Canada: Find other tech and computer products like this over at Amazon.ca
Deutschland: Finde andere Technik- und Computerprodukte wie dieses auf Amazon.de
We openly invite the companies who provide us with review samples / who are mentioned or discussed to express their opinion. If any company representative wishes to respond, we will publish the response here. Please contact us if you wish to respond.