TweakTown's Rating: 89%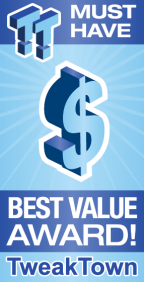 The Bottom Line
The MSI MAG 27UPF is an entry-level 4K gaming monitor that shines most between 80Hz and 120Hz, with some problems presenting themselves at 144Hz.
Pros
+

Price

+

Suited well for eSports titles like Overwatch or Apex Legends

+

4K

+

HDMI 2.1 makes it suitable for use with consoles

+

Good colors and brightness
Cons
-

Some inverse ghosting at 144Hz

-

Not so good for RPG titles such as Cyberpunk 2077
Should you buy it?
Avoid
Consider
Shortlist
Buy
Introduction & Specification Details and Close-up
Most gamers are playing games at a resolution of 1920 x 1080 (FHD), while the second biggest group is playing at 2560 x 1440. But what if you wanted to dip your toes into the world of 4K, or 3840 x 2160, a resolution that only 3.2% of gamers enjoy, according to Steam's hardware survey?
MSI has introduced a new budget 4K gaming monitor at $599. The MSI MAG 274UPF features many improvements compared to last year's model. However, with a price tag like this, there are some sacrifices. Before we get into those downsides, let's dive into what the 274UPF offers buyers looking to get into 4K gaming.
It should be noted before we jump into the specifications/design of the 274UPF gamers looking to upgrade to 4K need higher-end hardware, specifically a graphics card that is at least an NVIDIA GeForce RTX 3070 or an AMD 6800X. I wouldn't recommend these graphics cards if you are thinking about maxing out your games in 4K, as the experience wouldn't be worth the increase in pixels/graphics. Instead, I recommend an NVIDIA GeForce RTX 4080/RTX 4090 or a Radeon RX 7900 XT.
Specifications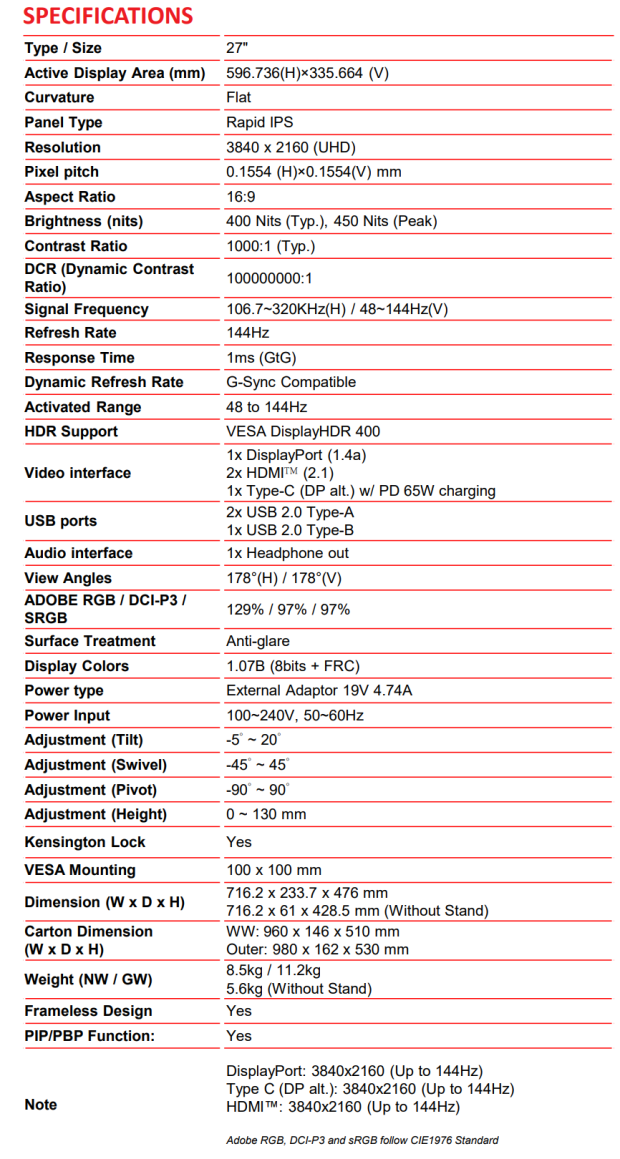 Close-up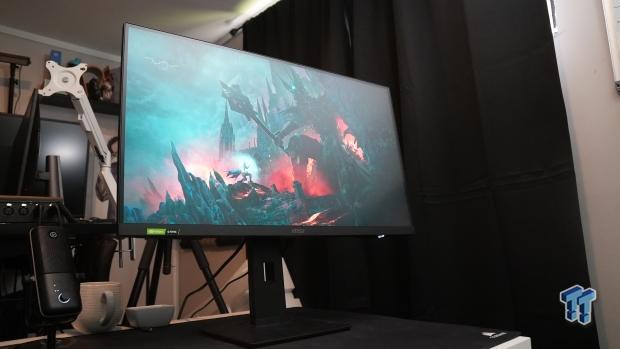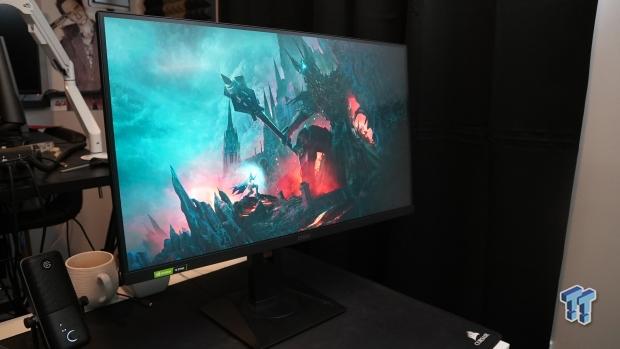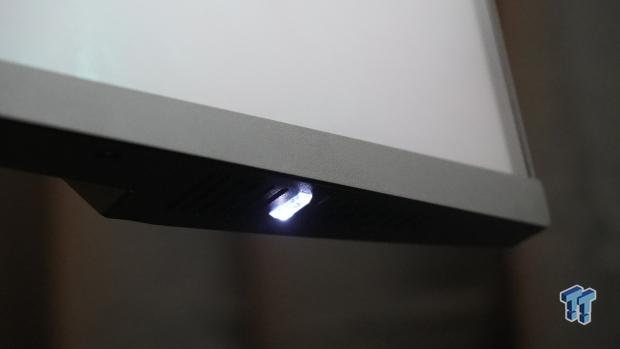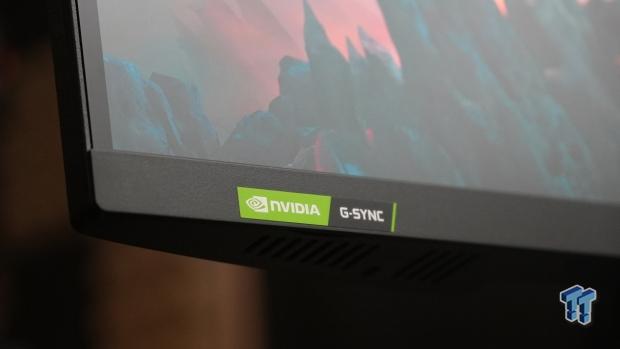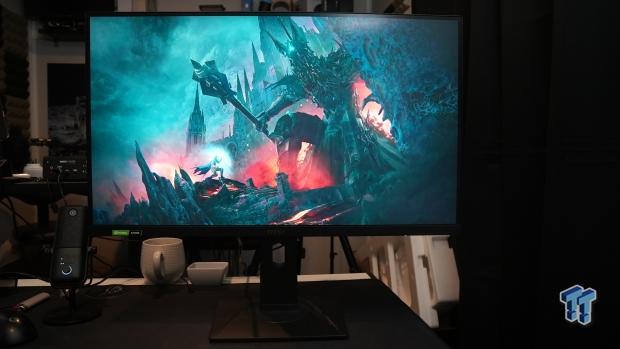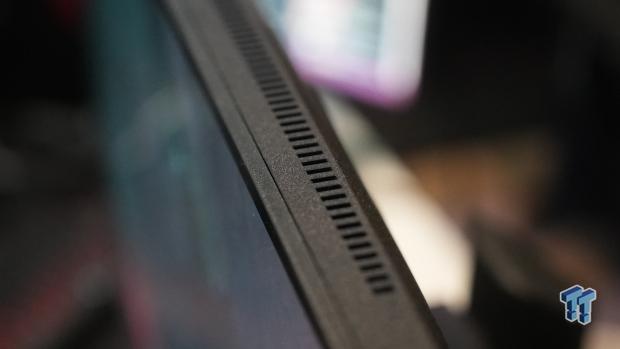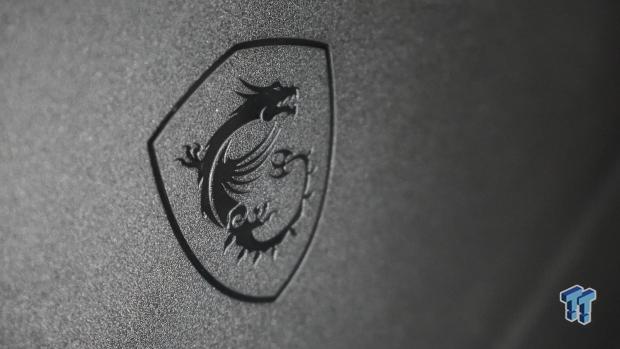 Design & Panel Breakdown
So, what are you getting with the 274UPF? MSI has equipped its newest 4K gaming monitor with all the basic specifications you would expect from a 4K gaming monitor. Buyers can expect the classic MSI monitor design that has been a staple of the company's gaming monitors for quite some time. The 274UPF has a black plastic shell that has a grainy texture to it, but unlike previous MSI gaming monitors, the 274UPF has dropped the RGB lighting on its back, opting for a sleeker look that I believe compliments its overall form factor of 27-inches.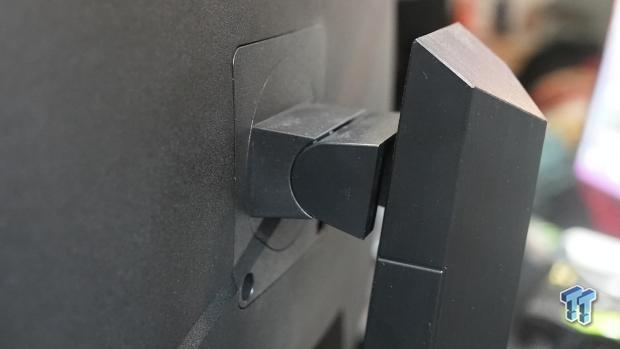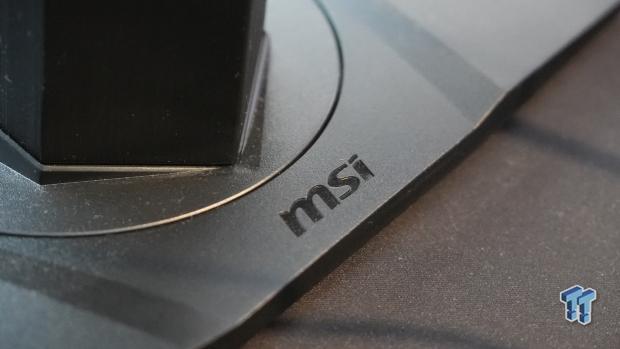 Considering the price point of the 274UPF, the physical design MSI has chosen to go for reflects where the company has put its eggs when it comes to the Bill of Materials (BOM). MSI has decided to throw its manufacturing costs into the performance department rather than the aesthetics of the monitor, something that is quite commonplace for entry-level gaming monitors. I don't think the physical aesthetics of the 274UPF are bad in any way, just not flashy, special, or unique. If I were to boil down my thoughts of the 274UPF's physical appearance into one word, that word would be basic.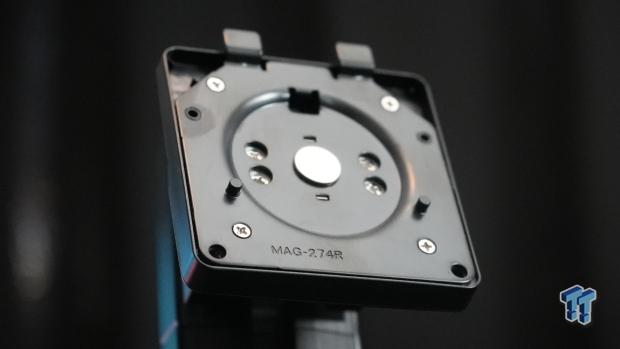 The stand that comes with the 274UPF is probably my favorite aspect of the physical design of the monitor as it provides a great range of motion for both height and swivel adjustments while taking up relatively no desk space, especially when compared to other gaming monitors that opt for the V-shaped feet/stand - looking at you, ASUS.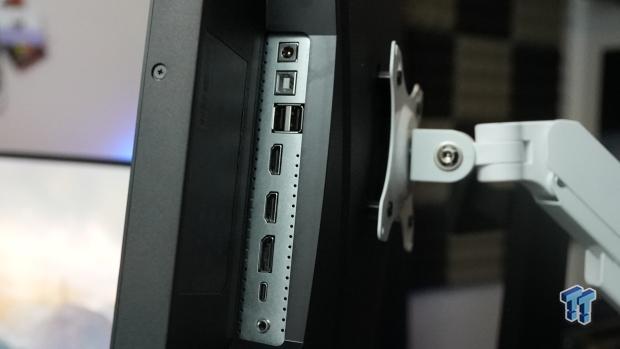 As for connectivity, MSI has equipped the 274UPF with 1x DisplayPort 1.4, 2x HDMI 2.1 ports, 1x USB-C with 65W of PD charging, 2x USB 2.0 Type-A, 1x USB 2.0 Type-B, and 1x headphone out port. MSI has chosen to drop a dedicated power button and whacked its classic multi-directional tool located on the rear of the monitor to control the On Screen Display (OSD). Users must hold down the multi-directional tool to turn the monitor on and off. This feature was annoying when I first began using the monitor, but I quickly adjusted to it.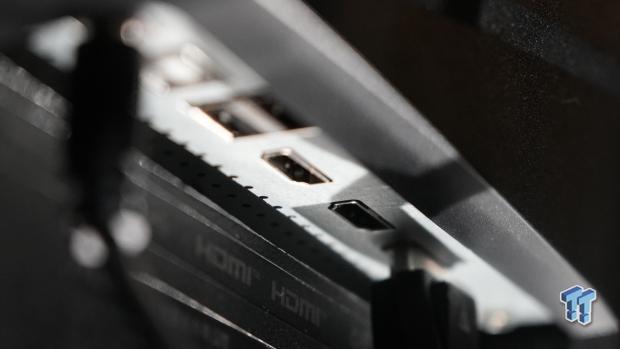 Above is a video showcasing all of the OSD features. Many of these features are staples of MSI gaming monitors, such as Crosshairs, shadow boosting, sniper mode, and more. While these features are nice bells and whistles, they aren't the reason why you would want to pick up the 274UPF. You want to pick up the 274UPF for its panel.
Panel Breakdown
The 274UPF is a Rapid IPS Panel that MSI states comes with a 1ms fast GtG response time and high levels of screen colors and brightness optimizations. The inclusion of the HDMI 2.1 ports means the 274UPF can also be utilized by current-gen consoles that can push 4K @ 120Hz, making the monitor more versatile for gamers that flex between PC and consoles.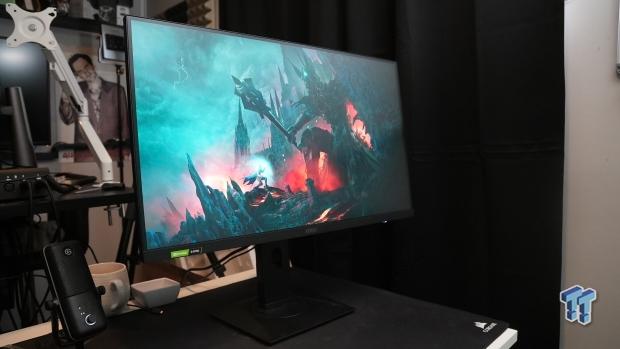 The 274UPF also comes with VESA DisplayHDR 400, which MSI claims enables "stunning visuals through contrast and shadow adjustment". However, I wouldn't recommend enabling this feature as it completely destroys the contrast, kills brightness levels, and generally makes for an overall worse-looking image - especially considering the lack of local dimming or mini-LEDS present.
Throughout my time testing the 274UPF, I enjoyed the display most in SDR, increasing the brightness just a tad using the OSD controls.
Performance
Jak's Test System
Motherboard: ASUS ROG Crosshair VIII HERO (Wi-Fi)
CPU: AMD Ryzen 5 5600X
GPU: NVIDIA GeForce RTX 4090 FE
Cooler: NZXT Kraken 360mm AIO
RAM: G.Skill Trident Z Neo 32GB CL16 DDR4 3600MHz 32GB (2 x 16GB)
SSD: GALAX HOF Pro SSD PCI-E M.2 2TB
Power Supply: Corsair RM1000x SHIFT 80 PLUS Gold
Case: Lian Li Lancool III
OS: Microsoft Windows 11 Pro 64-bit
The 274UPF features an eSports label, and judging on its specifications and where it shines most, MSI wants buyers of this monitor to be playing eSports-specific games such as Apex Legends, Overwatch, Counter-Strike, and more titles that typically played at higher refresh rates. RPG titles such as Red Dead Redemption or Cyberpunk 2077 can still be enjoyed on the 274UPF as its out-of-the-box color accuracy and general performance provides a smooth gaming experience. However, the 274UPF shines in eSports-centered titles that are played between 80 and 120Hz.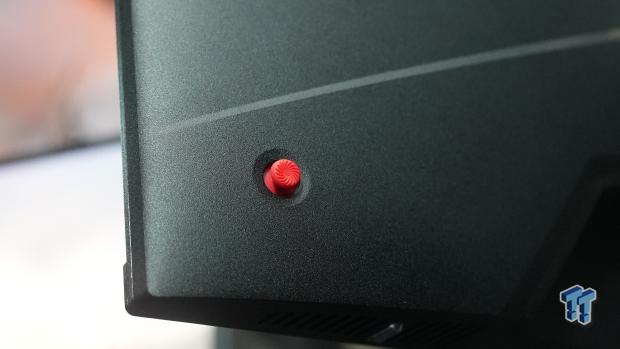 Unfortunately, when testing the 274UPF in Apex Legends and Overwatch for more than 20 hours, I noticed some inverse ghosting. It's unclear why this inverse ghosting popped up at higher refresh rates, but I thought it would be worth mentioning. It should be noted that this inverse ghosting was only noticeable once I was looking for it. Any buyers of the 274UPF will likely not notice these problems unless they are looking for them.
I did test the 274UPF in Cyberpunk 2077, and since the monitor is paired with my NVIDIA GeForce RTX 4090, I had an incredible experience at 4K. As for the aforementioned artifacts and overshoot problems, these weren't visible to me when playing Cyberpunk 2077. I can attribute the lack of overshoot to my FPS hovering between 70FPS and 100FPS, since the graphics were completely maxed out.
Overall, the 274UPF provided an awesome gaming experience at 4K with very minimal problems.
Final Thoughts
So, where do I land on the 274UPF, and should you buy it? Throughout my time using the 274UPF, I had a very enjoyable experience. The bright display comes with awesome colors and a smooth gaming experience that many gamers would be happy with.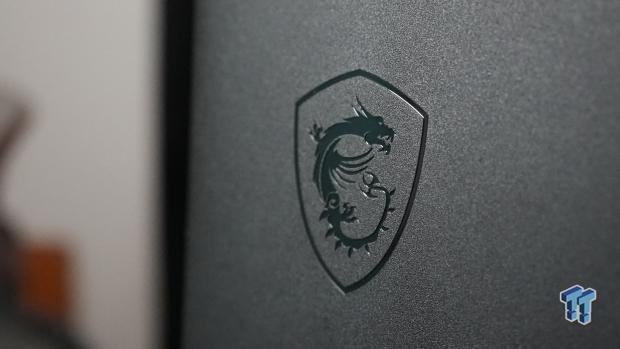 However, with a price tag of $599, I'm not sure if I can directly recommend the 274UPF to anyone that isn't a gamer looking to flex between 4K gaming on their desktop and console. Additionally, gaming at 4K requires expensive high-end components, and if you are rocking an RTX 4090 like myself, you shouldn't be spending $599 on your monitor. It would be best if you were spending much more, as you always build your PC to your monitor and make sure the monitor is future-proofed. It would be strange to spend nearly $2000 on your PC to run games at 4K and then only spend $599 on your monitor.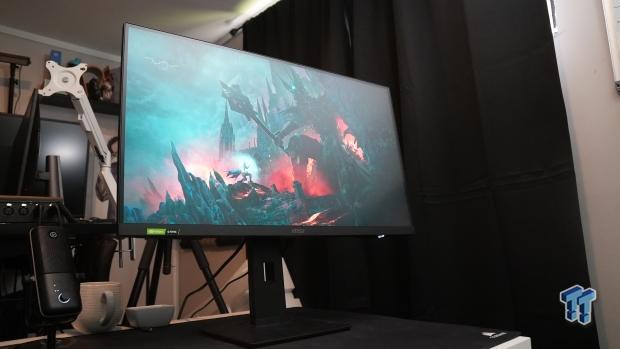 With that being said, there are some gamers out there that simply want to make it to 4K gaming for the pixel density increase and might not be able to afford an expensive future-proofed monitor. For those gamers, I say the 274UPF is a fine choice at a reasonable price and gets my stamp of recommendation, especially if you also have a current-gen console to utilize the HDMI 2.1 ports.
Additionally, before purchasing the 274UPF, ask yourself what type of games you play the most. If you are a gamer that enjoys RPG titles such as Cyberpunk 2077, I would steer you toward an OLED panel for those deep blacks and higher color accuracy. If you are a gamer who enjoys fast FPS titles such as Overwatch or Apex Legends, the 274UPF could be an option, especially if you aren't bothered by the inverse ghosting at 144Hz.