TweakTown's Rating: 93%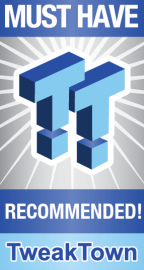 The Bottom Line
While at the bottom of the ROG product stack, the Strix Z790-E is still a fantastic motherboard that offers a better bang for your buck than other motherboards.
Pros
+

DDR5/PCIe 5.0

+

2.5Gbe / WiFi6e

+

Price

+

Performance
Cons
Should you buy it?
Avoid
Consider
Shortlist
Buy
Introduction, Specifications, and Pricing
The ROG Strix series of motherboards has come on quite strongly in the last two generations, giving consumers a near identical BOM to the ROG Hero at a much lower cost. Intel Z790 is closer than ever to this, with small changes being made to the power delivery and connectivity to lower the cost just enough.
Full hardware specifications for this motherboard start first with an 18+1 power design on Socket LGA1700. This gives us support for 12th and 13th Gen CPUs and support for DDR5 memory. Memory capacity runs up to 192GB with the new 48GB modules, while the performance of those modules can be pushed upwards of 7800MHz with support for XMP 3.0.
Expansion for the Strix Z790 includes three PCIe x16 slots, the top slot alone offering Gen5 connectivity while the two other slots pull Gen4 lanes from the chipset. Storage support includes five m.2 slots, identical to Hero; this includes M.2_1 at PCIe 5.0 x4 and slot two again from the CPU using PCIe 4.0. Three additional slots pull from the chipset, and all support PCIe 4.0. Legacy storage can be set up with the four SATA ports available.
Connectivity includes DP and HDMI, four USB 3.2 Gen 1, and six Gen 2 using Type-A connections. USB-C can be found with two ports on the rear of the motherboard. Rounding this up, we have WiFI6e, 2.5Gbe, and seven-channel audio.
Pricing
Pricing for the ROG Strix Z790-E Gaming Wi-Fi comes in at $499.99.
Packaging, Accessories, and Overview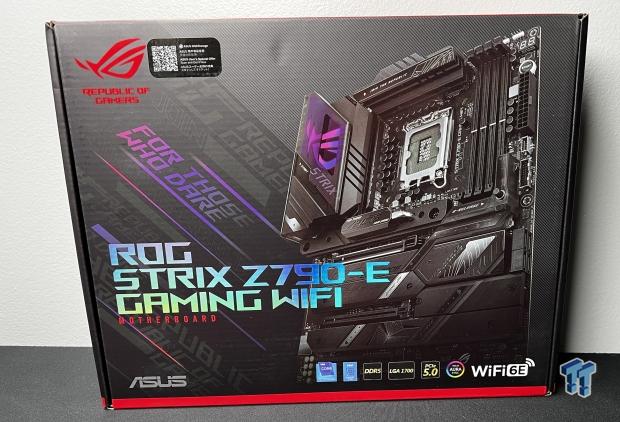 Packaging hasn't changed too much in design; it's very similar to other ROG motherboards. Hardware support is noted bottom right with an image of the board on the front.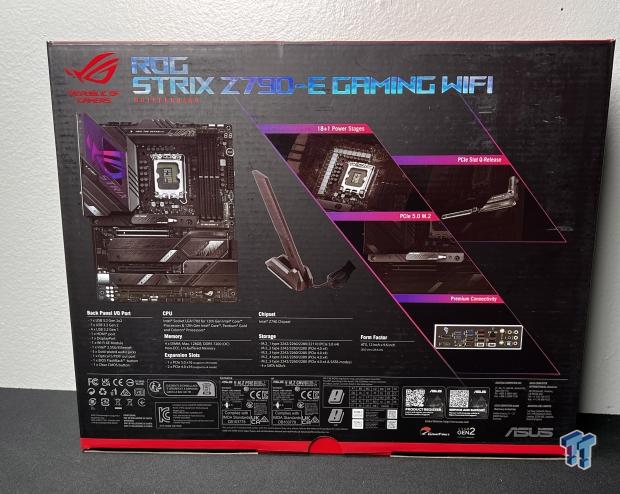 On the flip side, we have an image of the board to the left with full specifications below. To the right, we have the leading features of this board called out.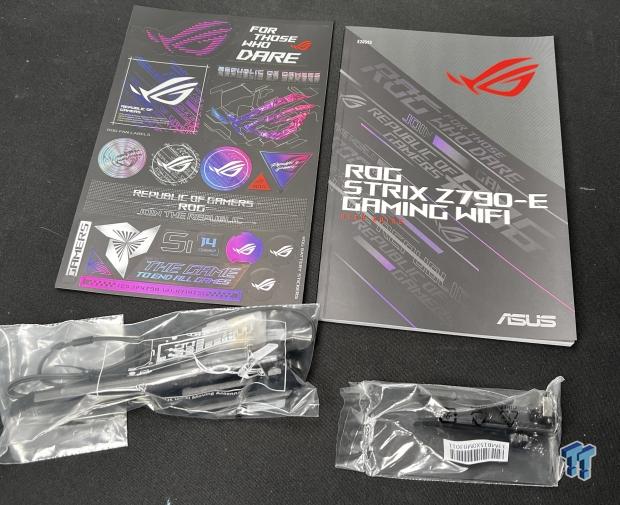 Included with the board, we got a user manual, a Wi-Fi antenna, and SATA cables.
Motherboard Overview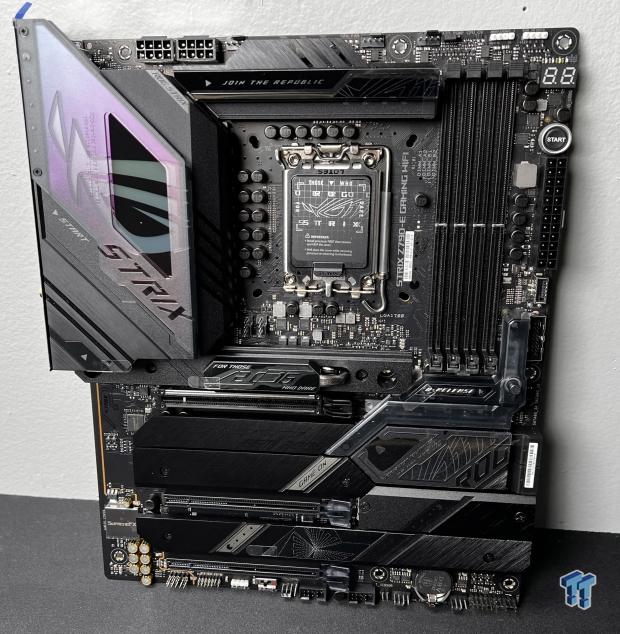 The Strix has its own design for heatsinking. The VRM and chipset with their own sinks, as do each of the m.2 slots.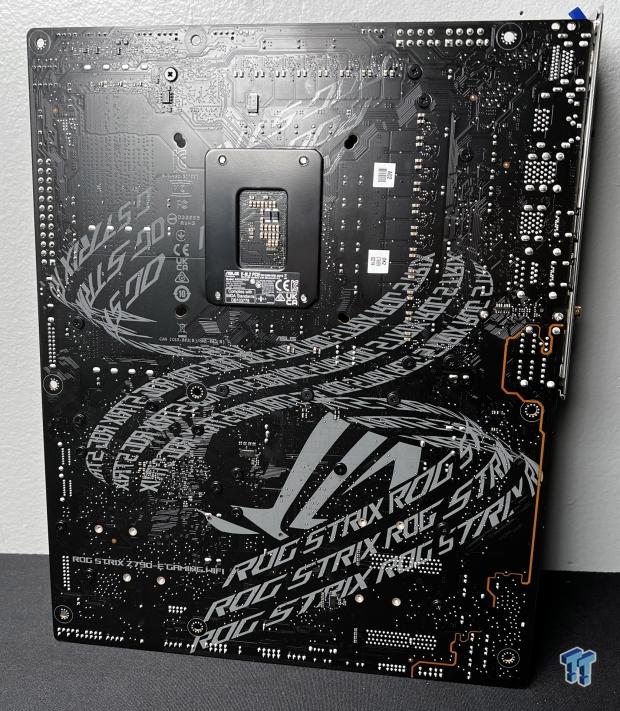 On the backside, we have a mostly blank board with ROG script.

The rear I/O gives us DP and HDMI up top, then Clear CMOS and our first grouping of USB 3.2 ports. Further down, we have 2.5Gbe and the Wi-Fi antenna connections, the bottom giving us the audio outputs.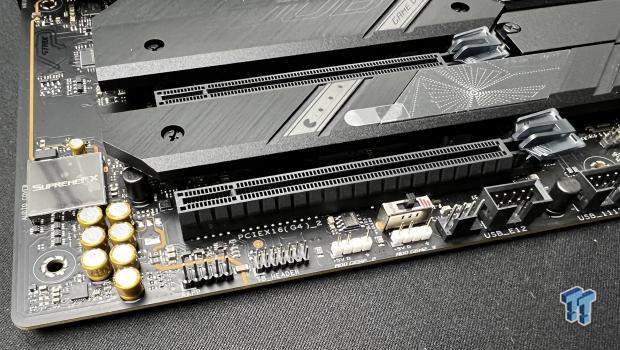 The front panel audio connections and Thunderbolt header can be found along the bottom of the board. We also note multiple fan headers and two USB 2.0 connections.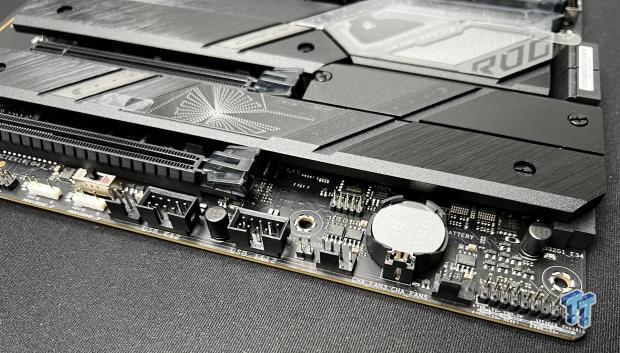 Further, we find additional fan headers and front panel chassis connections.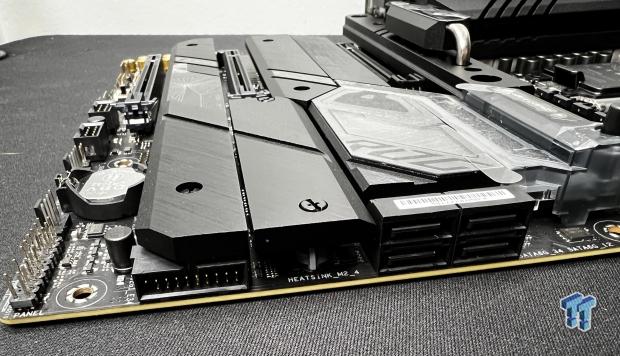 Around the corner, you will note the SATA ports to the right and USB 3.2 header to the left.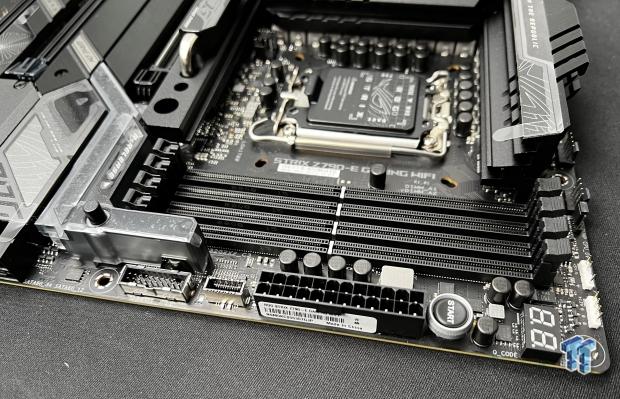 Closer to the top, we have another two headers for USB 3.2 and 24-pin power.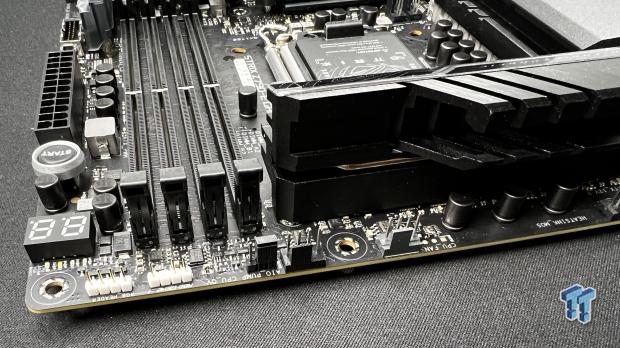 Across the top, we have hardware buttons, the debug LED, and RGB and fan connections.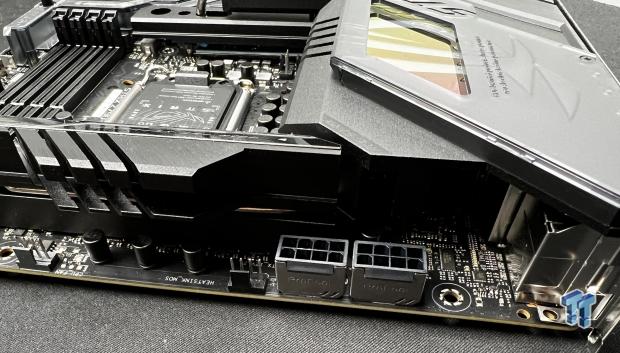 Wrapping our tour of the board, we have dual 8-pin CPU power.
UEFI, Software and Test System
UEFI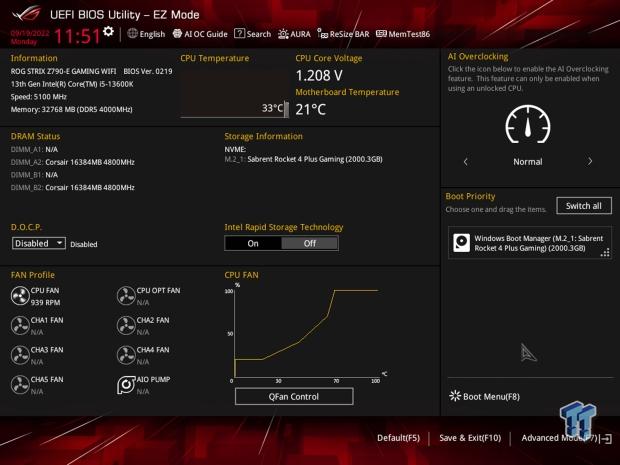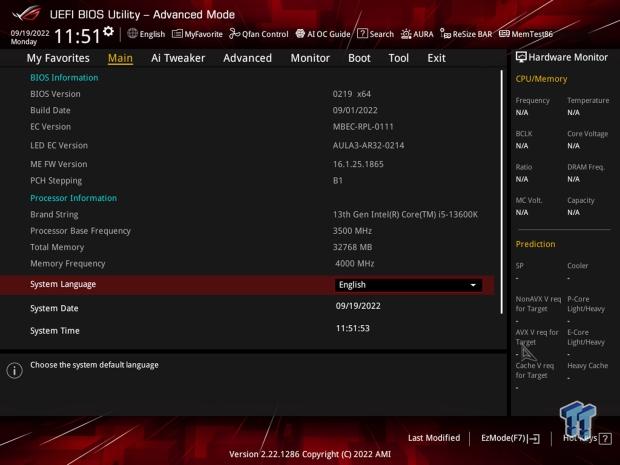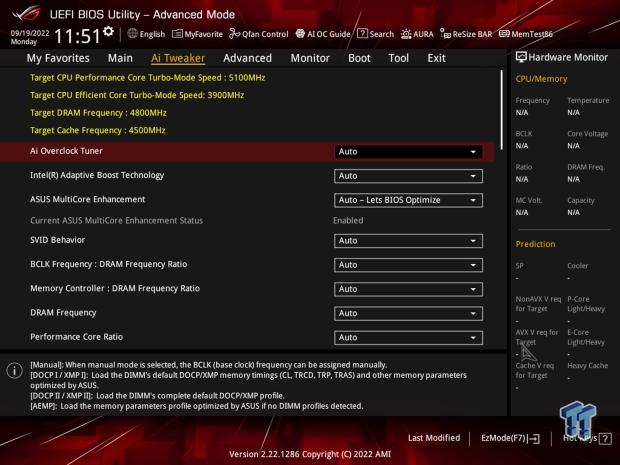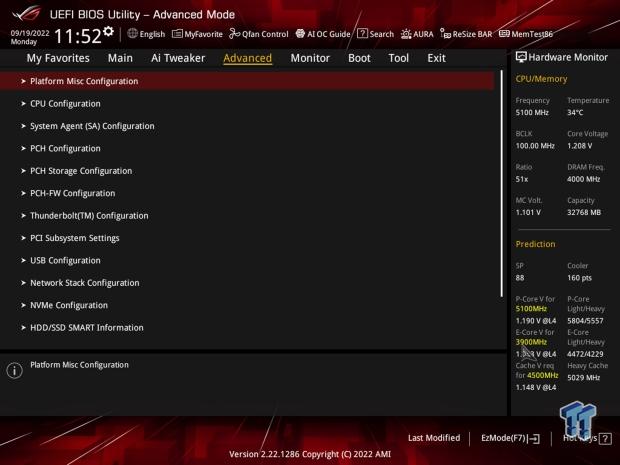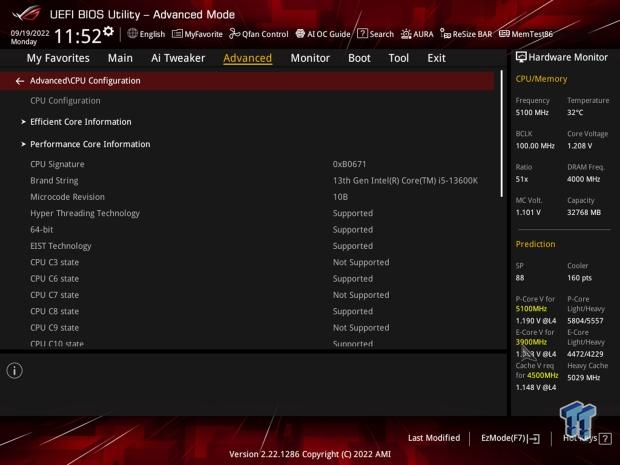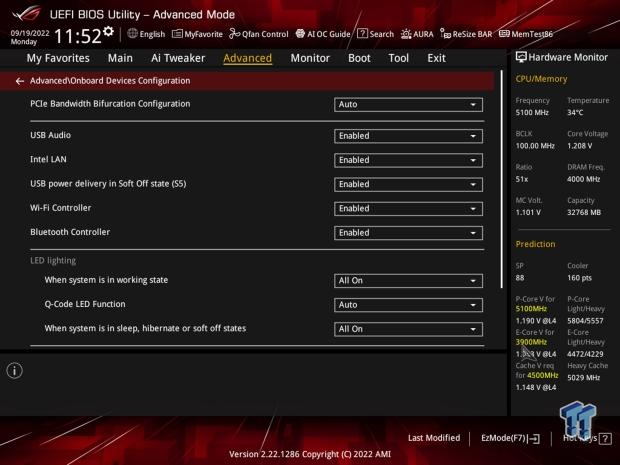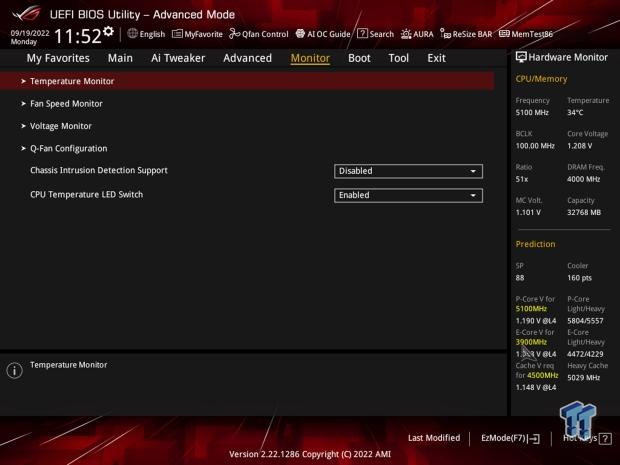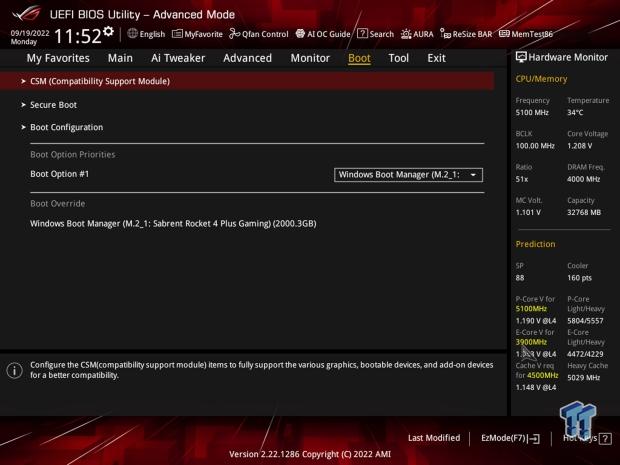 This BIOS should look familiar to anyone who has used a ROG platform in the last few generations, including, as of late, Strix offerings.
Extreme Tweaker includes current CPU and memory clocks at the top, tuning for both below. The advanced menu includes options for SATA storage, PCH, Thunderbolt, and NVMe. CPU config includes the ability to enable/disable cores, including E cores and P cores, separately.
Monitoring is included alongside fan control, while the tool menu allows you to control RGB and Secure Erase storage devices.
Motherboard Testing Supporters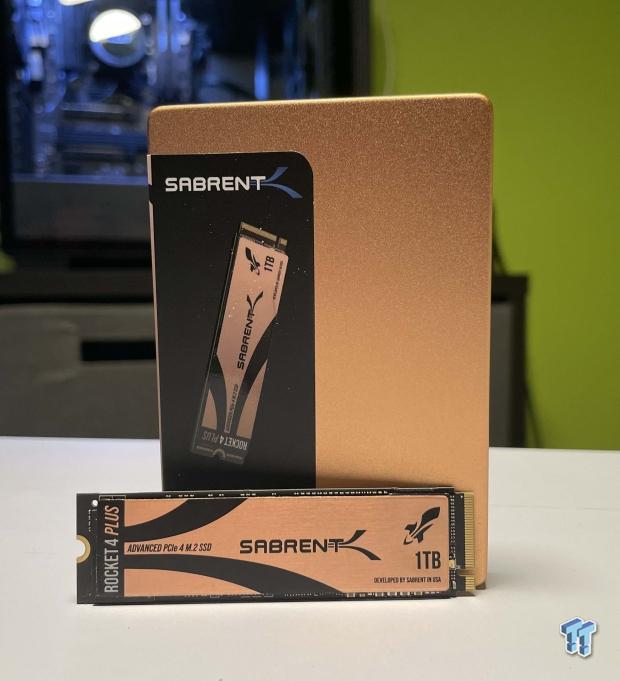 Sabrent supports our storage testing with the Rocket 4 Plus.
TweakTown Intel Motherboard Test System
Cinebench R23, Crossmark and AIDA64
Cinebench R23
Cinebench is a long-standing render benchmark that has been heavily relied upon by both Intel and AMD to highlight their newest platforms during unveils. The benchmark has two tests, a single-core workload utilizing one thread or 1T and a multi-threaded test that uses all threads or nT of a tested CPU.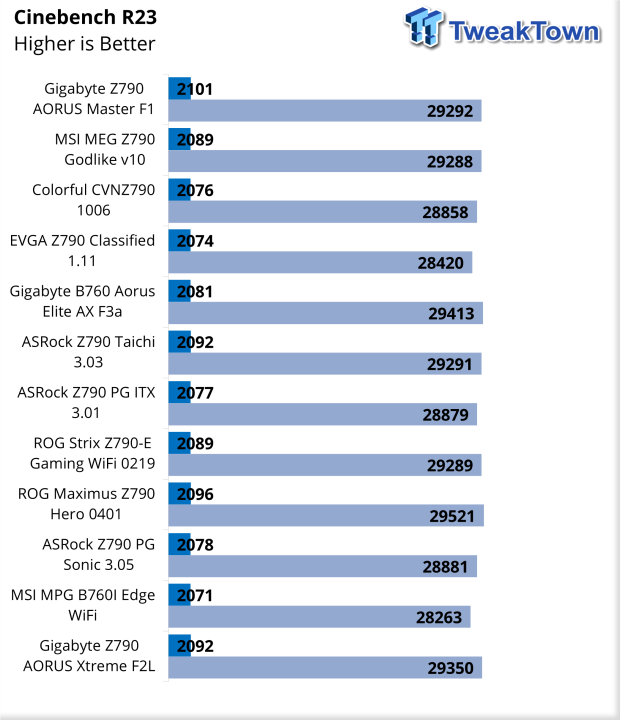 Z790 Strix ran alongside the Z790 Taichi for most of our testing. R23 pulled 2089 single thread and 29289 nT.
CrossMark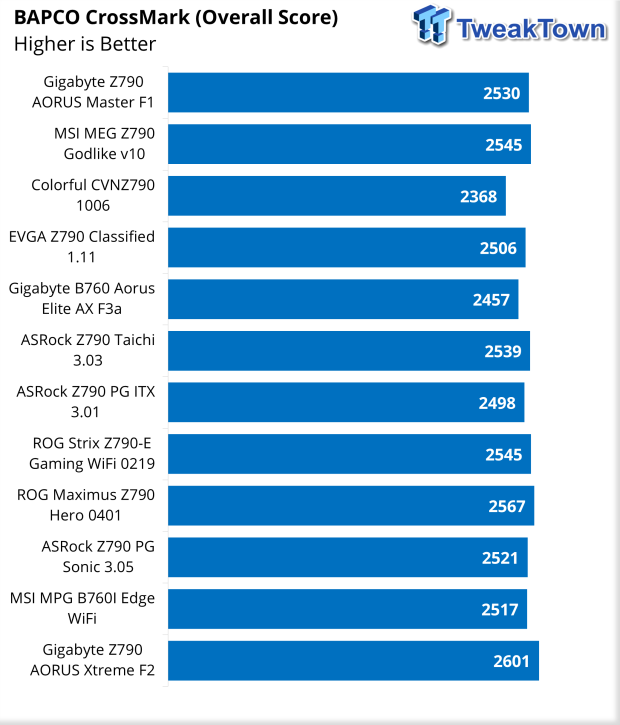 CrossMark gave us an overall score of 2545, a few points under the Hero.
AIDA64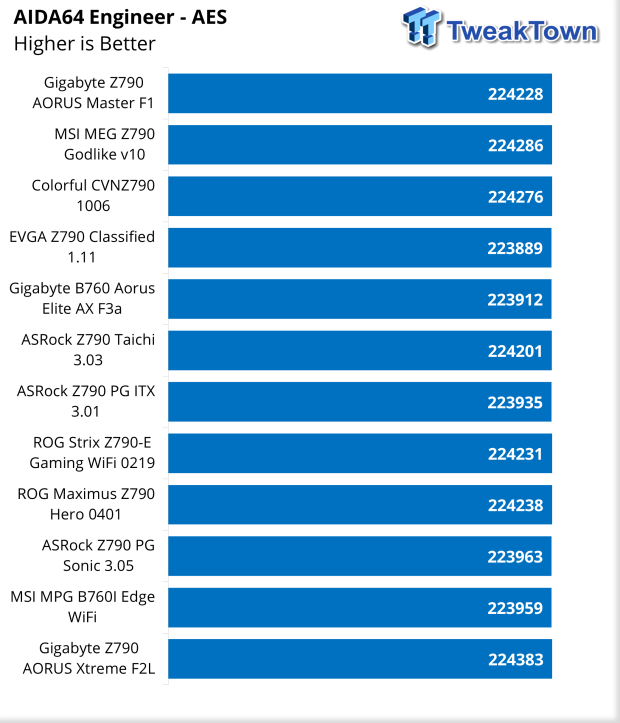 In AES, we picked up 224231.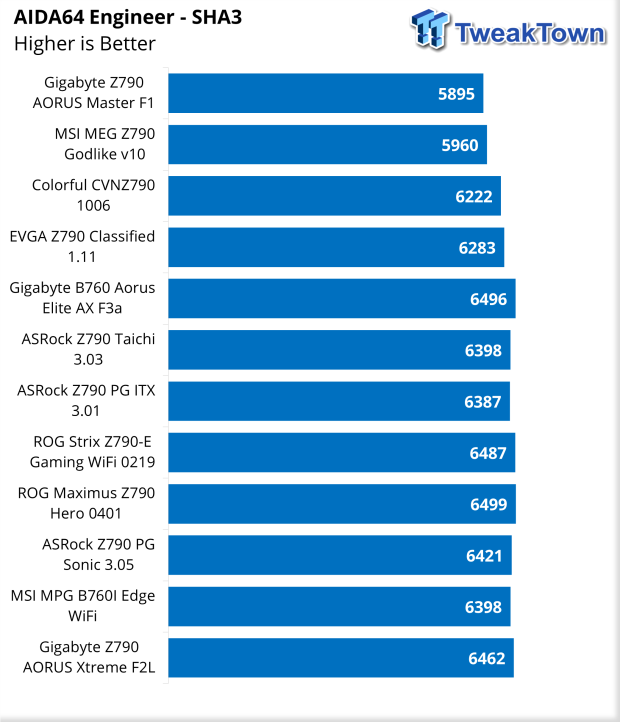 SHA3 tapped in at 6487.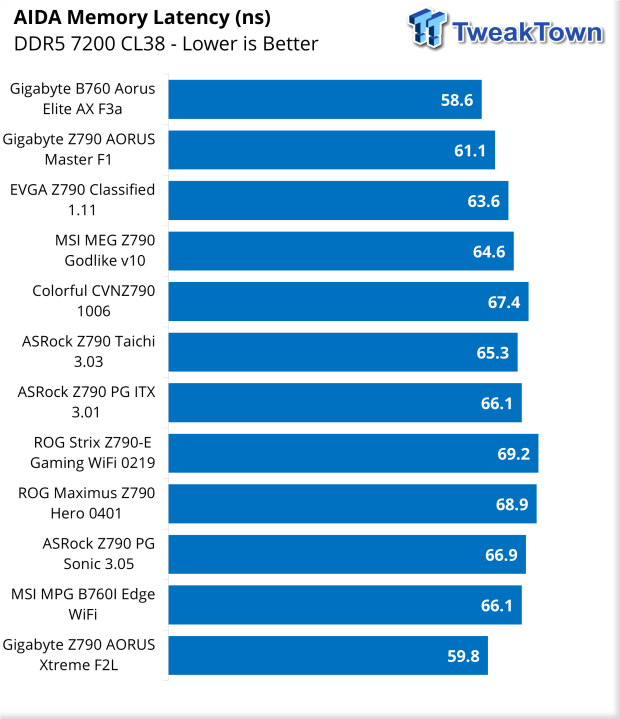 Memory latency landed at 69.2, the highest we have seen among Z790 motherboards.
UL Procyon,3DMark, and CrossMark Benchmarks
UL Procyon Suite
The UL Procyon Office Productivity Benchmark uses Microsoft Office apps to measure PC performance for office productivity work.
The Photo Editing benchmark uses Adobe Lightroom to import, process, and modify a selection of images. In the second part of the test, multiple edits and layer effects are applied to a photograph in Adobe Photoshop.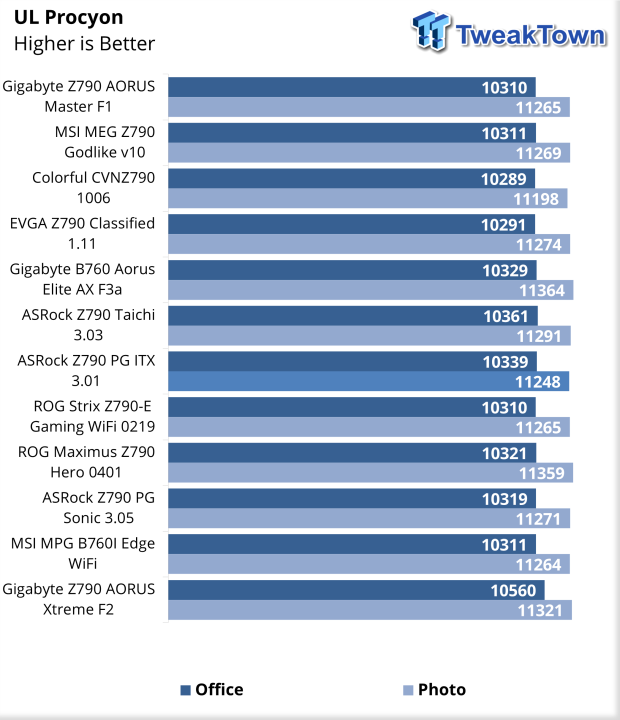 Our Procyon testing took off with Office first - the Strix pulled 10310 in this scenario. Photo proved quite good as well, scoring 11265.
3DMark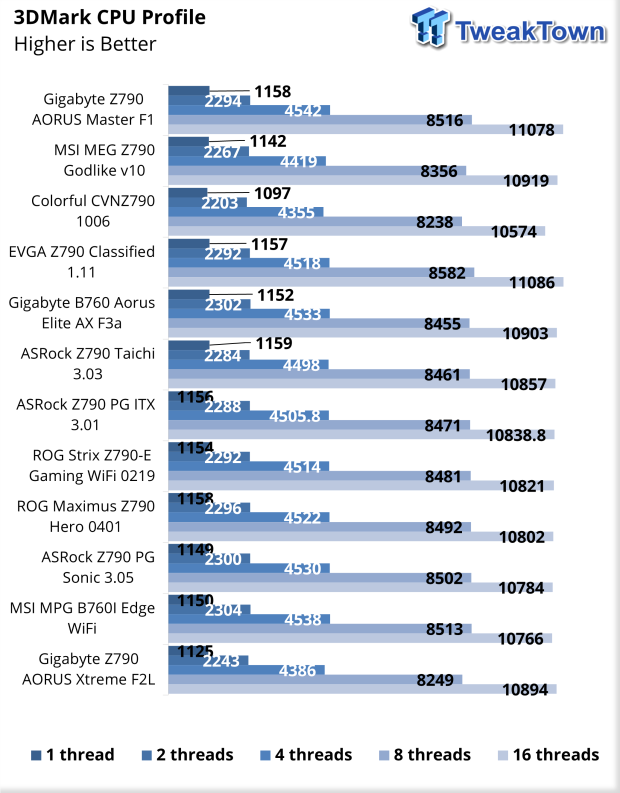 Starting with CPU Profile, we see a score of 1154 from the Z790 Strix. At sixteen threads, we finish up with 10821.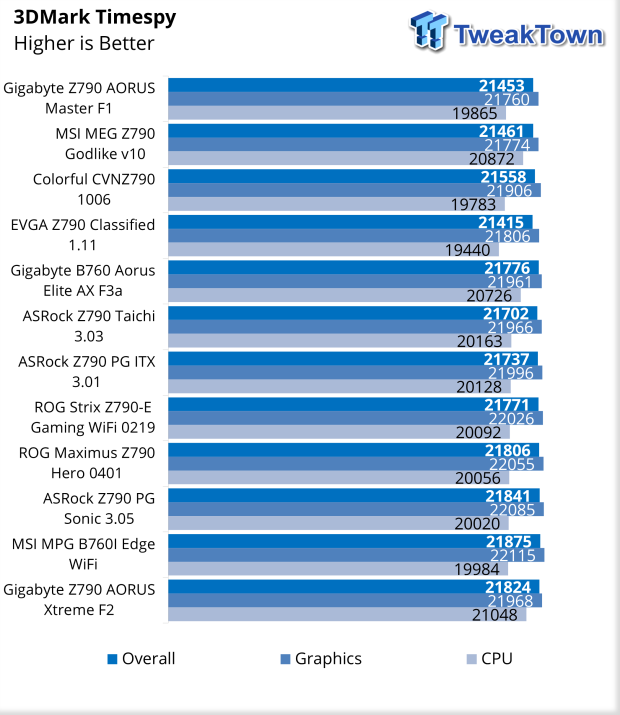 Timespy gave us an overall score of 21771, about 100 points shy of the best we have seen.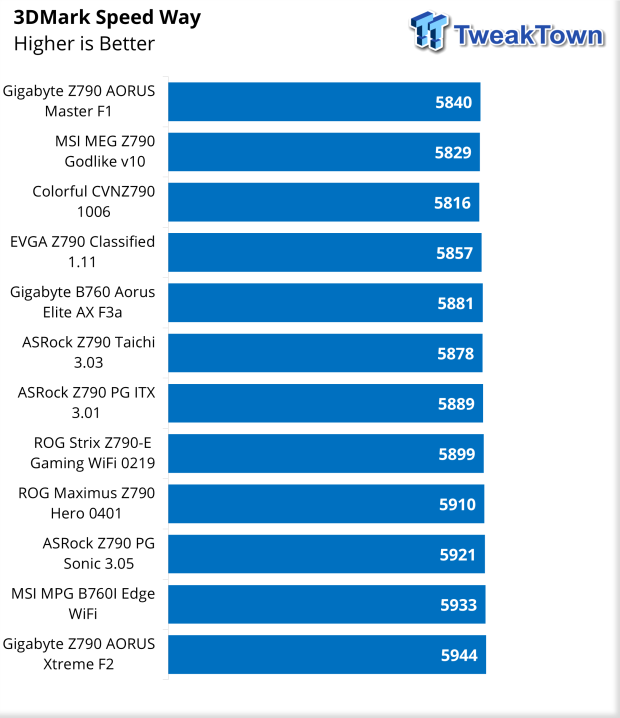 Speed Way gave us an overall score of 5899.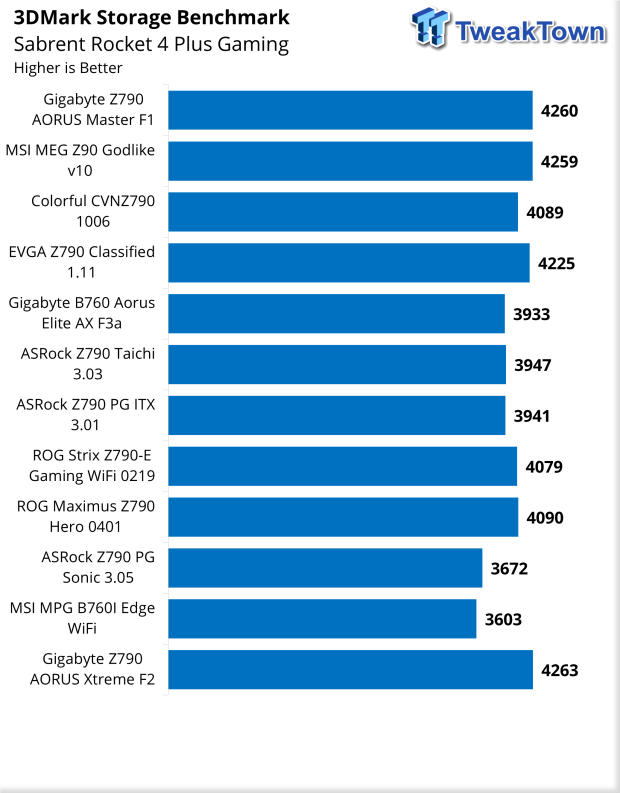 Finishing up our time with 3DMark, the Strix pulled 4079 from our Storage Benchmark.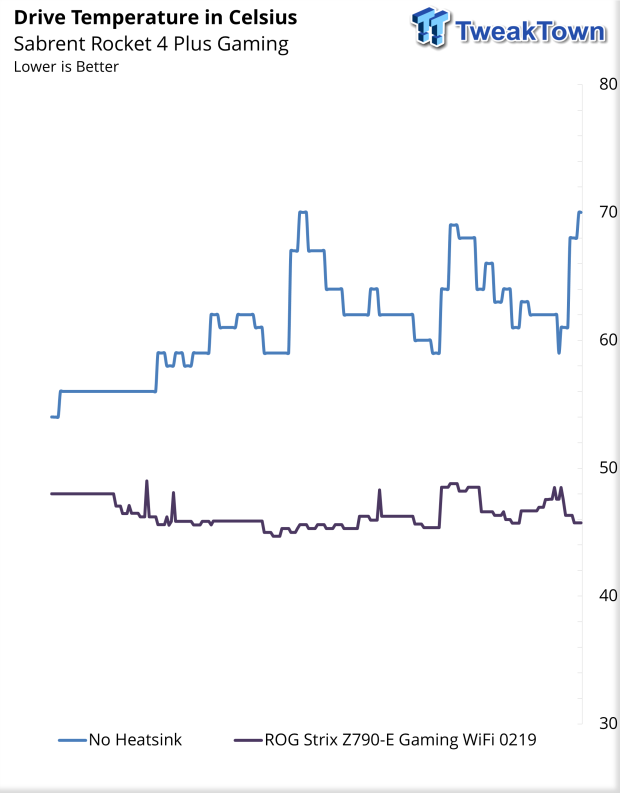 We monitor the drive temperature during the 3DMark Storage Benchmark to see how well the integrated heatsinks are moving into the future. In this scenario, the Strix held at 45c for a large part of the test, peaking at 48c on several occasions.
Gaming Benchmarks and Final Thoughts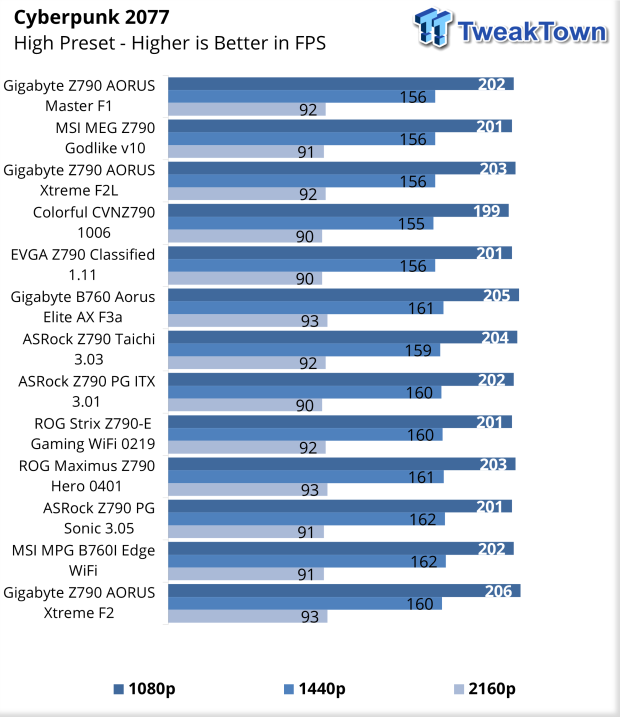 For gaming, we default to our Cyberpunk 2077 benchmark, testing 1080p, 1440p, and 4K. The Strix pulled fantastic results from this test, grabbing 201 FPS at 1080p, 160 FPS at 1440p, and 92 FPS at 4K.
Final Thoughts
The increased cost of a mid to top-tier motherboard has slowed plans for many looking to build on LGA1700 and even more so on AM5. Stretching out the catalog of options, ASUS has placed the Strix E and even Strix F in a fantastic position as lower-cost options compared to Maximus Hero and Extreme.
Testing this board, we had solid returns with a top three result in Cinebench R23 and CrossMark, a top five result in UL Procyon, and a quick peak at 3DMark showed this board on par or better than the Maximus Hero in Time Spy, Speed Way, and CPU Profile.
The integrated m.2 heatsinks did quite well with our Rocket 4 Plus, with peak temperature at 48c scoring 4079 in Storage Benchmark, a top-five result for this motherboard.
Connectivity on this board is fantastic, missing Thunderbolt 4 when compared to more expensive boards, but it does offer the option to use an AIC with the header found along the bottom of the board. Further, we have WiFi6e, 2.5Gbe LAN, and plenty of USB 3.2 for necessary peripherals. Overall, very similar specifications to the Maximus Hero, but $200 cheaper for your wallet.
The pricing mentioned previously is in the sweet spot for many wanting to build their own system. At $499.99, this motherboard is packed with connectivity and expansion. Still, it has some solid competition, with the number one being the AORUS Master, one of the best motherboards we have tested this generation, strategically placed by GIGABYTE in the $450-$500 price point.