TweakTown's Rating: 97%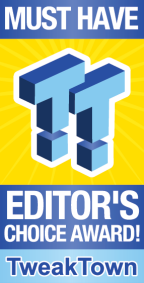 The Bottom Line
The fastest and best performing 1TB flash-based SSD we've ever tested.
Pros
+

Throughput

+

Gaming

+

User experience

+

Price
Cons
Should you buy it?
Avoid
Consider
Shortlist
Buy
Introduction & Drive Details
The first retail 2TB Gen5 SSD we ever tested came to us from SSTC. The 2TB SSTC Tiger Shark lit up our charts, instantly becoming the fastest and simultaneously the best-performing retail flash-based SSD we'd ever had in hand. Following the 2TB Tiger Shark, we've done a whole string of Gen5 reviews, but those have all had one thing in common, they have all been 2TB models.
SSD retailers that have jumped on the Gen5 bandwagon so far have wanted to put their best foot forward, so to speak, which is why, until now, every Gen5 SSD we've gotten in for review has been a 2TB model, because technically they are faster than the 1TB model. But do the 2TB models really outperform by a significant margin the 1TB model in terms of performance that matters or user experience?
This is the question we've wanted to be answered for several reasons, but primarily because of the price premium that has to be paid if you want that next-gen level of performance. As it stands at this moment in time, 2TB Gen5 SSDs are selling for around $290-$300, making them the most expensive per gigabyte flash-based consumer SSDs on the market. However, the $160-$170 1TB models, as we have in hand today, are considerably cheaper, not in terms of price per gigabyte, but in terms of an entry point for Gen5 goodness.
To this point, all PCIe Gen 5 SSDs are essentially the same, being that they are all Phison E26 controlled and arrayed with Micron B58R 232-Layer TLC flash. Variances between retail offerings so far have been limited to aesthetics and cooling apparatus or lack of included apparatus. SSTC, in a similar fashion to Corsair, has elected to forgo including a heatsink, instead leaving it up to the user to provide adequate cooling, which is mandatory for these next-gen SSDs.
SSTC does, however, provide some highly effective thermal pads and even a bit of thermal paste with its Gen5 SSDs. We put ours to the test by using the provided thermal pads on our passively cooled X670E AORUS Master's Gen5 M.2 slot with spectacular results. We just simply placed SSTC's thermal pads on top of the thermal pads that are in place already on the AORUS Master's substantially sized integrated M.2 heatsink and were rewarded with 10c cooler temps than without. We never saw temps above 59c, when previously we did not go above 69c.
Okay, now that we've established why we are excited to get our hands-on a 1TB Gen5 SSD and, more importantly, dispelled the notion that these SSDs are hard to keep adequately cooled, let's see first hand if you are giving up much, if any, in the way of real-world performance by taking currently the lowest cost option for Gen5 entry.
Drive Details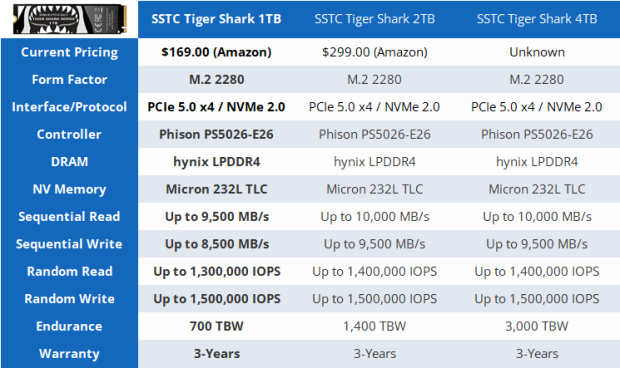 In addition to what is spec'd above and worthy of mention here is the fact that all E26 controlled SSDs come with Phison's exclusive I/O+ DirectStorage optimized technology baked right in. Gamers take note because this matters if you are into future-proofing.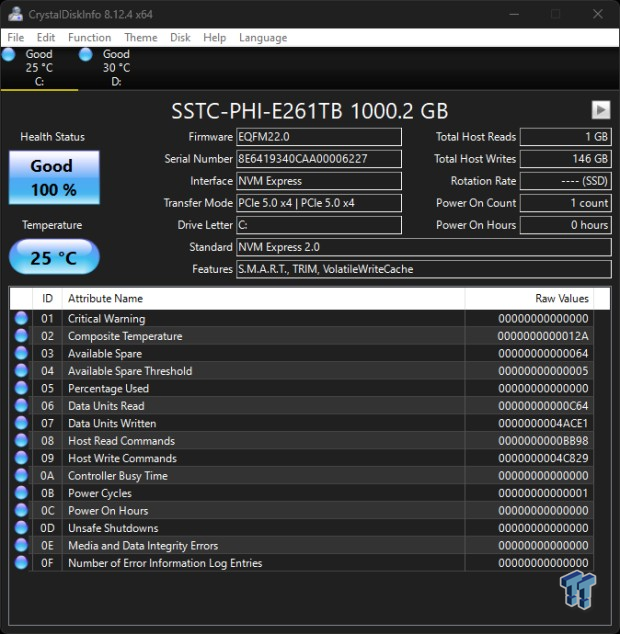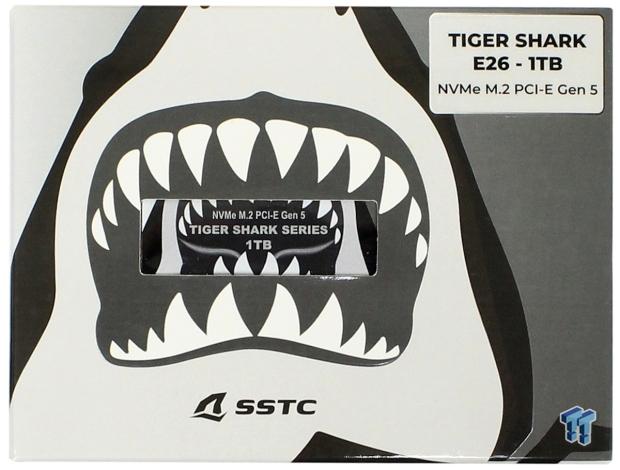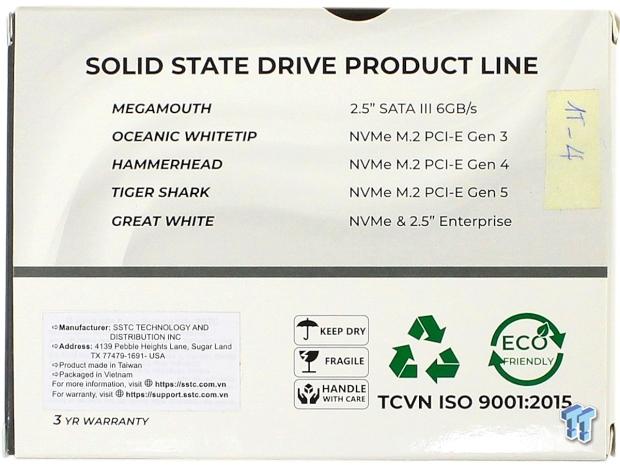 Jon's Test System Specifications
Intel Test System
AMD Test System
Because we at TweakTown like to be first at everything whenever we can, we will present our storage performance results for the test subject on both 13th Gen Intel and 7000 Series AMD platforms going forward for the foreseeable future. Because Intel still delivers the best real-world storage performance, (Look Here), our running chart will continue to be Intel-based until AMD can deliver better real-world storage performance than its rival.
Synthetic Benchmarks: CDM, Anvil, ATTO
CrystalDiskMark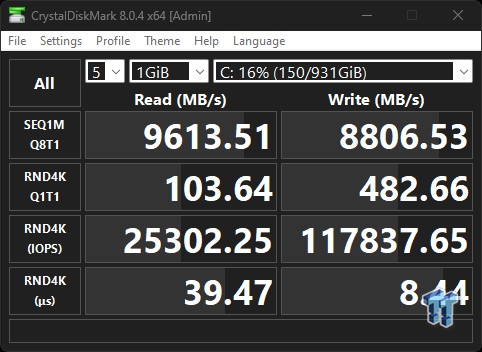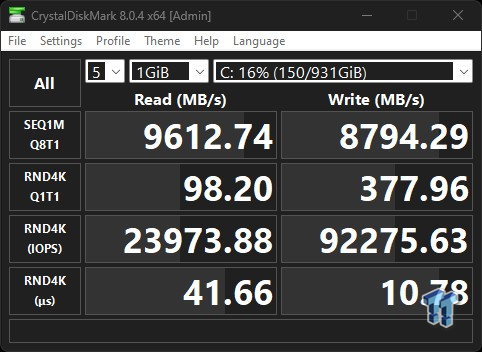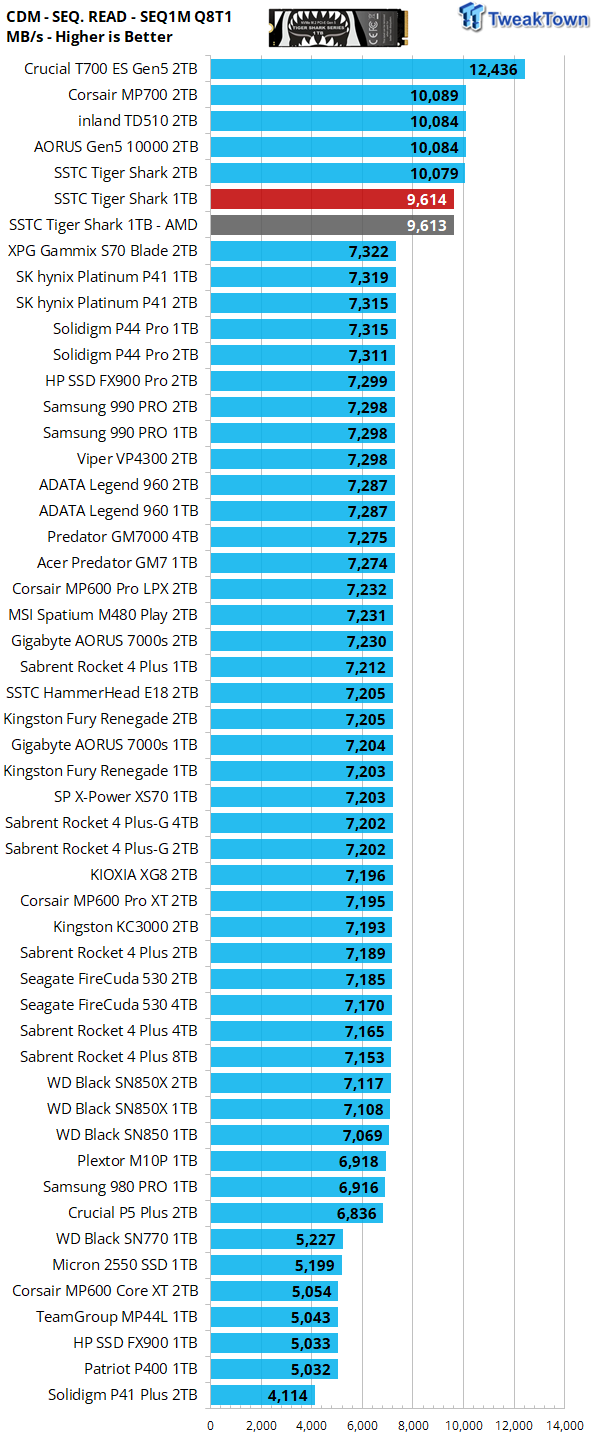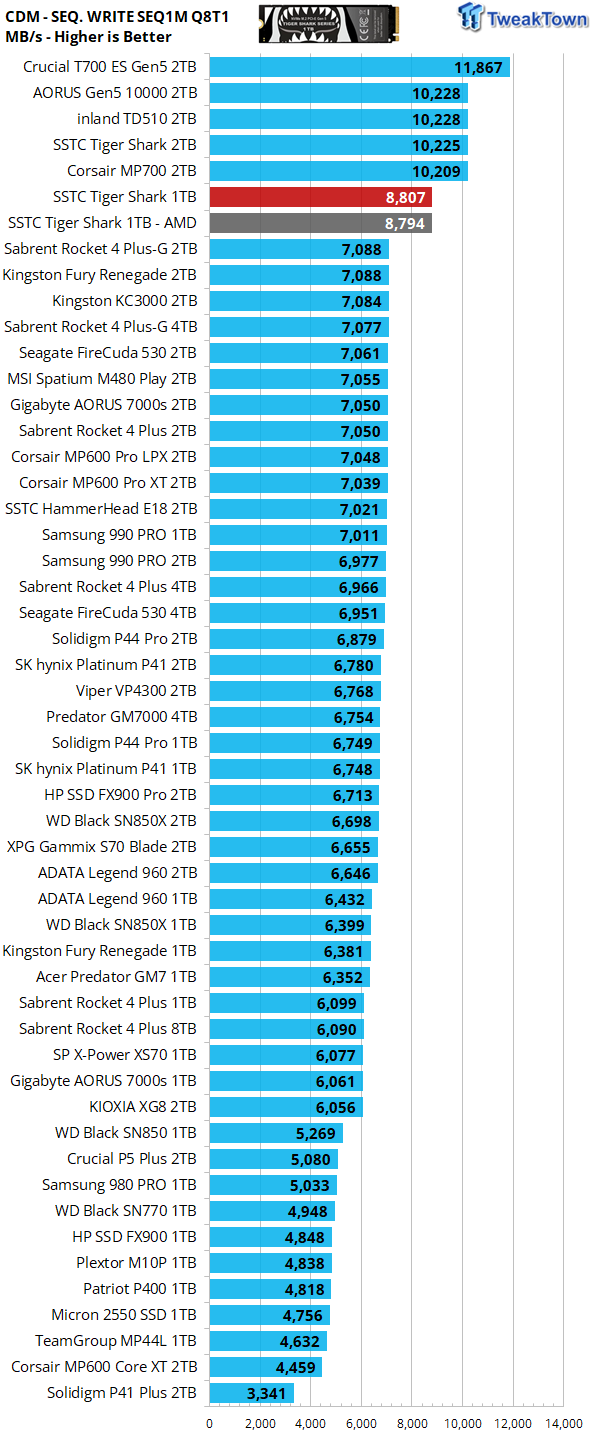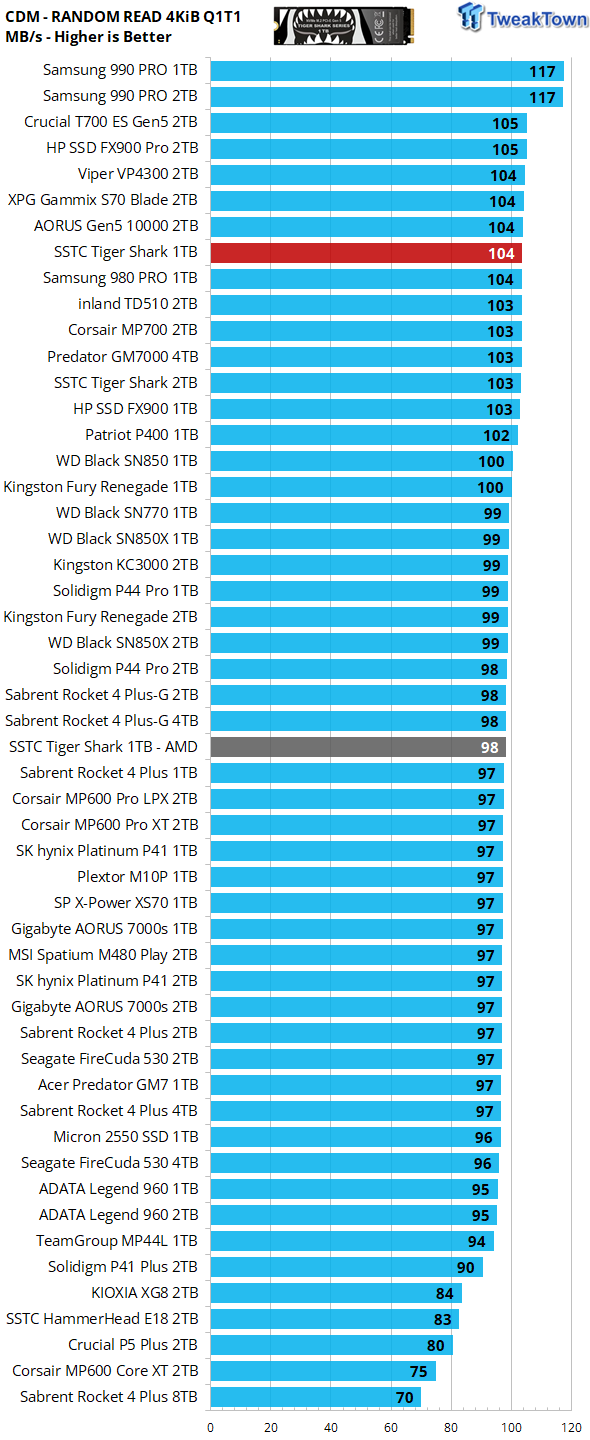 We employ CDM as our standard measurement for both sequential throughput and Q1T1 random read. In terms of sequential throughput, or performance that doesn't actually matter, we find the similarly configured 2TB models, the 10,000 MB/s class, do appear to be significantly faster, especially on the write side of things. However, looking at the number that typically matters most in terms of real-world performance, 4K QD1 random read, we find our 1TB contender dishing out as much or more than we've seen from any SSD arrayed with 1,600MT B58R flash.
Anvil's Storage Utilities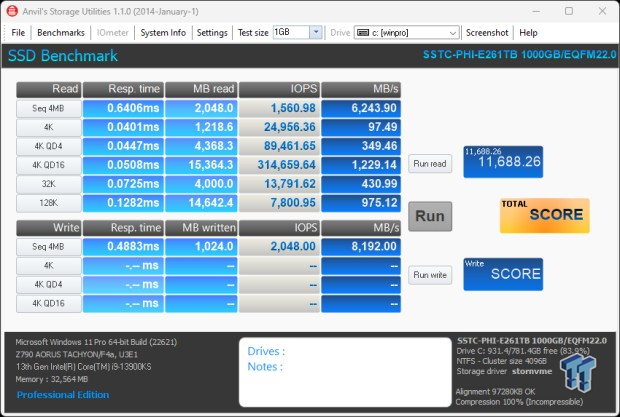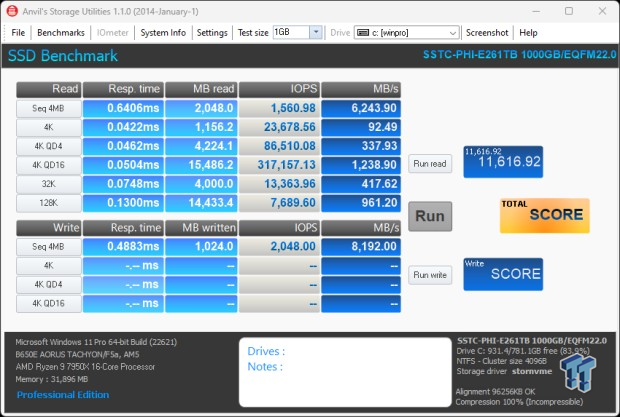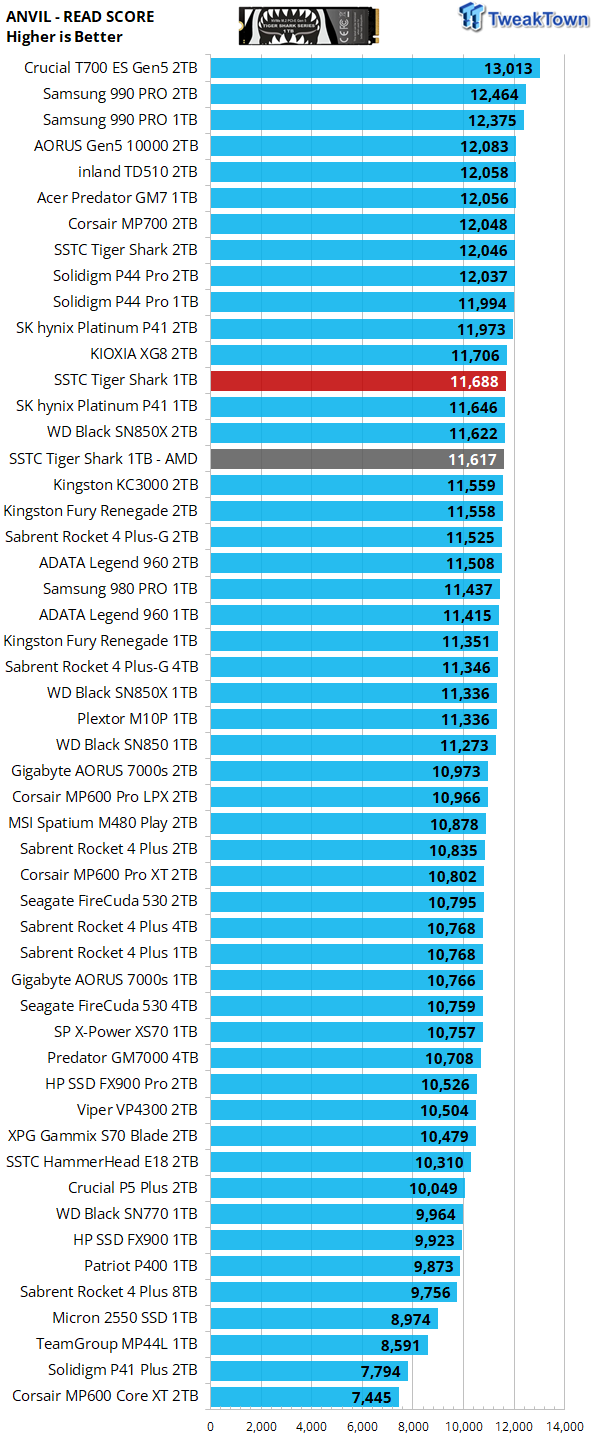 Here we are seeing about a 3% difference in scoring, with the advantage going to the 2TB models. Do keep in mind that this is all synthetic and may not have much, if any, bearing on what we can expect in terms of real-world performance.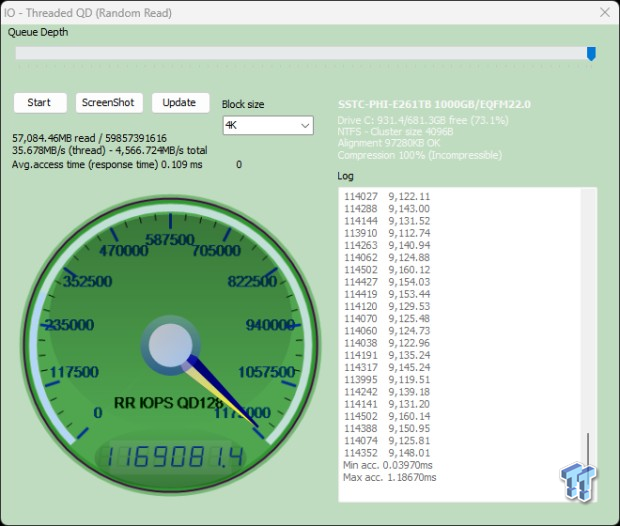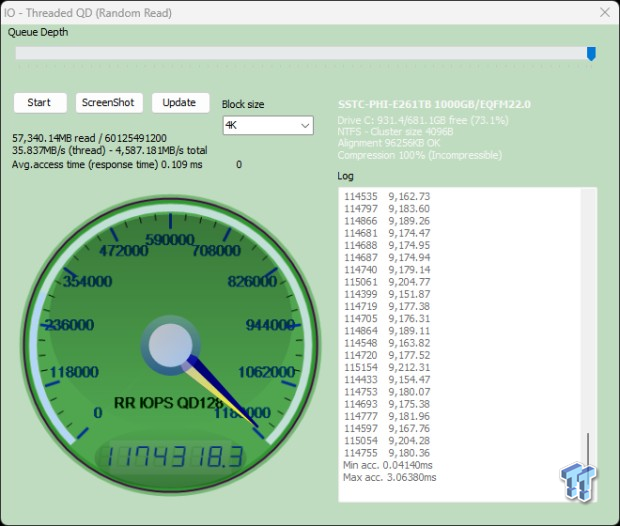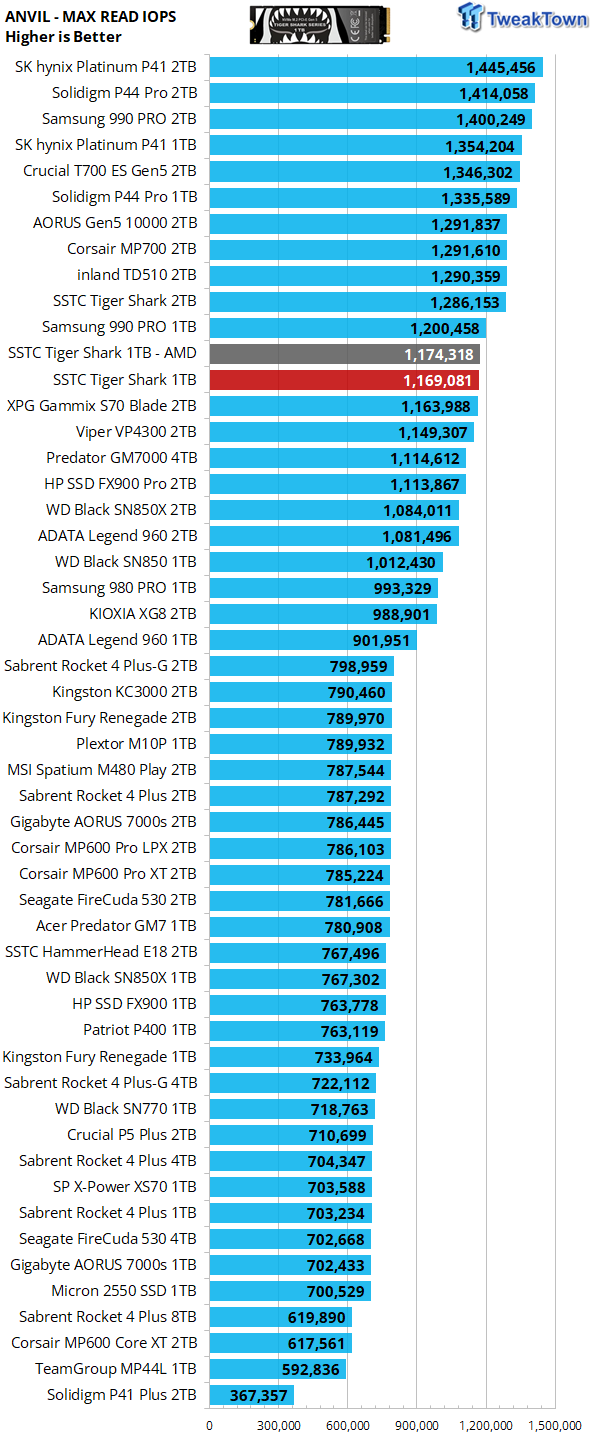 We employ Anvil's random read test as our standard for measuring max random read IOPS. This test is very accurate as it at its core is Iometer skinned over. We test at QD128. Here we find the 2TB model having about a 7% advantage over our 1TB contender. However, do keep in mind that this is at a queue depth that a consumer SSD likely will never see.
ATTO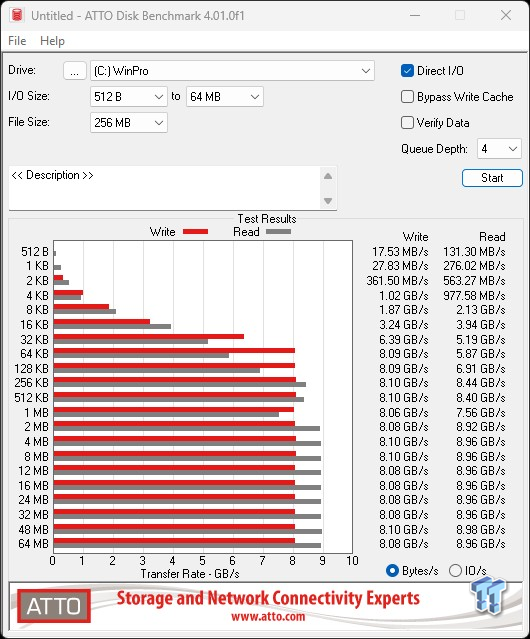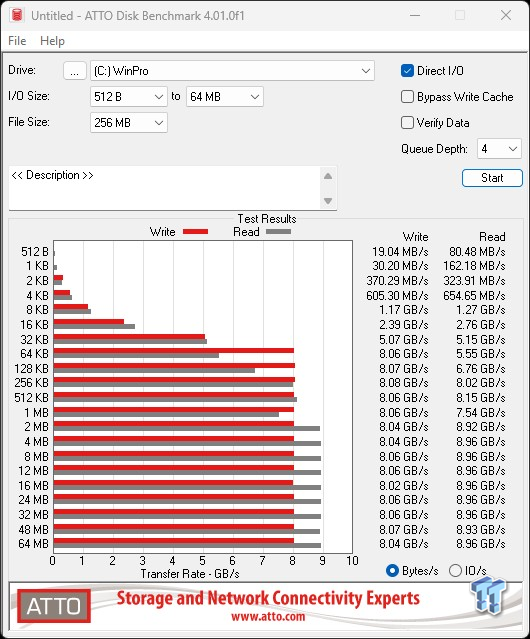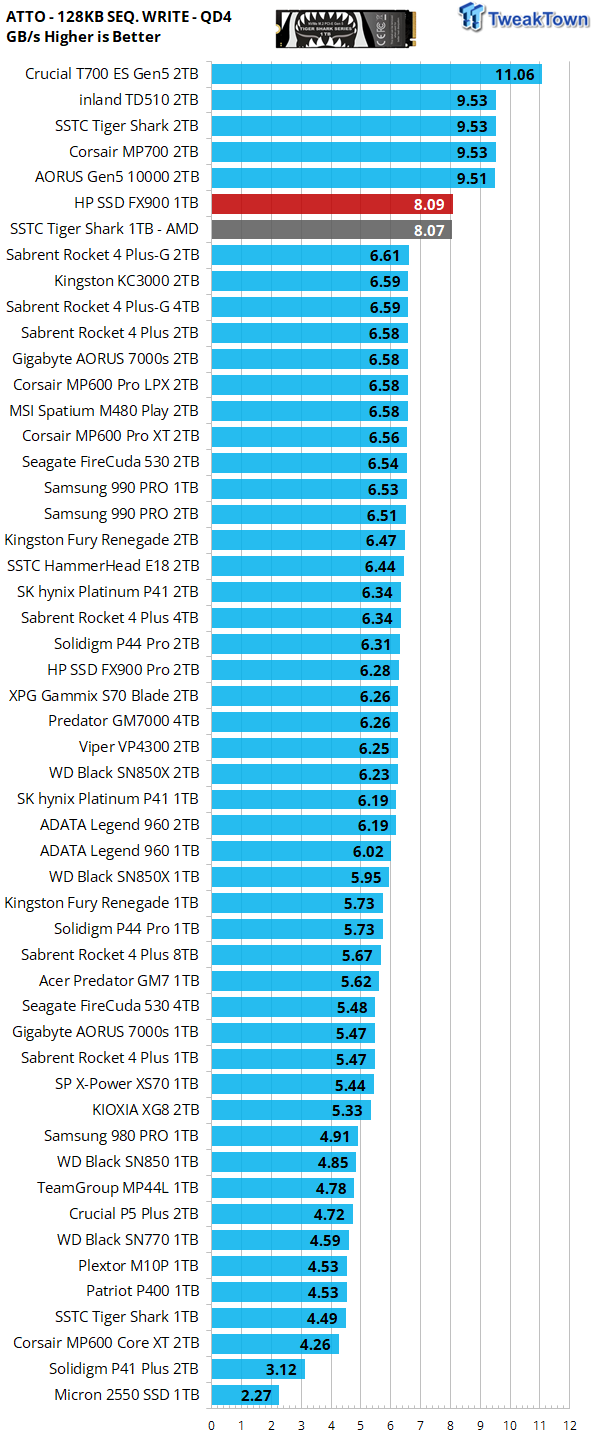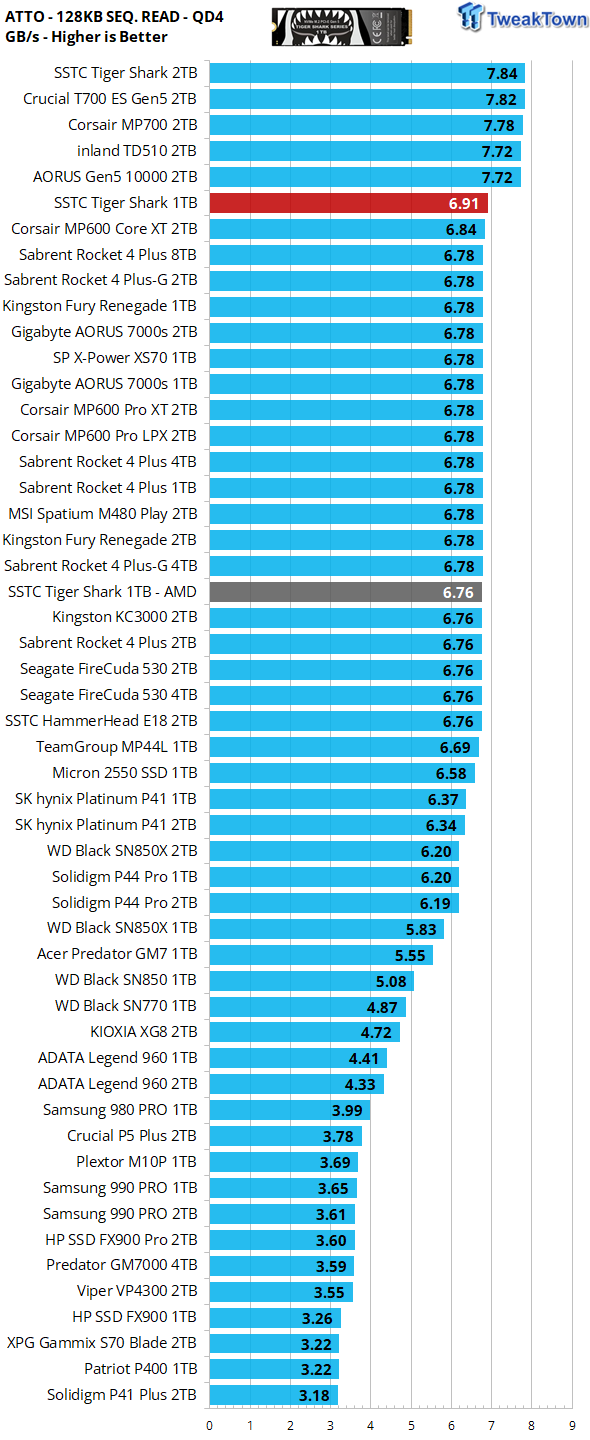 ATTO gives us a clear picture of what transfer sizes a particular SSD favors in terms of sequential throughput. We chart 128K transfers. Our test subject favors sequential transfers of 2MB or larger when serving data to the host (reading) and 64K or larger when programming (writing) data.
Real-World Testing: Transfers, 3DMark SSD Gaming Test, PCM10 Storage
Transfer Rates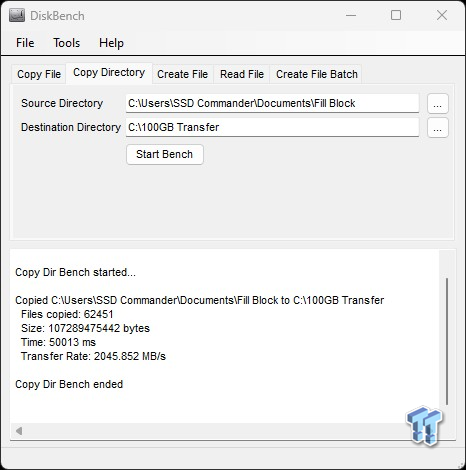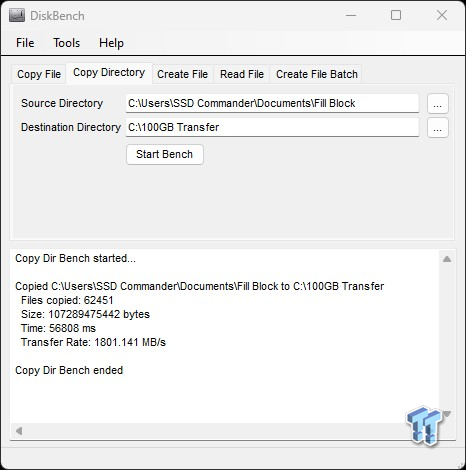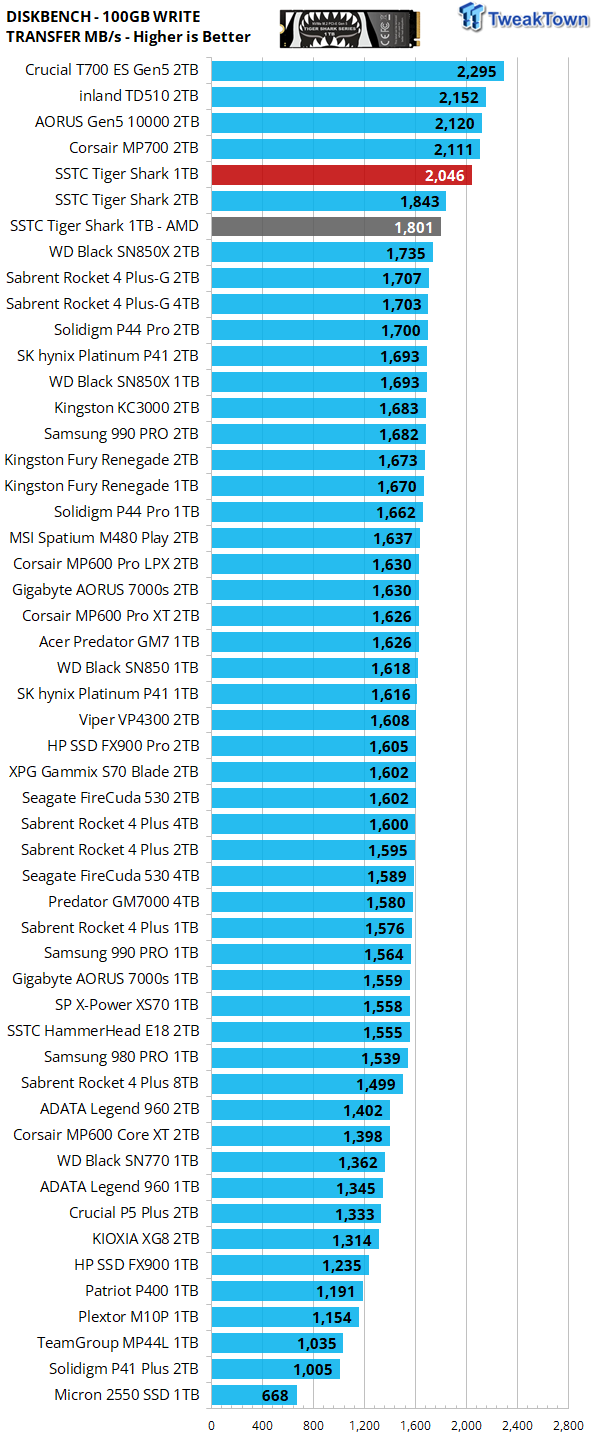 Our 100GB data transfer test is not your ordinary 100GB of data. Ours is a crushing mix composed of more than 62K files. Write performance random or sequential, is an infrequent operation, and as such, we do not consider it to be an important performance metric in the consumer space. An example being how many times is a game installed vs. how many times it's played. Intel has the advantage when writing large blocks of data.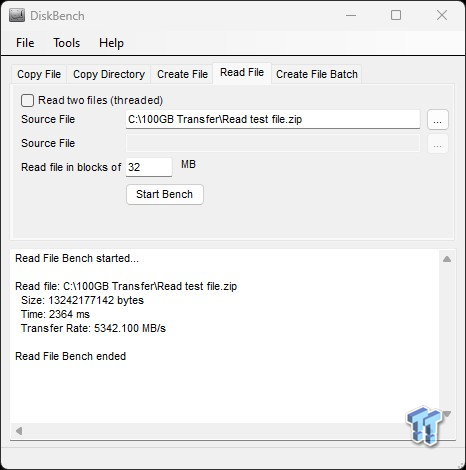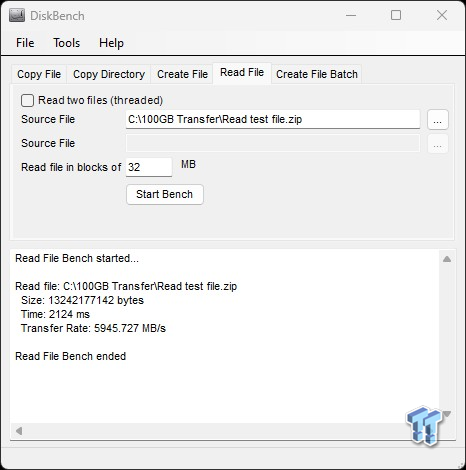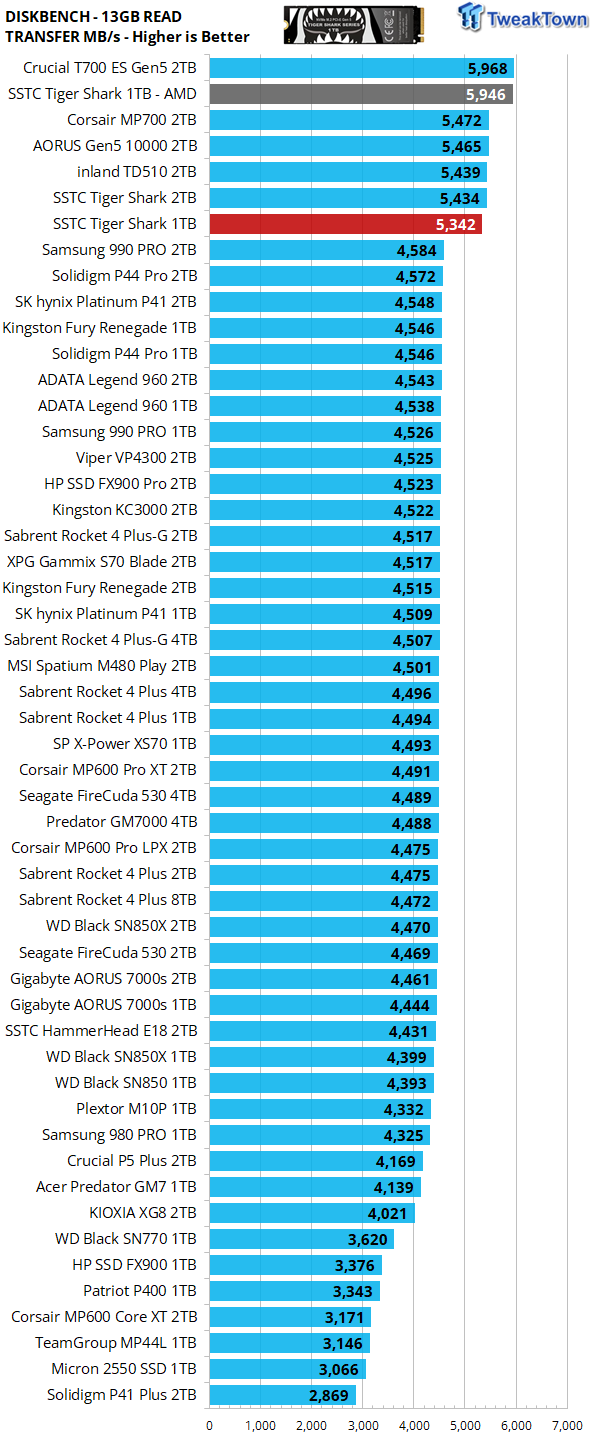 Unlike programming (writing) data, serving data to the host (reading) data is always an important performance metric as it relates to the consumer space. AMD has the advantage here because the transfer is relatively sequential in nature.
3DMark SSD Gaming Test
UL's newest 3DMark SSD Gaming Test is the most comprehensive SSD gaming test ever devised. We consider it superior to testing against games themselves because, as a trace, it is much more consistent than variations that will occur between runs on the actual game itself. This test is the same as running the actual game, just without the inconsistencies inherent to application testing.
In short, we believe that this is the world's best way to test an SSDs gaming prowess and accurately compare it against competing SSDs. The 3DMark SSD Gaming Test measures and scores the following:
Loading Battlefield V from launch to the main menu.

Loading Call of Duty Black Ops 4 from launch to the main menu.

Loading Overwatch from launch to the main menu.

Recording a 1080p gameplay video at 60 FPS with OBS (Open Broadcaster Software) while playing Overwatch.

Installing The Outer Worlds from the Epic Games Launcher.

Saving game progress in The Outer Worlds.

Copying the Steam folder for Counter-Strike Global Offensive from an external SSD to the system drive.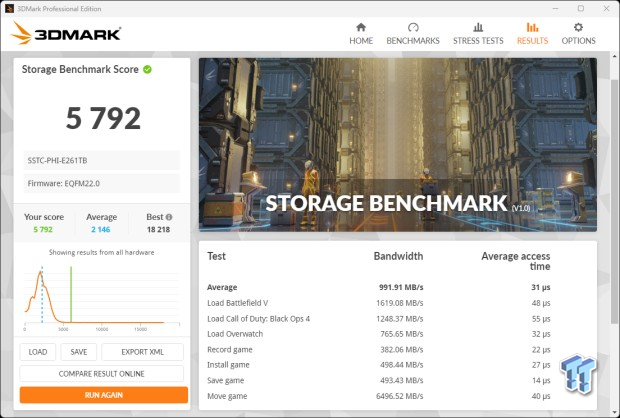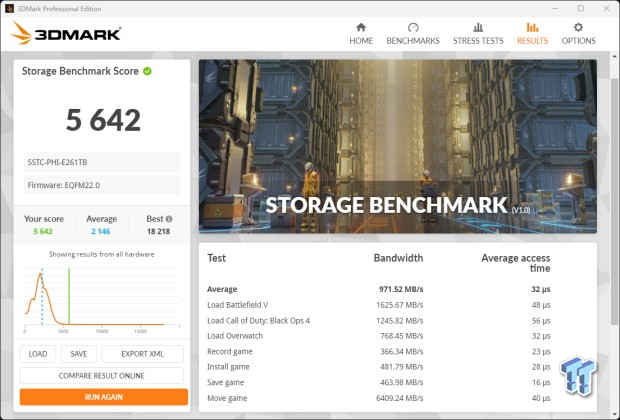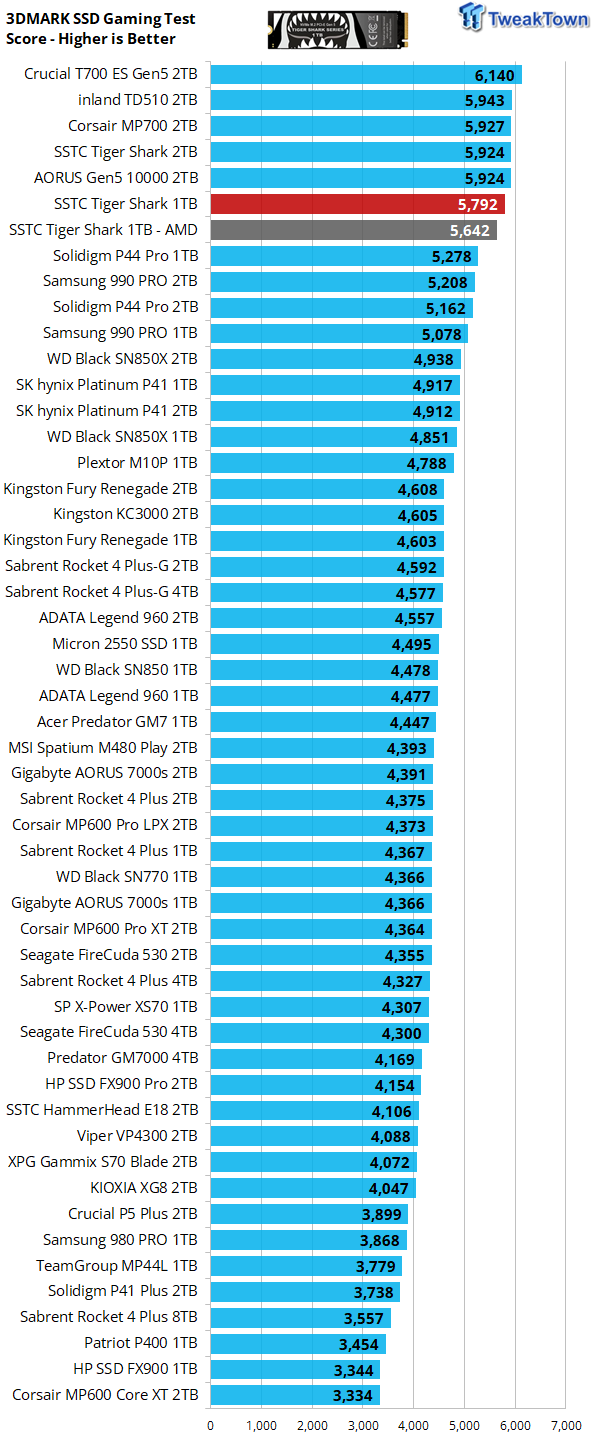 Gaming is a performance metric that matters to the majority of DIY consumers, especially to the enthusiast crowd that TweakTown caters to. Now we've reached the point where results start to matter as they are a direct reflection of user experience. You aren't giving up much as it relates to the overall gaming experience by taking the 1TB option. The 2TB model offers only a 2% advantage over our 1TB contender.
PCM10 Storage Tests
PCMark 10 Storage Test is the most advanced and most accurate real-world consumer storage test ever made. There are four different tests you can choose from; we run two of them.
The Full System Drive Benchmark and the Quick System Drive Benchmark. The Full System Drive Benchmark writes 204 GB of data over the duration of the test. The Quick System Drive Benchmark writes 23 GB of data over the duration of the test. These tests directly correlate with mainstream user experience.
PCMark 10 Full System Drive Benchmark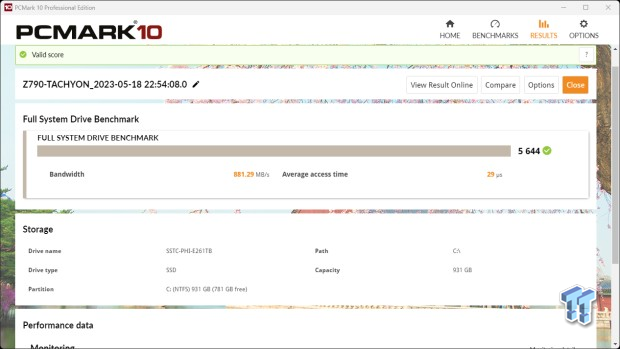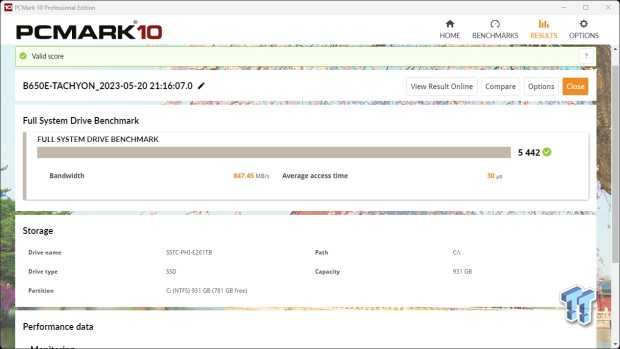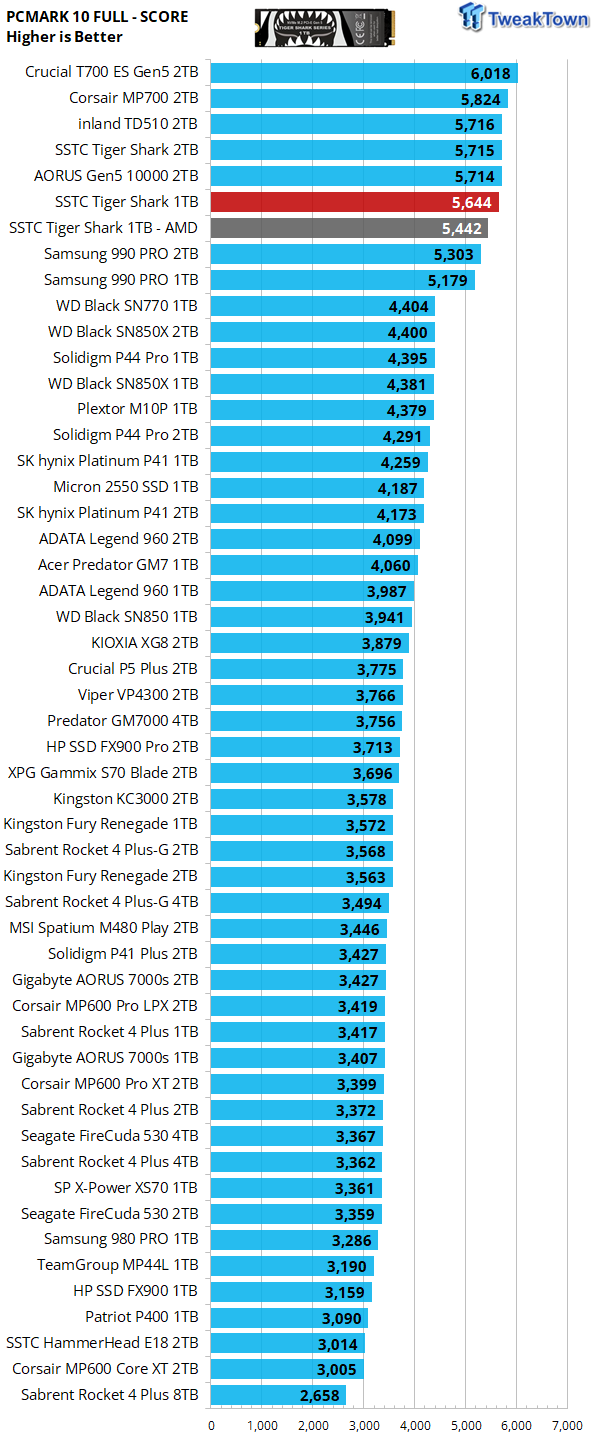 This particular test writes 204GB data and covers a broad range of common consumer tasks, including booting Windows 10, file transfers, Adobe and Office applications, and startup times for games, including Battlefield V, COD Black Ops 4, and Overwatch. Unlike synthetic numbers, this is comprehensive real-world data which is why we use it to rank SSDs in terms of user experience.
In terms of heavy consumer workloads, the 2TB 10,000 MB/s class SSDs only give you 1% more than our 1TB contender.
PCMark 10 Quick System Drive Benchmark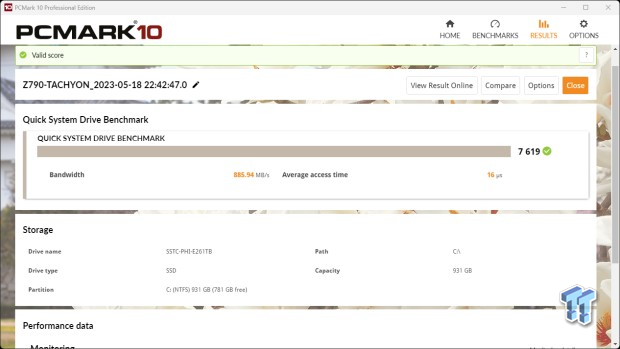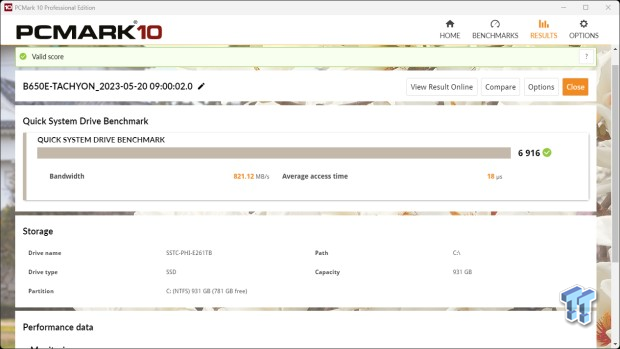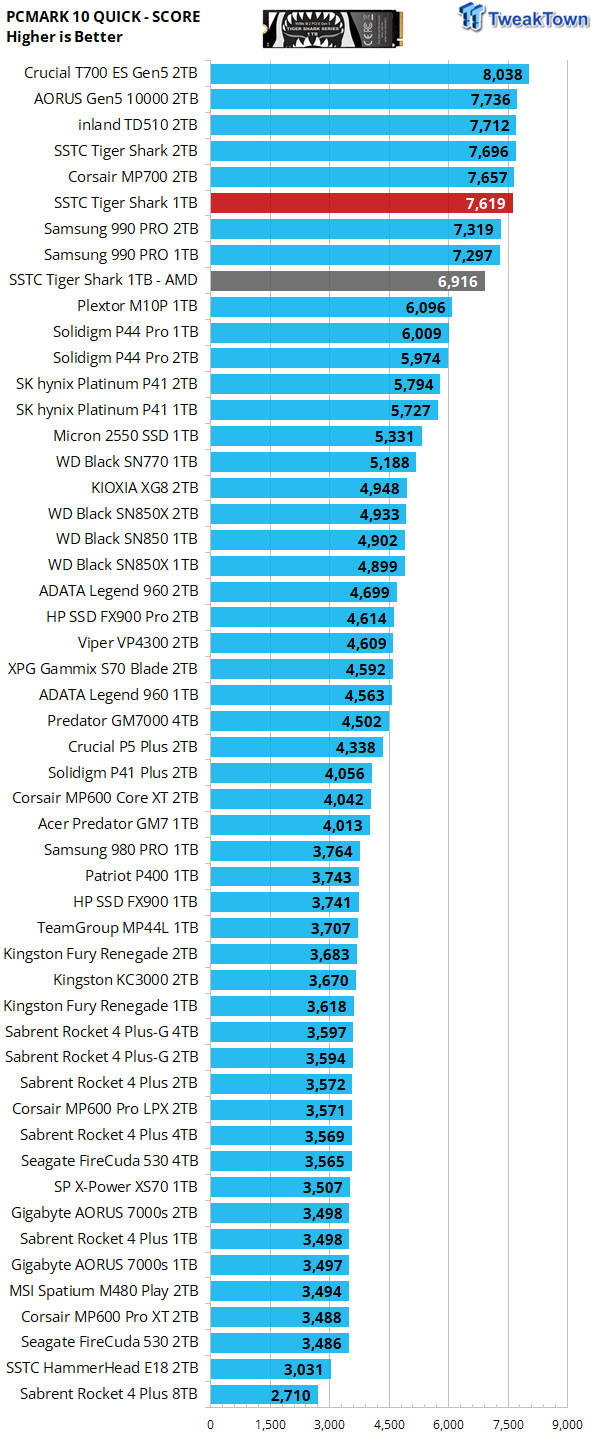 Here again, the advantage of going 2TB instead of 1TB is only 1%.
Final Thoughts
We knew it would be good, but even we are a bit surprised by how good our 1TB contender dishes out performance that matters or user experience. Our 1TB Gen5 speedster, like its 2TB counterparts, clearly demonstrated its performance superiority over all flash-based Gen4 SSDs. What we find surprising is the fact that our 1TB SSTC Tiger Shark is, for all intents and purposes, just as performant as the 2TB model. Impressive.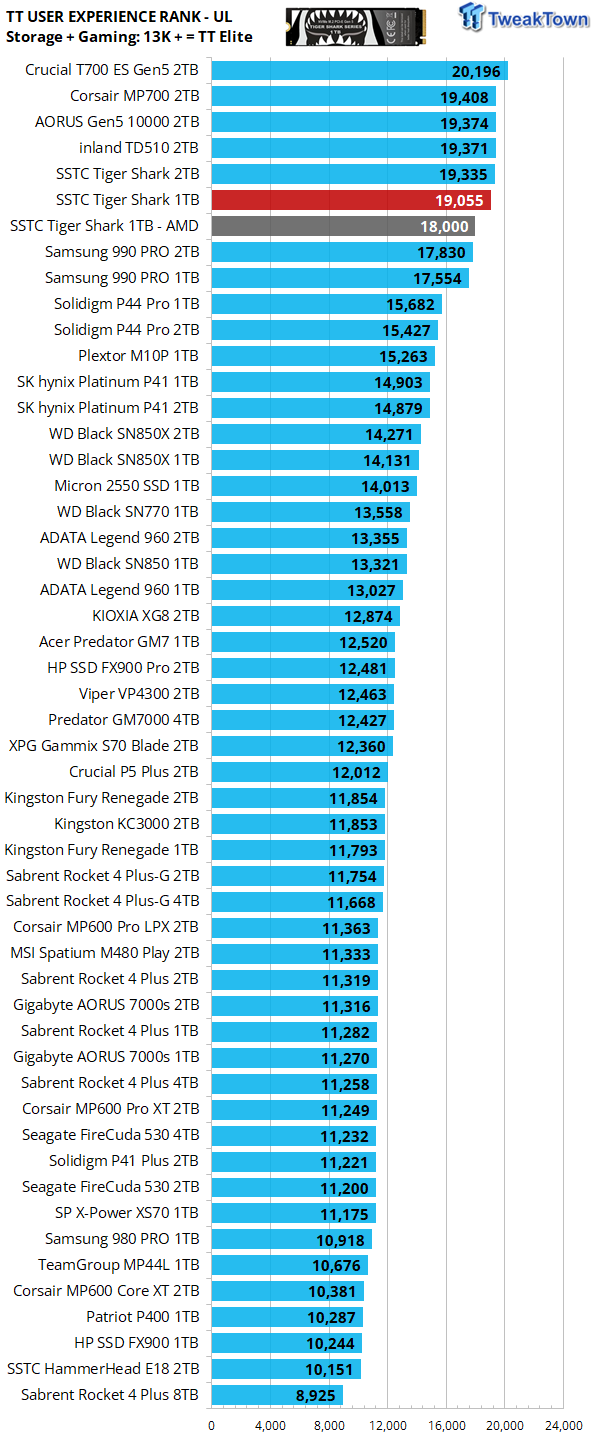 We rank SSDs in terms of overall user experience (performance where it matters most) as expressed by PCMark 10 storage and 3DMark gaming storage tests. We consider a user experience score of 13K or more to verify an SSD as a TweakTown Elite performer. Here is the tale of the tape for the current crop of 10,000 MB/s class SSDs.
The 2TB models, even though on paper, look to be significantly better performing than the 1TB models, they, in reality, are not. At best, you will get an insignificant 1.5% more real-world performance by going 2TB. The good news here is you give up nothing in terms of real performance by taking the cheaper route to Gen5 goodness.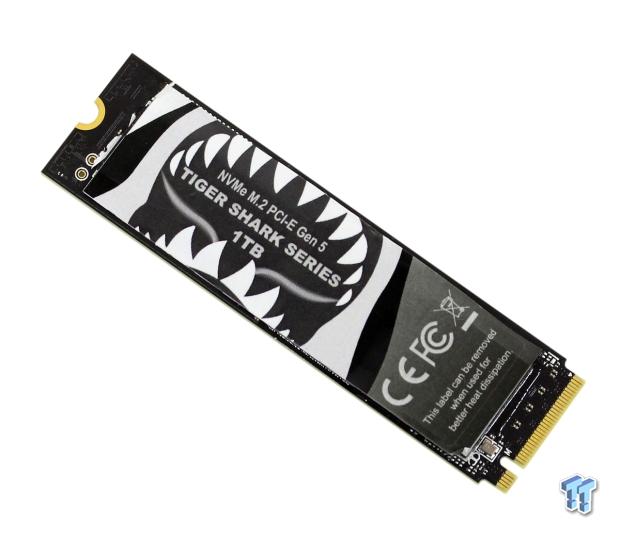 SSTC is a brand that doesn't have a ton of recognition in America yet, but they are a brand on the rise, and it's easy to see why, as per the subject of today's evaluation. We love the fact that they have included premium thermal pads with their Gen5 SSDs. For us, it gave us 10c better temps than otherwise. That's significant, and depending on your motherboard, it could be a better cooling option than the other assorted cooling contraptions we've seen to this point.
Impressive. Editor's choice.