TweakTown's Rating: 88%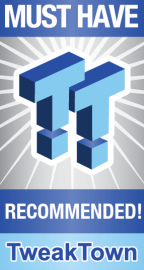 The Bottom Line
As an all-in-one video conferencing solution, it's hard to look past the AVerMEdia Mingle Bar, with its impressive 4K camera that works in multiple lighting conditions - not to mention the wide 124-degree FOV. Great software support and compatibility make it an easy recommend.
Pros
+

4K video with an impressive 124-degree FOV

+

Excellent build quality with versatile mounting and connection options

+

Great software compatibility and official customization tools

+

Works great in several lightings conditions

+

In-built speakers and dual microphones make it an all-in-one solution
Cons
-

The in-built microphone quality is decent, but nothing special

-

Speakers lack bass and mid-range detail (for their size)

-

Requires external power adaptor (no USB-C power option)
Should you buy it?
Avoid
Consider
Shortlist
Buy
Introduction & Specification Details and Close-up
Based on the rise of working from home and things like remote learning and conferencing, there has been a noticeable uptick in the sales of various webcam and USB camera solutions. Applications like Zoom and Microsoft Teams are now a part of everyday office interaction. Still, when we talk about cameras for the 'home office,' we're in the realm of integrated laptop cameras and little USB do-dads that can sit atop most displays.
The next level is web conferencing, which are cameras and integrated systems designed to work across various environments, from office boardrooms to classrooms to lounge rooms. Here the idea is about capturing one or multiple people and showcasing displays, devices, and objects and presenting it all in a way that attempts to bridge the gap between being on a call and being there in person.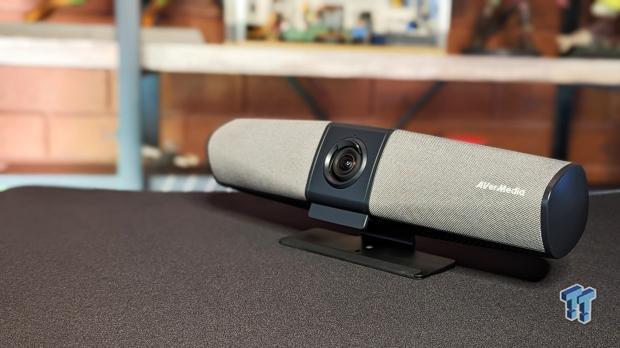 The AVerMedia Mingle Bar falls into this category; it's a sizable unit (compared to a standard webcam) equipped with impressive speakers, a wide-angle 4K camera, an Ethernet port, USB peripheral expansion support, and a jack to connect an external microphone if need be. It's designed to sit on a table, underneath a large display, or on top of a tripod. To make setting up the right shot and angle a straightforward endeavor.
An all-in-one solution perfect for capturing multiple speakers and relaying any info crisply and clearly. Although not designed and marketed as a traditional webcam, it also fits that bill with exceptional results. At the heart of the AVerMedia Mingle Bar is a mix of impressive hardware, intuitive software support, and customization, with some AI magic thrown in for good measure.
Specifications & Close Up
Product Type: Video Conferencing Camera
Platforms: PC (Windows 10 or later), Mac (macOS 10.14 or later), Chrome OS (OS 85.0.4183.131)
Video Resolution: Up to 3840x2160/30fps (4K)
Field of View (degrees): 124 (D), 115 (H), 79 (V)
Image Processing: Auto Framing, Gesture Recognition, 3D Noise Reduction, High Dynamic Range, Auto Lighting Correction, Auto Face Exposure
Microphone: Dual Omnidirectional Microphones
Microphone Pickup Distance: 4 m/13.12 ft.
Speaker: 5W with Bass Enhancement
Audio Processing: AI Noise Reduction, Acoustic Echo Cancellation, Beamforming, Far-field Adaptive, Full Duplex
Interfaces: HDMI (4K), USB-A (3.2 Gen 1), USB-C (3.2 Gen 1), RJ45, Aux port for recommended expansion microphone (optional), LED Indicator, Kensington Security Slot x 2, Power Connector
Dimensions (W x D x H): 295 x 70.4 x 78.7 mm
Weight: 555 grams
What's in the Box: Mingle Bar (PA511D), Quick Start Guide, USB-C to USB-C Cable, Power Adapter (12V/1.5A)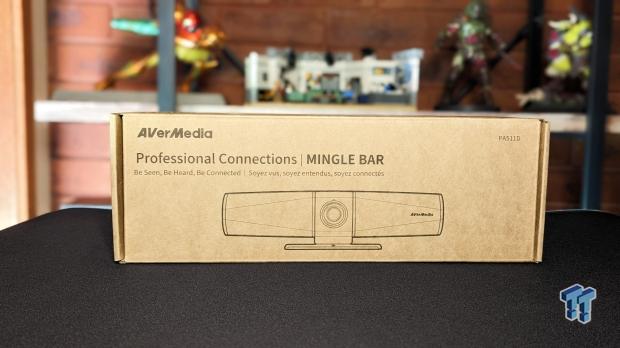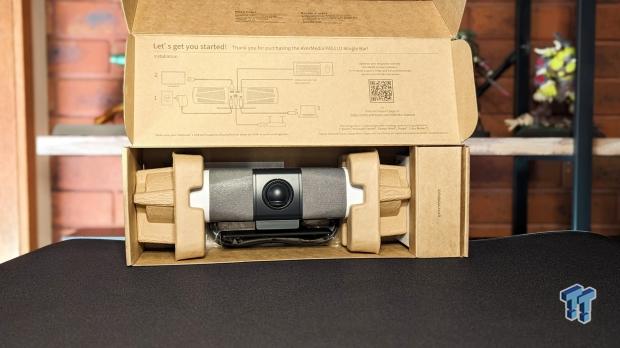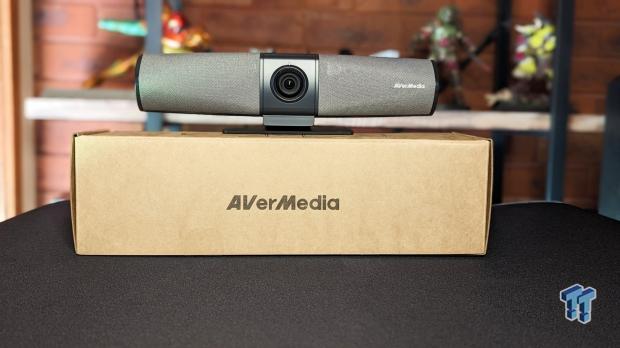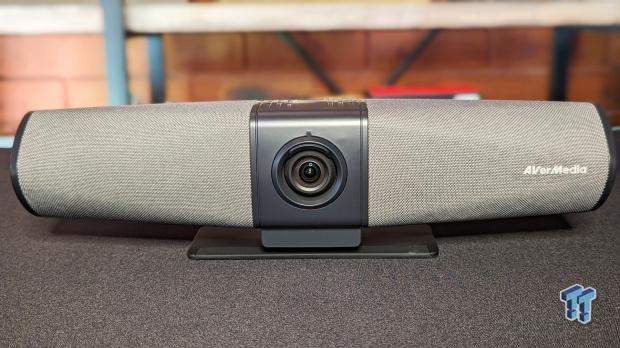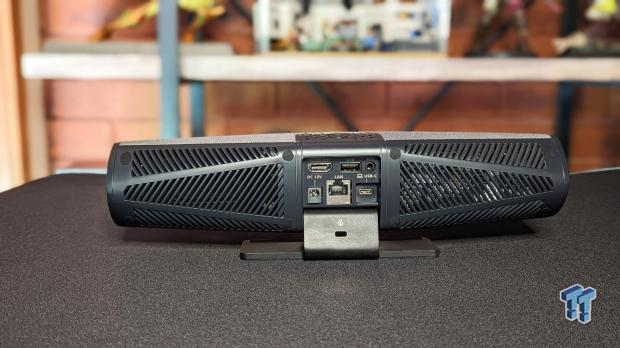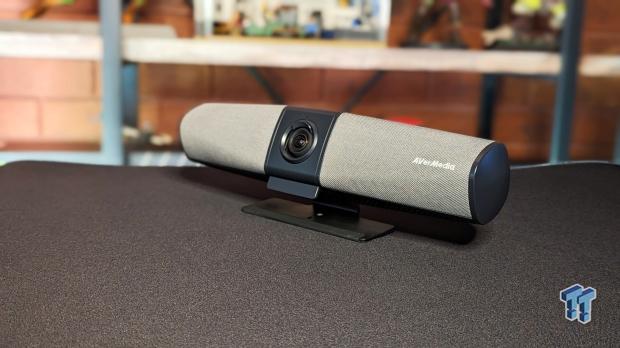 Kosta's Test System Specifications
Motherboard: MSI MPG X670E Carbon Wi-Fi
CPU: AMD Ryzen 9 7900X
GPU: NVIDIA GeForce RTX 4090 Founders Edition
Cooler: Corsair iCUE H100i RGB PRO XT Liquid CPU Cooler
RAM: 64GB (2x32GB) Corsair DOMINATOR PLATINUM RGB DDR5 DRAM 5200MHz
SSD: Kingston FURY Renegade PCIe 4.0 NVMe M.2 SSD 2TB
Power Supply: Thermaltake Toughpower GF1 850W
Case: Thermaltake Core P3 Tempered Glass Snow
OS: Microsoft Windows 11 Pro 64-bit
Design & Software
Design
When it comes to anything video or camera-related, the first specs most are drawn to are the video capabilities in terms of resolution and frame rate. Video quality has much more to it than these two little stats, but it's a good jumping-off point.
The AVerMedia Mingle Bar features an impressive 4K camera in the middle of its wide elongated body capable of recording and broadcasting up to 3840x2160/30fps video with support for a faster frame-rate 1080p and 720p. On the left and right side of the Mingle Bar's camera, you've got 5W speakers that can deliver reasonable volume (enough to fill most rooms) with minor bass enhancement, though it's mainly for voices. That said, we did run some music through them, and the results weren't excellent but still serviceable.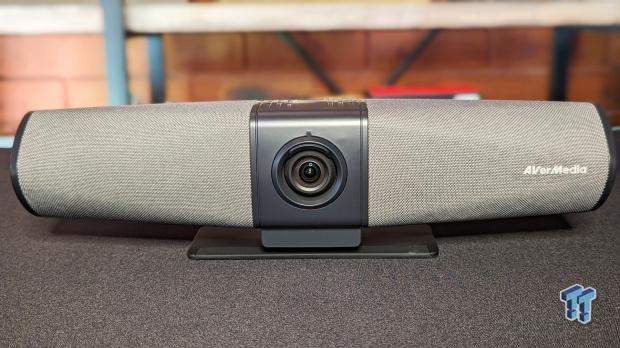 The look of the AVerMedia Mingle Bar is undoubtedly stylish, managing to hit a professional and everyday consumer balance that is great in most environments. Compared to a standard webcam, it's a rather large device but still compact and lightweight (with a weight of only 555 grams) and a width of just under 30cm.
The star here is the camera, which delivers a rich 124-degree field of view, enough to keep a table full of people in the frame. This can be adjusted through software (more on that in a bit), but AverMedia has included an AI auto-framing option that's great for tracking people and zooming in on talkers, especially if they're moving around. The lens is exceptionally well-tuned and creates vivid images no matter the lighting conditions, with impressive noise reduction.
The unit has versatile multiple mounting options and a built-in Kensington security slot. On the back, you've got an Ethernet port for direct network connectivity, HDMI output for connecting to more traditional displays like TV screens, and a 3.5mm microphone jack for external mic support. A single USB slot also allows for direct peripheral connection (keyboard or mouse), which is handy if the camera is closer to you than your computer, and a single USB-C port that handles all of the PC connectivity.
Installation and Software
As feature-packed as the AVerMedia Mingle Bar is, installation is as simple as plug-and-play. With a single USB-C cable handling video and audio transmission, and a universal AVerMedia app able to handle driver and software installation with only a few button presses, the Mingle Bar can be up and running (and firmware updated) in a space of seconds. The audio and camera and in-built beamforming microphones all show up within Windows (we tested the AVerMedia Mingle Bar on a Windows 10 laptop and a Windows 11 desktop), which leads to immediate and easy integration into any camera or audio-related app.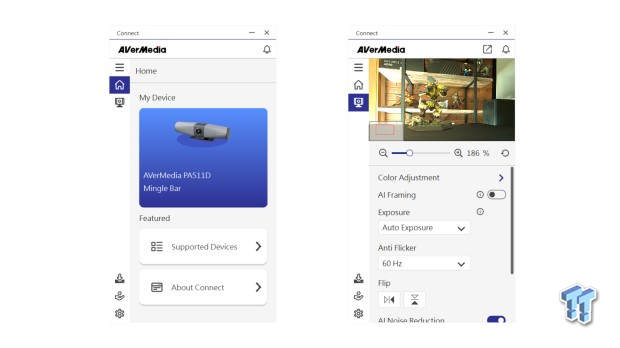 The AVerMedia Mingle Bar is a Zoom-certified device, but it works with any bit of software or platform you can imagine; YouTube, Facebook Messenger, FaceTime, Line, GoToWebinar, Cisco Webex, Microsoft Teams, Zoom, OBS, StreamLab OBS, Skype, Skype for Business, Slack, Google Meet, and more.
The wide FOV might be designed for a more professional setting, but OBS support and the great camera make it a decent option for streamers and podcasters.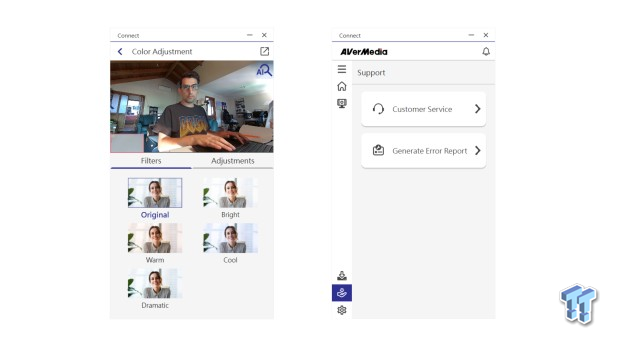 As far as official software support goes, you've got AVerMedia Connect, a powerful little tool that opens all of the Mingle Bar's customization in a simple, clean, and compact size - perfect for sitting alongside or next to whatever dedicated communications platform you're using. Camera controls are simple and easy to follow, with Color Adjustment allowing you to change the color tone - from several presets. There's the ability to disable AI Framing (this can also be done via a hand gesture where you hold up your hand for a few seconds) and choose from different Exposure settings or manually adjust it to suit your tastes.
And with direct access to Firmware Updates and Customer Support through AVerMedia Connect, it's one of the best little camera control apps we've seen.
Video and Microphone Performance
Video Performance
The AVerMedia Mingle Bar wouldn't be the first camera-based device to boast that it works great in all lighting conditions, and it certainly won't be the last. But the good news is that, unlike most off-the-shelf webcams, it lives up to this promise with the ability to work in low lighting, in a well-lit room, and with an external light source like a light ring.
The Auto Lighting Correction and Auto Face Exposure work great without overly saturating the image, and the in-built AI noise reduction is impressive too. Several apps feature noise reduction, but what AVerMedia has included here is more than good enough not to worry about enabling any image processing elsewhere. The image is clear and detailed and can easily be adjusted for a softer focus - the different color temp options are a great feature, too, with the ability to make any room or environment feel warm and inviting or bright and clean.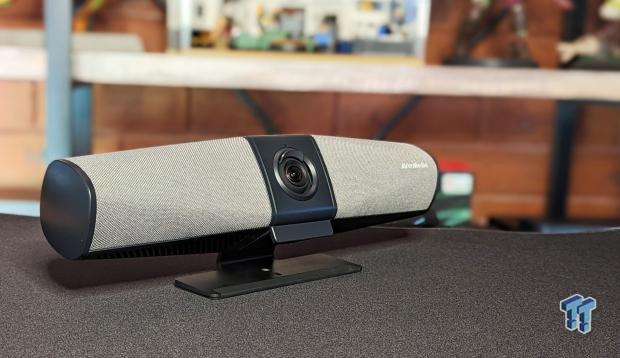 The wide 124-degree FOV is the star here, as is the AI-based Auto Framing, coupled with the impressive 4K camera, whether it's a solo Zoom chat or a group of people hanging around the table.
Microphone Performance
With dual microphones, the AVerMedia Mingle Bar can pick up audio in a wide area up to a few meters from the device itself, with the quality being 'broadcast' grade or basically what you'd expect from a camera or webcam with an in-built microphone. This means there's not all that much depth to the vocal range picked up, but it is clear and distortion-free with the addition of AI-based noise reduction, which is pretty good at cutting out distant and background noise. For conferencing, general meetings, or even presentations with visual aids, it's a good microphone option - albeit not as impressive as what AVerMedia has delivered on the video side of the equation.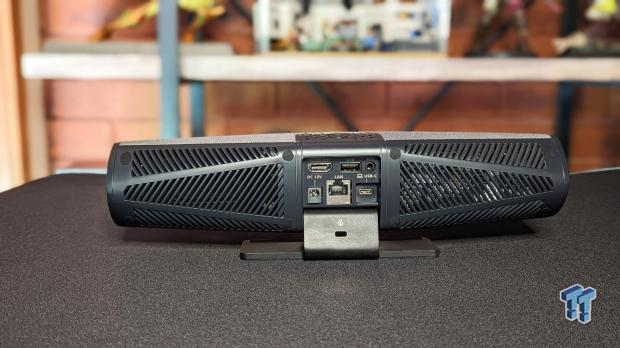 And with that, if you're looking at streaming or recording with the aim of publishing and sharing content, thankfully, there's an option to connect a dedicated microphone via the included 3.5mm jack, or you could attach something directly to your computer. As an all-in-one solution, it would have been cool to see AVerMedia pack in something like its own Live Streamer MIC 133, but that would probably raise the USD 599.99 MSRP considerably.
Final Thoughts
As something for businesses or budding video podcasters and group streamers, the AVerMedia Mingle Bar is highly recommended - it features a beautiful camera that works great in many different environments. The wide-angle lens is designed for capturing multiple people, and installation and setup are a breeze - not to mention that it works great with any app or video-based software you can think of. Zoom certification included.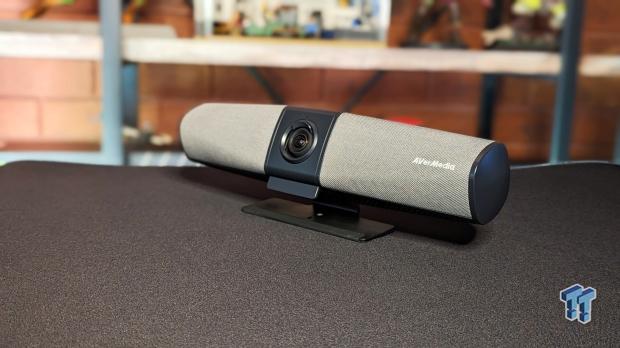 With dedicated speakers and the ability to mount it in various ways, it's undoubtedly a specialized bit of equipment, but that's what makes the AVerMedia Mingle Bar so impressive. Great hardware meets excellent software and customization support, with a device suitable for a classroom, boardroom, or even pop-up recording studio. The microphone quality is a bit of a letdown and keeps it from excelling in all areas, even though it's great for handling multiple speakers and cutting out background noise.
However, that's an easy fix with a dedicated microphone if you want to capture vocal depth to match the video quality. Overall, the AVerMedia Mingle Bar is a great video solution and excels where it counts.