TweakTown's Rating: 94%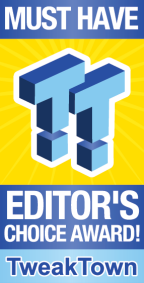 The Bottom Line
Consumers wanting extreme connectivity need not look any further as MSI's Z790 GODLIKE offers every option possible!
Pros
+

DDR5/PCIe 5.0

+

Thunderbolt 4

+

10Gbe

+

Seven m.2 slots!
Cons
Should you buy it?
Avoid
Consider
Shortlist
Buy
Introduction, Specifications, and Pricing
After several months of pushing through AMD's X670 and B650 motherboards, we have finally reached our stack of Intel solutions. We start this journey with one of the best available Z790 motherboards on the market; the MSI MEG Z790 Godlike.
The Godlike has come out of hiding for Z790, MSI reversing their decision that made it invite-only for Z690. That said, on the hardware side, we have the LGA1700 socket for support of both 12th and 13th Gen Intel CPUs with the Z790 chipset behind, which is very similar to Z690 but offers added connectivity options.
Memory support includes four slots, DDR5 supported with speeds up to 7800MHz. Capacity goes up to 192GB with support for 48GB modules supporting XMP 3.0. The expansion includes two PCIe slots, both supporting PCIe Gen5, the top slots at x16 and the bottom at x8. Storage includes a massive seven m.2 slots, one and four, pull from the CPU and offer Gen5 support, while the other five slots support Gen4 from the chipset. SATA, too, is included for legacy storage, with six ports in total at 6GB/s.
Connectivity starts with Thunderbolt 4, two ports at 40Gb/s, and also supports DisplayPort at 8K. USB support includes four USB 2.0 ports via internal headers, four USB 3.2 Gen 1, and two USB 3.2 Gen2x2 via internal headers. The Rear I/O includes eight USB 3.2 Gen2. Network connectivity includes the Marvell AQC113 for 10Gbe and the Intel i226 for 2.5Gbe. WLAN is powered by the Intel AX211, and moving to audio, the Godlike uses the Realtek ALC4080 chipset with an ESS 9280 DAC.
Pricing
The MSI MEG Z790 Godlike price comes in at $1199.99 with a three-year warranty.
Packaging, Accessories, and Overview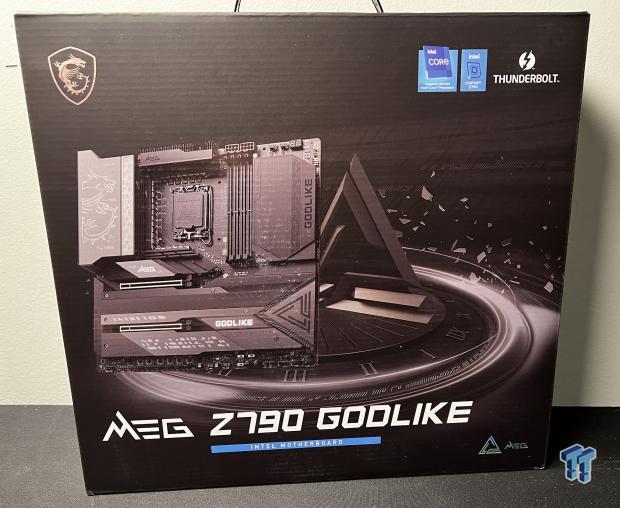 Getting into packaging, the Godlike offers an image of the board, chipset, and CPU top right.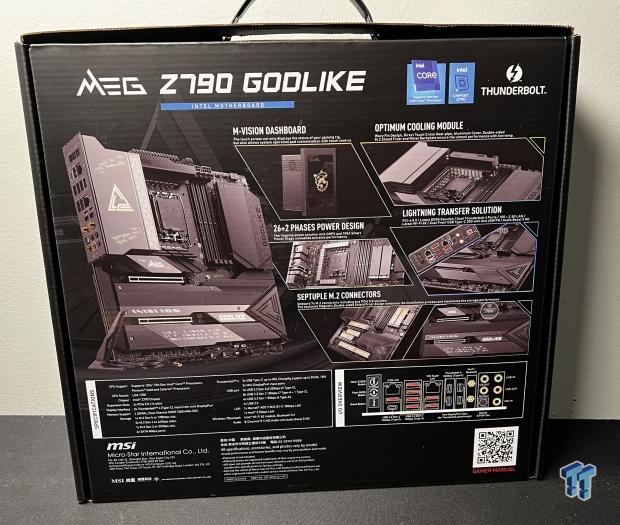 On the back, we get an image of the board to the left, with a port breakdown to the bottom right.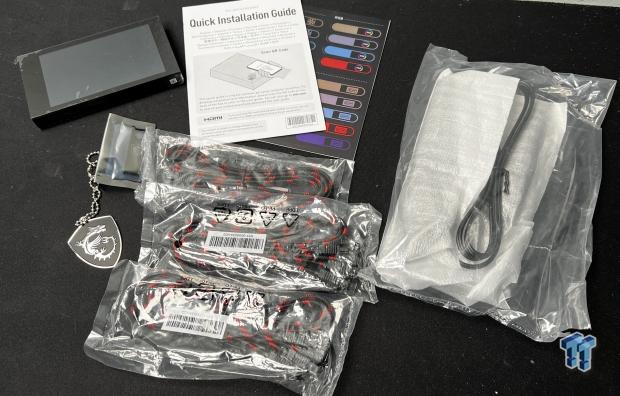 Included with the board, we have the OLED display, WiFI antenna, and SATA cables. Drivers and manuals are included on USB.
Motherboard Overview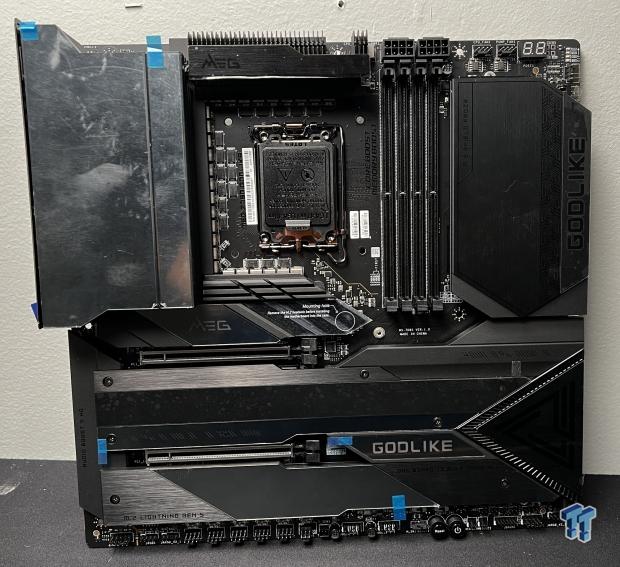 The Godlike is a very large board, and with that comes full heatsinking for VRM, Chipset, and m.2 slots. This gives the board a weight of 10 lbs.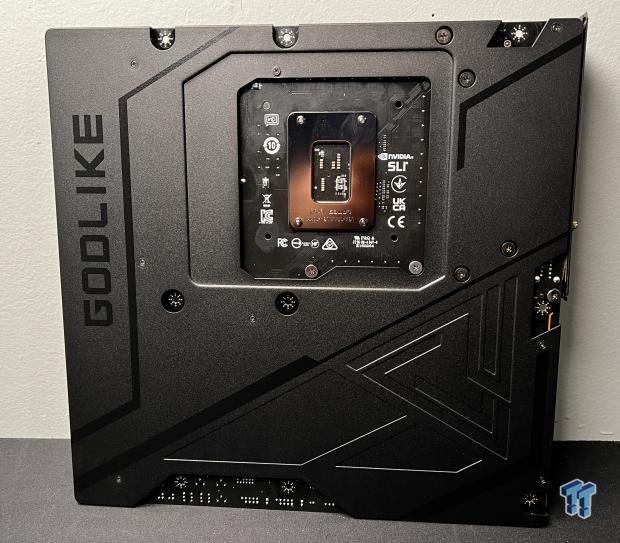 On the backside, we have a full backplate.

The rear I/O starts with Clear CMOS and BIOS flashback at the top. We then move into 2.5Gbe and all eight USB 3.2 ports. 10Gbe sits in the middle, followed by Thunderbolt 4 and two MiniDP. At the bottom, we have two antenna connections and 3.5mm audio ports.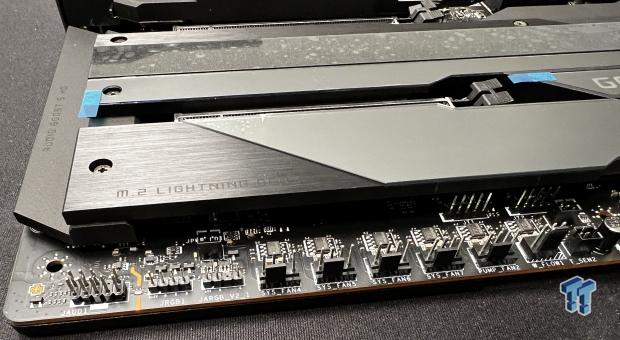 Running around the board, we have six fan connections at the bottom, along with ARGB and front-panel audio connections.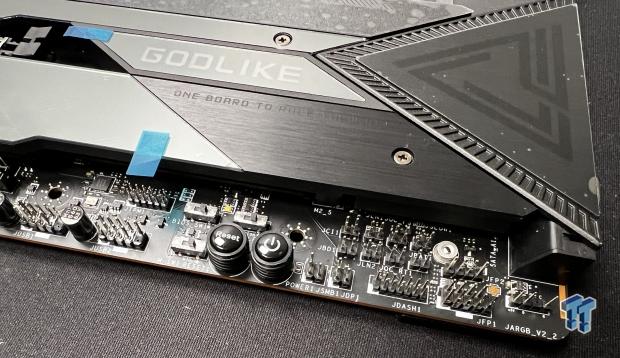 On the far end, we have the power and reset buttons.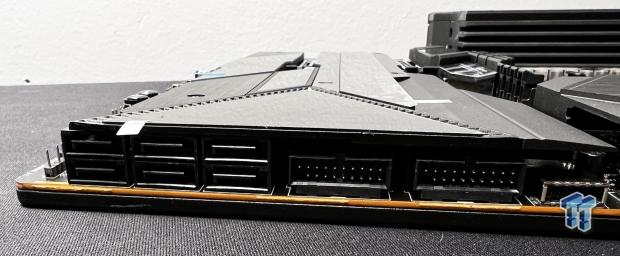 Around the corner, we have all six SATA connections with USB 3.2 internal headers on the far right.

At the top of the board, we have both 6-pin and 24-pin power and another three fan headers.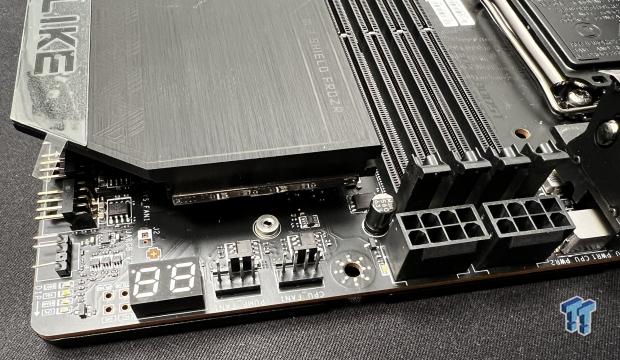 Rounding this out, we have the debug LED, two fan headers, and two 8-pin CPU power connections.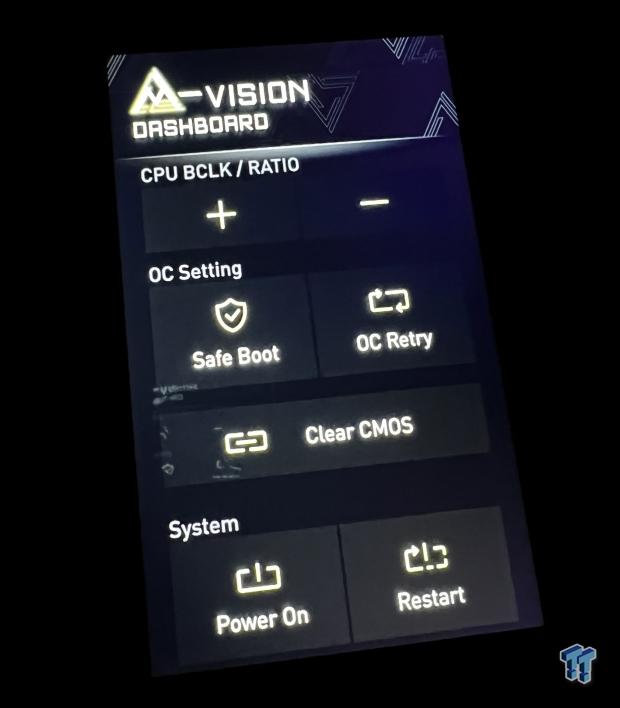 The M-Vision dashboard is displayed on the included OLED panel. This allows you to change the BCLK on-the-fly, along with clearing CMOS and restarting the system.
UEFI, Software and Test System
UEFI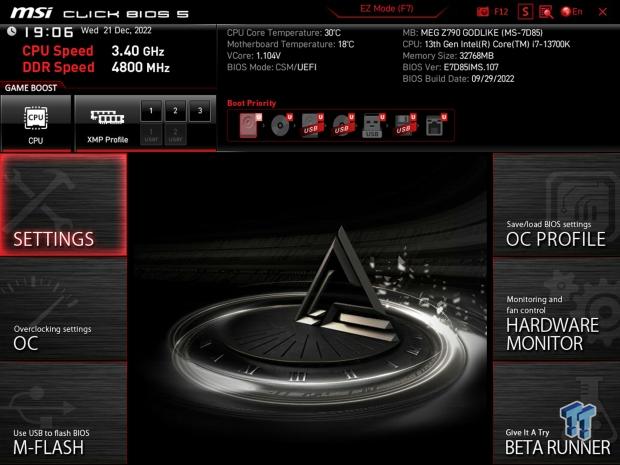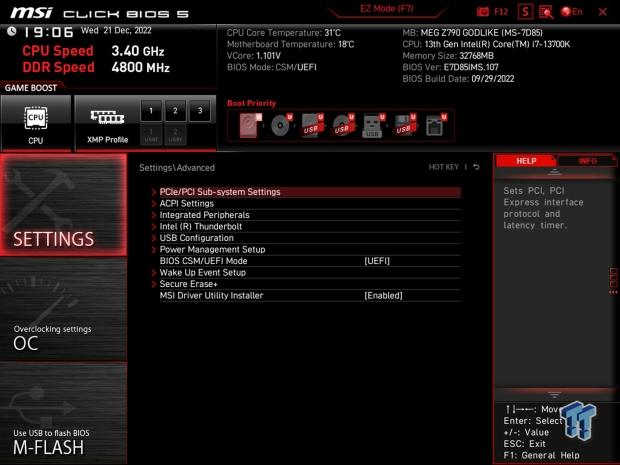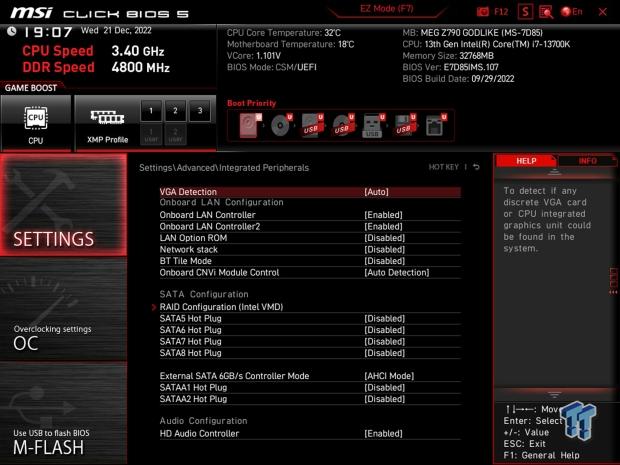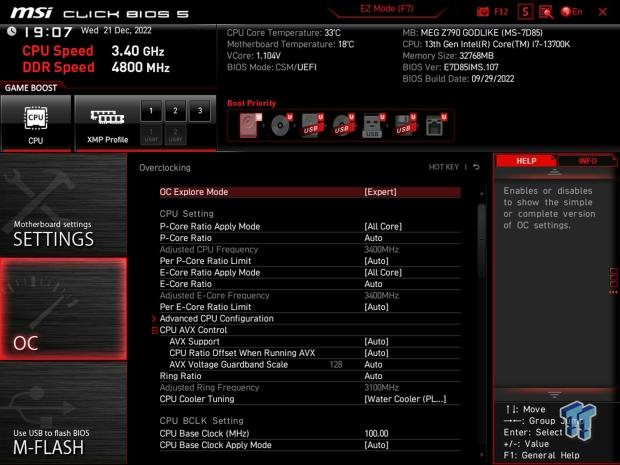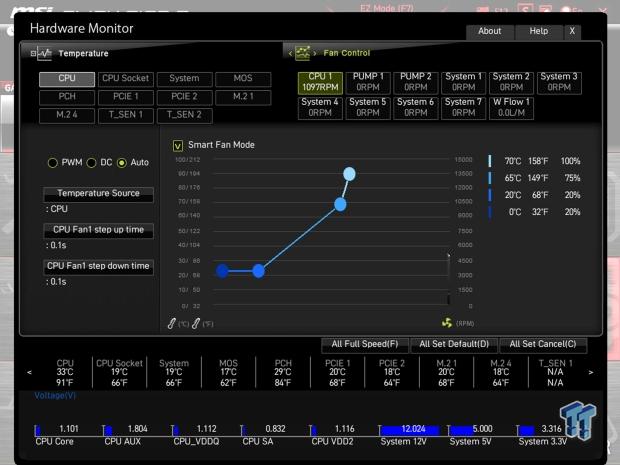 This Godlike BIOS follows the same design we have seen in past MSI platforms with the Click BIOS 5. This includes full mouse support for navigation. At the top, we have the settings menu that offers configuration for PCIe, Thunderbolt, and Power Management. MSI does include a Secure Erase option in this menu as well.
OC is where you will find all the manual voltage and clock ratios; most multipliers will also be found here. This BIOS also supports fan tuning within the hardware monitor.
Motherboard Software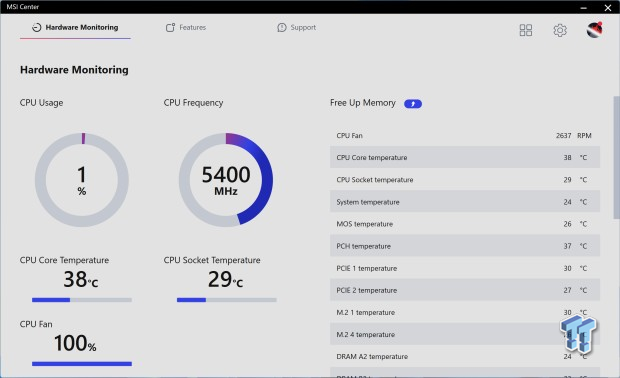 MSI Center offers hardware monitoring alongside the ability to add features such as Mystic Light.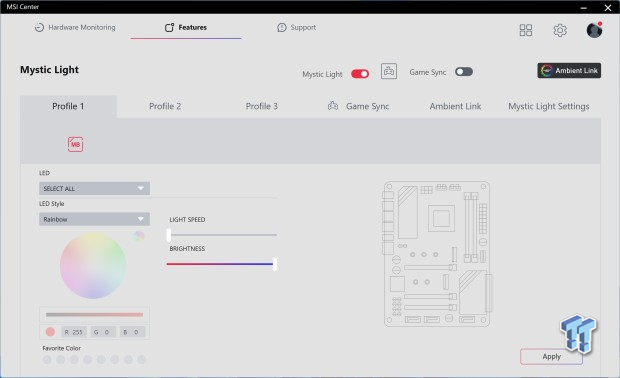 Mystic Light offers control over the RGB functionality of the board itself and any onboard headers.
Motherboard Testing Supporters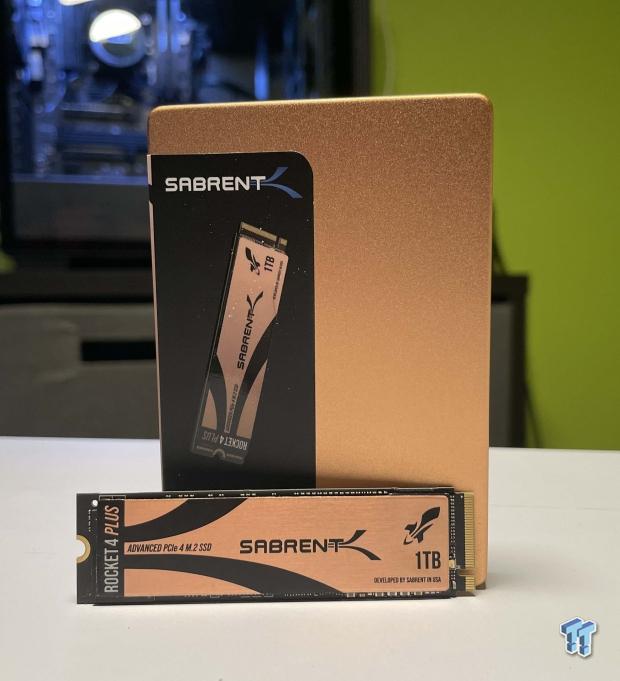 Sabrent supports our storage testing with the Rocket 4 Plus.
TweakTown Intel Motherboard Test System
Cinebench R23, Crossmark and AIDA64
Cinebench R23
Cinebench is a long-standing render benchmark that has been heavily relied upon by both Intel and AMD to highlight their newest platforms during unveils. The benchmark has two tests, a single-core workload utilizing one thread or 1T and a multi-threaded test that uses all threads or nT of a tested CPU.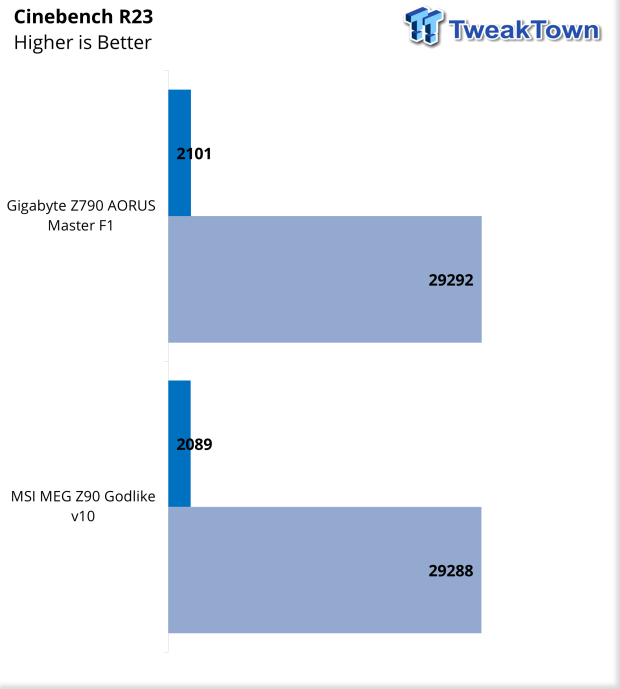 The Godlike offered a similar performance to our AORUS Master, a single thread of 2089 with multi-thread hitting 29288.
CrossMark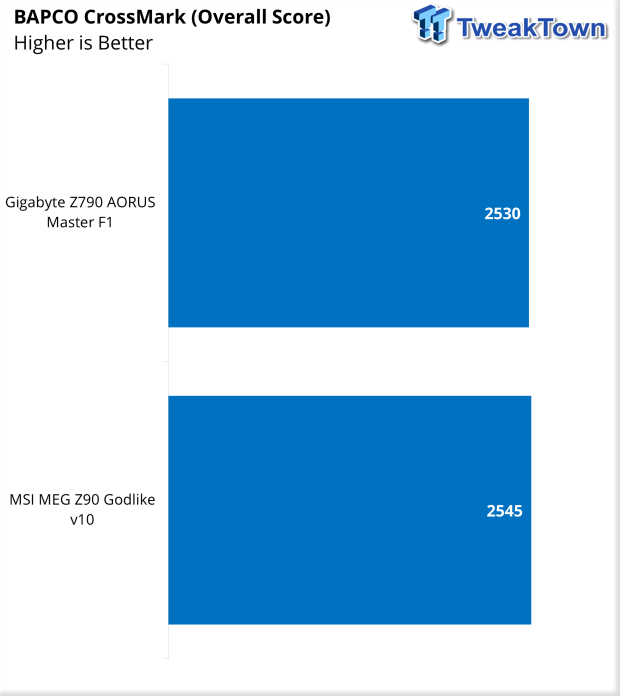 CrossMark landed us an overall of 2545.
AIDA64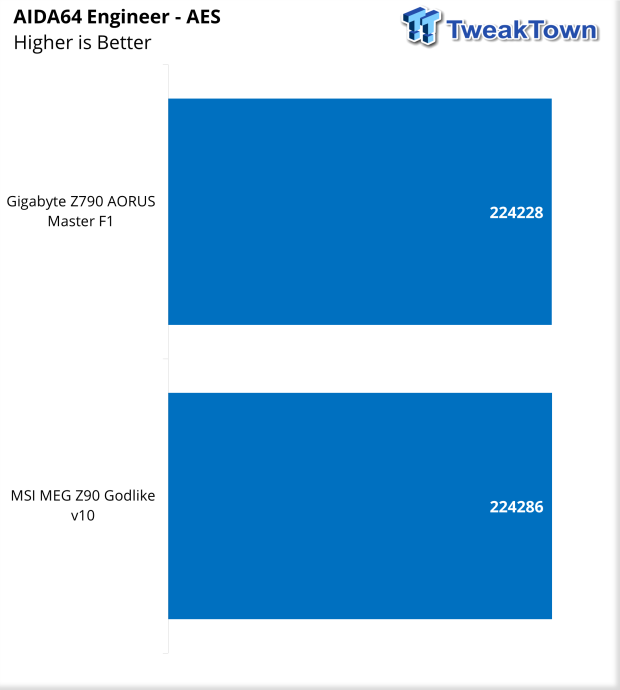 In AES, we picked up 224286 with the Godlike.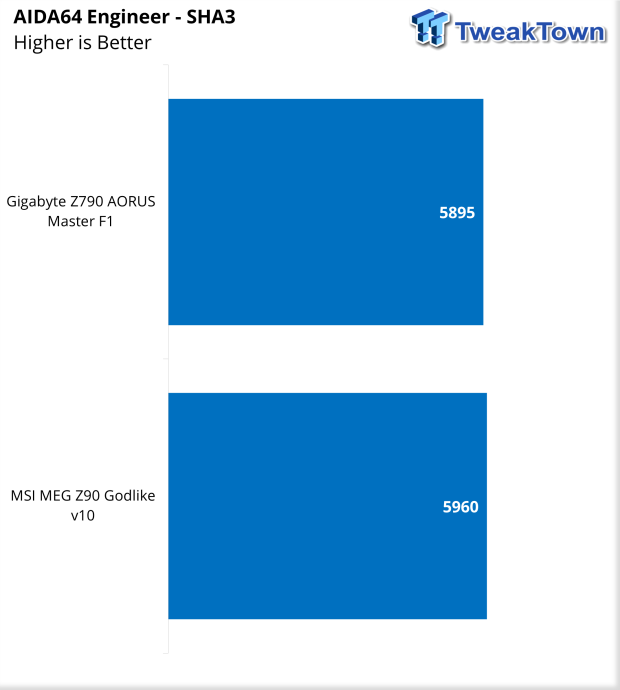 SHA3 tapped in at 5960.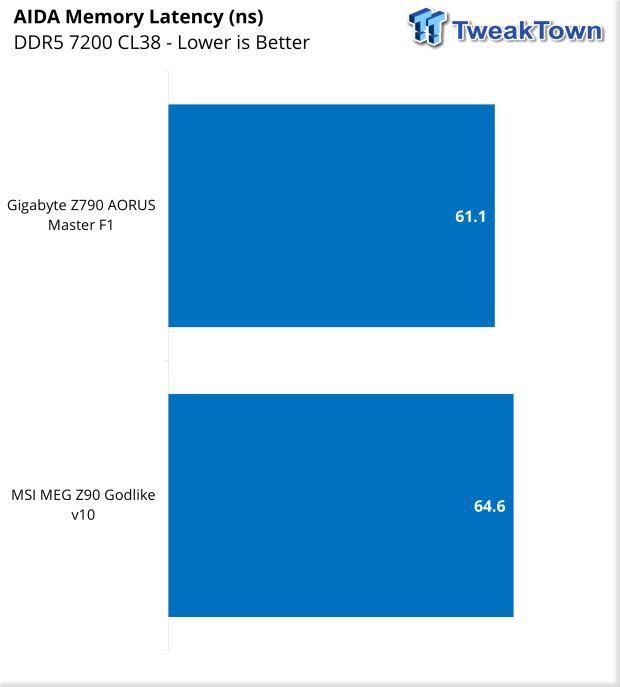 Memory latency landed at 64.4ns for the Godlike.
UL Procyon, 3DMark, and CrossMark Benchmarks
UL Procyon Suite
The UL Procyon Office Productivity Benchmark uses Microsoft Office apps to measure PC performance for office productivity work.
The Photo Editing benchmark uses Adobe Lightroom to import, process, and modify a selection of images. In the second part of the test, multiple edits and layer effects are applied to a photograph in Adobe Photoshop.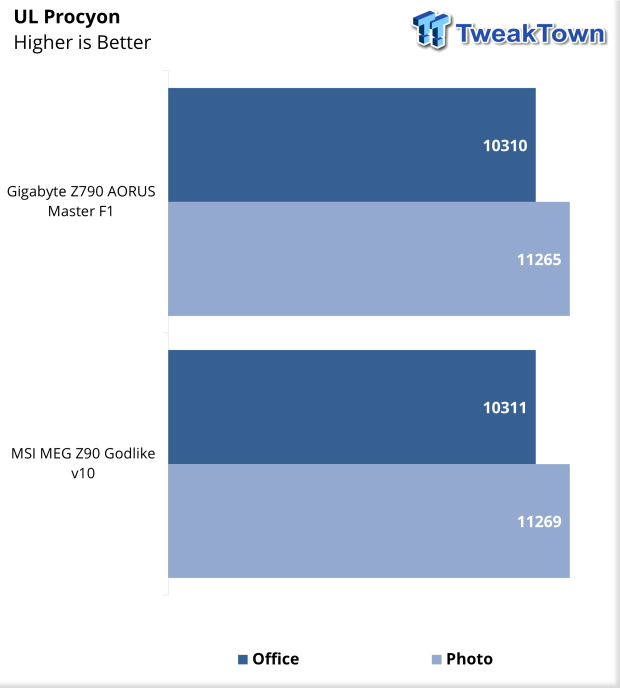 Our Procyon testing starts with Office, the Godlike offering a score of 10331. We also picked up 11269 in the Photo workload.
3DMark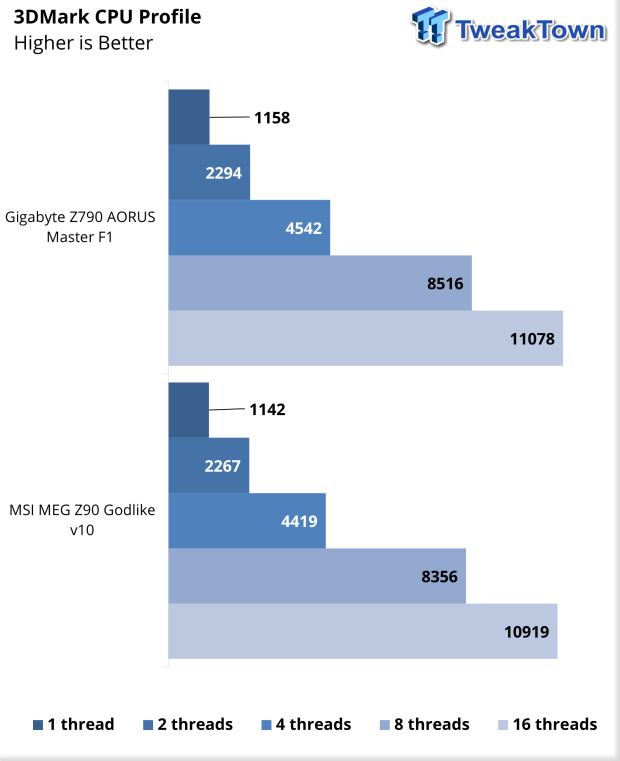 Starting with CPU Profile, the Godlike offered a single thread at 1142 and a sixteen thread score of 10919.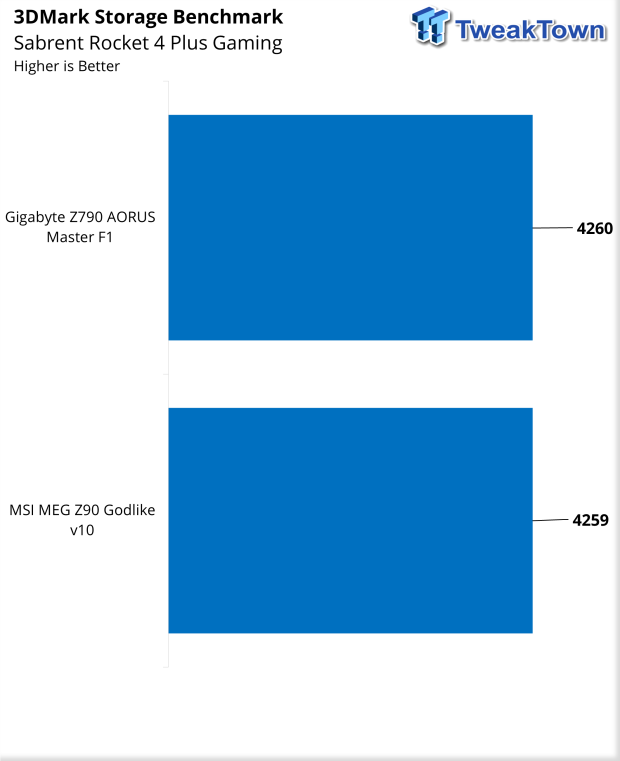 Flipping over to storage, our Rocket 4 Plus picked up a score of 4259 on the Godlike.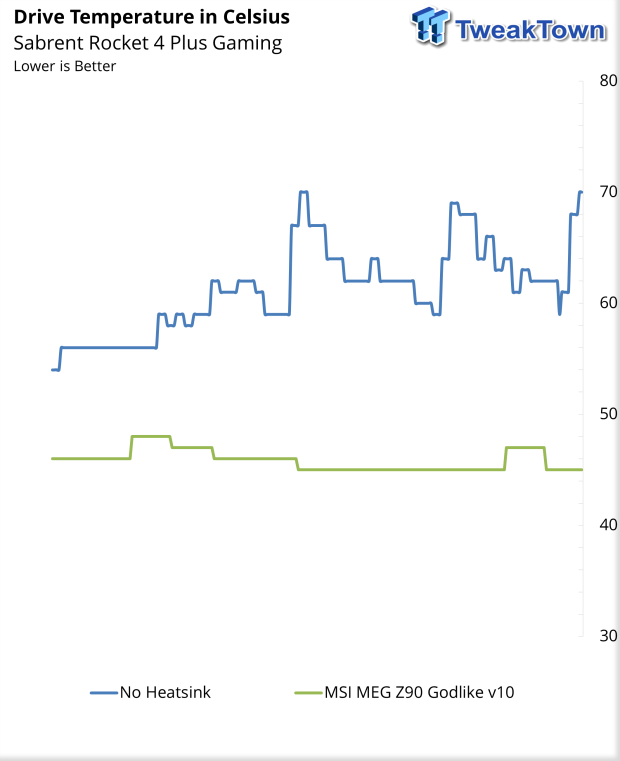 During our storage benchmark testing above, we monitor the temperatures of the Rocket 4 Plus to see how well the motherboard handles the heat load. This will be a crucial part of these boards after Gen5 drives are released with increased heat output.
With that, the Godlike handled the heat quite well, our Rocket 4 Plus holding steady around 45c.
Gaming Benchmarks and Final Thoughts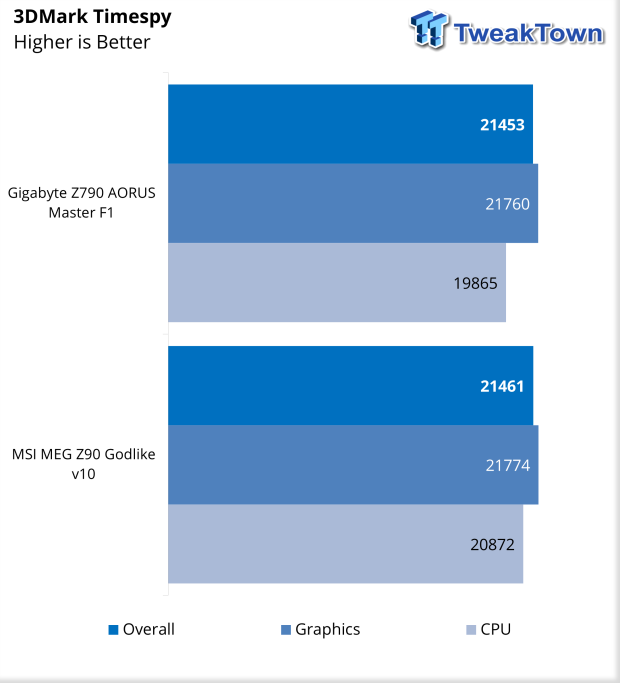 Timespy landed at 21461 with our 3090Ti.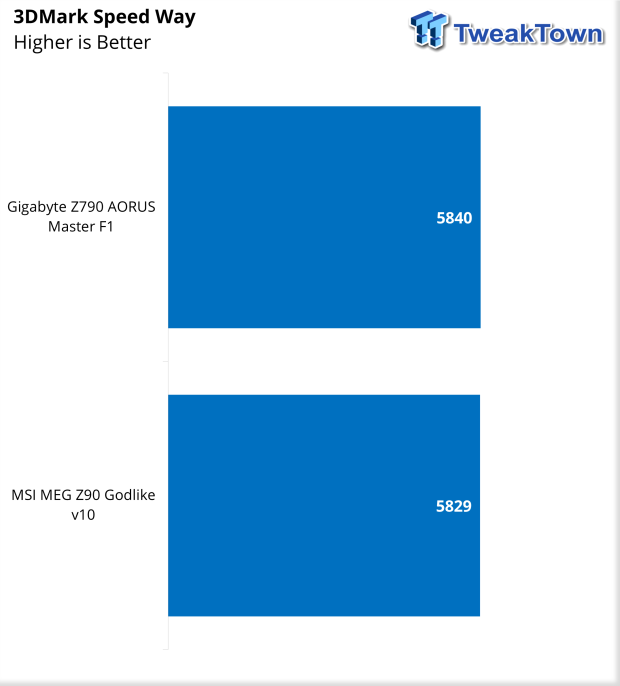 Moving over to Speed Way, we picked up a score of 5829.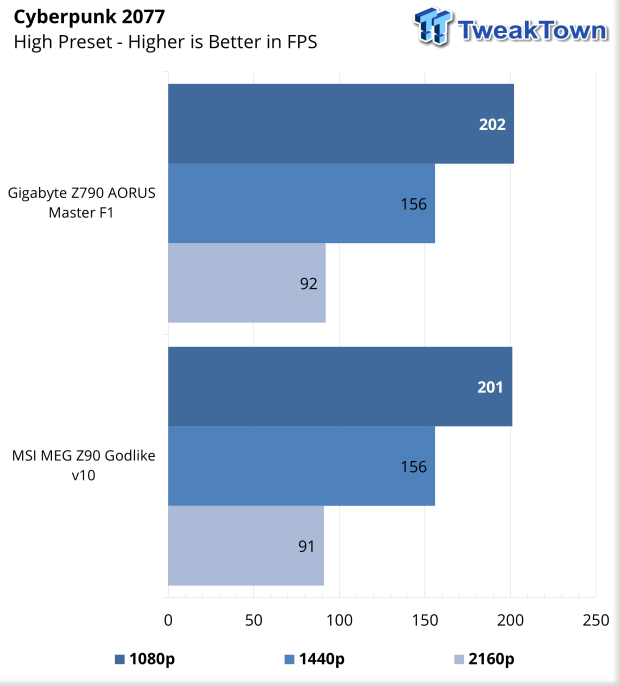 For Gaming, we default to our Cyberpunk 2077 benchmark, testing 1080p, 1440p, and 4K. The Godlike picked up 201 FPS at 1080p, followed by 1440p at 156 FPS. 4K was quite a bit lower at 91 FPS.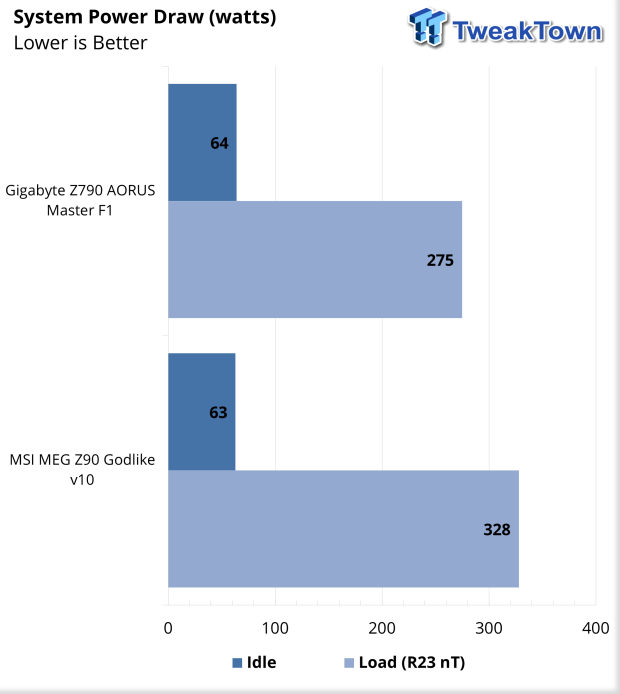 Power draw on this board was only slightly higher at load, 328 watts. Idle showed the same 63 watts we saw with the AORUS Master.
Final Thoughts
With any consumer once again able to pick up the Z790 Godlike, MSI has delivered one hell of a board. Expansion with PCIe Gen5 includes two full-length slots alongside two m.2, on top of a ton of connectivity, including every incarnation of USB, including Gen2x2 and Thunderbolt 4. LAN is stacked on this platform as well, with both 10Gbe and 2.5Gbe making an appearance alongside WiFi6e.
This all comes at a price, of course, as I do believe the MSI MEG Z790 Godlike is the most expensive board I have in the lab at the time of writing. With that, performance was right on par with our AORUS Master, the board we used for all the 13th Gen CPU reviews, including the 13900KS that is testing as we speak. Workloads like R23 showed a solid ~2100 single thread score, with nT picking up close to 30K. Procyon, which is one of the best application-based benchmarks available, showed a 10,311 score for Office and 11269 in Photo, both solid scores with our 13700K.
Overclocking on this board was relatively decent, but we did have to disable E cores to push our 13700K towards 6GHz all-core, memory, on the other hand, showed even better; our A-die kit of Kingston booting 7800MHz at CL36, ultimately being unstable before we finished up with a 7600MHz clock speed at CL34.
Digging further into pricing, the Godlike carries an MSRP of $1199; this makes it the most expensive Z790 I could find, though boards like the Maximus Extreme from ASUS give it a run for the money.